A Taurus tattoo is a great way to capture an important part of yourself without having to say anything.
The most popular Taurus tattoo designs consist of the Taurus zodiac sign – one of the three earth signs in zodiac – symbolized by a bull's head.
Taurus is associated with beauty, sensuality, and art. Other Taurean characteristics include generosity and trustworthiness, determination, understanding, kindness, patience, and stubbornness.
Being the second astrological sign (and the second house is the house of possession), Taurus is considered to be the sign which loves comfort and likes being surrounded by pleasing and soothing things.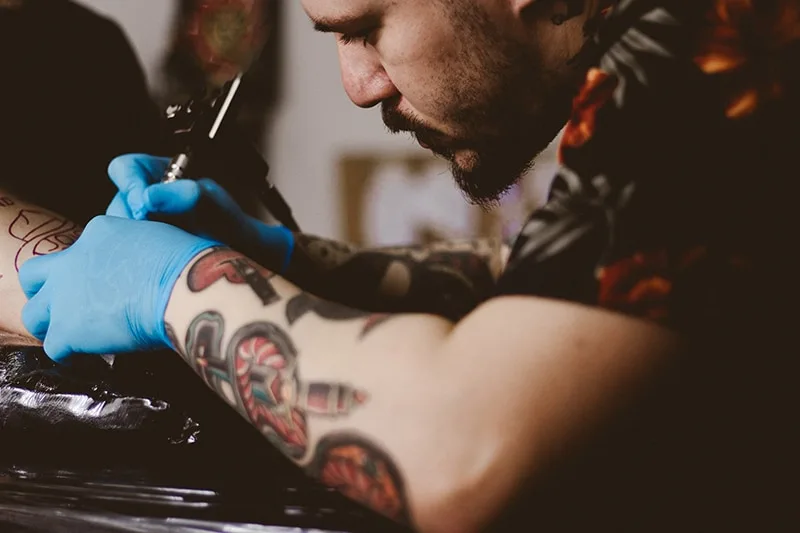 That's what makes them the most dependable and beauty-loving sign of the astrological world.
This sign is ruled by the planet Venus, named after the goddess of love and beauty, the planet of art, artistic abilities, luxury, all kinds of pleasures, and money.
It's also connected to our true passion, happiness, and love. The spiritual purpose of Taurus is to be present here and now, always knowing that they already have it all.
The Taurus sign represents so many strong and profound qualities and makes a perfect tattoo idea. It's one of the most popular zodiac sign tattoos.
So, let's look at a selection of the best Taurus tattoos for women:
1. Bull tattoo
Via @ashleynicoletattoos
A gentle looking bull, adorned with dainty flowers. Feminine and soft.
2. Taurus zodiac tattoo symbol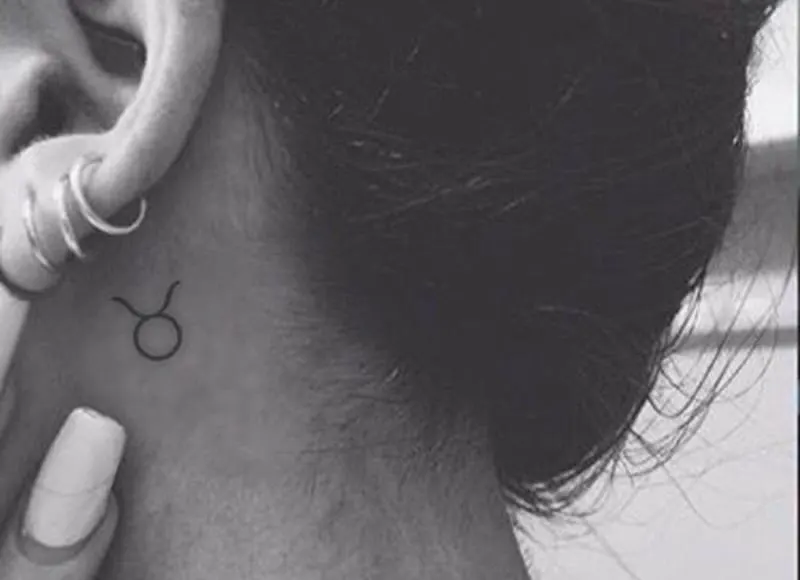 Via Pinterest
A simple Taurus symbol tattoo as seen in a zodiac wheel. Small tattoos like this can be put anywhere.
As the design is so simple, you can try it as a temporary tattoo first to see where it looks best.
3. Taurus tribal tattoo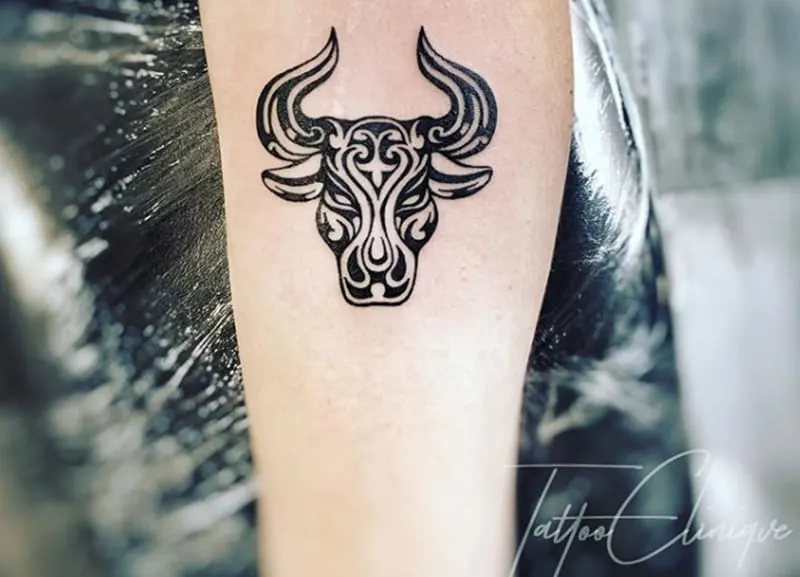 Via @ gio_tattoocliniqve
A bold and mysterious looking tribal Taurus tattoo.
4. Taurus constellation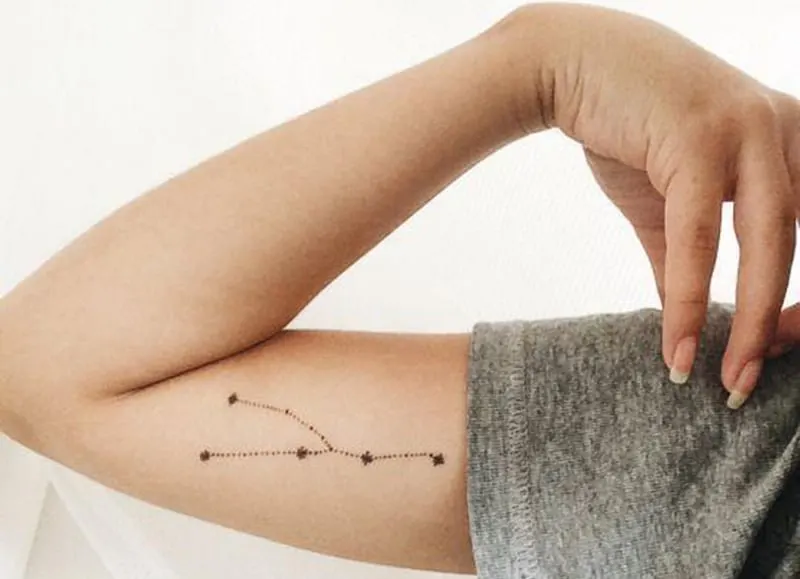 Via Pinterest
Pretty and delicate, a Taurus constellation tattoo can be put anywhere on your body and it will look great.
5. Wrist tattoo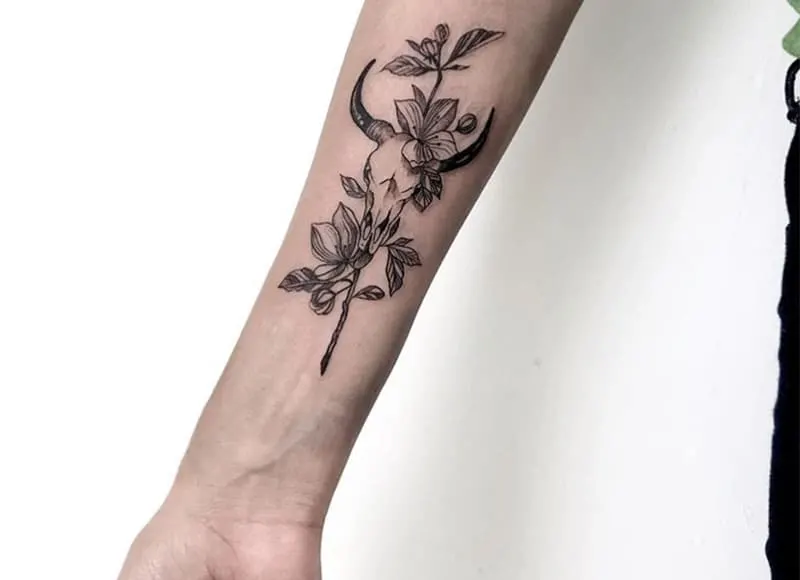 Via @petitegabs
Bull skull tattoos are a popular choice when it comes to choosing a bull tattoo design. Especially when paired with lots of flowers.
6. Taurus zodiac symbol on finger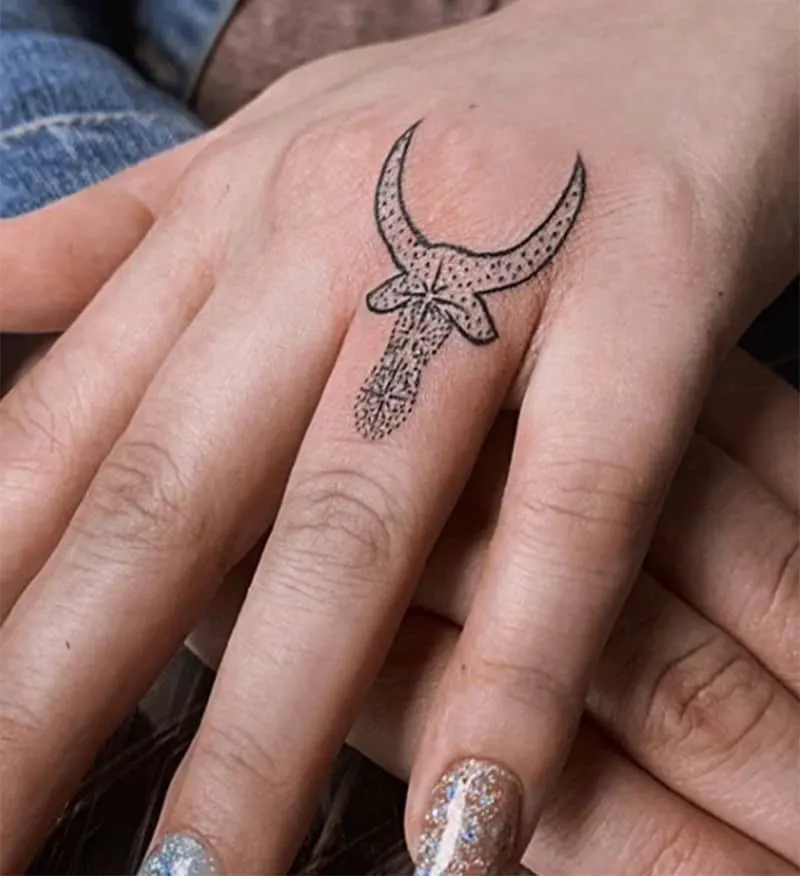 Via Instagram
This tattoo looks like the best ring you'll ever own. For those in a forever relationship with their inner Taurus.
7. Back tattoo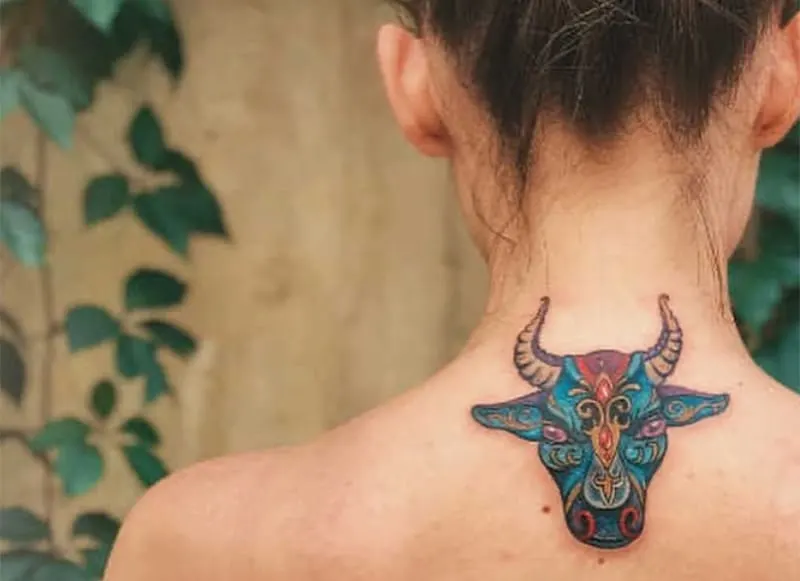 Via @tattooblogg.it
Bold and colorful, well designed and rich with detail. Who would have guessed the color blue goes so well with the bull?
8. Sleeve tattoo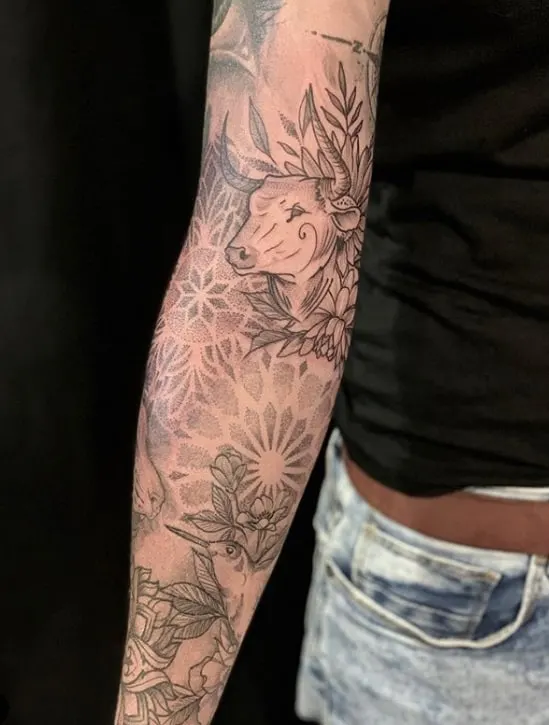 Via @joydamon
This masterpiece incorporates mandalas, plants, birds and of course a bull's head. Earthy and grandiose.
9. Arm tattoo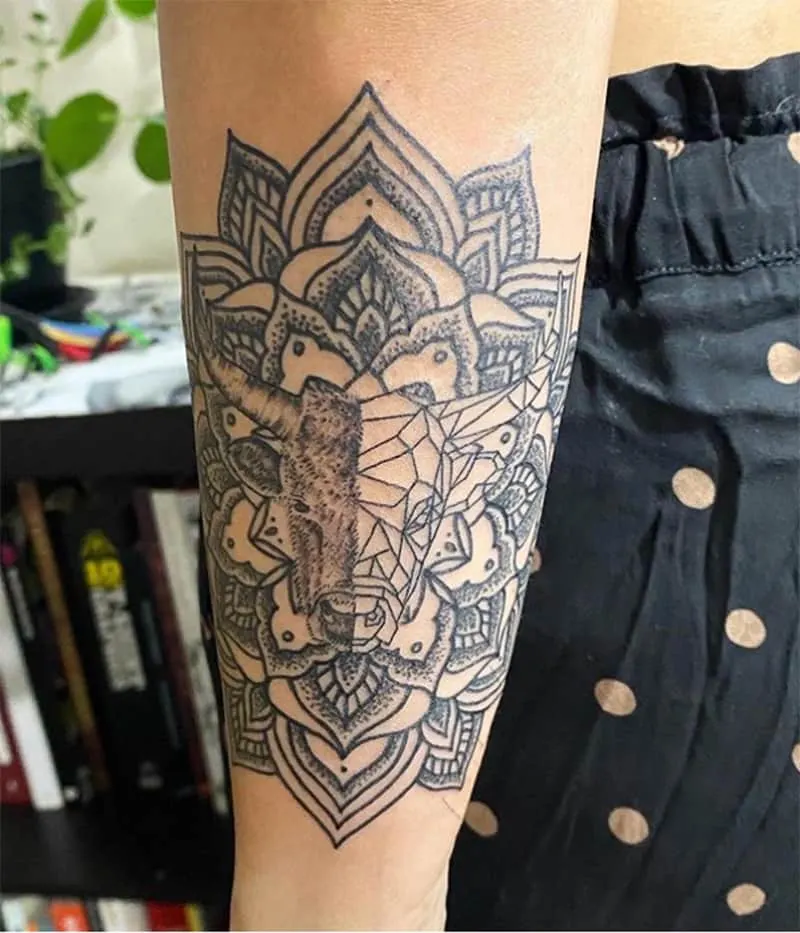 Via @tattoosillustrate
This body art shows an interesting concept, with a mandala and half realistic, half geometric bull.
10. One-line Taurus tattoo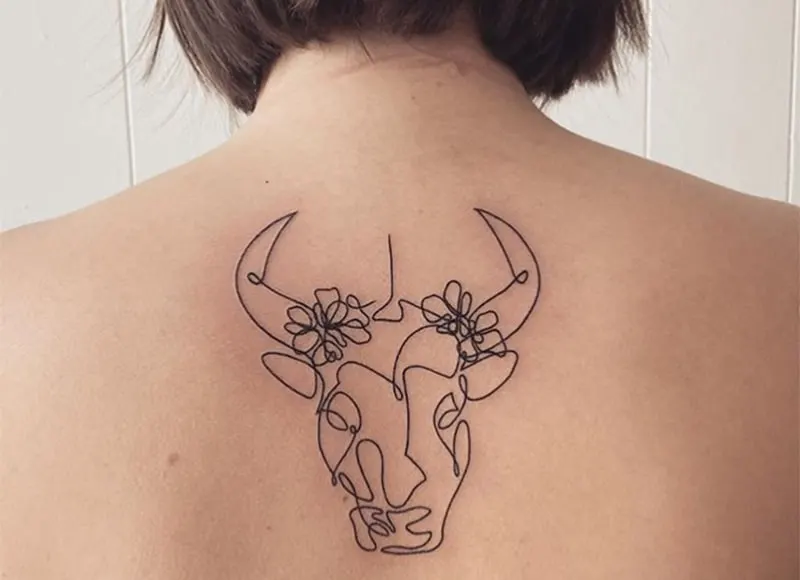 Via @cityparktattoo
This tattoo artist works miracles with just one line. Look at this perfection!
11. Flower power Taurus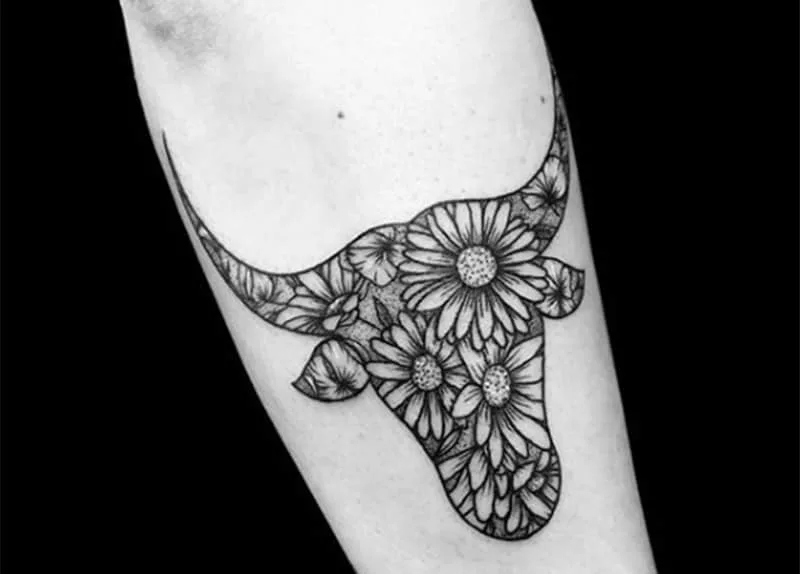 Via @alexismfish
Earthy, flowery and fertile – Taurus style.
12. Esoteric bull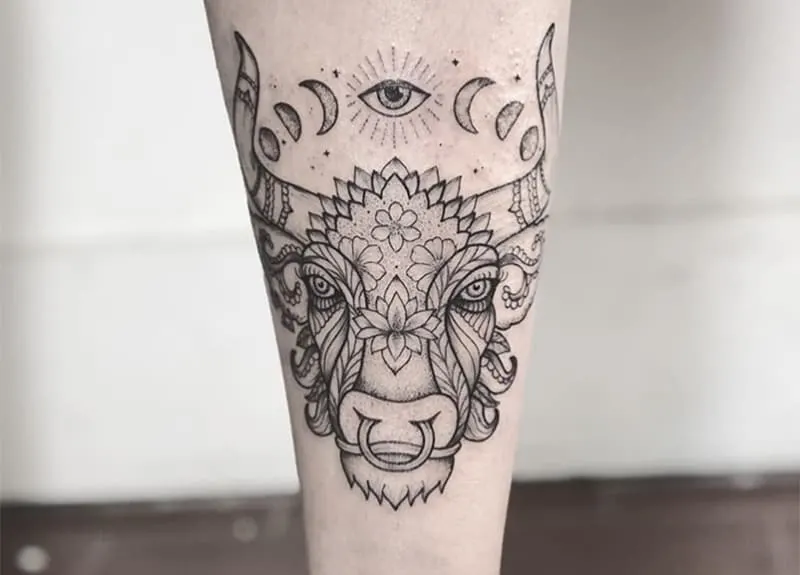 Via @kekena.tat
Wonderful, esoteric looking Taurus design.
13. Bull and snake tattoo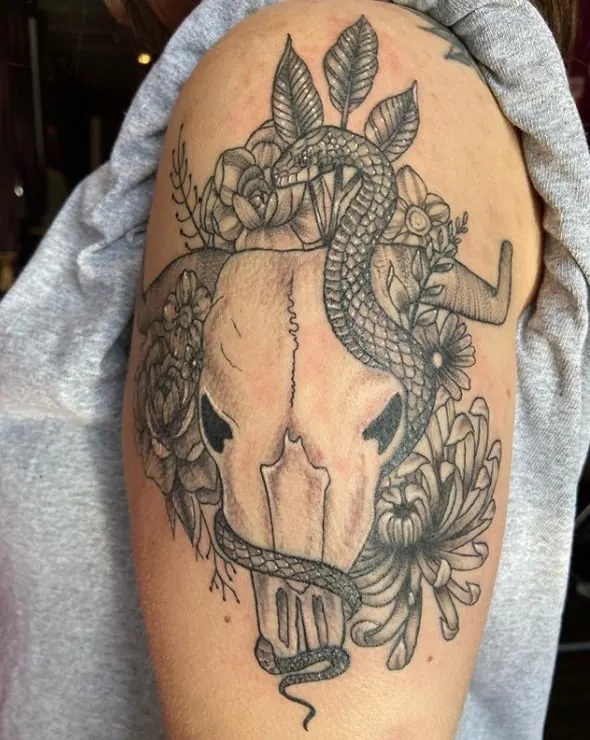 Via @ inktellectual_tattoos
A bull's skull, snake and flowers provide a slight desert vibe.
14. Flower crown Taurus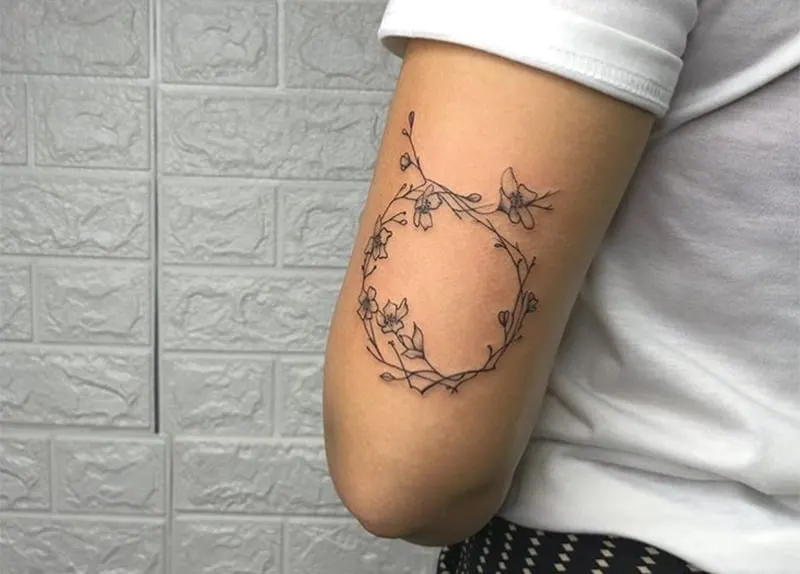 Via @ lirontattoo
A simple and delicate flower crown in the shape of Taurus symbol.
15. Fairytale Taurus tattoo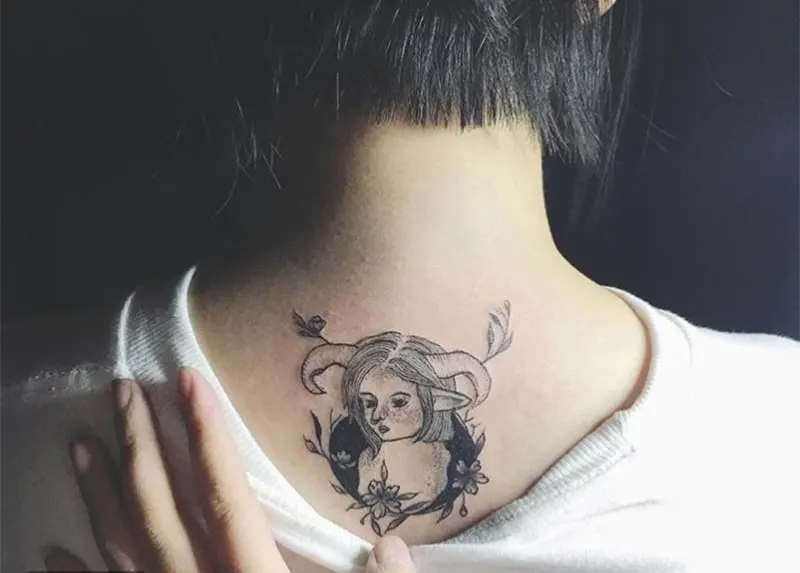 Via @thuongnguyen2995
This design looks like it belongs in a fairytale. A Taurus fairy.
Such a beautiful sun sign to have.
16. Stay strong script tattoo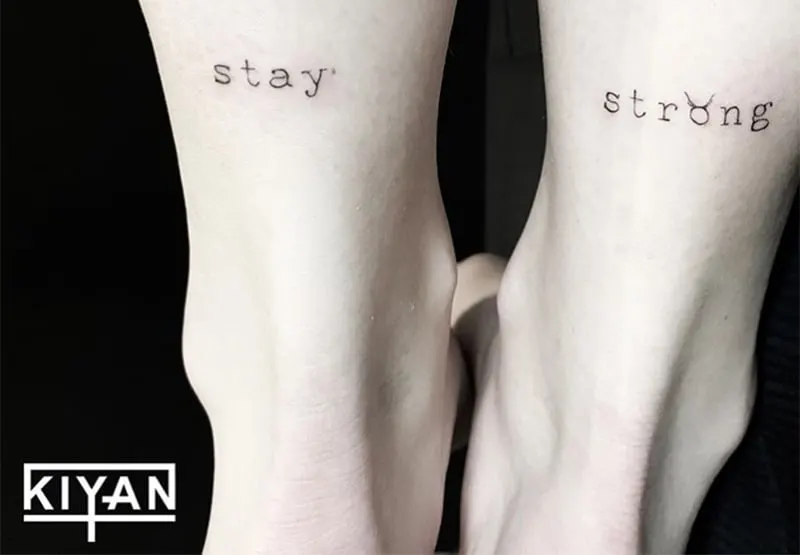 Via @ kiyan_tattoo_landshut
Just like Taurus, this tattoo reminds us to find peace in our strength.
17. Stylized bull's head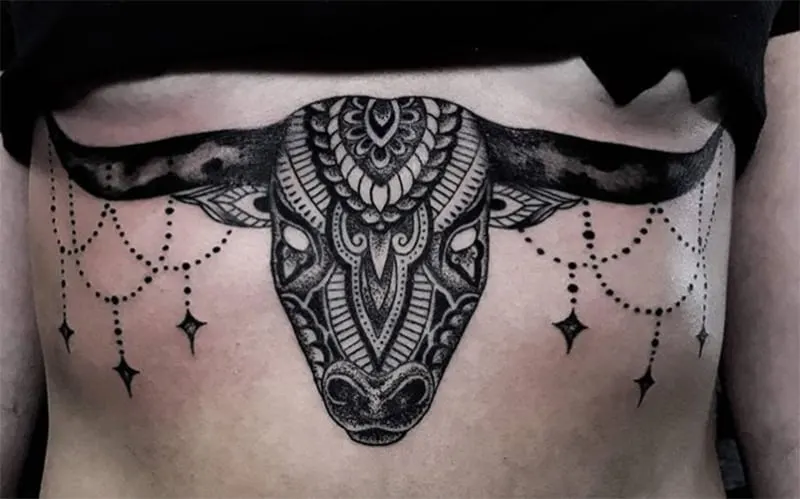 Via @ ikonicink_tattoo
Intense and bold lines paired with a light and delicate starry décor.
18. Detailed Taurus tattoo with mandala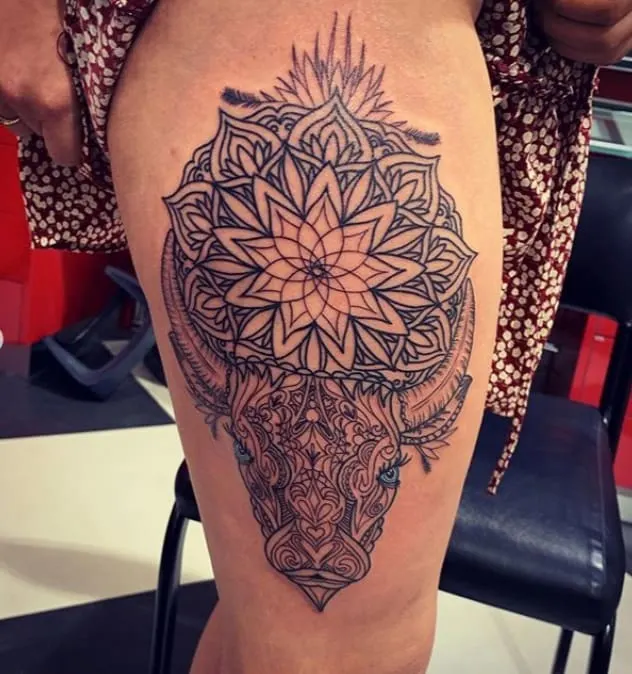 Via @jesseleeharris3
Now, this is a design idea for women who really like the look of an inked body. It's rich and well balanced, and bold – but in a different way than Taurus tattoos for men.
19. Modern take on an American traditional tattoo style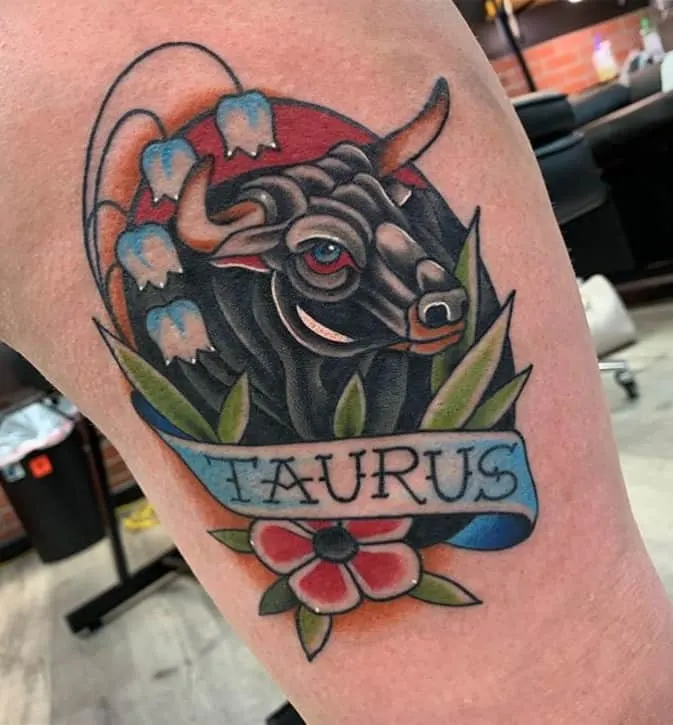 Via @ seansalasnytattoo
A bright and happy piece done in a neo-traditional style. There's nothing not to love.
20. Flower thigh tattoo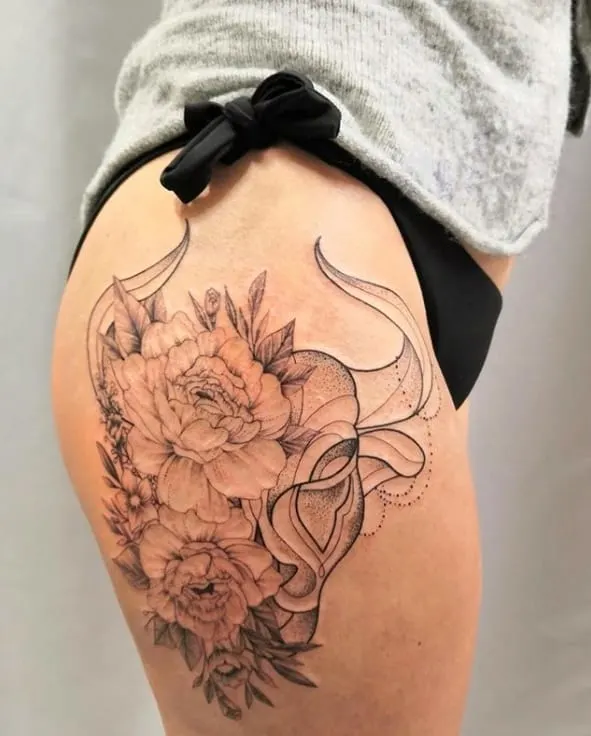 Via @ kristakouhia
Dainty and feminine flowers with minimal bull's head.
21. Bold symbol and light outline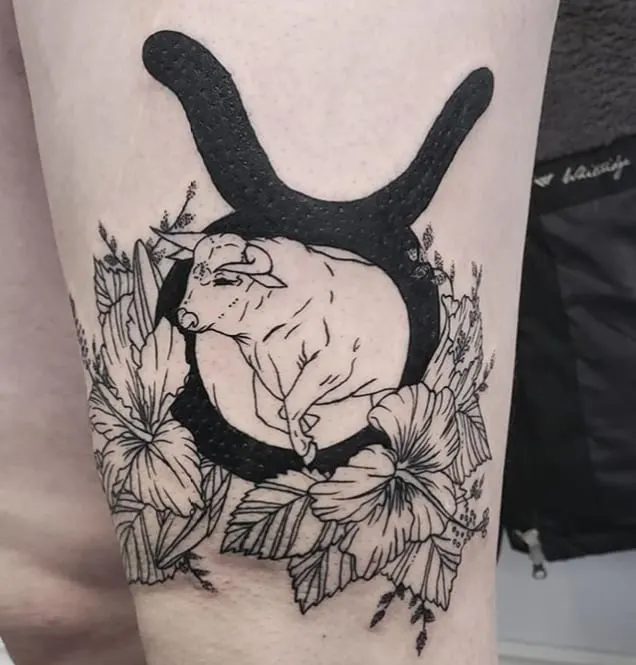 Via @your_localplantwitch_
This is the perfect example of a well executed idea and design. Everything matches perfectly and leaves space for different meanings and interpretations.
22. Rose and bull's horns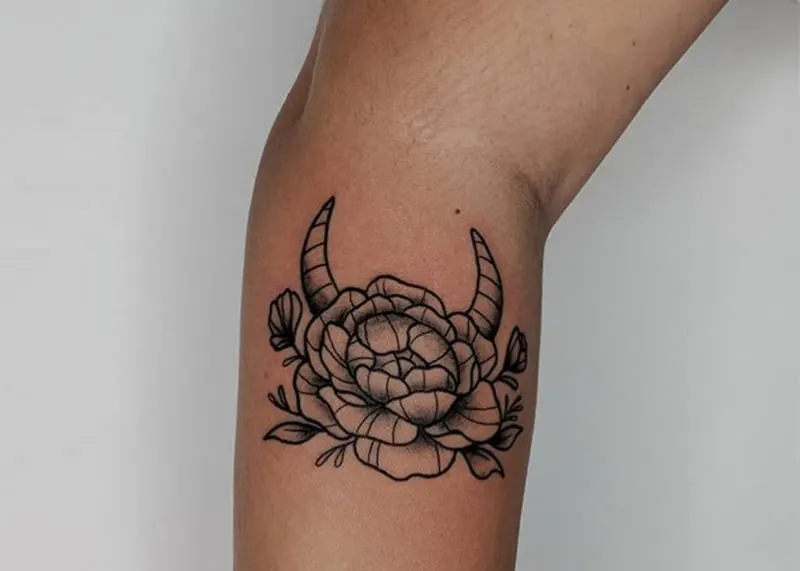 Via @ cachalau
A wonderfully designed mix of flowers and bull aesthetic. Taurus bull tattoos tend to have a lot of flowers in them.
And it's all because of their ruler Venus, goddess of beauty.
23. Watercolor tattoo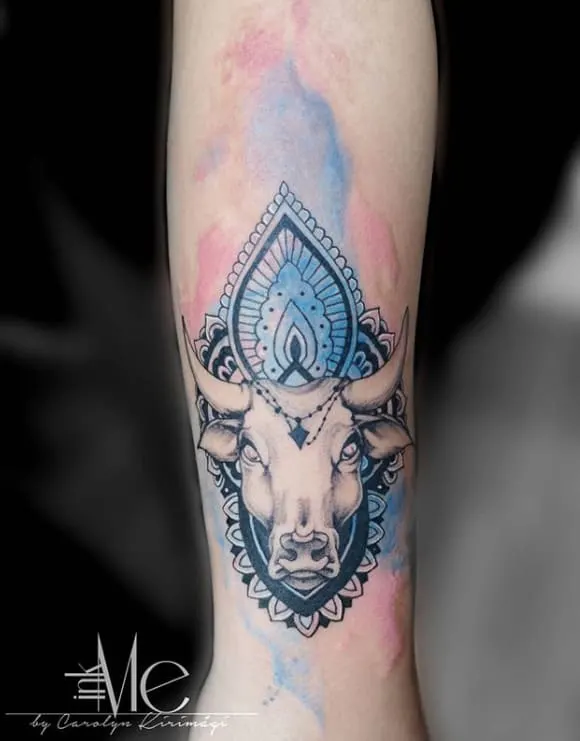 Via @carolyn.kirimagi
A fantastic mix of a variety of styles: watercolor, geometry, and realism.
24. Minimal Taurus symbol design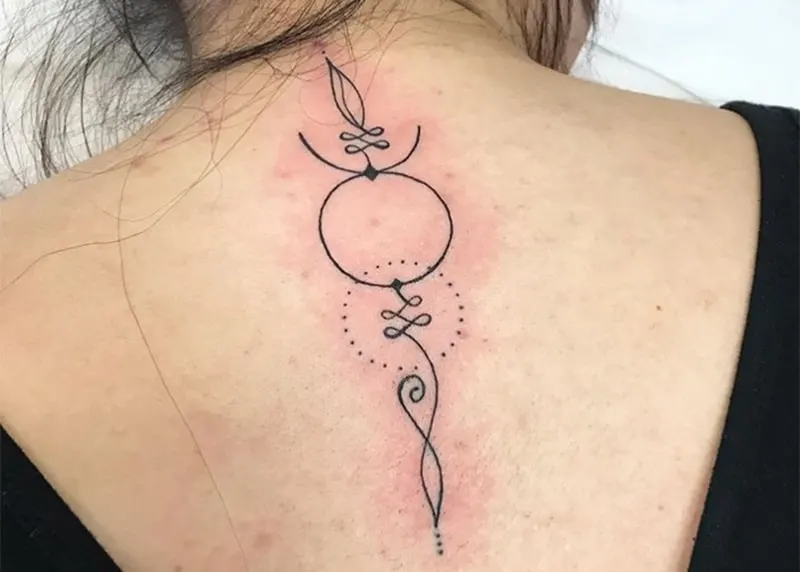 Via @art.by.dru
Delicate and simple with a strong presence. This tattoo looks like something from elvish books.
25. Brush stroke Taurus zodiac symbol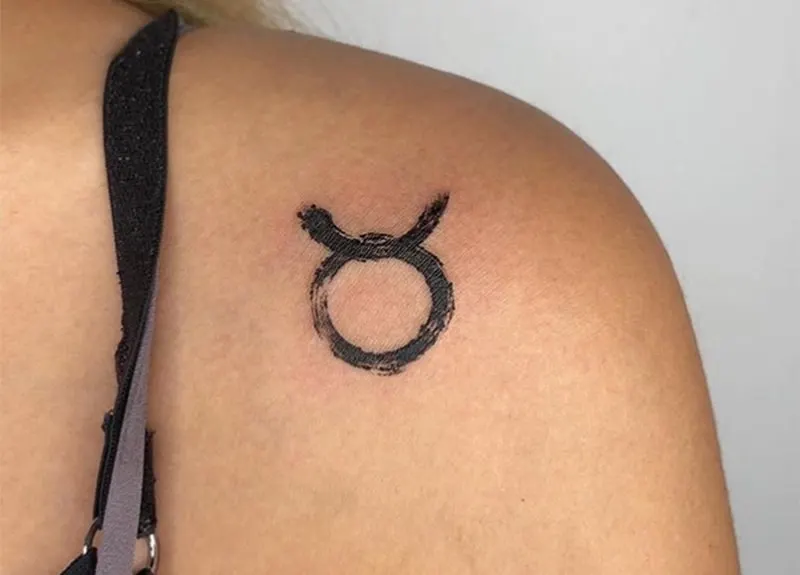 Via @ _silverdragon
A different take on a classic Taurus symbol. Beautifully smooth brush strokes make it look so real.
26. Taurus girl with flowers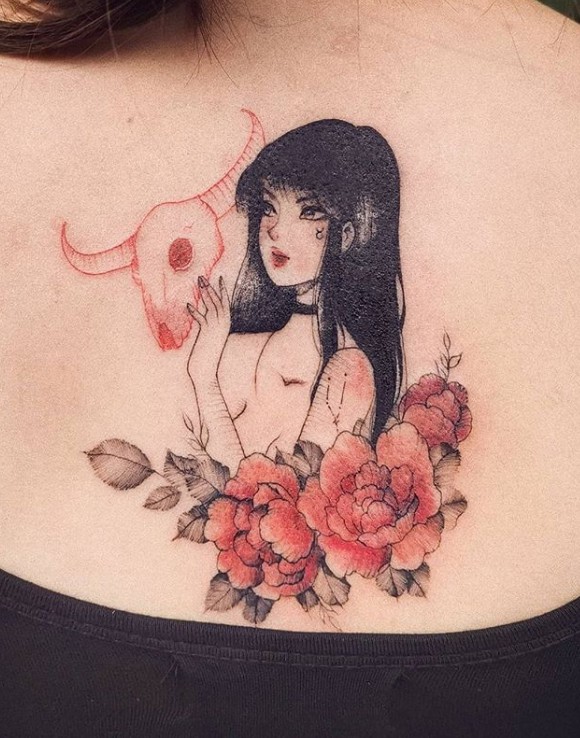 Via @ peipokes
Don't let the sturdy Taurus mask fool you! There's a gentle and loving creature underneath it.
27. Shaman girl tattoo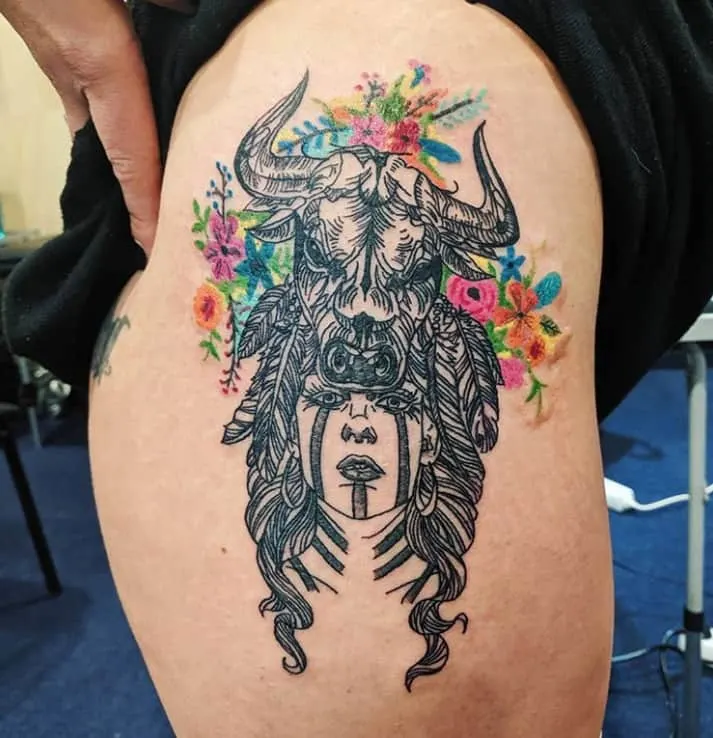 Via @ivanagorican_tattoo
This bold design evokes something spiritual. The girl looks like a forest shaman lost in flowers.
28. Taurus and Leo tattoo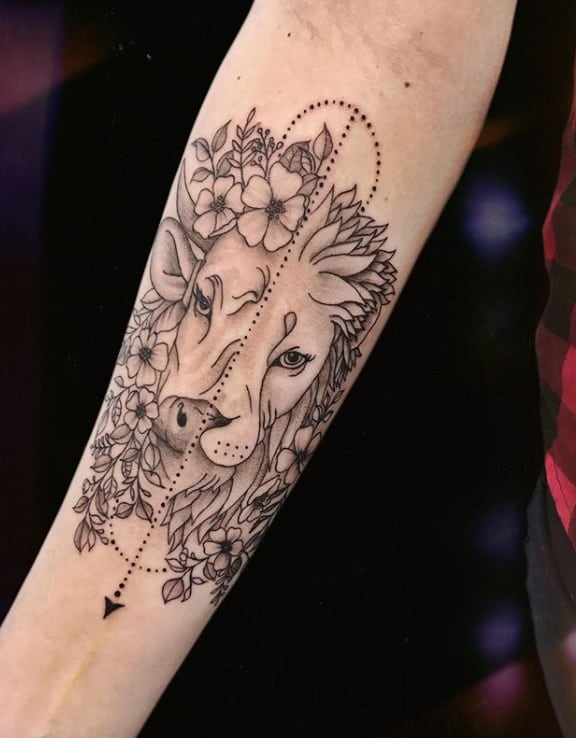 Via @scholes_inc
A great way to incorporate other signs into your tattoo – in this case, Leo! I bet Capricorn or Aries would work great too!
It would take a lot of skill to incorporate Gemini or Libra though because they are mainly represented as humans.
29. Sensual Taurus woman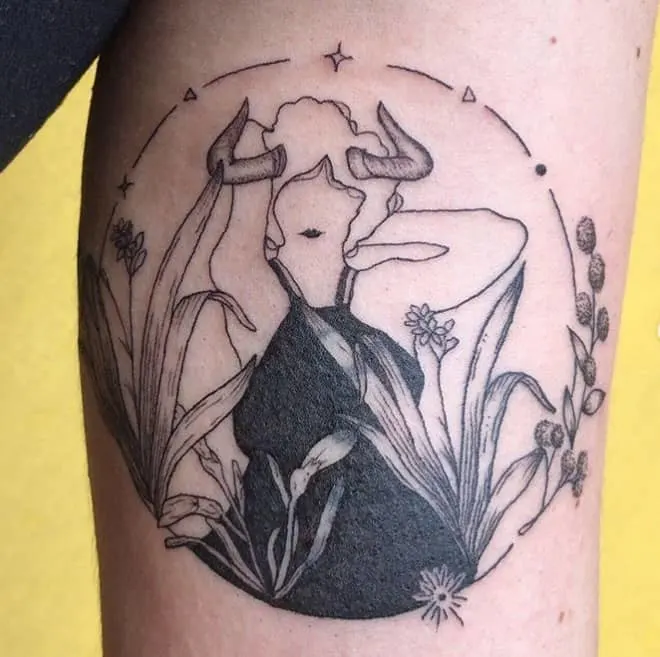 Via @ lausinaink
This tattoo design depicts a sensual Taurus woman among flowers, with a stylized approach. Lots of space is left for filling it in with meaning.
30. Taurus hand tattoo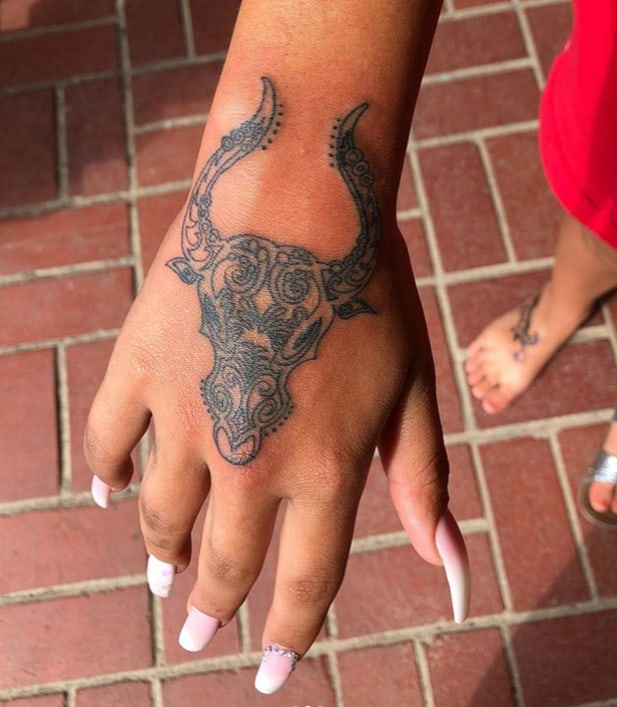 Via @ syrus_disney_tattoos
This Taurus hand tattoo looks stylish and boho and fits perfectly on the hand.
31. Colorful tattoo with gold details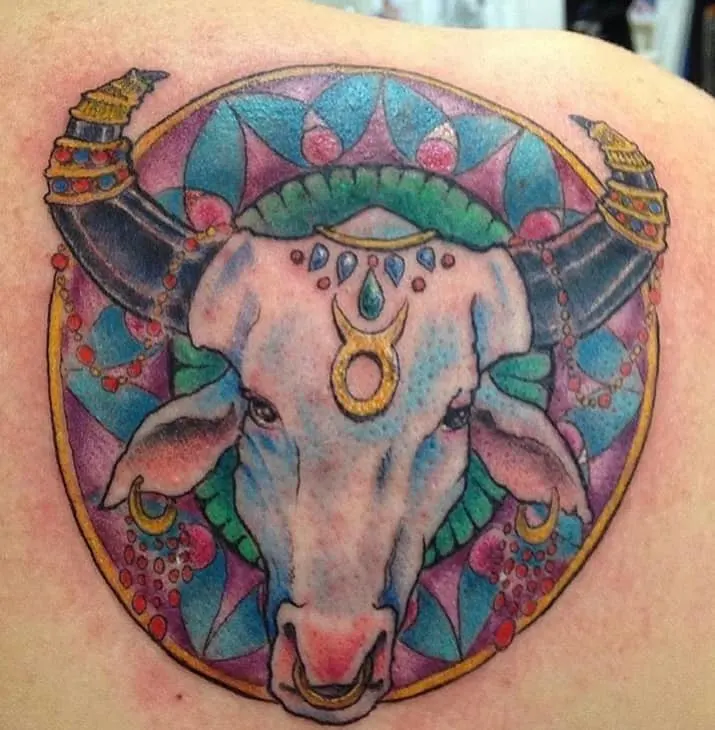 Via @chapi_tattoos
This design is so splendid! It reminds me of the goddess Venus and everything she represents. Rich with colors and details, a truly royal looking bull.
32. Flowery Taurus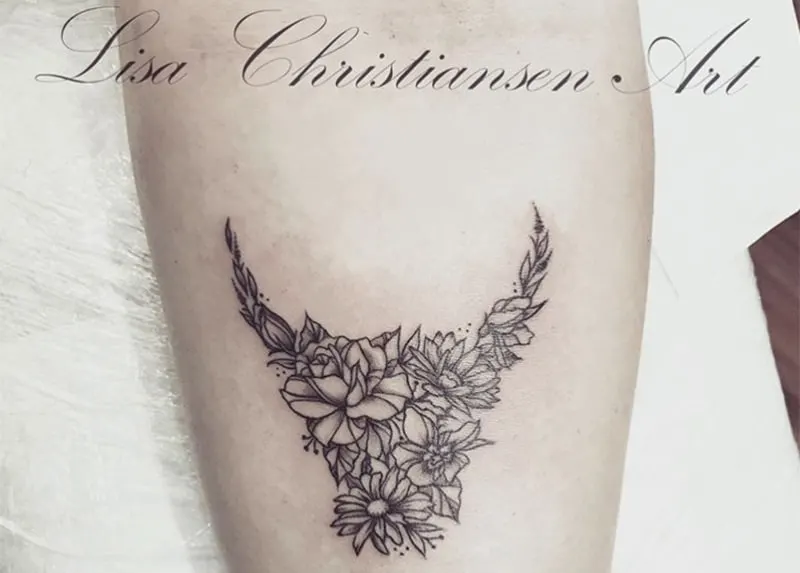 Via @ heritagetattoonz
A perfectly shaped flowery bull. Nothing but pure joy. Might be the best tattoo ever.
33. Sternum tattoo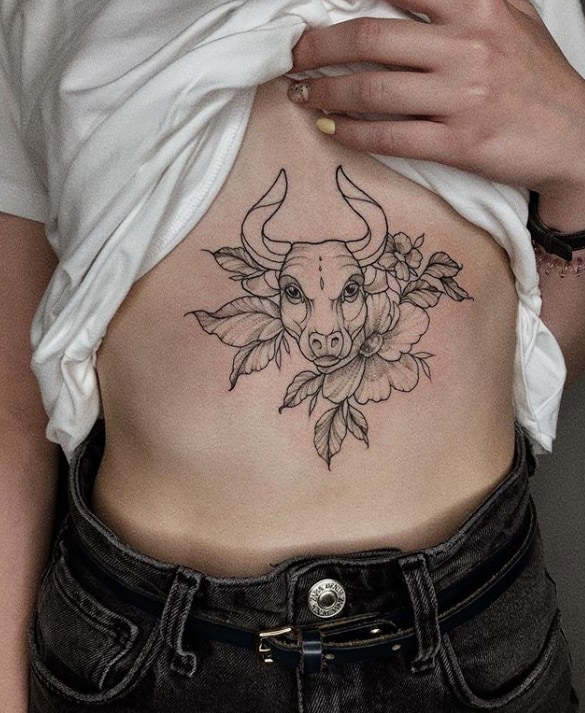 Via @sherstyuk.k
An idea for a sternum placement that doesn't look overpowering and enhances the beauty of your body.
34. Sleepy Taurus girl tattoo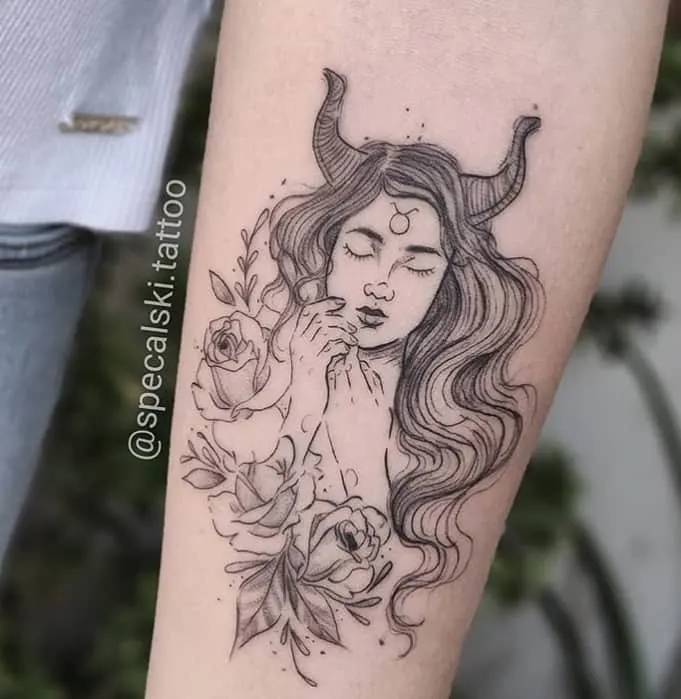 Via @specalski.tattoo
This portrait represents the slow and calm Taurus. The girl looks like a horoscope goddesses.
35. Taurus constellation inside bull illustration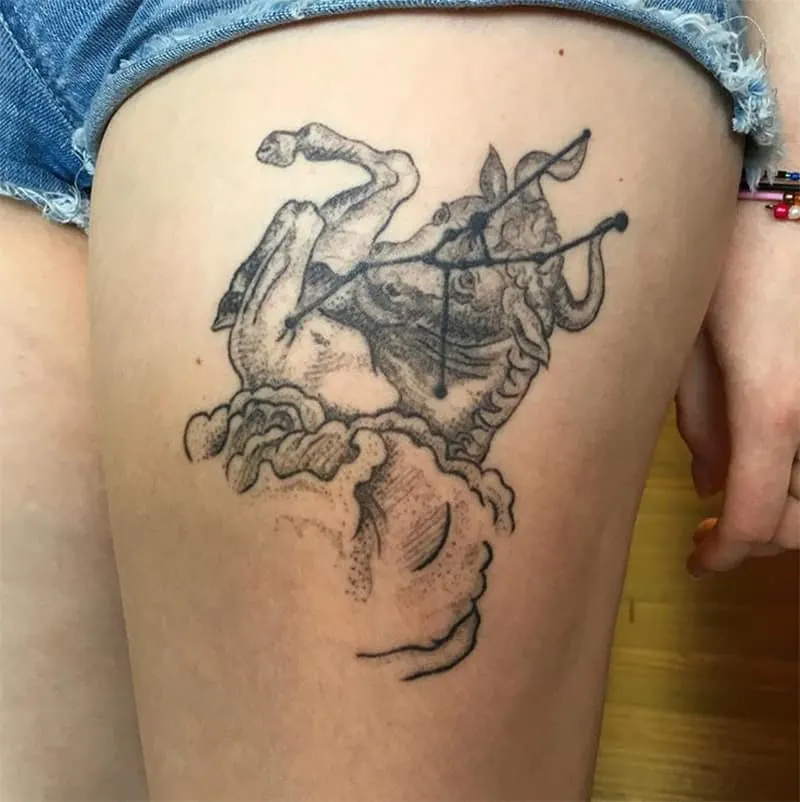 Via @ badzenresidue
This design looks like it has been taken from a long forgotten vintage book!
36. Flower constellation tattoo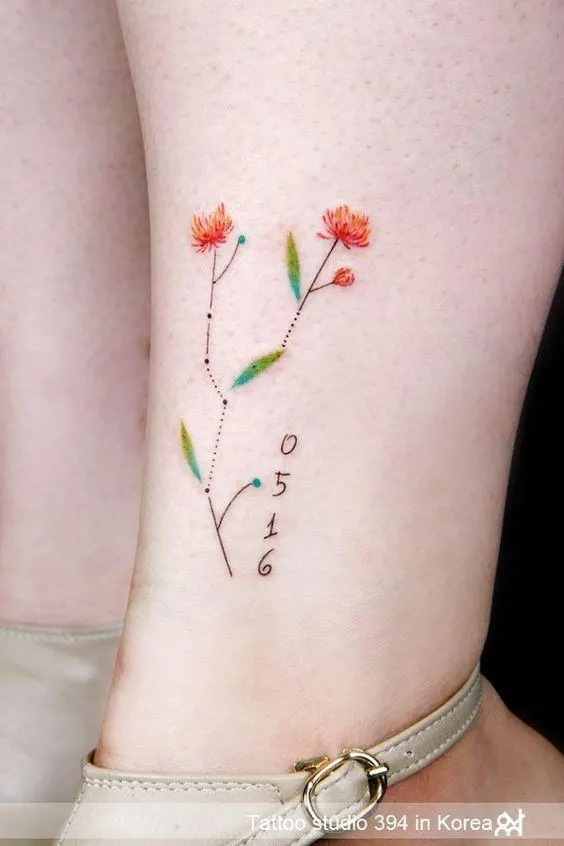 Via Pinterest by Tatto studio 394
So clean, precise, and sweet. A constellation hidden inside flowers.
37. Foot tattoo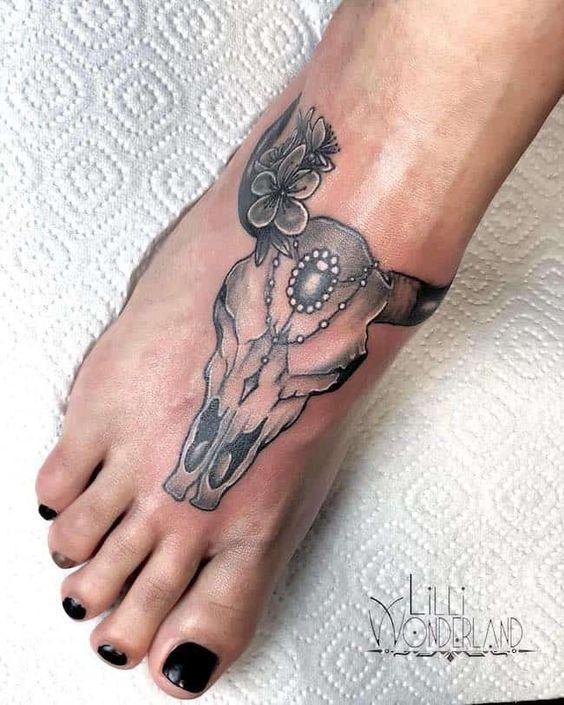 Via Pinterest by Lilli Wonderland
The shape of the skull goes well with the shape of feet. Cool and pretty.
38. Minimal tattoo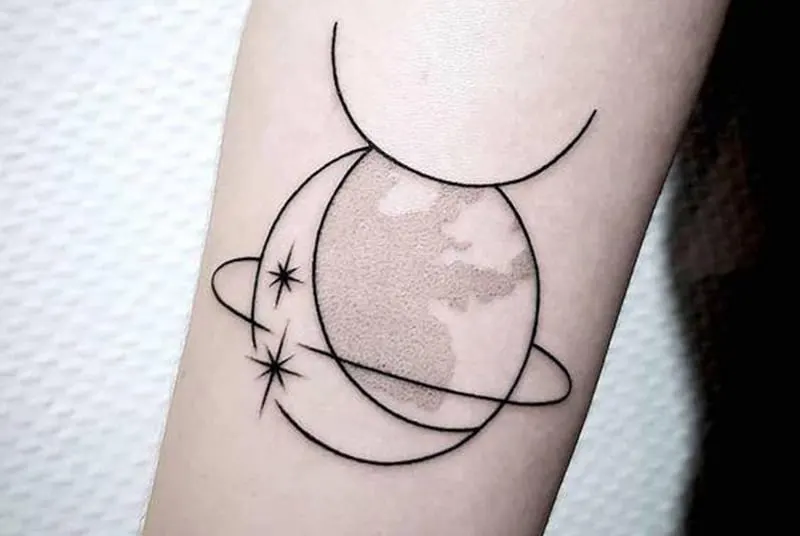 Via @paralinetattoo
Clean and minimal tattoo containing a planet, half moon, stars and the zodiac symbol. Very elegant and feminine.
39. Colorful watercolor tattoo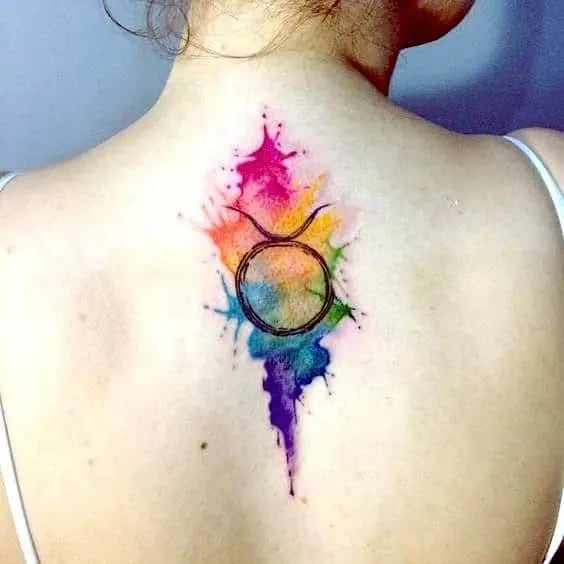 Via @paula.troyack
A rainbow colored Taurus design. If you like a pop of color, this is it.
40. Adorned Taurus girl portrait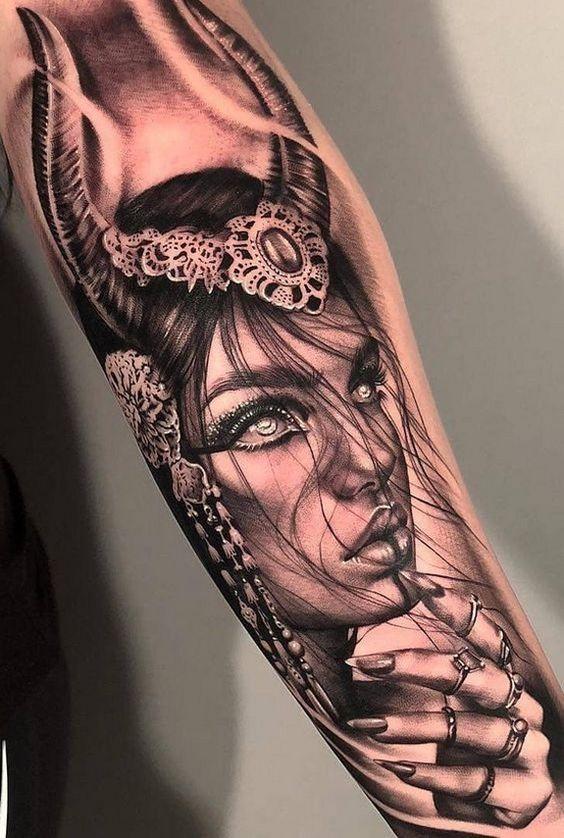 Via Pinterest
Fantastic black and gray portrait of a stunning girl who might be Venus herself.
41. Birth of Venus tattoo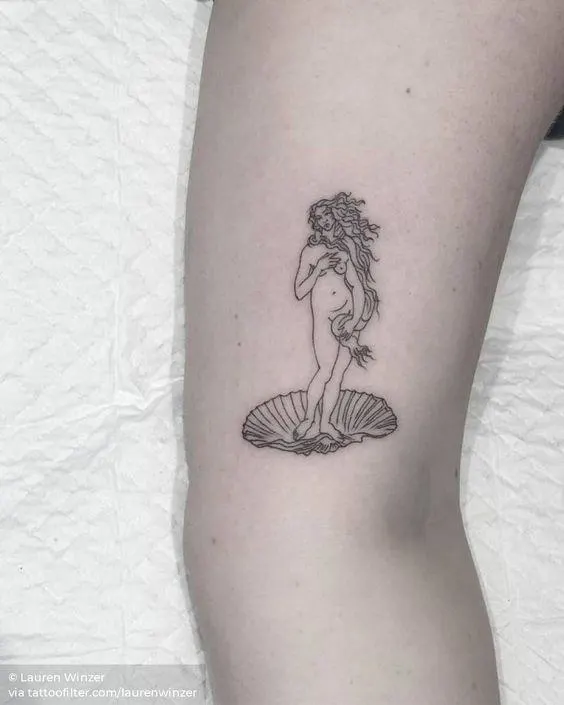 Via Pinterest by Laurel Vinzer
Speaking of Venus – this Birth of Venus inspired line art is a great representation of a Taurus sign without even using traditional symbols.
42. Dot work triangle tattoo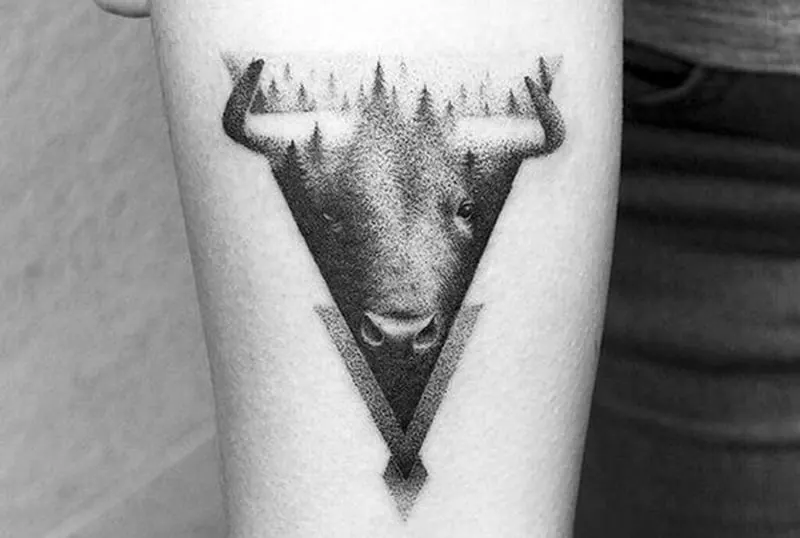 Via @amanda_piejak
This tattoo, done in the dot work style, incorporates geometry, a forest, and a soft bull portrait.
43. Geometric tattoo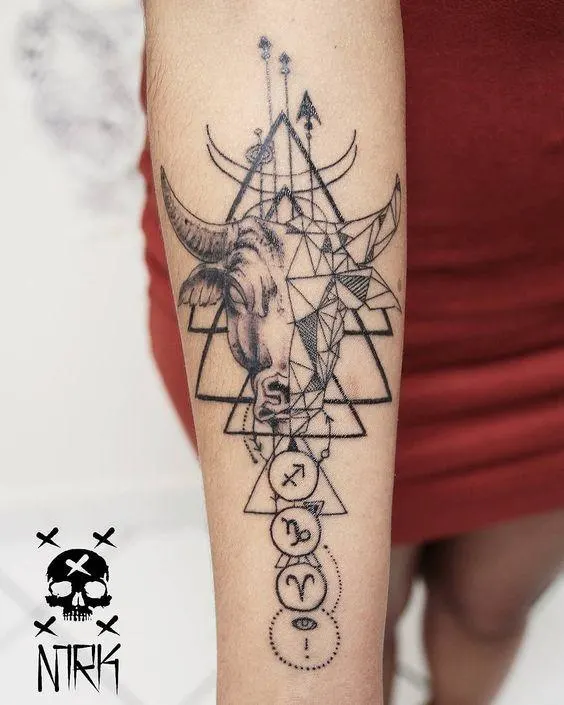 Via Pinterest
So much symbolism in so little space.
44. Flying bull tattoo
Via Pinterest
A unique concept of a levitating bull with roots and the sun in the background. It goes well with the earthy nature of Taurus natives.
45. One-line full body bull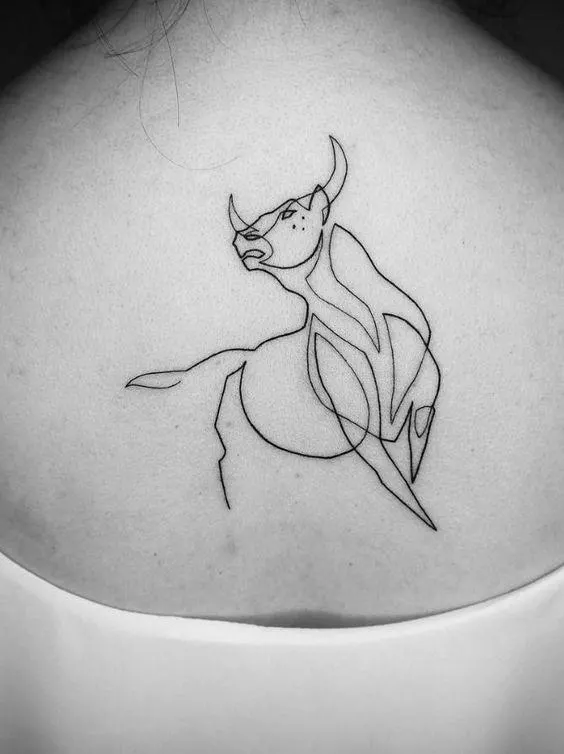 Via Mo Ganji
Wow! This one-line tattoo artist is amazing. This design is brilliant. Elegant yet strong.
46. Rhombus tattoo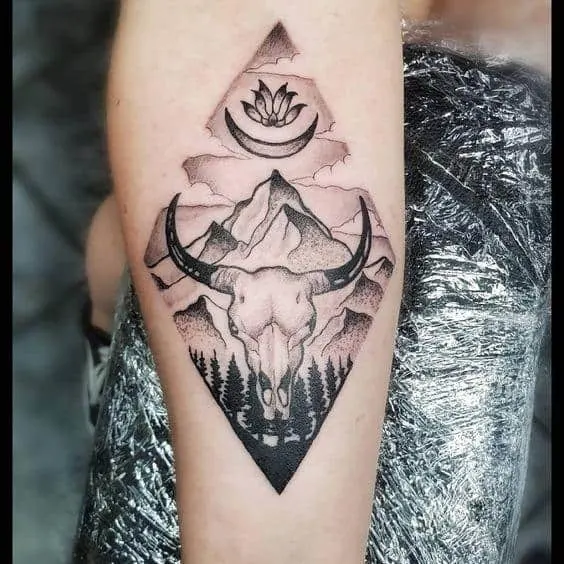 Via Pinterest
Nature scenery and skull in a rhombus. An A+.
47. Circular horns tattoo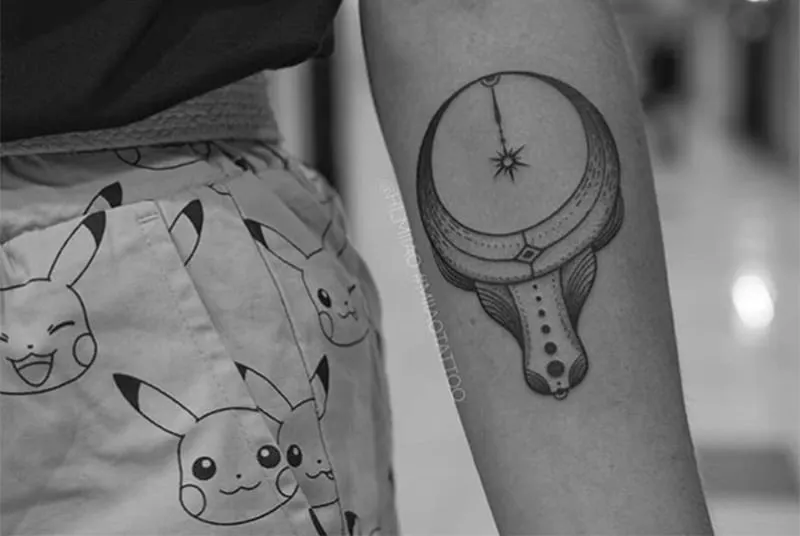 Via @hi_miiao
A unique and well thought through design. It's easy to miss the shape of the bull's head, but it's definitely there.
48. Boho skull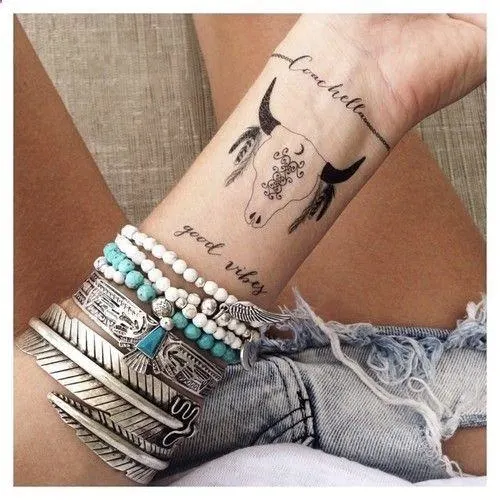 Via Pinterest
Another boho looking design. Cute and chic.
49. Rich detail tattoo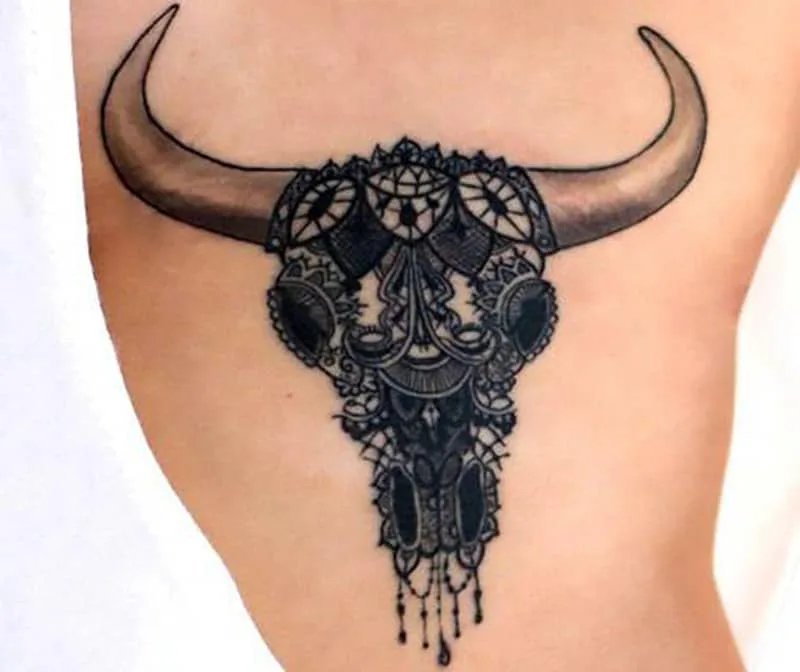 Via Pinterest
An extremely detailed and stunning design.
50. Another gentle looking bull tattoo
Via @ninkeartsy
This bull looks so soft, gentle, and realistic!
51. Dreamy Taurus girl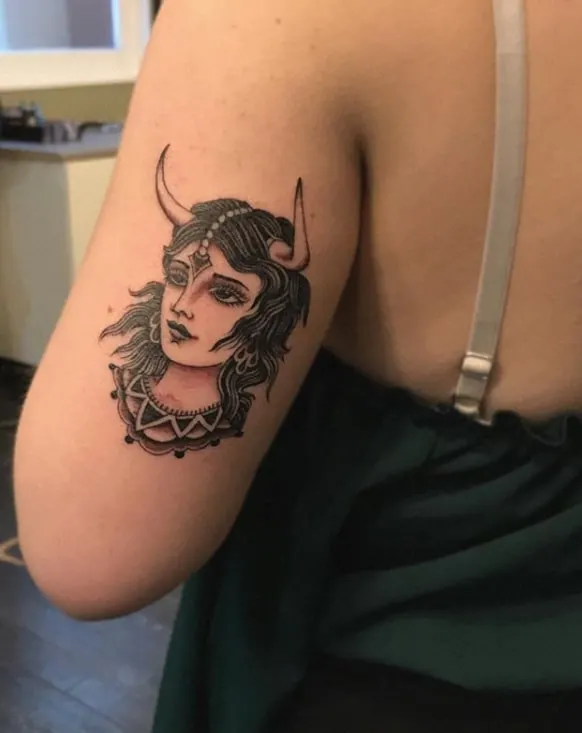 Via @wutown_tattooer
A beautifully drawn Taurus girl inspired by a traditional illustration.
52. Realistic bull head tattoo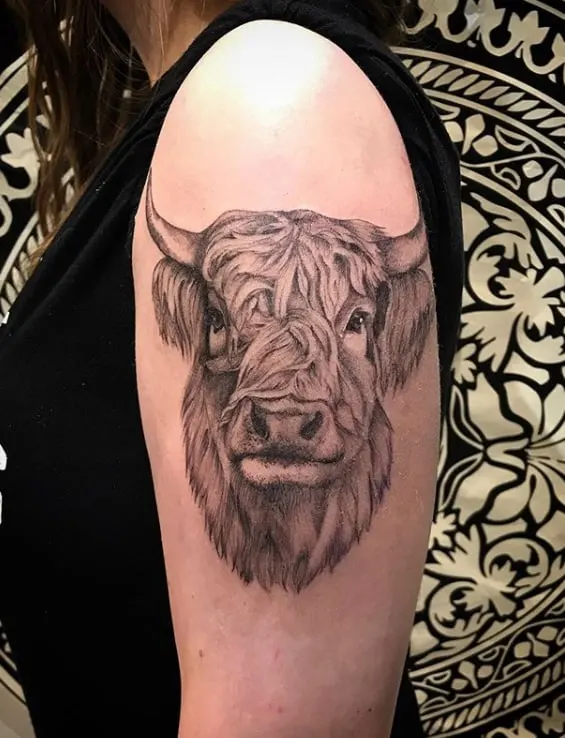 Via Pinterest
A perfectly realized and realistic depiction of a bull.
53. Bull inside zodiac symbol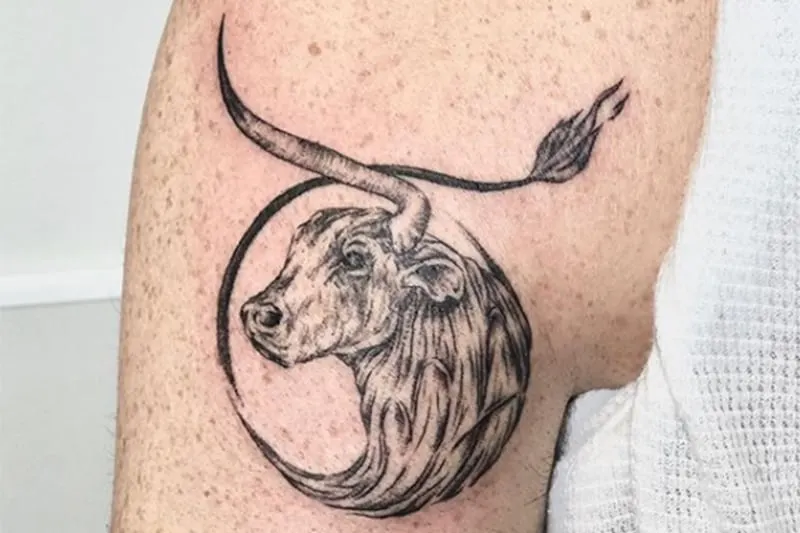 Via @juliasaccardo
Awesome Taurus design with stunning and realistic drawing.
I hope you have been inspired by looking at these beautiful designs and that you're looking forward to getting your very own Taurus tattoo!