In many long-term relationships, with time, it becomes challenging to keep the spark alive and make sure that you still prioritize each other.
You hear about couples breaking up because they simply fell out of love, and it scares you to your core.
You immediately start thinking about what if that happens to your relationship?
What if he suddenly realizes he is no longer in love with you? What then?
What if there is genuinely nothing you can do to stop that? And so the mind games begin…
Listen, with time, it's only natural that the infatuation and the heat you felt for your partner in the beginning are going to transcend into something calmer but more secure!
But in no way does that mean you're going to fall out of love!
All it means is that there are stages to every relationship, and you have simply transferred to that final stage, where you love each other like hell, but it's no longer that crazy, infatuating emotion that takes over your entire body.
Now, it's a calm, gentle flame that is not going to stop burning for as long as you take care of it and protect it from any outside influences.
Nothing can sustain itself without effort and dedication, as is the case with love!
And if you want your relationship to go the distance, there are things you can do as a couple that will ensure the bond you have remains as strong as ever and keeps you bound to each other for a really long time.
Here are 5 things that you and your partner can do to help keep that spark alive and make the love you have that much stronger and all-encompassing!
1. Pay attention to each other and prioritize your relationship even when you're going through tough times
It is really easy drowning yourself in work and your hectic life so that you forget about your partner and their needs.
Try to be conscious about always keeping them in the loop, and never disregard their needs due to a busy schedule.
Here are some simple ways to keep the connection strong and make your love grow:
· Whenever you can, snuggle with your partner, and give them a reassuring kiss or a hug.
· Give them positive feedback on something they really care about.
· If they are in need, let them vent to you without any interruption.
· Have coffee dates whenever your busy day allows for it.
· Call them just to say you love them and you're thinking of them.
This may not seem like much, but in reality, it's what love is all about. Small gestures with genuine intentions make all the difference.
2. Find the time to spend quality time together
Doing things as a couple is crucially important for the quality of a relationship.
This is why it's paramount that you make time for activities that only include the two of you.
Here are some ideas for setting time aside just for the two of you:
· Schedule a romantic getaway as soon as you both have a few days off.
· Make your partner a home-cooked meal, and surprise him when he gets home (take turns!).
· Have weekly date nights, and always follow through (no excuses – find the time!).
· Hang out on the couch with a bottle of wine, and catch up on each other's lives.
· Find a hobby you both enjoy, and make time for it—no matter what.
Don't let a busy life get in the way of your relationship. Your partner is your number one, and never forget that.
Spending time together will remind you of the love and bond you share, making it impossible for that bond to simply die out.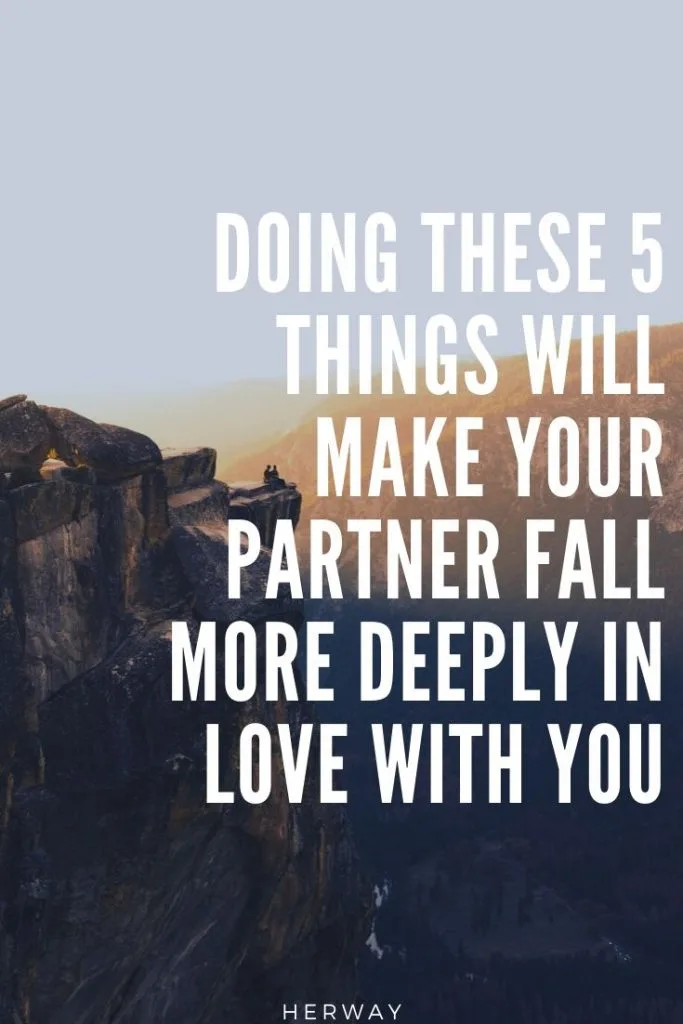 3. Be thankful for all the little things your partner does on a regular basis
Make sure you never take things your partner does for granted. Being thankful is a sure way to not waste a day in your relationship.
Not sure what there is to be thankful for? Here are just a few things that you should always appreciate!
Things your partner does that are reasons to be grateful every single day:
· Making sure the house is clean and tidy when you get home from work.
· Allowing you your space when you need it without prying and pressuring you.
· Cooking meals for you and/or the entire family.
· Asking you how you are and actually caring enough to listen and help.
· Being able to make you laugh on the most dreadful days.
These are just a few of many things that should never go unnoticed!
Being grateful every day is something that will improve your mood and make the love you have for each other that much stronger!
4. Spice things up by engaging in new things and experiences
Don't let your relationship fall into a rut by never doing anything out of the ordinary.
Find new things that will switch it up for you and bring excitement into your lives!
Here are some things you can try out:
· Enjoy road tripping somewhere you've never been before.
· Try a daring new hobby, such as skydiving or rock climbing.
· Have a completely different type of date night and don't think about tomorrow (be in the moment).
· Play exciting board games that will bring out your competitive sides.
· Play hooky from work, and have fun together doing something you both love.
This will bring out the passion and adrenaline inside you and make you see how much you truly enjoy spending time together and doing things that are exciting and daring with one another!
5. Do nice things for each other just for the sake of it
After a while, many couples forget to keep putting in effort and showing their partner the love and appreciation they have for them.
Don't allow that to happen. Keep being kind and doing nice things for each other for no reason other than loving them!
Here are things you can do to positively surprise your partner:
· Surprise them with a thoughtful gift you know they are going to absolutely love.
· Leave little love notes around the house for them to find.
· Plan a date night during the week, and surprise them (go to their favourite place).
· Give them a long, relaxing back rub.
· Let them choose the movie you're going to see, and don't fight them on it.
Keep doing those sweet things you did at the beginning of the relationship simply to show them you still feel the same way about them!
They are going to love you all the more for it, and it will strengthen your bond by a million.