Good night quotes are a beautiful way to show your loved one you're thinking about them.
You can never go wrong with sending a beautiful, short but meaningful message to your partner or a family member, just to make them feel like they matter.
People can be going through difficult times, barely holding it together during the day, so when their screen lights up as they are about to close their eyes, it truly makes their day knowing that they are on someone's mind.
Sometimes, it's these little things that make all the difference. One loving text can make a person's day.
One kind sentiment can change somebody's opinion about herself/himself and make them see that they indeed mean the world to someone.
It's easy to lose yourself in this crazy, tumultuous word we're all living in and that is why it's extremely important never to forget that a kind word and a beautiful gesture can make a huge impact.
So, don't waste another second and send your loved one an appropriate, meaningful and inspiring short paragraph and show them they are loved!
Here is a huge selection of beautiful goodnight quotes and there is something for each person in your world who you love.
See also: You Are My Everything Quotes: 100+ Beautiful Phrases For Him And Her
150 goodnight quotes for your loved one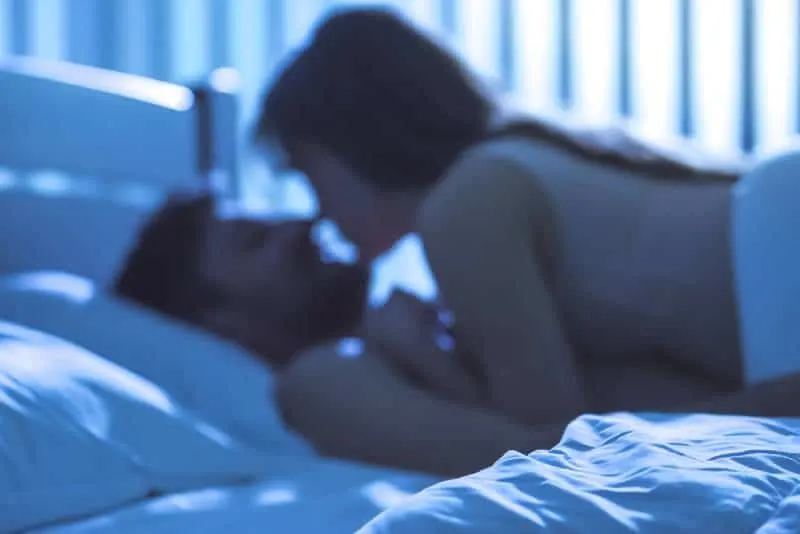 1. "Close your eyes, take a deep breath and have a sweet dream. Good night!''
2. "The lights are off, time to sleep, goodnight to you, may you have the most wonderful dream. Have a restful night.''
3. "Cherish all the beautiful moments today and think about them when you go to bed at night for a good night sleep. Good
night!''
4. "Each night, when I go to sleep, I die. And the next morning, when I wake up, I am reborn." – Mahatma Gandhi
5. "I hope you had a wonderful day today and may you have one again tomorrow and always. Have a good night!"
6. "The stars are bright, turn off the light, I wish you a sweet and sound good night.''
7. "The world is a better place to be because of you. Good night and sweet dreams.''
8. "Good night, good night! Parting is such sweet sorrow, that I shall say good night till it be morrow." – William Shakespeare
9. "The stars sparkle and shine like you do in my life. Have a good night sleep.''
10. "I am so lucky to have you in my life. Have a great night sleep and I'll see you soon.''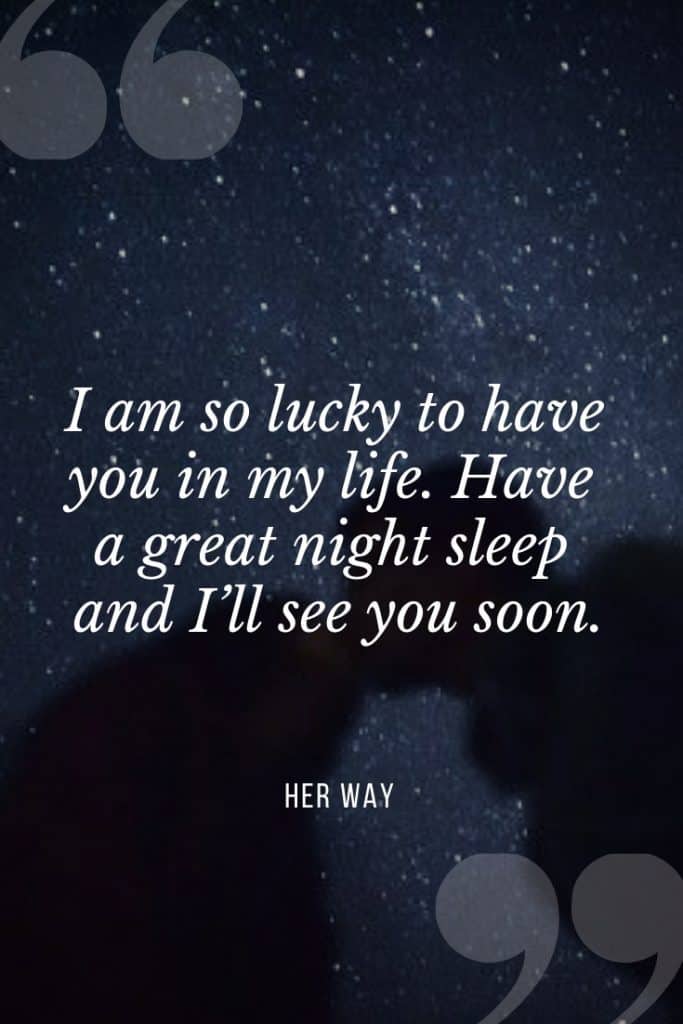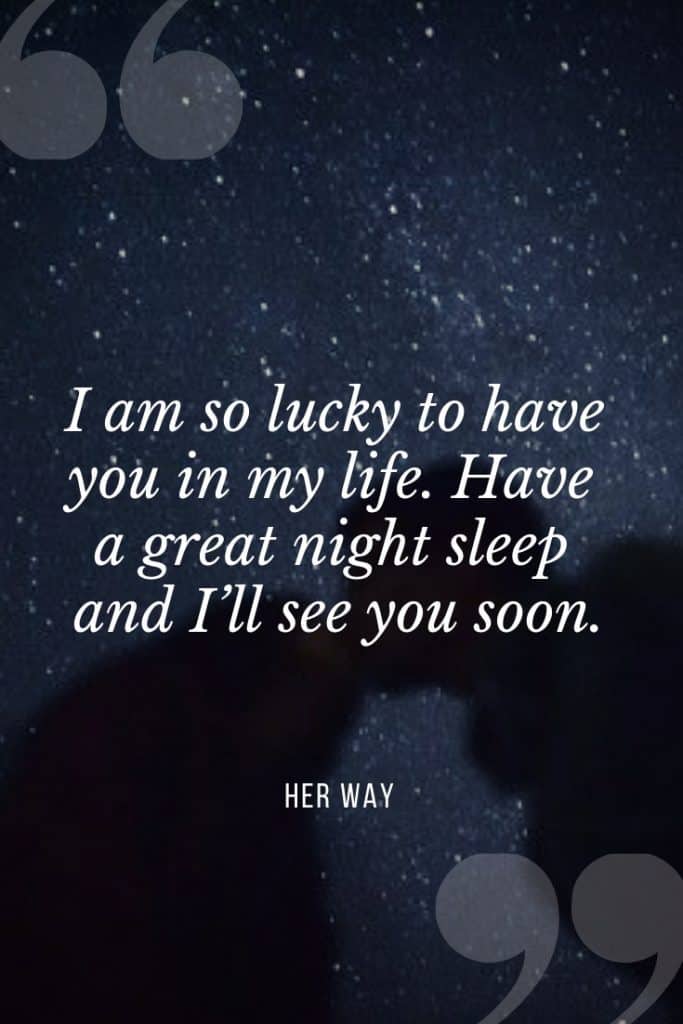 11. "Good night, and good luck." – Edward R. Murrow
12. "Tomorrow is going to be a great day so sleep well and wake up well. Have a restful night.''
13. "You are always in my thoughts and prayers. Have a great night sleep.''
14. "I have loved the stars too fondly to be fearful of the night." – Sarah Williams
15. "May my prayers bring you wonderful dreams and a blessed night sleep. Have a good night!''
16. "May my arms reach you and hug you good night to wish you sweet dreams and to sleep tight.''
17. "Music is love, love is music, music is life, and I love my life. Thank you and good night." – AJ McLean
18. "Good night, sweet dreams and know that I care and am thinking about you.''
19. "The best link between sorrow and hope is a good night sleep. I hope you have a restful night and a wonderful day tomorrow.''
20. "There was never a night or a problem that could defeat sunrise or hope." – Bernard Williams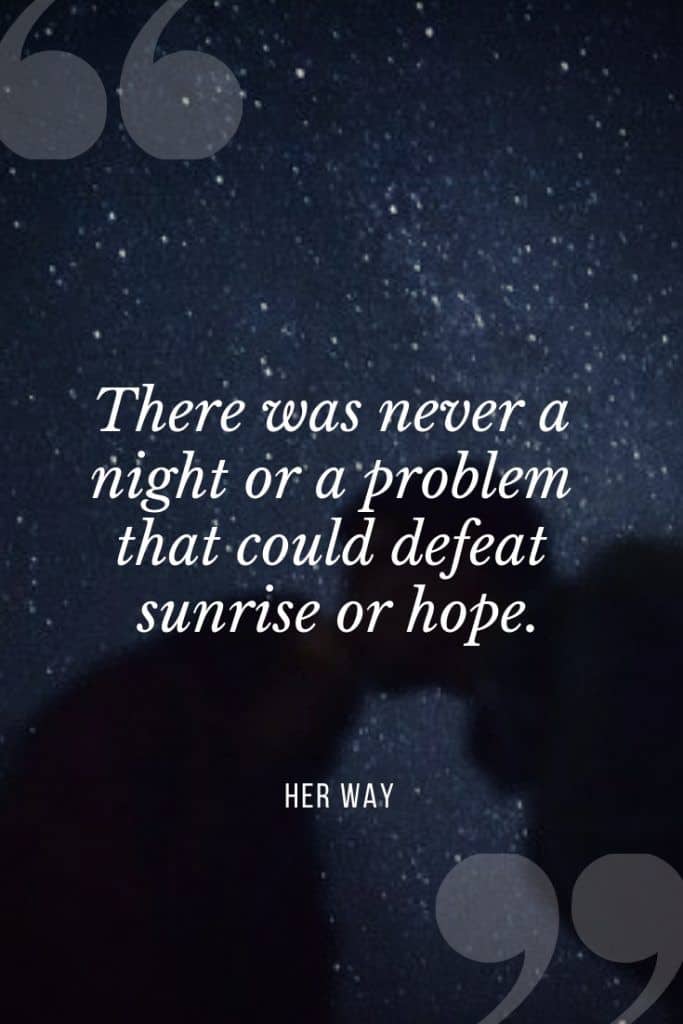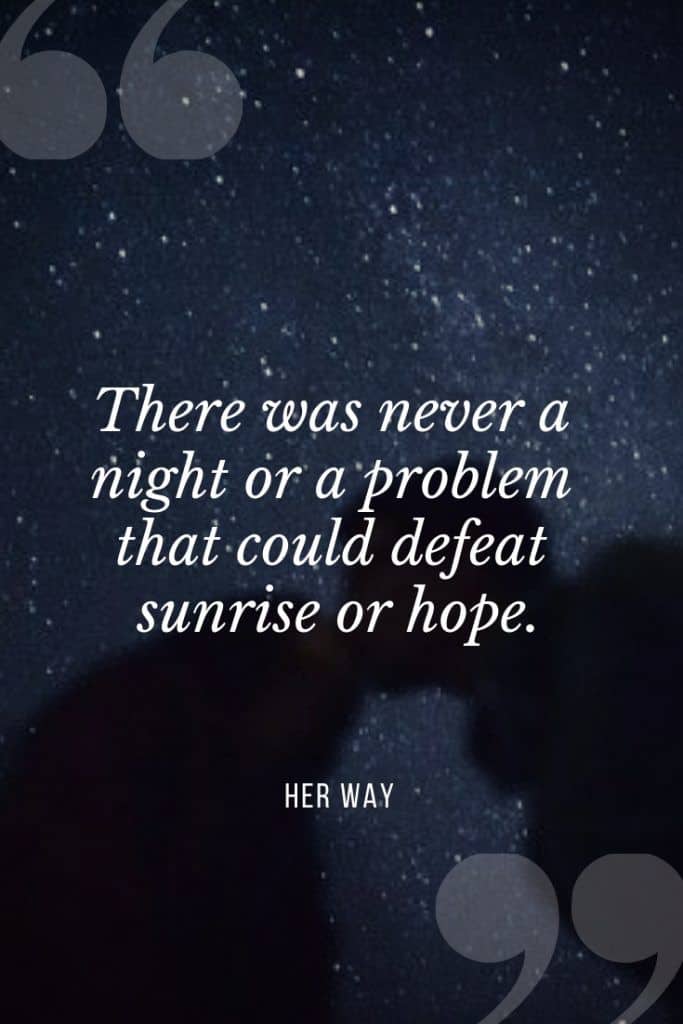 21. "My life is now better than my dreams, thanks to you.''
22. "How is that you are always on my mind when I get up, when I go to bed and all the time in between? Good night my love!''
23. "You are what I look forward to in the morning and the reason I love cuddling. Have a restful night.''
24. "I smile because of you when I get up in the morning and I smile because of you when I go to bed at night. Good night my love!''
25. "My nights are complete with you sleeping next to me. I'll see you in the morning my angel.''
26. "Dreams are wonderful because of you my love. Good night!''
27. "Good night my love, I'll see you in the morning.''
28. "Thank you for promising to marry me; when you said yes, it was the world's greatest engagement wish.''
29. "Have a good night, you sexy thing, I'll see you in my dreams.''
30. "I hope you know how much I love and adore you. Good night babe.''
See also: You Are My Everything Quotes: 100+ Beautiful Phrases For Him And Her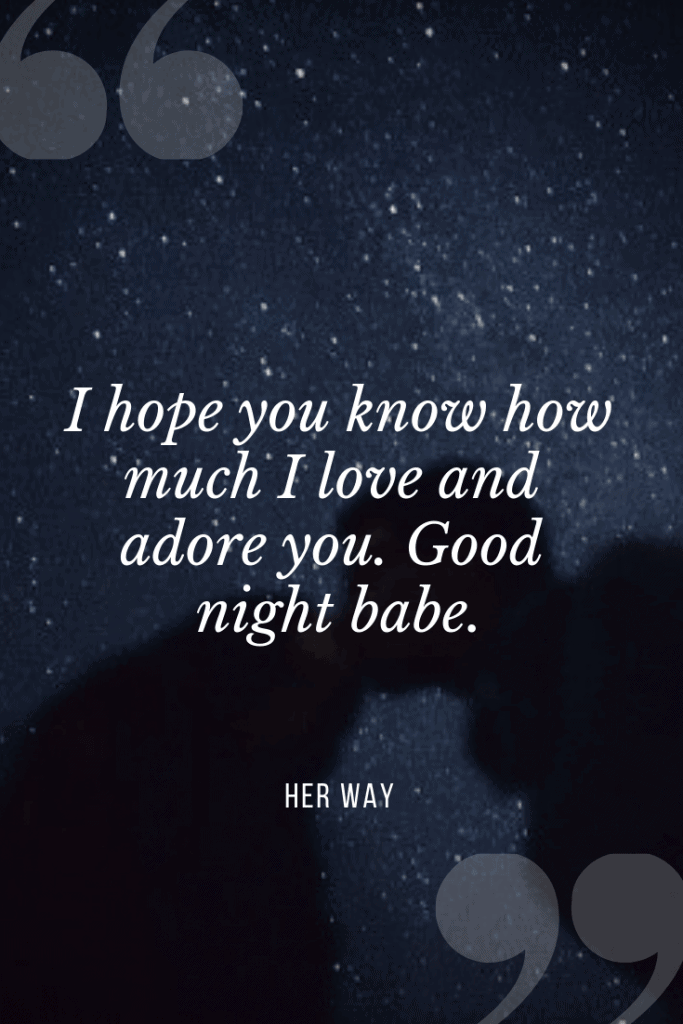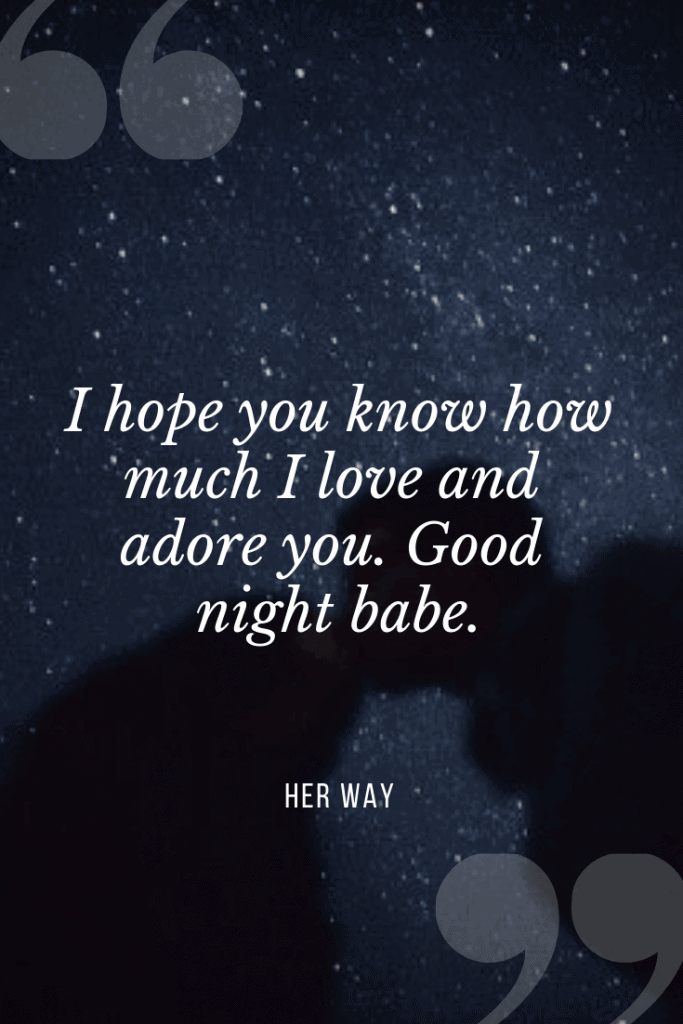 31. "I promise to kiss you good night and wake up with you every day for the rest of our lives. I love you.''
32. "You are the star that shines and brightens up my life. Good night my love!''
33. "Today was bright and beautiful because of you. Have a good night sleep my darling.''
34. "I will fly on a like a superhero just to snuggle and be in your arms tonight. I love you, sweet dreams.''
35. "I wish I was in your warm and loving arms tonight. I miss you so much. Good night my love.''
36. "Coming back home to you is the best part of my day. Have a good night sleep sweetheart.''
37. "My nights are sad and blue if I don't get to say good night and I love you.''
38. "Guess what I will be doing tonight? I will be stopping by to tell you I love you and good night.''
39. "Every night I pray that you will be protected and safe. I love you so much, good night babe.''
40. "May your dreams be filled with love and me! Goodnight.''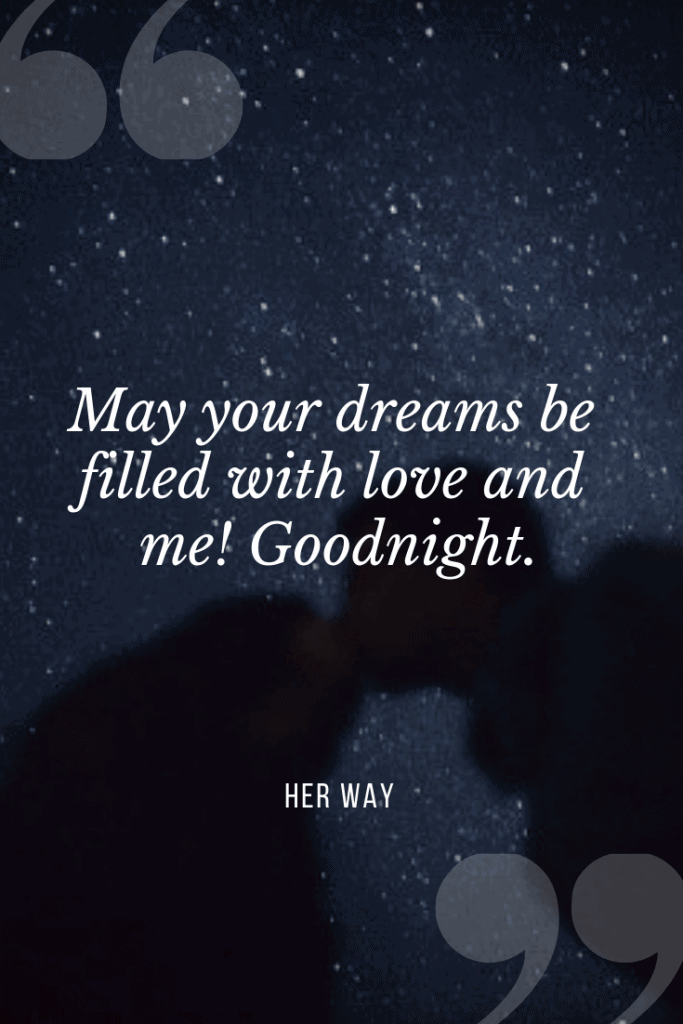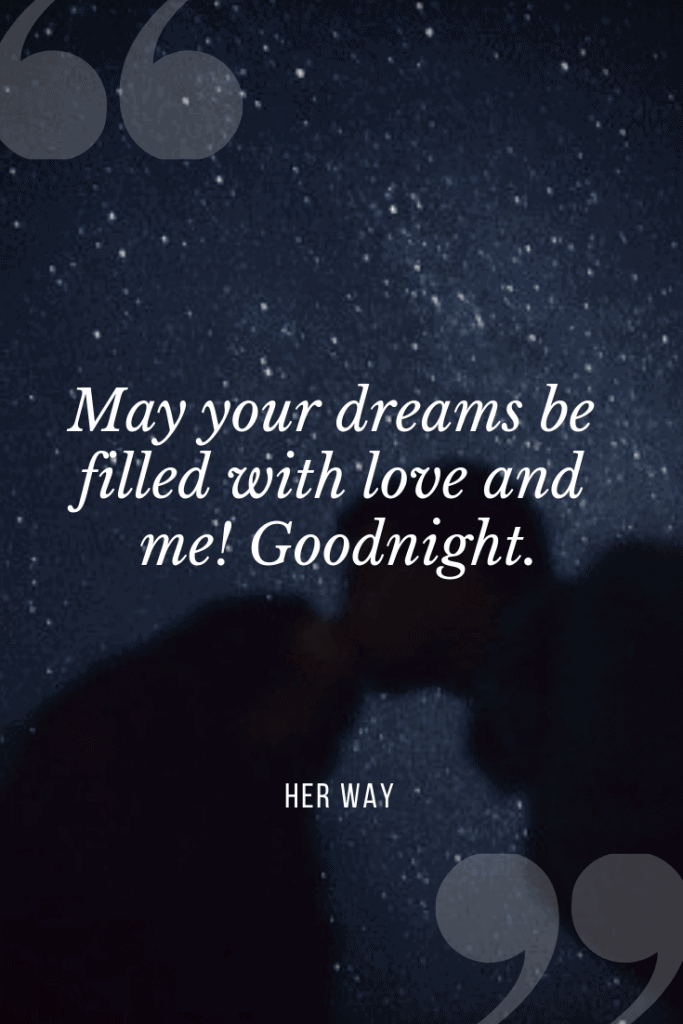 41. "Your smile gives me a good night's sleep. Being with you my dreams come true. I love you good night.''
42. "When you sleep tonight just know that I will always be here for you no matter what. Have a restful sleep love.''
43. "Hi, will you meet me in my dreams tonight? But first tuck me in. Have good night.''
44. "Monsters, death, destruction and disease! Those are all things you shouldn't think about before going to bed. Good night!''
45. "I'll be dreaming about you dreaming of me. Good night.''
46. "Did you know that good night quotes are a great way to transition into sleep? So, why don't you send me some?''
47. "I can't wait to marry you in the most breathtaking location, with rainbows and butterflies, and a honeymoon cruise all around the world. In your dreams!''
48. "Have a naughty, sexy, dirty, spicy, racy, juicy, erotic, sweet dream. Just keep me out of it!''
49. "I miss you already, come back to bed and snuggle with me, as long as you bring chocolate.''
50. "Good night and sweet dreams, lollipops and ice cream, I am happy that you are on my team. Good night!''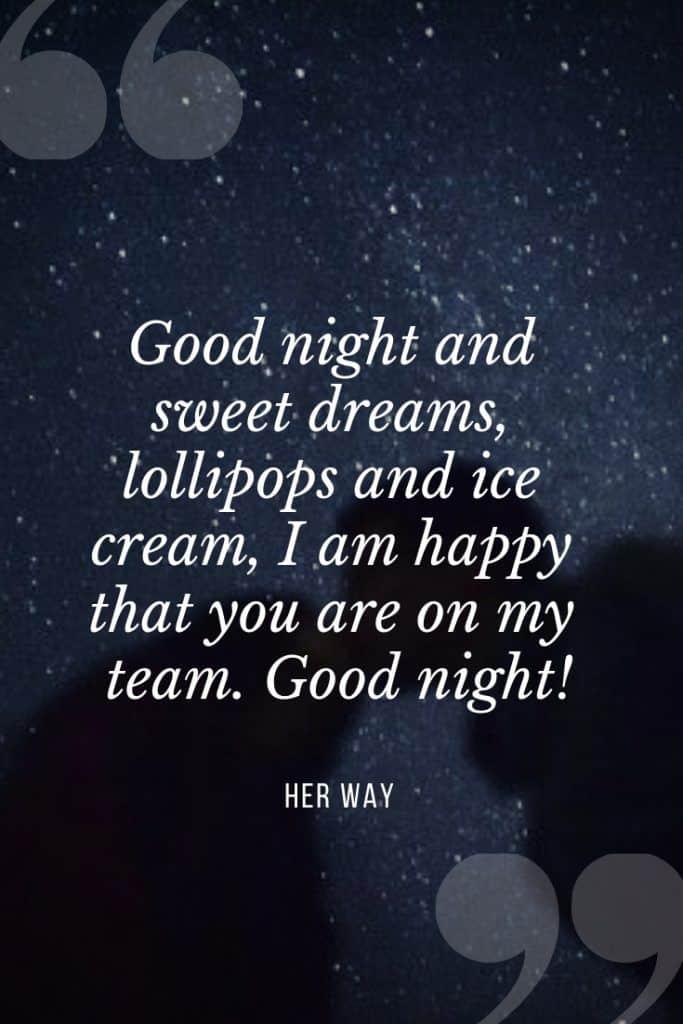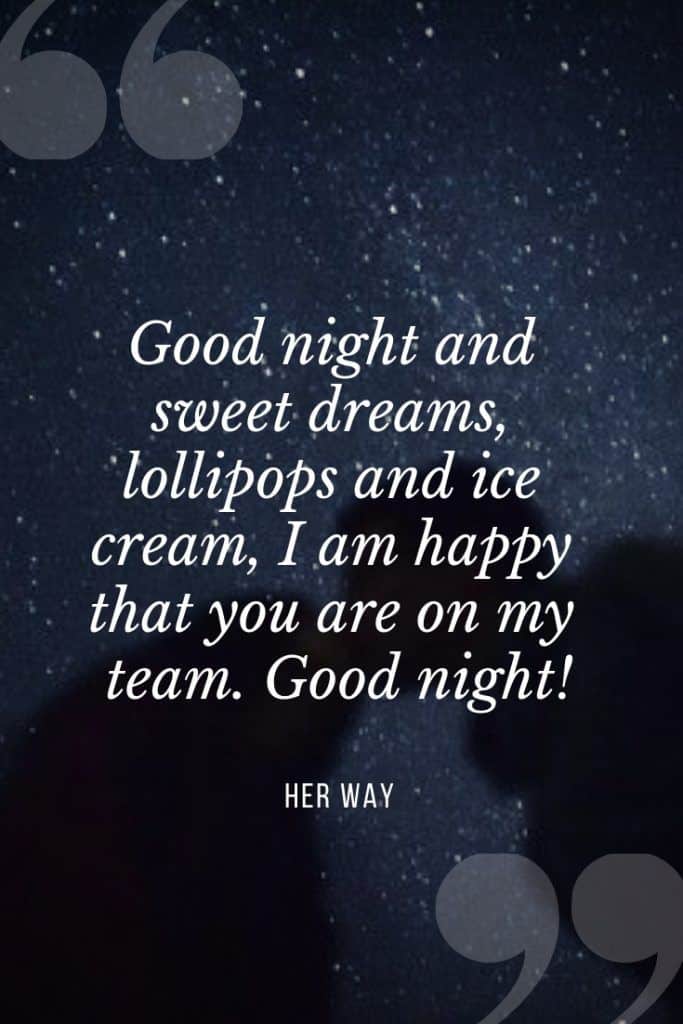 51. "I am the man/woman who will be snoring beside you for the rest of your life. Till death do us part. I hope that doesn't give you a nightmare!''
52. "Just so you know, you drive me nuts but I still hope you sleep well.''
53. "What's mine is also yours but will you please scoot over, you are on my side of the bed.''
54. "I really wanted to find the perfect way to wish you a good night but I couldn't, so… good night!''
55. "Sleep well, wake up well and I'll see your bright and happy face tomorrow. Good night.''
56. "I hope the ants won't come into your bed tonight because I am wishing the sweetest dreams to the sweetest person I know. Good night.''
57. "Everything's going to be all right tomorrow. Sleep well and have a restful night.''
58. "Good night my brother/sister. Thanks for always being there for me. I hope you have a rejuvenating sleep tonight.''
59. "I am grateful to have someone like you in my life. Have a good night sleep and have a great day tomorrow.''
60. "Thank you for being so kind. Sleep well and wake up well.''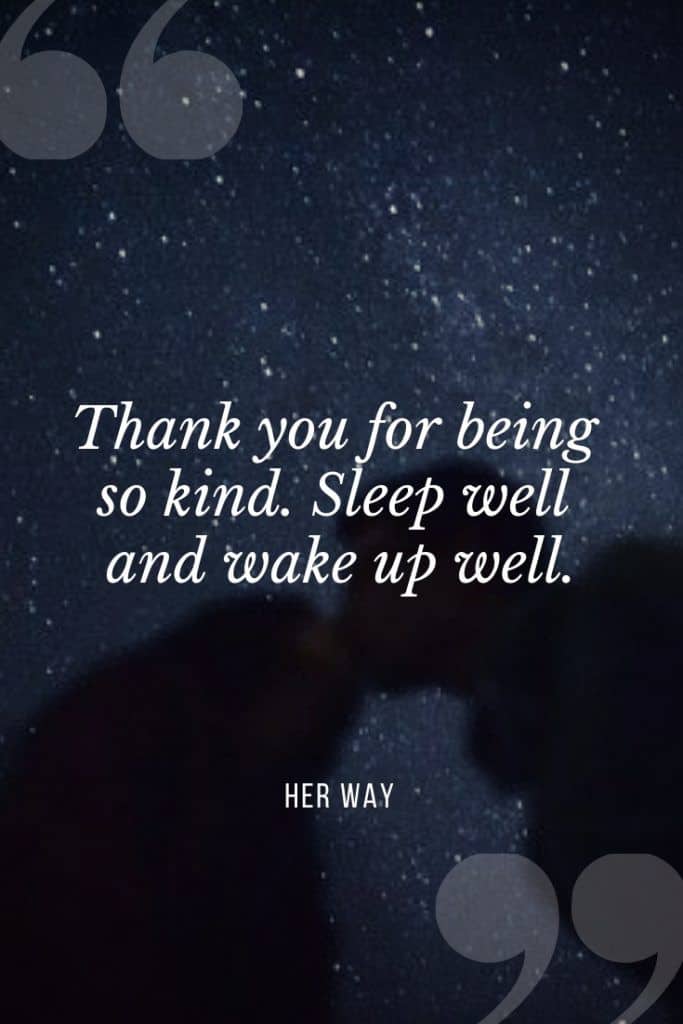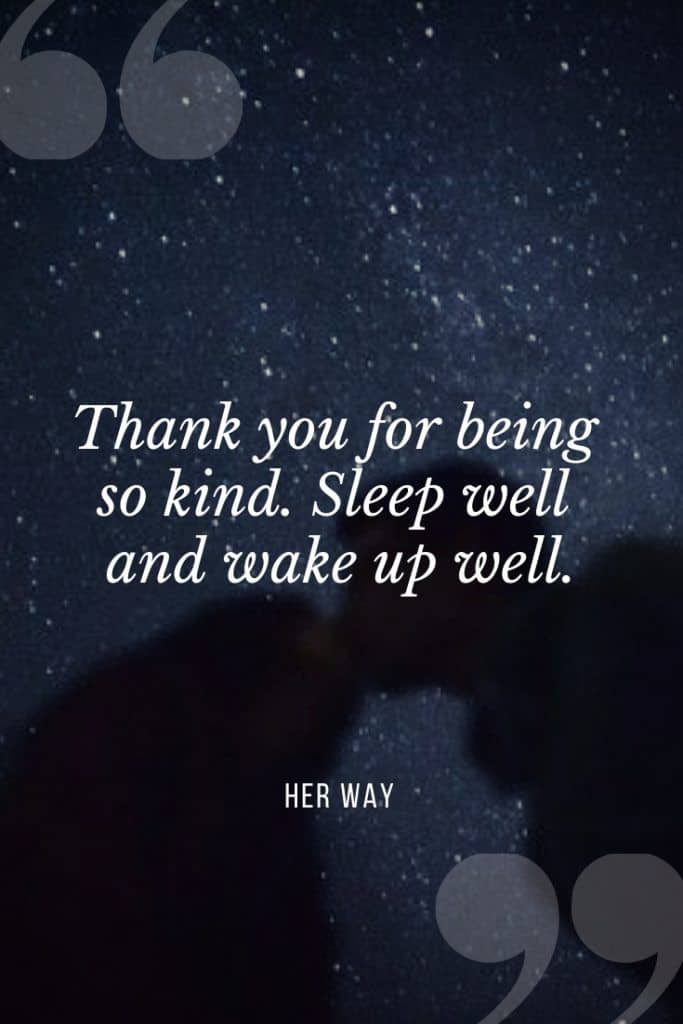 61. "Good night to the brightest star that this family has. I love you.''
62. "May God watch and guard you through the night and may you wake up well in the morning light. Good night.''
63. "Sleep will come to you for you are a good girl/boy, it's true. Good night sleepy head.''
64. "However your day has been, don't prevent yourself from having the sweetest dreams. I love you sweetheart.''
65. "It is senseless to wish you a good night because you won't have it, as I am not with you tonight, so at least, sleep tight, darling. Muah.''
66. "Don't fear, today monsters won't visit you as I will protect your sleep. Kisses and good night.''
67. "Even if you're tired after a hard day and do not look at all 100 percent, I always love you 1,000 percent! Good night.''
68. "You will have a hard day tomorrow, lie down to rest. I am always with you, even if I am not with you physically, but in the mind—permanently. Sweet dreams.''
69. "My favorite, I promise that this teddy bear spends with you the last night, we'll be together tomorrow. Good night.''
70. "I know that it is tough for you to fall asleep without me, let it be the biggest nuisance in your life. Soon we will never be apart, sweet dreams.''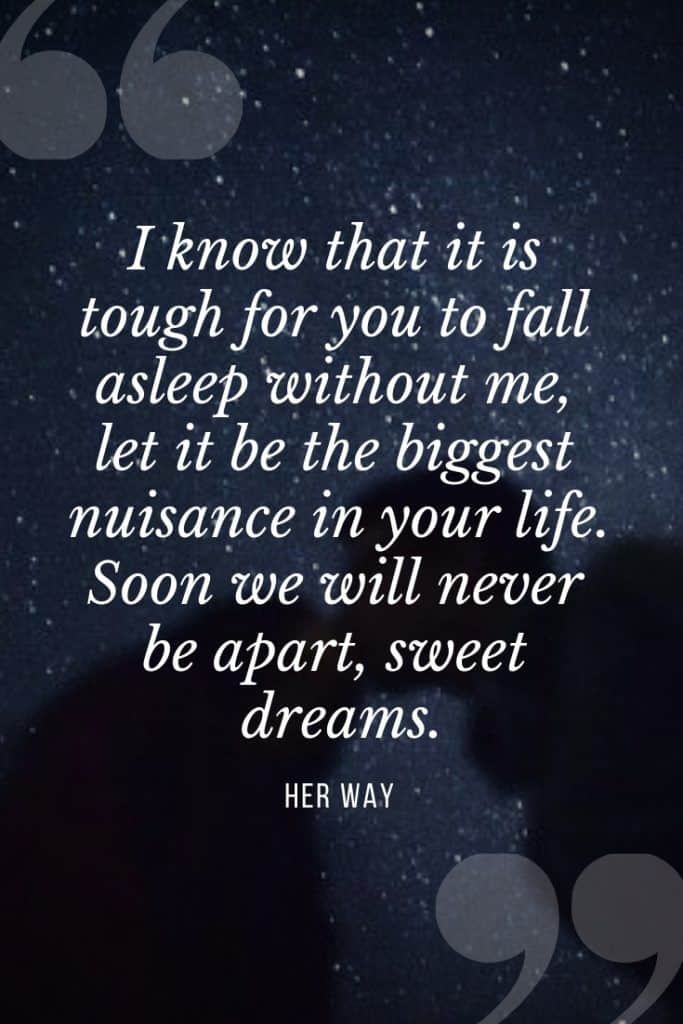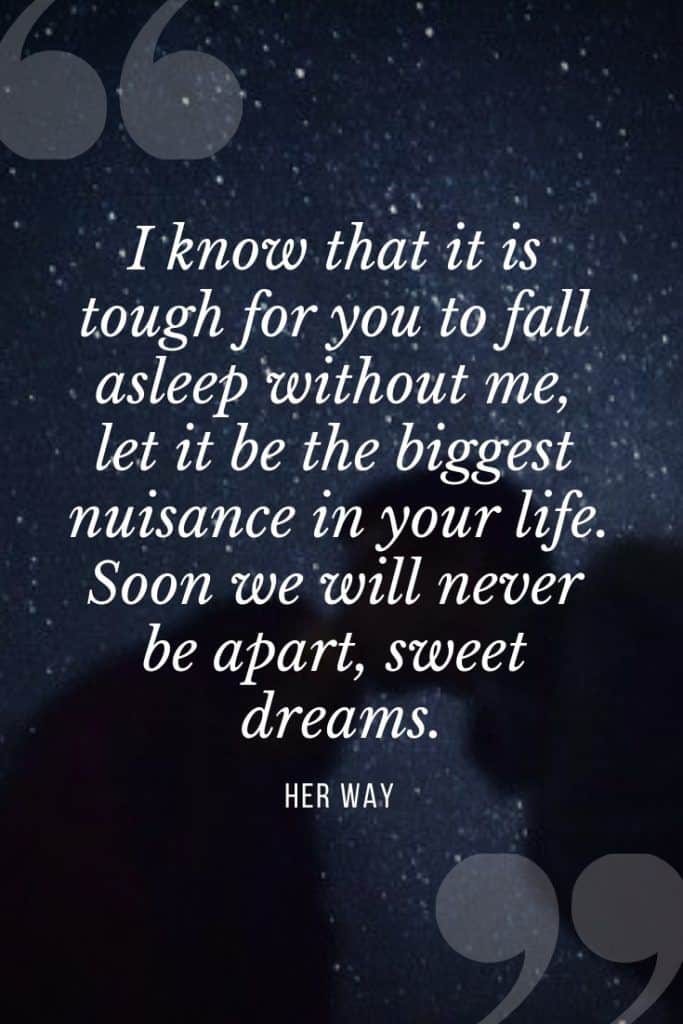 71. "Every night you are particularly beautiful, your stunning hair surrounds you like a nimbus, I just want to look at your beauty, but, for now, all I can do is to send you this SMS and my admiration. Good night.''
72. "Every night I become super cute, that is why I am sending you this message. I'm kidding, darling, you are always on my mind.''
73. "You are sleeping now, and I am thinking of you. You are a wonderful person and a beautiful girl, I'm really happy that I have met you! Good night.''
74. "The most handsome man wishes a good night to the prettiest woman in the world!''
75. "My favorite, I hope that this night will be different from other nights and you will finally sleep enough. Sweet dreams.''
76. "I miss our conversations until the morning, the night is empty without you. Sweet dreams.''
77. "Though I'm not Hercules, but I will always be able to protect you and your peaceful sleep. Sleep tight, baby.''
78. "My dream is to create a paradise on earth for you and to fulfill all your dreams. I dedicate my life to this. Good night, sweetie.''
79. "I hope that the dream, in which you see me, does not turn into a nightmare because I plan to come to you every night. Sweet dreams, my beloved.''
80. "Let your journey today in the realm of dreams be pleasant and interesting. Sweet dreams, dear.''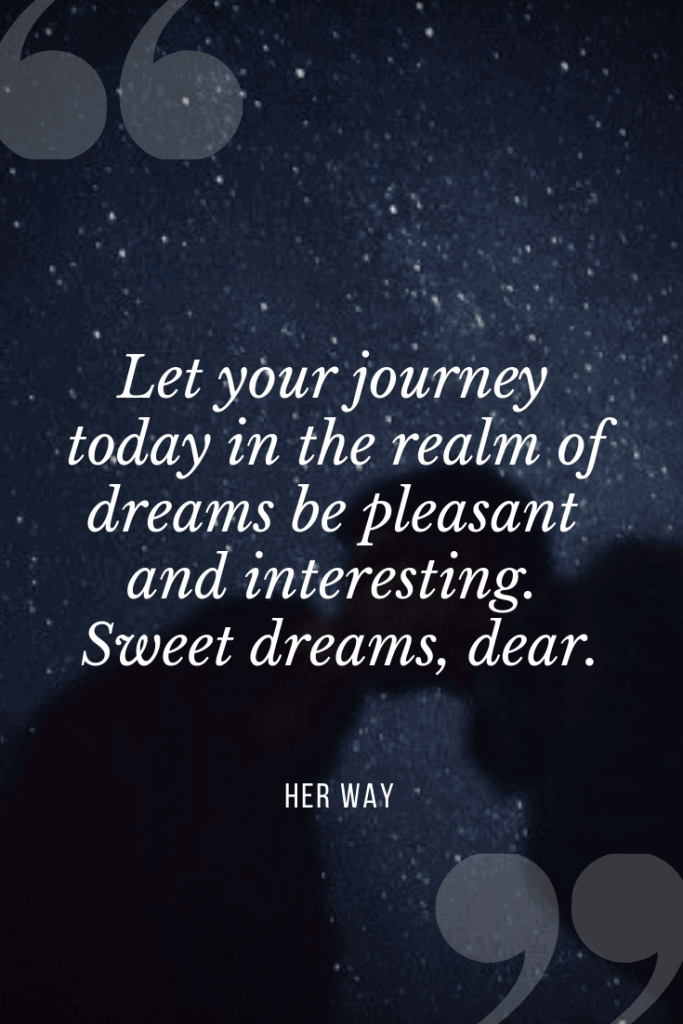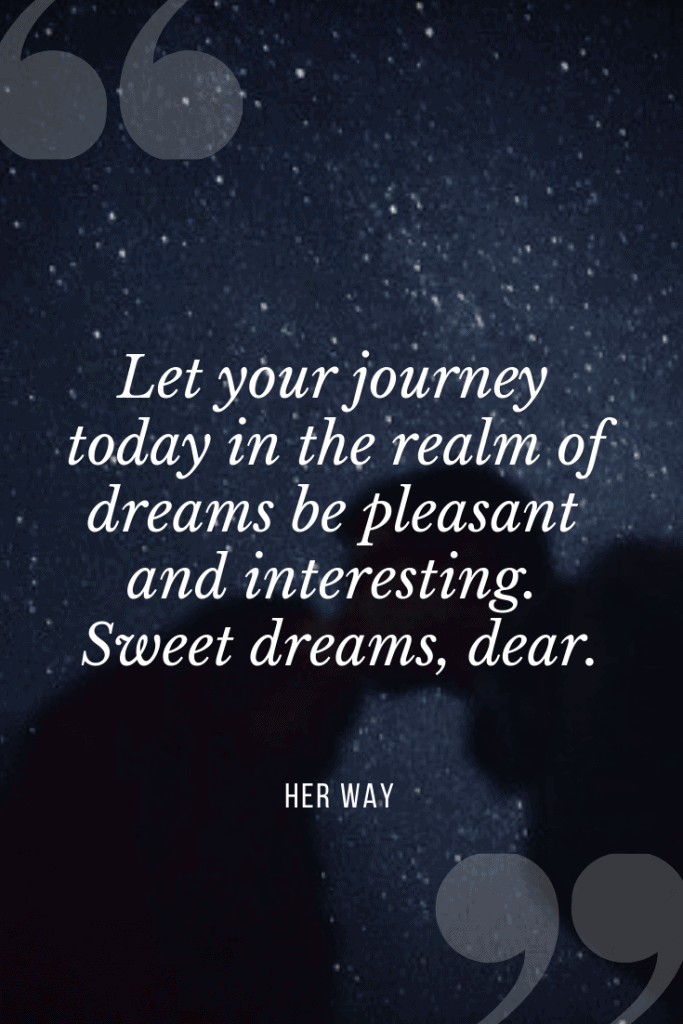 81. "In addition to the message, you receive from me a strong hug and a gentle kiss. Good night.''
82. "My hectic day is over, I want you to know that I was thinking about you and now I will imagine you in my arms. Sweet dreams, I love you.''
83. "Thousands of stars separate us but soon we will be together, we will meet tonight in our dreams. Good night, darling.''
84. "Close your eyes, imagine a wonderful garden, where roses are blooming and the air is filled with their scent, it is our refuge
and each night I wait for you there. Sweet dreams.''
85. "I know that you might be asleep now and your silken hair is on the pillow, I will come to you in a dream and kiss you. Sweet dreams.''
86. "Let me wish you a good night, I hope that soon I will fall asleep together with you and I will tell you these words personally.''
87. "My love, the night is a magical time, when all hidden desires come true, I hope that you will see me in your dreams tonight.''
88. "Each star in the sky is my compliment to you, that is why the immense number of stars sing an ode to your beauty. Good night, my sweet.''
89. "I hate the night because it takes you away from me but the idea that in the morning we will meet again warms my heart. Sleep tight, my love.''
90. "You are lying in your bed and are watching the colorful dreams, tonight I will guard your sleep. Good night, beautiful.''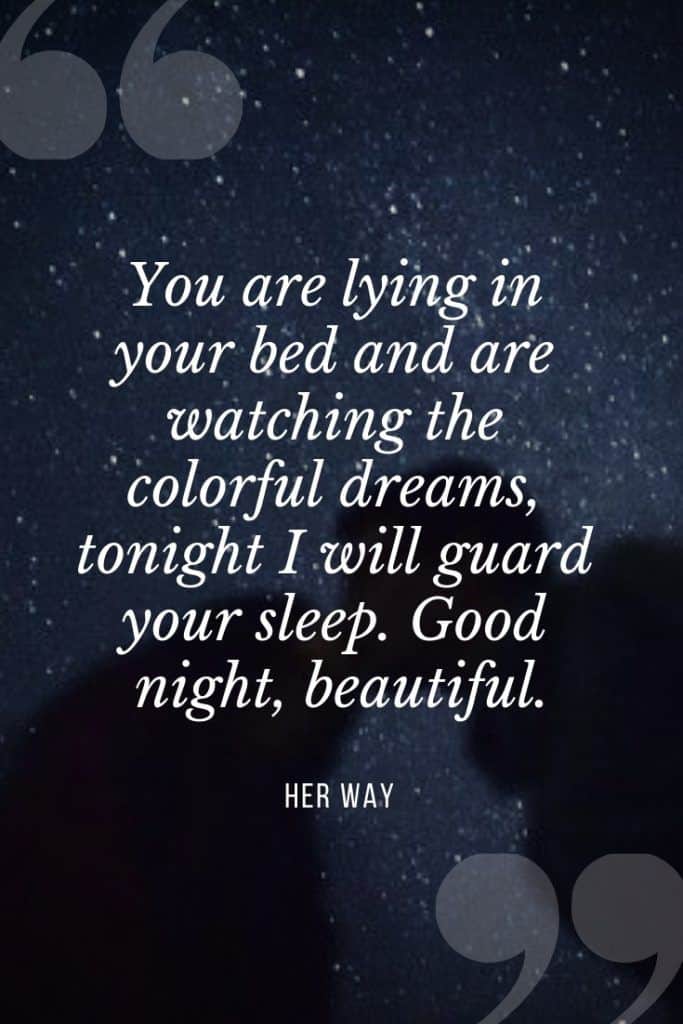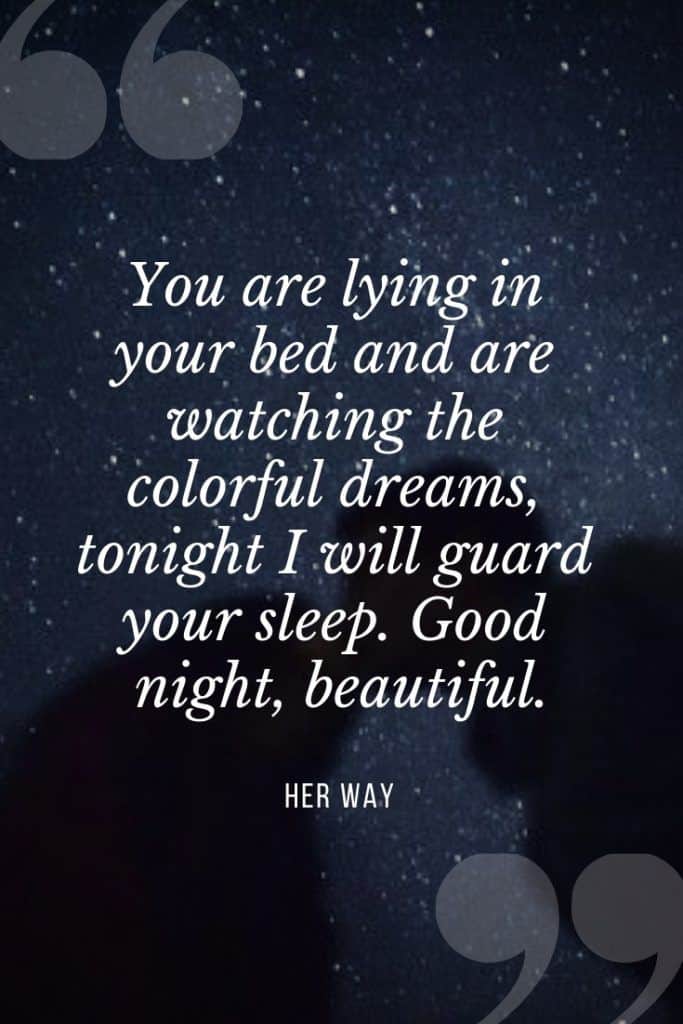 91. "I would go through thousands of kilometers just to kiss you before bedtime and to wish you a good night.''
92. "You are sleeping in a room flooded with moonlight, I wish I could hold you close and never let you go. Sweet dreams.''
93. "Everything in this life has its end: the day gives way to the night, summer is replaced by fall but my love for you will last forever. Good night, my beloved.''
94. "Dear, if you sow grains of goodness in the afternoon, the next day they will germinate. I wish you a good night and let all the good that you have done for the day come back to you tomorrow at double the rate.''
95. "At night, a person particularly keenly feels his loneliness or happiness. Thanks to you I always feel that I live life to the fullest. Good night, my love.''
96. "If you were a flower, you would be the floret, which blooms through the night until dawn, because the whole night you are in my thoughts. Sweet dreams.''
97. "My world stops when you go to bed and it rises again every morning when you please me with your smile. Good night, my sweetheart.''
98. "I am a happy man, since I have a person, about whom I think before going to sleep, and whom I wish a good night. You are the meaning of my life. Good night, darling.''
99. "Night came into its own, relax and dream about the day we meet. Goodnight, honey.''
100. "Tonight you won't be cold since the veil of my love will protect you and warm you. Good night, baby.''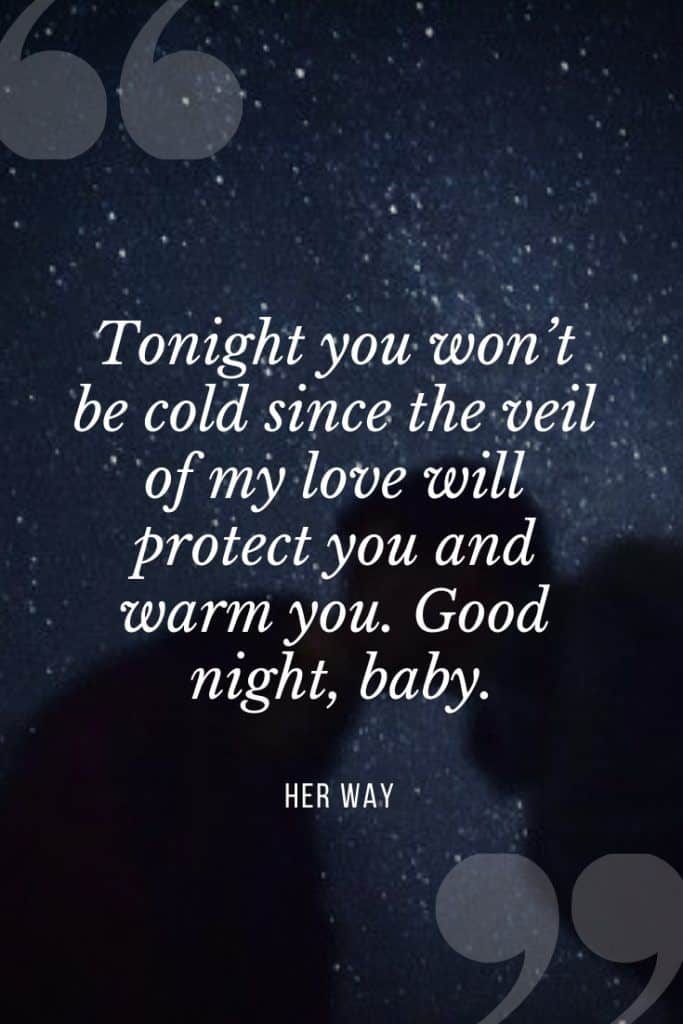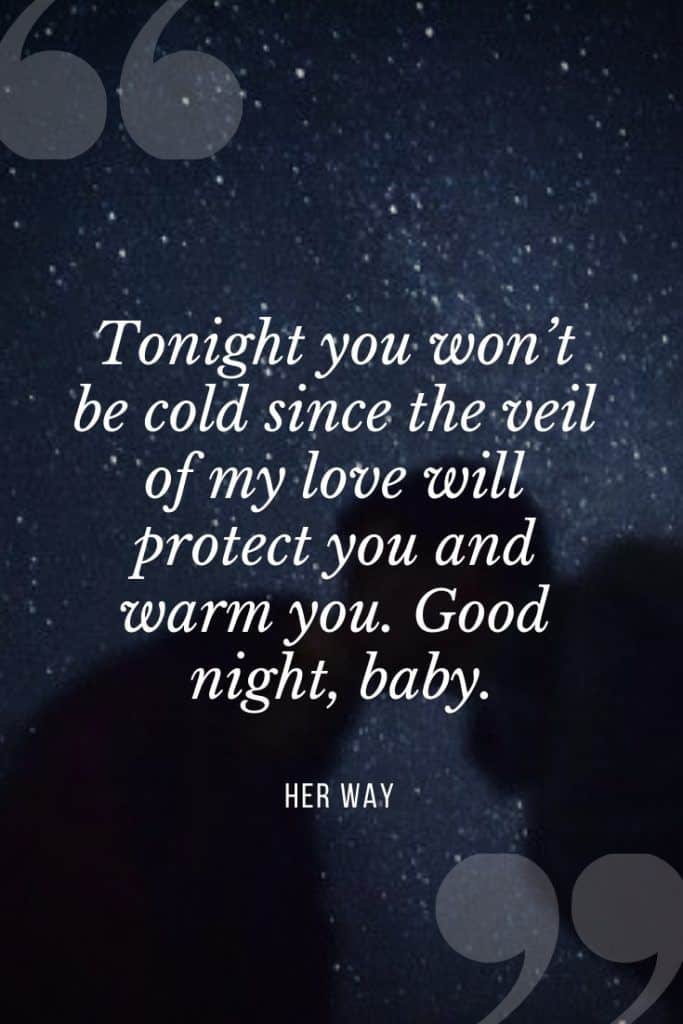 101. "Every night I ask the Lord to give you a bright and happy sleep, and a good morning. Every day I thank him for having you in my life. Sweet dreams, my love.''
102. "I hope that my prayers will reach your heart and you will feel the strength of my love. Sweet dreams.''
103. "It is easy to survive the night for me because when I close my eyes, I see your beautiful face, all I want is to hold you tight in my arms. Good night.''
104. "You are my Cinderella, who does not disappear at midnight, you are the love of my life. Good night, my precious.''
105. "Let your beautiful eyes rest at night and in the morning, I will see the reflection of this beautiful world in them again. Sweet dreams.''
106. "I don't want to fall asleep tonight because even the most beautiful and the sweetest dream cannot be compared with one day in a real life with you. Sweet dreams.''
107. "Baby, if you want, I will obscure the entire light of the moon and the stars, so that they won't disturb your sweet dream. I wish you a good night, my princess.''
108. "At night, my heart beats faster as you ain't here. I need you all the time, you will restore the rhythm of my heart. Good night, sweetheart.''
109. "Do you know why you sleep so sweet the whole night? Angels have to rest at night. Sweet dreams.''
110. "Often we both suffer from insomnia, it is because we fall sleep in separate beds. I want to be with you always, good night.''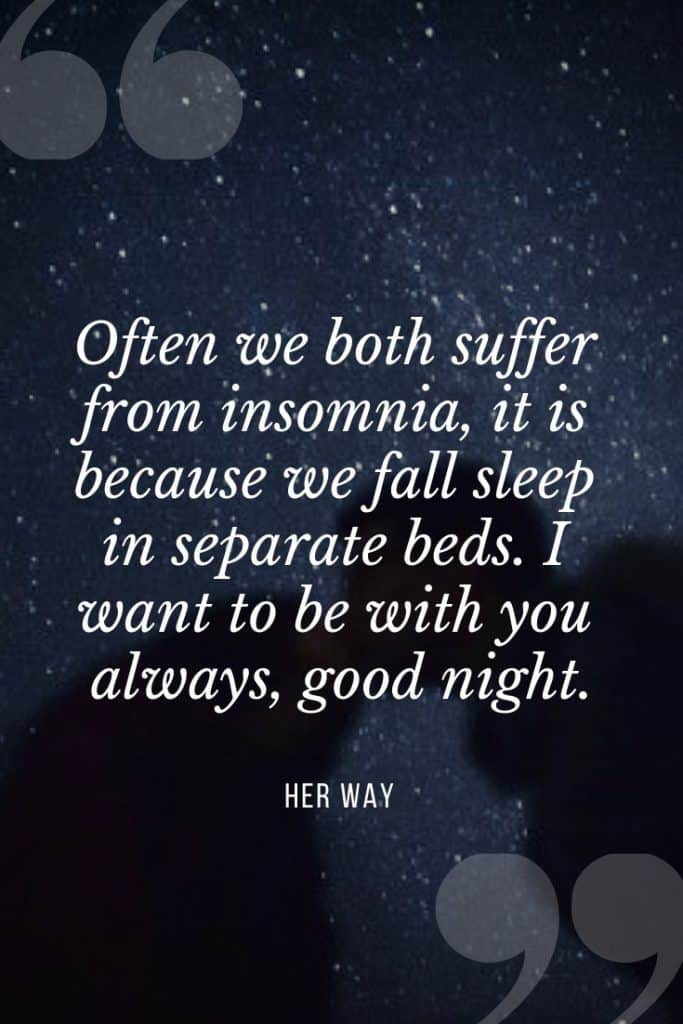 111. "Stars shine for all people but the only star that I see is you. Good night, my star.''
112. "Good night, sweetheart. Let the moon envelop you with warmth, and the stars in the sky will make your dreams come true.''
113. "When I see you in my dreams, I do not want to leave this sweet dream, I am in your eternal captivity. Good night, my angel."
114. "You are far away and the only luxury I have is to see you in my dreams. Every night for me is a miracle. Sweet dreams, my love.''
115. "Don't you think that today the moon shines particularly bright? This is because it illuminates the path for you. Come to me in a dream tonight, sweetheart.''
116. "I feel very lonely in my bed without you, only the smell of your perfume on my pillow reminds me of you, I miss you. Sweet dreams, darling.''
117. "Let the silence of the night be disrupted only by your measured breathing. Sleep well, my love.''
118. "This night is filled with scents of magnolia, jasmine and the coolness of the night but even this lovely fragrance cannot be compared with your body odor. Good night, I love you.''
119. "The night is the magic, the magic of our love, which is reflected in the beating of our hearts, let this night be special. Good night, my love.''
120. "Every night before our meeting was so lonely that I heard my thoughts but now every night I hear only your sweet voice. Thank you for being in my life. Good night.''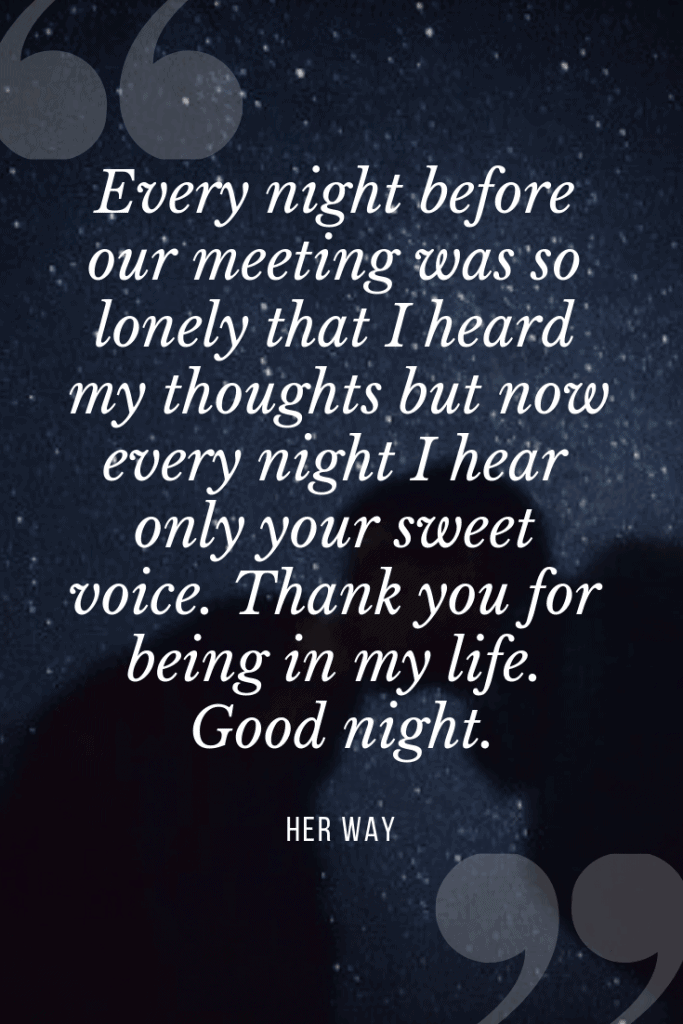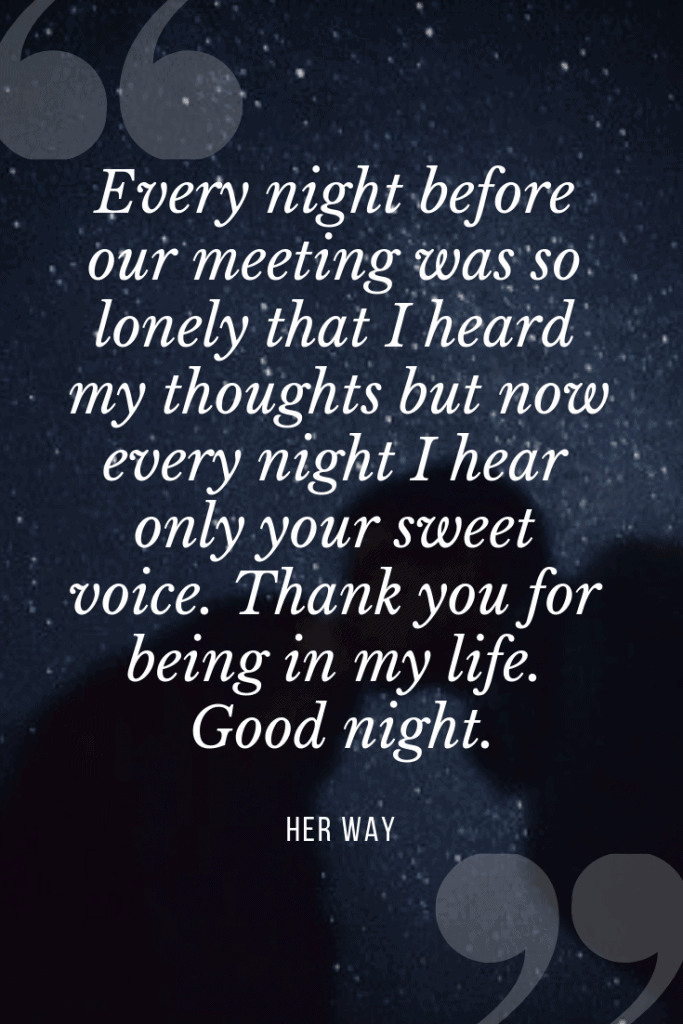 121. "I'd give all the wealth of the universe to see you before bedtime. Good night, my greatest treasure.''
122. "Your eyes shine with faith, devotion and love for me, I will try to be worthy of your love. Sweet dreams.''
123. "Our destinies are bound in heaven, I see your face in the clouds, and hear your voice in the rustling of the leaves. Sweet dreams.''
124. "Nothing in this world will destroy my love for you. All earthly riches are sand, compared with the eternity of our feelings. Sweet dreams.''
125. "You are my goddess, who rose to the Olympus of our love, I adore you and I am ready to kiss you forever. Good night, my Aphrodite.''
126. "You made me a sensitive, strong and confident man, With me you can afford the luxury to be a weak woman. Good night, love.''
127. "When tonight you will soar in the clouds of your dreams, do not forget to take me with you. I'll see you in a dream. Good night.''
128. "Every day I spend with you is the new best day of my life. Can't wait for the morning. Good night, baby."
129. "There is something that is big, warm and fuzzy. Before you get too many ideas, you should know that it is a good night hug sent from me to you!"
130. "As the moonlight dims and the world goes quiet, give yourself some rest. Here's to hoping that your sleep is as sweet as you are.''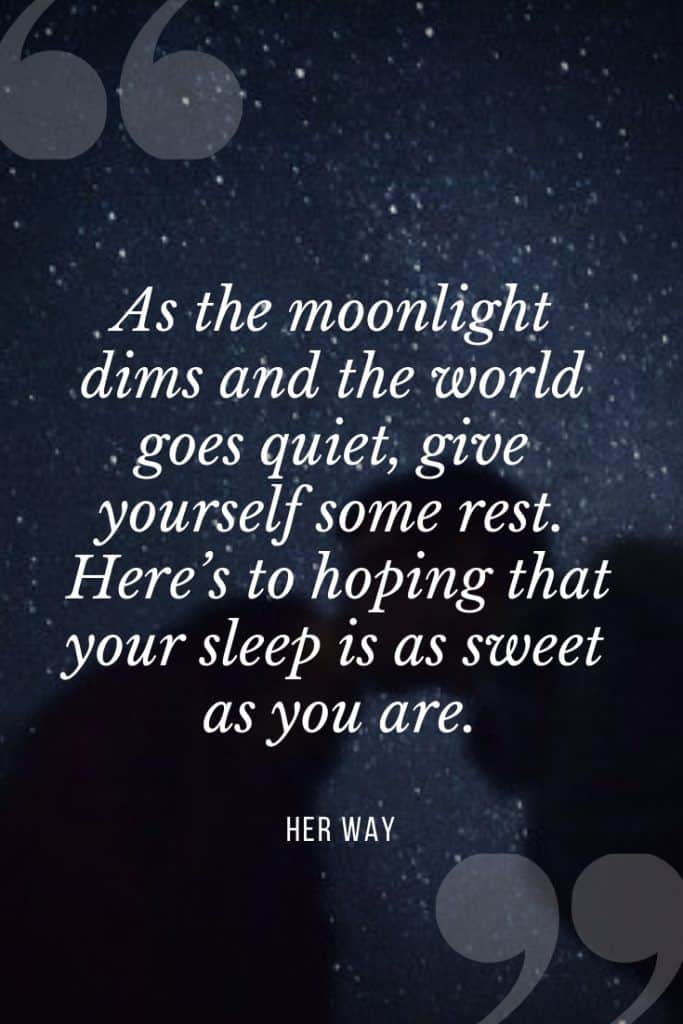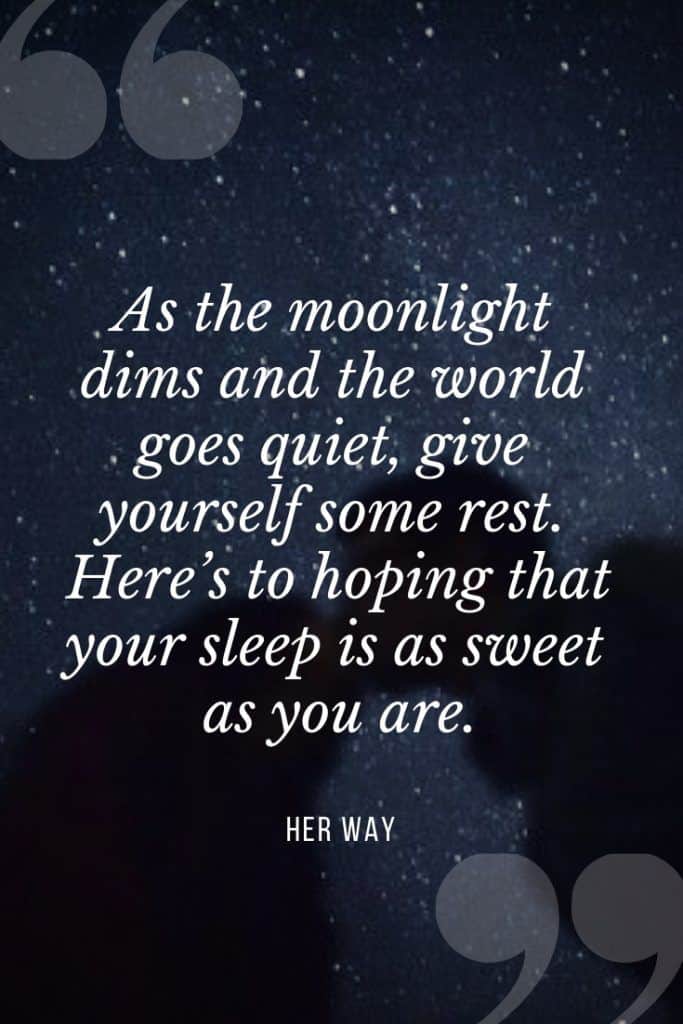 131. "Night-time brings you dreams of castles in the air and big goals for the future. Rest tonight and allow dreams of the future to wash over your mind."
132. "Night is to see the dreams and day is to make them true. So it's good to sleep now and see the dreams. Good night, sweet dreams!"
133. "All I wish a sheet of clouds for your bed and bright crystals for the stars. While you sleep, may the angels play sweet songs that bring you bright dreams."
134. "You are the reason why I have sleepless nights. You are the reason why I tend to hold my pillow tight. And you are the reason I can't sleep without saying goodnight."
135. "Sleep at night with just as much dedication as you give to your work at day time. Because your work makes you financially strong, and a good sleep keeps your health well. There is no wealth better than health. Good night!"
136. "Life without sleeping does not exist, day without night is not the blessing, this is your time to enjoy God's nature inside of you with your eyes closed."
137. "Your bed is ready to give you a hug. You should be ready to have a rest, and say goodbye to all the stress. Good night!"
138. "Dreams are the best part of life. If you miss sleep, you miss the best part of life. So go to bed and catch sweet dreams."
139. "I have loved the stars too fondly to be fearful of the night." – Sarah Williams
140. "The darker the night, the brighter the stars. The deeper the grief, the closer is God!" – Fyodor Dostoyevsky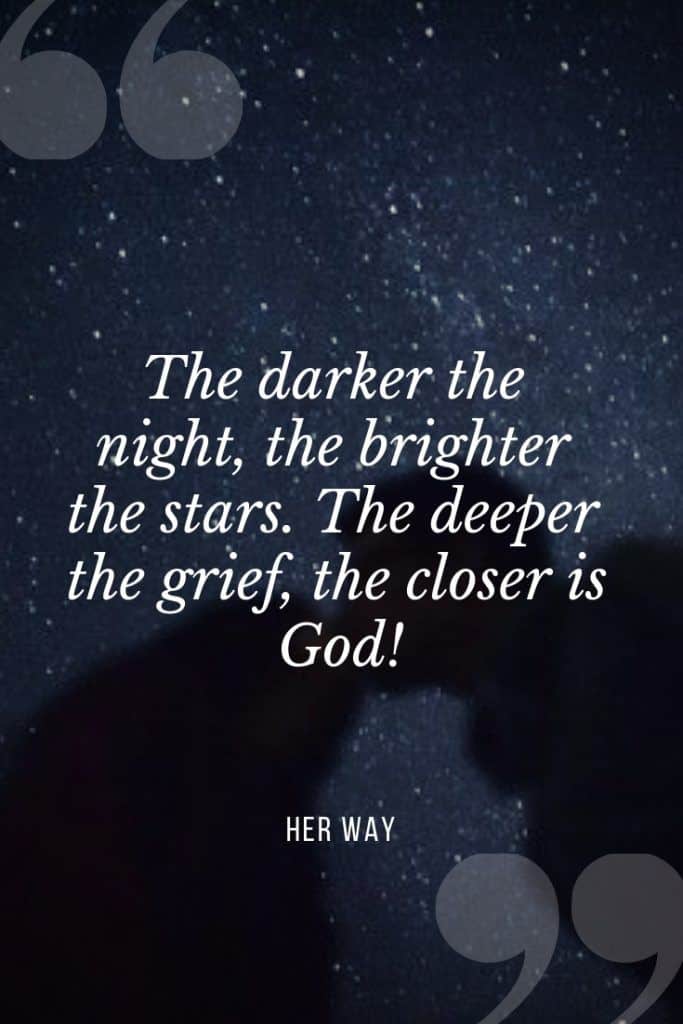 141. "I like the night. Without the dark, we'd never see the stars." – Stephenie Meyer, Twilight
142. "Good night, good night! Parting is such sweet sorrow, that I shall say good night till it be morrow." – William Shakespeare
143. "My idea of a good night out is staying in." – Martin Freeman
144. "A day is going to end again. It is nice to have a friend like you. Making my everyday seems so great. Thank you my friend lastly. Sweet dreams."
145. "The longest way must have its close—the gloomiest night will wear on to a morning." – Harriet Beecher Stowe
146. "This is the end of the day but soon there will be a new day. Keep your spirits up because there are always more chances."
147. "While you dream, I wish that each hope and goal comes true. I just want you to receive everything that you have wished for."
148. "The sun is upset now but the moon dances in joy. Although the sun is depressed at seeing you go, the moon gets to enjoy the whole night with you."
149. "Tonight, I would walk a thousand miles just to be with you. Missing you, my love. Good night."
150. "They say that God sprinkles his blessings upon the earth every day and I think I have caught one—it's you! Wishing you a good night and I love you."