Unconditional love is not just saying sweet words and hugging another person. It is choosing the same person every single day. Even when things are not so great, when life is not so fair.
It is much more than just buying expensive gifts and going to expensive dinners. It is standing next to each other when you don't want to do that.
It is protecting your loved one when you are mad at them but you do it anyway because you know that none of us are perfect and that some bumps in the road are likely to happen.
Unconditional love is not just letting another person into your bed. It means not letting another person into your heart.
It is being faithful to your loved one because even if others are better or more beautiful than them, you chose them to be yours forever. With all your heart and soul, with every inch of your body.
You simply feel that you belong to them and you have eyes for them only.
Unconditional love means loving someone for who they really are. Without false eyelashes, tight dresses or high heels.
It means seeing your loved one with greasy hair and wearing PJs and still thinking that you are one lucky motherfucker because God sent them to you.
It means loving the soul and the heart of your partner even when they don't love themselves.
Unconditional love is not changing someone and molding them into someone new so they could be perfect for you.
It means accepting them the way they are and feeling blessed that they chose you to be their life partner. Because if you try to change them, you are sending them a message that you don't like who they are now. And trust me, that is something nobody wants to hear, especially from their loved one.
Unconditional love means being there with your loved one even if life tries to tear you apart. It is all about fighting for existence because you worked your ass off to get where you are now.
If you really love someone with all your heart and soul, you will be with them when they hit rock bottom. When they lose a good friend, a job or simply when people disappoint them, you will be there to hug them and to tell them that things will get better and that they can always count on you.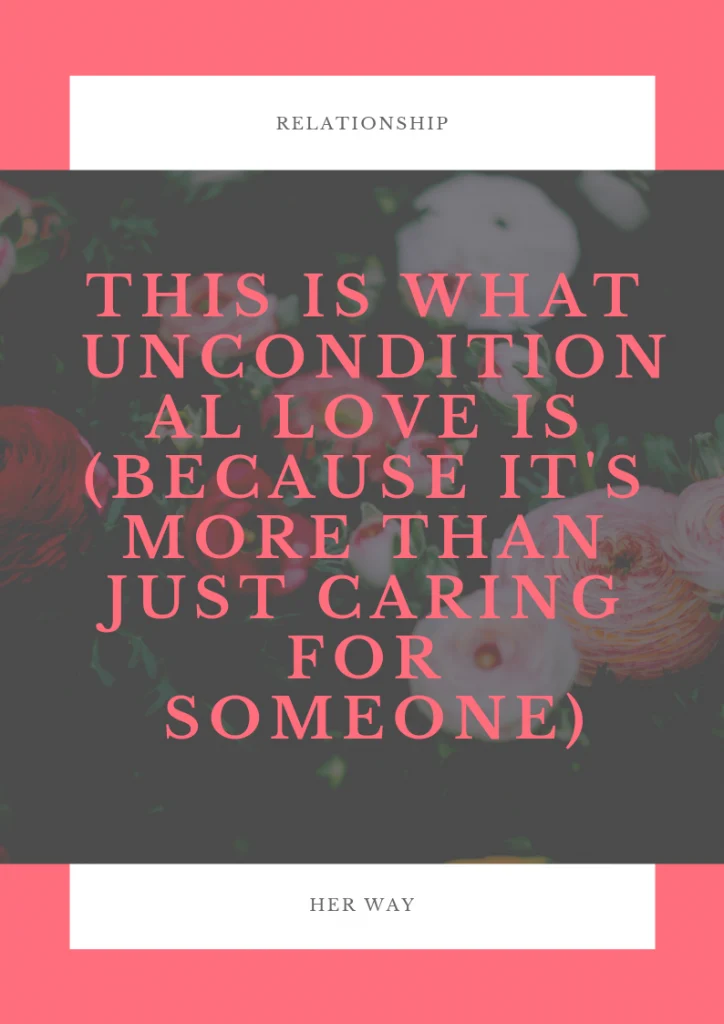 Unconditional love is more than just showing off in front of others that you are happy and fighting when you stay alone in your four walls.
It is more than just short-term happiness to make others envy. True love is showing respect and affection when nobody can see you but because you want that and because you feel good when you share everything with your loved one.
Unconditional love is feeling bad when your partner is not around and when they are the only one who can put a smile on your face again.
It is someone who you feel safe with and someone who you can trust, no matter what happens. And don't think that you are addicted to them for feeling like that, it is just normal behavior when you love someone more than you love yourself.
Unconditional love is choosing your partner's happiness over your own because when they are happy, you are happy too.
It means sharing their happiness like it is your own, supporting them and believing in them every single day. Because in the end, it will all pay off. All your love and support will go to someone who will be able to recognize your pure heart and they will reciprocate with the same love and affection.
They will realize that they chose wisely the day when they said 'I do' and that their only reason for happiness is actually the person standing in front of them.