You have no idea how powerful words are. Never underestimate how just a few positive words in the morning can make your whole day.
Make it a habit when you get up in the morning to read some inspirational and positive morning quotes, and you'll soon enough see the difference between waking up with positive words and waking up with a ton of problems on your mind.
Use the words of encouragement, apply them to your life, and send them to someone you think might use them. Make someone else's day a happier one, too.
Here are some positive good morning quotes you should start with. Take control over how you start your day!
1. "When you arise in the morning, think of what a precious privilege it is to be alive – to breathe, to think, to enjoy, to love." – Marcus Aurelius
2. "I opened two gifts this morning. They were my eyes."
3. "Set a goal that makes you want to jump out of bed in the morning."
4. "Smile in the mirror. Do that every morning and you'll start to see a big difference in your life." – Yoko Ono
5. "The morning was full of sunlight and hope." – Kate Chopin
6. "You will never have this day again, so make it count!"
7. "It is never too late to be what you might have been." – George Eliot
8. "When you start each day with a grateful heart…"
9. "Today I choose life. Every morning when I wake up, I can choose joy, happiness, negativity, pain… To feel the freedom that comes from being able to continue to make mistakes and choices – today I choose to feel life, not to deny my humanity but embrace it." – Kevyn Aucoin
10. "Days are expensive. When you spend a day, you have one less day to spend. So make sure you spend each one wisely." – Jim Rohn
11. "Success is going from failure to failure without losing your enthusiasm." – Winston Churchill
12. "When you reach the end of your rope, tie a knot in it and hang on." – Franklin D. Roosevelt
13. "Some people dream of success, while other people get up every morning and make it happen." – Wayne Huizenga
14. "The first hour of the morning is the rudder of the day." – Henry Ward Beecher
15. "Life is too short to argue and fight. Count your blessings, value your friends and move on with your head held high and a smile for everyone."
16. "When you do something beautiful and nobody notices, do not be sad. For the sun every morning is a beautiful spectacle and yet most of the audience still sleeps." – John LennonJohn Lennon
17. "The greatest inspiration you can ever get is to know that you are an inspiration to others. Wake up and start living an inspirational life today."
18. "You don't have to be great to start, but you have to start to be great." – Zig Ziglar
19. "A year from now, you may wish you had started today." – Karen Lamb
20. "Some days you just have to create your own sunshine."
See also: 65 I Am Proud Of You Quotes And Messages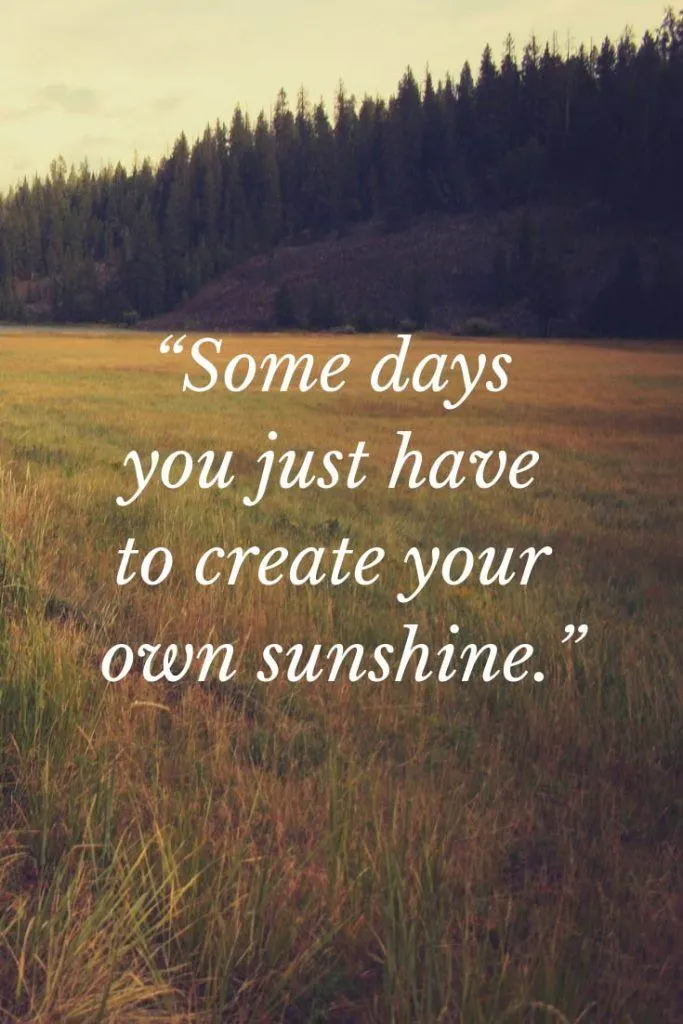 21. "Prayer is the key of the morning and the bolt of the evening." – Mahatma Gandhi
22. "A sip of coffee, a pause to pray, thank you Lord for this beautiful day!"
23. "Every day may not be good, but there's something good in every day." – Alice Morse Earle
24. "If you think big, you get big…because you create your life with every thought you think."
25. "Always wake up with a smile knowing that today you are going to be a step closer to your dreams."
26. "If you can dream it, you can achieve it." – Zig Ziglar
27. "You will never have this day again so make it count!"
28. "Opportunities are like sunrises. If you wait too long, you miss them." – William Arthur Ward
29. "No matter how you feel, get up, dress up, show up and never give up." – Wisdom Quotes Community
30. "May the blessings of this day radiate through your smile, be helpful through your hands and shine through your heart."
31. "She woke up every morning with the option of being anyone she wished. How beautiful it was that she always chose herself." – Tyler Kent White
32. "Realize deeply that the present moment is all you ever have, so make the most of today."
33. "Today will be a great day. So wake up and smile."
34. "Make each day your masterpiece." – John Wooden
35. "Rise up, start fresh see the bright opportunity in each day"
36. "When you rise in the morning, give thanks for the light, for your life, for your strength. Give thanks for your food and for the joy of living. If you see no reason to give thanks, the fault lies in yourself." – Tecumseh
37. "Morning is when I am awake and there is a dawn in me." – Henry David Thoreau
38. "It's Monday; don't forget to be awesome."
39. "When each day is the same as the next, it's because people fail to recognize the good things that happen in their lives every time the sun rises." – The Alchemist
40. "This morning will never ever come back in your life again. Get up and make the most of it."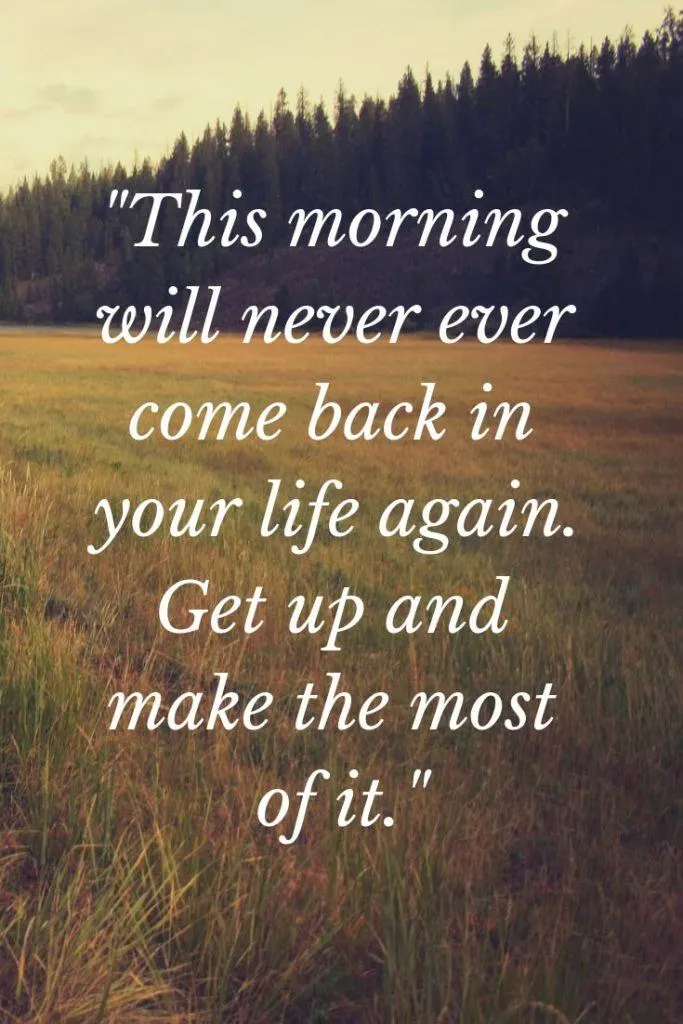 41. "Good morning is not just a word. It's an action and a belief to live the entire day well. Morning is the time when you set the tone for the rest of the day."
42. "Either write something worth reading or do something worth writing." –- Benjamin Franklin
43. "Smile at strangers, slow down, say thank you, laugh and give compliments today."
44. "There was never a night or a problem that could defeat sunrise or hope." – Bernard Williams
45. "First say to yourself what you would be; and then do what you have to do." – Epictetus
46. "When you look for the good in others, you discover the best in yourself."
47. "The sunrise, of course, doesn't care if we watch it or not. It will keep on being beautiful, even if no one bothers to look at it." – Gene Amole
48. "Being happy or sad, gloomy or excited, moody or stable… are options that are presented to you every morning. You just have to make the right choice."
49. "Opportunities are like sunrises. If you wait too long, you miss them." – William Arthur Ward
50. "Your time is limited, so don't waste it living someone else's life." – Steve Jobs
51. "Having a rough morning? Feel your heart. That's your purpose of being alive."
52. "Every day I feel is a blessing from God. And I consider it a new beginning. Yeah, everything is beautiful." – Prince
53. "Each morning we are born again. What we do today is what matters most." – Buddha
54. "Let people do what they need to do to make them happy, mind your own business, and do what you need to do to make you happy."
55. "The day will be what you make it, so rise, like the sun, and burn." – William C. Hannan
56. "This morning is what it is because you were what you were yesterday. Be what you should be today so that you can be what you want to become tomorrow."
57. "A morning is a wonderful blessing. It stands for hope, giving us another start of what we call life."
58. "When everything seems to be going against you, remember that the airplane takes off against the wind, not with it." – Henry Ford
59. "Everyday may not be good, but there is something good in every day."
60. "Wherever my story takes me, however dark and difficult the theme, there is always some hope and redemption, not because readers like happy endings, but because I am an optimist at heart. I know the sun will rise in the morning, that there is a light at the end of every tunnel." – Michael Morpurgo
61. "If you get up in the morning and think the future is going to be better, it is a bright day. Otherwise, it's not." – Elon Musk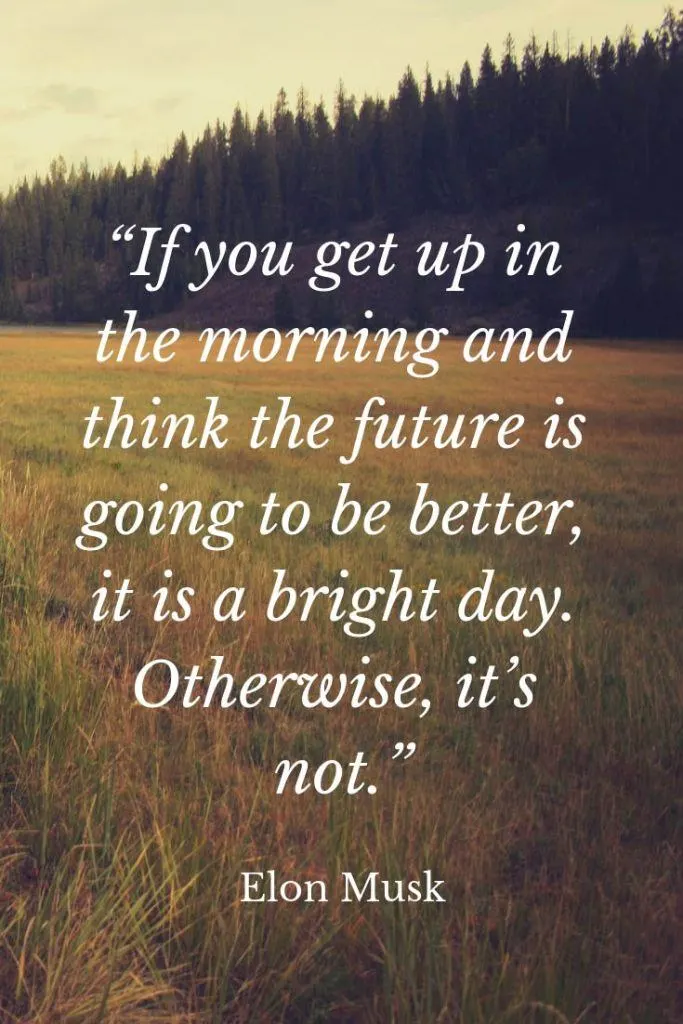 62. "Wake in the morning with a winged heart and give thanks for another day of loving." – Kahlil Gibran
63. "Think about the dreams you had last night to make your lazy morning a beautiful one."
64. "You'll never change your life until you change something you do daily. The secret of your success is found in your daily routine." – John C. Maxwell
65. "The journey of a thousand miles begins with one step." – Lao Tzu
66. "Don't look back; you're not going that way."
67. "I have always been delighted at the prospect of a new day, a fresh try, one more start, with perhaps a bit of magic waiting somewhere behind the morning." – J. B. Priestley
68. "It is a common experience that a problem difficult at night is resolved in the morning after the committee of sleep has worked on it." – John Steinbeck
69. "I love that this morning's sunrise does not define itself by last night's sunset." – Steve Maraboli
70. "The way you get out of bed will lay the foundation of the day that lies ahead. So wake up with a smile and walk out with a bounce in your step… you deserve it."
71. "No matter how good or bad your life is, wake up each morning and be thankful that you still have one."
72. "You may be disappointed if you fail, but you are doomed if you don't try." – Beverly Sills
73. "Each good morning we are born again, what we do today is what matters most."
74. "When you wake up each morning, you can choose to be happy or choose to be sad. Unless some terrible catastrophe has occurred the night before, it is pretty much up to you. Tomorrow morning, when the sun shines through your window, choose to make it a happy day." – Lynda Resnick
75. "If a man does not think too much, he rejoices at rising in the morning, and at eating and drinking. He finds satisfaction in them and does not want them to be otherwise." – Hermann Hesse
76. "I'm going to make everything around me beautiful – that will be my life." – Elsie de Wolf
77. "You can sleep a little longer and face failure…or you can wake up right away to chase success. The choice is entirely yours."
78. "Something special awaits you each day. All you need is to recognize it and make the most of it. Have a positive attitude throughout the day, and then that today is going to the best day in your life."
79. "Build your own dreams, or someone else will hire you to build theirs." – Farrah Gray
80. "Focus on the good."
81. "You have to get up every morning and tell yourself: "I can do this".
82. "With each new day comes new strength and new thoughts."
83. Your future is created by what you do today, not tomorrow. – Robert Kiyosaki
84. "Life is too short to wake up in the morning with regrets. So love the people who treat you right and forget about the ones who don't."
85. "Some people dream of success, while other people get up every morning and make it happen."