Are you looking for some uplifting good morning messages to send to those dear to you? Or, do you simply want to start your day on a good note with a powerful morning prayer?
Then, I have great news for you; you're definitely in the right place. These good morning blessings and wishes will bring a smile to your loved one's face, and they'll absolutely make their day.
Good Morning Blessings Quotes
Let's start with this list of good morning blessings and inspirational quotes from famous people.
1. "Prayer is the key of the morning and the bolt of the evening." – Mahatma Gandhi
2. "A breath of prayer in the morning means a day of blessing sure; a breath of prayer in the evening means a night of rest secure." – Frances McKinnon Morton, The Meaning of Prayer
3. "God's mercy is fresh and new every morning." – Joyce Meyers
4. "An early-morning walk is a blessing for the whole day." – Henry David Thoreau
5. "When I wake up every morning, I thank God for the new day." – F. Sionil Jose
6. "Another day, another morning, another blessing and another chance to live life fully. Do not take anything for granted and think of every breath as a gift. Good morning!" – Invajy
7. "Every day I feel is a blessing from God. And I consider it a new beginning. Yeah, everything is beautiful." – Prince
8. "God bless you, and give you health, happiness, and hope, the real comforters of this nether world." – Thomas Jefferson
See also: 121 Best Motivational WhatsApp Status Quotes In 2022
Good Morning Blessings And Prayers
There is no better way to start the day than a good morning prayer. If you're in need of some, you'll find them in this list below.
1. "May the blessings of this day radiate through your smile, be helpful through your hands and shine through your heart."
2. "Today is another beautiful gift from God to us. I pray that the goodness of this day will not elude you. You will find fulfillment in your labor, and the work of your hands shall be blessed. Amen. Have a great day, my love."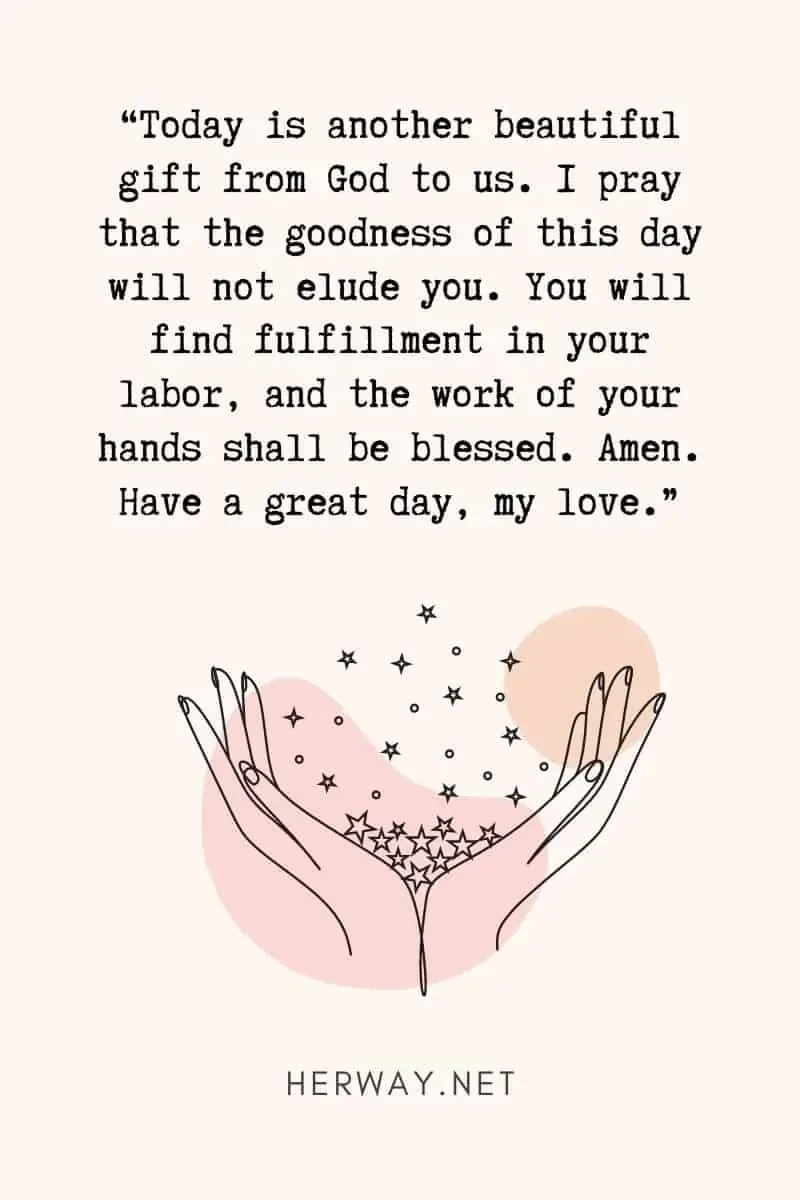 3. "I pray you have a wonderful day and can receive all that God has planned for you. Good Morning."
4. "Always make your day a great one because it is God's gift for a new beginning, blessing, and hope."
5. "I pray that God strengthens your belief in Him and leads you towards the right and just path. Cheers to a good day!"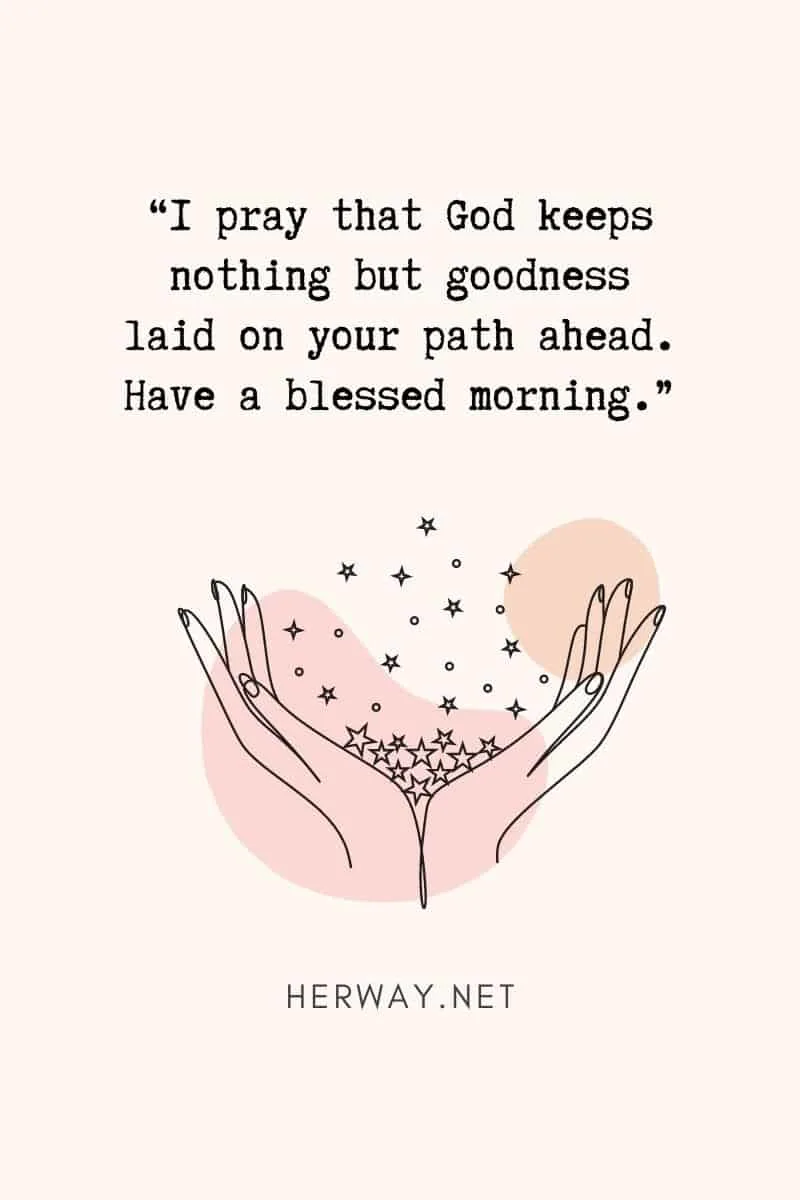 6. "A morning is a wonderful blessing, whether cloudy or sunny. It stands for hope, giving us another start of what we call life."
7. "Good morning! I pray that happiness is at your door. May it knock early, stay late, and leave the gifts of God of peace, love, joy, and good health behind."
8. "Good morning, love. May God bless every day of your life with a ray of sun, a touch of hope, a glint of joy, and a drop of love."
9. "Start a new week with peace at heart, determination in your mind, and love in your eyes. Be blessed today and always!"
10. "Welcome another morning. May you be blessed on this day, and may you be a blessing to others. Good morning, have a blessed day."
11. The rainbows, flowers, and butterflies are waiting for you. Start the day with good vibes and positivity. May this morning be as blessed as the next."
See also: 160 Deep And Inspirational Quotes About Smiling Through Pain
Good Morning Bible Verses
1. "But I will sing of thy power; yea, I will sing aloud of thy mercy in the morning: for thou hast been my defence and refuge in the day of my trouble." Psalm 59:16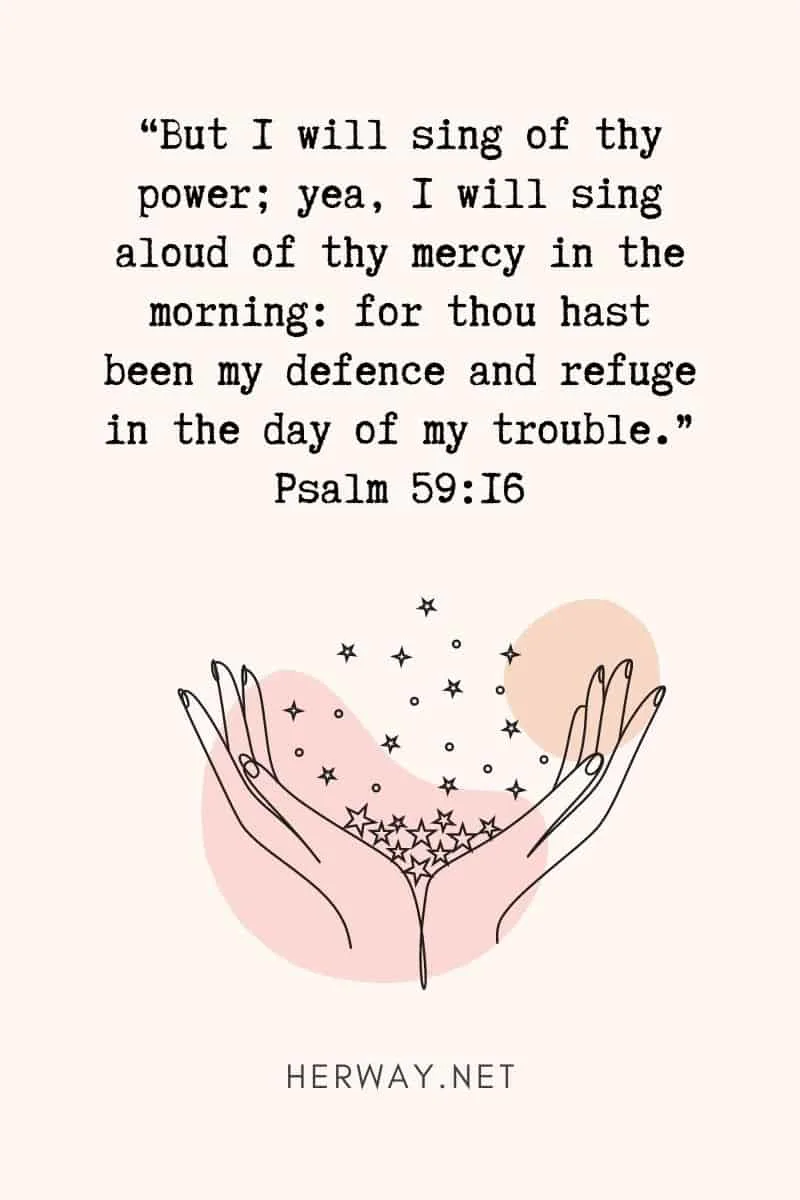 2. "Let the morning bring me word of your unfailing love, for I have put my trust in you. Show me the way I should go, for to you, I entrust my life." Psalm 143:8
3. "Satisfy us in the morning with your unfailing love, that we may sing for joy and be glad all our days." Psalm 90:14
4. "This is the day which the Lord hath made; we will rejoice and be glad in it." Psalm 118:24
5. "My voice shalt thou hear in the morning, O Lord; in the morning will I direct my prayer unto thee, and will look up." Psalm 5:3
6. "For his anger lasts only a moment, but his favor lasts a lifetime; weeping may stay for the night, but rejoicing comes in the morning." Psalm 30:5
7. "The steadfast love of the Lord never ceases; His mercies never come to an end; they are new every morning; great is your faithfulness." Lamentations 3:22–23
8. "Cause me to hear thy lovingkindness in the morning; for in thee do I trust: cause me to know the way wherein I should walk; for I lift up my soul unto thee." Psalm 143:8
9. "The Lord bless you and keep you; the Lord make his face shine on you and be gracious to you; the Lord turn his face toward you and give you peace." Numbers 6:24–26
See also: 85 Highly Positive Good Morning Quotes To Make Your Day
Good Morning, God Bless You Quotes
1. "May God bless your morning with peace and joy."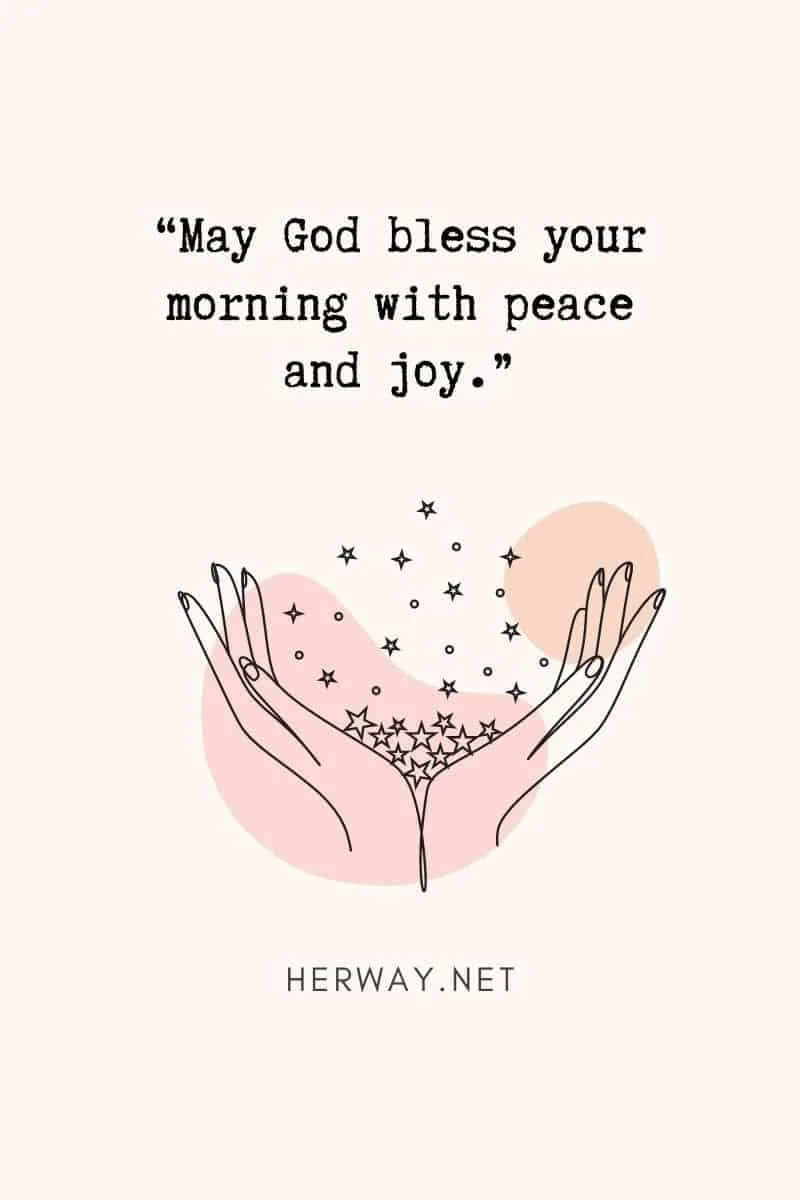 2. "Good morning, my friend. May God's mercy be with you, today and every day."
3. "May God bless your morning, keeping you safe all day long."
4. "May the Lord bless you this day, with immense happiness."
5. "May you awake refreshed this good morning. May you not need any warnings. Ask God to bless you in all that you do."
6. "May God smile on you and take good care of you today."
7. "Smile at this Monday, and it will smile back. Love it, and it will return your love. Good morning, God bless you and all your loved ones!"
8. "May the Lord guide you along as this new day is about to begin. May the Lord bless you for this morning and the day."
9. "May our lives continue to be showered with God's amazing blessings."
See also: 160+ Heartwarming Good Morning Paragraphs For Him To Wake Up To
Good Morning Wishes
Brighten your loved one's days with one of these beautiful good morning messages and wishes.
1. "I pray that God keeps nothing but goodness laid on your path ahead. Have a blessed morning."
2. "May the sun warm your heart with love. May any clouds that appear, instantly disappear. Blessings to you for a good morning and the whole day through."
3. "May the Lord keep you safe under His mighty hand today. May His love surround you and preserve you from all evil forces in Jesus' name. I love you, sweetheart. Have a wonderful day."
4. "May you arise today with the voice of blessings and peace in your heart."
5. "May the Lord help you to walk in His light. Have a blessed day."
6. "May you have a good morning. May you look forward to what the day brings.\. May you have friends surrounding you and family to love you."
7. "May you start your Monday morning with a joyful spirit, fresh vision, and a peaceful heart. May God extend his hand to grace you throughout the day. Have a blessed Monday!"
8. "I wish you success in every step you take this morning. May the goodness of the Lord follow you wherever you go."
9. "A good morning, a good day, is my blessing sent to you."
10. "May this blessing find you counting your blessings rather than your troubles. Start the day on a positive note; count your blessings this morning."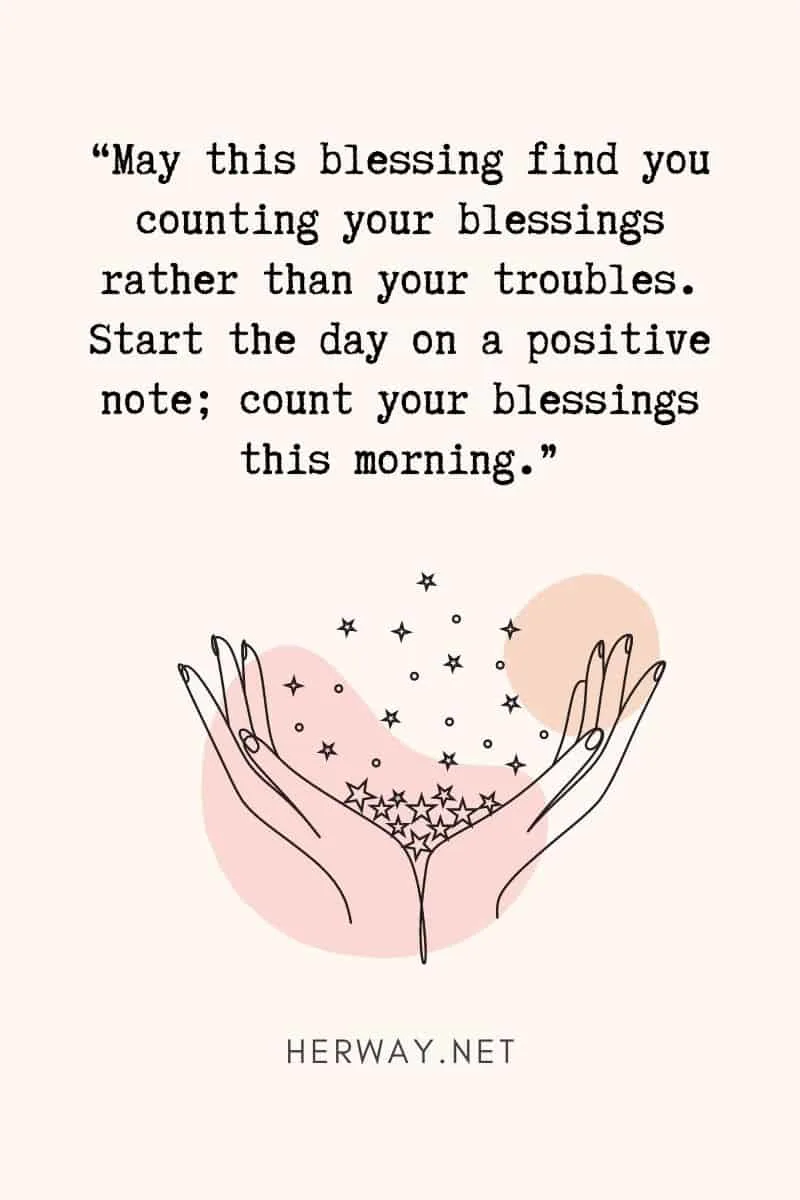 11. "I hope you quit stressin' and start to count all your blessings. May all your prayers be heard and your wishes come true as God sends his grace unto you. Good Monday morning!"
12. "Whichever path you choose for yourself, may prosperity and welfare follow! Good day, dear!"
13. "You bring sunshine to others, and for that, we are glad. May you feel that this blessing is sent to you in hopes the morning is successful in all you do."
14. "May you have a day full of love and blessing!"
15. "May your morning be filled with lots of miracles. Good morning and happy Thursday."
16. "May you wake up with a thankful heart and hope for a new day."
17. "May you be blessed and see the works of an amazing God this morning and throughout the entire day. Many Thursday blessings."
18. "I just have a morning wish that you stay Blessed throughout the day."
19. "May sunshine fill your heart this morning, and may your day be one filled with happiness and love."
See also: A Collection Of The Sweetest Good Night Quotes For Him And Her
Good Morning Blessed Sunday Quotes
Wish your loved ones a beautiful Sunday with these heartwarming Sunday morning greetings.
1. "May the divine love of God descend into your home to make it a piece of heaven. This Sunday morning, I wish you find peace and prosperity in every sphere of your life. Good Morning!"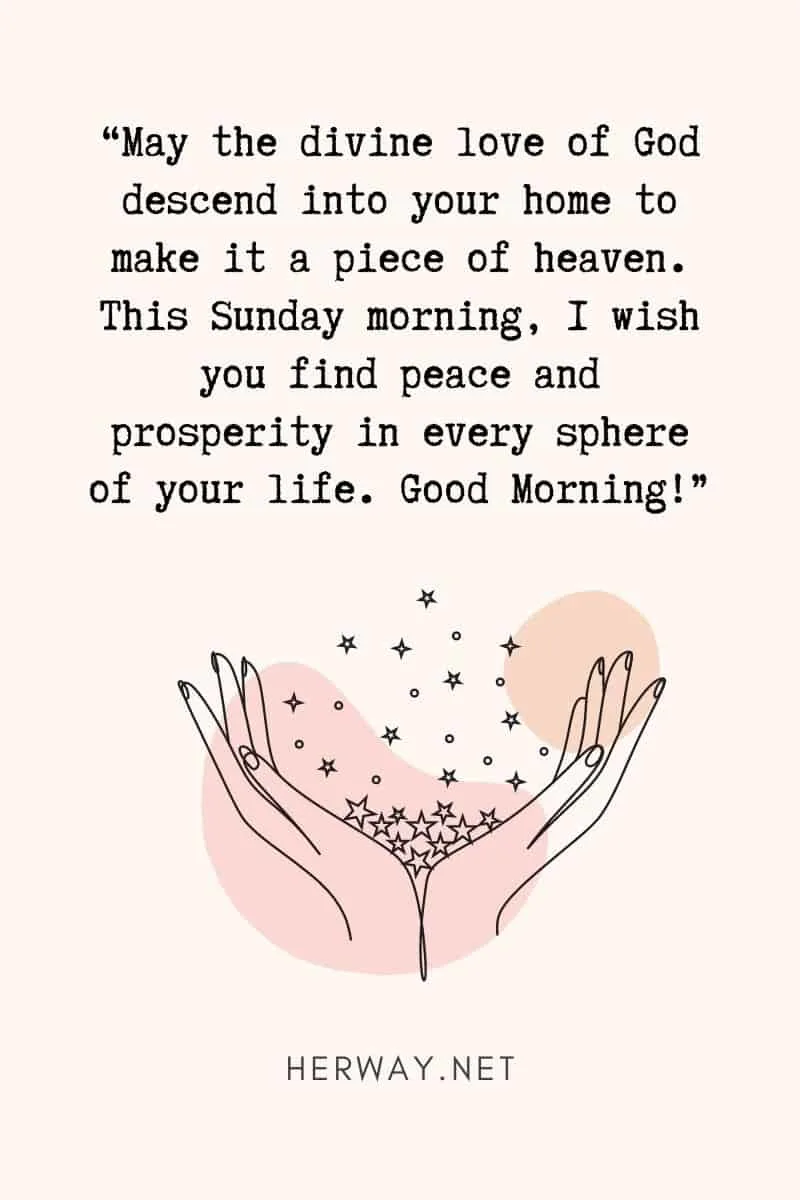 2. "I count you as a blessing, so I wish you a Sunday morning that's overflowing with pure bliss. May your life progress to be showered with God's gift. Have a great Sunday."
3. "May this Sunday morning overflow with God's goodness. That you would enter His gates with thanksgiving and His courts with praise."
4. "4. "May this Sunday morning be as colorful as the rainbow and magnificent as the sun. May Lord put color and shine your soul today and…"
5. "I wish you to wake up shining this Sunday morning and spread the delight of having another day to live all around you."
See also: 25 Inspirational Good Morning Quotes For Everyone
Final Words
Kick off a happy day with this collection of amazing good morning blessings and prayers. Or, simply share them with your loved ones and brighten their day.
Always try to start your day with a heart full of gratitude to God. And of course, remember, every day is a new blessing.