A Pisces tattoo is a great way to capture an important part of yourself without having to say anything.
The most popular Pisces tattoo consists of Pisces zodiac sign – one of the three water signs in zodiac – symbolized by two fish swimming in opposite directions, representing the Pisces's continual flow between fantasy and the real world.
Being the last sign of the zodiac, Pisces is considered to be the sign that has learned every life's lesson and understands every aspect of life better than any other sign.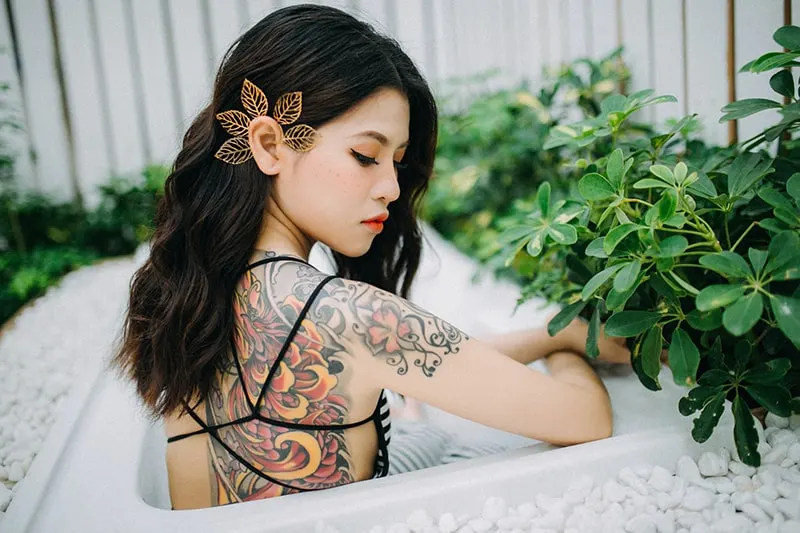 That's what makes them the most intuitive and compassionate sign of the astrological world.
This sign is ruled by Neptune, the planet of inspiration, dreams, psychic receptivity, and illusion, and it's also connected to spiritual enlightenment.
The Pisces sign represents so many ethereal and profound qualities, and makes a perfect tattoo idea.
So, let's start with the selection of the best Pisces tattoos:
1. Pisces constellation tattoo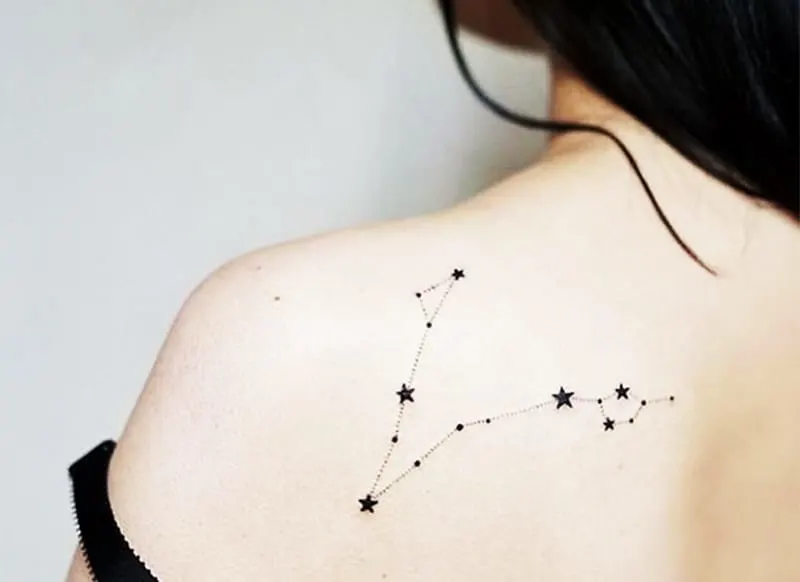 If you're not fully into the fish representation of the Pisces sign or simply prefer minimal and celestial style tattoos, this one's for you.
2. Zodiac symbol – Pisces symbol as seen in zodiac wheel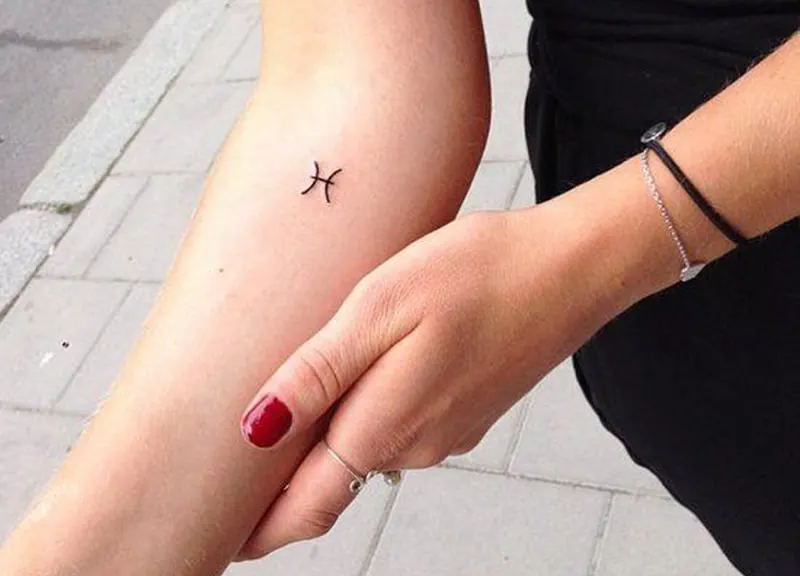 Elegant and feminine choice. A classic Pisces symbol tattoo.
3. Two fish tattoo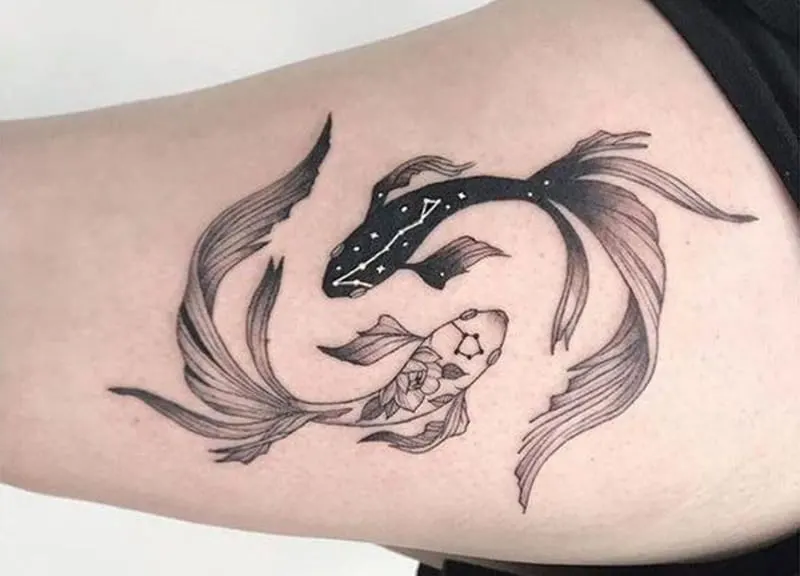 This tattoo is one of the most interesting Pisces tattoo ideas and best tattoo executions. It contains fish, yin-yang symbolism, and the Pisces constellation. A+ concept.
4. Koi fish tattoo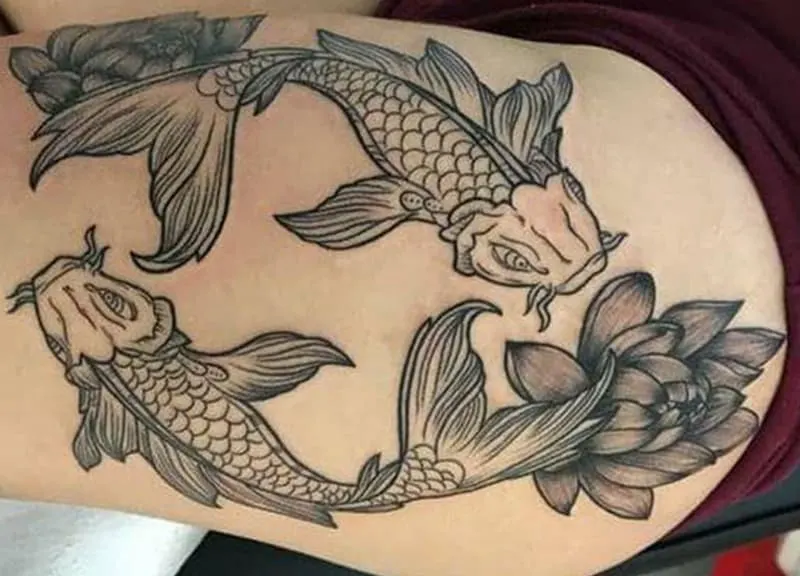 Koi Fish in Japanese tradition represents good fortune and luck, and they are also associated with perseverance and strength. In Buddhism, it represents courage.
5. Watercolor tattoo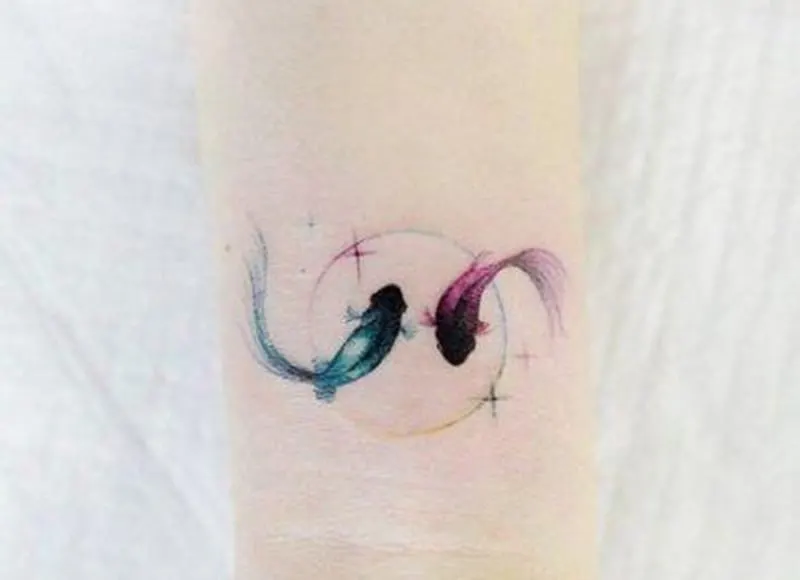 This watercolor tattoo is perfect for dreamy Pisces. It resembles the magical world of Pisces and everything that represents their natural 12th house in the horoscope: mystery, meditation, dreams…
6. Pisces fish tattoo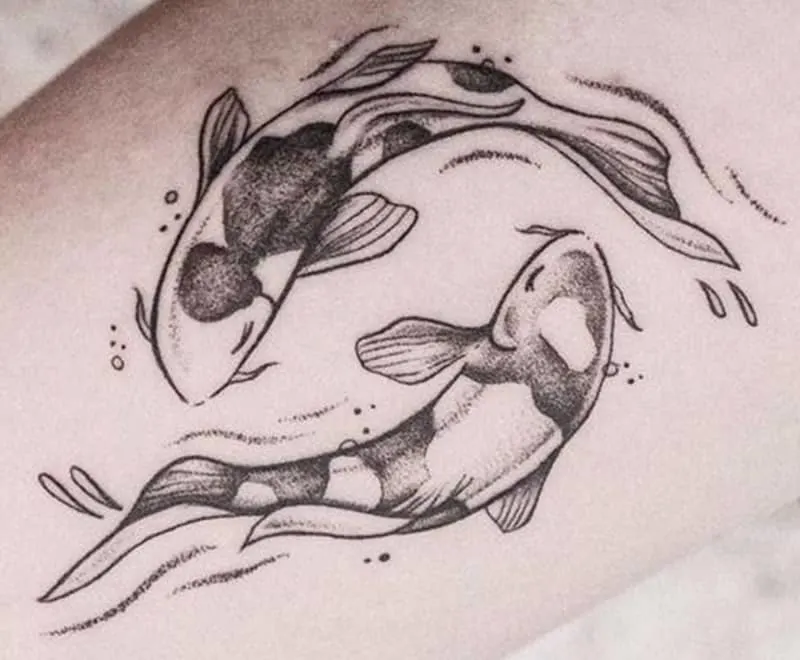 Simple yet effective pencil-drawn looking tattoo. Soft and slightly grainy.
7. Yin yang tattoo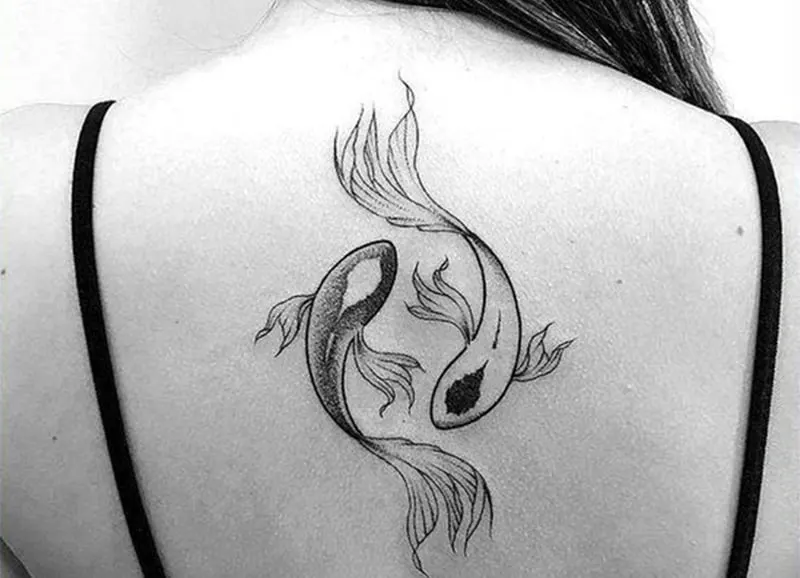 Yin and yang is a concept of dualism in Chinese philosophy, describing how seemingly opposite or contrary forces may be interconnected and how they interrelate with one another – just like Pisces, being the last zodiac sign, understands there's nothing good without evil and vice versa.
8. Pisces wrist tattoo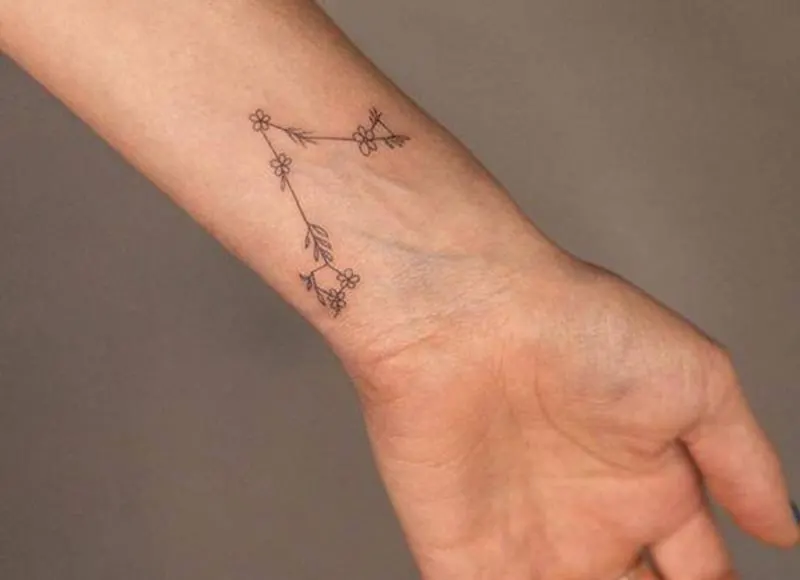 A delicate floral tattoo for sweet and delicate Pisces.
9. Pisces back tattoo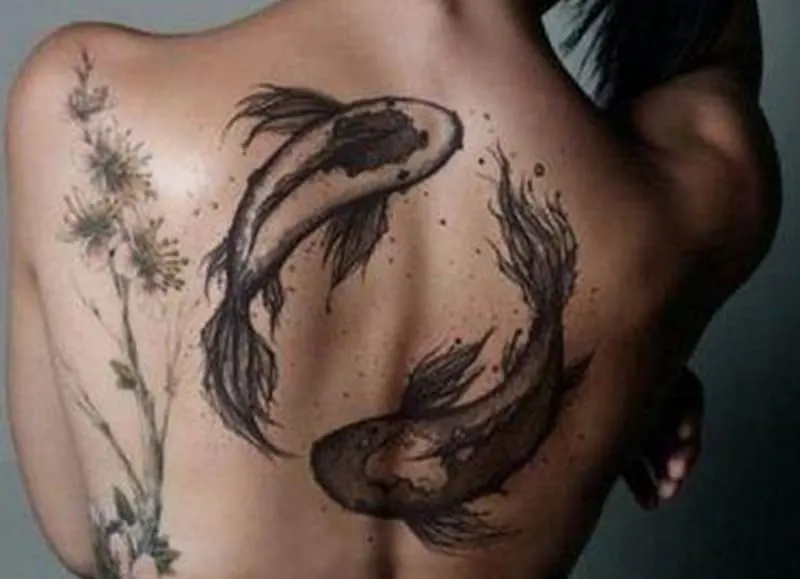 Bold back tattoo for those women who prefer their bodies heavily covered in ink.
10. Pisces shoulder tattoo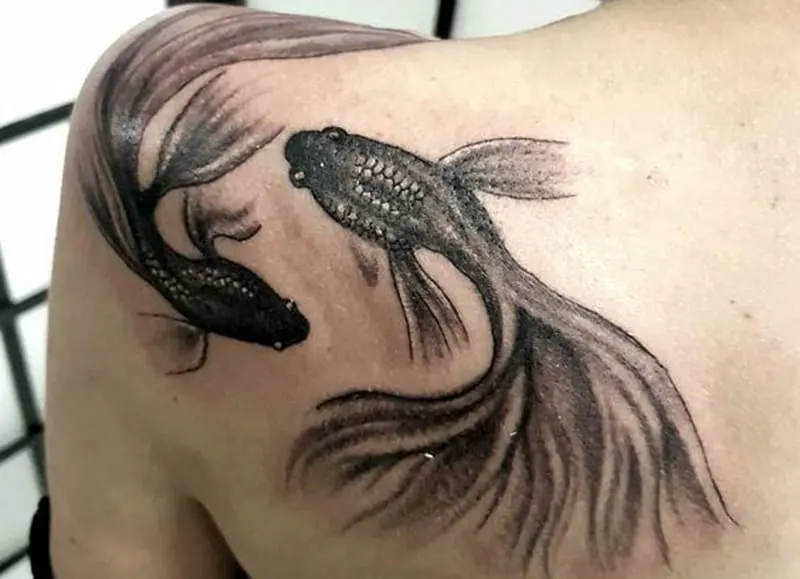 One of the fish tattoo designs inspired by Pisces sign. Very airy and soft.
11. Tribal Pisces tattoo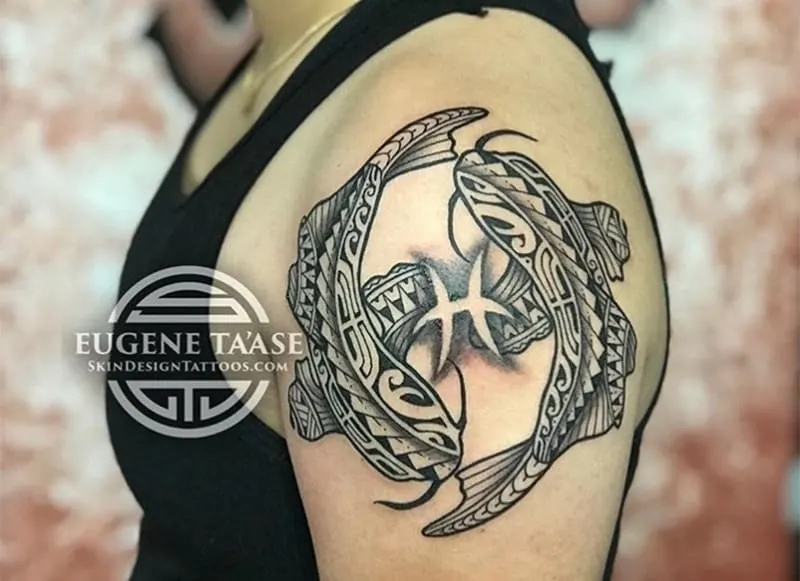 Tribal tattoos may be on the bolder side, but this particular design is rather feminine.
12. Pisces flower tattoo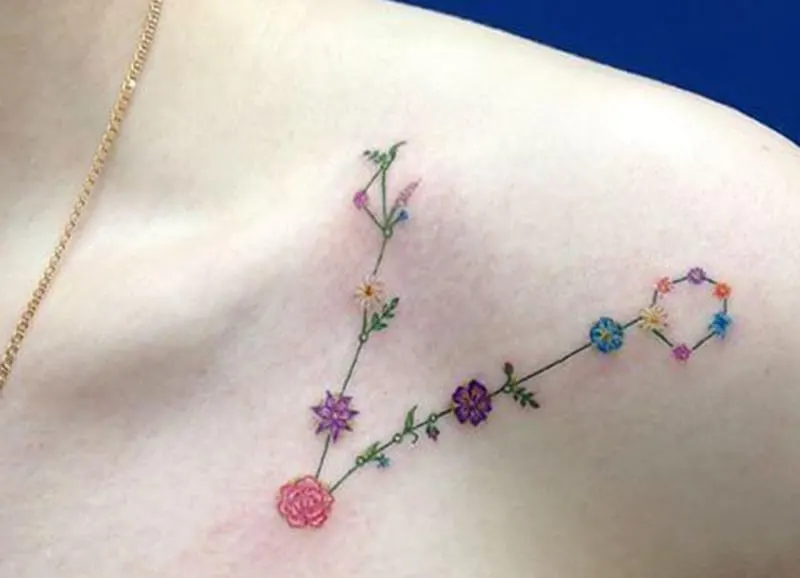 Very ethereal looking floral design of a Pisces star constellation.
13. Pisces arm tattoo
While many people consider arm/sleeve tattoos to not be feminine, this design proves them wrong. Very balanced and delicate lines give an extremely feminine touch.
14. Colorful tattoo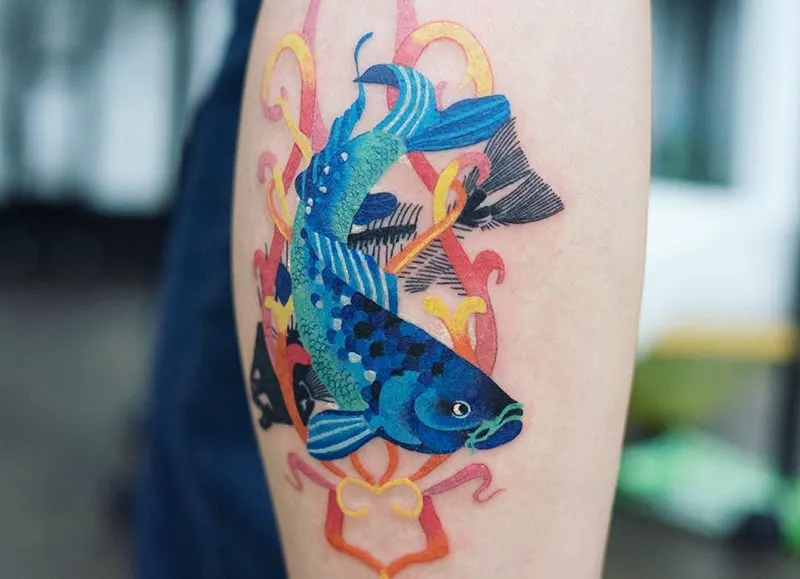 If you're not black and gray tattoo type, here's one tattooist who uses many different colors. Colorful and well balanced, it's reminiscent of slightly vintage, pop art era, with a little Picasso vibe thrown in the mix.
15. Planet Neptune tattoo
Even though the Pisces symbol is the number one choice for fellow Pisceans, Neptune is probably number two. This blue planet exudes serenity and peace. Just like Pisces.
16. Alternative Pisces sign tattoo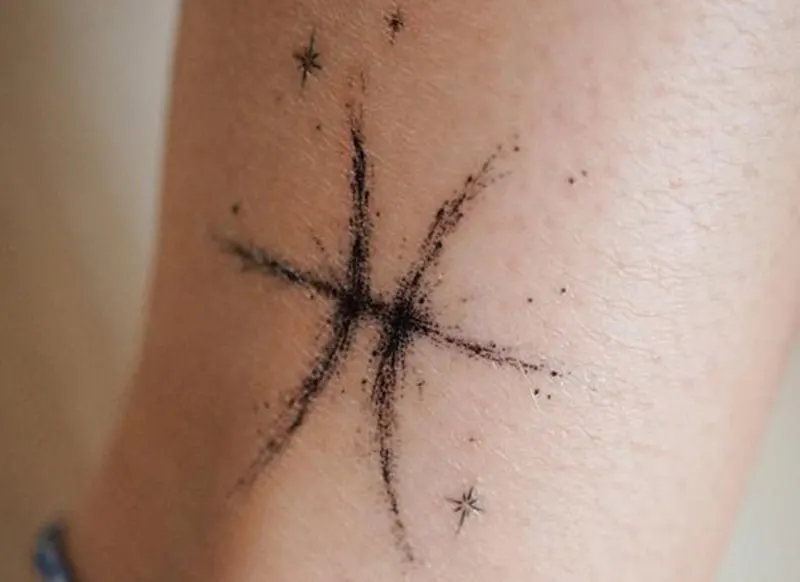 A slightly different take on classical Pisces symbol, decorated with stars.
17. Pisces and Scorpio tattoo design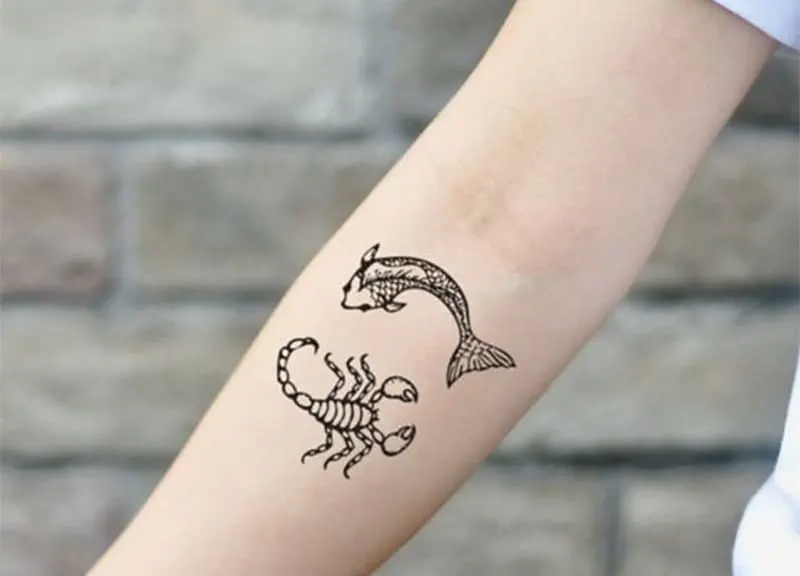 Pisces and Scorpio are said to be the perfect couple. This tattoo concept is quite interesting considering that the Pisces and Scorpio match is one of the most intense in the zodiac.
18. Rib cage tattoo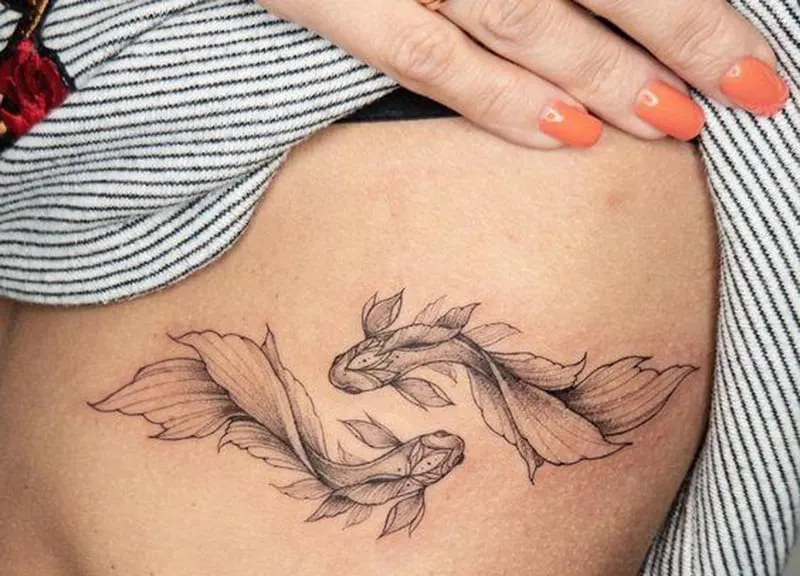 This tattoo artist is great in capturing fragile and dreamy Pisces' nature by using such thin and light lines.
19. Pisces symbol with small flowers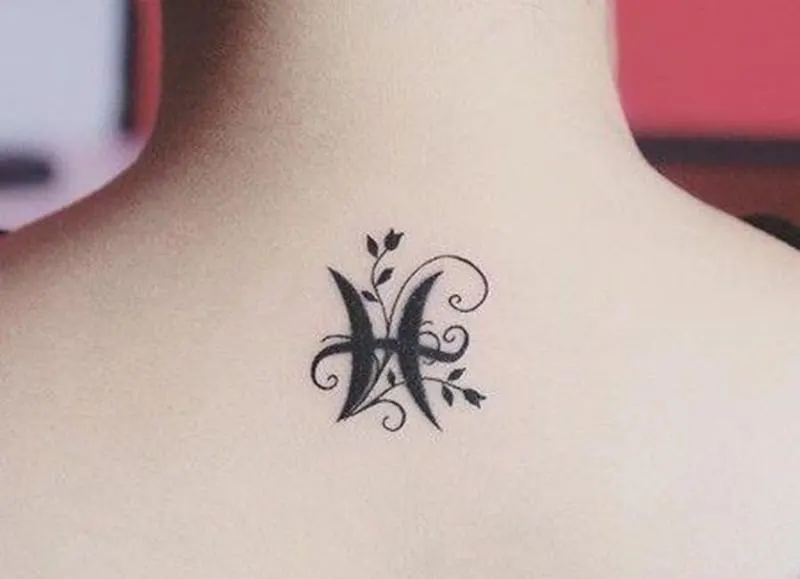 Another (almost) classic zodiac symbol tattoo representing Pisces, decorated with tiny flowers and swirls.
20. Two-piece tattoo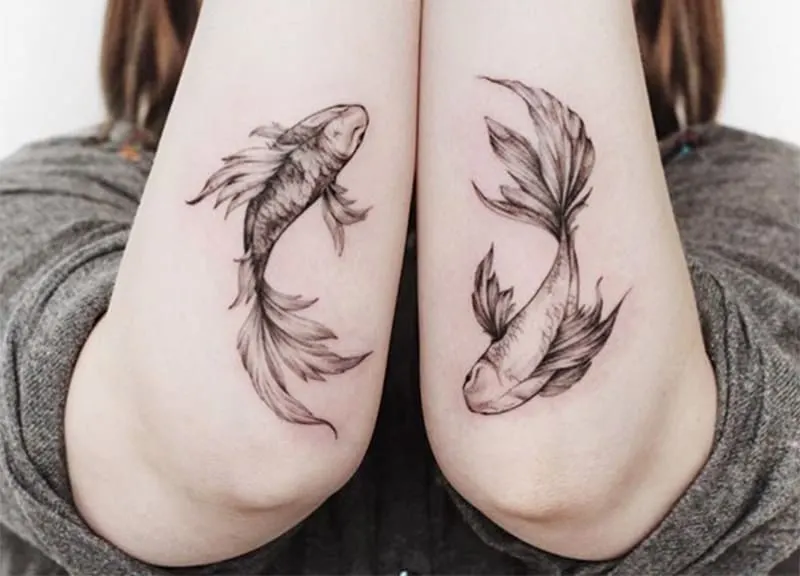 Interesting choice of symmetrical placement can really elevate the look of the tattoo.
21. Elegant shoulder tattoo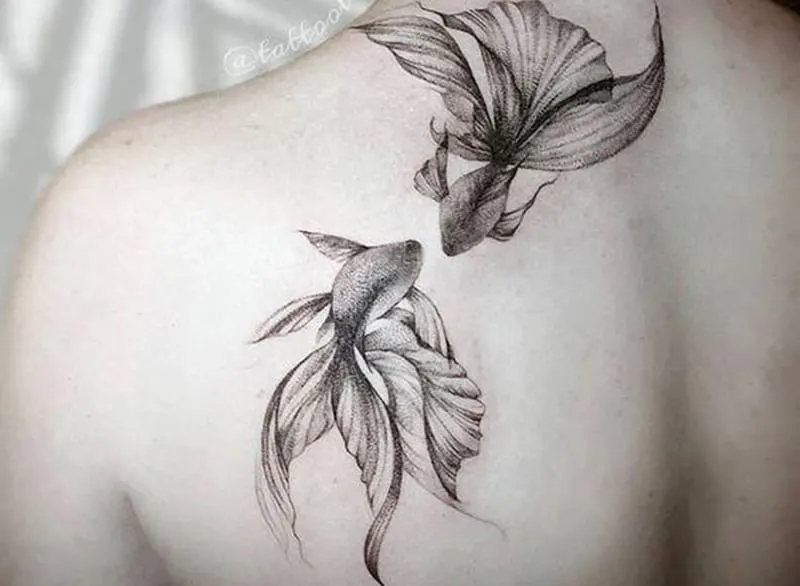 Another airy and grainy soft design with different placement.
22. Thigh tattoo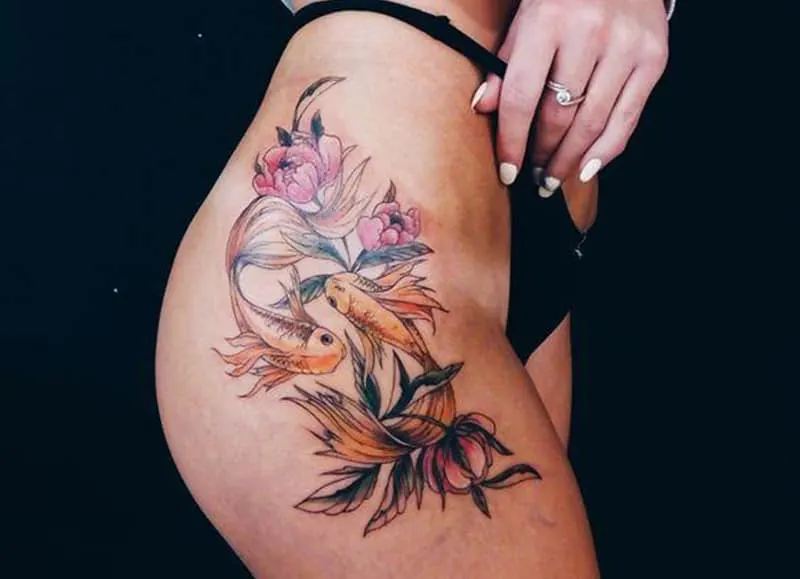 A colorful and flowery design, beautifully placed on the thigh like this, will make your body a true piece of art.
23. Moon and pisces tattoo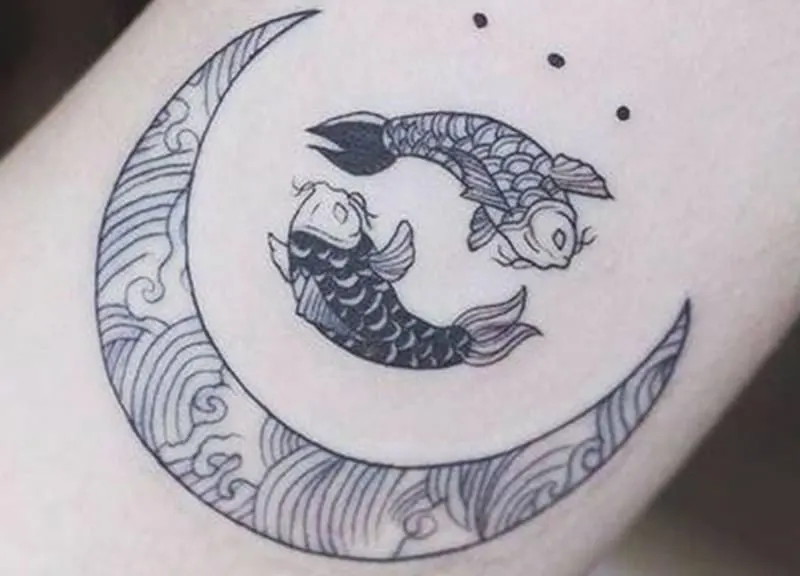 These illustrative sleepy fishes are a very good representation of Piscean gentle nature.
24. Geometric tattoo designs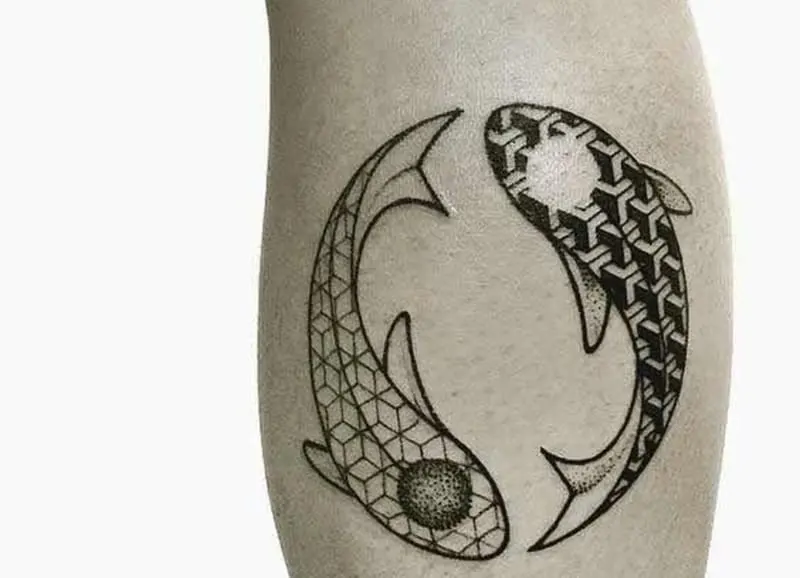 Geometrical design ideas for the more structure-loving Pisces.
25. One more geometric Pisces tattoo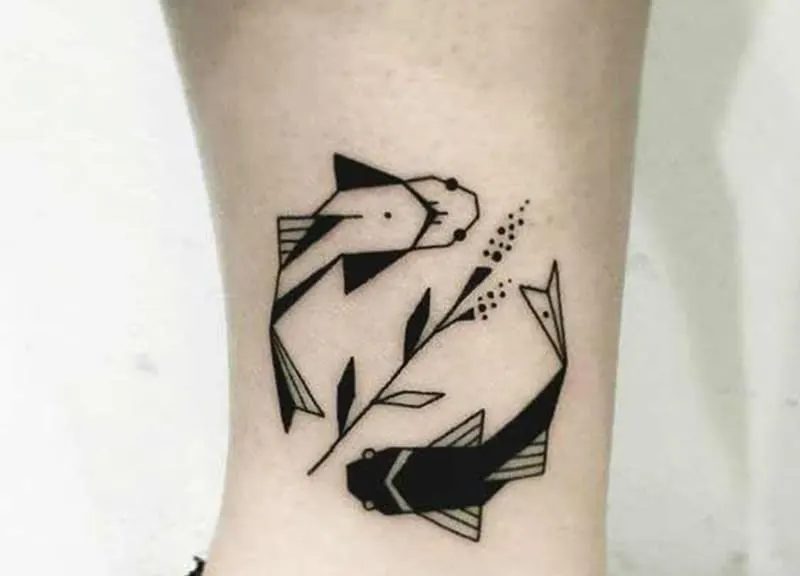 26. Aries and Pisces tattoo design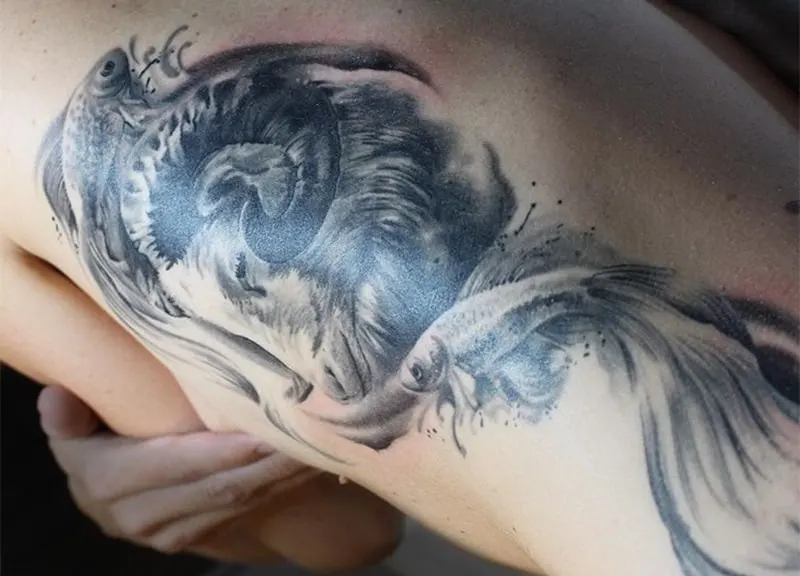 This piece of art combines the sign of Aries with that of Pisces. Here's an idea for incorporating your rising or moon sign, your family or significant other in your tattoo design.
You can do the same with Virgo, Aquarius, or Capricorn… Whatever you like.
27. Pisces in a triangle
This zodiac tattoo is symbolism heavy. It has fish designs, the constellation, water, and the inverted triangle traditionally representing feminine energy.
28. Elegant geometric Pisces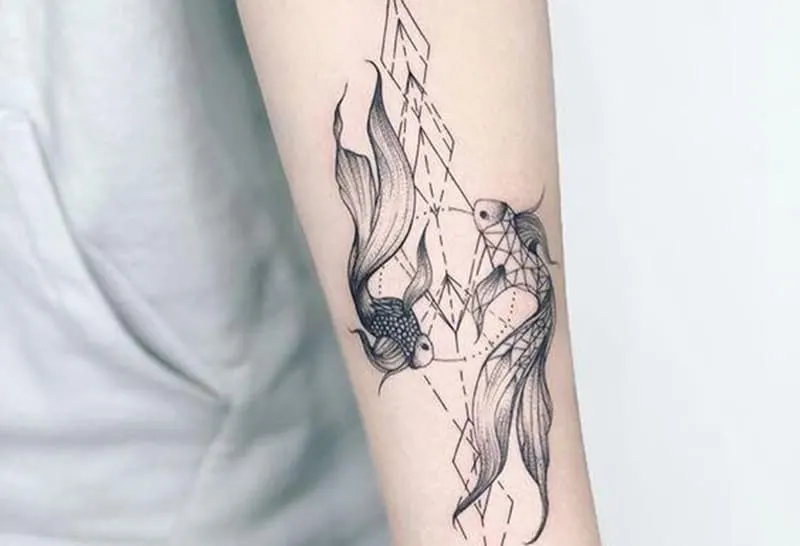 Traditional and illustrative, mixed with geometrical and structured. If you want to have the best of both worlds, this may be it.
29. Goldfish Pisces
Even though it's common knowledge that Pisces are represented with the image of two fishes, we don't always have to take things so literally. One fish could be enough for you and represent anything you want.
30. Mermaid Pisces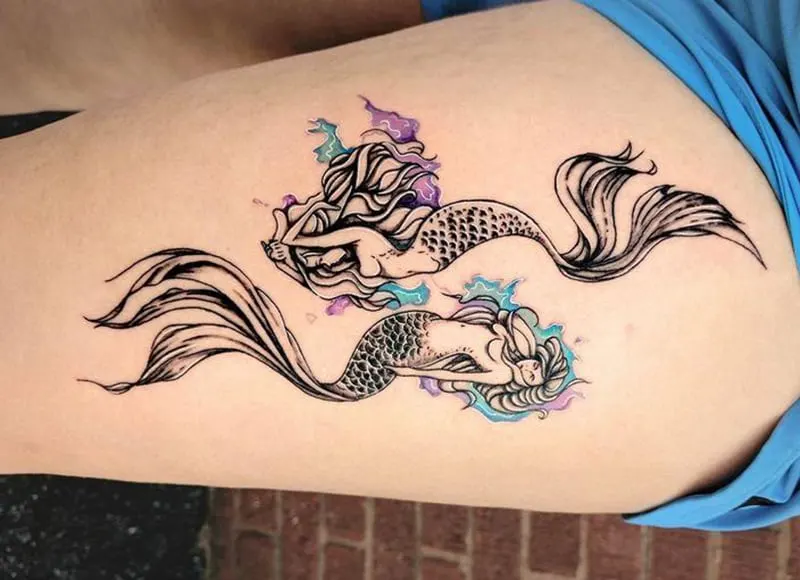 Same goes for this one. Two fish can become two mermaids and still be a symbol for your zodiac sign.
31. Rainbow scales Pisces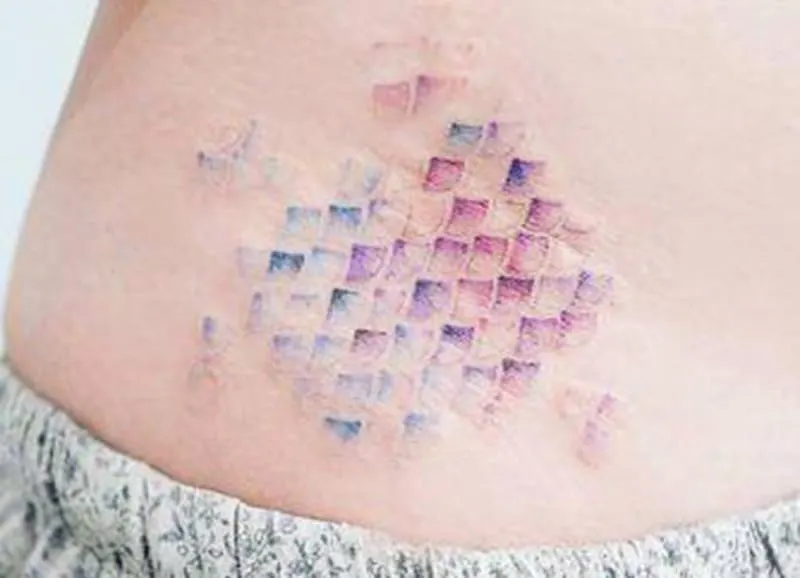 And this one! You can only use scales. It looks so simple yet so ethereal and mermaidy.
32. Bright colors Pisces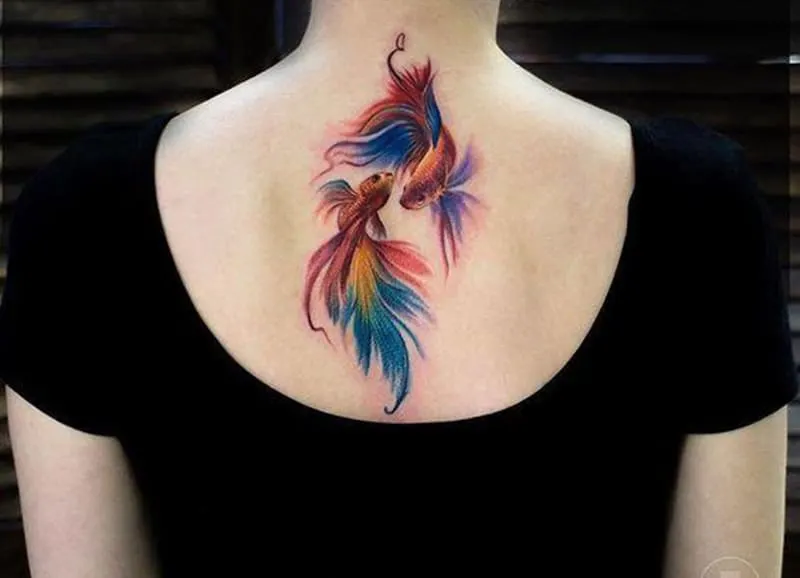 It's hard to look away from this stunning, beautifully colored tattoo.
33. Infinity Pisces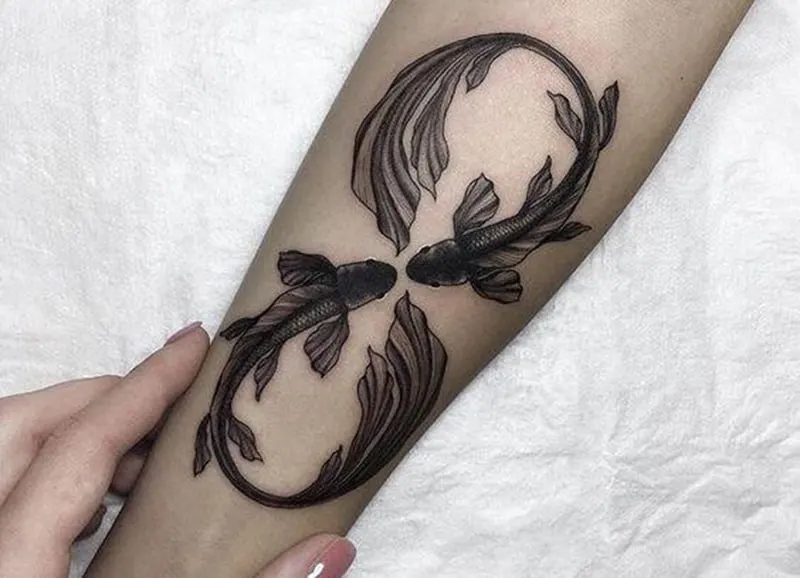 Infinity and Pisces – two things that go very well together.
34. Whimsical Pisces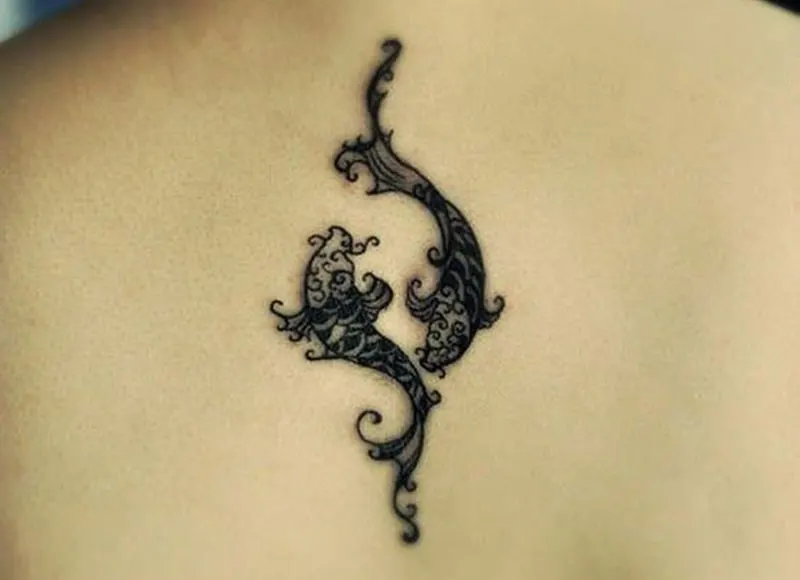 Beautiful and vintage-looking whimsical design.
35. Celestial Pisces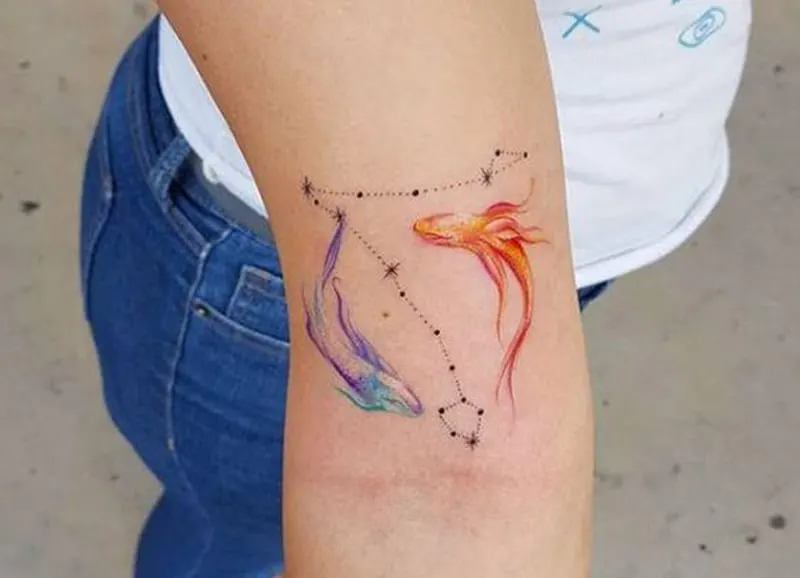 Another delicate and celestial-looking tattoo design.
36. Circle Pisces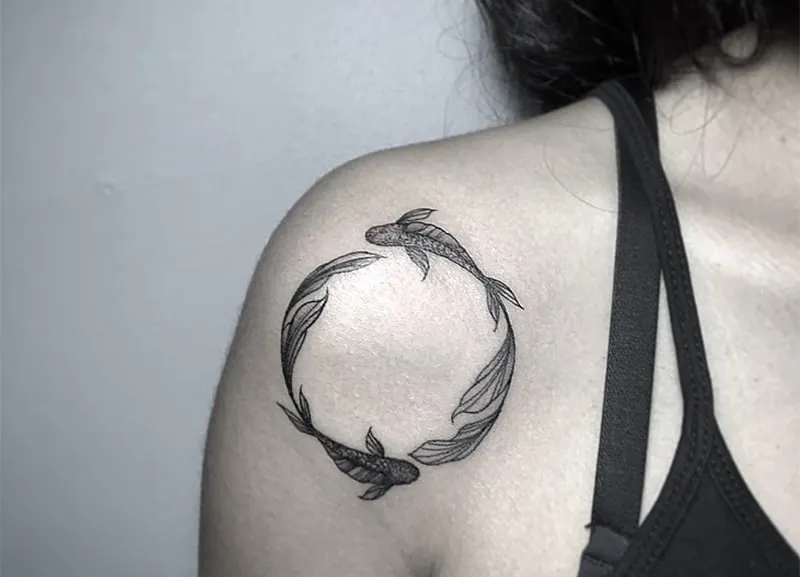 The circle is a universal symbol with many meanings. It represents totality, wholeness, the infinite, eternity… all easily connected with the sign of Pisces.
37. Clock Pisces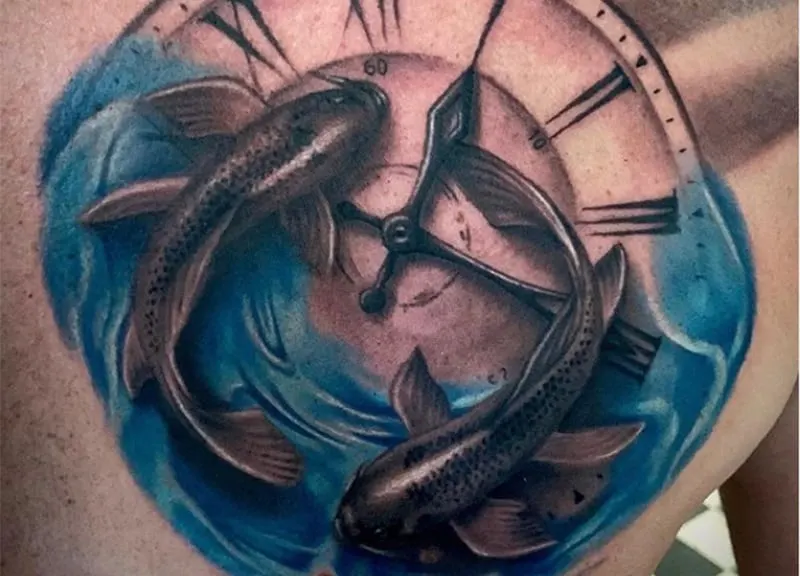 A clock can represent Pisces' tendency to be very patient and at times lost in time in space. The main space cadet of the zodiac.
38. Gothy Pisces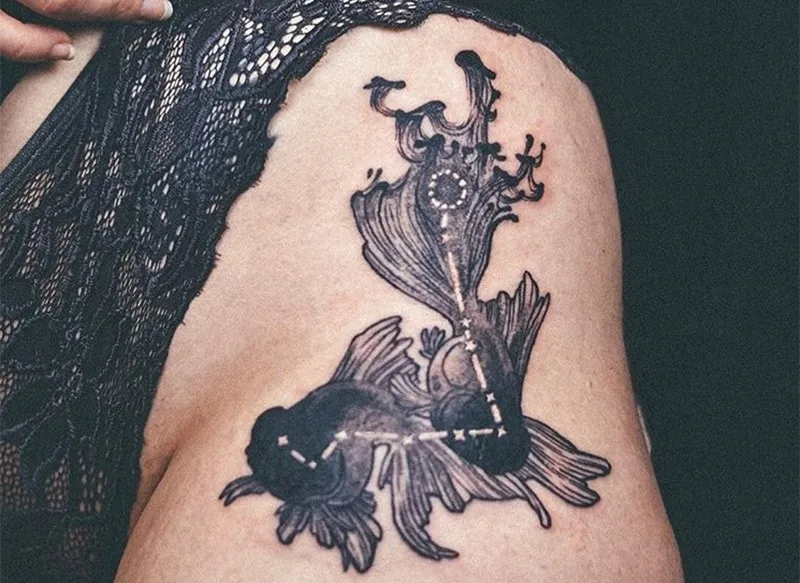 This design brings slightly gothic vibes yet still maintains an ethereal look.
39. Delicate Flower Pisces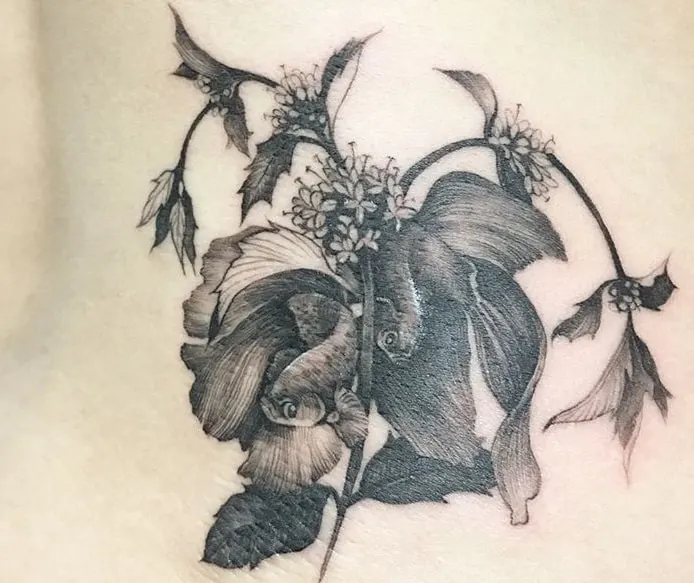 This perfectly done tattoo can represent Pisces' tendency to be shy and withdraw to their own world, hiding beneath beautiful things.
40. Boho Pisces
This boho-looking design with moon and water lily symbols is perfect for gypsy Piscean souls.
41. Light bulb Pisces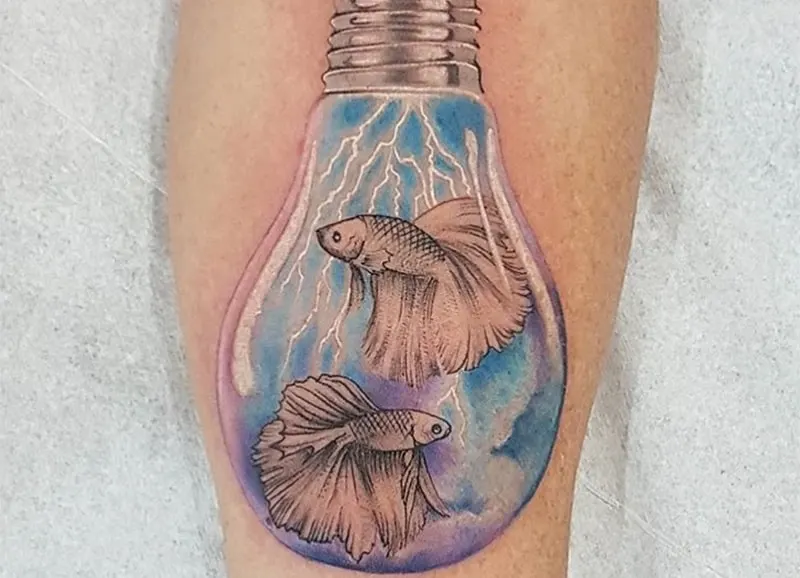 The fishes in a light bulb represent the imaginative and magical world of Pisces, full of unexpected possibilities and creative freedom that often leads to innovation.
42. Water Lily Pisces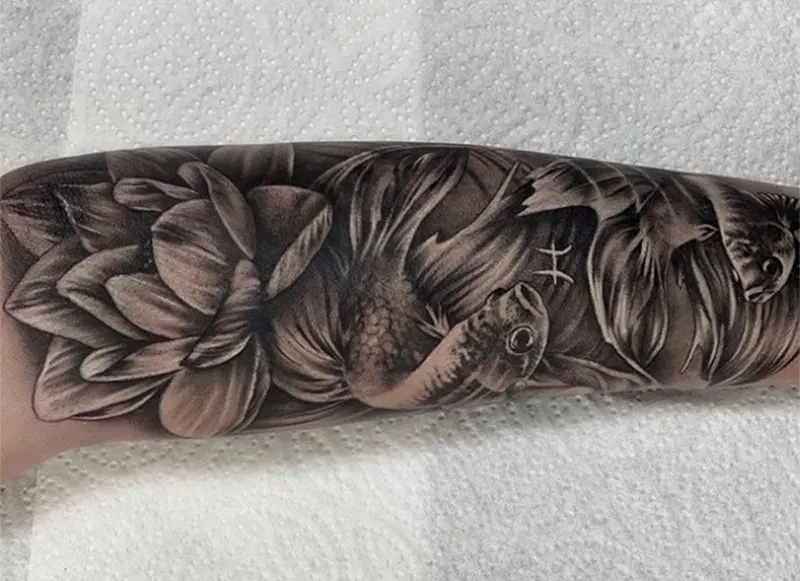 Beautiful, classic black and grey tattoo piece enriched with Water Lilies.
43. Mandala Pisces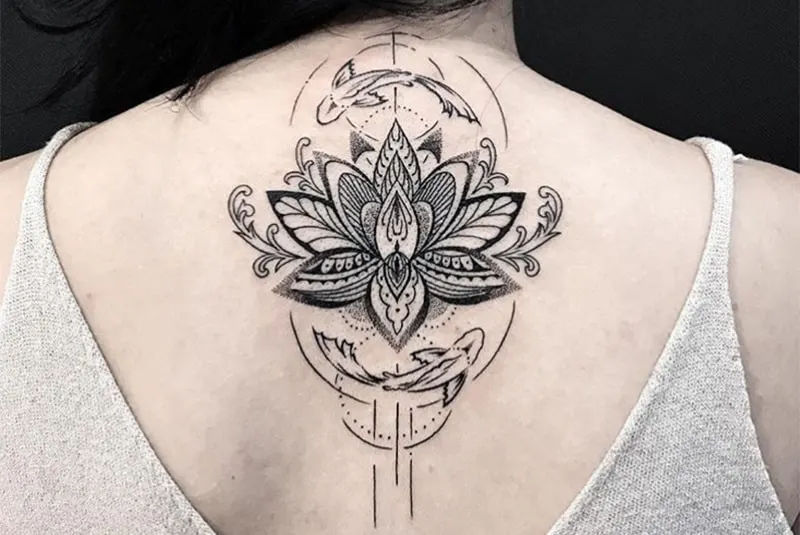 Wonderful combination of mandala-inspired lotus design and minimal fish illustration.
44. Astronaut Pisces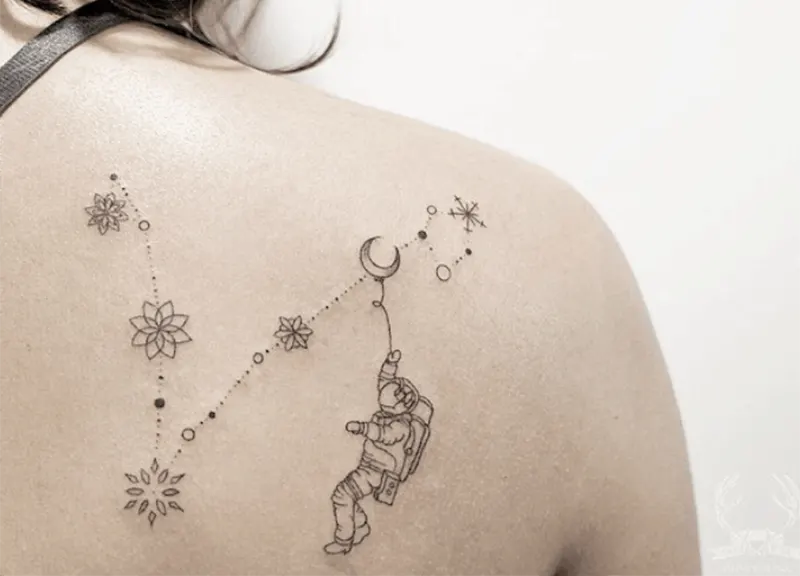 Flowery, celestial astronaut.
45. Speckled Pisces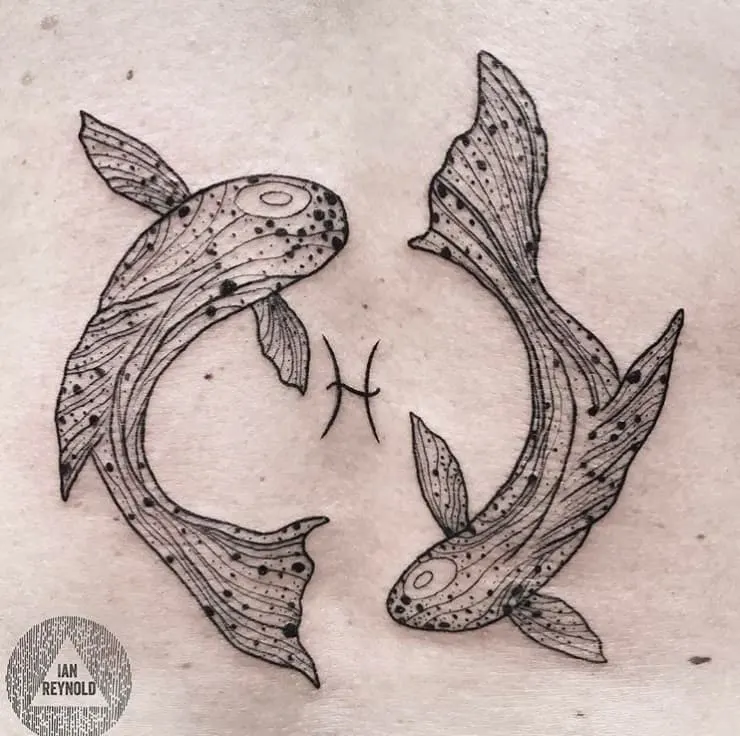 Wonderfully stylized speckled fishes.
46. Cosmic Constellation Pisces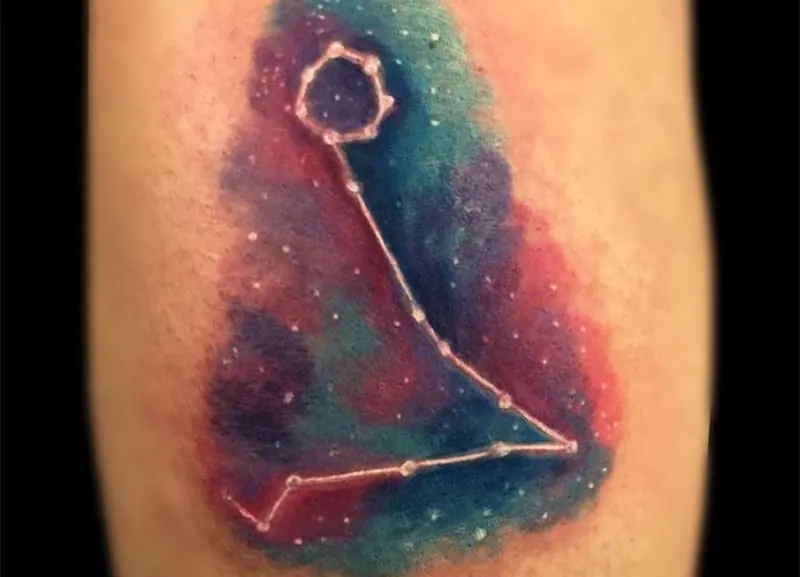 Via @hailmarytattoos
Charming cosmic Pisces constellation.
47. The Great Wave off Kanagawa Pisces
Popular Japanese print "The Great Wave off Kanagawa" combined with koi fishes. Beautiful.
48. Pisces and Aquarius Tattoo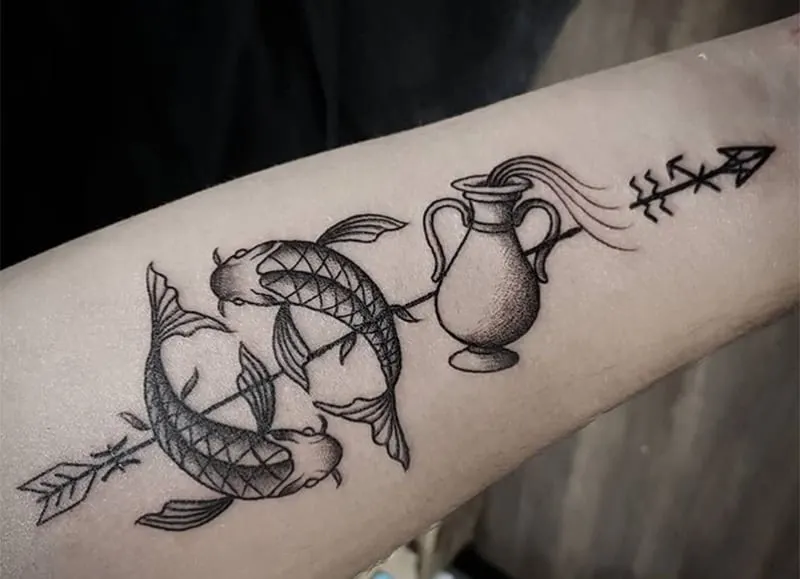 Great idea for connecting more than one zodiac sign.
49. Cherry Blossom Pisces Tattoo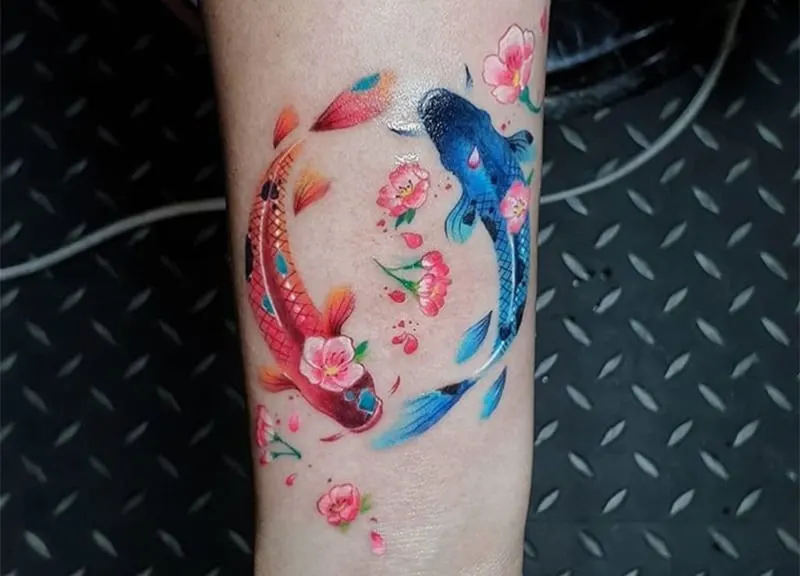 Dreamy fishes and cherry blossoms. Feels like spring.
50. Dotwork Pisces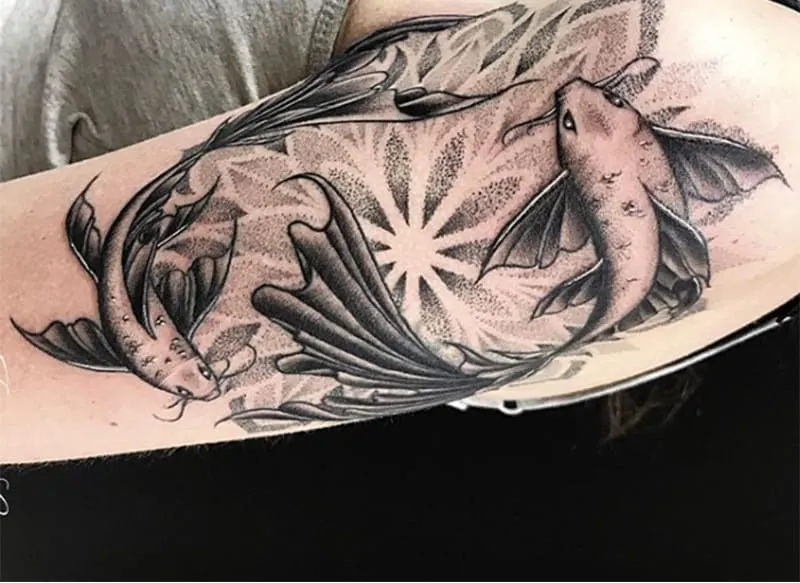 Dotwork black and grey Pisces with flower-of-life inspired pattern as a background.
51. Nature scenery Pisces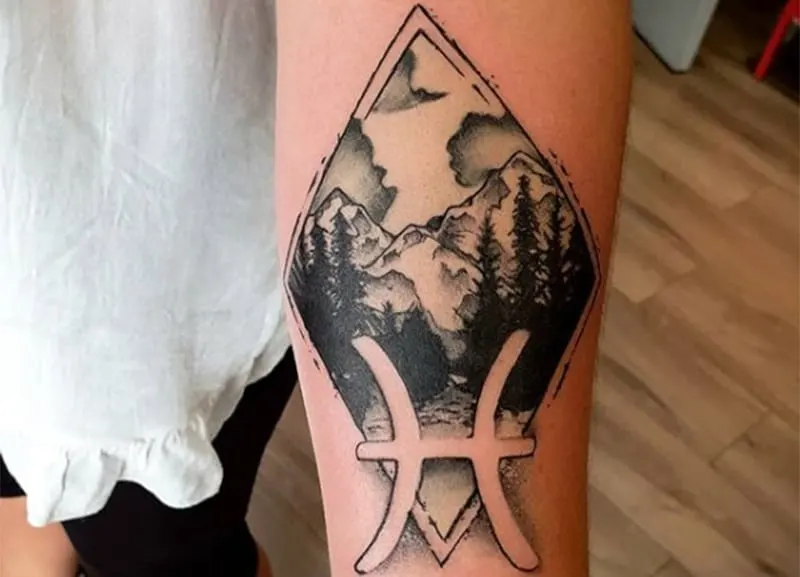 Perfect combination for nature-loving Pisces.
52. Rhombus Pisces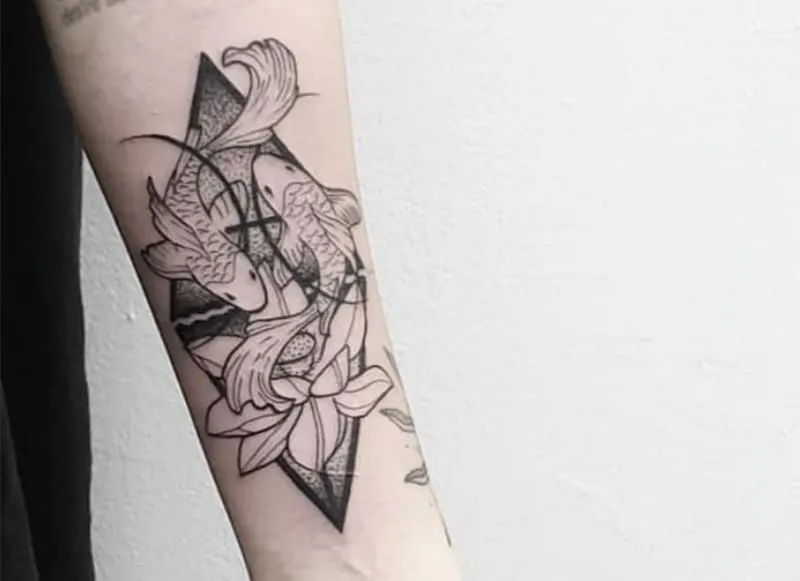 Another great combination packed in a wonderful design.
See also: 50+ Taurus Tattoo Designs And Ideas For Women (With Meanings)
I hope you got inspired by looking at these beautiful designs and that you're looking forward to getting your very own Pisces tattoo!