The holiday season is upon us and I'm about to save you the trouble of finding the perfect gift for your man. That's right, you're looking at the best Christmas gifts for boyfriend guide you'll need this year!
Don't get me wrong, I'm sure that super cute keychain, pocket knife or bottle opener you had in mind are totally handy.
But how about you stop thinking practical and start thinking: How am I going to blow his mind with a gift that he'll actually WANT to use every day?
And that's where I come in. Even when you've been together for ages, the pressure to keep finding unique gifts can sometimes be a tad overwhelming.
Should you go for the romantic sentiment or something funny that'll remind him of your dry sense of humor? It's all about the nature of your relationship, so you'll have to figure that part out.
I'm here to offer you some great gift ideas that'll make the whole gift-giving process a breeze. In times of boyfriend gift crisis, Amazon to the rescue!
For the coolest Christmas gift ideas, I highly suggest you continue reading below. I promise you'll find a holiday gift (or five) that your man will be absolutely ecstatic about.
See also: A Guide To 40 Fun Things To Do With Your Boyfriend At Home
GADGETS
1. INSMY Portable Bluetooth Speakers
[lasso ref="insmy-portable-bluetooth-speakers" id="101857″]
While handmade gifts are extremely thoughtful, nothing beats a state-of-the-art Bluetooth speaker! Especially if your man is a music lover and let's be honest, who isn't?
If you're in a long-distance relationship, this is sure to make him take a trip (to visit you) sooner rather than later!
Who doesn't enjoy listening to music on a high-quality sound system with their best friend on earth?
See also: How To Make Your Boyfriend Happy: 13 Sweet & Simple Ways
2. Apple AirPods With Charging Case
[lasso ref="apple-airpods-with-charging-case" id="101858″]
I don't know about you but when it comes to Christmas gifts for the boyfriend, I can never go wrong with a cool gadget.
Trust me, this will be his favorite stocking stuffer this year. You know what they say; the best things come in small packages. And again, whenever he's not using them, you know who can borrow them (that's right, you).
3. USB C Charger AUKEY Omnia 65W Fast Charger
[lasso ref="usb-c-charger-aukey-omnia-65w-fast-charger" id="101862″]
During my recent trip to New York, this little thing truly came in handy and saved the day! So I figured, wouldn't this make one of the coolest Christmas gifts for a boyfriend?
Gadgets are basically half our lives, so it's only normal that you're properly equipped. Or in this case, that your boyfriend is.
It charges faster, plus it's lightweight, so your man won't even feel it in his backpack. Who doesn't need one of these?
4. OtterBox COMMUTER SERIES Case For iPhone 11 Pro Max
[lasso ref="otterbox-commuter-series-case-for-iphone-11-pro-max" id="101863″]
My best friend recently purchased this and let's just say she LOVES it. So I decided to potentially get this for my man too!
Thinking of Christmas gifts for a boyfriend really isn't that big of a deal. Just figure out what would make YOU happy to receive as a gift and there you go!
This is both practical and hardcore-looking, which I'm sure your boyfriend will definitely appreciate.
5. Hybrid Active Noise-Cancelling Headphones
[lasso ref="hybrid-active-noise-cancelling-headphones" id="101864″]
These wireless headphones might be a little pricey but won't the look on your man's face be one hundred percent worth it? Especially if you've got a gamer on your hands.
Then trust me, there won't be a happier camper on this earth. Plus I'm sure he'd let you borrow them sometimes, right?
So the only question is… What are you still waiting for?
6. Shiatsu Back, Shoulder And Neck Massager With Heat
[lasso ref="shiatsu-back-shoulder-and-neck-massager-with-heat" id="101865″]
Okay, so this has got to be one of the best Christmas gifts for a boyfriend ever. After a strenuous day at work, who wouldn't love coming home to this?
Also, it's kind of a gift for you too (you're welcome). Every time you go to his place, you can enjoy ultimate comfort. Sign me up!
7. All-In-One Ash Wood Phone Docking Station, Key Holder, Wallet Stand And Watch Organizer
[lasso ref="teslyar-wood-phone-docking-station" id="101866″]
Talk about one of the coolest multifunctional Christmas gifts for boyfriend out there. Amazon really outdoes itself daily.
Your man will never have to think about where to keep all of his belongings. With this docking station, every little gadget is safely put in one place.
8. Starling's Car Trunk Organizer
[lasso ref="starlings-car-trunk-organizer-durable-storage-suv-cargo-organizer-adjustable-bordeaux" id="101867″]
Men and their cars. There's nothing you won't find in my boyfriend's car, so naturally, when I stumbled on this fantastic trunk organizer, I had to get one for him too.
It keeps the back of your car neat, everything is safely stored and the car doesn't look like a pigsty. You have to love Amazon for the way it keeps blessing us with things we didn't know we needed.
9. NFORCE Handheld Electric Percussion Massage Gun
[lasso ref="nforce-handheld-rechargeable-electric-percussion-massage-gun" id="101875″]
Stop what you're doing and check out this ultimate massage gun! Sure, it's a bit on the pricier side but if it means feeling better than ever before, it's a pretty spectacular investment!
It's a fantastic gift idea for your man and you can thank Amazon for the variety of its magnificent purchases. So far, they have not let me down and I have a feeling it's going to stay that way.
10. LED Garage Lights, 100W, 10000 Lumens
[lasso ref="led-garage-lights" id="101876″]
Your boyfriend deserves a well-lit garage while he's working on his projects or fixing his car. With these LED garage lights, he won't miss anything, plus they're super easy to install.
See also: Do Men Like Flowers As Gifts? 15 Kinds Of Flowers He'll Love
11. OriHea Electric Shaver For Men
[lasso ref="orihea-electric-shavers-for-men-bald-head-shaver" id="101877″]
With this phenomenal electric shaver, your man will never need another one. We're talking 5D floating shaving heads, which are perfect for a smooth shave of his scalp, with tons of flexibility.
Convinced yet? You'll really get your money's worth and then some! Your man will start actually enjoying shaving and his skin will be silky smooth.
12. TRSCIND 11-IN-1 Survival Gear Kit With EDC Emergency Tools
[lasso ref="cool-unique-fathers-day-birthday-gifts-for-him" id="101878″]
Here's one of my favorite Christmas gifts for boyfriend ideas. Boys like to be manly (or at least perceived as such), right?
So why not get him this ultimate survival kit? It's an 11-in-1 gift set that will surely come in handy on more than one occasion. This is also a great Father's day gift, which makes it double awesome.
You really never know when a situation might arise when he'll be needing one of these bad boys, so get your man ready for the unknown with this extra thoughtful gift.
CLOTHES & SHOES
13. 5-Pack Men's Active Quick Dry Crew Neck T-Shirts
[lasso ref="5-pack-mens-active-quick-dry-crew-neck-t-shirts" id="101879″]
You can never have too many T-shirts, right? And when you get him this gift set, you'll see what I'm talking about.
These are so fashionable and not too tight nor too loose, which makes them great for date nights, gym sessions, a walk around the park, and whatever else comes to mind!
This is truly one of the coolest Christmas gifts for a boyfriend because awesome T-shirts never go out of style.
14. Champion Men's Graphic Powerblend Fleece Hoodie
[lasso ref="champion-mens-graphic-powerblend-fleece-hoodie" id="101881″]
I love stealing my man's hoodies but I kind of think all girlfriends secretly do! And this is one you'll totally want to steal for yourself.
The soft material, pull on closure and a great fit all make it one of the dreamiest Christmas gifts for boyfriend (and his girl).
[lasso ref="nfl-dallas-cowboys-mens-all-star-tech-fleece" id="101882″]
What do you think he'll love more: 100% polyester, the embroidered team logo, handwarmer pockets, or the brushed fleece interior for all the additional warmth he'll need?
Here's an idea. Give this to him as one of the best gifts he will have received lately and ask him!
16. NFL Men's Pullover Hoodie
[lasso ref="zubaz-mens-pullover-hoodie" id="101884″]
Let your man cheer on his favorite team in this officially licensed pullover hoodie by the NFL!
Help him show some team spirit in this beyond comfortable, long-sleeved hoodie that will keep warm during cold winter days.
There are many awesome Christmas gifts for the boyfriend listed here but this one's one of my faves for sure.
17. Merinos Men's Lace-Up Shoes
[lasso ref="merinos-mens-lace-up-black-with-black-sole" id="101885″]
I'm in love with these shoes. They look so comfortable and lightweight (which they are) and they are totally breathable.
Perfect for summer, winter, and everything in-between. Have I mentioned they're also naturally odor-resistant?
See also: How To Spoil Your Man And Make Him Feel Wanted
18. Legendary Whitetails Men's Camo Outfitter Hoodie
[lasso ref="legendary-whitetails-mens-camo-outfitter-hoodie" id="101886″]
My absolute favorite thing about this particular hoodie is the ripped neck. Why? Because it means extra comfort!
Quality is guaranteed with this hoodie and as you can see for yourself, it just looks so hardcore. If you ask me, this is one of the coolest Christmas gifts for a boyfriend!
19. Timberland Men's 6-Inch Premium Waterproof Boots
[lasso ref="timberland-mens-6-inch-premium-waterproof-boots" id="101887″]
Every man needs a fashionable pair of boots that won't get worn out within a few months. And that's precisely why I've included these fantastic waterproof boots in my ultimate boyfriend gift guide.
He can wear them for a multitude of occasions (date nights, hiking, work… you name it!) and they'll look just right for any of them!
Also, they're waterproof, so he's all set during the winter. Wherever he's headed, these bad boys will be along for the ride.
20. Under Armour Men's Rival Fleece Pants
[lasso ref="under-armour-mens-rival-fleece-pants" id="101888″]
Does your boyfriend walk around in the same two pairs of pants all the time, refusing to buy new ones since the ones he has still fit?
Ugh, it's so annoying, right? So do something about it. He won't complain, promise. These ones are soft, warm, and comfy and they have a super handy elastic waistband.
If he won't get these for himself, then his awesome girlfriend is here to save the day.
21. OTS NFL Men's Poly Fleece 1/4-Zip Pullover Sweatshirt
[lasso ref="ots-nfl-new-york-giants-mens-poly-fleece" id="101889″]
As I already said, you truly can't have too many clothing essentials in your closet. And this pullover sweatshirt is something you definitely can't go wrong with.
Not only is it stylish but it's also high-quality and it'll keep your man warm and comfy during winter. And since you're looking for ideal wintertime gifts… I think you've found it.
22. DAVID ARCHY Men's Soft Fleece Plush Robe
[lasso ref="david-archy-mens-hooded-fleece-plush-soft-shu-velveteen-robe" id="101890″]
Don't let them fool you; men love to be comfortable every bit as much as us ladies do! Just because they're too scared to admit it doesn't make it any less of a fact.
So, that brings me to this absolutely sensational plush robe that looks like a slice of heaven!
We all have those days when we just don't know what to wear around the house, right? Plush robe to the rescue! He can wear anything (or nothing) underneath and he'll be just as comfy and warm. Thank you, Amazon.
23. AMERICANINO Men's Skinny Slim Fit Jeans
[lasso ref="americanino-mens-skinny-slim-fit-jean-blue" id="101891″]
I love a good pair of skinny jeans on a man so when I uncover something as awesome as these jeans for a totally reasonable price, naturally, I have to include it on my list.
Most of these Christmas gifts for boyfriend are something I'd get for my man and some of them I actually have purchased! So I know firsthand of their awesomeness. You won't be disappointed.
These are a great fit; just make sure to get the right size (check his other jeans to be sure) and you're good to go!
24. 5Oaks Men's Softshell Lightweight Windblocker Trousers
[lasso ref="5oaks-mens-softshell-pant" id="101893″]
Men so rarely go shopping for themselves that it's kind of a girlfriend's duty to make sure he has decent clothes to wear.
And as a dutiful girlfriend, here's an idea he'll love. These lightweight trousers from Amazon are made from 94% polyester, are totally machine washable and the fabric is wind-proof.
Get your boyfriend ready for the chilly days ahead and get him this high-quality gift for basically a bargain!
25. Columbia Men's Delta Ridge Down Jacket
[lasso ref="columbia-mens-delta-ridge-down-winter-jacket" id="101894″]
The colder days are ahead and it goes without saying that a high-quality jacket is needed to keep your man warm and cozy!
Might I suggest this 100% polyester jacket with a heat-reflective lining that ensures the best protection from the icy cold weather?
The fabric is breathable, it looks stylish and it will provide your boyfriend with maximum warmth for many Christmases ahead.
GAMES & FUN
26. GoPong 8-Foot Portable Beer Pong
[lasso ref="gopong-8-foot-portable-folding-beer-pong" id="101895″]
Okay, is this ideal for beer lovers, or what? My man and I are beer fanatics and as such, we absolutely needed to get this beer pong table for ourselves.
Guess what? We can barely stop playing! One of its awesome features is that the surface is durable and can withstand the rowdiest parties.
You can gather your crew and have a great drinking game to play that people will actually love. The perfect boyfriend gift.
27. Super Mario 3D All-Stars – Nintendo Switch
[lasso ref="super-mario-3d-all-stars-nintendo-switch" id="101896″]
My boyfriend is an avid gamer, so naturally, I had to include this. When I think about it, most dudes I know are obsessed with video games, so you'll really hit the mark with this one.
Let your man embark on the coolest adventures all in one place. Sometimes, games can be a great escape from the real world.
28. Magnetic Self-Stick Page Picture Album With Leather Vintage Inspired Cover
[lasso ref="totocan-photo-album-self-adhesive" id="101898″]
For a personal touch, you can add your man's monogram or some kind of caricature to this to make it more special for him.
But come on, who doesn't like a photo album as cool as this one? And goodness knows it's going to last him a lifetime.
When it comes to the absolute best Christmas gifts for boyfriend, something like this goes a long way, simply for the fact that it's going to be in his life (probably) forever.
This is both practical and hardcore-looking, which I'm sure your boyfriend will definitely appreciate.
29. Pro Mini Basketball Hoop
[lasso ref="sklz-pro-mini-basketball-hoop-with-ball" id="101900″]
Now, this is a unique gift I bet you haven't thought of before. Want to shoot some hoops with your man? Here's your chance!
This mini basketball hoop set is perfect for the backyard and allows you to play some one-on-one whenever you feel like it.
And if you're not big on basketball, no worries! Let your man play with his buddies and you go hang with the girls.
30. Crosley Direct Drive DJ Turntable With Built-In Preamp And RCA/USB
[lasso ref="crosley-dj100-direct-drive-dj-turntable" id="101901″]
If he's always been into collecting records, help him make his mark with a brand-new retro turntable. This is definitely one of the most unique gifts out there.
He'll love the two-speed direct-drive motor turntable, the adjustable anti-skate settings, and the removable headshell. If you don't know what any of this means, that's okay. I'm sure he'd be happy to teach you!
DRINKWARE
31. Enjoy The Good Life Airtight Coffee Canister
[lasso ref="enjoy-the-good-life-airtight-coffee-canister" id="101903″]
I'm sure Etsy has some cute stuff but have you seen this awesome yet practical stainless steel coffee canister on Amazon?
If your man's a coffee lover, this is one of the best gifts you could buy him. Gifting him this awesome invention is actually a gift for both of you, as you too can enjoy it whenever you go visit him.
Not only is it built to stand the test of time but it also beats other canisters in size and it has the perfect measure so you'll always have the right amount of flavor.
Get this multi-purpose canister (also great as Valentine's Day or birthday gift) and you'll never have to drink bad coffee again.
See also: 20 Unique And Creative 6-Month Anniversary Ideas For Him And Her
32. 4-Pack Ultimate Beer Glasses
[lasso ref="4-pack-ulitimate-beer-glasses" id="101904″]
Drinking his favorite craft beer from his fantastic new glasses while cheering for his favorite team. Not too shabby!
The whole idea is to get him something he'll actually gladly use on a regular basis. And let's not kid ourselves. These will probably be used daily.
So stop contemplating what to get him and simply choose this present. After all, it's a gift you can enjoy as well.
See also: 220 Romantically Cute Questions To Ask Your Boyfriend
33. Whiskey Glasses Set For Men
[lasso ref="whiskey-glasses-set-6-stainless-steel-reusable-ice-cubes" id="101905″]
This right here is something that every whiskey lover out there secretly wants. If your man is one, then this is a no-brainer.
It's kind of a great gift for any man. You get whiskey glasses, chilling stones which will keep his favorite drink saturated, two coasters, a silicone capped tong, and a velvet bag that will keep the metal cubes safe for a long time. All in a wooden gift box.
Basically, he's all set for some whiskey-loving in the company of his best friend (you or his actual best buddy).
34. Cocktail Mixology Shaker Set By Royal Reserve
[lasso ref="cocktail-mixology-shaker-set-by-royal-reserve" id="101906″]
Two words. Yes PLEASE. If he isn't already a cocktail master, help him become one (and secretly enjoy being made the best cocktails you've ever had on a regular basis!).
35. YETI Rambler 14OZ Mug
[lasso ref="yeti-rambler-14-oz-stainless-steel-vacuum-insulated-mug-with-lid-black" id="101908″]
We all need a good, solid cup for all kinds of beverages that won't let us down, right? Well, here it is!
This coffee mug is tough and durable, successfully resists dents, and keeps your drink warm until the very last sip (or your Pepsi cold and tasty!).
Of all the thoughtful Christmas gifts for boyfriend, this #1 bestseller really stands out. It's simple, yet something he'll use daily.
COOKWARE & TABLEWARE
36. 34PCS BBQ Grill Accessories Tools Set
[lasso ref="34pcs-bbq-grill-accessories-tools-set" id="101909″]
I don't know about yours but my man is obsessed with grilling. There's nothing we love more than some juicy BBQ meat, hot sauce, and trying out recipes from my favorite cookbook.
How about you? I promise you won't regret getting this amazing BBQ grill tools set for him. There's everything he could possibly need and then some.
Barbecuing has never been this fun! Plus it's a great opportunity to invite your family and friends over for a fun catch-up over delicious meals.
37. Dash Electric Air Fryer And Oven Cooker
[lasso ref="dash-dcaf200-tasti-crisp-electric-air-fryer-oven-cooker-with-temperature-control" id="101911″]
This innovative AirCrisp technology makes for healthier fried food (I bet you never thought you'd hear this but it's true).
The frying process is quick and easy and the food is super crispy and delicious. This might be a holiday gift for your boyfriend but you both get to enjoy it!
38. Gibson Home 16-Piece Reactive Stoneware Soho Round Dinnerware Set
[lasso ref="gibson-home-16-piece-reactive-stoneware-soho-round-dinnerware-set-blue" id="101912″]
Everyone needs a dinnerware set, so this is a no-brainer. The design is gorgeous and don't you think that the color is just perfect for a dude?
The man has to eat so he might as well eat from this fancy set that contains everything he could possibly need. Bon appétit!
39. Haotian Bar Serving Cart
[lasso ref="haotian-bar-serving-cart-home-myra-rustic-mobile-kitchen-serving-cart" id="101913″]
Do you often have guests over for dinner and board games? If so, you'll definitely need to check out this cart.
This retro serving trolley contains a wine rack plus storage for hanging glasses. Also, you can remove the top shelf and use it as a food tray. How cool is that?
It's made of high-quality wood with a steel frame that gives you great peace of mind. Invite the crew over and flaunt around your boyfriend's perfect Christmas gift. Goodness knows everyone will be using it!
TRAVEL ESSENTIALS
40. CAMPORT Folding Camping Chair Backpack With Cooler
[lasso ref="camport-folding-camping-chair-stool-backpack-with-cooler-insulated-picnic-bag" id="101915″]
This is one amazing folding chair that serves so many purposes. Next time your man goes camping, he won't have to worry about forgetting anything.
Folding chair? Check. A backpack? Check. Insulated cooler? Check. Pretty cool, right? I'm sure your boyfriend would agree.
41. Men's Leather Toiletry Bag And Dopp Kit
[lasso ref="mens-leather-toiletry-bag-and-dopp-kit" id="101916″]
Men need a safe place to keep all of their toiletries, right? Well, check this out. It's the perfect size to keep his essentials, the materials are of the highest quality and it just looks so stylish!
If you're tired of him leaving his shaving accessories all over the bathroom, this is your solution. And that way, you get more space for all of your make-up. Win-win.
Plus, it's perfect for traveling, as it offers a unique storage room for all of his personal items that might otherwise get misplaced.
42. Wise Owl Outfitters Camping Hammock Camping With Tree Straps
[lasso ref="wise-owl-outfitters-hammock-for-camping-single-double-hammocks-gear-for-the-outdoors" id="101917″]
What better way to enjoy the outdoors than with the help of this fantastic hammock? Unlike many others, this hammock is made from high-quality parachute nylon.
It's so soft and smooth but also really strong and durable, which means your man won't have to worry about his safety.
With this amazing gift, he'll be able to enjoy as many outdoor adventures as he pleases. It's a gift that keeps on giving.
43. WUDON Leather Backpack For Men
[lasso ref="wudon-travel-backpack-for-men" id="101918″]
With the help of my awesome guide, you can say goodbye to Google! Everything you could possibly need is right here. And this fantastic backpack further proves it.
It's made of genuine leather, it's fantastic for adventurers and made from waterproof canvas, which means it'll protect all of your boyfriend's stuff inside.
He can take this backpack on a trip around the world and it won't let him down. It looks great and it does its job of keeping all of his belongings safe from all types of weather.
ACCESSORIES
44. Bulova Automatic Wrist Watch For Men
[lasso ref="bulova-mens-mechanical-hand-wind-watch-with-stainless-steel-strap" id="101919″]
Lately, wrist watches have become somewhat of a fashion thrill (it's obvious why just by looking at this thing of beauty) but let's not forget the practical reason as well; they tell time (duh).
This gorgeous stainless steel wristwatch is water-resistant to about 30m, which means your man won't have to worry about it getting accidentally wet!
Also, I've always felt like a good wristwatch is a sign of maturity. It's kind of considered retro but it's always in style! Why pull out your smartphone every 30 seconds and strain your eyes when you can do it old-school?
45. TRAVANDO Money Clip Wallet
[lasso ref="travando-money-clip-wallet-rio" id="101921″]
Sometimes you can be practical and cute at the same time! Take this wallet for example. It can fit all of his money and cards, while not being too flashy.
A good wallet goes a long way. He needs to know that all of his money and credit cards are safely stored. And with this one, he'll never have to worry about it again.
46. AQUAJOY Home Pro Gym Bands
[lasso ref="aquajoy-home-pro-gym-bands" id="101922″]
Finding the best Christmas gifts for boyfriends is basically a breeze if we're talking about gym buffs. If your man likes to hit the gym, bless his world with this much-needed gift.
Getting him high-quality home-workout equipment will be much to his delight. Why? Well, sometimes, you just don't have enough hours in the day to actually physically go work out.
So this comes as the perfect second option. A home workout station with the best gym bands equals one happy boyfriend.
See also: Boyfriend Contact Names: 63 Cute Names To Call Your Boyfriend
47. Chaoren Leather Ratchet Belt
[lasso ref="chaoren-leather-ratchet-belt-2-pack" id="101923″]
This belt has some truly innovative features including an easily removable buckle that helps you adjust it to your preferred size.
Personally, I've always struggled with finding the perfect belt precisely for this reason. Good news, your boyfriend doesn't have to anymore!
48. Ray-Ban RB3025 Classic Polarized Aviator Sunglasses
[lasso ref="ray-ban-aviator-classic-shiny-gold" id="101925″]
These classic aviator sunglasses will protect your boyfriend's eyes and make him look dressed to the nines!
They also feature polarized lenses, which significantly improve clarity while reducing glare. This means his eyes won't be strained and he'll feel comfortable knowing that he's 100% protected.
49. Bellroy Tech Kit
[lasso ref="bellroy-tech-kit-tech-accessories-organizer-pouch" id="101926″]
This awesome kit is the perfect storage for all of your man's tech accessories. It's made from waterproof fabric (yes please) and has a magnetic slip pocket.
He can carry it wherever he goes, knowing that his things are always on his person, which makes this not only cool but also really practical for everyday use.
See also: 40 Emotional Love Letters For Him That Will Melt His Heart
HYGIENE & SELF CARE
50. Male Care Hygiene Bundle
[lasso ref="manscaped-crop-essentials-male-care-hygiene-bundle" id="101927″]
Men deserve to be pampered too. It really shouldn't be taboo that a man cares about his hygiene and well-being.
With these high-quality products, your man will feel refreshed, clean and oil-free. This gift set makes grooming feel easy and fun for any guy.
51. L'Homme Yves Saint Laurent For Men
[lasso ref="lhomme-yves-saint-laurent-by-yves-saint-laurent-for-men" id="101928″]
Don't you just love a man who smells nice? I sure do. And Yves Saint Laurent has made sure that your boyfriend will smell delicious for hours and hours on end.
I don't know about you but few things make me happier than a darn good fragrance on a fine man.
Also, check out these romantic and intimate I love you letters for him. Spray a little perfume on a sweet paragraph or two and he'll be all yours.
52. Queen Size Hypnoser Adult Weighted Blanket
[lasso ref="hypnoser-adult-weighted-blanket-queen-size" id="101929″]
Okay, this weighted blanket is for sure in my top five best Christmas gifts for a boyfriend ever. These blankets truly do make the fussiest sleepers doze off like a baby.
Amazon provides you with this fantastic, snuggly blanket that feels like an actual hug. Your boyfriend won't want to get up in the morning and neither will you.
It will make him feel warm, snuggly, and cared for. Kind of hard to pass on, right?
Have You Found Your Perfect Christmas Gift?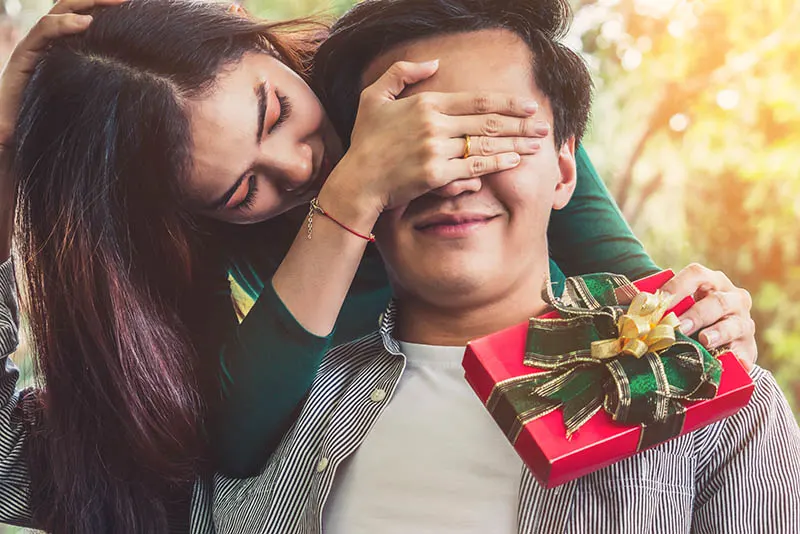 Hopefully, in this array of unique Christmas gifts for boyfriend, you were able to stumble upon at least a few winners.
I've provided you with 52 pretty spectacular gift ideas and now all you have to do is decide which one of these is ideal for your boyfriend.
And remember, gift-giving is all about knowing your audience. It's not about the craziest gift or some huge romantic gesture. So take another look around and pick out your favorite one.
You know your man better than anyone so I'm sure he'll be elated no matter what you end up choosing. Good luck and happy upcoming holidays!
See also: 140 Cute Good Morning Texts For Him To Make Him Smile