If you're thinking about getting a new tattoo – more precisely, an infinity tattoo with name, date or any kind of symbol – you're in the right place.
Before taking a look at infinity tattoo ideas, let's start with unfolding the meaning behind the popular symbol:
The infinity symbol (∞) is a symbol representing the concept of infinity. The symbol resembles a geometric figure called a lemniscate.
The sign, to put it simply, represents limitlessness and infiniteness. It has been used for centuries for protection and bringing harmony among opposing entities.
Take a look at these infinity tattoo designs to see what you like and what to show your tattoo artist:
1. Infinity symbol with yellow and purple watercolor half-moon and full moon, very dreamy and feminine
2. Arrow infinity on the wrist tattoo looks very clean and minimal
3. Dotted infinity tattoo with DIY-looking paper plane and tiny hearts for minimalistic lovers
4. Infinity symbol with a flying whale representing sense of freedom
5. Fun and colorful donut tattoo with stars for donut lovers
6. Infinity sign, feather and roman numeral date tattoo looks very classy on the arm
7. Cherry blossom flower and sunflower infinity tattoo; different flowers for your different personalities
8. Family, love, and roses infinity tattoo, very elegant and feminine
9. Beautiful pastel you only live once infinity tattoo with flying birds, perfect for the wrist
10. Simple small infinity tattoo on wrist with a red heart, looks minimal but says a lot
11. Beautiful, feminine yet bold tattoo with butterflies and swirls
12. Infinity tattoo with quote and blue butterfly for the back
13. Rainbow Disney castle design for the Disney lovers out there
14. Delicate line art flower infinity tattoo, simple and sweet
15. Half quote, half flowers sign, awesome for expressing yourself with words and imagery
16. Delicate tattoo with roman numerals, anchor and red rose, packed with so much meaning
17. Beautiful infinity tattoo with feather, date, name and birds look great beneath the collar bone
19. Delicate love tattoo with names in beautiful cursive and two hearts
20. Colorful feather tattoo with small paws can represent love for your pets
21. Very delicate travel inspired design with camera and plane illustration, perfect for adventurous travelers
22. Unique wedding rings infinity sign, a great way to mark a special day
23. Original infinity rope tattoo to go with the nautical theme
24. Wonderful rose watercolor flower tattoo with script, feminine and elegant
25. Keep faith watercolor tattoo, bold and colorful
26. What goes around comes around quote infinity tattoo remind you of karma
27. Sweet and pastel-colored tattoo with a lot of small symbols: planets, crown, stars, flowers…
28. Celestial theme infinity tat with Earth, moon and stars motif
29. Lovely infinity design with names
30. Beautiful colorful infinity heart tattoo for pastel lovers
31. Dotted infinity with name tattoo for a more subtle look
32. Purple feather and names infinity tattoo with great shading
33. Per ardua ad astra (meaning through struggle to the stars) infinity tat with half-moon and wonderful meaning
34. Beautiful brightly-colored humming-bird tattoo
35. Simple tattoo with feather, great for cover up
36. Simple feather infinity design
37. Unique rainbow thread sign, very subtle and sweet
38. Pink flower stems in infinity shape, infinite bouquet
39. Sweet girl portrait infinity tat with date and red hearts, perfect for paying tribute to a loved one, especially your child
40. Minimal sign made of dates tattoo, great way to mark important days in our life
41. Purple flower with name tat, beautiful matching tattoo
42. Koi fish infinity tattoo, rich in symbolism
43. Classic black and grey tattoo with rich floral design and butterflies, great body art
44. Beautiful yet simple arrow design
45. Great red rose and blue rose with names infinity design, lovely idea for couple tattoo
46. Small infinity neck tattoo, elegant and soft
47. Arrow passing through infinity sign loops tattoo
48. Infinity arrow collar bone tattoo looks very elegant and sophisticated
49. Shoulder tattoo with leaves looks great
50. Cool best friend tattoo with pinky promise hands and red sign, a great way to show appreciation for your friend
51. May we meet again cosmic themed tattoo, very symbolic and meaningful tattoo
52. Family infinity heart forearm tattoo
53. Beautiful swirly design
54. Infinity inside geometric design with red lotuses tattoo
55. Lotus and two flying birds arm tat representing freedom and beauty
56. Wonderful and feminine floral tat with initials of your loved ones
57. Dreamy pink and purple tattoo for space cadets and dreamers
58. Rainbow watercolor tat for those who love vivid color in their tattoos
59. Colorful names in cursive tattoo, great for matching family tattoos
60. Family names with birds, perfect idea for kids' names tattoo
61. Baby feet print with birds and initials
62. Powerful back infinity tattoo with feather and birds representing freedom
63. Minimal and small planet and star if you're not a fan of big sleeve tattoos
64. Cute and pastel infinity tattoo with space theme for dreamy girls
65. Beautiful tattoo with botanical motifs, elegant and femimine tattoo for women
66. Flower stem and name infinity tat, simple yet poignant
67. Feminine neck infinity tattoo for the classic lady
68. Small infinity design with sun and moon
69. Wonderful flowers and feather side rib tattoo, modern looking and sweet
70. Live the life you love, love the life you live tattoo – a good life reminder
71. Infinity relationship tattoo with dates and flowers, cool idea for a matching tattoo
72. Black and grey flower bouquet infinity design
73. Pink and blue fish with water infinity symbol
74. Hands making infinity symbol tattoo, nice idea for best friends matching tattoos
75. Mother and daughter tattoo, so simple and so beautiful
76. Dotwork feather tattoo for a loved one, great way to make a good composition for a future sleeve
77. Double infinity symbol tattoo with names and flowers
78. Pink feather family tattoo, pretty and soft
79. Blue realistic rose with green stem infinity tat, looks like it belongs in a vintage illustration book
80. Purple and pink feather and rose love tattoo, very elegant and feminine
81. Minimal botanical tattoo with red details look great placed on the wrist
82. Great tribal tattoo design with a flower and tiny dots
83. Magnificent back tattoo with angel wings design
84. Lovely infinity tattoo with simple line art flowers
@mickeytattoos69
85. Unique vertical infinity sign tattoo with dotted details in inverted rhombus
86. Splash (or maybe brush strokes?) design tattoo looks very organic
87. To infinity and beyond with a heart design, simple and clear
88. Beautiful rich purple flower tattoo
89. Feather infinity tat with birds to honor your loved ones
90. Rich flowery tattoo with butterfly in the center
91. Music lover tattoo design with microphone
92. Simple double line tattoo design, minimal style
93. Mother and daughter with half-moon design
94. Beautiful cosmic sparkly tattoo design, very dreamy and cute
95. Very detailed tree tattoo wrapped up in infinity symbol with its treetop in one loop, and roots in the other
96. Small and minimal ankle tattoo
97. Meditating pose with heart tattoo for yoga lovers
98. Colorful infinity symbols inside lotus line art, very unique and clean
99. Tiny bird in a loop tat
100. Paw print with red heart for your favourite pet
101. Double infinity with a lotus illustration, very elegant and clean
102. Small inside of the finger tat, subtle and minimal
103. Wave forming infinity tattoo representing vastness of water
104. Another per ardua ad astra (through struggle to the stars) tattoo
105. Infinite cat and coffee tattoo for cat and coffee lovers, a perfect combo
106. Beautiful floral back piece
107. Cat and dots design with a name
108. Incredible water with fishes design tat, so creative and cool
109. Cool pattern design for pattern lovers
110. Pretty sister tattoo in a pink sign with a flower
111. Infinity symbol inside hourglass tattoo representing the illusion of time
112. Colorful matching tattoos for your friends or family members
113. Be yourself quote design, a cool daily reminder to always be who you are
114. Red and blue color splash design
115. Unique Peter Pan tattoo for those who don't want to grow up and leave Neverland
116. Cool idea for to represent endless love for your partner
117. You and me inside infinity symbol – great for couple tattoo
118. Wonderful back piece with birds and feather
119. Fun pizza infinity for big pizza lovers
120. Simple three birds back piece design
121. Awesome orange hakuna matata (meaning no trouble) Lion King inspired design
122. Fish and turtle inside blue sign design
123. Lovely and delicate rose design for ladies, placed at your inner arm
124. Heart and infinity design look great on feet
125. Funny bacon lover tattoo for big bacon fans
126. Simple yet meaningful love and life design on your forearm
127. Simple matching finger tattoos for couples
128. Matching heart shaped fingerprints tattoo for couples
129. Boho dreamcatcher and feather design for hippie souls
130. Thin, elegant and simple butterfly design
131. Infinity heart with little stars for your ankle
132. Awesome realistic 3D feather design for your arm
133. Cute and small botanical design for your neck or wrist
134. Simple red roses with thorns design
135. Moon and lotus design with infinity symbol
136. Small blue flowers that look like forget-me-nots design
137. Simple rose finger tattoo for a bold and classy lady
138. Paws and heart design for a pet lover
139. Infinite cat ankle design for cat ladies
140. Subtle dotted infinity symbol with birds and initials
141. Dotwork with name, bird design and soft shadows
142. Anchor infinity tattoo, representing security and stability
143. Refuse to sink quote with anchor design represents hope and optimism
144. Delicate anchor, feather and birds design
145. Forever and always quote with a simple heart design
146. Stay strong quote in cursive script with feather design
147. Cool and colorful beachy theme design for ocean lovers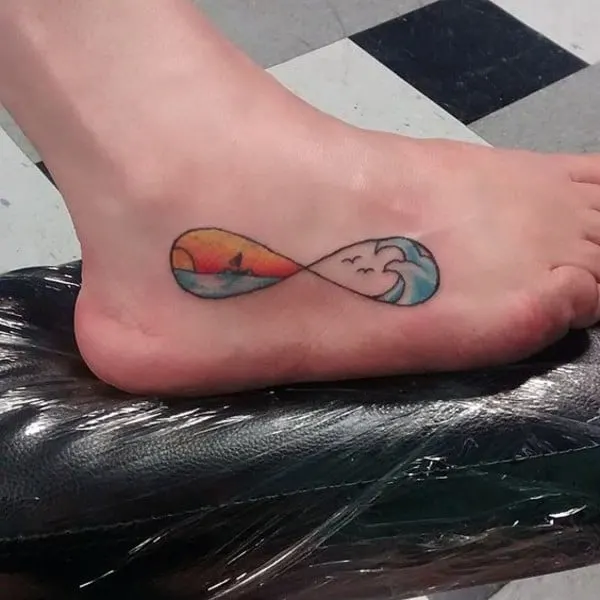 148. Be brave quote with birds design to remind you to keep your head up in tough times
149. Simple design with cross to represent your faith in God
150. Cute plane trail design for travel lovers
151. Never sink quotes with anchor design
152. Beautiful feminine breathe design with purple ribbon sign
153. Mother and daughter with red lotus makes a very meaningful tattoo
154. To infinity and beyond matching tattoo design symbolising never ending love
155. Cool idea for kid's names tattoo
156. Om sign (a symbol of oneness) with dragonfly (symbol of change and transformation) tattoo
157. Beautiful swirly, name tattoo for shoulder
158. Music lover perfect infinity design with different kinds of notes
159. Minnie Mouse inspired design for cartoon lovers and Disney fans
160. Black birds carrying infinity symbol tattoos design
161. Elegant design with blue butterfly and tiny dotted lines
162. Love you to the moon and back quote with cute space rocket and moon illustration
163. Dance forever design to express your passion for dancing or to represent life as an infinite dance of the universe
More information on the meaning of this sign:
From a spiritual perspective, it can represent transcendence. In Chinese tradition, it represents wealth.
In Christianity, it represents The Eternal Being – God. The infinity sign can also be seen in strands of our DNA. Pretty amazing, right?
Since it can represent love infinity, it's a great way to declare your love with infinity friendship tattoos, sister infinity tattoos, family tattoos with children's names and so on.
In modern culture it's become a popular tattoo design and one of the trendy tattoos, especially in tattoos for women and tattoos for girls.
Infinity tattoos are almost always small, but the meaning is extremely powerful.
If you didn't notice already, this symbol that looks like the number eight turned horizontally represents the concept of forever as it continuously loops into itself over and over.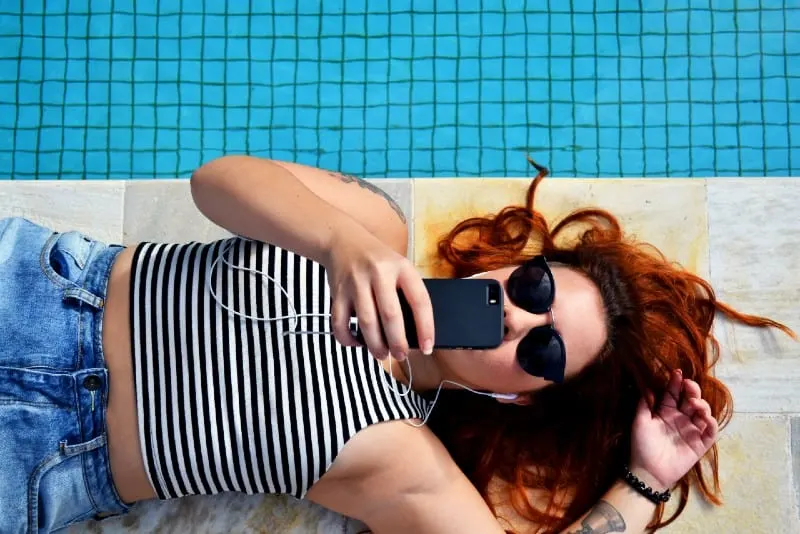 Related: 130 Beautiful And Classy Back Tattoo Ideas For Women
Infinity tattoo icon signifies never ending possibilities, no boundaries. It represents the universe and all of its possibilities.
With never-ending possibilities given to us each and every moment of our being, we have the choice to be anything we want. This concept is great for deep thinkers and freedom lovers.
It's present in almost every culture on earth with very or completely similar meaning.
Still, we can give it our personal meaning; for example it can represent you partner and balance of forces between a man and a woman, it can represent your undying love for you family and friends, it can inspire you to never lose hope or remind you of your love for God and the everlasting promise to your faith or religion.
It can be used solely for its beautiful and elegant design, for its mathematical meaning, for representing freedom and everlasting love and devotion.
It can represent different philosophies of ancient worlds and esoteric principles like The Ouroboros in Alchemy, Gnosticism & Kundalini.
The Ouroboros is a snake, represented as a circle eating its tail. The Ouroboros originates in ancient Egyptian iconography.
It represents the perpetual cyclic renewal of life, idea of eternity and the cycle of life, death and rebirth, leading to immortality similar to symbolism of Phoenix.
Infinity tattoos help us remember something important. It shows others what we value and who we care for in this life.
The nature of infinity reminds us to wisely spend the time we have in this life.
These cool infinity tattoo ideas have some of the best tattoo designs. So, stop searching through google, watching endless designs and tattoo models, and get up and get a tattoo!