The love between a mother and their children is a special type of tenderness and warmth. You can't fake it, and you can't know it until you experience it.
We've prepared a variety of matching tattoo ideas if you want to honor this special and unbreakable mother-son bond.
But mother-son tattoos are a little more challenging. Finding a tattoo that looks nice on both of you isn't easy. In contrast to mother-daughter tattoos, an overly masculine tattoo design will seem odd to the mother, and a girlie design won't suit the son's tastes.
No worries! We still found the best matching mother and son tattoo ideas!
18 Minimalist Mother And Son Tattoo Ideas
The famous quote ''Less is more'' can also be applied to tattoo designs. Big tattoos are not the only ones that draw attention; a small, minimalist tattoo can have deep meaning.
Another advantage is that they are so simple and easy to do that any tattoo artist can do them.
These minimalist tattoo ideas are great if you occasionally want to hide your tattoo or are just a fan of small tattoos.
1. Colored bird tattoo
Birds are a representation of physical and spiritual freedom. This watercolor tattoo symbolizes not only that but also the connection that you two have.
Birds are unique in the animal kingdom because they have family dynamics similar to humans. They genuinely care about their baby birds, making it a perfect mother-and-son tattoo.
Instagram hayxam.tattoos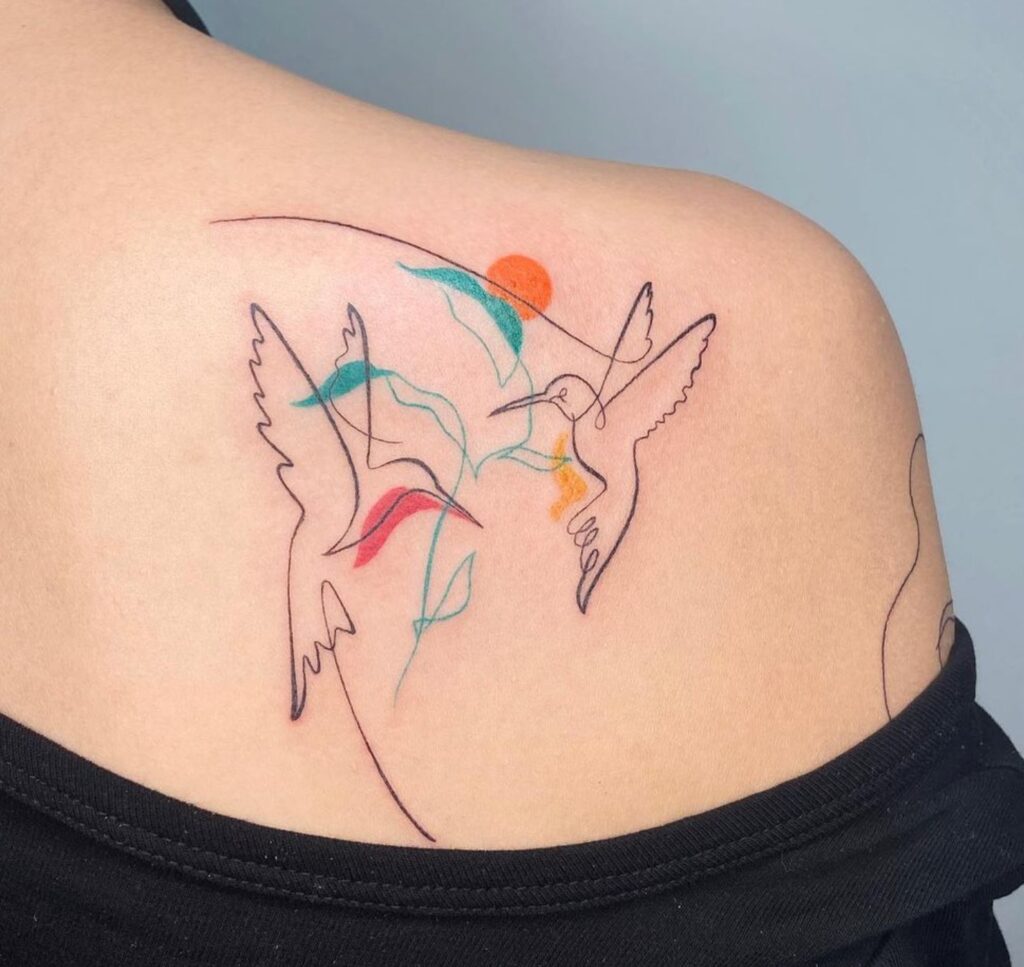 2. Cute flying birds tattoo
This is a realistic and small tattoo, so if you and your family member want a tattoo like this but also a tattoo that shows how you two care endlessly for each other, it's a perfect choice!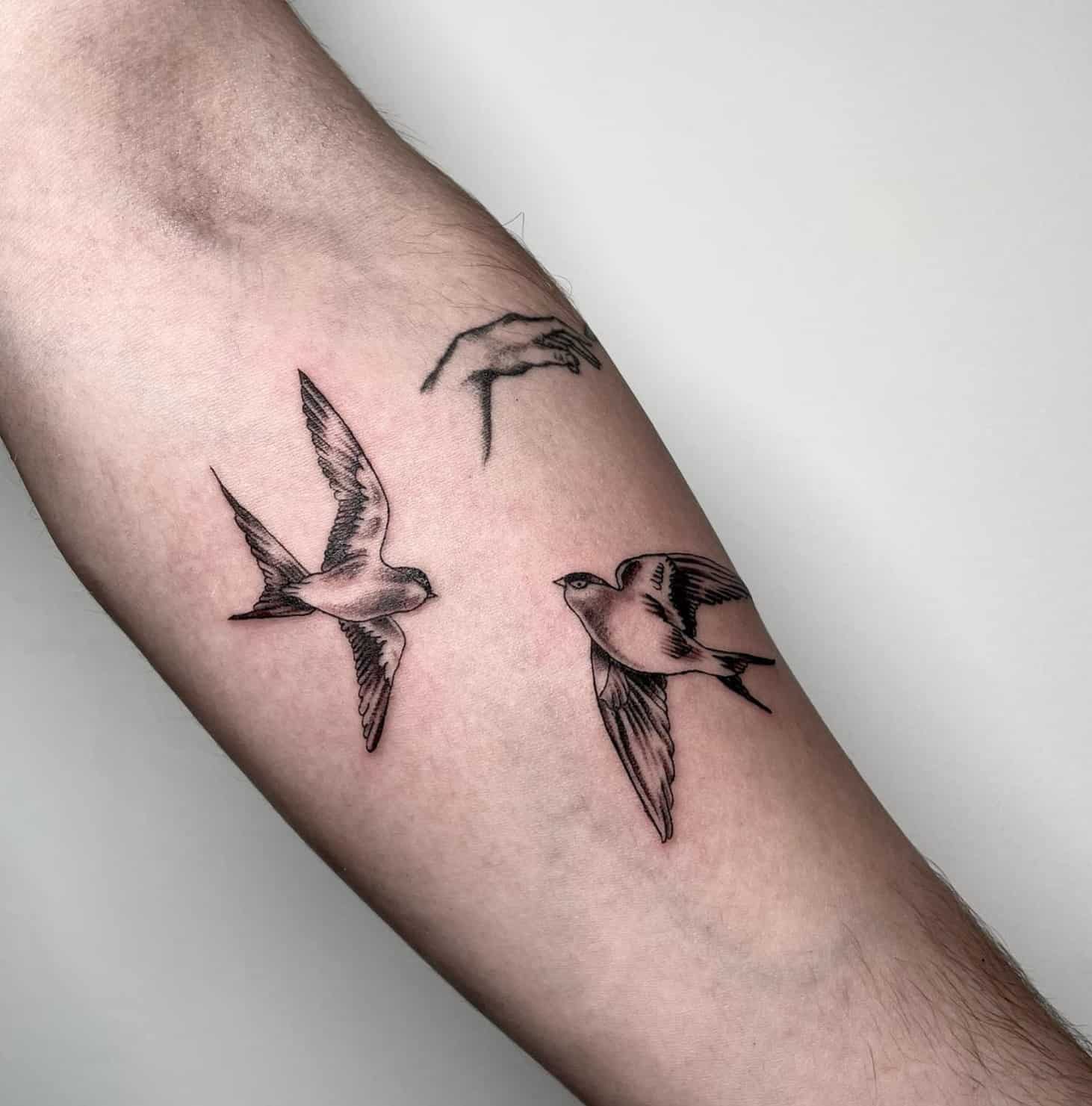 3. Celtic knot tattoo
The Celtic knot that symbolizes the mother-son relationship comes in various shapes, and this is one of them.
This design is more for a son than a mother, but you can adjust your Celtic knot to make it more suitable.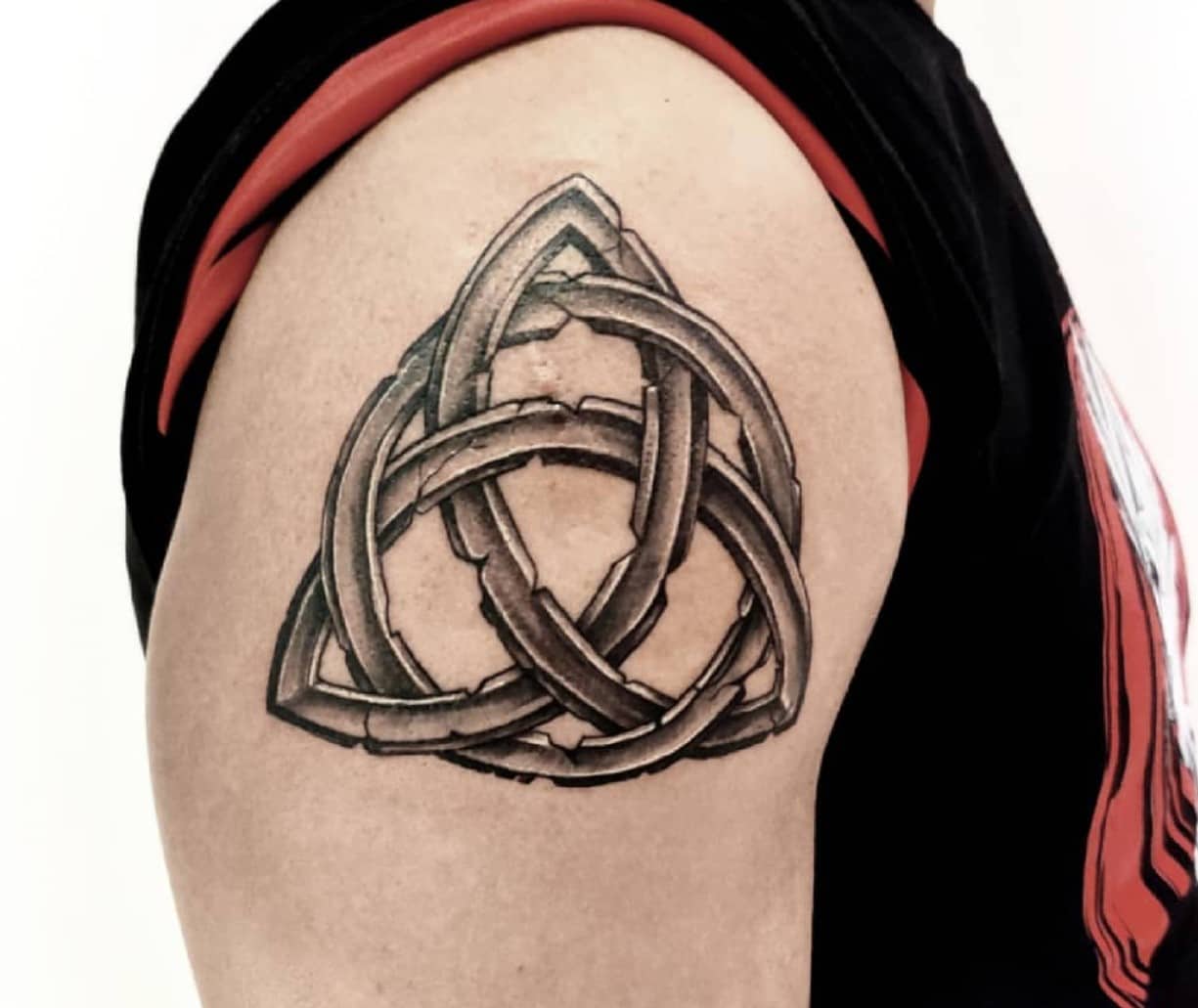 4. Mother and son heart tattoo
This cute tattoo is perfect if you love simple, meaningful tattoos. It represents every mother's effort from childbirth until old age.
Your mutual love, closeness, and support – this tattoo has all these meanings.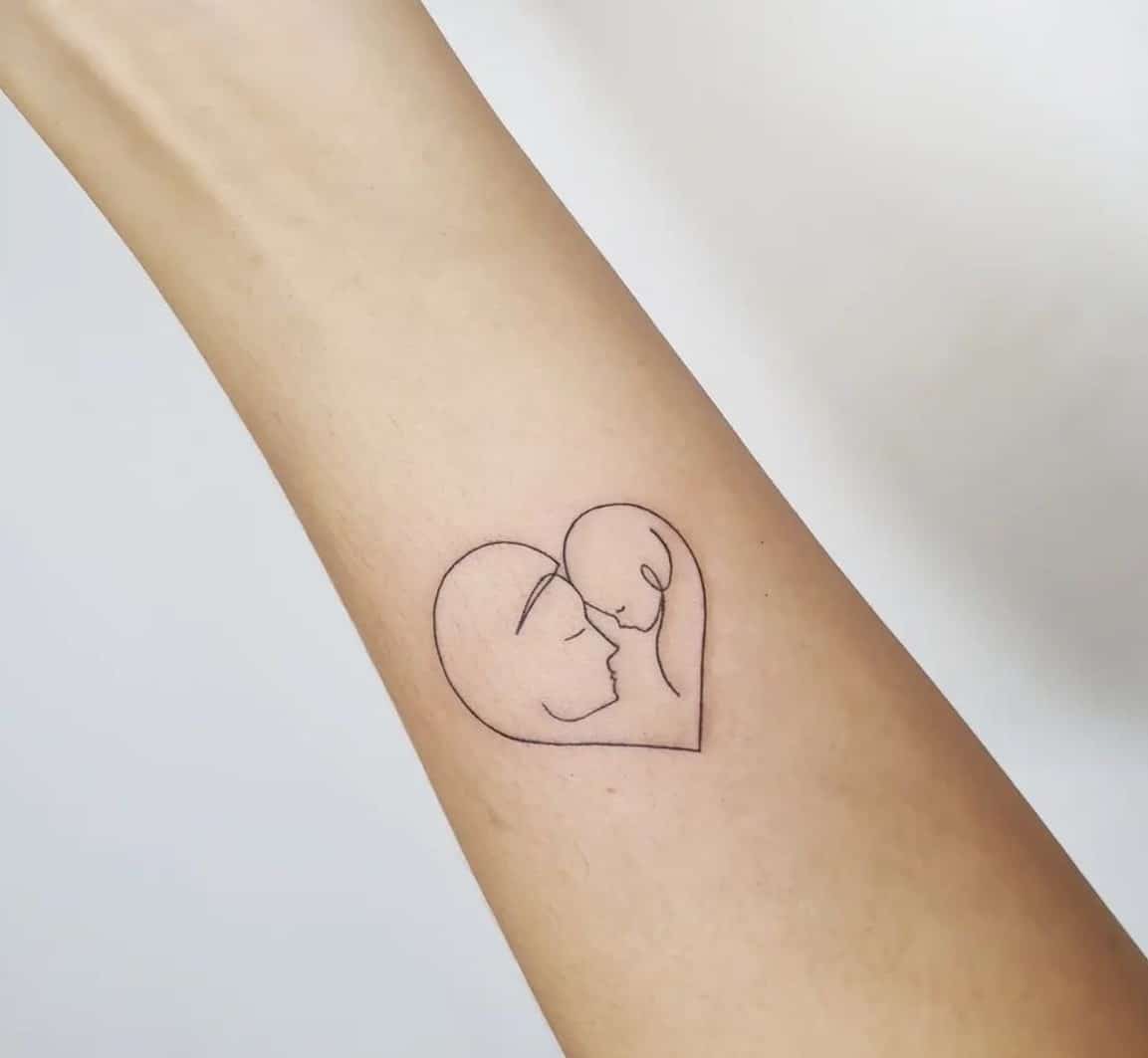 5. No matter what, no matter where quote tattoo
Quote tattoos are always a good choice!
A mother is someone who will always love you no matter what you do – she is always on your side, supporting and loving you unconditionally.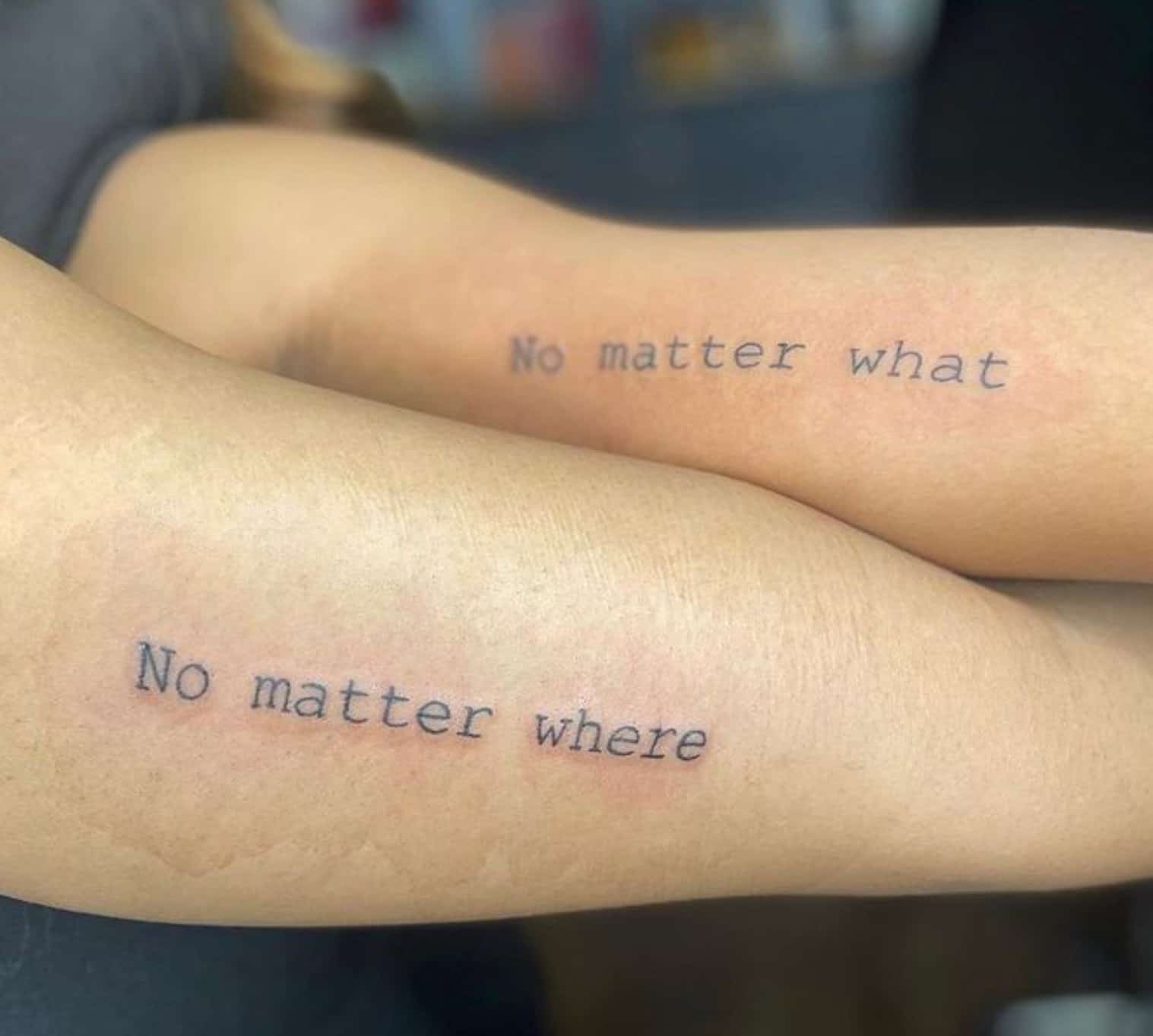 6. Mother and son on the Moon tattoo
This tattoo has several meanings. Starting from the crescent moon, it symbolizes motherhood and fertility. The mom has put her hand on her son's back, indicating the support every mom gives her child.
7. The sun behind the mountains tattoo
Mountains generally represent strength, resilience, adventure, and freedom. In this context, the mountains represent your mother's strength when raising you and the strong bond you two have.
The sun symbolizes how the two of you always find a way to defeat the darkness.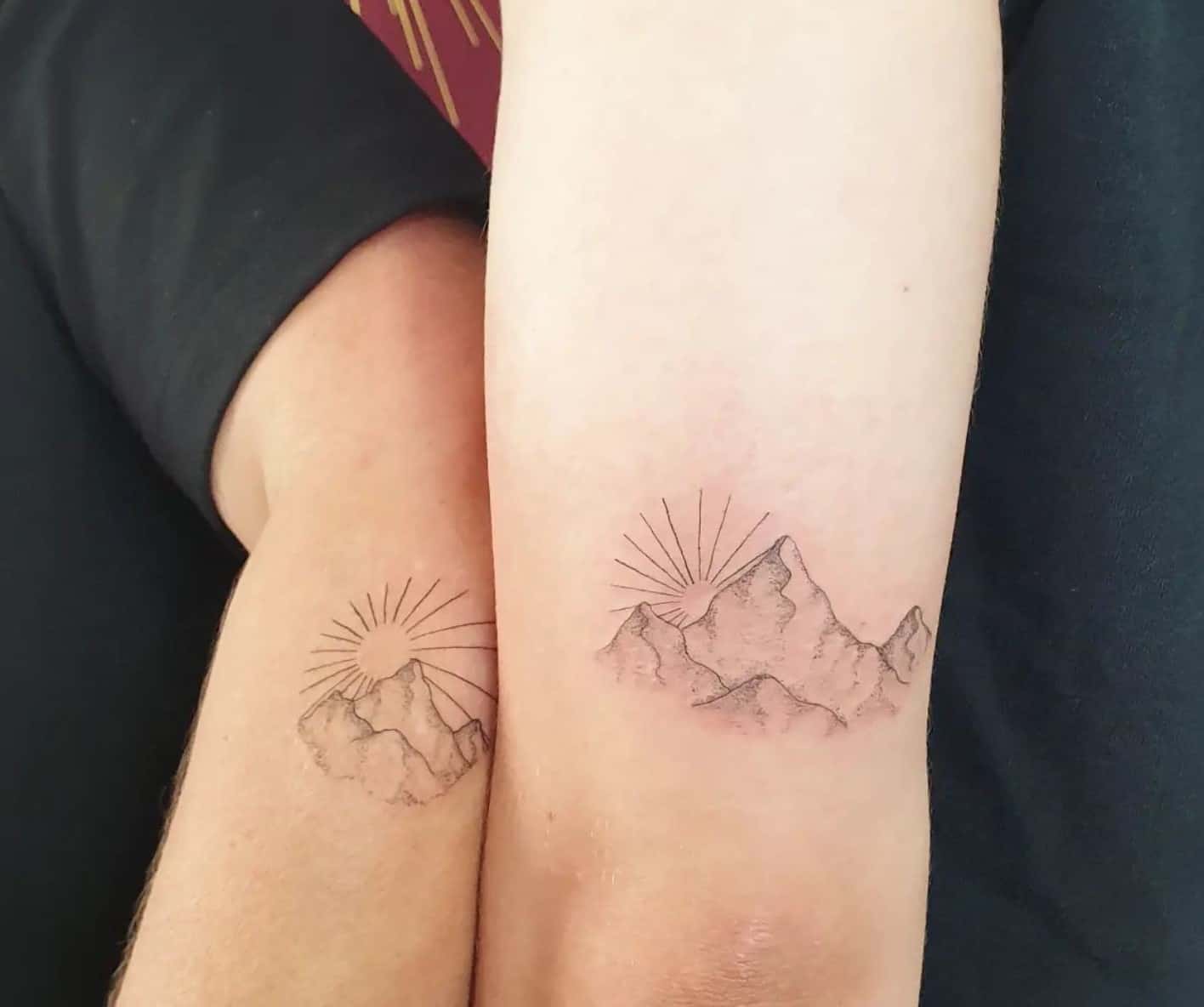 8. Teddy bear tattoo
A teddy bear is a great mother and child tattoo, and it can serve as a reminder of the great memories you two have of the past.
Children often have a favorite toy, and if they got this toy from their mother, it could be what connects them most. If a teddy bear symbolizes the early stages of your connection, it's time to call a tattoo artist!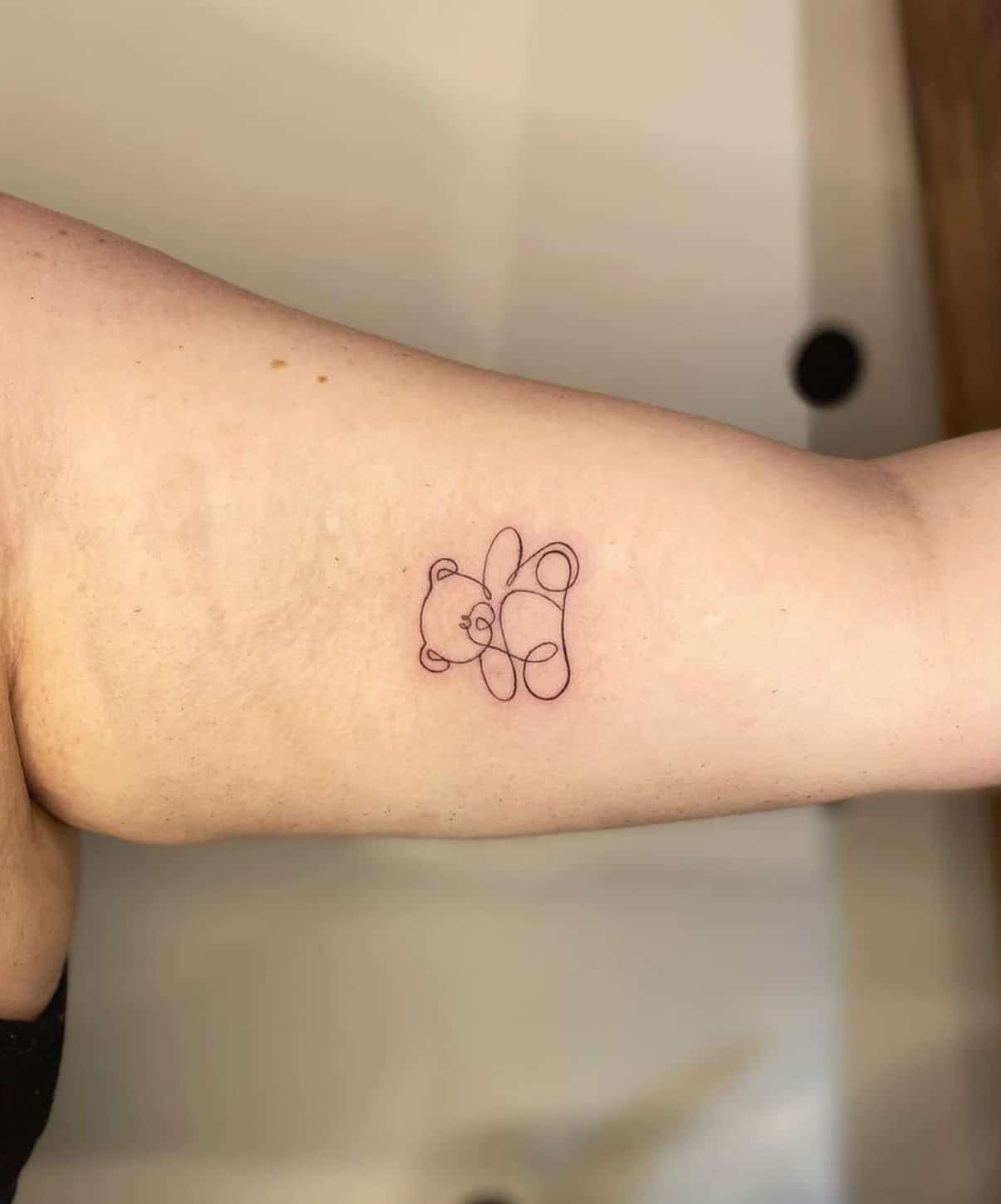 9. Tree of life tattoo
Your mother is not only someone who raised you; she is someone who gave life to you. She is like the tree of life, a being that produces life – you – and makes you capable of creating life.
You are not only able to grow, develop, and produce life because of her, but she also gives you solid roots to keep you stable during any storm.
This is the deep meaning behind this tattoo.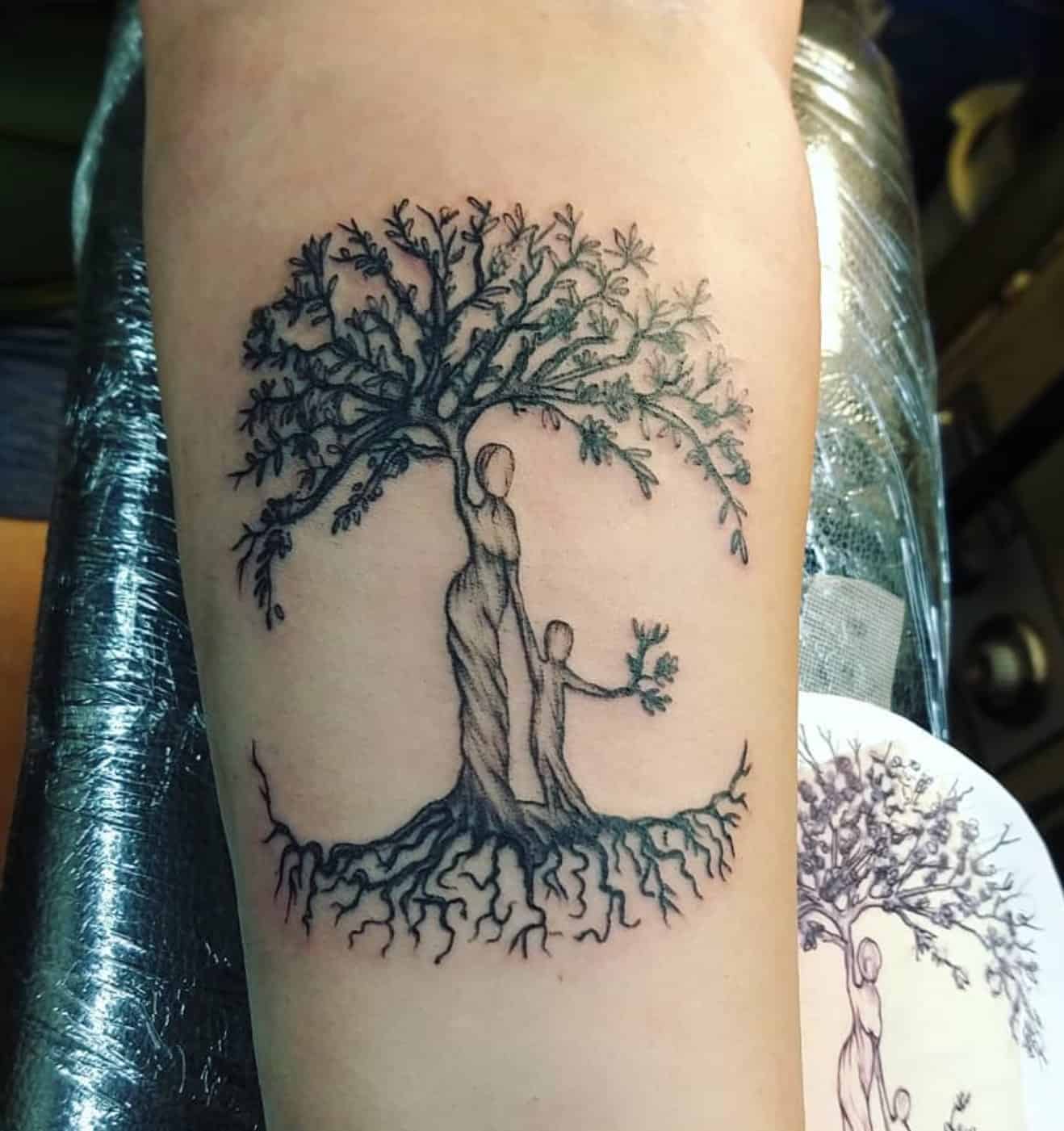 10. Mom and son face profile
If you two have a cute picture together from your son's childhood, it can be an excellent inspiration for an outline tattoo!
An example of such a tattoo is the tattoo below – cute, simple, and minimalistic but with a deep meaning and a great memory!
11. Mom and son triangle tattoo
These triangles symbolize your connection, integrity, growth, and harmony. However, to personalize this tattoo even more, both can be made based on things you like.

Instagram sevatattoo_brand
12. Mom and bird tattoo
As previously mentioned, birds symbolize physical and spiritual freedom. There are no restrictions when you are with your mom, and you can be yourself.
Your mom helped you with the very first steps in your life and prepared you to take flight. The same tattoo can be adjusted for a mother, and then it will symbolize the love and effort a mother puts into ''teaching her baby bird how to fly.''

Instagram p.inkhousestudio
13. Definition of mom tattoo
A mom has many definitions. One of those definitions is that a mother is someone who loves you no matter what. Often, many people expect us to fulfill certain expectations.
You must be this, you can't be this, you need to do this, you shouldn't do that.
These are common sentences you hear every day. But when it comes to a mother's love, she will love you no matter what you decide to be!
The exact definition applies to a son as well.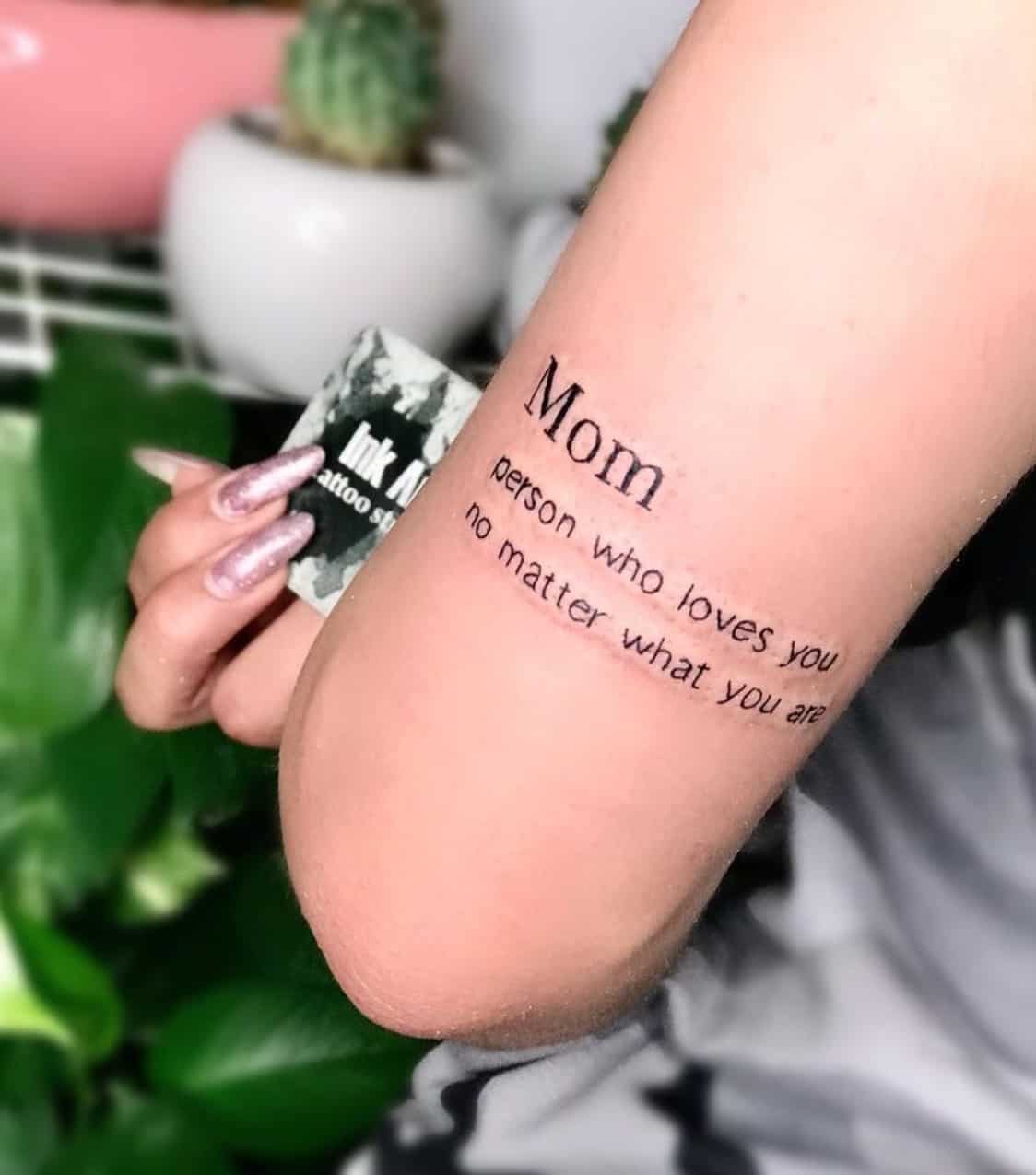 14. Mom heart tattoo
Heart tattoos are a great way to depict the love between you and your loved one – in this case, a mother-son relationship.
This tattoo expresses your mutual love and is excellent if you want a slightly more simple but still different tattoo.

Instagram softbrattattz
15. Breastfeeding mom tattoo
Breastfeeding is one of the most important steps for having a healthy baby. Its importance in the early stages of development is enormous, and no one can breastfeed except mothers.
Breastfeeding is the act that makes the two of you physically closer, and in the end, the physical closeness turns into emotional.
That's why this is a beautiful tattoo that has a deep meaning.

Instagram la_meduse___
16. Mom and son on the swing tattoo
Having and raising a child requires a lot of effort – constant care, feeding them, dressing them, and taking them out to play.
Many babies love to swing, and if you two made fantastic memories there, this tattoo is for you!

Instagram elsuper.art
17. Infinity tattoo
This infinity and anchor tattoo is a great combination to show how much you care and love each other. The infinity symbol represents infinity and the unlimited love and support you have for each other.
The anchor symbolizes safety and stability from day one of your relationship to the present.

Instagram rctattooisr
18. Watercolor heartbeat tattoo
This heartbeat tattoo has several meanings. The Christian cross symbolizes growing up in a Christian home, how your mother led you to Christ and encouraged your faith and relationship with Christ.
The heartbeat represents how you are only alive because of your mother and your faith in God, and at the end, the heart symbolizes the love you two have for each other.
The same can be applied to your mother if she was raised in a Christian home and was born again the moment she had you.

Instagram tattoobobshop
5 Mama Bear and Baby Bear Tattoos
If you want a meaningful tattoo or to surprise the two of you for Mother's Day, this tattoo is the right choice!
Tattooing your mother's or son's name has become a cliché. If you want a tattoo that is trending now and symbolizes love and support, these bear family tattoos are a great option.
1. Baby bear on mom's back
Your mom is always your best friend! She doesn't want to do you wrong in any way. She always does what's best for you, and she doesn't have any hidden interests.
You can always count on each other!

Instagram patcrump
2. Heart-shaped mama and baby bear
The bear is a symbol of strength, courage, and tenacity. The bear family forms a heart and symbolizes the power of your love and the unbreakable bond of your unity.

Instagram tattoos_by_reanna
3. Mama and baby bear starry night tattoo
For fans of big tattoos, here is a tattoo for you. Behind this bear family, you can see nature at its finest.
The beautiful starry night emphasizes your closeness, strong bond, and unconditional love.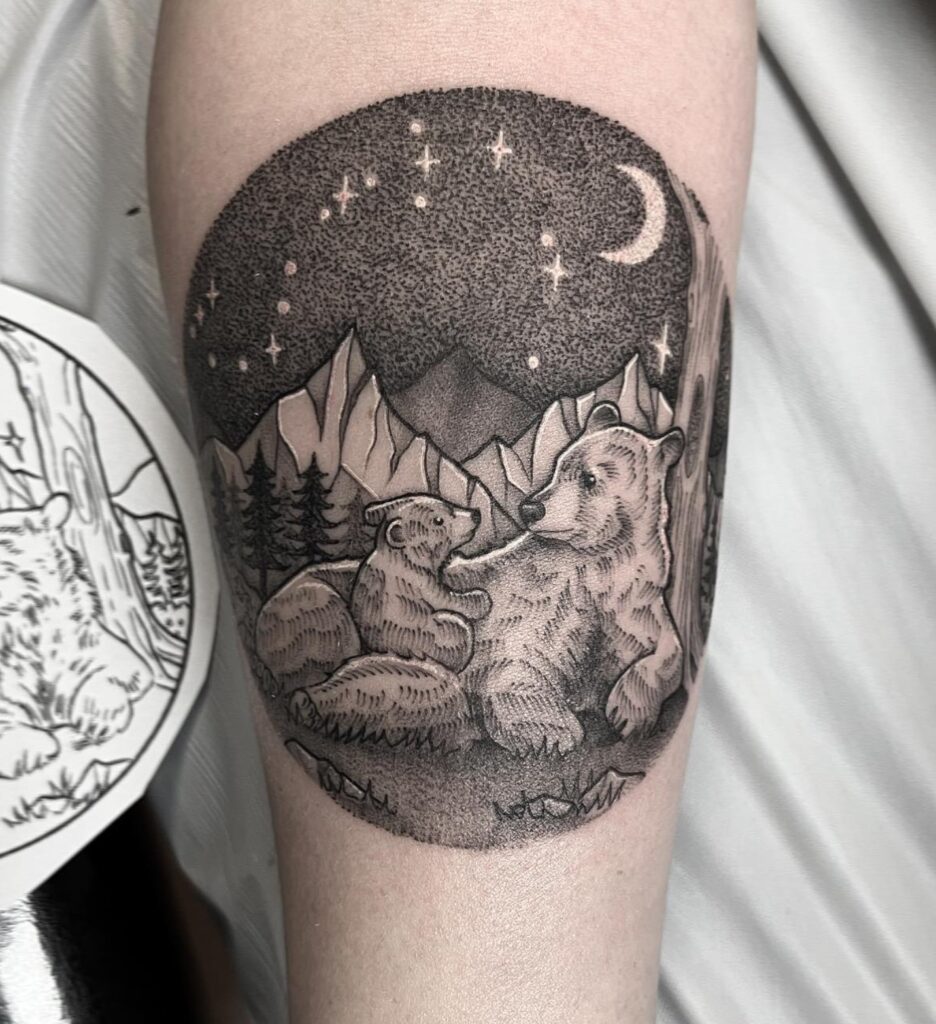 Instagram jm_ink
4. Mama and baby bear kissing tattoo
This is a realistic representation of a bear family. The mother and son are kissing, which symbolizes great love and support from the mama bear.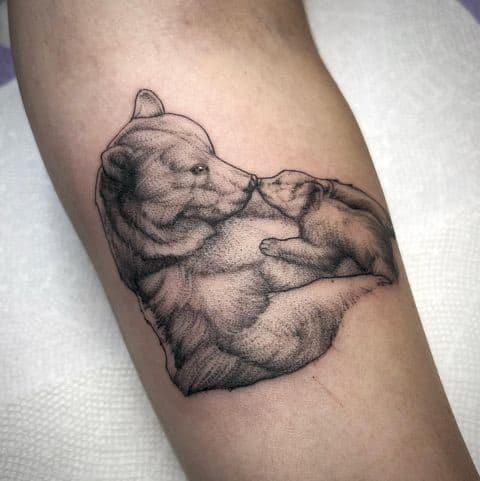 Instagram burntbythesunrise
5. A little family tattoo
Another great way of representing your eventful childhood and how your mother cared for you is through this bear family tattoo.
Your mother was there for you during your most challenging times and always ensured that your mental health was okay. She was always there for you as a guide through the unknown and had your back!
Instagram palettetattoo
4 Mom And Son Elephant Tattoos
Elephant tattoos are also becoming more and more trending. This is the perfect category for you if you want to depict how great a mother-son duo you are!
1. Elephant mom and son tattoo
A cute, simple tattoo with a great location! This tattoo is excellent if you don't want to point out your tattoo in everyday life but still want something to honor the relationship you two have.
On this tattoo, the baby elephant is running after his mother, symbolizing how we learn everything from our moms, from walking and talking to feeling and thinking on our own.

Instagram tattooka_studio
2. Realistic elephant tattoo
Elephants are usually used to symbolize someone's love and care for their family and loved ones. That's why this tattoo is perfect to depict how you care for each other.
The mama elephant stands behind her baby, symbolizing how she gives him guidance and direction in life but simultaneously watches his back!

Instagram saragenerini
3. Mom and son elephant outline tattoo
Outline tattoos have become a huge trend lately! Not only are they modern, but they are also simple and minimalistic.
Again, mama elephant is guiding his son with her experience and wisdom.

Instagram werotattoo33
4. Dumbo elephant tattoo
This Dumbo tattoo sends a huge message. You all probably know the film, but for those who don't: this tattoo represents the fight and battle a mother has to go through in life to protect her children.
It is a story of great love and effort to be with your loved ones.

Instagram marta_atzeni_tattoo
11 Mother Hugging Her Son Tattoo
A hug is a universal way of saying to someone that you love and care about them, and it is a powerful weapon that can make you instantly feel better.
A hug from your loved one can signify protection, unity, love, and strength. The same goes for hug tattoos.
1. Mom hugging her son watercolor tattoo
The love you can feel coming from your bodies when you hug is indescribable. Having your arms around each other makes you feel protected and loved.
This is also a great opportunity to tattoo your birthdates or names subtly.

Instagram mirik_art_tattoo
2. Universe and mother hug tattoo
Your mother is your universe, and she is what keeps the balance and protects you from every bad energy there is.
Her hug feels like it is your little shelter where everything is okay and no one can hurt you.

Instagram katarzyna_oskarbska_tattoo
3. Blooming heart tattoo
A mother and son in a blooming heart have several meanings. First off, the heart is your safe place; it gathers you together where you can fully bloom.
In one moment, the heart, which is your shelter, also begins to bloom because everything around you cannot help but flourish.

Instagram denise_wolbit
4. Hug and flowers tattoo
If you two have a picture taken together during your son's childhood, it can be a good inspiration for an outline tattoo like this.
It's simple, but these added flowers make it a beautiful mother-son tattoo.

Instagram umi.tattoo.studio
5. Blooming mother head tattoo
They say that a mother is happiest right after giving birth to her child, and this is when she and her child are physically the closest, which also contributes to psychological closeness.
She is so in love with her child that she transfers the love to them, and they also start to flourish.

Instagramm itsjustpermanent
6. Mother, Sun and Earth tattoo
This tattoo depicts the celestial nature of the relationship you two have. A mother gives birth to her child, her planet Earth, and both are illuminated by the Sun, which symbolizes truth and light.

Instagram kelsi_hooper
7. Mother, son and his toys tattoo
Some memories never die. This tattoo depicts a typical day during a son's childhood. Reading to your son and playing with his toys was a daily routine long ago!
You can use this tattoo idea as the inspiration to maybe get a tattoo with your favorite bedtime book and toys he used to play with.

Instagram bangherangtattoo
8. Hug outline tattoo
For fans of small tattoos, this one is for you. This tiny tattoo depicts a mother's support, love, and effort when her child was just a baby and even now.

Instagram evild4n
9. Mother and son kissing tattoo
A kiss from your mom is sometimes all you need. When we are young, our mothers are our role models, and how they love us is how we will most often love everyone around us.
If your mother taught you how to love by beautifully loving you, it's time to get this tattooed!

Instagram kike.dread
10. Mother kiss outline tattoo
This is another incredible trending outline tattoo. A forehead kiss is an act of love to denote comforting someone, in this case, mama's little boy.
A mother doesn't only provide comfort but also shows you how much she adores you through this kiss.

Instagram lucia_mayer_tattoo
11. Naked mother tattoo
When you have sleepless nights, when you have a problem, when you are nervous, or for any other reason – a mother's hug will make everything disappear.

Instagram unpointsept
5 Lion Family Tattoos
Lions are another type of animal that can be used to symbolize the mother-son relationship. Lions represent courage, leadership, and strength in overcoming difficulties.
Therefore, these tattoos might suit you well!
1. Lion mom and son energy tattoo
The lion family symbolizes motherhood, strength, and leadership, and this tattoo represents the special bond and energy you two share.

Instagram coartadagrafica
2. Lion mom and son flower tattoo
This tattoo shows a mother and a son side by side, exaggerating your strength and courage to deal with any challenges.

Instagram latelierdesgarconnes
3. Lion mom and her babies tattoo
Having a family is a blessing; it provides you with safety and protection, which is exactly what this tattoo symbolizes.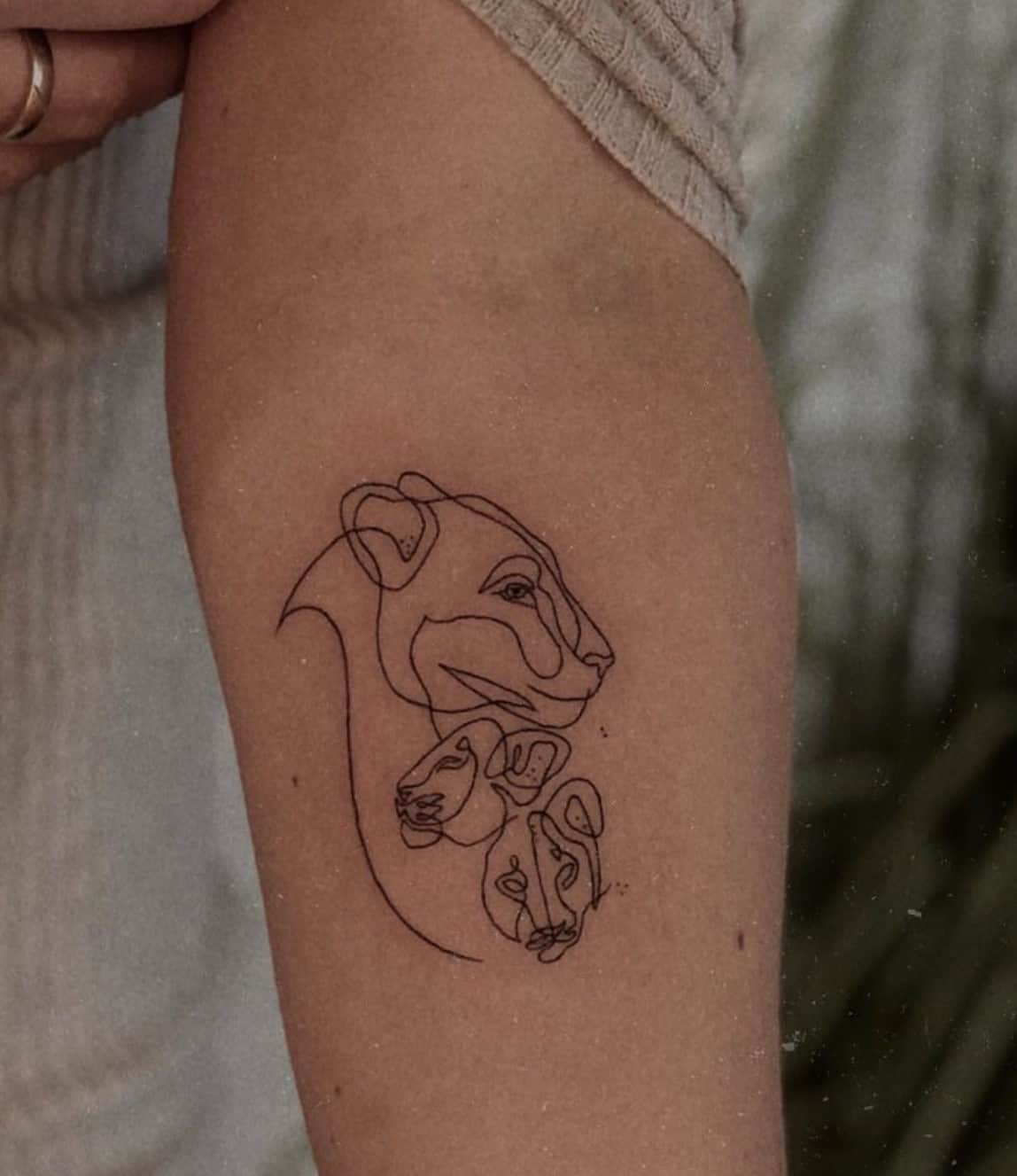 4. Realistic lion family tattoo
When you're under the protection of your mother, no one can hurt you. Every mother wants her child to be healthy and secure – first, before anything else.
This tattoo depicts that protection!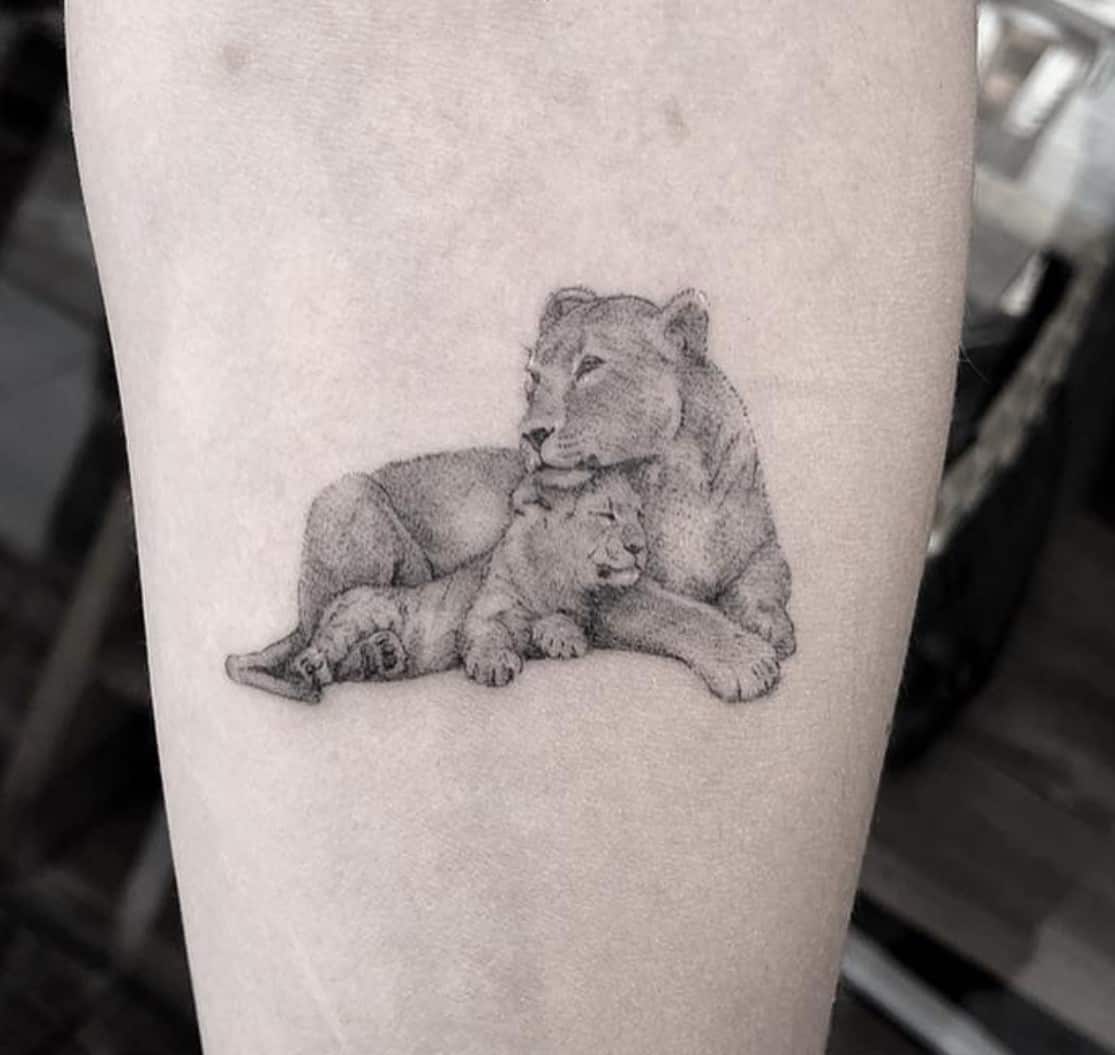 5. Lion family outline tattoo
Outline tattoos are also becoming more and more trending. Ain't no love like a mother's love! If you are lucky enough to have a close relationship with your mother or son, it's time to honor that bond and get this tattoo!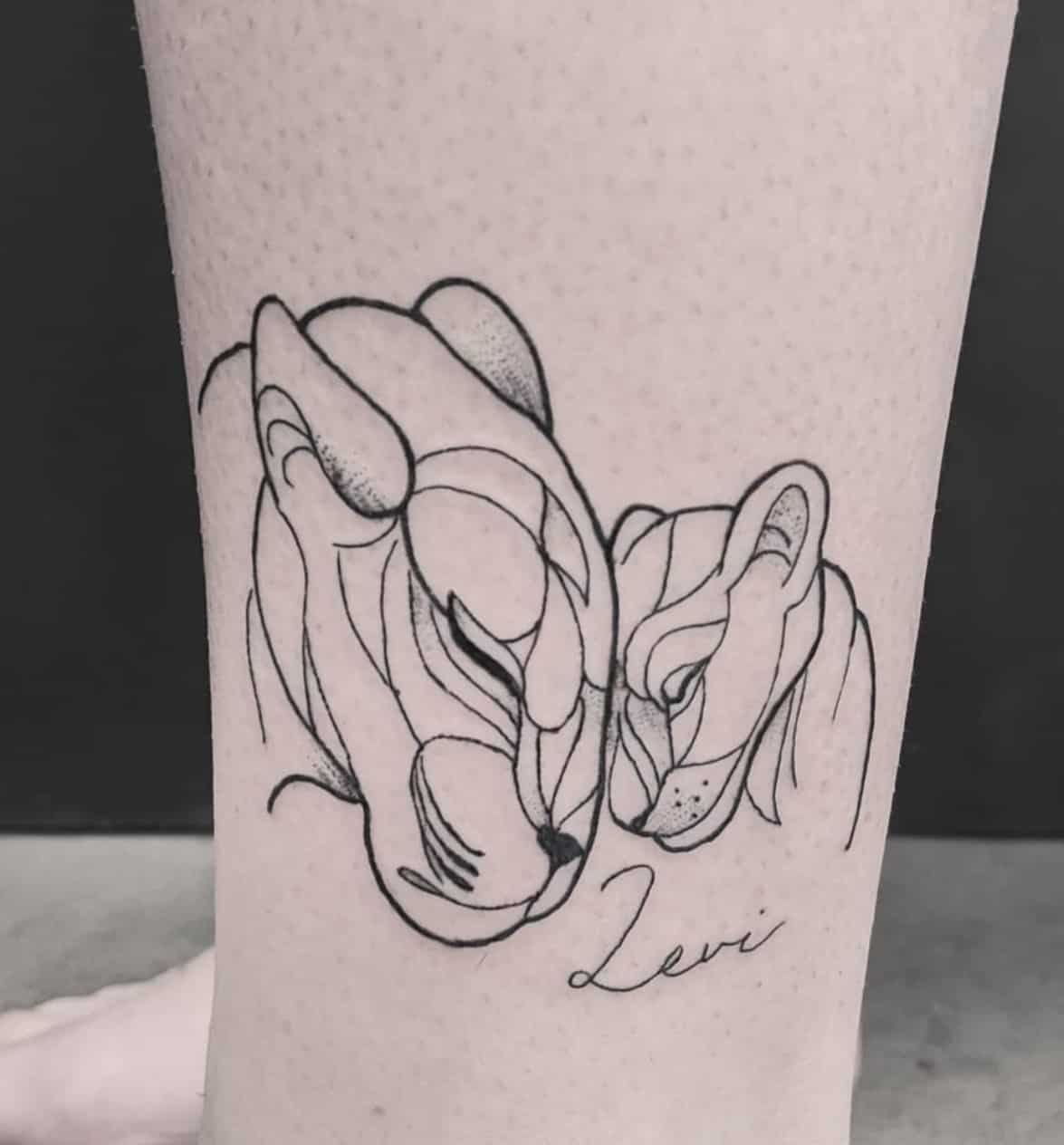 5 Mother And Son Holding Hands tattoos
Besides hugging, holding hands is a universal way of saying to someone that you love and care about them.
If you two are always there for each other, no matter what, one of these matching holding hands tattoos could be perfect for you!
1. Connected by mom's love tattoo
Your mother's love is what connects you and always keeps you close together. It provides you with strength, stability, and guidance, which this red string around your hands represents.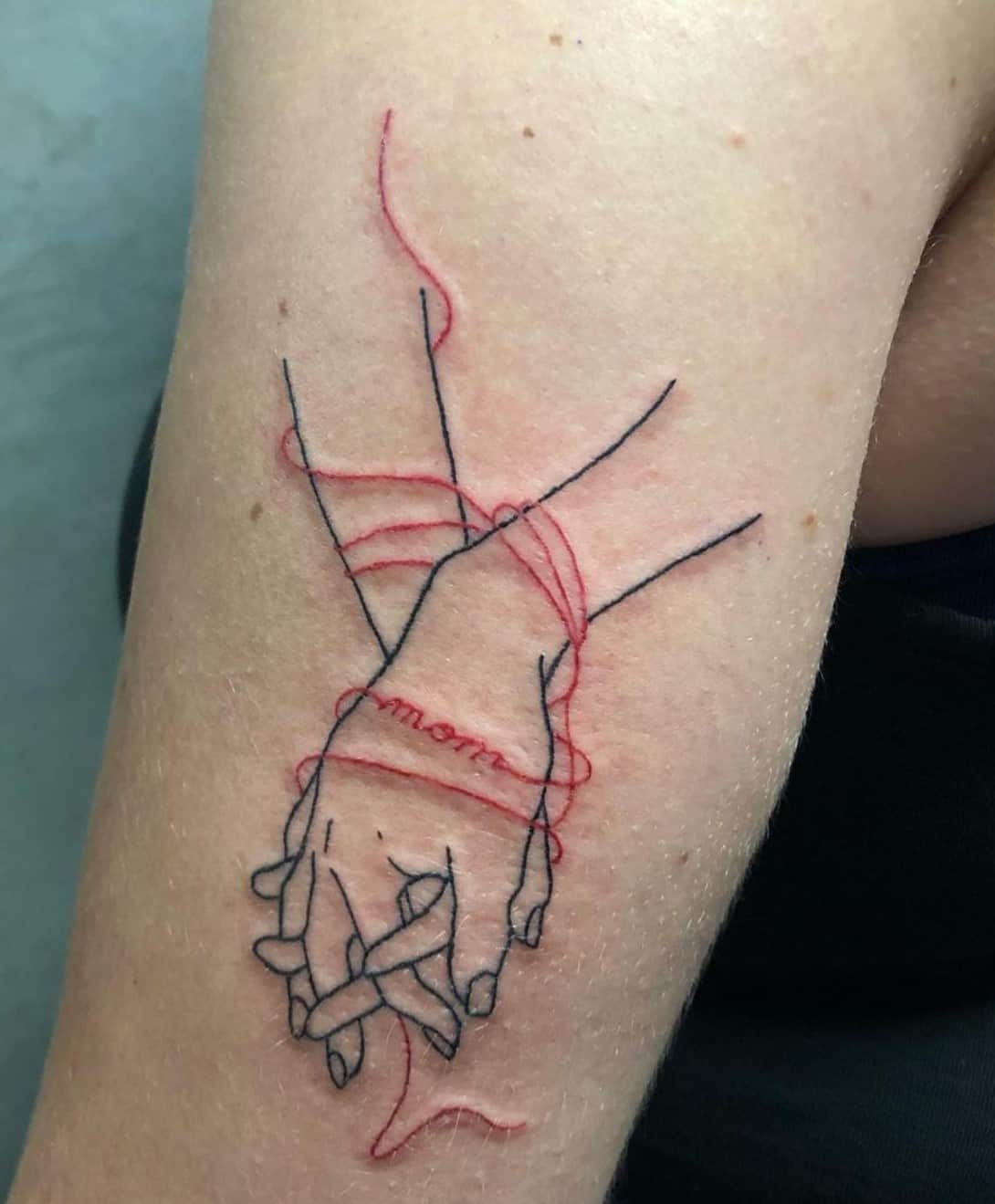 2. Mom and son walking into the night tattoo
The compass on this tattoo symbolizes the right direction and guidance your mother provides you. And even though it's night and dark, walking arm in arm with her is what lights your way.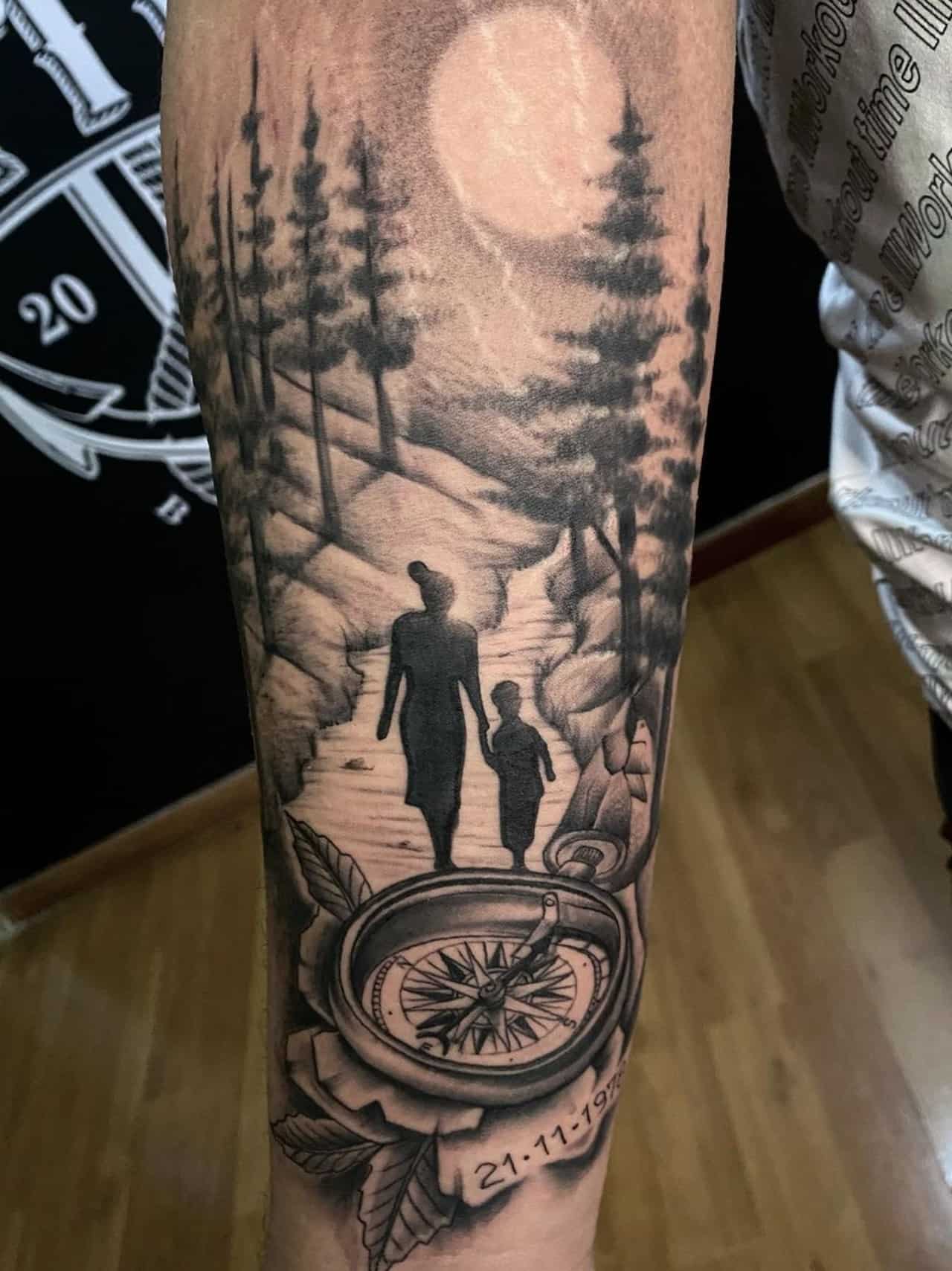 3. Mother and son holding hands tattoo
Holding hands doesn't only symbolize physical closeness; most of the time, psychological closeness is behind this act. If you want to depict how close you are with a tattoo, this is the right one for you!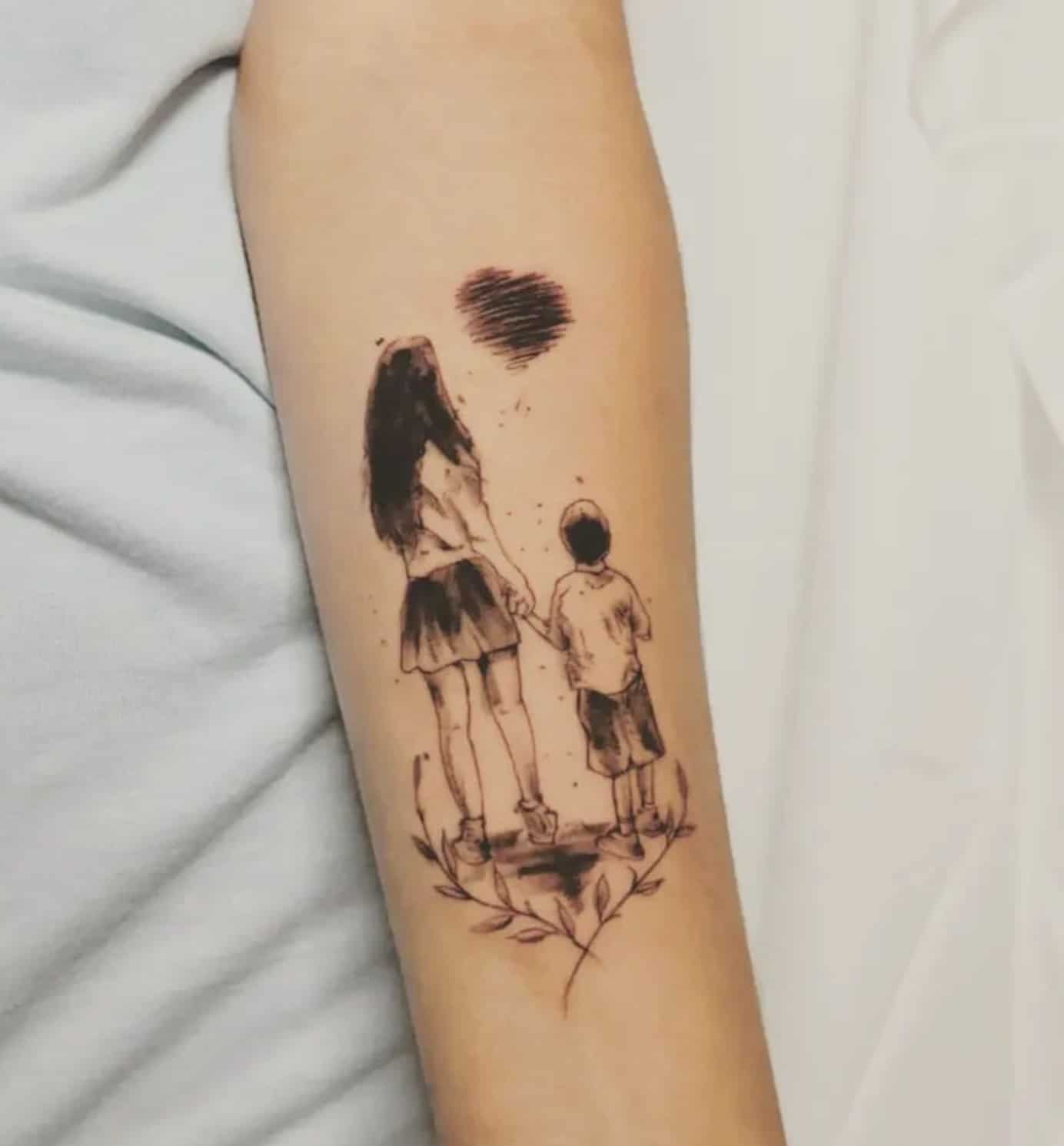 4. Mother holding baby's hand tattoo
You can always count on your mother! She will be by your side no matter where, no matter what.
5. Little boy holding mother's hand tattoo
This little boy holds in one hand his favorite toy – a thing that marked his childhood – and, in the other hand, his mom's hand – a person who marked his entire life.
She was and still is his best guide through the unknown paths of life.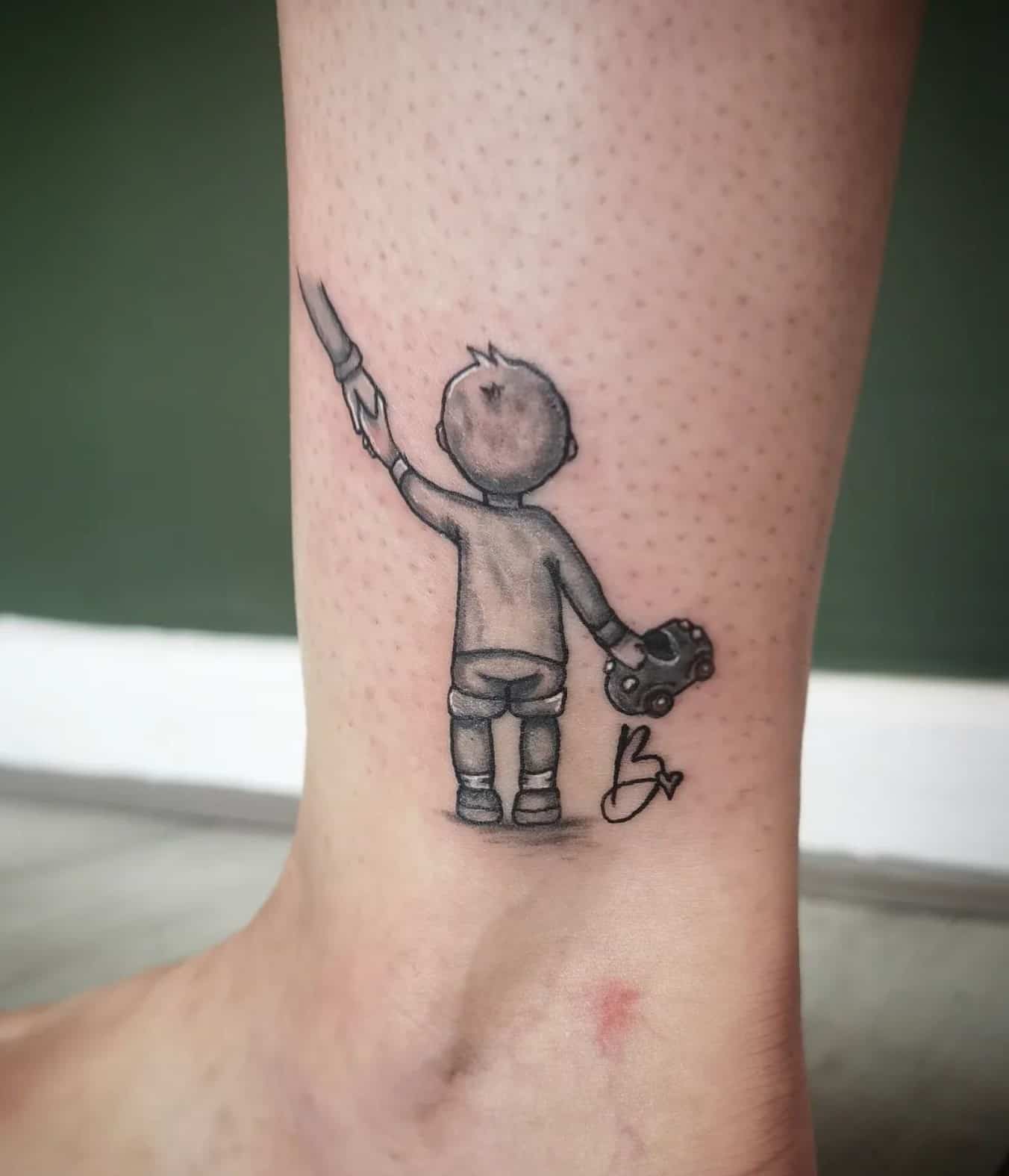 Other Matching Mother-Son Tattoo Ideas
Here are some additional tattoo ideas that might help you choose a mother and son tattoo!
1. The Land Before Time movie tattoo
This tattoo depicts the beautiful and caring mother and son relationship in the film The Land Before Time. It is colorful, different, and perfect if you are a fan of unusual tattoos.
You can always choose another film or Disney movie that you two loved watching together!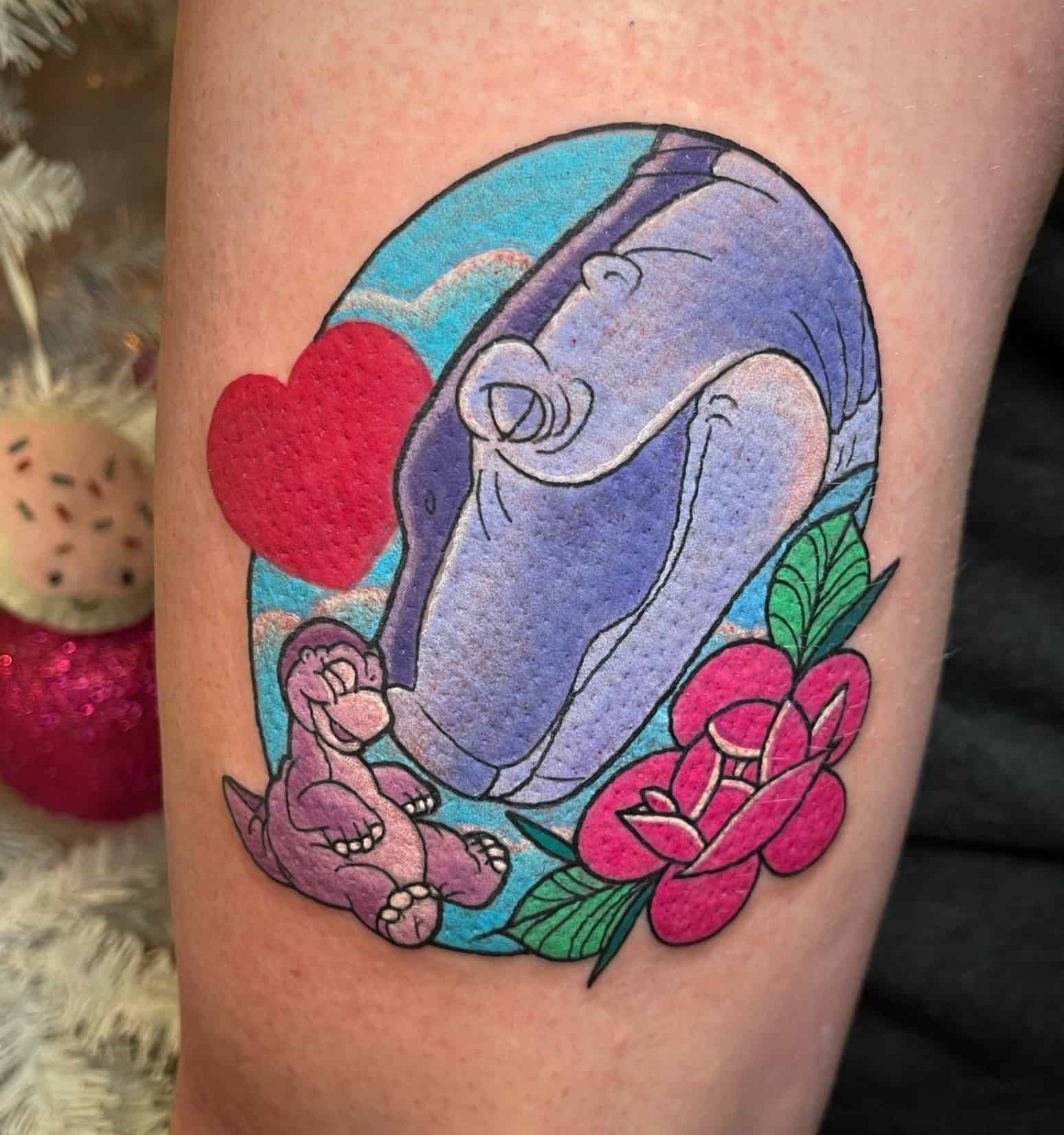 2. Mandala mother and son tattoo
A mandala tattoo is a great option for a mother-son tattoo. It symbolizes the mutual growth and strength that you've needed to keep your relationship the best it can be!

Instagram em_tattooo
3. Star Wars mother and son tattoo
If you two are Star Wars fans, this is the perfect tattoo!
This matching tattoo idea can be a reminder of how much you enjoyed watching your favorite movie together!

Instagram misslaceytattoos
Bottom Line
Throughout this article, we've mentioned the importance of the mother-son relationship several times. A mother provides you with love, guidance, and support, but the same can be said for her son.
There is a strong bond between you two, and it's time to honor it, and what better way to celebrate something than by dedicating it as a permanent mark on your body?I hope these mother-and-son tattoo ideas give you the inspiration you need!