Every relationship is unique in its particular way. When it comes to a brother-sister relationship, there are often a lot of mixed signals.
Even though there may be moments when this partnership becomes annoying, it's an unbreakable bond most of the time. You and your brother are connected by blood and heart, and no fight could tear you apart.
And because of that, I've prepared 46 unbreakable bond brother and sister tattoo ideas!
Unbreakable Bond Brother And Sister Tattoo Ideas: Cartoons
Watching cartoons was an important part of every kid's childhood. When my brother and I were younger, we watched cartoons and argued over who should play which role.
Even though I was the big sister, I always let him pick the character he wanted to play. I think this is a core memory for every brother and sister duo.So let's start with cartoon characters tattoos!
1. Lisa and Bart at the beach tattoo:
If you are a fan of "The Simpsons" series, this is a perfect tattoo for you. Yes, Bart and Lisa are worlds aparat, and most of the time, they aren't best friends, but at the end of the day, everybody knows how much they love each other.
If you two lived along the coast and made the best childhood memories on the beach but also have a relationship like Lisa and Bart – you know what to do!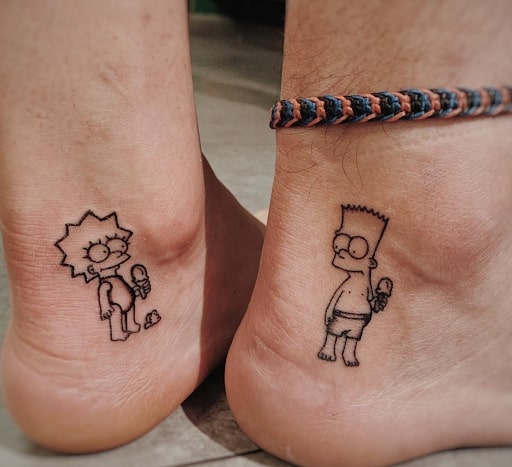 Instagram annasebastiantattoo
2. To infinity and beyond quote tattoo
Again, an incredible Lisa and Bart tattoo design. The ''To infinity and beyond'' quote speaks about the unconditional love and support you provide your sibling.
Also, to make the tattoo even more personal, you can add the birth year below the two characters!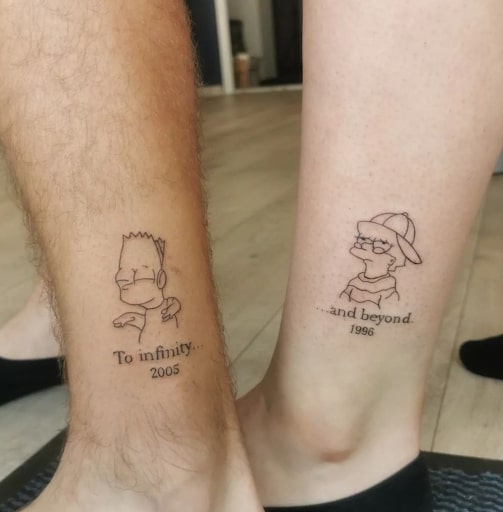 Instagram Sziri_tattoo
3. Lisa and Bart in a fight tattoo
This Lisa and Bart tattoo depicts how you and your sibling constantly argue over little things. However, this is how you two function, and despite the constant arguing, you know how much you love each other.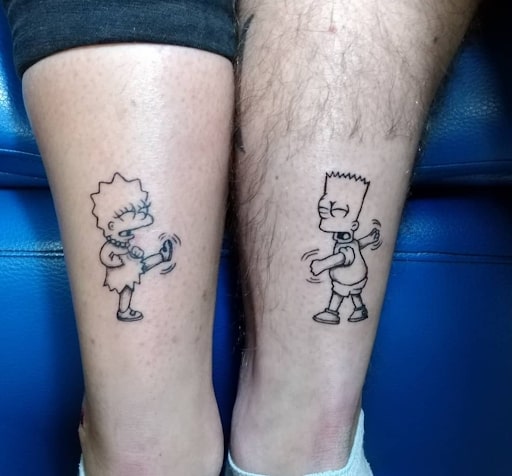 Instagram Tattoostarstudiojagodina
4. List and Bart strangling each other tattoo
This is the last Simpsons tattoo design from us, but there is a variety of these designs, each representing a specific moment in the life of siblings.
Again, getting into harmless fights is common in a brother-sister relationship. However, we all know how great brother-sister love is.
Instagram mariasalonentattoo
5. Lilo and Stitch tattoo
This tattoo is for younger generations. This Disney duo isn't bonded by blood, but they are a perfect example of a remarkable sibling relationship.
This tattoo is for anyone who likes simple but meaningful tattoos.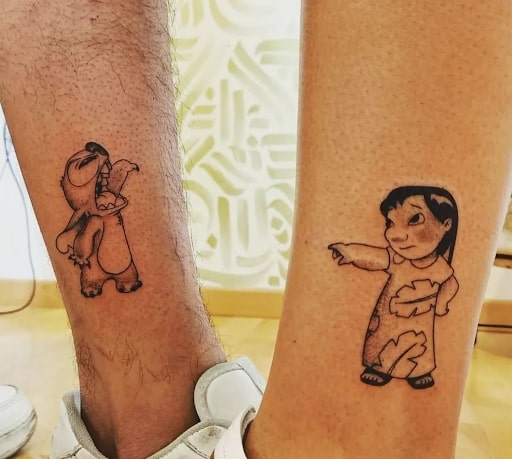 Instagram theoosalazar
6. Thing One and Thing Two tattoo
Another great and small tattoo design comes from The Cat in the Hat movie. They are funny, always smiling, and dynamic.
If you and your sibling are the same, this cute tattoo will suit you well!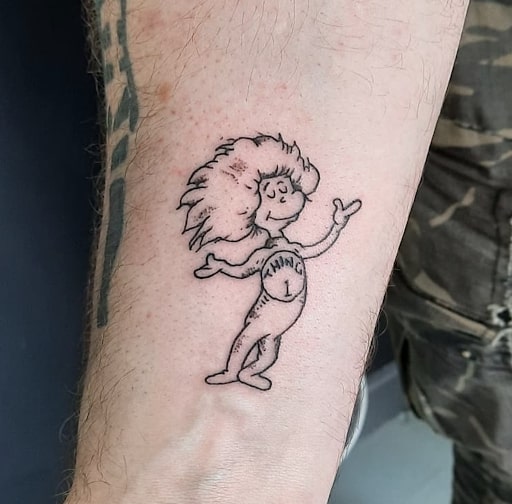 Instagram gbell_nodrog_lleb_tattoos
7. The Addams family tattoo:
If you and your sibling are an iconic duo, just like Wednesday and Pugsley Addams, this tattoo is made for you!
They are unintentionally sarcastic and have a dark sense of humor. Although physical contact isn't their love language, they still show each other love in their own twisted ways.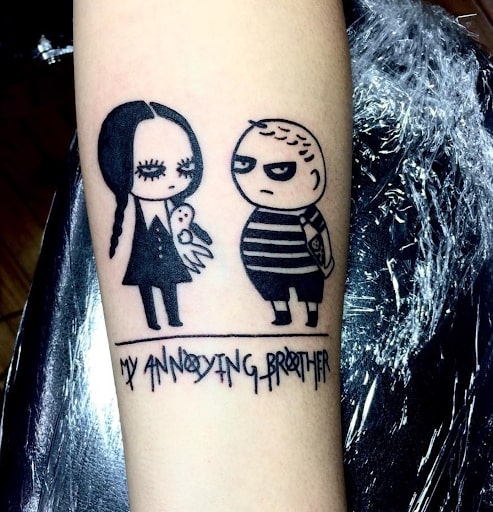 Instagram rnj.tattoo
8. My neighbor Totoro tattoo
Here is a tattoo for siblings who love anime movies. This scene depicts how your little sibling follows your every step and looks at you as a role model.
Therefore, it is a great big brother-little sister tattoo idea.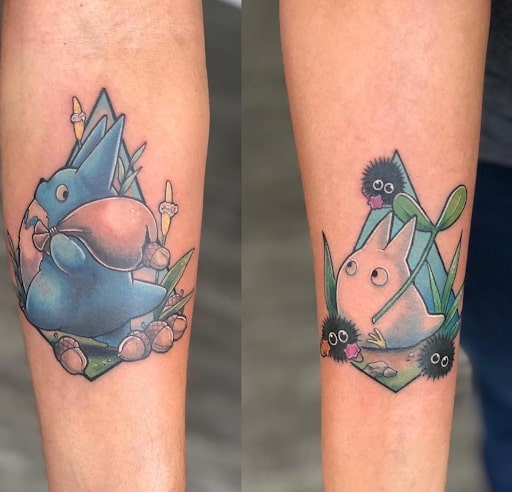 Instagram birdietattoos
9. Dexter and Dee Dee tattoo
This one's for all "Dexter's Laboratory" fans, and I'm sure there are many of them. We all know the relationship between Dexter and his big sister Dee Dee.
Dee Dee is always trying to ruin Dexter's plans and laboratory experiments. If you and your sibling have a similar relationship, it's time for this colorful and simple tattoo.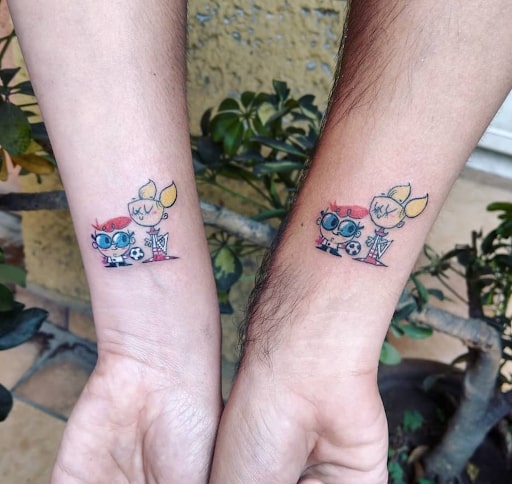 Instagram alegarmosstattoo
10. Tom and Jerry tattoo
Tom and Jerry fans, there is no need to worry. I haven't forgotten about you!
At first glance, everyone would say that Tom and Jerry are great enemies. However, when you think about it, they are best friends.
Tom loves Jerry. To prevent Tom's owner from replacing him with a cat who genuinely wants to murder Jerry, Tom has to pretend to hate Jerry.
This is a great brother-sister tattoo design if you and your sibling have a love-hate relationship.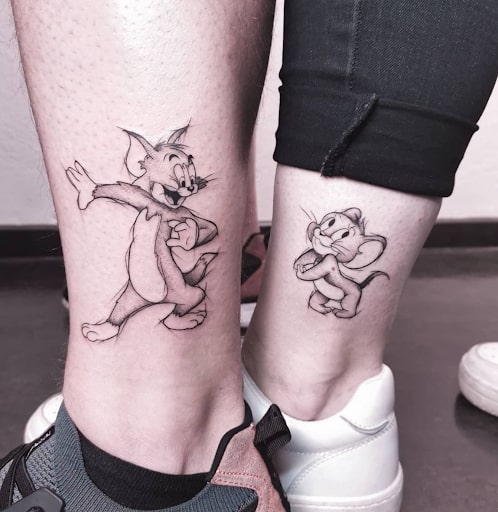 Instagram anjaodeb.art
11. Tom and Jerry with guns tattoo
Again, Tom and Jerry are only, at first glance, enemies who want to kill each other when, in fact, they love and protect each other.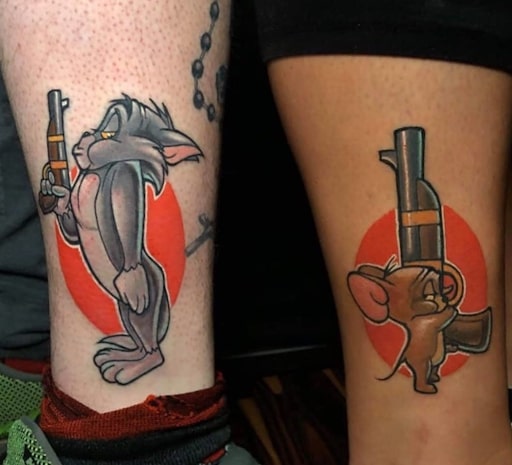 Instagram robbwild
12. Perry the Platypus tattoo
''Where is Perry?''
If you have a sibling who worries about you and goes into detective mode every time you are away for more than an hour, then it's time to call your tattoo artist and make an appointment!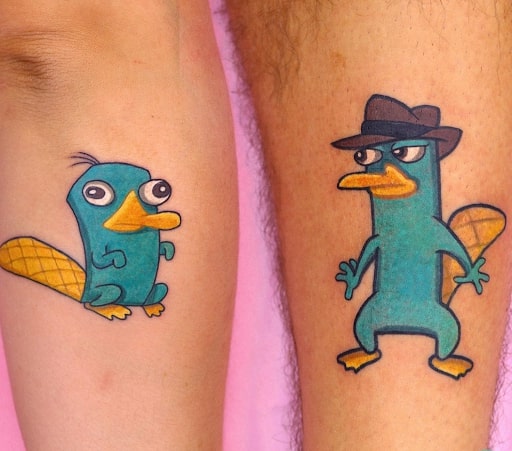 Instagram shiratwig
13. Dipper and Mabel Pines tattoo
This tattoo is ideal for twins. They care deeply for each other, and despite their contrasting personalities and frequent teasing, they are ready to do anything for their relationship.
If you found yourself and your sibling in these sentences and love the ''Gravity Falls'' series, this is the right match for you!
Instagram walt.j.perez
14. Little Prince and the Fox tattoo
The Little Prince met the Fox on planet Earth and immediately became friends. The Fox is older and wiser than the Little Prince. Therefore, she had a great influence on the Little Prince's personality.
If you are a big sister who helped your little brother during tough times and shared your wisdom, this tattoo is the right one for you!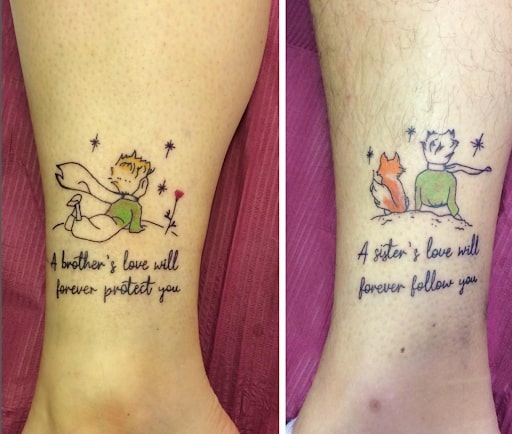 Instagram tanteaddastattoostube
3 Minimalist Pinky Promise Tattoo Ideas
Pinky promises were commonly used when we were young. If you made promises to your sibling a long time ago, these tattoos would be a perfect fit for you!
1. Pinky promise tattoo
If you are looking for a symbolic tattoo, then this tattoo is the right choice! Even though it's a simple and small tattoo, it has a deep meaning.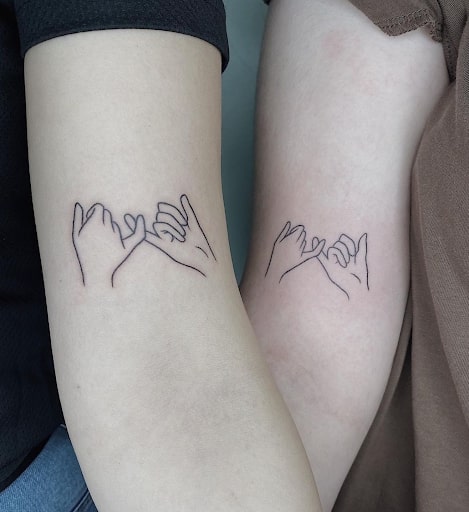 Instagram theorzinger
2. Till death do us part pinky promise tattoo
This pinky promise tattoo has two meanings. It can symbolize the famous phrase ''Till death do us part.''
Also, another interpretation is that your sibling passed away, and you're still keeping the promises you made to them. Therefore, it can serve as a memorial tattoo.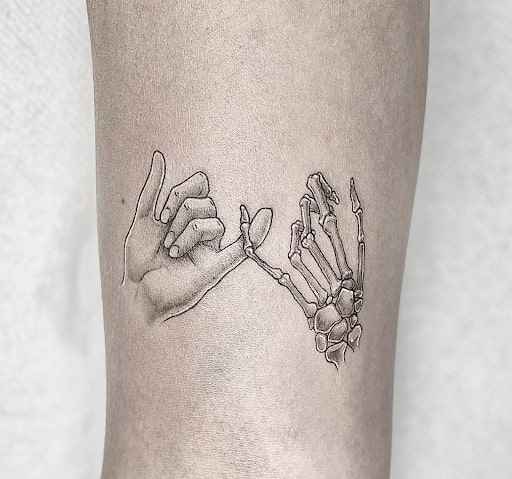 Instagram radandbomb
3. Older sibling pinky promise tattoo
If you and your older sibling made some lifelong promises and they were also a guide to you during childhood, this is a perfect tattoo for you two!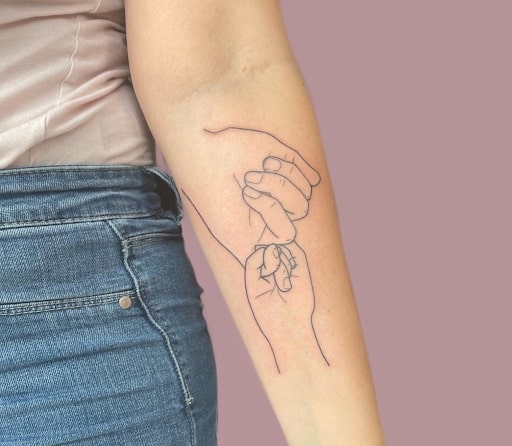 Instagram roxy_shetatts
6 Symbolic Tattoo Ideas For Siblings
Another way of celebrating your siblings' love is with these heartwarming tattoo designs. These tattoos are symbolic and hold deep meaning.
1. Sun and moon tattoo
This sun and moon tattoo is perfect for siblings with many things in common but opposite personalities.
It's a detailed and aesthetic tattoo, so if you're a fan of these tattoos – go for it!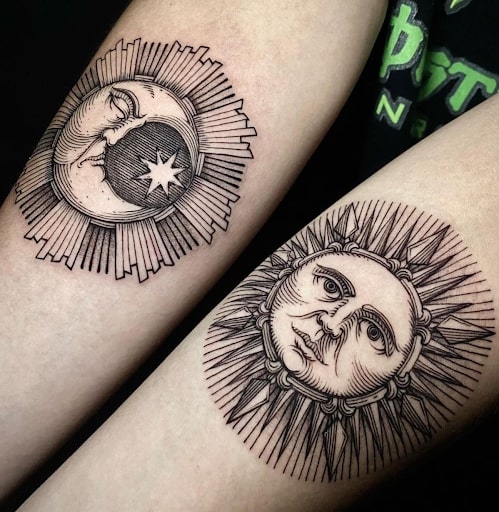 Instagram 7eyes_zean
2. Heart tattoo for siblings
A heart tattoo may be just what you and your sibling need! It is a simple and small tattoo and represents your strong sibling bond.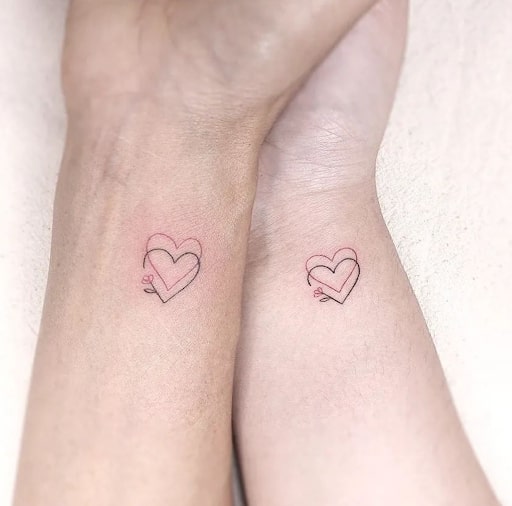 Instagram gorae_tattoo
3. Yin and Yang symbol tattoo
For me, this tattoo is a great option. "Yin" in Chinese stands for female, and "Yang" stands for male. Also, it has a symbolic meaning.
Yin represents darkness, femininity, and earth, while Yang represents light, masculinity, and heaven.
A great tattoo with great symbolic meaning!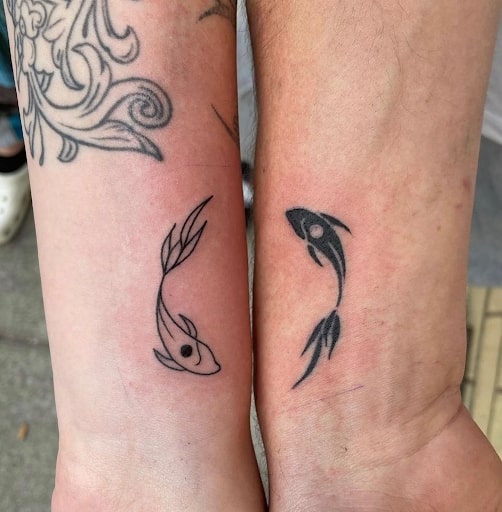 Instagram inkandneedle.eastlansing
4. Colorful Yin and Yang tattoo
If you love big, colorful tattoo designs, this one is for you. Again, it's the Yin and Yang symbol, but this time in a more colorful manner.
It's perfect for depicting a brother-sister relationship that is in great harmony.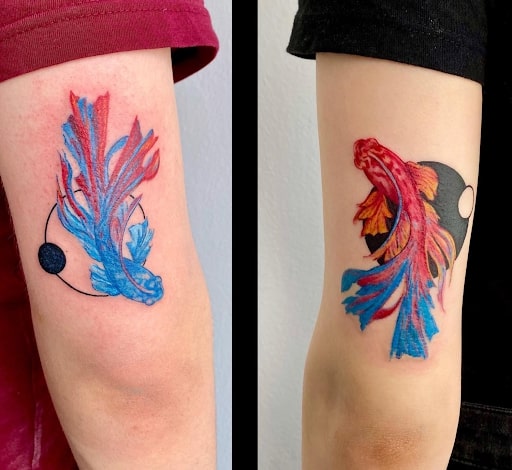 Instagram nat_ink_ya
5. Realistic Yin and Yang tattoo
This is a realistic version of the Yin and Yang symbol. A professional tattoo with great shading.
This tattoo artist knew what they were doing!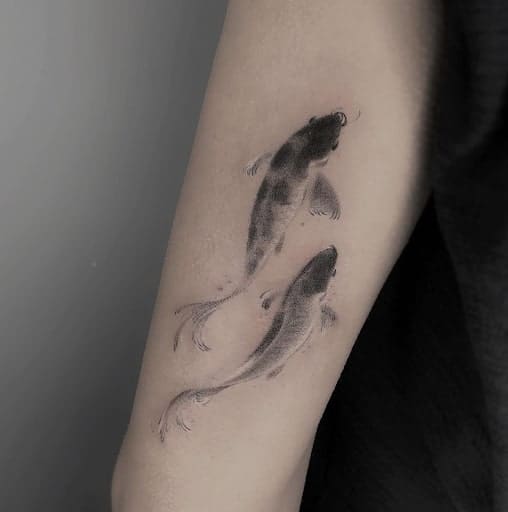 Instagram huangjimmy
6. Arrow tattoo for brother and sister
An arrow tattoo is great for siblings as it symbolizes love and fighting. A matching brother and sister arrow tattoo denotes that you two are open and sincere with one another.
Typically, arrow tattoos point in the direction of one another, making it easier for siblings to find one another.
This tattoo is not only meaningful, but it is aesthetically pleasing as well!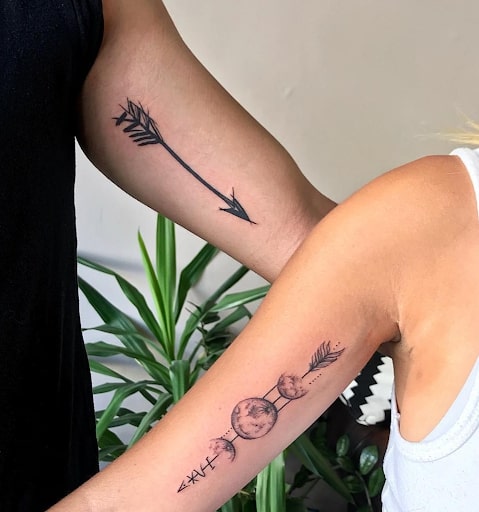 Instagram xoticatattoo
4 Spirit Animals Tattoo Ideas
You and your sibling's spirit animal are also a great idea for a good tattoo. A wolf, lion, or maybe an elephant? We've prepared various tattoo designs for you!
1. Two wolves and the clock tattoo
If you are looking for a great twin tattoo design, here you are!
The two wolves represent devotion, loyalty, and strength. Wolves are also the symbol of great spiritual protection. That's why it's perfect for you two!
The arrows on the clock point to the same time, which confirms that you were born at the same time. Also, the triangle tattoo below symbolizes your connection and how you always find a way back to each other.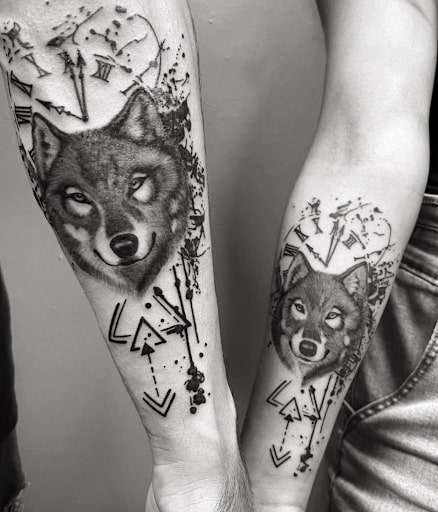 Instagram marta_dinah
2. Elephant and the fox tattoo
Elephants have great sensitivity and emotion. They stand for love, family, and the capacity to look after important people in your life.
Elephants are a representation of power and strength in certain cultures. Elephants just react in power and display their might if they spot a threat or evil, but not because they are aggressive creatures.
When it comes to foxes, they represent strength, grace, and wisdom. These creatures are brilliant and resourceful.
If you and your sibling have these features, it's time to get the elephant and fox tattoo!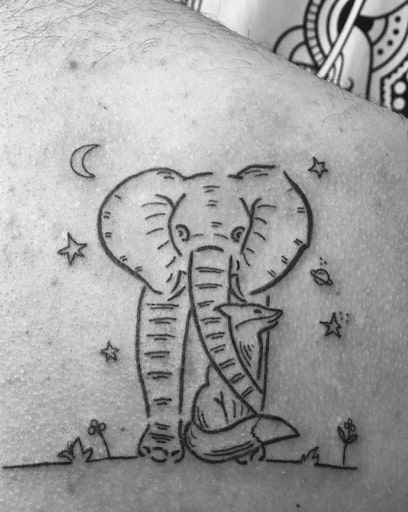 Instagram md.tattoo.projects
3. The wolf and owl tattoo
Generally speaking, wolves symbolize family, protection, leadership, and strength.
Loyalty, fatherhood, fraternity, spirituality, togetherness, resiliency, and procreation are other meanings of the wolf.
The owl is a spirit animal representing a close relationship with wisdom and intuition. If the owl is your totem or power animal, you can probably perceive things typically hidden from most people.
You may perceive the genuine truth independent of illusion and deception.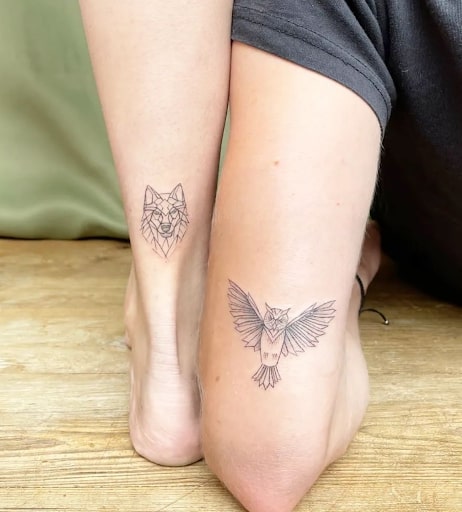 Instagram skintalisman
4. Lion and lioness tattoo
Typically, lion tattoos represent power, bravery, daring, and fearlessness. The lion denotes strength, bravery, courage, and wisdom, whether depicted realistically or in a stylized manner.
This tattoo is all yours if you and your sibling have such features!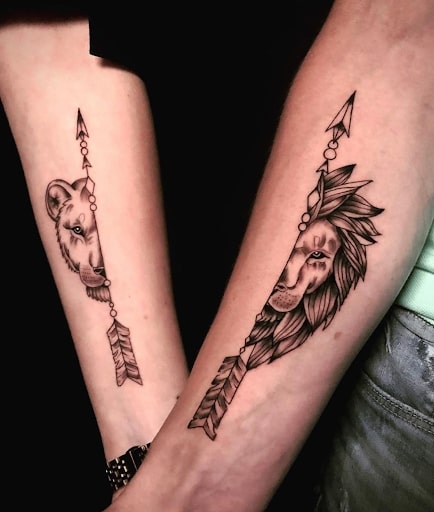 Instagram mar.tattoos
19 Cute Brother And Sister Tattoo Ideas
If you want more brother-sister relationship tattoos, here are unbreakable bond brother-and-sister tattoo ideas!
Some of them can be used for matching sister tattoo ideas!
1. Fist bump tattoo
The fist represents power and solidarity. If the fist bump is a usual greeting for you and your sibling, this is another plus why you should get this tattoo!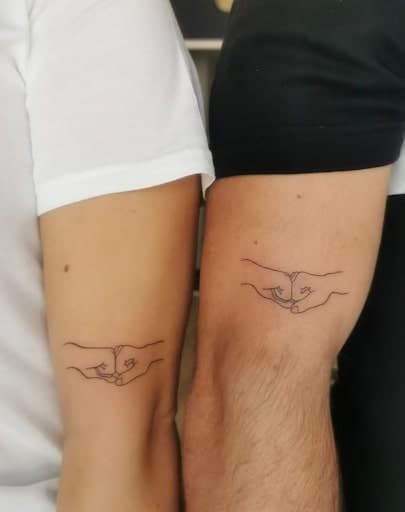 Instagram sziri_tattoo
2. Big brother and little sister tattoo
This tattoo is the right one for you if you are a big brother and younger sister duo. The brother's hand on the sister's back symbolizes how he was always there for her and supported her during their childhood.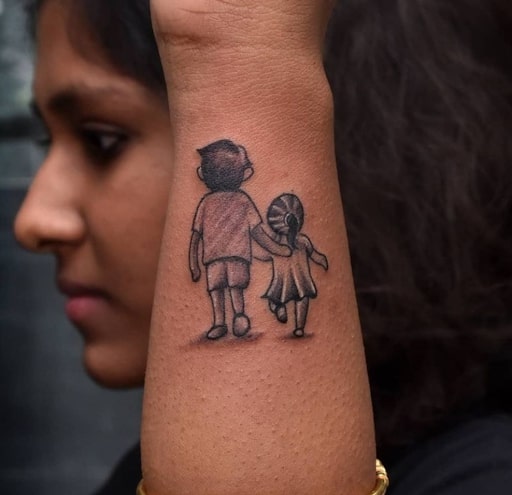 Instagram inkprik_tattoos
3. Fingerprints tattoo
A fingerprint tattoo is a beautiful way to honor your loved ones, whether they are your parents, kids, grandkids, or in this case, your siblings.
One way to keep a piece of someone with you forever is to get their fingerprint permanently inked on your body.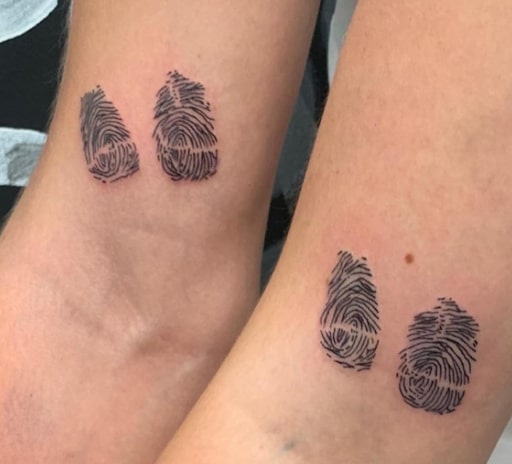 Instagram diva_tatts
4. Brother and sister and their string telephone:
This is a small, minimalist tattoo, but it still has a deep meaning.
As you can see, the string telephone is marked with red, and it symbolizes how you and your sibling will always be connected no matter how far away you are.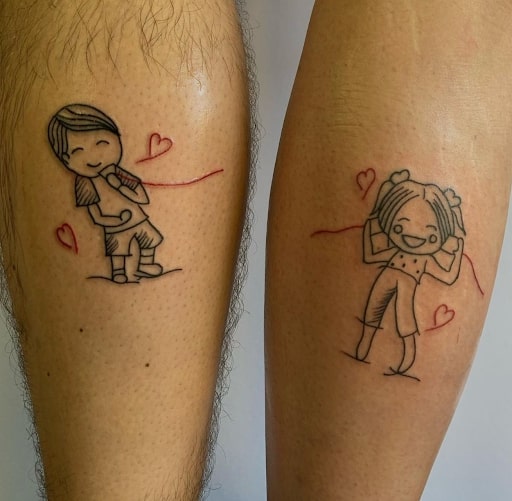 Instagram pashcroft.tattoo
5. Brother and sister colorful drawing tattoo
This is another big brother-little-sister tattoo design. It looks like this tattoo is a child's drawing, so you can also design a personalized tattoo like this.
If you and your sibling used to draw each other during childhood and kept the drawings, you could use them as your brother and sister's tattoo design.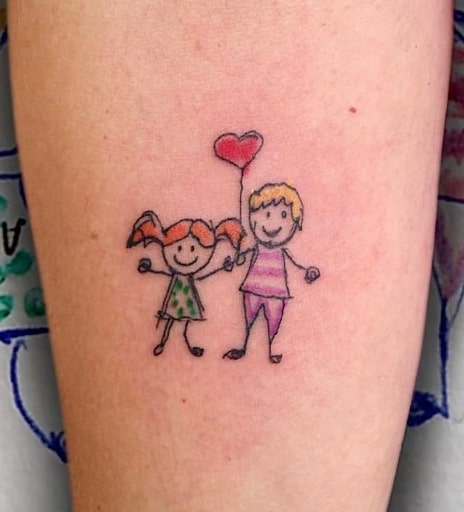 Instagram il.damaso
6. Puzzle pieces tattoo
Puzzle pieces symbolize a strong connection between you and your sibling. They are the best match for you and your only BFF, and when you're together, it's like you are one piece – two persons but one soul.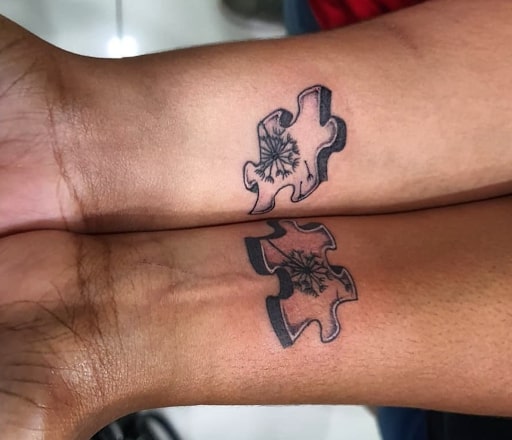 Instagram vaedo_ink
7. Birthdate in roman numerals tattoo
The day your sibling was born was the day when everything changed, for the better, of course. You have found your soulmate and you're best friends, and because of that, you want to honor and always remember that day.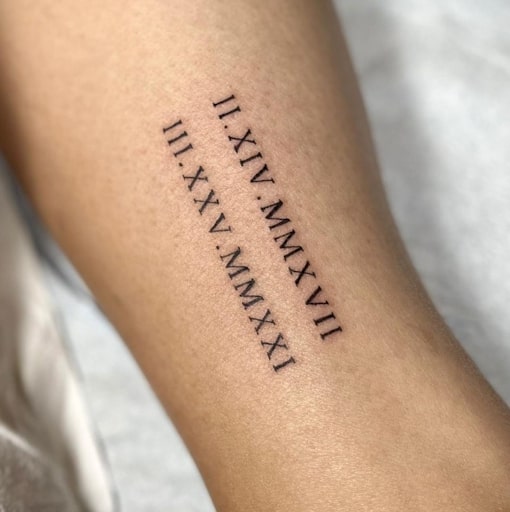 Instagram tarattattoos
8. Zodiac signs tattoo
Even if they don't know you, anyone who sees your zodiac tattoo will be able to tell what kind of person you and your sibling are. This tattoo is also a great idea for mother-daughter tattoos or any other family member.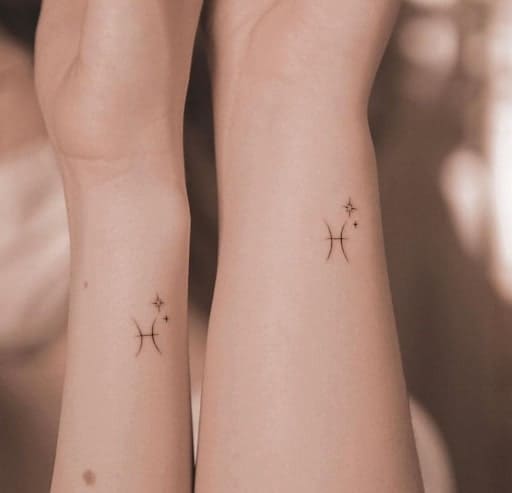 Instagram hanabanaanaa
9. Infinity symbol tattoo
A double infinity tattoo has even more power than an infinity tattoo, which stands for eternity. It can also represent the entangled infinity lines of separate lives.
This infinity symbol represents the unlimited love and support you and your sibling have for each other.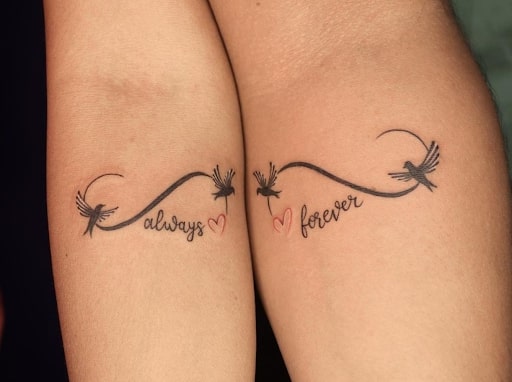 Instagram blue_heaven_tattooz
10. Brother and sister simple tattoo
A big brother will always guide you and hold your hand in difficult times. You are never alone when you have a sibling.
This tattoo design isn't complex and only outlines you and your sibling holding hands.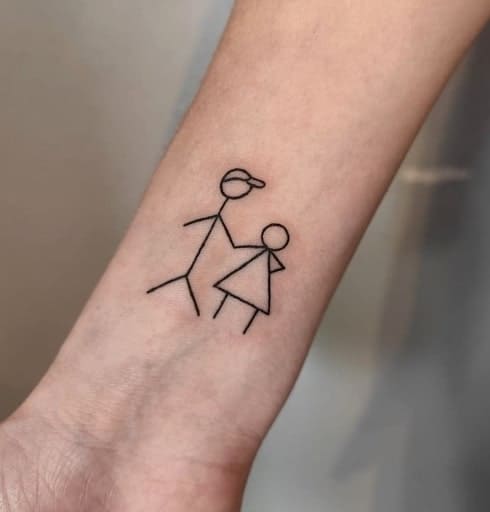 Instagram farbuloes_tattoo
11. Colored brother and sister tattoo
During childhood, we always loved to play outside and always had a buddy for different games. If your best buddy was your sibling, I think I have the perfect tattoo for you!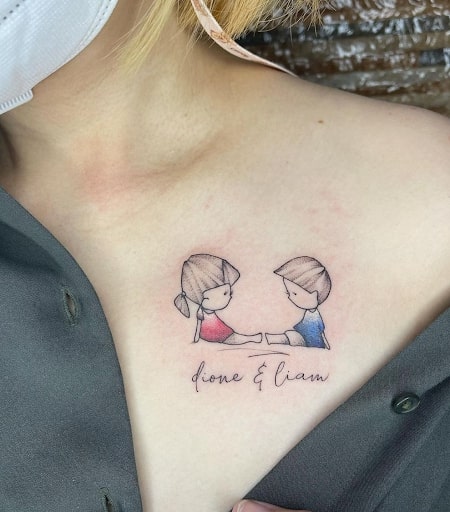 Instagram pintadon_tattoo
12. Pig and rabbit tattoo
When we were children, we often used to call our brothers by different names. Some were cute, and some were a little offensive.
Now that we have grown up, all these nicknames are cute and funny and are really good tattoo ideas!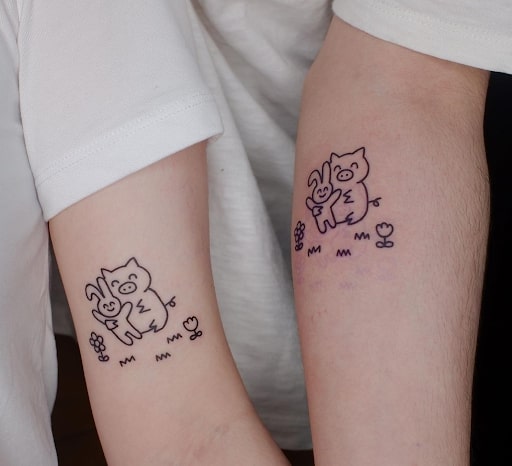 Instagram xinamon_tattoo
13. No matter what, no matter where tattoo
A sibling's love is unconditional no matter what and where, and this is exactly what this holding of hands represents – a love and bond that can't be broken even during the hardest times.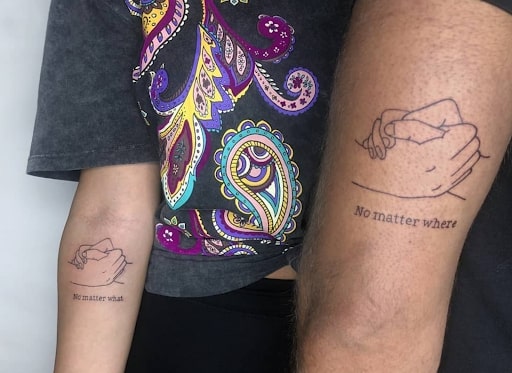 Instagram joanneleemhanna
14. Breathe and bloom butterfly tattoo
Having a sibling has many advantages. One of them is that your sibling can calm you no matter what. They constantly remind you that you need to breathe and that everything will be okay.
They are your second wing; without them, you cannot fly properly.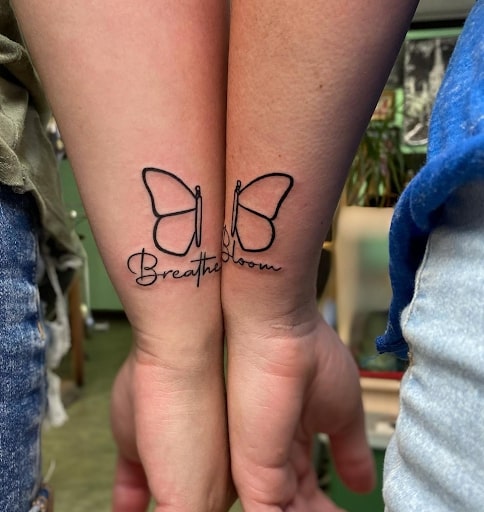 Instagram ticostattoo
15. Brother and sister sketch tattoo
This sketch tattoo of you and your sibling places your appearance in the background and points out your hearts.
Therefore, this is another tattoo that speaks about your mutual love and connection.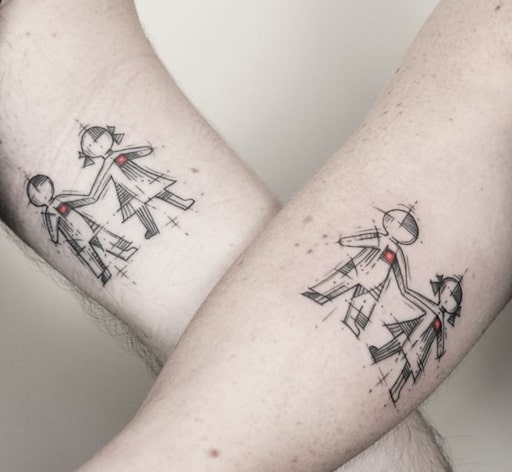 Instagram artegurrado
16. Lego brother and sister matching tattoo
We all played with different things when we were little. This Lego tattoo is excellent if you and your brother enjoyed the magic of Legos.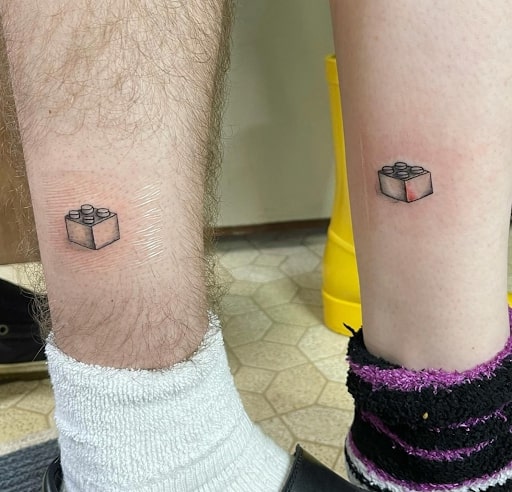 Instagram emr_ink
17. Brother and sister holding hands
You and your sibling holding hands symbolizes the strong bond you two have, and this tattoo is a constant reminder that nothing can break this bond.
The baseball bat and ball can also symbolize that you two enjoyed playing baseball together in your childhood.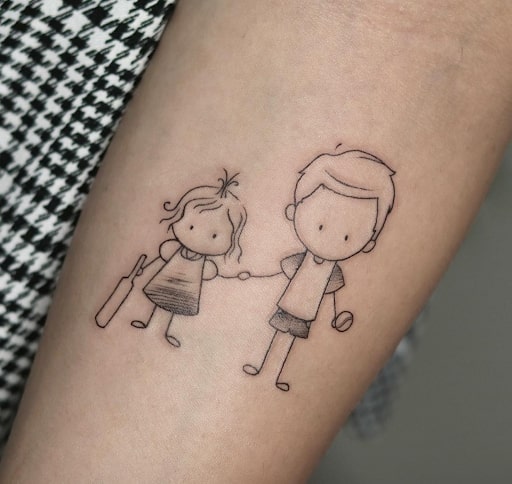 Instagram tattoo_impec_sunil_ck
18. To infinity and beyond quote tattoo
Side by side or miles apart, you and your sibling will always be connected by the heart. This tattoo shows how much you treasure childhood memories and love your sibling unconditionally!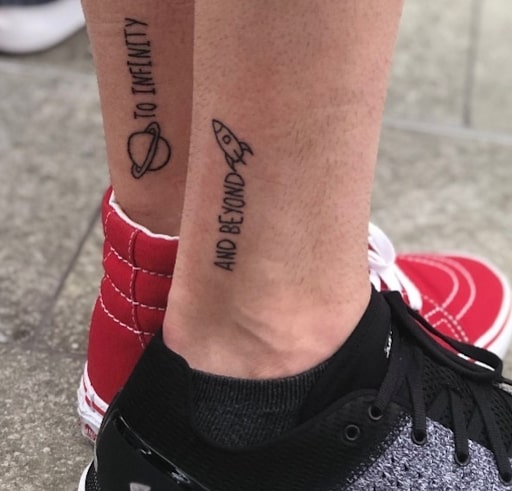 Instagram bea_utiful88
19. Mario game sibling tattoo
This tattoo is for all Mario game lovers. Do you remember how you and your sibling used to play the multiplayer Mario game and always argued about who would be player 1 and who would be player 2?
If you want to get this tattoo, now it's time to finally decide who is which player!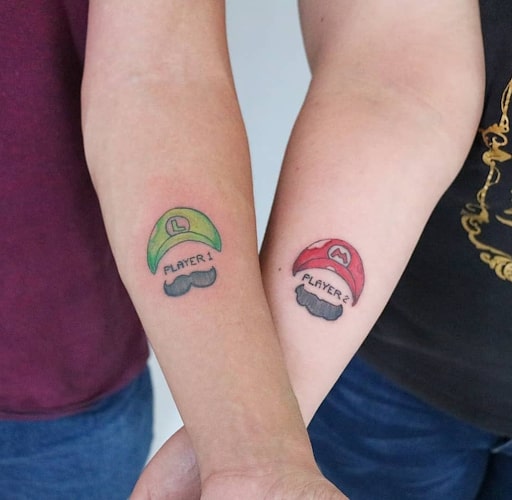 Instagram canolotattoo
FAQs
Is there a symbol for siblings?

The trinity knot is frequently used as a symbol for siblings. It represents the unity between you and the unity and trinity of the soul, mind, and heart.

You and your siblings are not only connected by blood but by mind and soul as well. You all had more or less the same childhood, read the same books, and watched the same cartoons – this can hugely influence your personality.
What tattoo can I get for my siblings?

If you want a tattoo for your sibling, you should consider what kind of tattoo you want. A simple, small one? Or a more personalized one? Is there anything from your childhood that stands out?
When you decide on these general things, you can choose different tattoo designs:

1. Your favorite childhood cartoon

2. Pinky promise tattoos

3. Infinity symbol tattoo

4. Your birthdates

5. Yin and Yang tattoo

6. Matching flower tattoo

7. Your zodiac signs
To Sum Up
Did you like these tattoo ideas? Some of them are more personalized than others but can serve as an inspiration for your tattoos.
These unbreakable bond brother and sister tattoo ideas symbolize the unconditional love and support you two have.
You might seem like a grownup to the outside world, but to your sibling, you'll always remain the little and innocent child you once were.