Growing up, choosing different paths in life… It can all separate or distance us from our besties. However, if those friendships are real, neither time nor distance will ever be able to break the strong bond between true friends.
Whether you want to reconnect with your old friends or simply tell them how important they are to you, I have a little something for you here: a collection of most touching quotes for old friendship.
These lasting bonds are indeed unique, and they should be cultivated and celebrated in special ways. I hope these quotes will make you realize the true importance of old friendships.
Deep And Touching Quotes For Old Friendship
1. "Time doesn't take away from friendship, nor does separation." – Tennessee Williams
2. "Some friendships are timeless." – Unknown
3. "Laughter is not at all a bad beginning for a friendship, and it is far the best ending for one." – Oscar Wilde
4. "Old friends pass away, new friends appear. It is just like the days. An old day passes, and a new day arrives. The important thing is to make it meaningful: a meaningful friend – or a meaningful day." – Dalai Lama
5. "Old friends are gold, new friends are diamond. If you get a diamond, don't forget the gold, because to hold a diamond in a ring, you always need a base of gold." – Unknown
6. "Friendship is unnecessary, like philosophy, like art. It has no survival value; rather, it is one of those things which give value to survival." – C.S. Lewis
7. "Beautiful and rich is an old friendship, Grateful to the touch as ancient ivory, Smooth as aged wine, or sheen of tapestry Where light has lingered, intimate and long. Full of tears and warm is an old friendship that asks no longer deeds of gallantry, Or any deed at all – save that the friend shall be alive and breathing somewhere, like a song." – Eunice Tietjens
8. "I wanna grab a time machine and go back to those good old times when life was nothing but joyful because I had my bestie with me always!" – Unknown
9. "A melancholy lesson of advancing years is the realization that you can't make old friends." – Christopher Hitchens
10. "Friendship is a promise that is difficult to keep – that makes old friends precious." – Unknown
11. "The best friendships are those that have survived the test of time, conflict and change." – Karen Salmansohn
12. "Do not abandon old friends for new ones cannot equal them. A new friend is like new wine; when it has aged, you can drink it with pleasure." – Ecclesiasticus 9:10
13. "Growing apart doesn't change the fact that for a long time we grew side by side; our roots will always be tangled. I'm glad for that." – Ally Condie
14. "New friends may be poems, but old friends are alphabets. Don't forget the alphabets because you will need them to read the poems." – Unknown
15. "A friend is one that knows you as you are, understands where you have been, accepts what you have become, and still, gently allows you to grow." – William Shakespeare
16. "It's not good trying to keep up old friendships. It's painful for both sides. The fact is, one grows out of people, and the only thing is to face it." – W. Somerset Maughan
17. "Lots of people want to ride with you in the limo, but what you want is someone who will take the bus with you when the limo breaks down." – Oprah Winfrey
18. "Forsake not an old friend, for the new is not comparable to him. A new friend is a new wine; when it is old, thou shalt drink it with pleasure." – The Bible
See also: Heart Touching Love Quotes; 100+ Heart-Melting Quotes For Your Loved One
Short Old Friendship Quotes And Sayings
1. "Old friends and old wine are best." – German Proverb
2. "In forming new friendships, forget not old friends." – Roman Proverb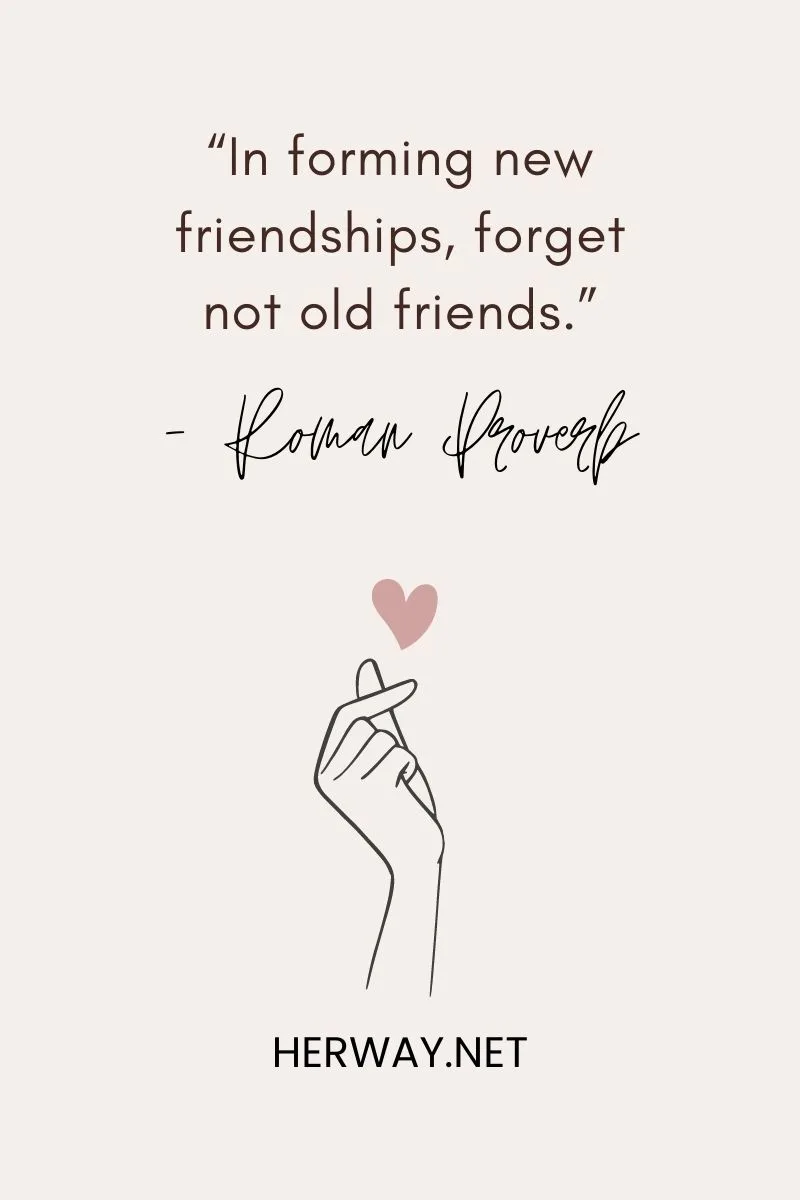 3. "Lay this unto your breast: Old friends, like old swords, still are trusted best." – John Webster
4. "An old friend met in a far country is like rain after a drought." – Chinese Proverb
5. "We find home in our old friends." – Unknown
6. "A good friend is like a four-leaf clover; hard to find and lucky to have." – Irish Proverb
7. "There're no friends like the old friends." – James Joyce
8. "Old friends die on you, and they're irreplaceable. You become dependent." – Lionel Blue
9. "The best mirror is an old friend." – George Herbert
10. "With clothes, the new are the best; with friends, the old are the best." – Unknown
11. "Friends are like whiskey. The older, the better." – Unknown
12. "Remember that the most valuable antiques are dear old friends." – H. Jackson Brown, Jr.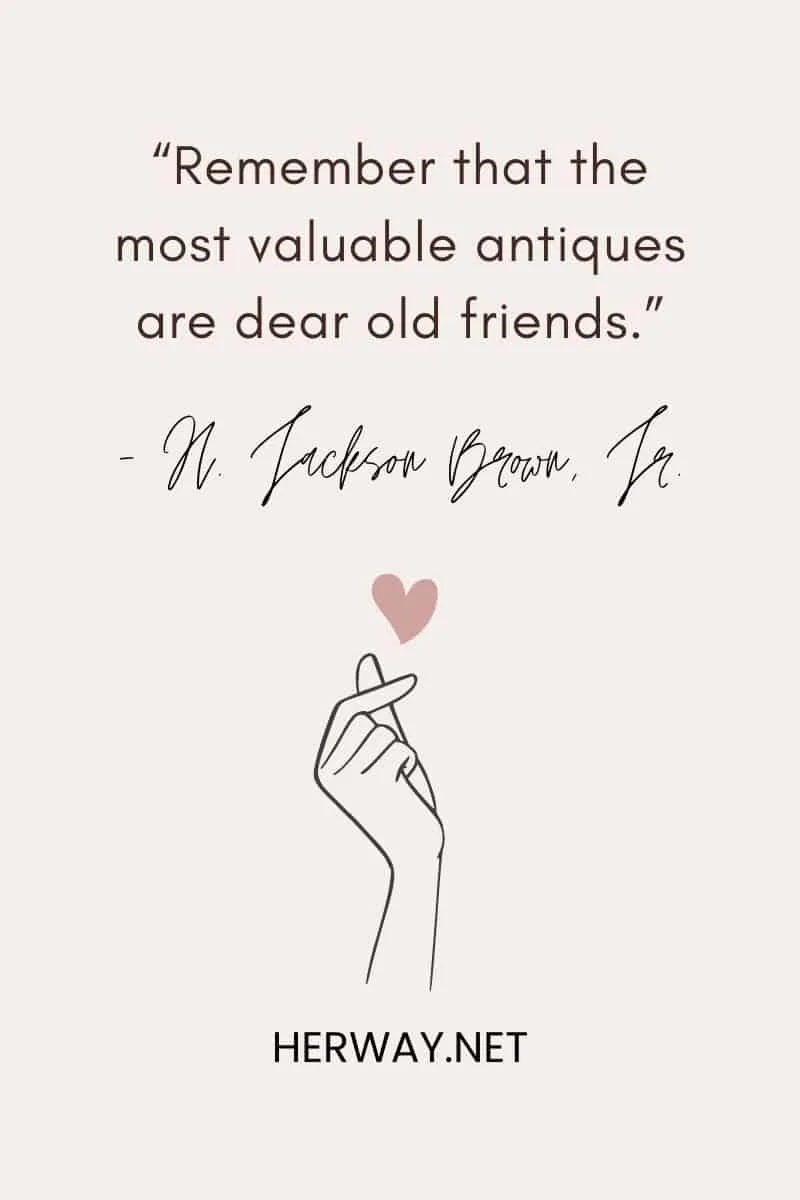 13. "Of oil, wine, and friends, the oldest is the best." – Portuguese Proverb
See also: 70+ Best Friend Paragraphs To Make Your Bff Crazy Happy
Old Friends Captions
1. "'We'll be friends forever, won't we, Pooh?' asked Piglet. 'Even longer,' Pooh answered." – A.A. Milne, Winnie The Pooh
2. "To be with old friends is very warming and comforting." – Ian Ziering
3. "Old friends are proof that loyalty exists." – Unknown
4. "Dear old friend, maybe we have both changed. But my love for you will always be the same." – Unknown
5. "No friendship is an accident." – O. Henry
6. "You can make a new friend, but you can't make an old one." – Tom Bodett
7. "It is one of the blessings of old friends that you can afford to be stupid with them." – Ralph Waldo Emerson
8. "Old friends are best." – John Selden
9. "Between us, it's friendship that lasts a lifetime." – Unknown
10. "Better is old wine than new, and old friends like-wise." – Charles Kingsley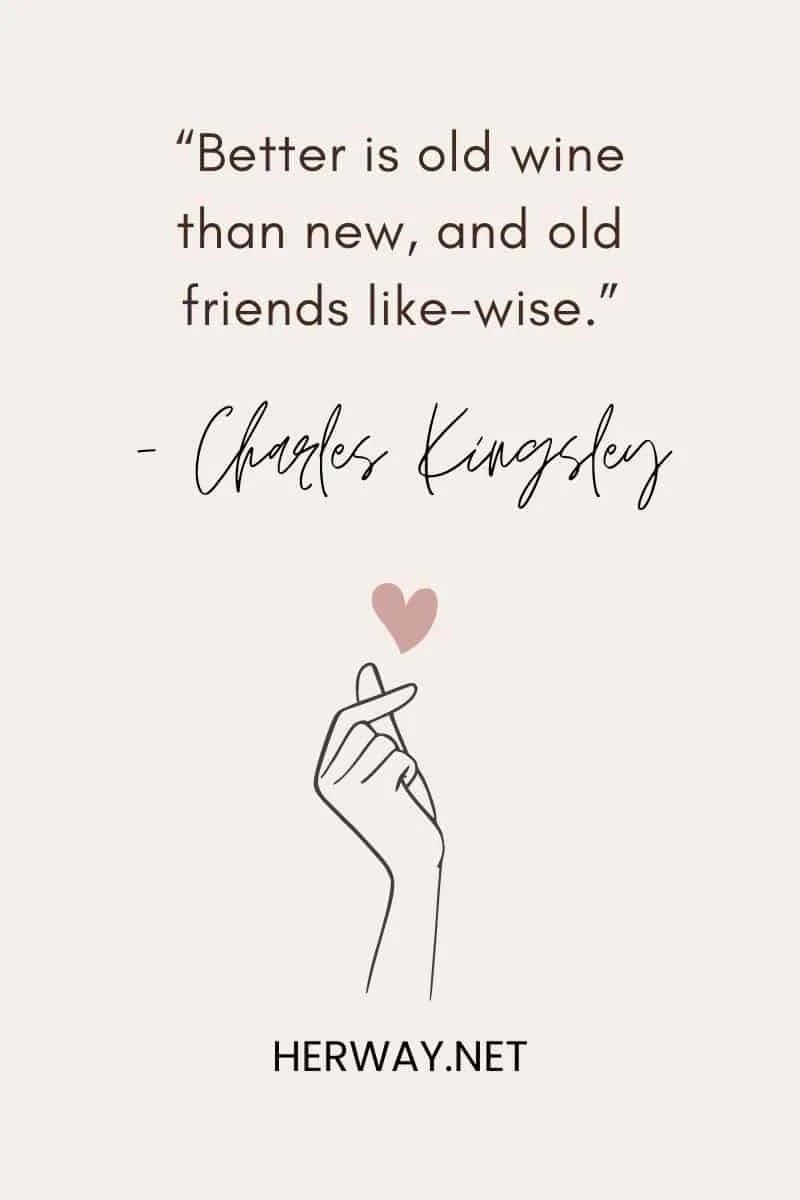 11. "Cheese, wine, and a friend must be old to be good." – Reinhold Niebuhr
12. "Some friendships are like diamonds – timeless and unbreakable." – Unknown
13. "Wishing to be friends is quick work, but friendship is a slow-ripening fruit." – Aristotle
14. "True friendship is never serene." – Marquise de Sevigne
15. "Dear old friend, you make me realize that soulmates don't always have to be our romantic partners." – Unknown
16. "You can't make old friends. You either have them, or you don't." – Kenny Rogers
17. "It's an insane world, but in it, there is one sanity – the loyalty of old friends." – Stephen Boyd
18. "Real friendship stands the test of time." – Unknown
Old Friends Quotes
1. "One should not forsake old friends for new, because the old friends, having already proven their caliber, are more trustworthy." – G. Llewellyn Watson
2. "Beautiful memories are like old friends. They may not always be on your mind, but they are forever in your heart." – Susan Gale
3. "To reminisce with my old friends, a chance to share some memories, and play our songs again." – Ricky Nelson
4. "Make new friends, but keep the old; those are silver, these are gold." – Joseph Parry
5. "There is only one thing better than making a new friend, and that is keeping an old one." – Elmer G. Letterman
6. "There's a thing that keeps surprising you about stormy old friends after they die—their silence. For a while, an echo stays in your ear. You hear a laugh, a knowing phrase or two, a certain quality of enunciation. Then, nothing. Another death takes place—voices." – Ben Hecht
7. "Yes'm, old friends is always best, 'less you can catch a new one that's fit to make an old one out of." – Sarah Orne Jewett
8. "Whoever neglects old friends for the sake of new deserves what he gets if he loses both." – Unknown
9. "Say what you want about aging; it's still the only way to have old friends." – Robert Brault
10. "Old books that have ceased to be of service should no more be abandoned than should old friends who have ceased to give pleasure." – Bernard Baruch
11. "Age appears to be best in four things: old wood best to burn, old wine to drink, old friends to trust, and old authors to read." – Francis Bacon
12. "New friends know the present version of you, but old friends know everything about you." – Unknown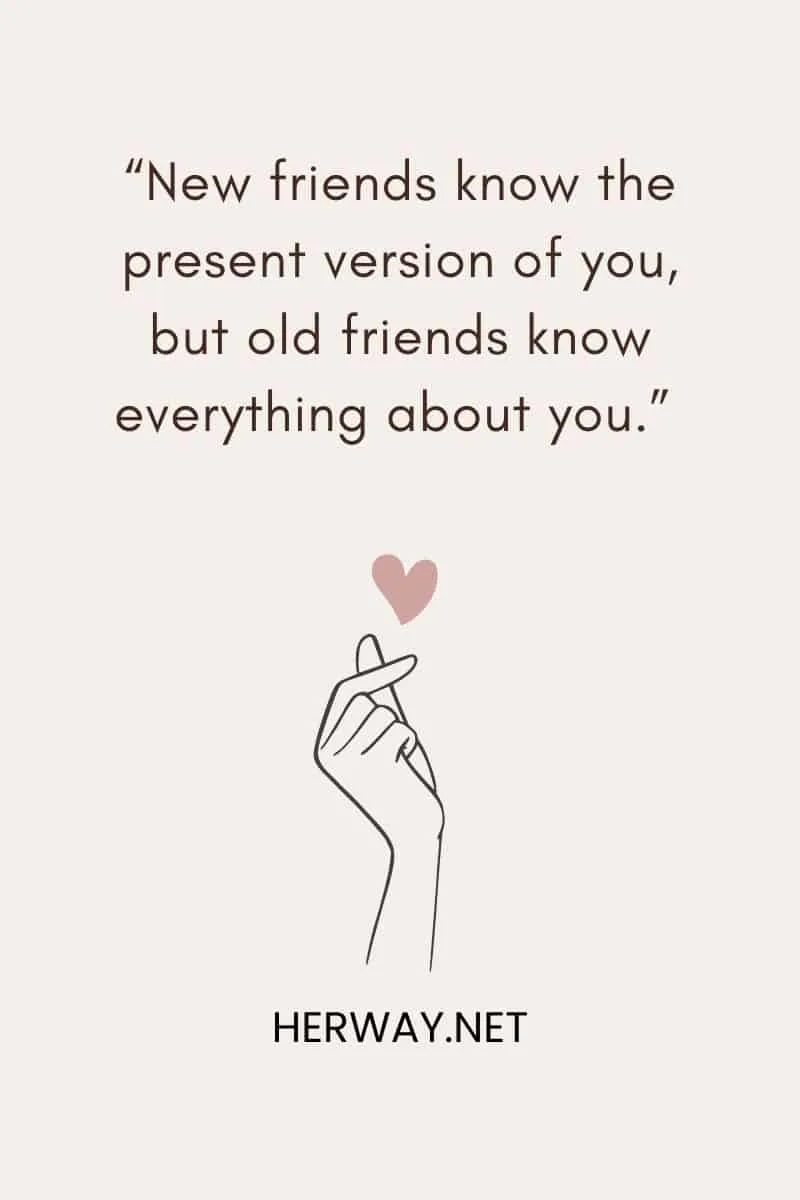 13. "I never feel lonely if I've got a book – they're like old friends. Even if you're not reading them over and over again, you know they are there. And they're part of your history. They sort of tell a story about your journey through life." – Emilia Fox
14. "Old friends are the great blessing of one's later years… They have a memory of the same events and have the same mode of thinking." – Horace Walpole
15. "You will never be embarrassed with childhood friends because they've seen your worst." – Unknown
16. "How unspeakably the lengthening of memories in common endears our old friends!" – George Eliot
17. "Condiments are like old friends — highly thought of, but often taken for granted." – Marilyn Kaylor
18. "'Spring Day' – I wrote the main lyrics based on my personal experience with old friends. It is about my sad memories with him, and it makes me sentimental whenever I listen to the song." – Suga
19. "I love everything that's old – old friends, old times, old manners, old books, old wine." – Oliver Goldsmith
20. "You don't have to have anything in common with people you've known since you were five. With old friends, you've got your whole life in common." – Lyle Lovett
21. "And though thou notest from thy safe recess old friends burn dim, like lamps in noisome air love them for what they are; nor love them less, because to thee they are not what they were." – Samuel Taylor Coleridge
22. "There are three things that grow more precious with age: old wood to burn, old books to read, and old friends to enjoy." – Henry Ford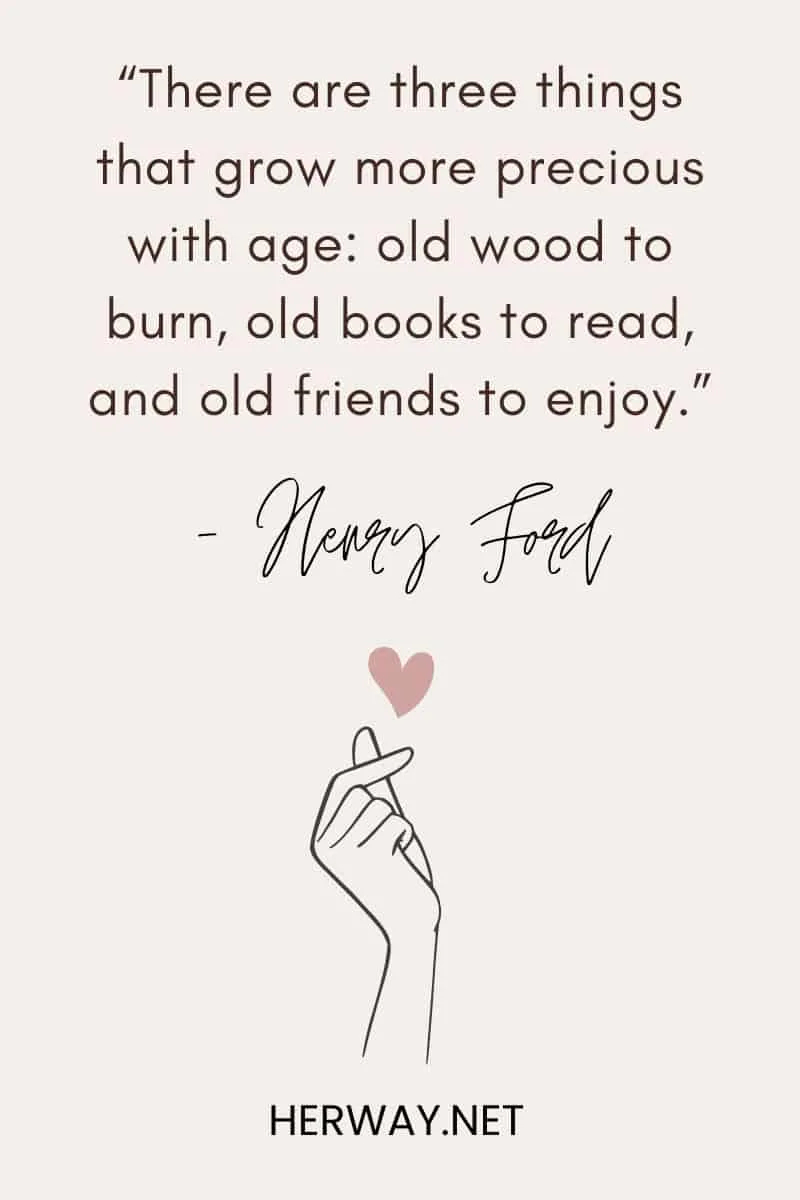 23. "It's fine to have social media that connects us with old friends, but we need tools that help us discover new people as well." – Ethan Zuckerman
24. "There is nothing like puking with somebody to make you into old friends." – Sylvia Plath
25. "A good friend is a connection to life — a tie to the past, a road to the future, the key to sanity in a totally insane world." – Lois Wyse
26. "Old friends remind me that loyalty really does exist." – Unknown
27. "I keep my old friends and get older with them, but push young. It's good to be surrounded by kids because they keep you young." – Carine Roitfeld
28. "When we forget old friends, it is a sign we have forgotten ourselves." – Unknown
29. "I spend a lot of time thinking about this business of letting go – letting go of the children God gives to us for such a brief time before they go off on their own; letting go of old homes, old friends, old places and old dreams." – Susan Estrich
30. "It takes a long time to grow an old friend." – Unknown
31. "Many of my old friends are gone now. I have a hard time dealing with the fact that they're just not there to talk to. I can't call them up for a rabbit-skin glue recipe anymore." – James Rosenquist
32. "Don't lose communication with your old friends. One simple greeting will do." – Unknown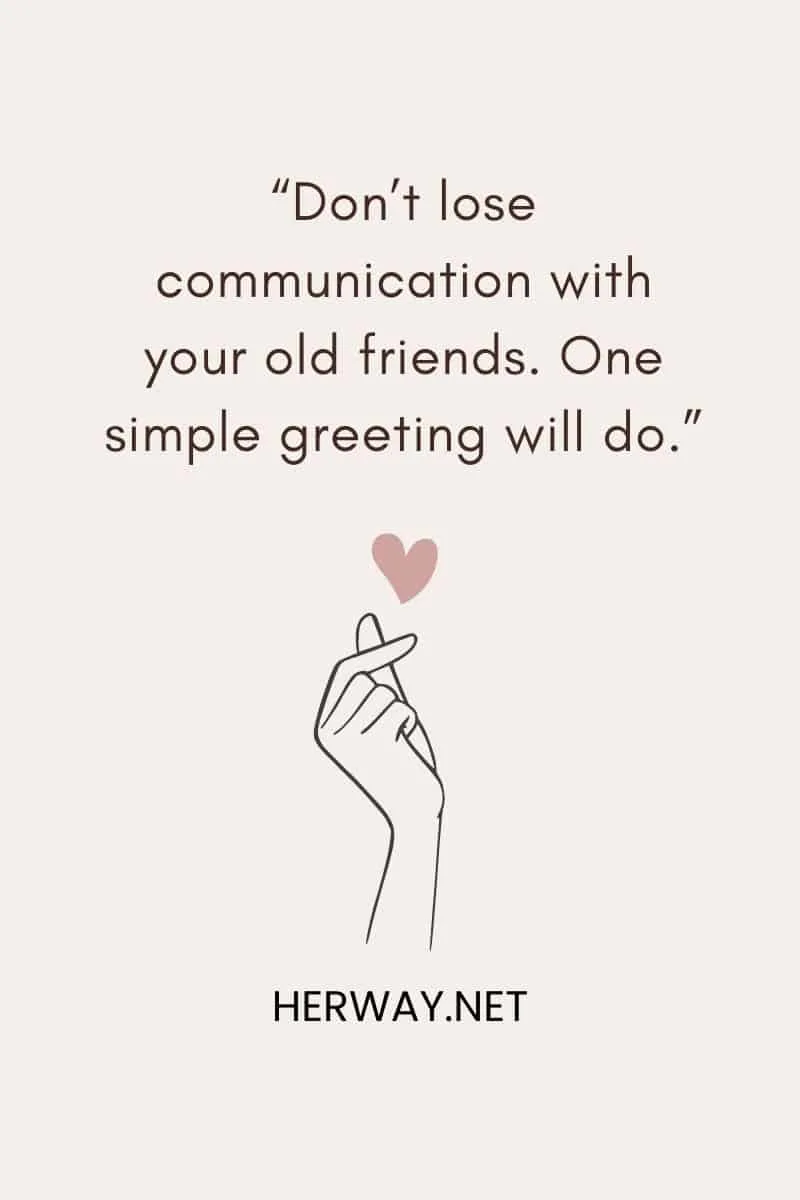 33. "Sometimes even my old friends are against me. But it's important to face your opposition and hear them out." – Park Won-soon
When You Meet Old Friends Quotes
1. "Few and far between are the books you'll cherish, returning to them time and again, to revisit old friends, relive old happiness, and recapture the magic of that first read." – Michael A. Stackpole
2. "When old friends get together, everything else fades to insignificance." – Robert Lynn Asprin
3. "Ah, how good it feels! The hand of an old friend." – Henry Wadsworth Longfellow
4. "True friends are those you haven't seen in years, but it feels like you were never apart." – Unknown
5. "It's the worst part of seeing old friends: when your rose-colored memories become undone by reality." – Brad Meltzer
6. "One of the things I like about looking at pictures when you're young and also meeting back with old friends you haven't seen in a long time is, for me, it's a glimpse of who I was." – Lea Thompson
7. "Talking to an old friend makes you realize how much your life has changed." – Unknown
8. "There's not a word yet for old friends who've just met." – Jim Henson
9. "It's always great to see old friends, especially those I have not been able to see in 15 months." – William Regal
10. "When you meet with your old friends, you recollect some of the finest moments of your life and find yourself in a joy that has no comparison." – Syed Badiuzzaman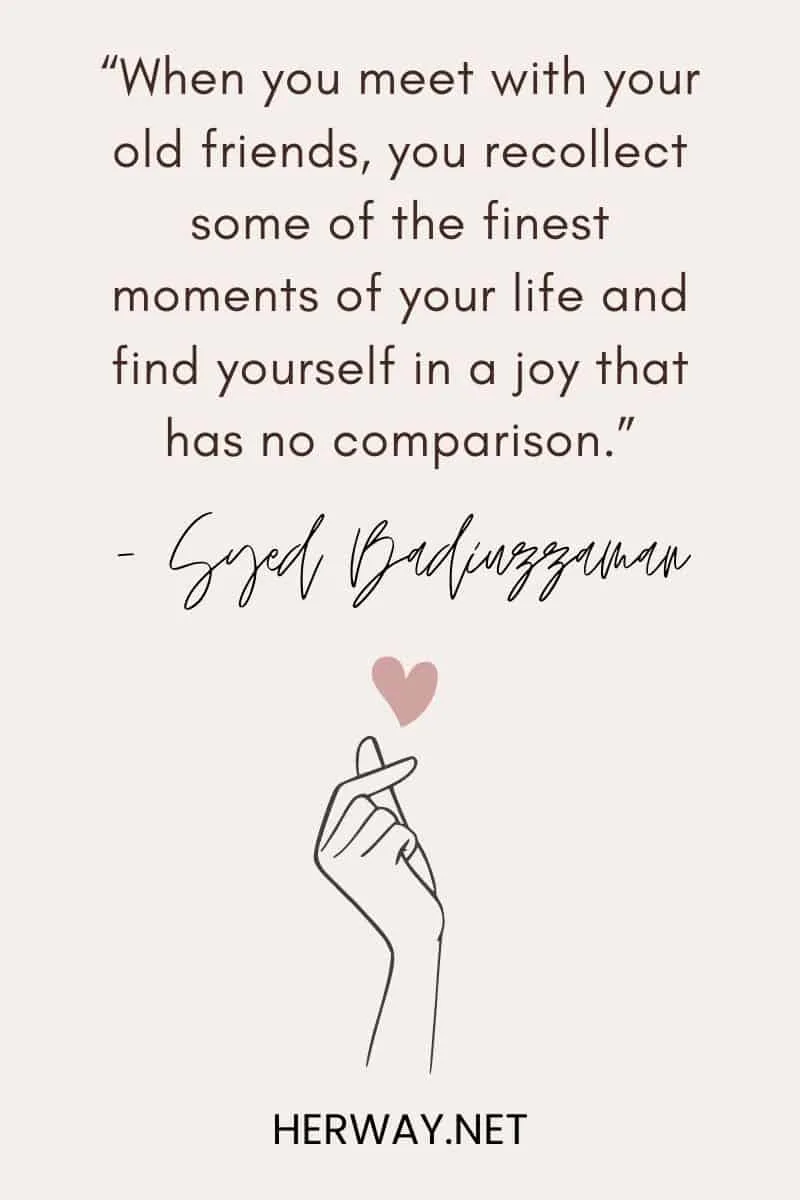 11. "Finding an old friend is like finding a lost treasure." – Anthony Douglas Williams
12. "Each friend represents a world in us, a world possibly not born until they arrive, and it is only by this meeting that a new world is born." – Anais Nin
13. "When I see old friends, I'm very excited." – Chino Moreno
14. "Nothing better than catching up with old friends." – Unknown
15. "I love coming back home and seeing old friends and family. I would say it keeps me grounded." – Coy Bowles
16. "Happiness is meeting up with old friends after a long time apart." – Unknown
17. "The thing is, when you see your old friends, you come face to face with yourself. I run into someone I've known for 40 or 50 years, and they're old. And I suddenly realize I'm old. It comes as an enormous shock to me." – Polly Bergen
Best Friend Quotes
1. "It's the friends you can call up at 4 a.m. that matter." – Marlene Dietrich
2. "One loyal friend is worth ten thousand relatives." – Euripides
3. "There is nothing better than a friend unless it is a friend with chocolate." – Linda Grayson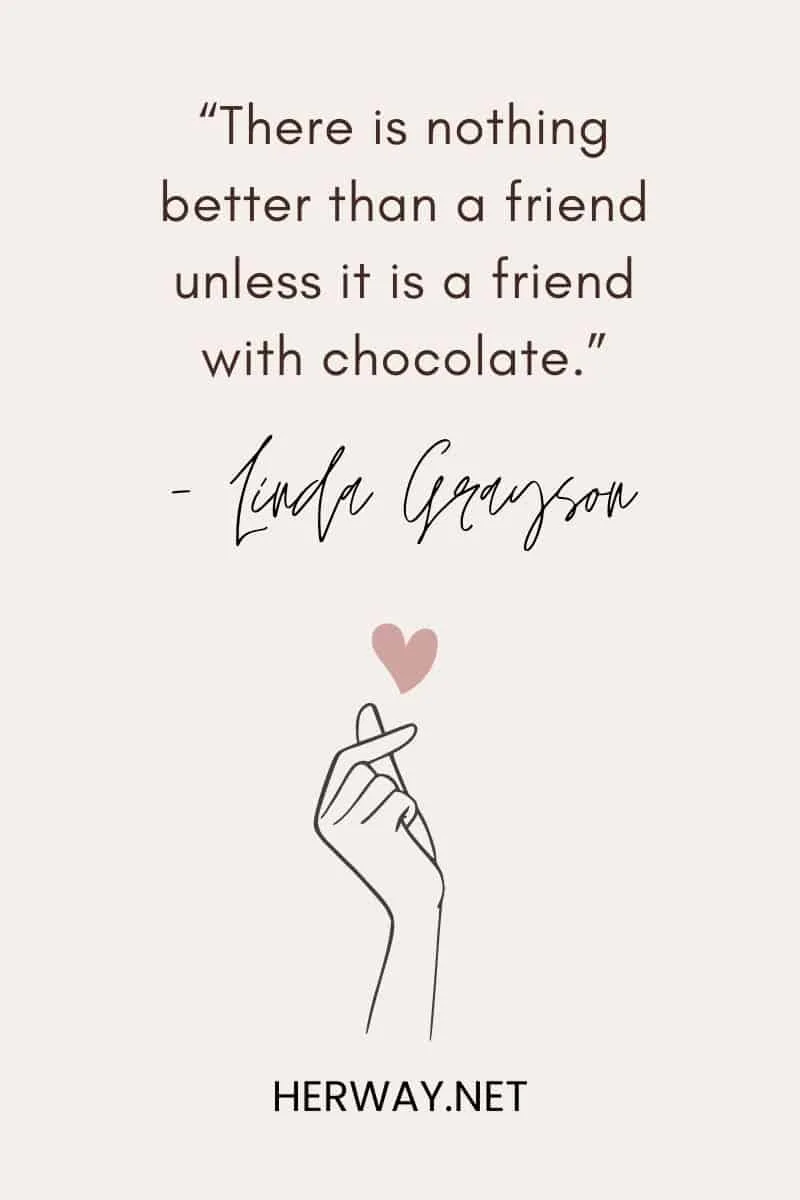 4. "Ten minutes with a genuine friend is better than years spent with anyone less." – Crystal Woods
5. "When we honestly ask ourselves which person in our lives means the most to us, we often find that it is those who, instead of giving advice, solutions, or cures, have chosen rather to share our pain and touch our wounds with a warm and tender hand." – Henri Nouwen
6. "Friends are those rare people who ask how we are and then wait to hear the answer." – Ed Cunningham
7. "We are friends for life. When we're together, the years fall away. Isn't that what matters? To have someone who can remember with you? To have someone who remembers how far you've come?" – Judy Blume
8. "Tis the privilege of friendship to talk nonsense, and to have her nonsense respected." – Charles Lamb
9. "A true friend is someone who thinks that you are a good egg even though he knows that you are slightly cracked." – Bernard Meltzer
10. "A true friend never gets in your way unless you happen to be going down." – Arnold H. Glasgow
11. "A day without a friend is like a pot without a single drop of honey left inside." – A.A. Milne Winnie the Pooh
12. "A friend is a gift you give yourself." – Robert Louis Stevenson
13. "If you can survive 11 days in cramped quarters with a friend and come out laughing, your friendship is the real deal." – Oprah Winfrey
14. "True friendship can afford true knowledge. It does not depend on darkness and ignorance." – Henry David Thoreau
15. "Friendship is the hardest thing in the world to explain. It's not something you learn in school. But if you haven't learned the meaning of friendship, you really haven't learned anything." – Muhammad Ali
16. "As much as a BFF can make you go WTF, there's no denying we'd be a little less rich without them." – Gossip Girl
17. "A real friend is one who walks in when the rest of the world walks out." – Walter Winchell
18. "One of the most beautiful qualities of true friendship is to understand and to be understood." – Seneca
See also: This Is How You Should Treat Your Best Friends
Quotes For Long-Distance Friendship
1. "It's best to have an old friend far away than a new friend nearby that makes you question your care." – Shanna Rodriguez
2. "Nothing makes the earth seem so spacious as to have friends at a distance; they make the latitudes and longitudes." – Henry David Thoreau
3. "It sucks to be apart, but I believe this is just a test of time for the two of us old friends." – Unknown
4. "Sweet is the memory of distant friends! Like the mellow rays of the departing sun, it falls tenderly, yet sadly, on the heart." – Washington Irving
5. "True friends are never apart, maybe in distance but never in heart." – Helen Keller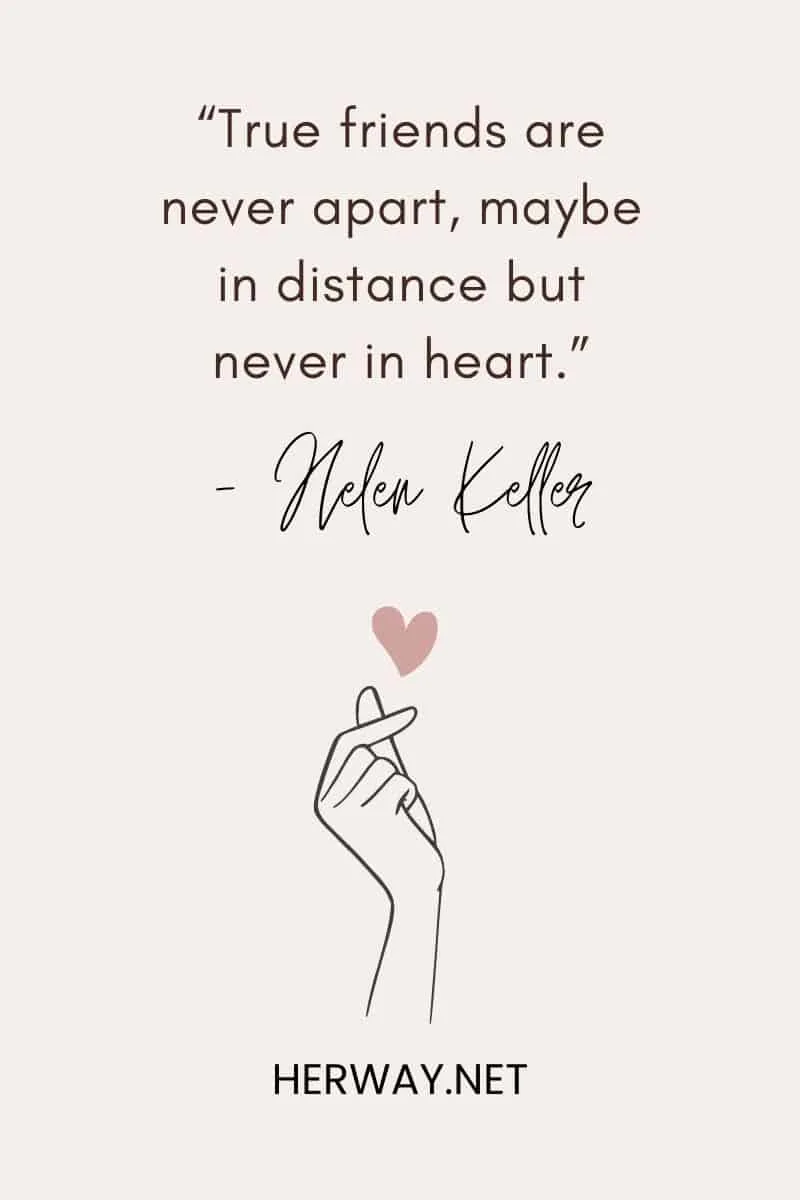 6. "Old friends never left you. They could be absent physically, but their memories will always be in our hearts." – Unknown
Final Words
I hope you understand the point of these quotes for old friendship. Old friends are pure gold, and for that reason, you need to respect and appreciate them.
It's okay to meet new people and make new friendships, but it's not okay to forget those friends who were with you through thick and thin.
Now, go and tell your old bestie how much they mean to you and how thankful you are to God for sending them into your life.