If you're looking for spontaneous things to do with your boyfriend, then you're in just the right place!
Given that you're here, I suppose you agree with me that classic date ideas have become kind of overrated, right? Right.
While there's nothing wrong with eating dinner and watching a movie with your loved one, doing it on repeat might become a boring routine over time.
And relationships should NEVER be boring because there are plenty of fun activities to do with your significant other!
Spicing up your love life with spontaneous, fun things is the secret ingredient to every happy relationship!
Every relationship needs diversity and some space for new adventures.
Spontaneous activities help you create a stronger bond with your partner while spicing up your relationship with plenty of FUN!
And, best of all, the majority of the following fun date ideas can be enjoyed at any time in the entire year.
From sweet old school romance to excitingly adventurous, here is a list of brilliantly spontaneous things to do with your boyfriend:
Amusement park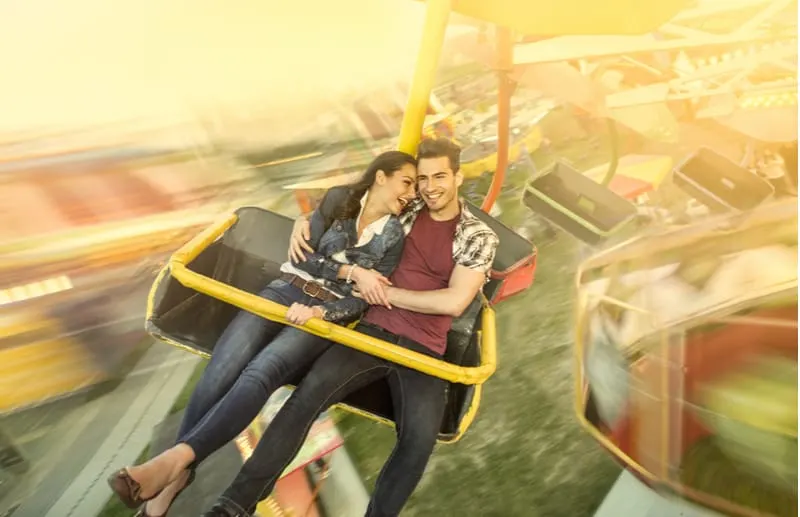 Exciting roller coasters, sweet cotton candy (I can still taste it in my mouth) and lots of screaming!
Amusement parks have this power to invoke your inner child and there's nothing more fun in the world than going back to your childhood roots with your boyfriend.
It will be a grand adventure that you'll be retelling your children and your grandchildren. (You have to trust me on this one.)
Fire pit date night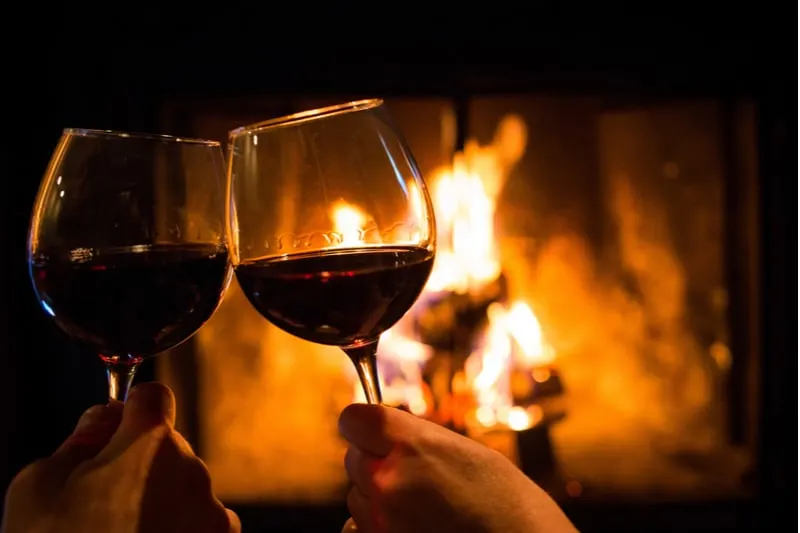 Whenever I think of snuggling next to my boyfriend by the fire pit, I instantly get those butterfly sensations in my stomach and that's one of the sweetest feelings in the world.
And best of all, you don't need to go on a road trip to experience those butterflies.
Just head to your backyard with a bottle of wine (or two), some marshmallows and your favorite blanket. One word: CUDDLE.
Stargazing can be your additional activity for the night and you can fill in the rest. I'm sure it will be a night to remember!
Go on a road trip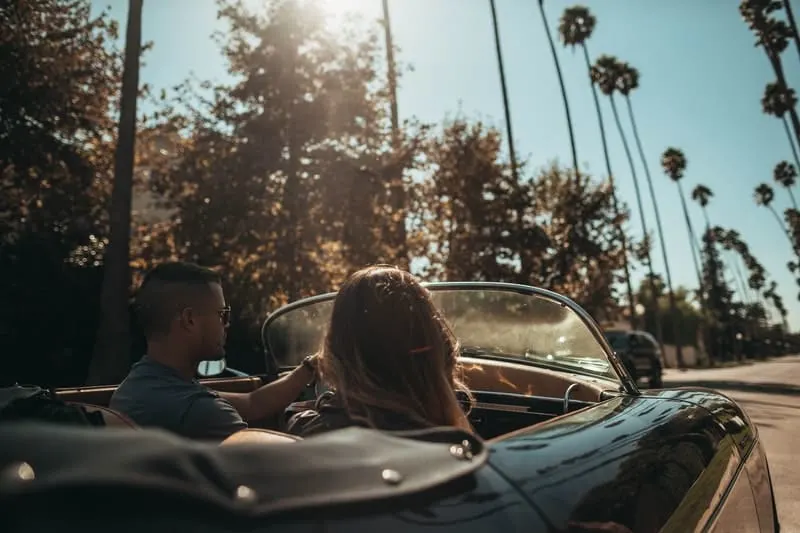 "Road trippin' with my two favorite allies
Fully loaded we got snacks and supplies
It's time to leave this town it's time to steal away
Let's go get lost anywhere in the U.S.A."
Whenever someone mentions a road trip, these lyrics by RHCP (Road Trippin) instantly start playing in my mind.
They portray this feeling of weekend getaway freedom and excitement so vividly that I want to hop in the car and 'steal away' the same second I hear the song.
So, I encourage you to do this with your boyfriend (and I'll try to pretend that I'm not jealous of you two!)
Pick a place that you both would want to visit and take plenty of snacks and other goodies. Make a relaxing playlist and enjoy every single second of it.
Karaoke night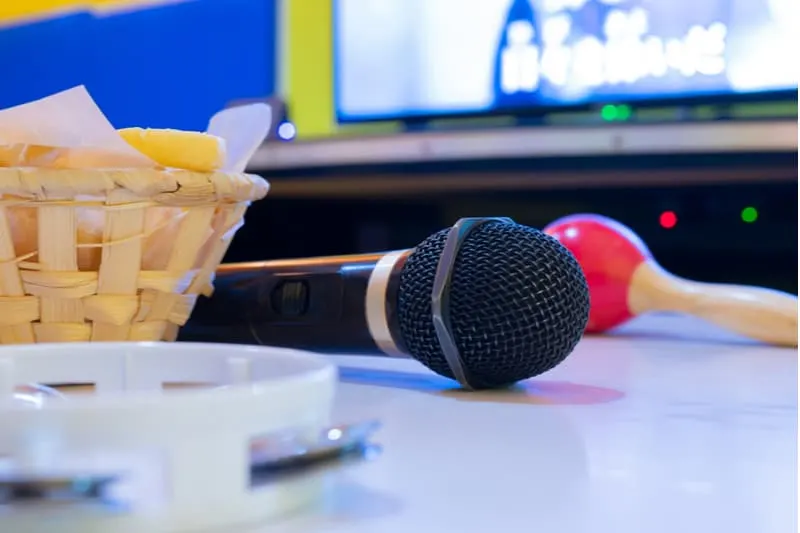 Definitely one of the most fun date night ideas regardless of whether you're a singing pro or a newbie.
If both of you are introverts, you can organize a karaoke night at home (a mix of solo and duet performances).
Or if you want to go wild, you can sing your heart out in front of others at a random karaoke bar (and you can tease each other and laugh uncontrollably on your way back).
Board games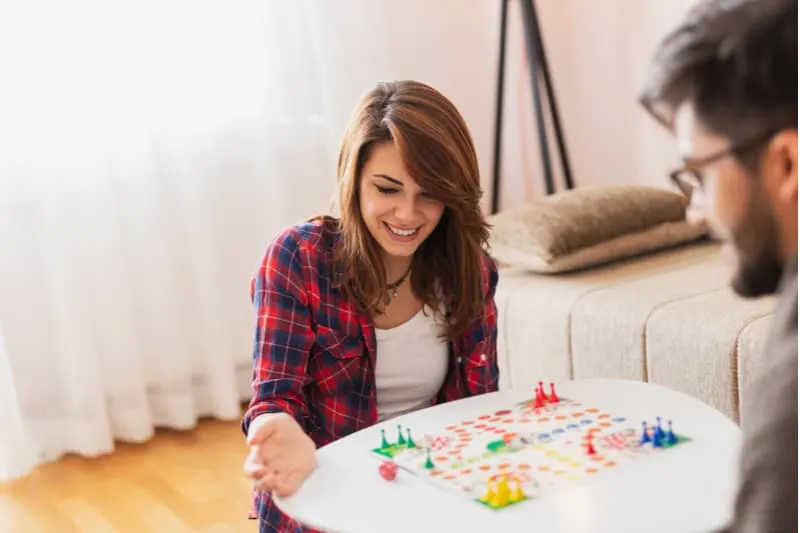 When was the last time you played a fun board game with your partner? If you can't even remember, then it's time to bring those excitingly competitive board games into play!
And if you add wine to the equation, there you have it (hours and hours of teasing, getting mad and sheer fun).
It's funny how one board game can turn you into a grumpy child when losing and the happiest creature in the world when winning. And that's the real beauty of it!
Drive-in movie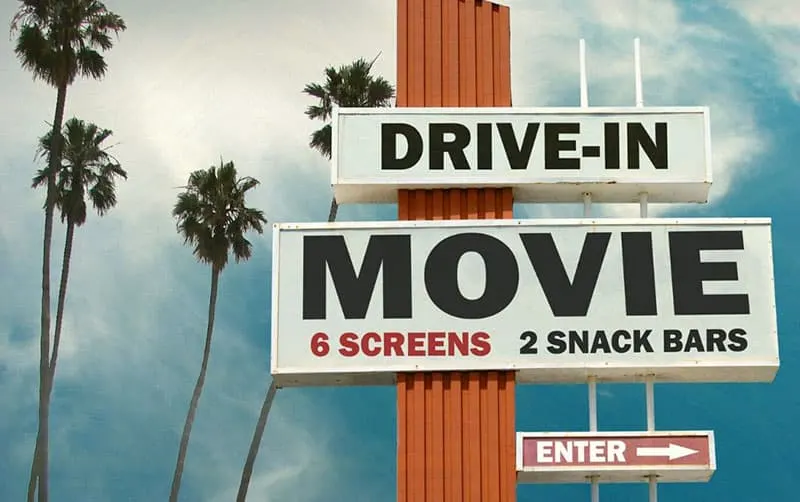 This is one of the most romantic things you could do as a couple. Drive-in movies have this vintage vibe and they scream cuddle and cozy!
Watching a movie on a chilly summer night on the back seat of your car is a true art in itself.
For secret ingredients that will spice up your special night, take plenty of snacks and enjoy cuddle sessions and love in the summer air.
Also, drive-in movies are a great alternative to that overrated classic movie night or TV show night at home.
Wine tasting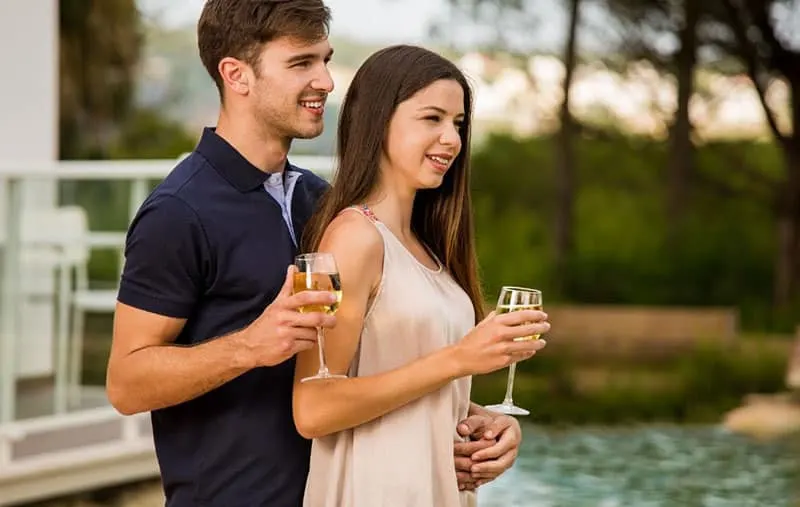 If there's an event of a wine tasting near you, make sure not to miss it! However, if there isn't, you can always organize a picnic in your backyard or on the floor at your place.
All you need are a few bottles of wine, some cheese and relaxing tunes. Trust me, your taste buds will be grateful to both of you.
See also: 20 Amazing And Cute Late Night Date Ideas For All Couples
DIY projects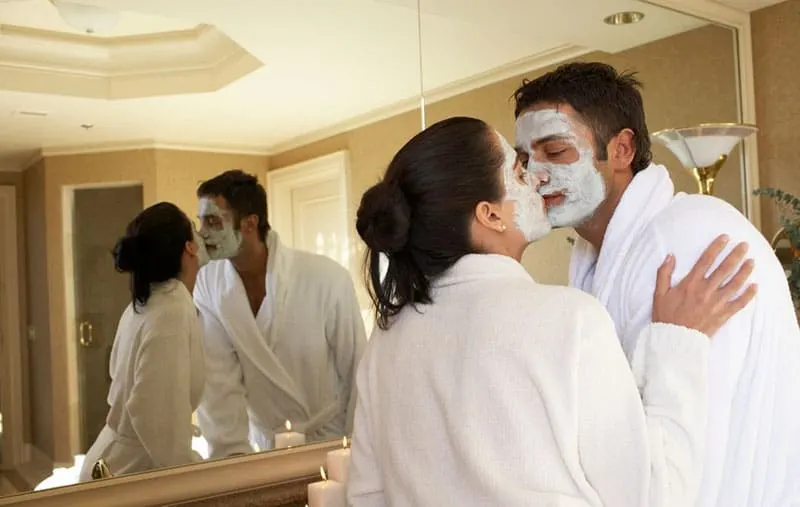 Because DIY projects are always trending! Best of all is that there are multiple ideas for this kind of project and all you need is creativity and imagination.
You can get artistic with ceramics, jewelry, glass fusing—you name it.
Also, you can try spa day DIY projects like massages, long bubble baths, face masks and so on.
This reminded me of the time when I tried those black face masks for blackheads with my boyfriend.
We looked so hilarious and our DIY project ended up with a long photo session filled with plenty of good laughs.
Scavenger hunt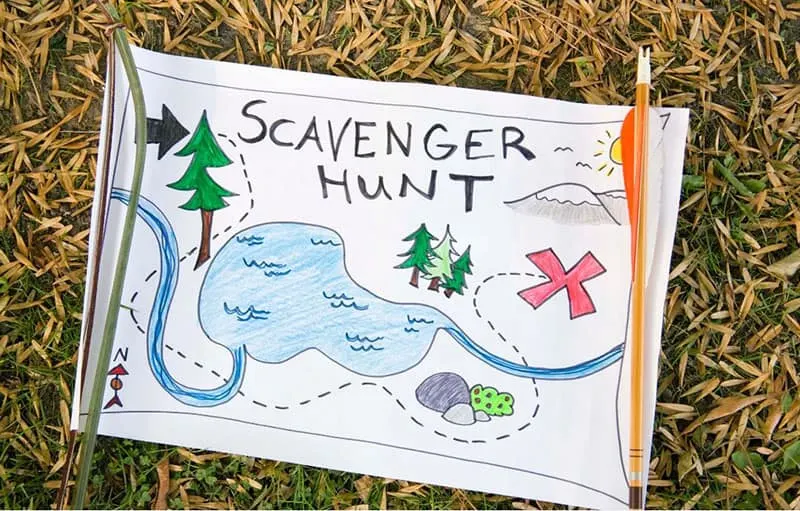 Just like DIY projects, scavenger hunts are also a popular thing (especially among couples).
You compete with your partner or a group against other groups and look for clues all over the city. This fun activity usually lasts for a few hours and pure fun is guaranteed!
This one activity is also great when it comes to bonding with your partner because you have to cooperate in order to find those clues.
You're a team and that's one of the best ways to strengthen your relationship as well.
In case there are no scavenger hunts in your area or any place near you, you can always organize your own!
Rock climbing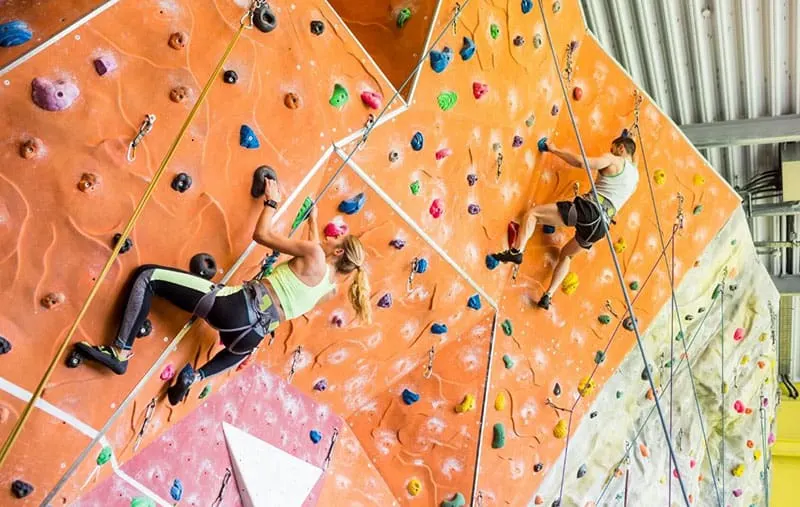 In case you haven't tried it, know that rock climbing is an awesome adventure. Also, it can be competitive if you decide to compete to see who will be the first to reach the top.
If you don't have experience with rock climbing, it's advisable that you first practice on an indoor climbing wall before switching to natural terrain.
Stargazing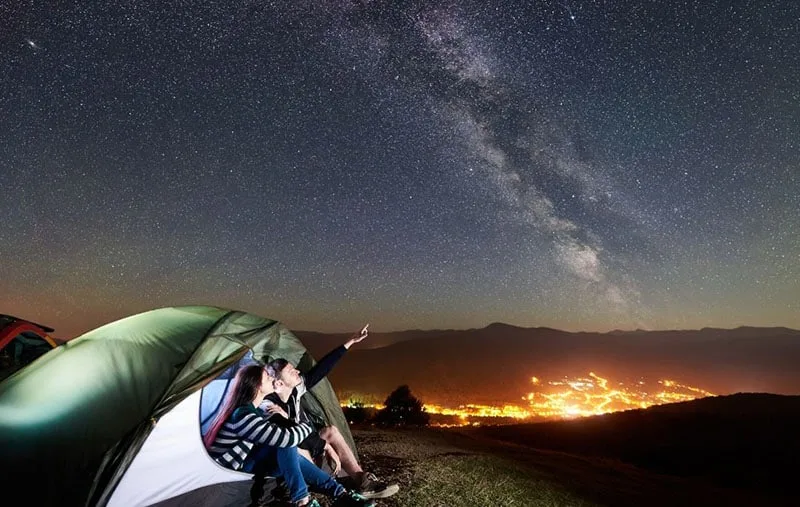 Oh, stargazing is definitely one of the most romantically spontaneous things to do with your boyfriend.
You can stargaze in your backyard, in a park or someplace else that you find suitable for this activity.
If you're afraid of getting stuck in a rut, just go stargazing! It's that simple.
It's true that this activity has the power of connecting you in the most powerful way possible, as it is like stopping for a moment and deciding to observe the beauty of the universe.
It will boost your endorphins and help you recharge.
Also, don't forget that holding hands and talking about inspiring topics while stargazing are a must.
Related: 50 Best Long Distance Relationship Activities And Ideas
Attend a cooking class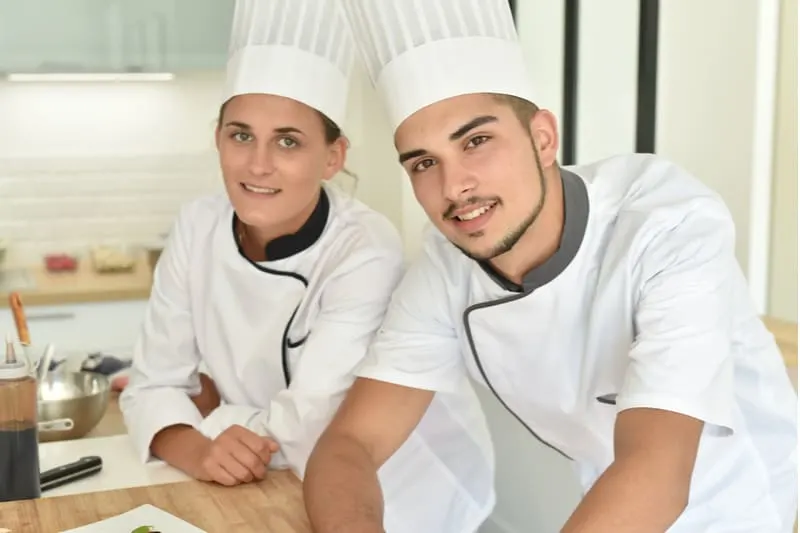 Regardless of whether one of you is pro at cooking and the other is, let's say, a newbie, you can still attend a cooking class and learn so much from it.
And, most importantly, you can have plenty of fun and as a result, you can make your dinner dates more professional and tasty.
You see, attending a cooking class with your boyfriend is a win-win situation so you shouldn't skip it. It's a perfect example of mastering an activity while having fun with your partner.
People-watch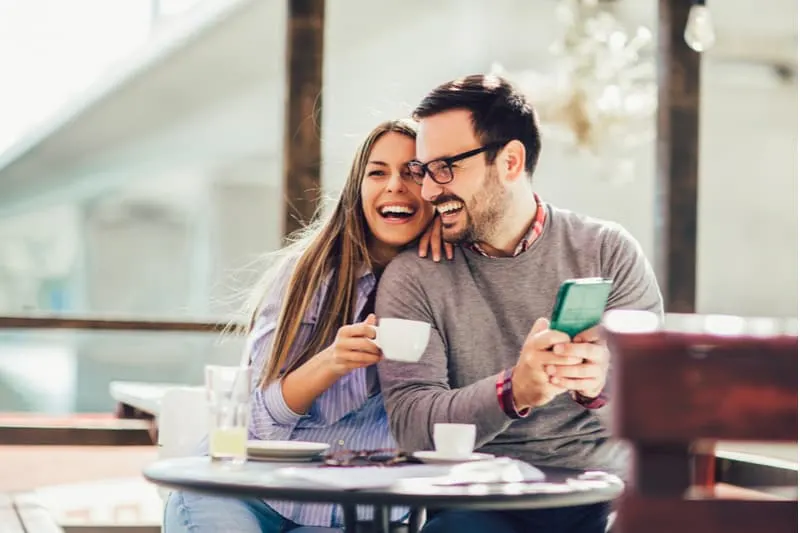 I know it sounds creepy at first but a people-watch activity is SO much FUN!
Just pick a bench in the park where you'll sit with your partner and observe other people (after that, you can also play some Frisbee if you're in the mood).
I have done this a couple of times with my boyfriend. Instead of sitting on a bench, we were in a cafe and observing other people through the window.
We randomly imitated the people on the street while pretending that we were them. I can't remember the last time I laughed so hard.
Another reason why I love this fun activity is because you can learn so much about people's habits and their personality, intentions and way of thinking, just by observing their body language signs.
Play video games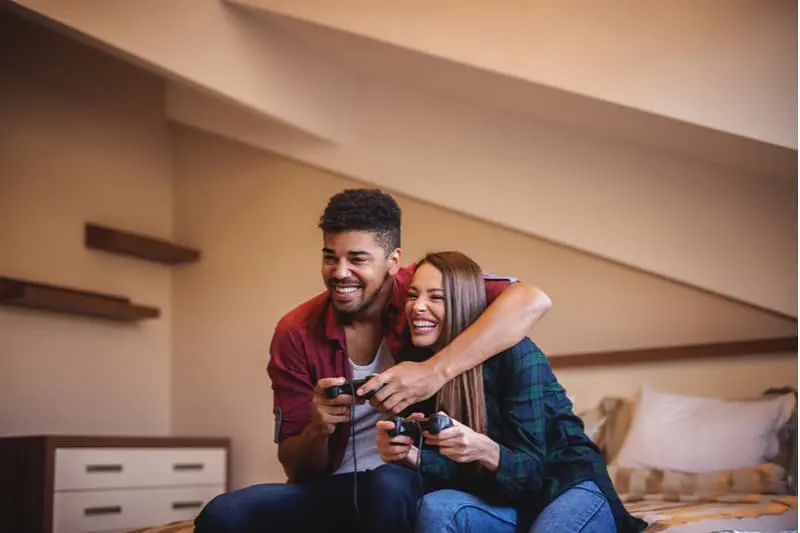 If your boyfriend is a hardcore gamer, then this one activity is a must for you! Just joking.
You can play video games with your boyfriend even if he's not a hardcore gamer because I doubt that any boyfriend would reject this fun idea.
My personal suggestion is playing Mario Kart because it's really competitive and it's not that demanding.
It's one of those games for casual gamers, which means it's suitable for newbies (like me) as well.
However, as always, it's best to explore what kind of couple games are trending at the moment and I'm sure you'll be able to find some exciting video games for you and your bae.
Go on a bike ride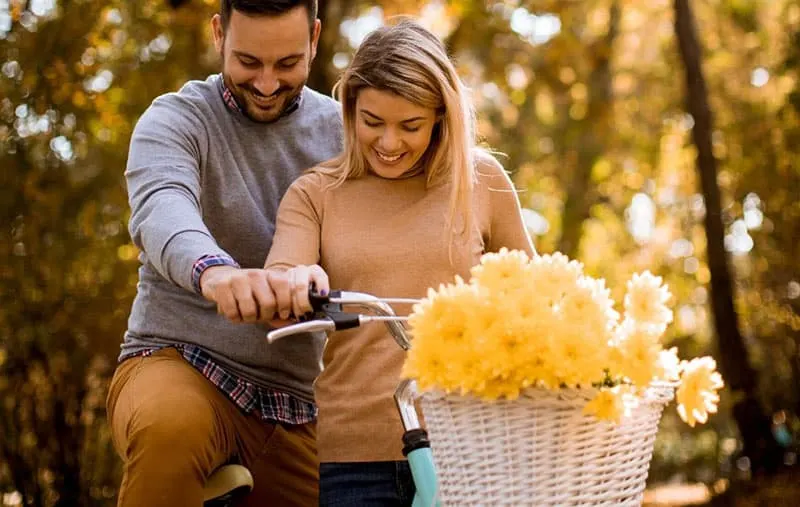 The first thing that pops into my mind when I think about bike riding is the wind in my hair, the feeling of freedom, absorbing the sun's rays and just enjoying it all.
For me, riding a bike is a liberating experience and definitely one of my favorite activities with my bf, solo or with friends.
If you're a fan of bike riding as well, then you shouldn't miss doing it with your boyfriend.
A little bit of exercise and laughter is good for your health and best of all, you can visit some exciting places on your bikes.
Always driving around in a car (especially during summer) is mainstream and lame but bike riding has this vintage kind of vibe and you have to admit that every time you see a couple bike riding, you can't help but think: Oh, how cute!
Yup, that's exactly what I'm talking about.
Rollerskating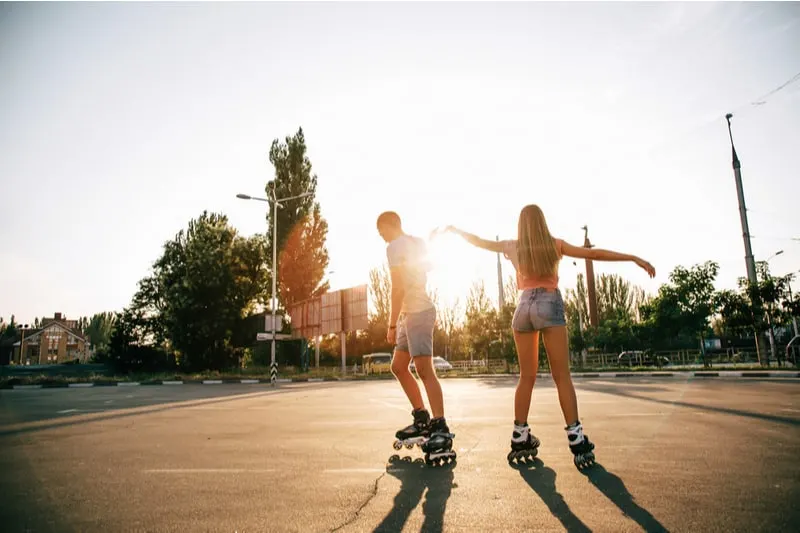 If you're looking for a fun way to bond with your bae, rollerskating it is!
I have to admit that I've never been good at this activity but I realized that because of that, I always end up being a source of good laughs, which is great.
Once you do it together, rollerskating with your boyfriend will become your favorite activity! Also, just like bike riding, this is great for boosting your health, too.
And don't think that rollerskating is only reserved for children because it's not. It's perfectly suitable for any age, so
I'm sorry but no excuses.
Go ice skating
Is there anything better than going ice skating during winter, drinking hot cocoa and making out with your bae afterward? I bet there isn't. So, DO IT!
Go ice skating with your boyfriend, fall a few times, laugh at your misfortune, hold hands while skating and do whatever your heart desires.
Ice skating is one of the most magical things in the world and it gives every winter that special touch.
It's both recreational and fun, which are the two main ingredients for having the time of your life with your loved one.
I know you'll remember these words once you go ice skating and you'll laugh to yourself for being skeptical at first.
Hot air balloon ride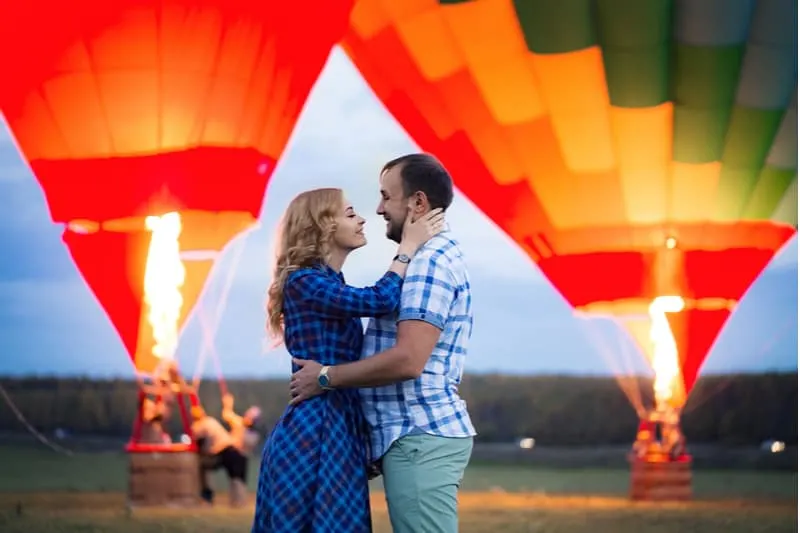 When I was a child, I remember constantly contemplating riding in hot air balloons and I would imagine how the world would look like when observed from above.
Hot air balloon rides are probably a part of every child's bucket list and a faithful companion to their imagination.
However, not only children enjoy this magical activity. When riding in a hot air balloon, adults become legit children and observe everything around them with amazement.
Hot air balloon rides have that effect on people. You feel so powerful and at the same time, you're a little bit anxious about falling.
Doing it with your partner is one of the most romantically adventurous experiences, so you should definitely try it out (if you haven't already).
Skydiving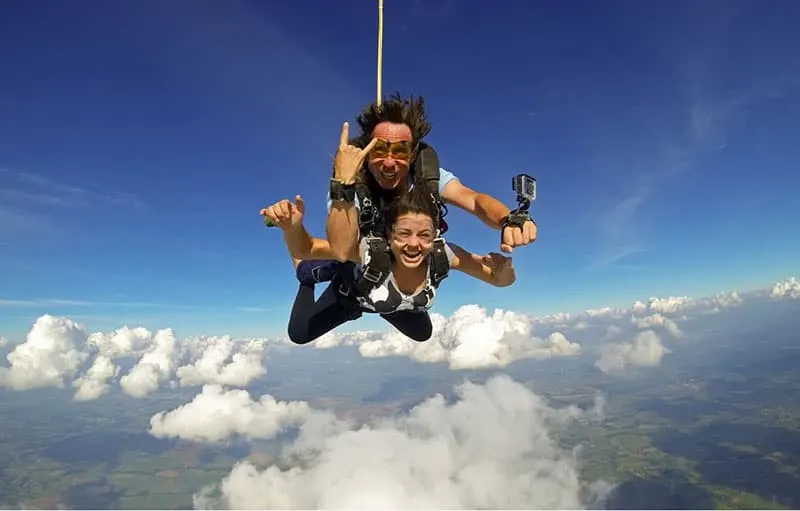 When you read the word skydiving, you either immediately think to yourself: Oh, no! Or you are thinking: Hell, yes!
The thing is, when it comes to skydiving, people either are scared as hell of it or they're all in. It seems to me that there is no middle ground here and I guess there shouldn't be.
So, if you have skydiving on your bucket list, it would be high time to make it a reality. And is there a better way than doing it with your partner in crime, your boyfriend? No, there isn't.
If you're both kind of scared of this activity, this will be a great opportunity to face your fears together and laugh afterward about your screaming that was so intense to the extent of embarrassing.
Trust me, both of you will be proud of yourself once you gather the courage and finally do it. So, do it!
Have a movie marathon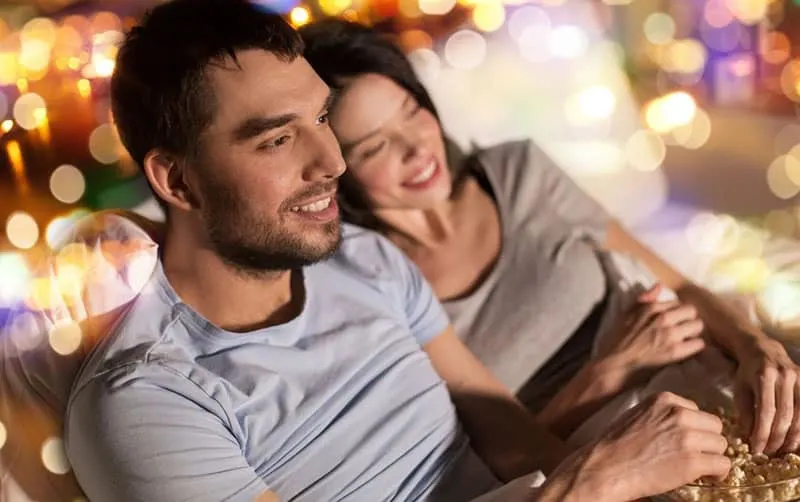 Remember when I said at the beginning that classic night movies are overrated and you should do diverse things instead of repeating yourself?
So, this doesn't mean that you should never binge-watch together.
It's good from time to time to change activities. You can't go ice skating forever or play video games for an eternity.
The secret lies in constantly spicing up your life with different things instead of overdoing one or two of them.
You can make your movie marathons diverse by changing the setting of them. Sometimes, you can watch random choices on Netflix and other times you can watch something else.
Ice cream and other goodies should be on the list as well.
Also, if you feel adventurous, you can wear the same outfits as characters in the movie you're watching or even add some Halloween make-up for a greater effect.
See also: Top 15 Sweet And Fun Couple Games To Spice Up Your Relationship
Play golf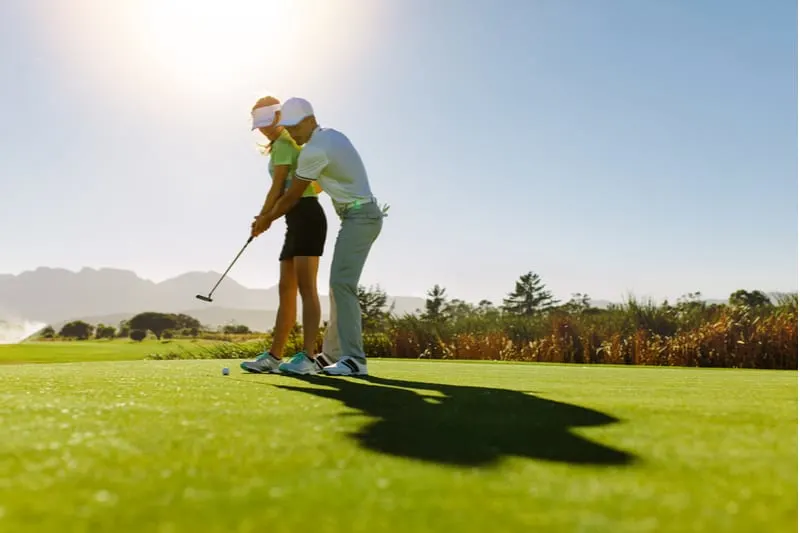 Many people associate playing golf only with older people (perhaps because that is how it is depicted in the movies).
But the truth is that golf is an activity that's suitable for any age and for couples as well.
So, if you have the opportunity to play real golf or mini golf in your area, go ahead and try this amazing activity! One thing is for sure—you won't regret it.
You will only regret not doing it sooner because golfing is both a relaxing and recreational activity that can spice up your summer and relationship.
Make a scrapbook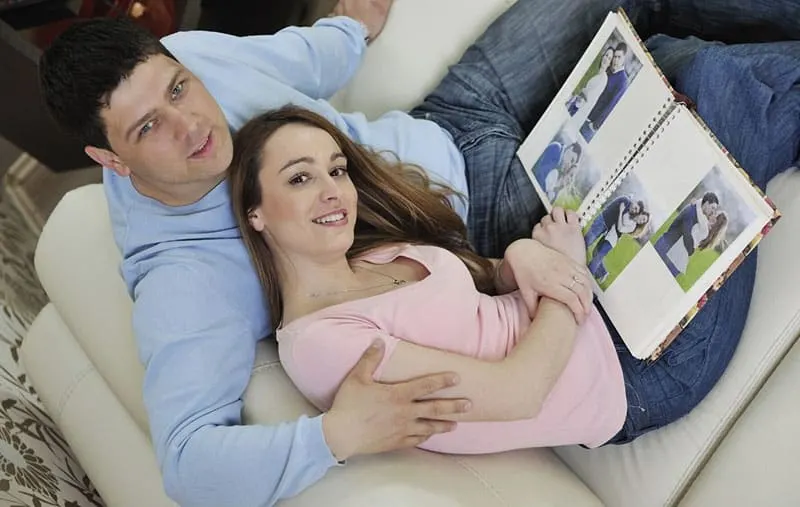 If you've been in a relationship for a while, you probably have tons of pictures that you took at different places.
You have pictures from your first date night, road trips and other places and it would be a waste to keep them on your phone or laptop.
The best way to collect together all those special moments into one is by making a scrapbook.
You can add all or some of your photos, tickets, letters or similar in chronological order or randomly and then write a note next to every pic or item or draw something that you associate with that picture or ticket.
You can write something funny that you or your boyfriend said at that particular place or you can write a heartwarming love note.
Basically, you can do whatever you want with your scrapbook and the only rule is that there is no rule.
The process of making a scrapbook is fun and creative and best of all is that it will help you recall all of your special moments.
Play a game of Twister with some ice cream
Ah, Twister! A classic game from our childhood that's simply contagious and some Twister night memories are still laughable to this day.
To spice things up, I suggest playing a game of Twister where you'll put some ice cream on each spot.
This 'plot twist' (pun intended) will spice up the classic game of Twister and bring you more laughter than expected.
Adding ice cream to the game is definitely one of the brilliantly spontaneous things to do with your boyfriend and I know that (the majority of) you will agree with me.
Volunteer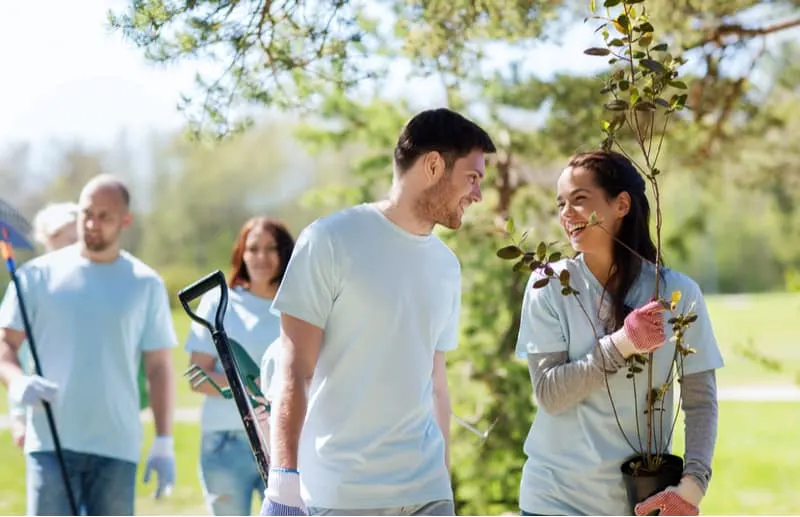 In the general sense of its meaning, I think that the best activities are those that keep you entertained and engaged and help you evolve. Volunteering is one of those activities.
Contributing to your community with your boyfriend is one of the sweetest things to do. Similarly to a scavenger hunt, you feel like a team and like a part of something greater and bigger than you.
And the great news is that volunteering can literally revolve around anything, from gardening to taking care of homeless and older people, there are plenty of other activities with which you can contribute to your community with your bae.
This will make you feel better about yourselves because you know you're making the world a better place and at the same time having fun while doing it.
Play a prank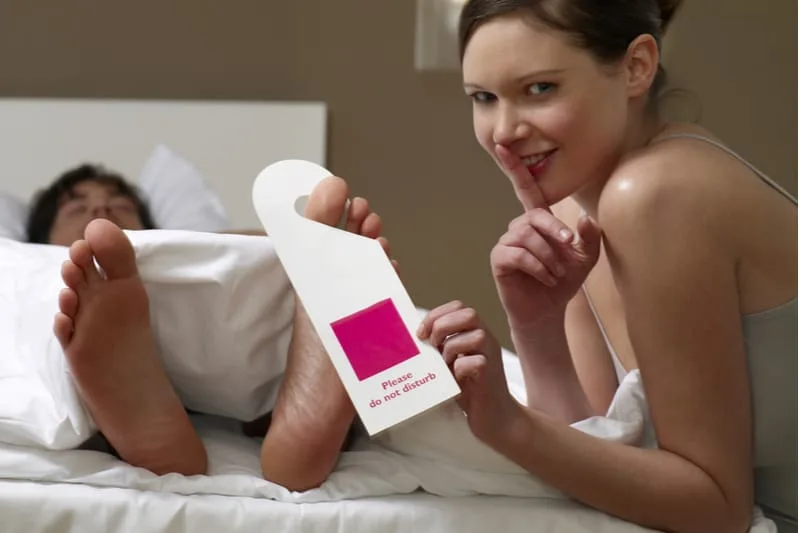 When I was a child, I would get pranked by my older brother regularly.
He would hide somewhere and jump in front of me or he would replace my juice with something else that I didn't like to drink or similar.
Motivated by grumpiness, I would do the same to him and the prank game would become neverending.
Now we are older, we no longer prank each other but I think we definitely should continue the tradition.
If you've never played a prank on your bae, now is the time to do it!
You can choose from a simple prank like calling your partner to meet you at a coffee shop only to realize that you won't show up to a more complex one like pretending that something bad happened and you need their assistance ASAP.
As always, all you need is creativity and imagination.
In case you don't have time for that, there are plenty of pranks on the Internet and people who do it on a regular basis who have become famous YouTube individuals.
Throw paint at a canvas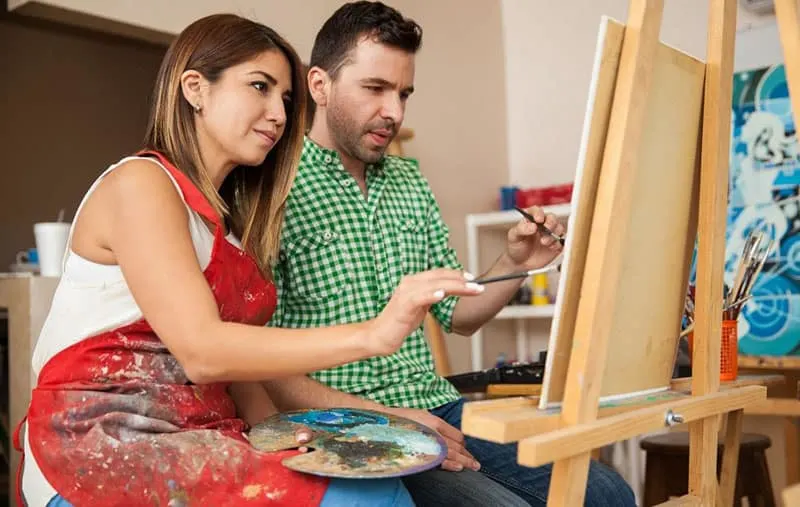 Two words: stress relief! If you ask me, throwing paint at a canvas should be an obligatory activity at every school, college and workplace.
When you finally finish it, you'll feel proud of yourself for this amazing accomplishment that took lots of patience and cool-headedness.
It's one of the best methods for stress relief and it's one of the most entertaining activities.
All you need is a canvas and paint. You can throw paint at a canvas with a brush or you can use your hands instead.
Heck, you can make a masterpiece with your body parts and then save the work of art as a memory or exhibit it somewhere at your place.
There are no limitations and as an abstract artist, I can tell you for sure that you can't go wrong. Just feel free to express yourself and fill the canvas with emotion and positive energy.
And also remember to laugh a lot when you accidentally get paint on yourself instead of the canvas.
Get lost on purpose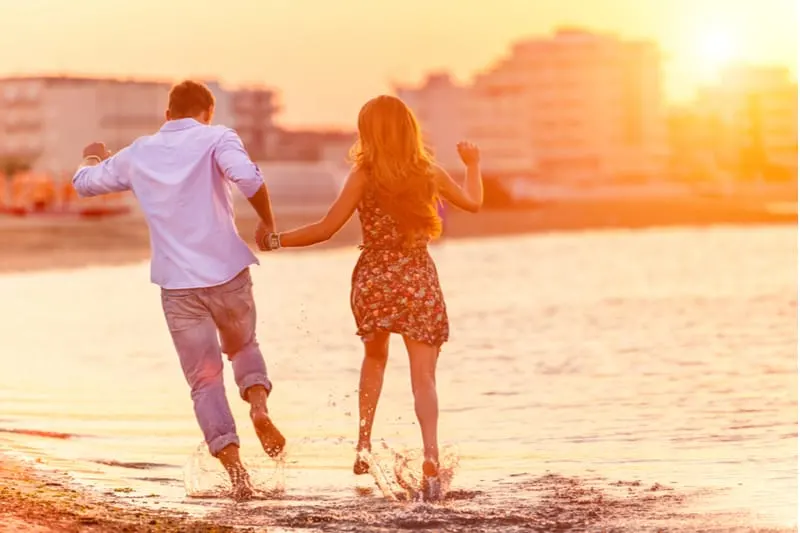 This is one of the funniest activities ever.
Getting lost on purpose is not an easy thing to do if you know every corner of the area you live in so if you have the opportunity to go someplace else (a new city or another part of town), you should definitely do it.
The rules are simple here. Don't ask for directions but simply aimlessly wander around until you get lost and once you do, that's when the real fun will begin.
You can try to find a way out by following your intuition and if you fail at it, you can always ask local people for directions but don't give up that easily!
The truth is, we spend the majority of our time living by rules and blindly following our schedules, so getting lost once in a while doesn't sound like a bad idea after all.
It's one of the most inspiring and enriching experiences in one's life!
Go camping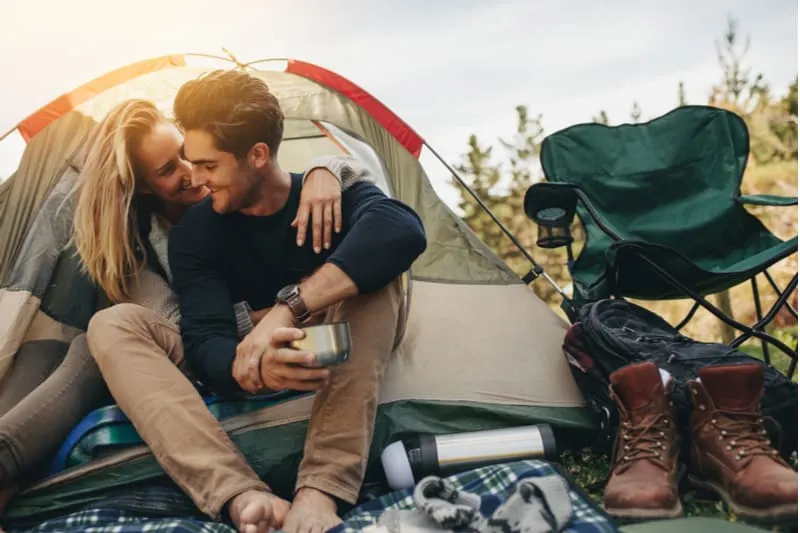 Camping is like a mini road trip but only in wilderness and there's nothing more inspiring than losing yourself in wild scenery.
This could be one of the funniest adventures because you only have each other, the sky, the trees and the vast wilderness. It will help you forget about everything and become one with Mother Nature.
Go a day or two without electronic devices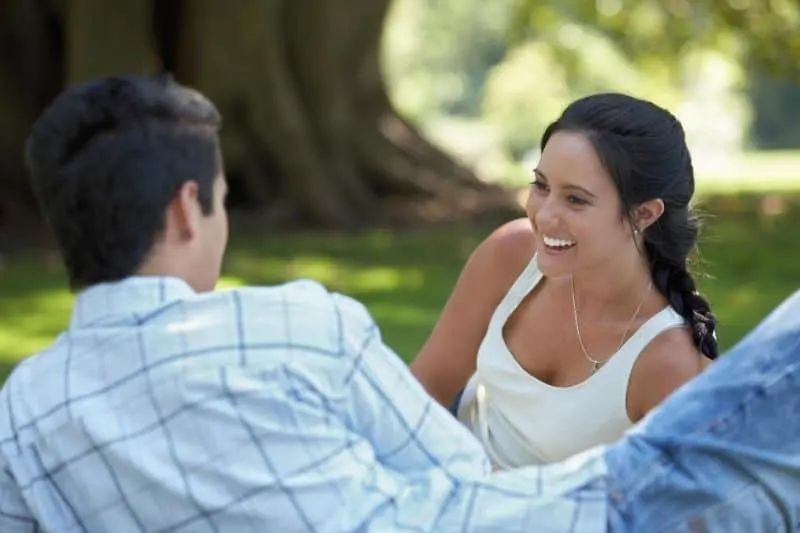 Electronics have become an inevitable part of our lives and that is why it's important to clean ourselves from its radiation, get some fresh air and enjoy a day or two without electronic devices.
Hide your smartphone, laptop or whatever you are using and see where this 'no electronics challenge' will lead you.
Just go with the flow and do whatever you want but make sure that this doesn't include spending time on your electronic devices.
This will soon become one of your favorite spontaneous things to do for your boyfriend and yourself.
Go trampolining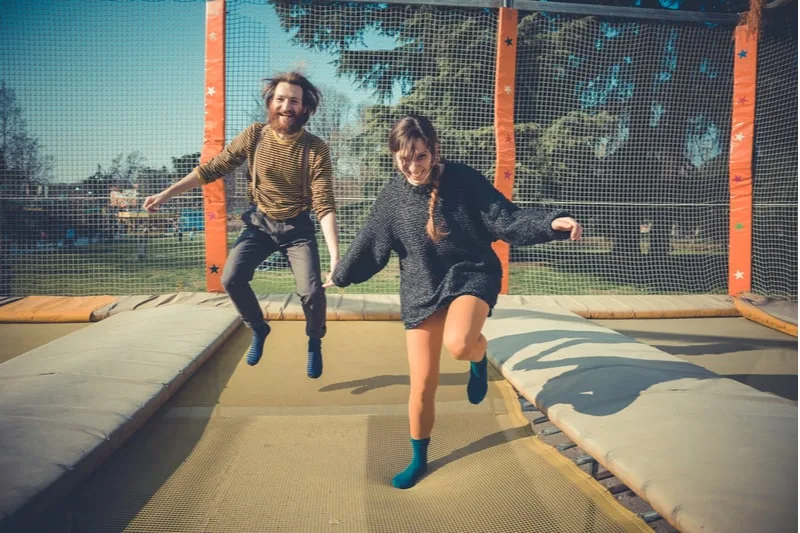 Even though trampolining is mainly reserved for kids, it is still a source of ultimate fun for adults too! I mean, who doesn't like to flip, bounce and jump like there's no tomorrow?
It's one of the most fun things to do with your partner because it gives you the opportunity to be a child once again and forget about everything.
If you ask me, trampolining is a remedy for every problem so whenever something is bothering you, just go trampolining and everything will fall into place somehow!
Ride a tandem bike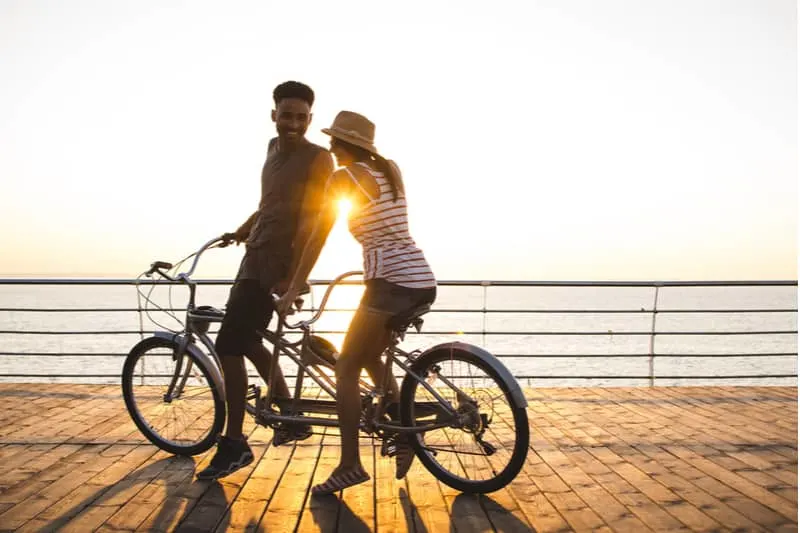 If you haven't tried riding a tandem bike, this is something you should definitely do with your partner.
At first, you'll laugh at how awkward it feels to ride it but once you master it, you'll thank God for this amazing invention.
Riding a tandem bike is like riding a regular bike but the main difference is that it is ten times more fun!
Drift down a river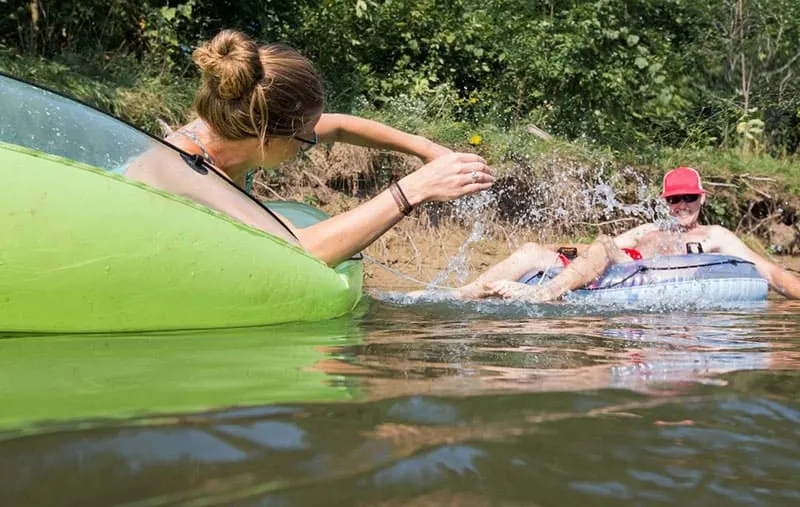 Just imagine lazy river tubing during the summer on a flotation device and enjoying plenty of drinks and food with your loved one. Sounds like heaven, right? And indeed it is!
Complete a giant puzzle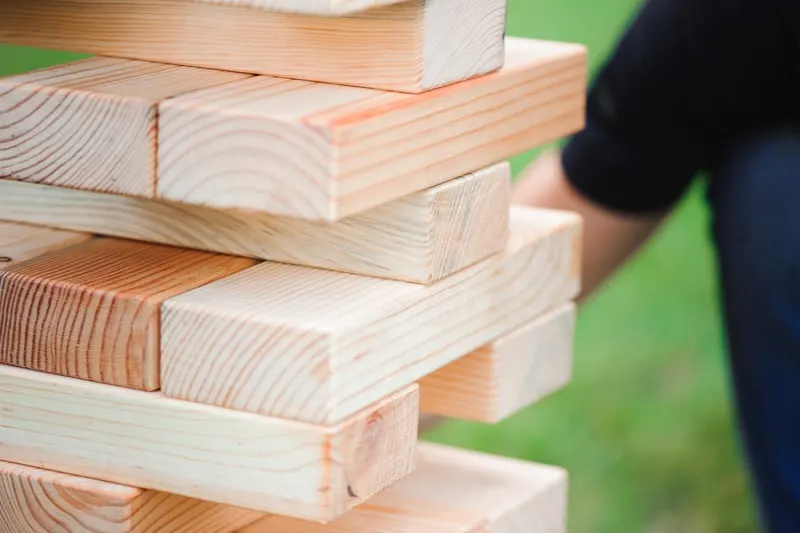 I know what you are thinking: "This one activity is for nerds only!" And no, it is not. Completing a giant puzzle is a fun activity for everyone and couples as well (okay, especially nerdy couples).
This activity activates thinking outside of the box, creativity and patience.
When you finally finish it, you'll feel proud of yourself for this amazing accomplishment that took lots of patience and cool-headedness.
Make a YouTube video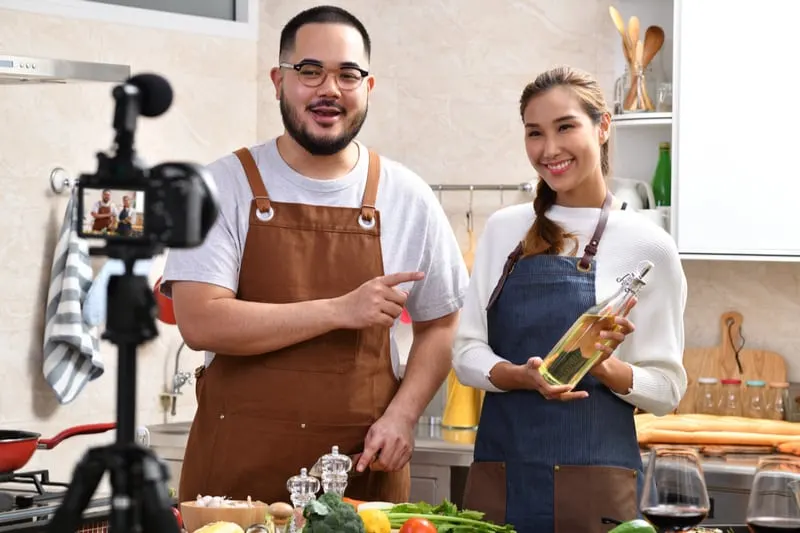 If you or your partner have any hidden talents like singing, drawing, dancing or similar, record it and make a creative video.
The process of video creation will be so much FUN that you will decide to do it on repeat for the rest of your life.
Perhaps you'll get plenty of views and new publicity. Needless to say that YouTubers nowadays earn tons of money with their unique content, so keep that in mind as well!
Earning money while having fun sounds like a dream come true.
Rent a boat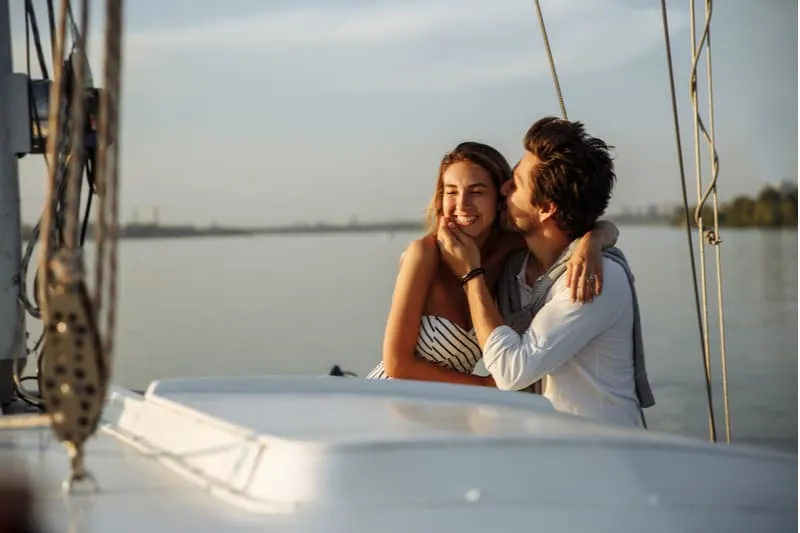 Whenever I think of summer, I instantly imagine water, trees, mountains and inspiring nature scenery.
Renting a boat and absorbing this beautiful scenery with your partner should be a must for every couple.
It's up to you to decide whether you'll paddle, row or just go with the flow. As always, the best bet is to combine all three styles and make the best of your water adventure!
I hope you enjoyed this list of spontaneous things to do with your boyfriend. Whichever activity you choose, just keep in mind one thing: Have plenty of fun!
See also: 21 Questions Game: The Best Questions For Both Him And Her