Let's face it girls—first dates can be incredibly awkward. When you don't really know someone and you're not entirely sure how you're going to get on, it can be a nightmare planning what it is that you're going to do. You've also got to think about what to wear, and us girls know exactly how traumatising choosing the right outfit can be!
Not only that, but we're just so over the whole fancy dinner and a drink scenario. It can be super uncomfortable whether you're head over heels for your date or not!
Either you're on a date with someone you have no chemistry with and you have no alternative but to stare at them as you eat your food and try and find some common ground, or you're with someone you really like and you get a little anxious about what to order because you don't really want to scoff your face in front of them!
See also: 9 Tips On How To Act On The First Date
Catching a film at the cinema isn't the best of ideas because you can't really talk or get to know each other. Sometimes bars are too loud to talk in and have the wrong vibe for a date and you might not feel quite comfortable with inviting someone over to your house for a first date.
So, what are the options you're left with? Though it might feel there actually aren't any date ideas left, there are actually tons of super cute first date ideas that will be heaps of fun for both you and him, help to break the ice, let you two get to know each other, and keep you both entertained.
We've gathered some amazing and unique first date ideas in this fun article to help you plan the date of your dreams—or at least drop some serious hints about what you'd like to do with the lucky guy you're heading on a date with!
1. A Picnic
OK, so we know we said dinner dates could be pretty awkward with someone you fancied but hear us out, because a picnic is totally different. Like, totally different.
Not only do you get to go and set up camp somewhere with a pretty view that you can both enjoy, but you also get your pick of scrummy finger foods that are easy to eat and super tasty too. You don't need to worry about spilling your spaghetti bolognaise down your pretty dress if you're only eating grapes! Smart, huh?
It also gives you the opportunity of enjoying something with a relaxed atmosphere that's private for just the two of you. You won't need to be nervous because it'll be just the two of you—and you can dress more casually and just enjoy each other's company. Plus, did we mention cute picnics look great on Instagram? Not that we're encouraging you to go on dates just for your Instagram feed or anything. Ahem..
2. Escape Rooms
Quite the contrast from the picnic, escape rooms will be a really fun date that will put you both to the test! If you've always fancied yourself a bit of a detective or you just love a good puzzle or conundrum, then this could be the perfect date for you.
Escape rooms are growing in popularity all over the world. The concept is that you find yourself in a room with a set of riddles or clues and you need to work out your escape.
It's a really fun challenge that will help you see if you're compatible, it'll keep you both entertained, and it'll offer you a great conversation point for you to discuss over drinks after.
Plus, if you don't fancy the guy, you can get stuck into the activity and enjoy yourself regardless! Win, win situation.
3. The Zoo
The zoo is an amazing date idea because let's face it, we all love being big kids. It's a fun day out that lets you get in touch with your inner child, but also offers plenty for you to see and do.
It gives you the entire day to walk and talk, but with lots of distractions if you need a little help moving the conversation along. Plus, you get to see some adorable animals—what could be better than that?
4. A Long Walk
A great date idea and a calorie burner at the same time? Sign us up!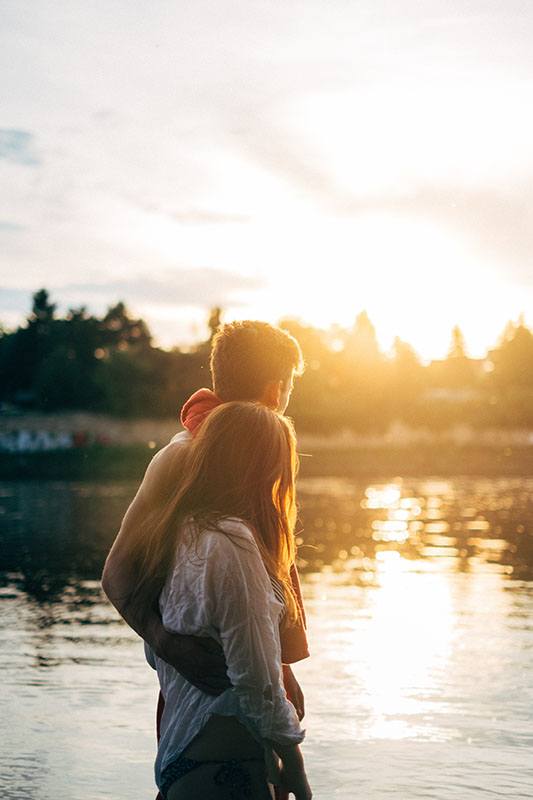 Going for a long walk is such an underrated date idea and once you've tried it out, you'll understand why it should move up in the ratings. Not only will you get some peace and quiet to really talk and get to know each other, but you'll hopefully have some gorgeous views as you're walking.
It's a great date idea that's casual and takes the pressure off too, allowing you to relax and really assess if you have chemistry.
5. Bowling
Bowling is an amazing first date idea because you get the chance to goof around, show off your silly side, and have a lot of fun at the same time.
It's pretty impossible not to enjoy yourself when you're wearing those crazy bowling shoes, right? You'll have plenty of time to talk as you're showing off your bowling skills, but hopefully the game will create an atmosphere that's just right and help create that first date spark you're hoping for!
6. A Carnival or Festival
A carnival or a festival might be a bit of a niche idea, but if there's one coming up in your area it makes for such a great first date.
There's so much to see, so much to do and if you're lucky, your new man might even win you a big teddy bear. How romantic!
From food festivals to wine festivals, classic carnivals and more, these bad boys are seriously great first date ideas. Just remember that if you go to anything in your local area, you might awkwardly run into some people you know!
We don't want to brag but we think we've absolutely nailed these date ideas. They're absolutely perfect, super fun and ALMOST guaranteed to ensure you have an amazing date every single time. Almost.
See also: Top 5 Romantic Dates Ever! It's Your Turn to Sweep Him of His Feet!