The day you turn 18, you take your first step into adulthood. You can now do some grown-up things, such as vote and get married, while others will have to wait until your 21st birthday.
An 18-year-old is no longer a child, but they're still a teen and want to spend their special day having a fun 18th birthday with their closest friends and loved ones. The perfect way to celebrate, then, is to do fun things without too much pressure.
Here are some 18th birthday ideas to choose from when you want to throw the perfect party or find the perfect gift to celebrate this milestone.
Best 18th Birthday Ideas
Party planning can be a daunting task, so keep in mind that the most important thing for an 18-year-old is to have a fun birthday celebration surrounded by close friends. As long as the party has that, it will be a success.
The best 18th birthday ideas are those that take into account the birthday girl or boy and what they'd like to do. If you're not sure what that is and you want to surprise them, get in touch with their best friend for inside info.
If you need more help, here are some tips for throwing the perfect party and choosing the perfect gift that any 18-year-old is sure to love.
18th Birthday Party Ideas & Activities
To organize an unforgettable 18th birthday event, you don't have to follow any rules as long as everyone has a good time.
You can plan a party to hold at home or at a venue, which is always a hit. Another way to celebrate is by doing something fun and exciting, even if it's not usually considered a party activity. Here are some ideas:
1. Slumber party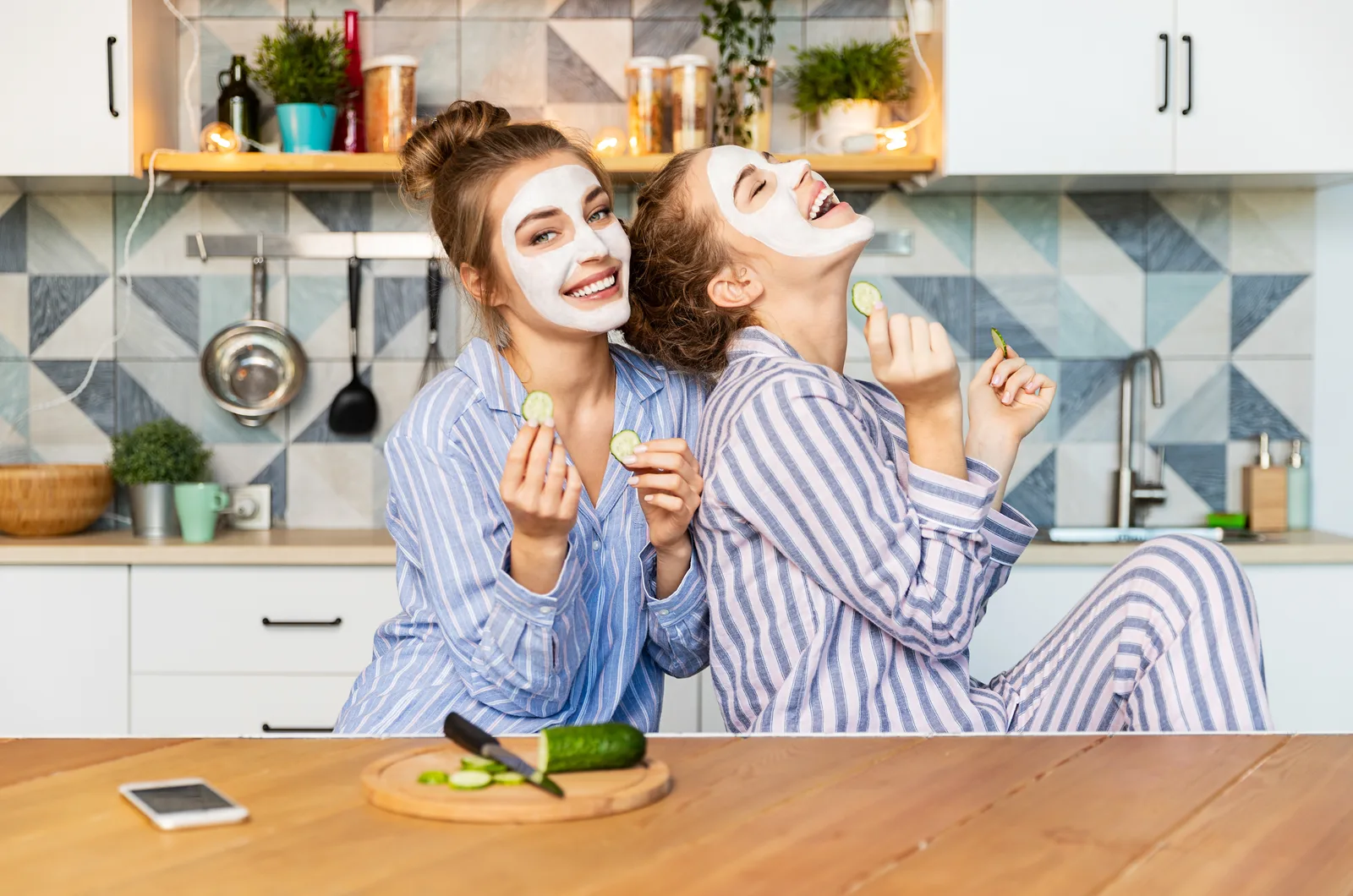 You're never too old for a sleepover . An 18th birthday sleepover party should be special, though, so think fancy PJs for everyone, glam decorations, and a selection of the birthday girl or boy's favorite activities and games.
2. Spa party
Turn the birthday bash into a spa day to be enjoyed by the birthday girl and all her besties. You can hire professionals to help or go casual and get all the supplies they need to give each other facials, massages, and mani-pedis.
3. Themed party
There are endless possibilities to choose from for an 18th birthday party theme, but the best one would be something that the guest of honor is into. Here are some suggestions.
• Zodiac signs: if they're into horoscopes, an astro-themed party would be perfect.
• Festival vibes: this is all about the outdoors and the boho decorations.
• Superheroes: for fans of action and excitement.
• Favorite movie/band: from Star Wars to BTS, pick whatever the birthday boy likes the most.
• Resort, luau, backyard beach: pick one of these if the ocean is too far, but you want the atmosphere.
4. Beach party
If you're lucky enough to live close to the beach and the weather allows it, a beach party would be unforgettable. It might take some effort to prepare, because setting it up would have to be done on the day.
5. Costume party/masquerade
Costume parties never go out of style. Choosing what to wear and seeing everyone's costumes is half the fun. If you want to get fancy, go for a masquerade with formal wear and masks covering only the face.
6. Outdoor party
You can go two ways with an outdoor party: a glam birthday under the stars or a classic backyard party.
You can even do both – during the day, get a slip n' slide, fire up the grill or have a potluck, and when night falls, go romantic and enchanting by changing decorations and activities.
7. Dinner party
A dinner party is perfect for a teenager who likes things to be more formal. It's also an option to start off the night with: have a dinner party, then go wild somewhere else later.
8. Pool party
If you have access to a pool, throw a whole day pool party to really celebrate this special occasion. Chilling with friends in the sun and going for a night swim is sure to become a precious memory.
9. Retro party
Pick whichever you think was the most fun era and go crazy. This is all about the dress code and decorations. Make sure everyone knows ahead of time what to wear. Here are some ideas:
• 1980s glam and colors
• '60s pop art
• Great Gatsby roaring '20s
• '70s disco party
10. Picnic party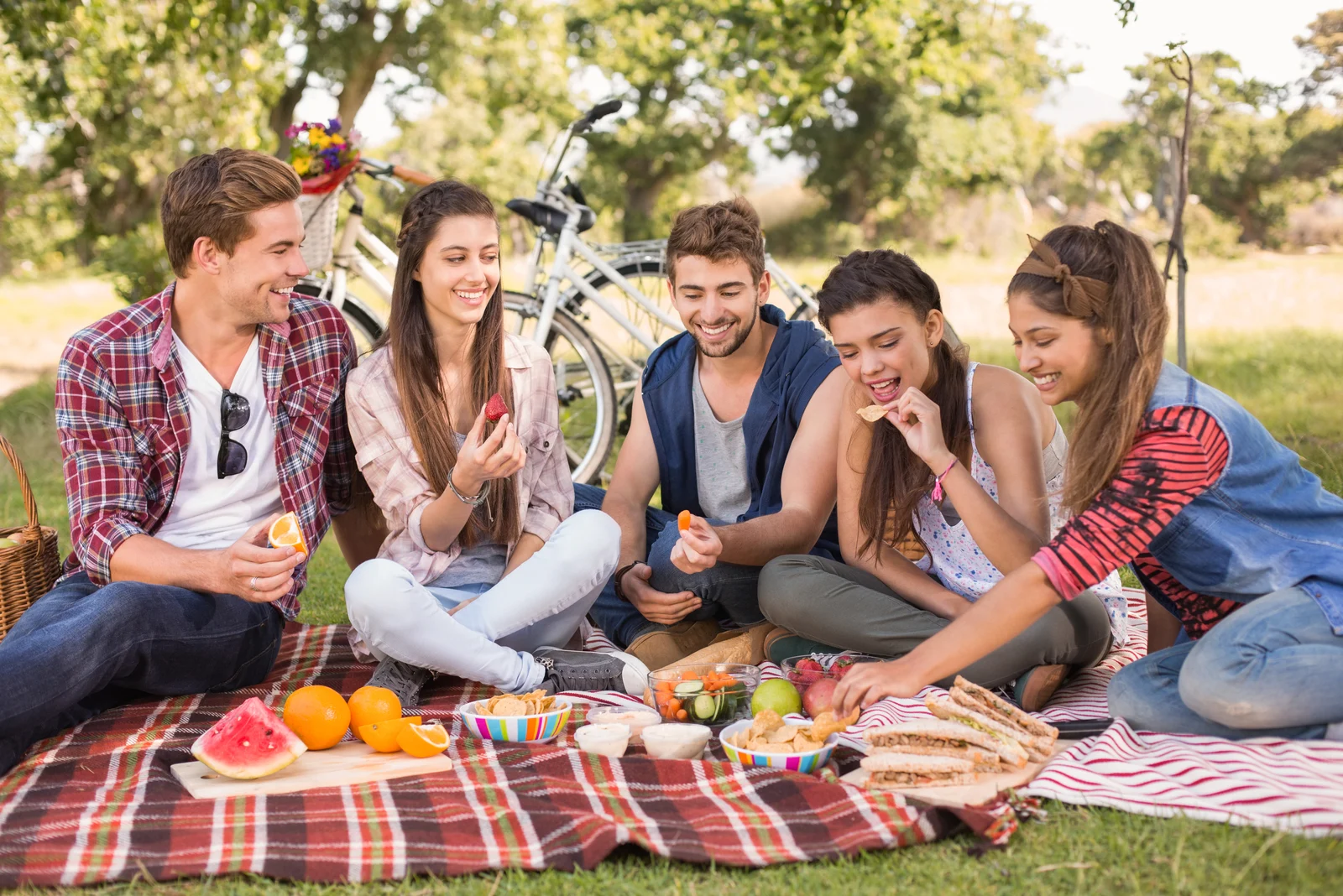 An easy daytime party that is all about the company and easy-to-eat food. You can set up various activities, such as Frisbee and ball games, or even bring pets to play with.
11. Movie party
A classic movie night can be fun, or you can throw a drive-in movie party. If there are none near you, you don't even have to go to a theater – you can create one right in your backyard with a projector and some comfy seating.
12. Celebrity party
Dress up as your favorite celebrities and act how they would at a gala. You can even set up a red carpet and ask for comments and blurbs. Of course, when the real party starts, everyone will be back to themselves.
13. Instagram party
Create a slew of photo opportunities for everyone and spend the night hanging out and taking perfect pics to post on Insta. Backdrops, costumes, and accessories are some of the items you might need.
SEE ALSO: The Best 18th Birthday Captions And Quotes For Instagram
14. Bonfire party
Make it cozy with a bonfire. Light some lanterns, get some blankets and make sure there's someone to play the guitar. S'mores are obligatory.
14. Murder mystery party
Party attendees get roles in the story, and after the imaginary murder happens, everyone is a suspect. This thrilling experience can be done using a kit you can purchase, or if you know what you're doing, you can organize everything yourself.
15. Party bus
Rent a party bus for a night for a unique experience. Everything is already prepared: lighting, music, and atmosphere. The only drawback is that it fits a limited number of people.
16. Dance party
It's a dance party if dancing is the main thing you're doing. It's not limited to just couples dancing – as long as you're having fun, anything goes. Music is key here, so pick music that the party guests like dancing to to keep them going all night.
17. Karaoke party
Even though you only need an app or a browser to sing karaoke, for a party, it's easier to rent a karaoke machine because of sound quality and ease of setup. Make sure to prepare some prizes for the singers to make it a special event.
18. Scavenger hunt
To make a really memorable scavenger hunt, it takes some planning. If it's too easy, it will end too soon, and if it's too hard, the guests will get frustrated. A fun theme is the birthday girl or boy and how well their friends know them.
RELATED: Friends Bucket List: 13 Challenges You Have To Do With Your Best Friend
19. Amusement park
Take everyone to an amusement park for easy fun. Rides, food, and entertainment are all covered – all you and your guests need to do is show up and enjoy.
20. Glamping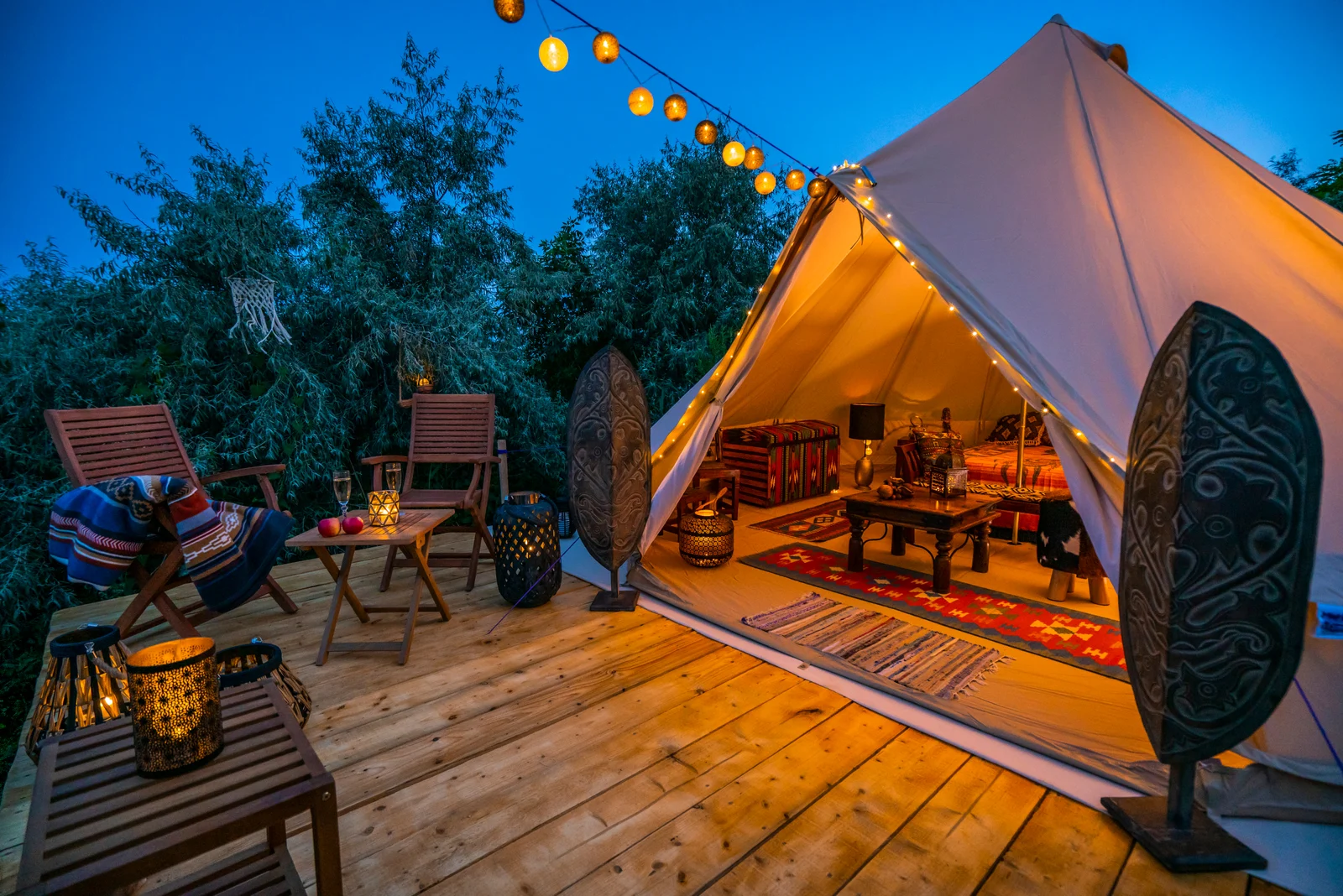 Glamping is camping but upgraded. All the amenities of comfort are there while you still have the camping experience. If you enjoy nature but don't like the inconveniences of camping, this is the perfect thing to do to celebrate your birthday.
21. Weekend getaway
A weekend spent relaxing and partying with friends to celebrate your 18th birthday might be just what you're looking for. Leaving town for a while gives you a sense of time stopping, and all you have to focus on is your party.
22. Staycation
Rent a room not far from home and spend time enjoying everything a hotel has to offer, from a spa to the pool to breakfast in bed with your closest friends. Enjoy your birthday with 24 hours of vacation and partying.
23. Disney trip
No age is too old for a Disney trip, and it's a perfect gift and way to celebrate for a Disney fan. Make sure to get a FastPass so you don't waste any time waiting on your special day.
24. Clubbing
An 18-year-old might still not be able to drink, but there are plenty of dance clubs that allow entrance for over-18s where the birthday boy can dance the night away.
25. Group class/workshop
Depending on what you pick, this might be incredibly fun and unexpected. You'll need to know how many people are coming before arranging everything. These are some ideas for things to do together:
• Trapeze/aerial yoga
• Cooking or baking something everyone gets to try
• Salsa dance class
• Pottery class
• Barista class
• Flower arrangement
26. Paintball/laser tag/arcade
Go classic and do a tried and true adrenaline activity that's sure to keep everyone entertained and enjoying themselves. After you're done, get something to eat and relive the best moments of your games.
27. Water park
Take everyone to a water park to enjoy attractions not available anywhere else. Fun is guaranteed for many hours.
28. Shopping spree
This might get expensive if you invite a lot of people, but it's a great idea if you're only inviting the birthday girl's closest friends. Get them a prepaid card or gift cards, and let them pick something they like instead of spending money on organizing a party.
29. Game night
The choice of what kind of games you play is yours: pick board games, party games, or video games, depending on what the guest of honor prefers. Or, if the mood strikes, pick all of them.
30. Cruise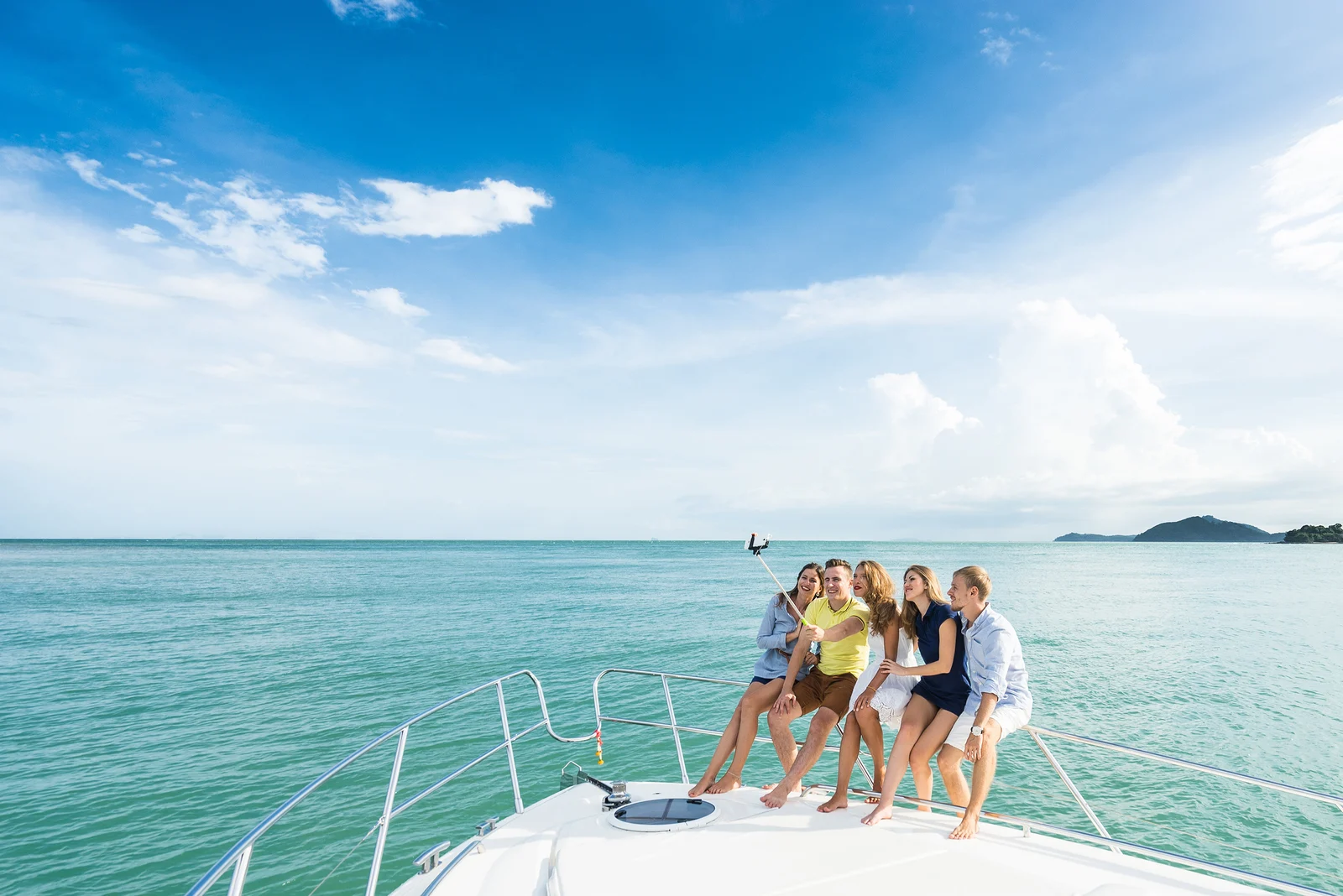 Take some friends on a cruise or a day cruise and enjoy everything it has to offer. From pampering to dancing to performances, everything is even better because you're at sea.
31. Bowling
Go bowling if you want a chill hangout mixed with some friendly competition. It might not be what you think about when you say party, but it can be more fun than you expect with the right company.
32. Concert
Spending time at a concert might be an amazing experience, especially if it's an artist everyone enjoys.
It might take some planning to get the tickets, and the day of the concert might not fall exactly on the birthday, but if it's something the birthday boy would like, it's perfect.
33. Adventure
Have an adventure together, but make sure that everyone is into it and that there are alternative ways to have fun for the guests who are less adventurous in spirit. Try something like skydiving, scuba, or ziplining.
34. Escape room
Escape rooms are incredibly fun to solve with friends and make you feel like a character in a movie. If your party includes more people than the room can fit, you can book multiple.
35. Surprise party
Every party is made better if it's a surprise party.
Hiding everything from the guest of honor might be hard if it takes a lot of planning, but even if they get the feeling that something is going on, they'll be surprised and happy if no one tells them exactly what to expect.
18th Birthday Decorations And Essentials
When you're planning a party, there are so many things to do and so many party supplies to get that it's easy to forget something. Here's a checklist of everything you need to help you host the perfect birthday bash.
1. Invitations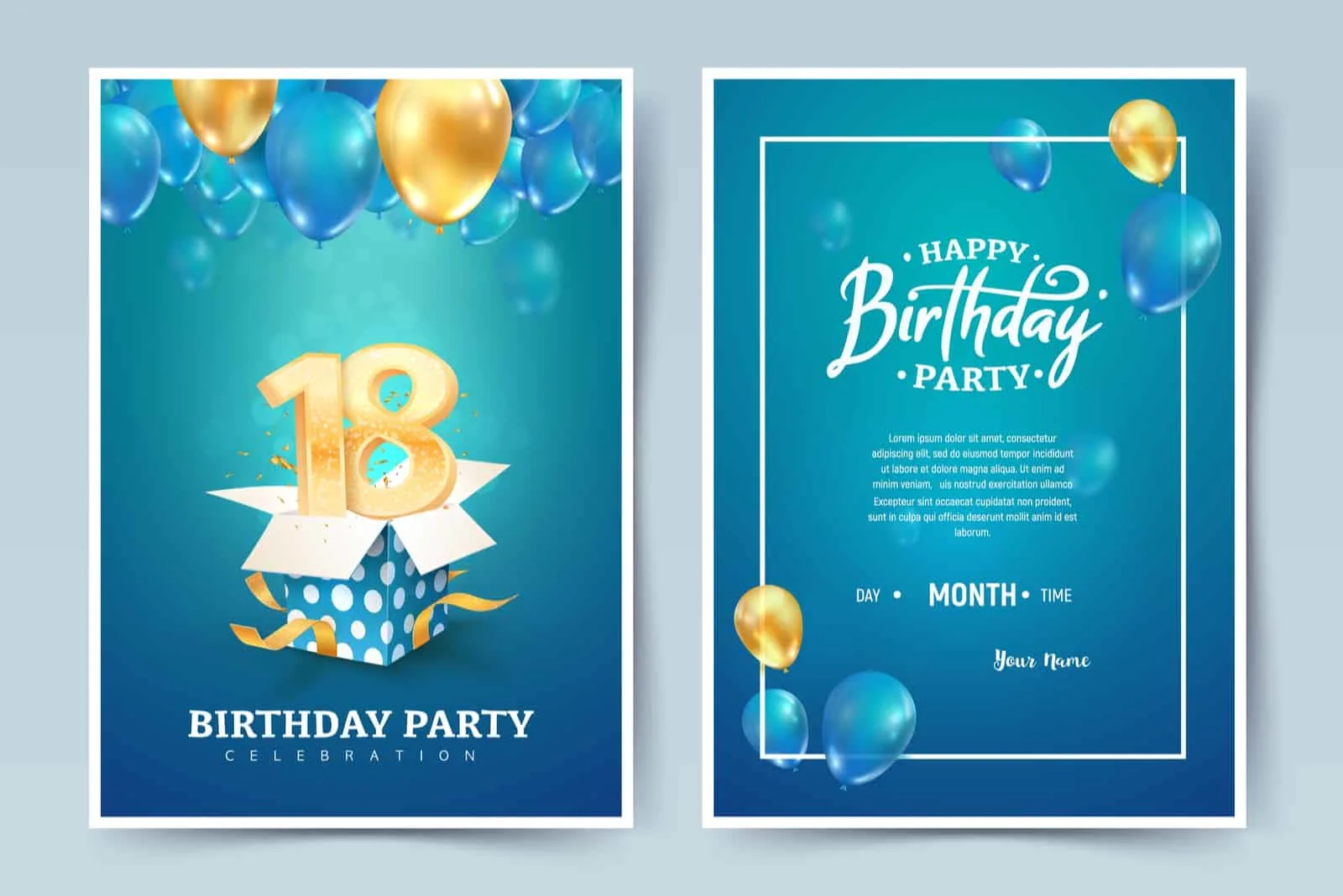 Send out those invitations, and make sure they're on time so that everyone can RSVP and get ready. If you already know what kind of party you're throwing, you might give the guests a little spoiler by sending out themed invitations.
2. Decorations
There are lots of things to think about when it comes to birthday party decorations. A happy birthday banner is a must, of course, as well as flowers to make everything brighter. Don't forget the streamers, either.
If there's food, make sure the centerpieces, tablecloths, plates, and cups all fit the theme.
3. Balloons
Balloons get their own section because what's a birthday without birthday balloons? You can't go wrong with number balloons, happy birthday balloons, and confetti-filled balloons.
Get a mix of helium and regular, and make sure the colors and the ribbons match the theme. If you want to go crazy, consider a balloon arch or balloon wall.
4. A birthday cake
Order a birthday cake that's to the birthday boy or girl's taste. It can be decorated in a theme or simply perfectly delicious, as long as it's something they'll love. Don't forget the topper and candles.
Another option is to go with birthday cupcakes if that's something the guest of honor would prefer. Decorate them in a way that makes it obvious that these are 18th birthday celebration cupcakes.
5. Food and drink
Food and drinks can be themed, or you can pick favorites. Fun and easy-to-eat food is the best if you can't decide.
You can place various stations where guests can make their own combinations, such as an ice cream station, a snack station, a dessert table, or a chocolate fondue. It might get messy, but it's fun.
Another thing you should consider is self-service drinks or a mixologist to make mocktails. Just one thing: don't forget the ice.
6. Entertainment
Entertainment will depend mostly on the theme of the party, but one thing can't be missing: music. You can prepare playlists ahead of time and strategically place speakers. Another option is to hire a DJ or even a band.
A party isn't complete without pictures, either, so you can set up polaroid cameras or a photo booth. For a special treat, hire a professional photographer to organize a photoshoot with everyone.
7. Mood
Setting the mood is all about the ambiance and lighting. Make sure that there are enough light sources and consider neon, lanterns, or mood lamps depending on the theme.
To really give the party a birthday mood, don't forget an 18th birthday tiara or crown and a birthday sash for the guest of honor.
8. Party favors
Assemble fun party favor bags for your guests to take home and remember the party. They can be simple and affordable or extravagant if that's your thing.
If there aren't too many guests, you might be able to give everyone a personalized gift bag, but there won't be anyone who won't love it even if you give everyone the same thing.
18th Birthday Gift Ideas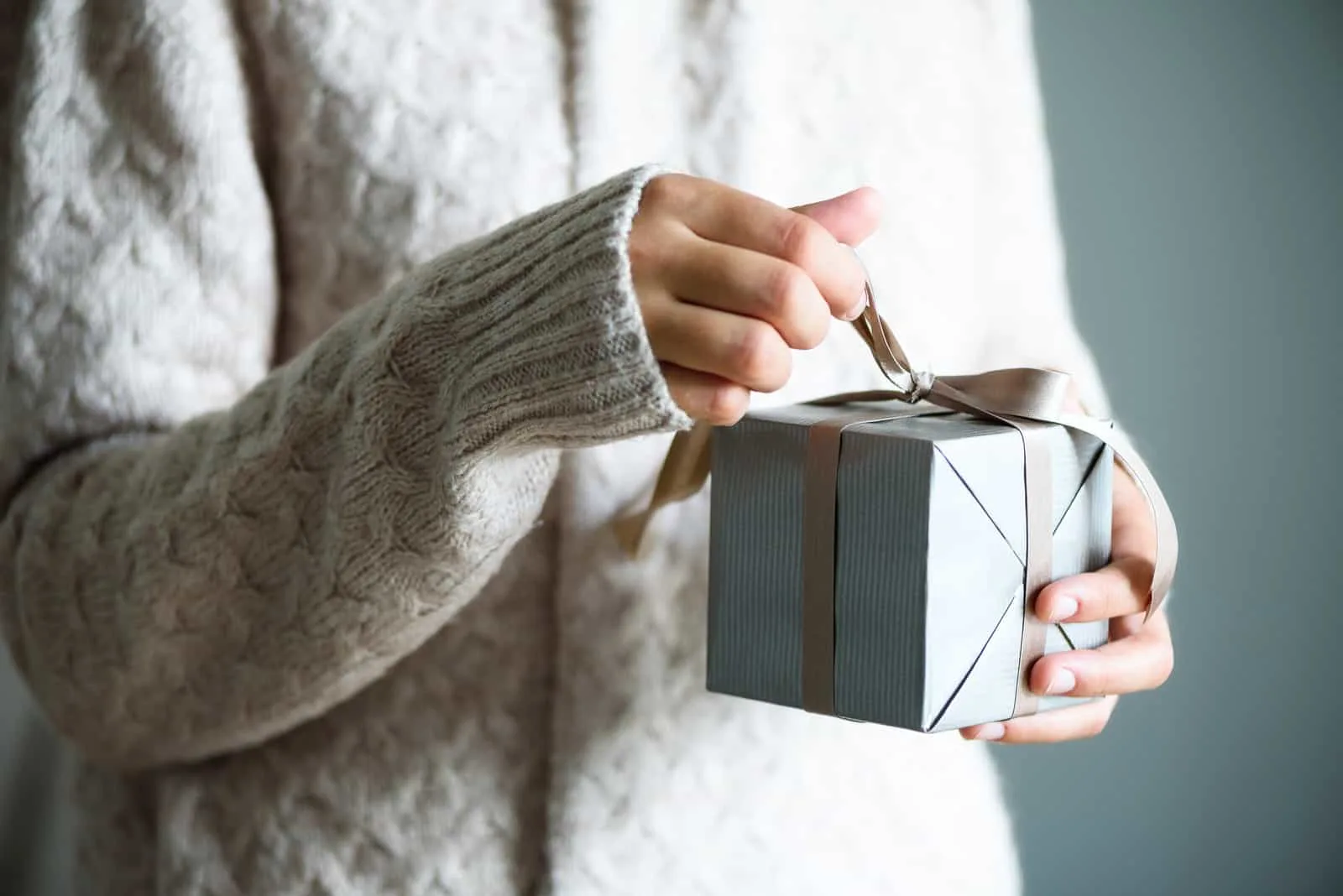 Choosing the perfect gift depends a lot on how well you know the person you're getting it for, but sometimes it can be hard even then.
Luckily, there are some things you can never go wrong with because everyone loves or needs them. Just make sure to pick the right birthday card with the perfect birthday message!
1. A trip
A ticket somewhere the birthday boy or girl wants to go is a gift second to none, especially for this milestone birthday.
2. An experience
Instead of things, why not offer an experience? Take them somewhere they want to go and give them a chance to do something they want to.
Things get forgotten, but memories remain.
3. Luggage
Maybe something to take with them when they go on that trip?
4. A bag or backpack
This is something everyone needs, especially an 18-year-old about to go to college.
5. A wallet
Say goodbye to kids' wallets, and get them an adult one.
6. Jewelry
Recently, rose gold-colored jewelry has been popular if you can't decide on the color. A necklace with a birthstone, a letter, or a medallion is a good gift for both boys and girls.
7. A gift card
Use a certain amount of money to get them a gift card to their favorite store. Your best choices are electronics and fashion.
8. A subscription
Everyone needs premium Spotify, a Netflix account, and Amazon Prime.
9. Hobby supplies
If the birthday girl or boy is into a hobby, you can be sure that they're always short on supplies. Try something like:
• artist painting set
• tie-dye kit
• tools
• craft supplies
• DIY kit
10. Headphones/airpods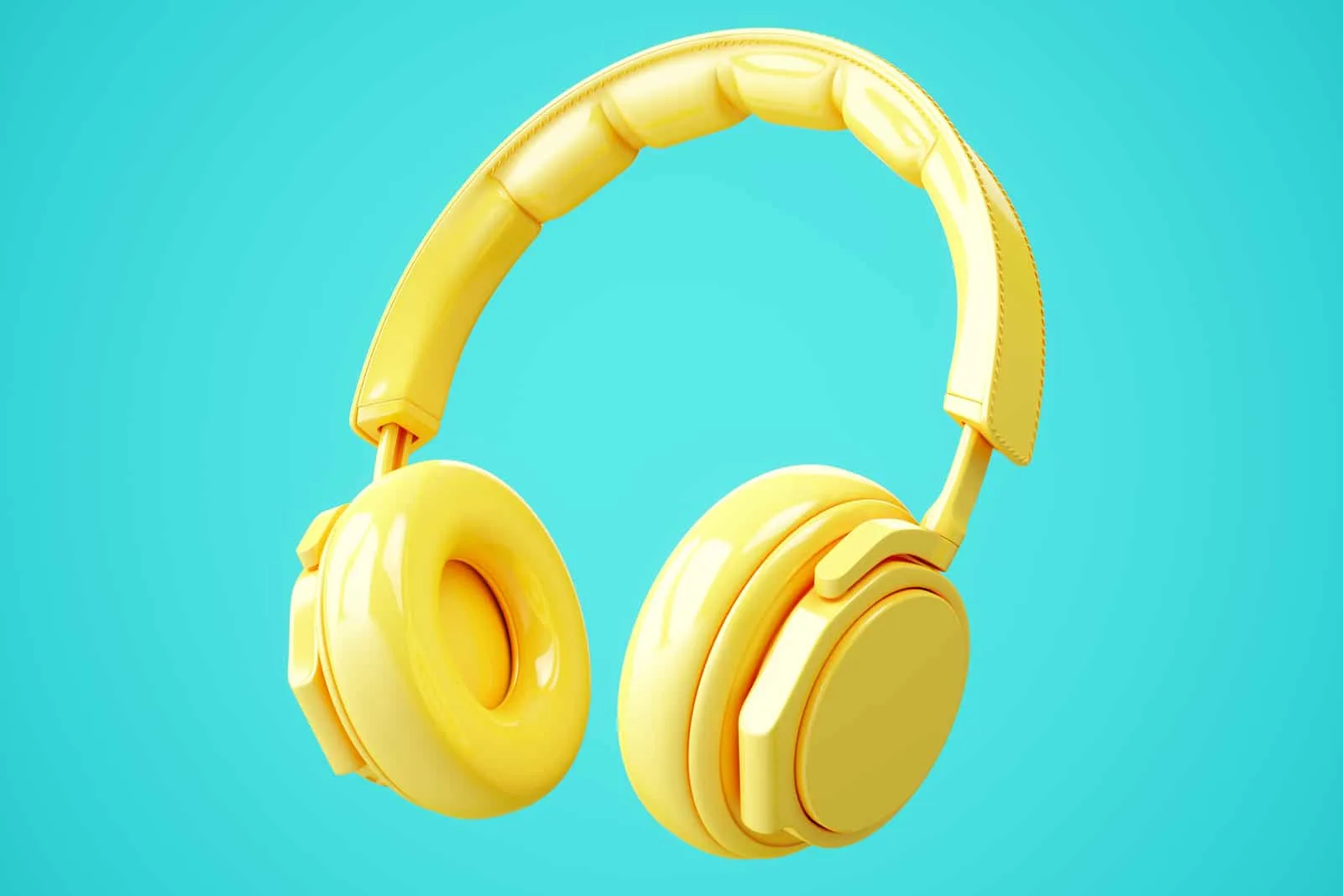 Noise-canceling earbuds or headphones will be a lifesaver for a future college student.
11. A Bluetooth speaker
For music lovers, this is a necessity.
12. A mini projector
When they go to college, they'll be able to host movie nights with one of these. A great way to make friends!
13. A charger
Get them a charging hub, a portable charger, or both. They really need it.
14. Bed phone holder
Even on lazy days, you need your phone.
15. A Bluetooth keyboard
It can be used with any device and is super practical.
16. A smart watch
Monitor health, get notifications and use your devices more easily with one of these.
17. Kindle
Some people prefer hauling a hardcover book around, but a Kindle or other ebook reader gives you the option of having an entire library in your bag.
18. An instant print camera
Phone selfies are good and all, but printing polaroids to hang around can help you relive memories more often.
19. Skincare
Skincare is self-care!
20. A skincare fridge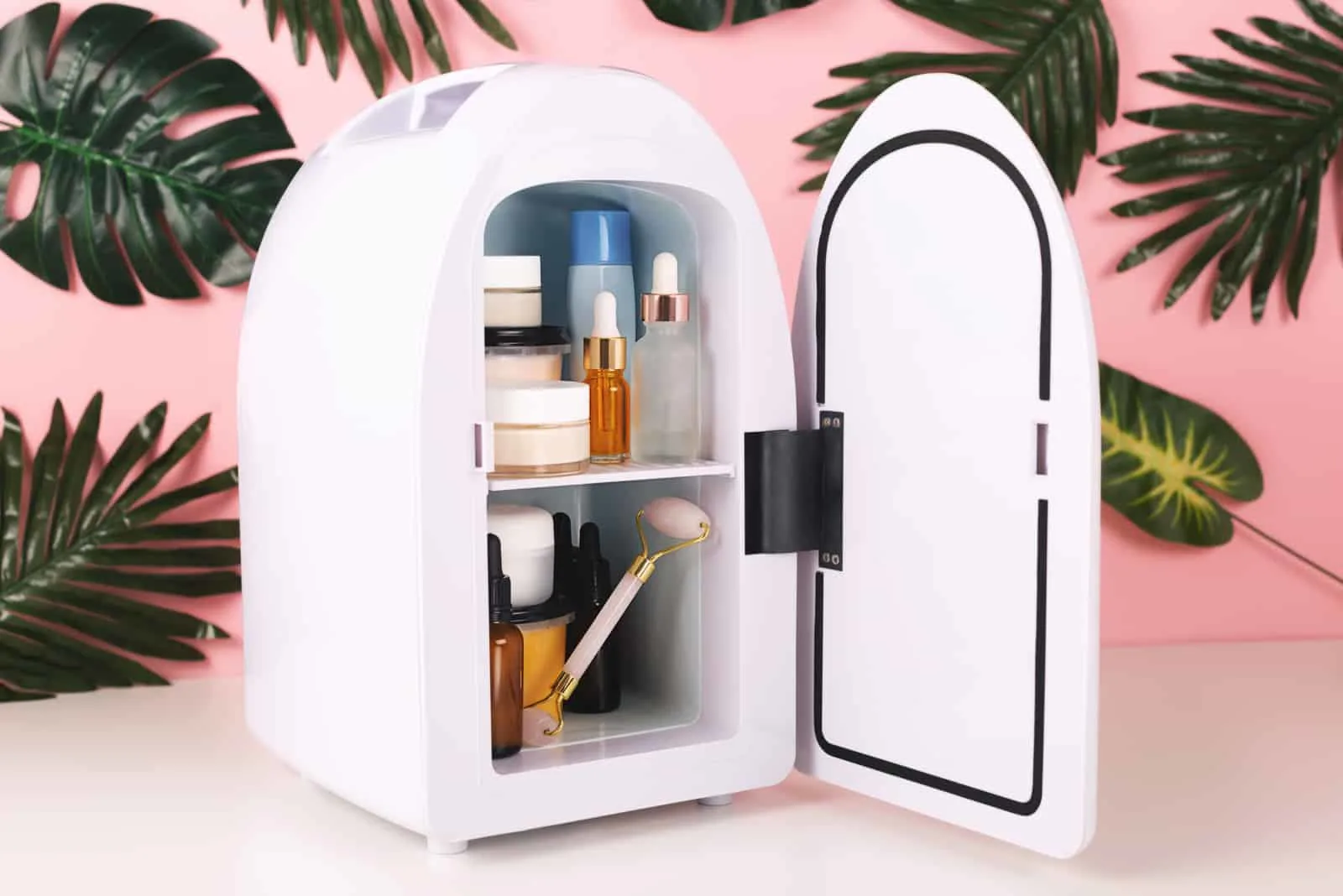 Food and serums shouldn't be next to each other.
21. Perfume
Everyone needs a signature fragrance. Help your 18-year-old find it.
22. A hair straightener brush
For long hair, this is a lifesaver sparing you from blowouts.
23. A journal
Getting into journaling can be a game-changer. Give them a head start.
24. A lamp
A moon lamp or a galaxy lamp can turn a room into a beautiful spot for relaxation.
25. A cookbook
Internet recipes are good and fine, but nothing beats a cookbook filled with secrets, and best of all, it has no ads.
26. A water bottle
Get them a good one that can hold temperature for 24 hours to use on trips, when working out, and just for just everyday use.
27. Drinking tumblers
Disposable tumblers and cups are a thing of the past. Be environmentally conscious!
28. Rollerblades
A fun way of transport and form of exercise.
29. Clothes
No one ever has enough clothes, especially a teenager. Keep the receipts in case they don't like them and want to exchange them for something else.
30. A card game
Forget about old-school card games. Pick one of the fun new card games, such as:
• We're Not Really Strangers
• Card Against Humanity
• How To Speak Dog
• Game Of Phones
Happy Birthday!
Hopefully, all of these 18th birthday ideas have inspired you and given you the motivation to start planning the perfect 18th birthday party!