A sleepover party can turn your living room into a magical wonderland. There's an endless amount of fun things to do at sleepovers with your best friend, and all you need to do is get ready to enjoy yourself.
The combination of the perfect company (your BFF, check), unrestrained fun (no dieting tonight, check), and a huge list of sleepover activities to try should make it an unforgettable night for both of you.
If you want to relax, laugh, be silly, and have a good time, nothing beats a night of fun with the person who knows you best. Here are some suggestions for what you could do together.
Fun Things To Do At Sleepovers With Your Best Friend
Slumber parties aren't limited to kids. All ages, from tweens to adults, can enjoy fun activities shared with friends. Besides, letting your hair down once in a while and reconnecting with your inner child is what makes it fun.
And let's be honest, you only need your best friend forever to make it a hit.
If you're having trouble coming up with fun things to do at sleepovers with your best friend, check out these sleepover ideas to kickstart your imagination. There are suggestions of all kinds, and something is bound to grab your attention.
1. Movies/TV ?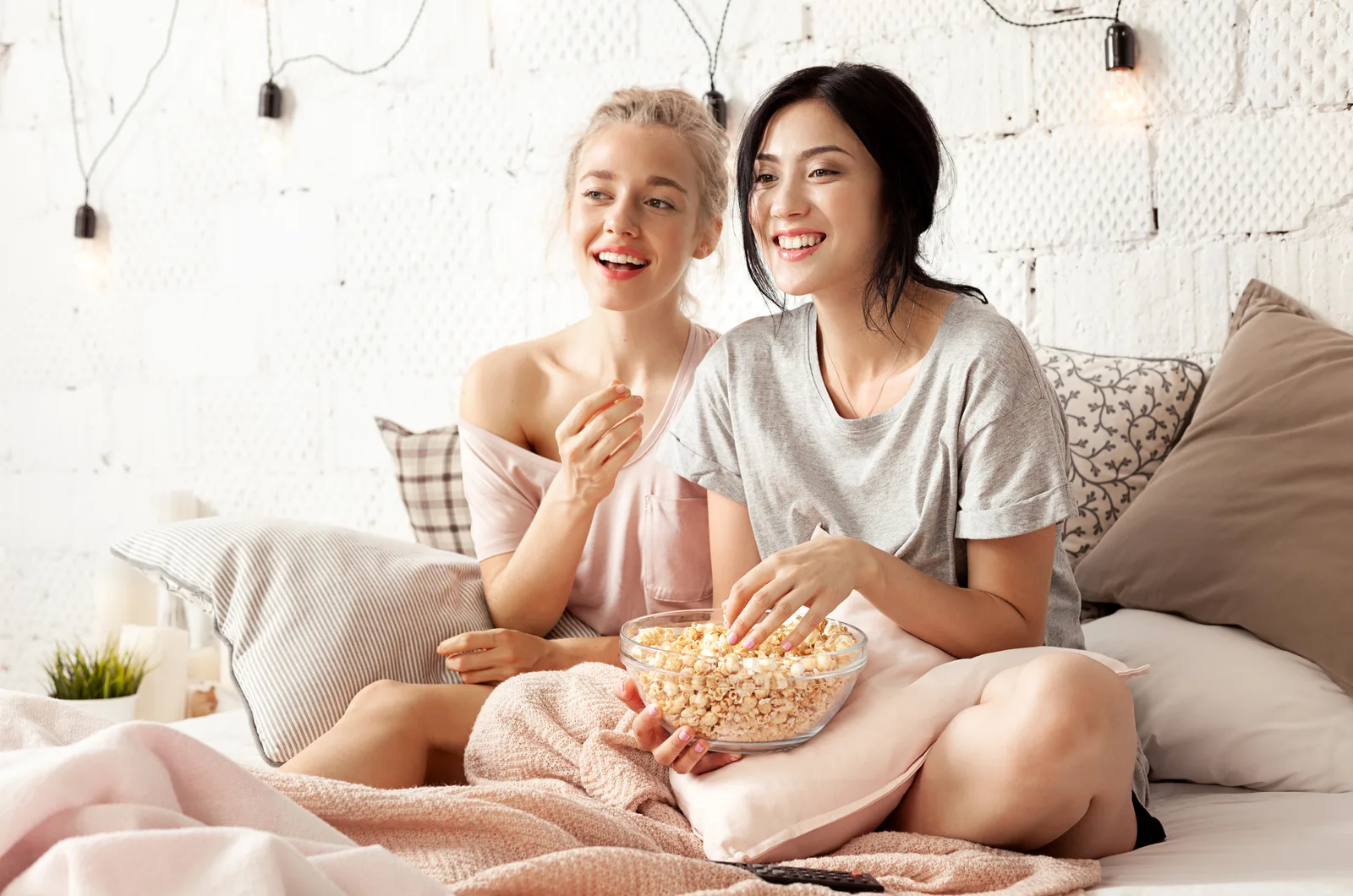 • Have a movie marathon.
There's nothing that says 'sleepover' more than having a movie night. At least one movie is pretty much a requirement, but have you thought about a themed movie marathon?
For example, you could go with a movie franchise like Harry Potter, Star Wars, or Marvel Universe movies, or simply get a bunch of scary movies and scream your heart out.
Try playing movie bingo for added fun, especially if you're watching something you've already seen a bunch of times.
• Binge TV shows.
Netflix, Hulu, or Amazon Prime Video, any of these services will do when you're looking for a show to binge-watch. When you're with your bestie, it doesn't really matter what you're watching, but your best choice is something you can watch casually.
Instead of starting a new brainy show you've heard about, a better bet for a sleepover is reality TV or something funny. You're going to spend most of it talking to each other anyway.
The best idea by far is to rewatch a show that both of you love and know inside out. It's a great chance to reminisce on the history of your friendship.
• Watch funny compilations on YouTube.
When your attention span is not really there, go on YouTube and watch compilations of old Vines ?, animal videos, or best moments from TV shows.
If you haven't been keeping up with the TikTok trends, YouTube's got you there, too – there are compilations of everything, from the latest dances to fashion hacks you should check out. Then pick your favorite with your bestie and recreate it, of course.
2. Play games. ?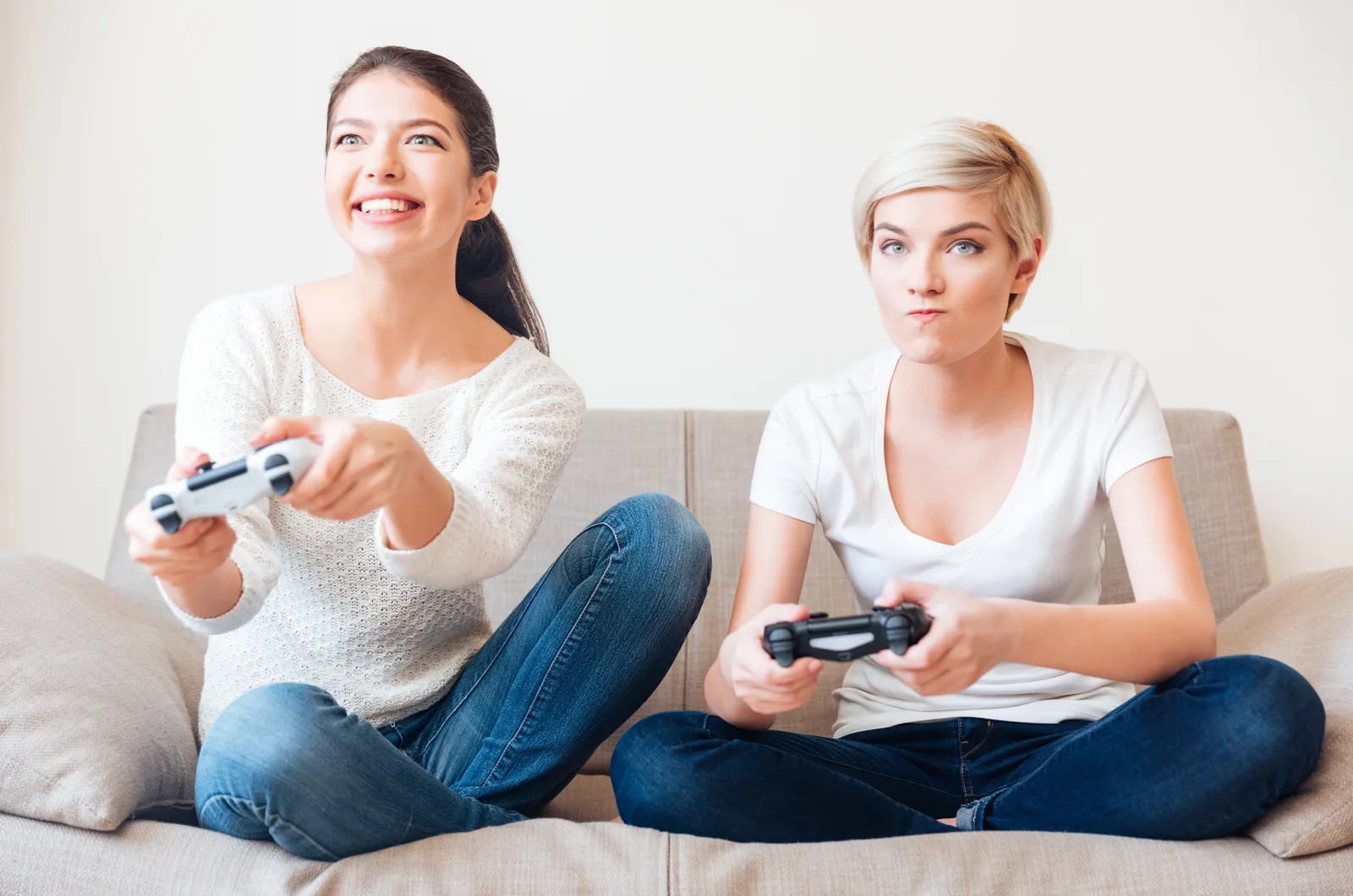 • Party games
I'll admit that sleepover games are usually played when a group of friends gets together, but don't dismiss one-on-one hide and seek before you try it.
There are lots of classic party games that never fail, such as Truth or Dare, Charades, Two Truths and A Lie, Would You Rather?, Never Have I Ever, MASH, 20 Questions, and more.
Twister might get a little clumsy when it's just a couple of best friends, though.
• Card games
It might not even occur to you to play card games at a sleepover, but they're a great way to do something together and get a chance to chat.
Go Fish, War, Uno, and others are fun and chill, but they might turn a little competitive.
Cards Against Humanity, however, is an absolute requirement for any self-respecting slumber party.
• Board games
If you're in the mood to fight your best friend, board games are where it's at. Dig through your old shelves, and I'm sure you'll uncover Clue, Monopoly, Scrabble, Go, Risk, or other board games you might have stashed away.
Some of these might feel a little lonely with only two people, but if you get into it, the two of you can cause a lot of chaos on your own.
• Video games
Opt for funny multiplayer games like Super Smash Bros, Mario Kart, or Gang Beasts and whale on each other. You can also invite other friends who aren't at the sleepover to join. When it comes to virtually pushing your friends off buildings and roads, the more, the merrier.
3. Enjoy music ?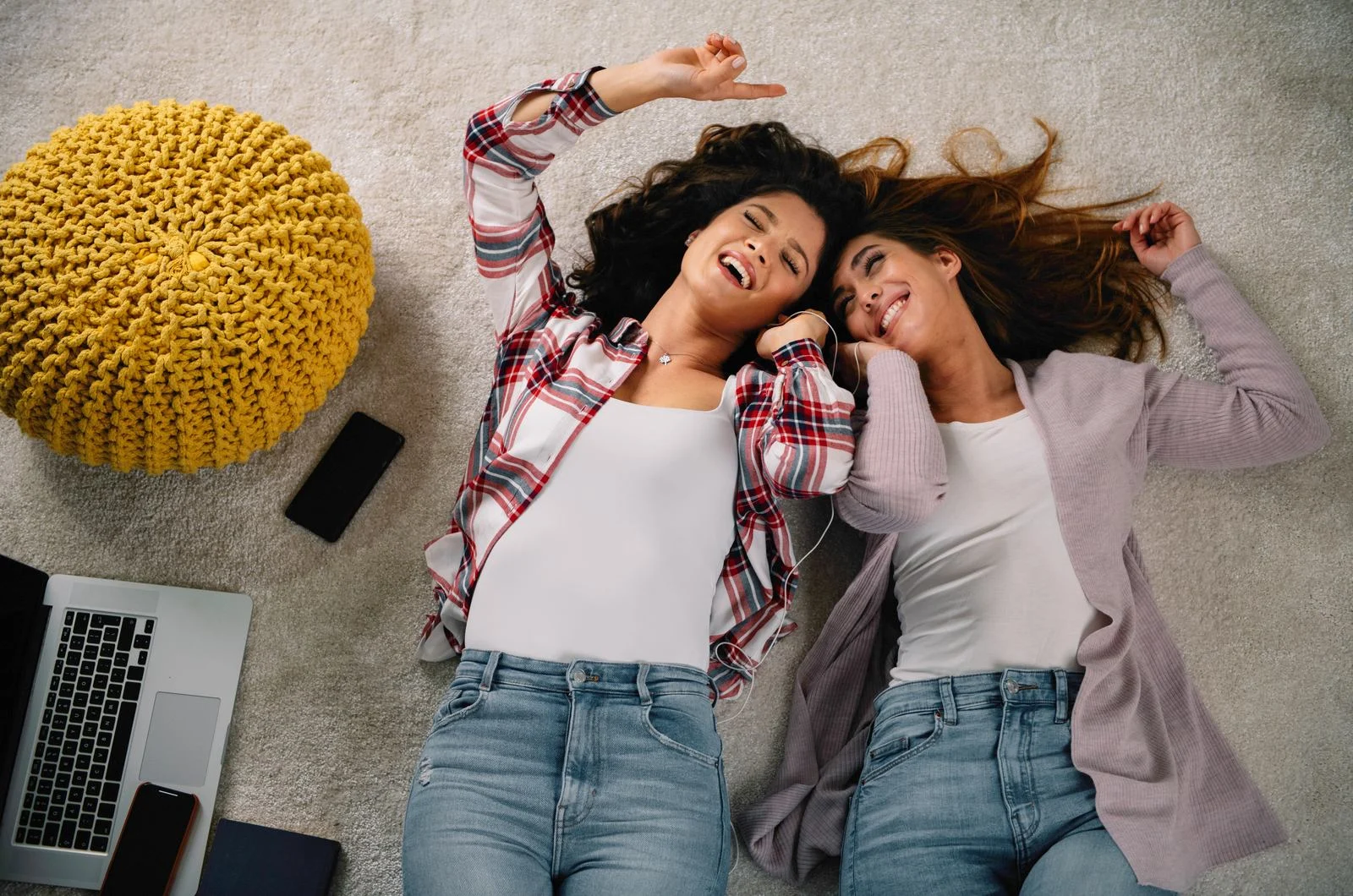 This is your chance to team up with your bestie and do the latest trending challenges on social media. There's always something going on, and you might have been reluctant (or you really needed someone to film you.) There's no one better to do it alongside than your best friend.
• Learn a TikTok dance.
Even if you're not a great dancer, you can do this because TikTok dances are pretty simple. Look for other people's versions and tutorials under the sound the dance uses. Whichever you choose, it's already on YouTube if you need to slow down the video to pick up the moves.
• Create TikToks together.
If you already know all the trends and all the dances, why not start creating content of your own in collaboration with your bestie? You can use something you do at your sleepover to kickstart a new channel. You can't go wrong with make-up and food.
• Lip-sync for your life.
Get the most dramatic song you love, and recreate the artist's whole performance minus the actual singing. Or maybe you'd prefer to go with a more interpretative approach and lipsync in your own way. Either way, the wilder, the better.
• Make a BFF playlist.
Make playlists for each other that only include songs that remind you of your bestie or songs that thank them for being in your life. Every time you listen to the playlist, you'll think of each other.
Even if you don't get too many chances to hang out, you'll have a reminder of your slumber party.
• Play each other's Spotify playlists.
Are you always telling each other how you should definitely check out some artist or song but always forget to send the links? Exchange phones and browse each other's favorite playlists to finally get a chance to hear that song your bestie has been mentioning.
• Sing some karaoke.
You don't need a karaoke machine for this. All you need is a will, a voice, and YouTube. There's a karaoke version of pretty much every song you might think of on YT, and all you have to do is search for "[song title] karaoke."
Fair warning, this can get dangerously fun, and you won't sleep at all.
4. Get moving! ?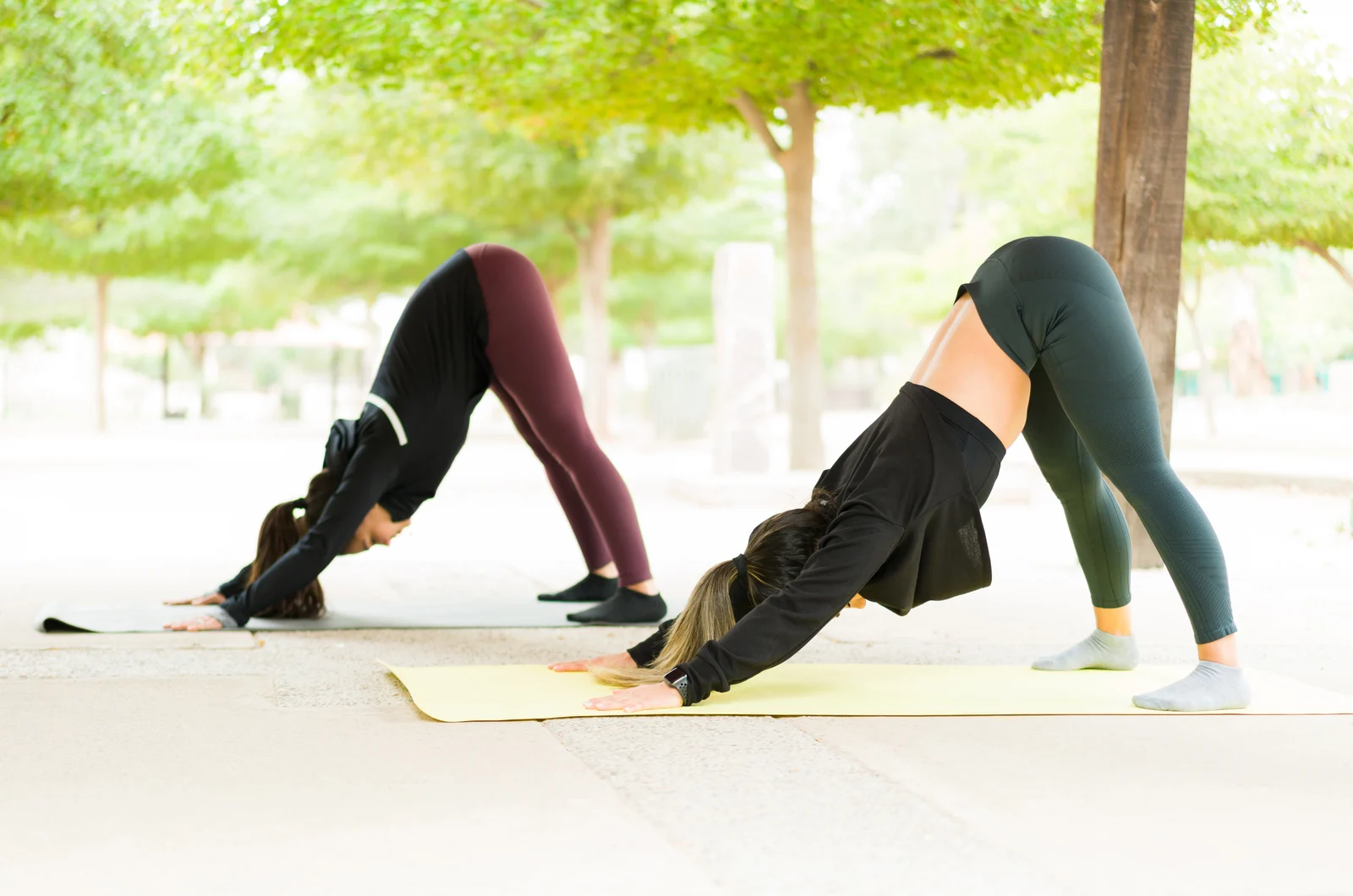 • Try a YouTube workout.
It can be easier to pack your things and actually go to the gym than work out at home. Are you always adding workout videos to your 'watch later' YouTube playlist and never even watch them, let alone work out?
This is your chance to motivate each other and finally start on the fitness journey you're always talking about. Pull up those bookmarks and do some squats.
• Online yoga class.
There are lots of excellent yoga channels where you can learn the basics of yoga if you haven't tried it before, but they also include more advanced videos if you have.
It's a great activity to try with your bestie and to get the feeling of what it's like before you set foot in a real-life yoga studio.
• Take an online Zumba class/belly dancing class/hip-hop workout class.
Dance workouts are different from any other kind of exercise. If you're someone who likes to dance, working out becomes less important than the sheer fun of dancing.
Taking a class of a dance style you haven't tried before with your best friend is a dance party and a workout in one.
5. Do some crafts. ?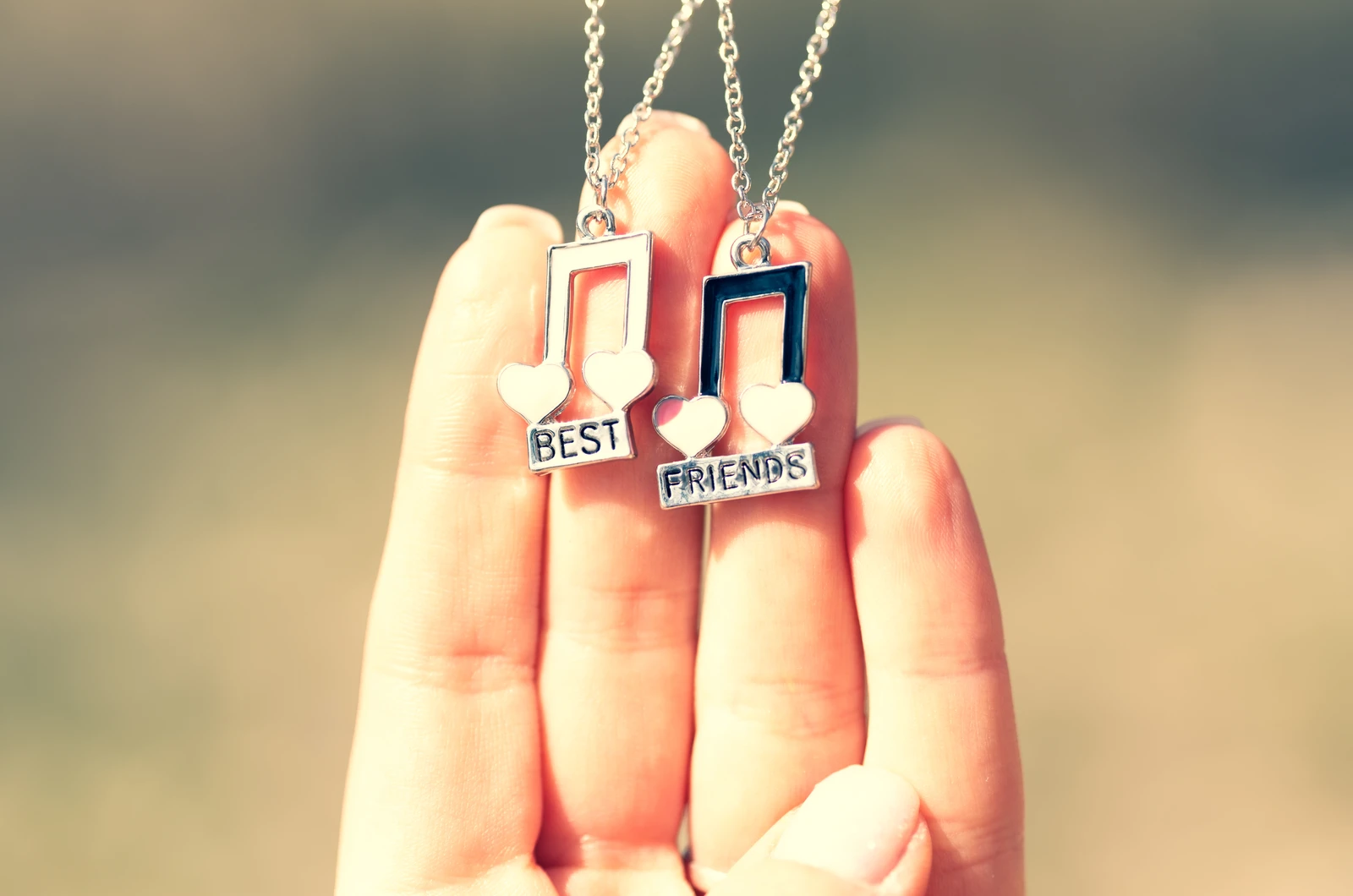 • Make jewelry.
Make friendship bracelets, charm necklaces, or even earrings. It's easier than it seems, and it can be a great memento of your time spent together (and a cute accessory to wear!)
All you need are beads, some string, and hooks, available at any craft store, and you have the perfect girls' night in!
• Do a DIY project.
Whatever you can imagine, you can make, and if you have no imagination, there are craft ideas on YouTube. Custom photo frames, scrunchies, snow globes, and washing tape crafts are just some of the things you can do.
DIY projects are especially fun to do with friends because making something while spending time together is always memorable.
• Create a collage.
Print out old photos, collect old movie tickets, wrappers you've kept, and other memories, and create a collage to commemorate your friendship. It may be cheesy, but writing your own poems to each other is something that will move you when you look back at it in a few years.
• Do a scavenger hunt.
This could take some time and effort to set up and isn't really as effective if there were more people involved. However, it can be a cute thing to do if you want to show your best friend they're special to you.
Find some of their favorite things, scatter them around and prepare some clues. You're going to have as much fun watching your friend find everything as they will doing it.
6. Eat all the food! ?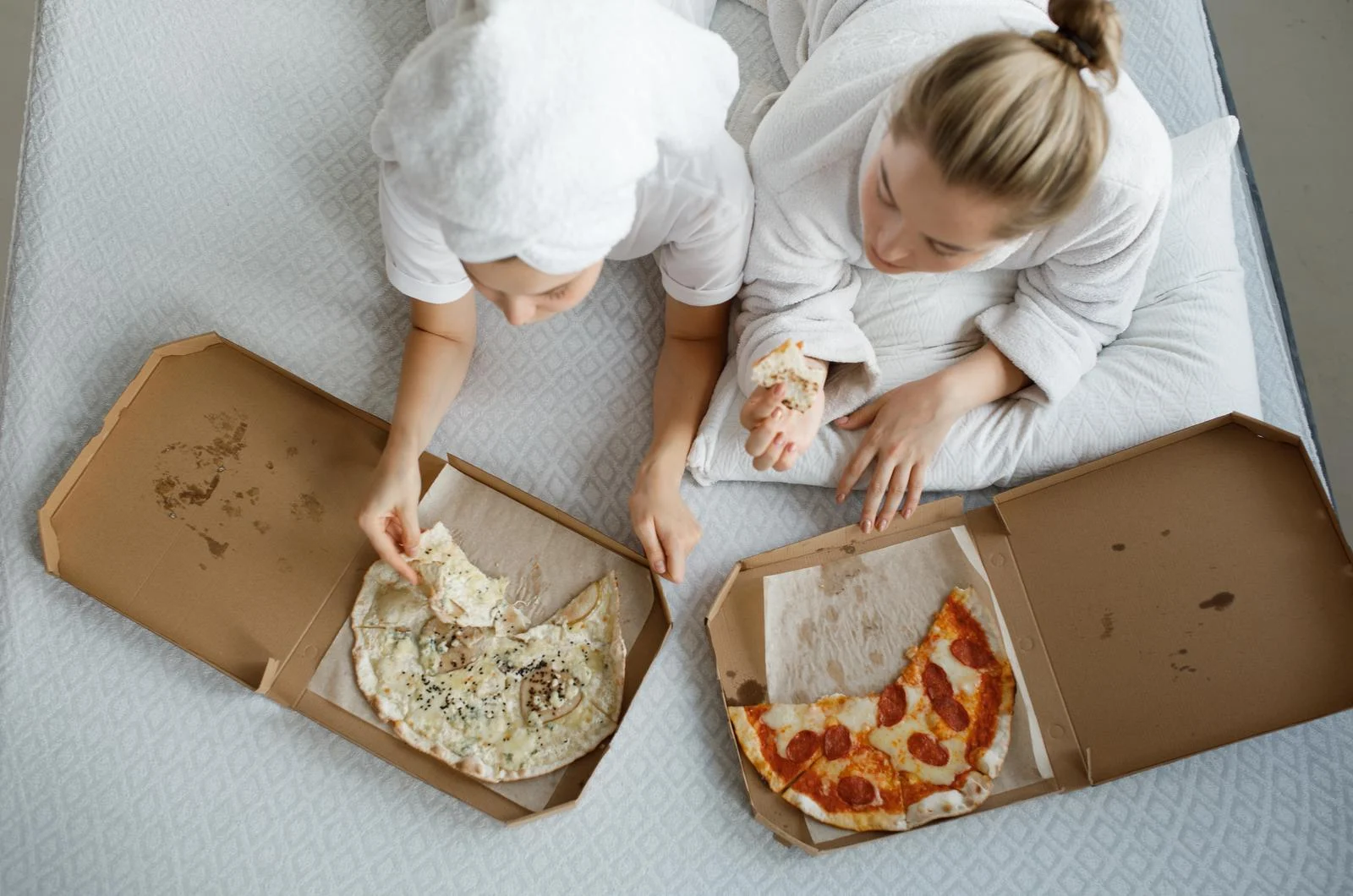 • Make your own pizza.
You can make dough from scratch easily or buy frozen and add your own toppings. At a sleepover, calories don't exist, so go wild and eat a whole pizza by yourself. For starters.
• Have breakfast foods for dinner.
Breakfast foods are the best, no contest. But why do we only eat things like eggs, pancakes, and bacon in the morning? Shift the paradigm and make an 11 p.m. breakfast for you and your BFF.
• Late night snacks.
You can spend the whole night eating snacks. In fact, you could do nothing but eat snacks, and it would still be the best slumber party ever.
• Set up an ice cream bar.
For a special sleepover, prepare bowls, spoons, sprinkles, and ice cream toppings, and make your own ice cream sundaes. It doesn't have to be a sad night when ice cream is eaten as a comfort food, but you can eat it because why not.
Making cookies together is as much a bonding activity as it is a way to prepare some food. What's better than enjoying warm cookies straight from the oven after you have fun making them?
For a quick version, make a mug cake in the microwave if all you want is something sweet.
• Make s'mores.
All you need is chocolate, graham crackers, marshmallows, and a microwave for quick preparation. You won't know the difference in taste, and you'll get that hit of nostalgia for a fraction of the effort.
• Decorate cupcakes.
Decorating cupcakes is something everyone should do in the company of a close friend. You're lucky, then, that you can do it with your BFF.
Making fun decorations is easy, and every failed attempt should be immediately eaten.
• Make popcorn to eat while you binge a show.
Popcorn is necessary for your movie marathon or TV show binge-watching. You can make it plain or go fancy with various unusual toppings.
Don't risk it if you're really feeling like popcorn because you never know if the experiment will be edible.
It might finally be the time to use that video you bookmark every time it comes up on your timeline and cook that dish that looks so amazing but you always forget about. Your bestie probably has some of their own saved.
• Have an indoor picnic.
Even in winter, you can sit on the floor and spread all the food you've prepared around to enjoy while you pretend you're in a park on a warm spring day. The weather is a little different, but the company is perfect: just you and the best friend who's always by your side.
• Make some cocktails/smoothies.
Make virgin or alcoholic cocktails to enjoy while you hang out. Even if you've never tried making one before and you make a mistake, they'll still turn out delicious. If you're in the mood for something with less sugar and more nutrients, why not make homemade smoothies from whatever you find lying around?
7. It's a spa night. ?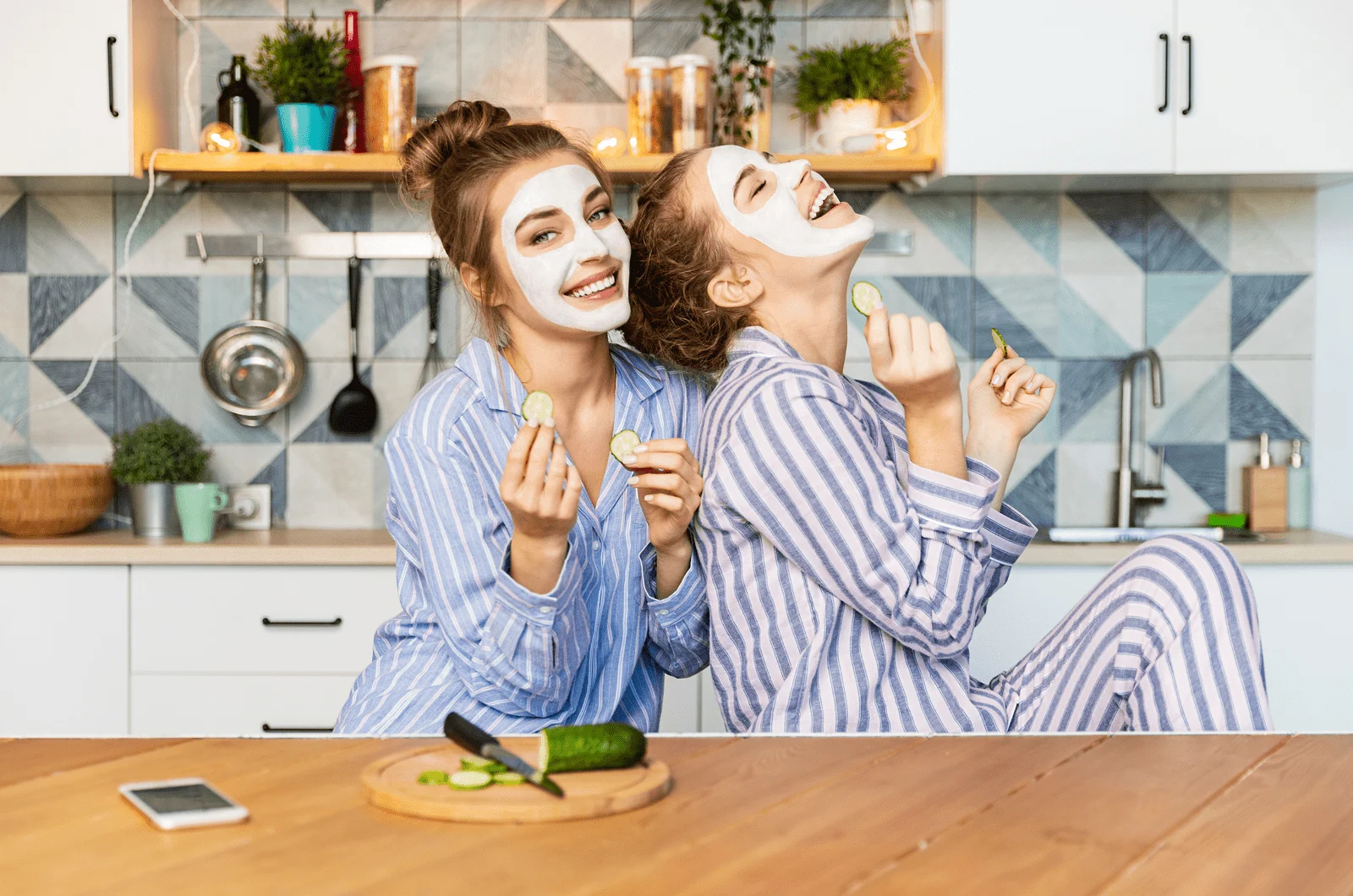 • Do each other's nails.
Giving each other fresh manicures and pedicures will really make you feel pampered and cared for. You can go plain with simple nail polish, or you can find some pictures of nail art you like and try to recreate it.
• Do each other's hair.
Try out a new type of braid, updo, or change your parting. Getting your hair done brings out the gossip in all of us, so it's also a chance to spill the tea with your bestie.
• Give each other facials.
Treat yourselves with an exfoliation followed by sheet face masks, then deep moisturization. Not only will your skin glow after the treatment, but you'll also feel completely relaxed.
• Change your hair color.
If you really want to do something drastic, you can dye your hair with your bestie's help. You probably shouldn't go lighter than one or two shades without a professional, but a minor change most likely won't harm your hair.
• Have a total makeover.
For a full experience, give each other makeovers. This includes everything, from hair to wearing each other's outfits. Your bestie knows you and wants to make you happy, so you might have a perfect new look to enjoy.
8. It's called fashion. ?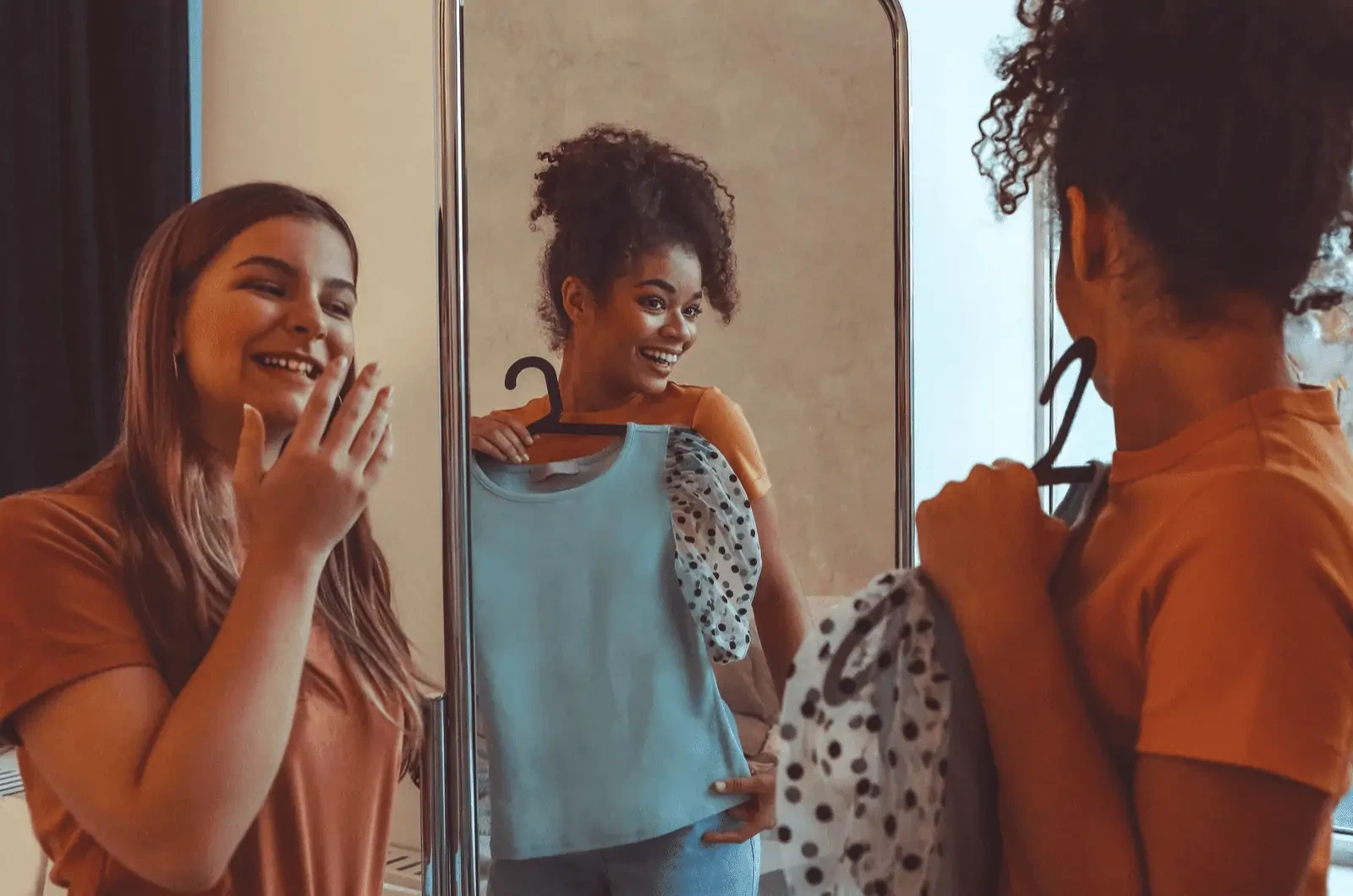 • Try on all your clothes.
Of course, you have to do this at a sleepover. All those pieces in the back of your closet you forgot about will finally get the chance to see the light of day, and you and your bestie will have fun creating looks.
• At-home fashion show.
Of course, you can't really try on clothes without organizing a fashion show. You are the only two models and the entire audience, but what else could you need? Channel your inner Hadids and start feeling yourself.
• Get dressed up and have a photoshoot.
Take selfies together or take each other's pictures in all your favorite outfits you create. You can post them on social media or save them on your phone as a reference for one of those days when you have nothing to wear. Don't forget to compliment your bestie!
• Wardrobe clean-out.
Get your friend to help you declutter your wardrobe and let them keep all the pieces you no longer wear and they like.
Plan another sleepover at your friend's house so you can do their closet too.
• Make a capsule wardrobe.
Have you always wanted to try a capsule wardrobe, but it seemed impossible to reduce your closet so much? Have your friend help you pick items that go well together and try it for a couple of months. You might love it, who knows.
9. Go outdoors. ?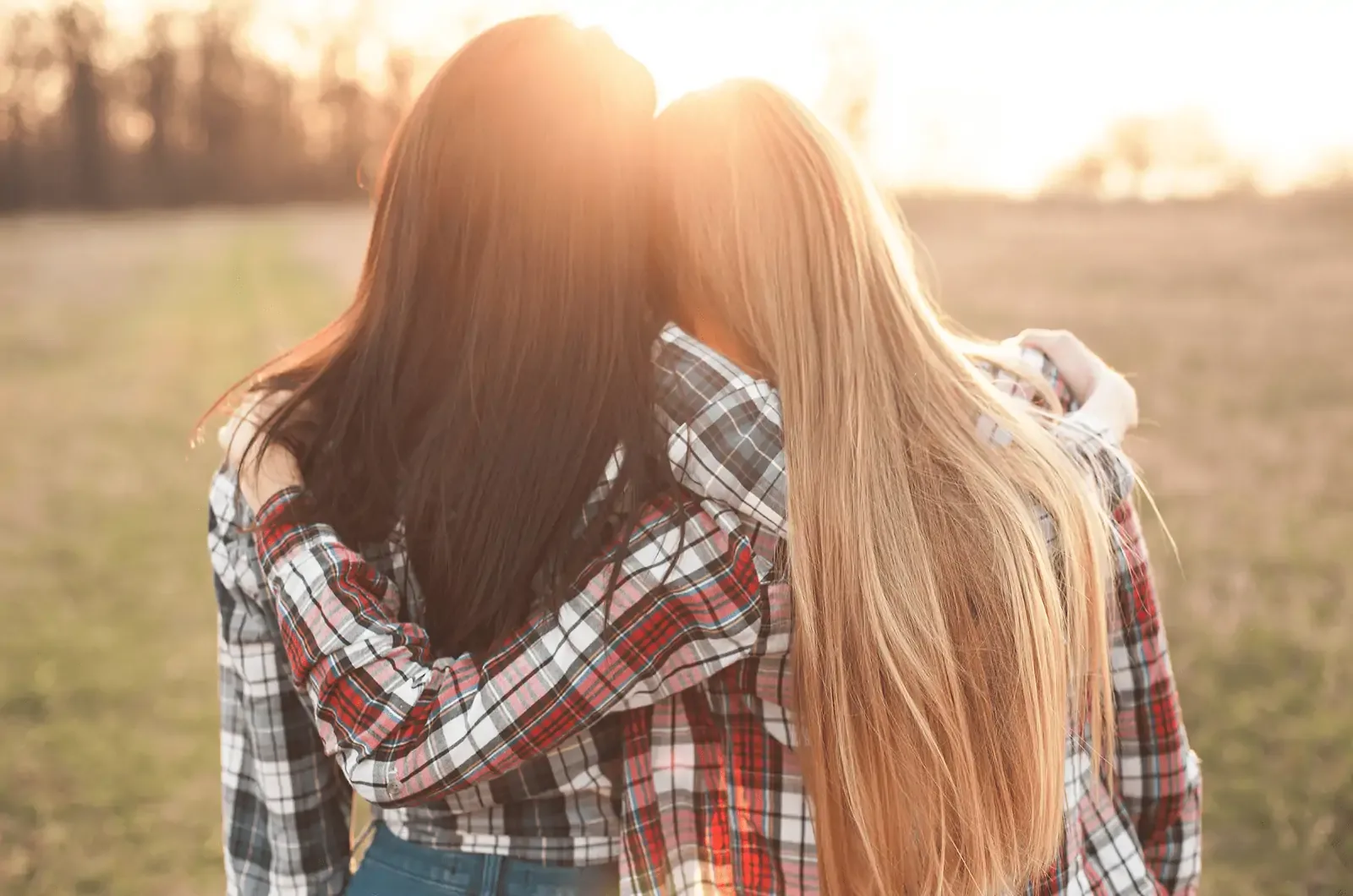 • Watch the sunset/sunrise.
We always forget about sunsets, and we're asleep when the sun rises. Make sure you and your friend are either still awake for the sunrise or set an alarm to wake you up. Sunsets are easier to catch; just remind each other to pay attention.
And who better to share these special moments with than your special person?
• Pitch a tent.
If the weather is nice, grab a couple of glow sticks and sleeping bags, and sleep outside. It will feel like camping, but because it's in your own backyard, you can go inside and shower like usual instead of looking for alternatives like you would have to if it were real.
• Stargaze.
If you look up at the night sky in a city, you'll most often only see light pollution, but if you live somewhere where there's less artificial lighting, stargazing can be magnificent. Share this special moment with your best friend.
10. Just hang out with your bestie. ?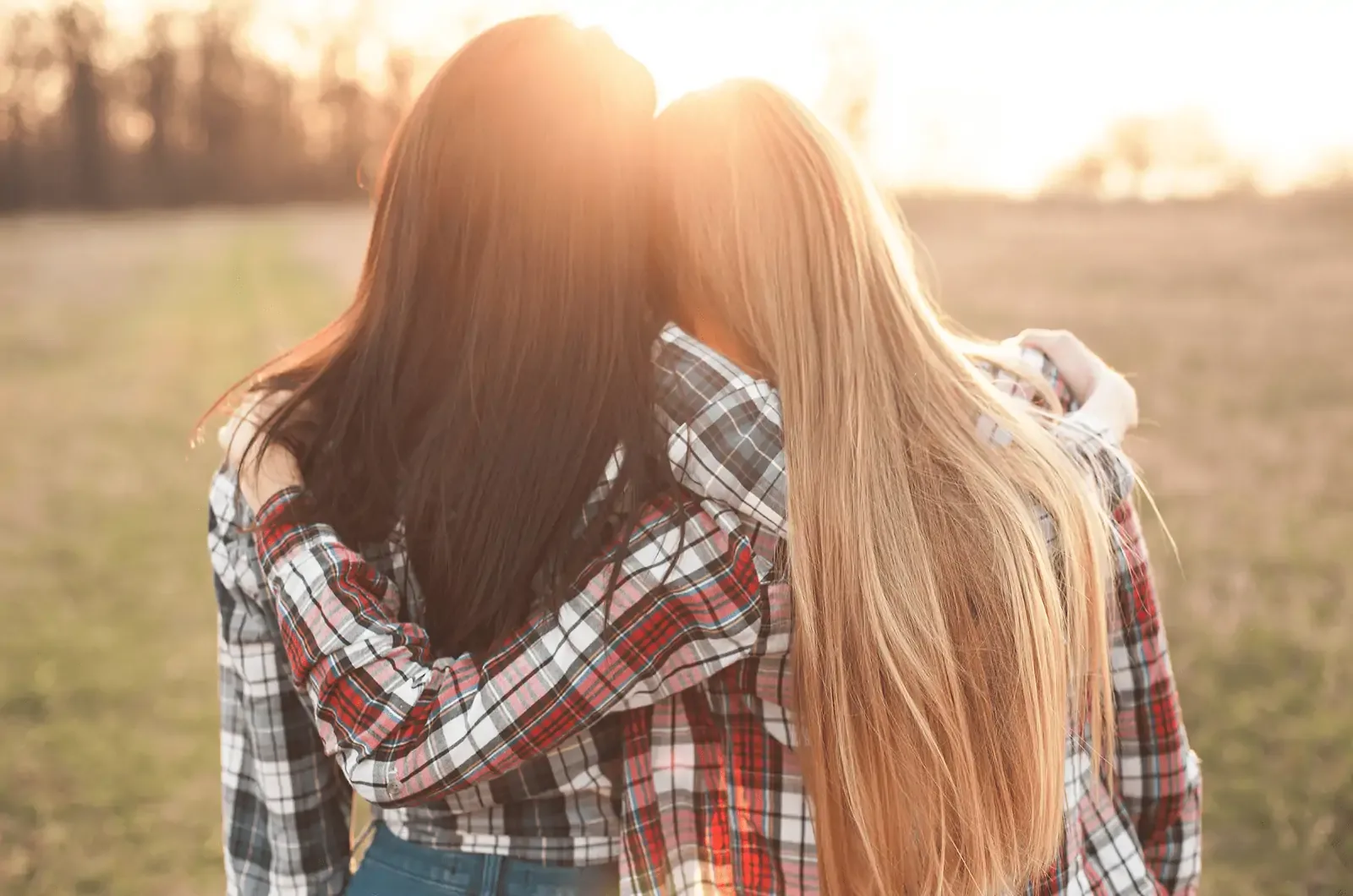 • Late-night heart-to-heart.
The real purpose of a sleepover is to catch up with your best friend and spend time together. When it's dark outside, the world becomes different, and we often feel the need to talk about things close to our hearts. Who better to share those moments with than your best friend?
• Gossip.
Let's be honest. There's going to be gossip here. Not as much as it would have been if more people were present at the sleepover, but there will be. Get it all out under the cover of darkness.
• Tell each other stories.
Nighttime with the lights off has a special atmosphere that becomes even more mysterious if you use the mood to tell each other stories. You can tell each other funny or romantic stories, but nothing beats scary stories as a treat at a slumber party.
• Have a pillow fight/Build a fort.
Why are these two items together? Because they're true sleepover classics that can't be missed. Even if you're not into them, you should try them. So grab your pillow by the pillowcase and destroy your friend. Afterward, you can relax and chat in your cute and comfy blanket fort.
• Get your beauty sleep.
When all else is said and done, or maybe even sooner, go to sleep. In fact, maybe both of you are exhausted, and the best way to recuperate is slumber at a slumber party. You can continue the party in the morning.
See also: 21 Fun And Interesting Things You Can Do At 16
Besties Forever
Hanging out with your best friend is fun, even when you're just sitting and talking or lounging next to each other staring at your phones. It's all about being close and showing your bestie some love.
But when you want to take things up a notch, nothing beats a slumber party. There are a million fun things to do at sleepovers with your best friend, from makeovers to delicious food to fun games.
Whatever you pick, a fun sleepover is guaranteed because it's your bestie you're spending time with.
You can use this article as a checklist for everything you want to try at a slumber party with your friend. If there are more activities you wanted to try and didn't get around to, it's time to start planning your next sleepover.