Your birthday is coming up. I'm not talking about any birthday – you're officially a grown-up now.
Come on, admit it. I know that you're already looking for 18th birthday captions for your Instagram photos. Well, here they are:
Collection Of 18th Birthday Captions For Instagram
Check out our list of 18th birthday captions for your Instagram photos:
1. So long, dancing queen 17. Hello, bigger dreams 18.
2. I'm officially a year older today and much cooler than ever. Happy 18th birthday to me.
3. Just enjoying my special day.
4. My family? Check. My best friends? Check. An awesome birthday cake? Check. The best 18th birthday pictures? Check. A ton of birthday cards? Check. What else could a birthday girl wish for?
5. Today, I just want to thank God for adding another year to my life.
6. It's my eighteenth birthday, so I guess that's reason enough to post a bunch of selfies.
7. Birthday candles aren't the only things getting lit this weekend.
8. Telling everyone in sight that it's my 18th birthday!
9. Birthday magic!
10. Do I look much older than last year? I mean, yesterday?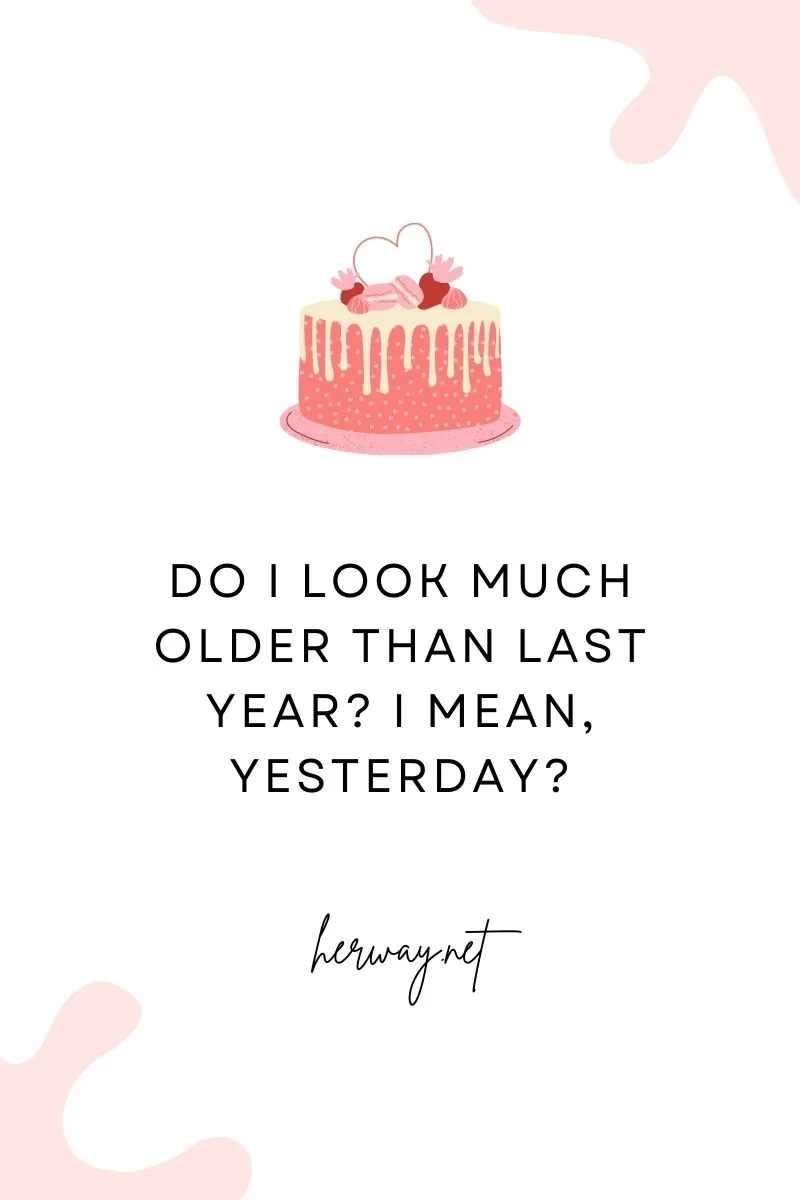 See also: 144 Best 25th Birthday Captions, Quotes, And Wishes For Your Big Day
Memorable Captions For 18th Birthday
Your followers will forever remember your birthday Instagram post if you put one of these captions underneath:
1. Well, at least I am not as old as I will be next year!
2. I'm the youngest 18-year-old I know.
3. Let's get this party started.
4. Hippo-birthday to me!
5. Vibin' and thrivin'.
6. My birthday is today, but I'll take presents whenever.
7. I'm too young to be 18 years old.
8. Bird on the street is, it's my 18th birthday.
9. Season 18, Episode 1.
10. Chapter 18, Page 1.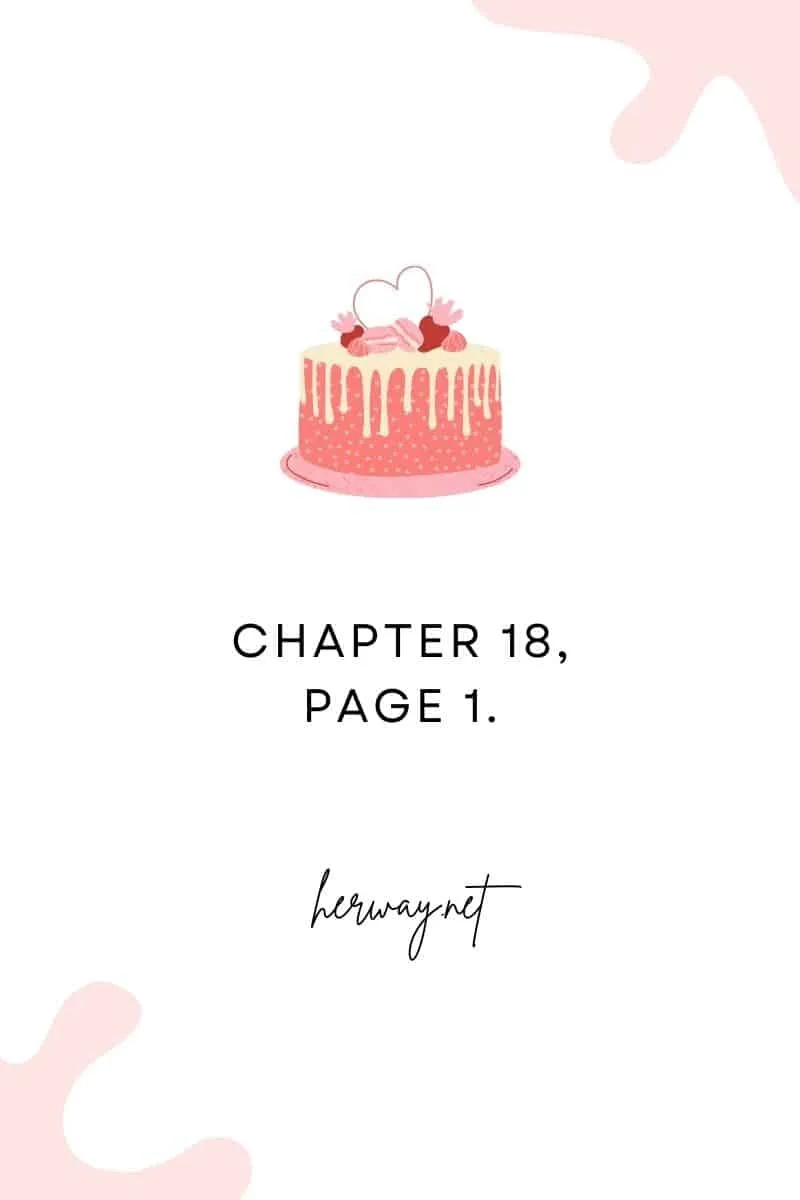 Related: 210 Best 21st Birthday Captions To Celebrate Your Day
Great 18th Birthday Instagram Captions
Another list of 18th birthday captions to impress your followers:
1. Go ahead, cake my day.
2. Live your life and forget about your age.
3. I don't feel a day older than 17.
4. If you're seeing this and you didn't wish me a happy 18th birthday, watch out!
5. Am I, like, a grown-up now?
6. Is it me, or am I not aging at all?
7. Let's shell-ebrate.
8. I think this will be my favorite age yet!
9. Woke up a little older but definitely not wiser.
10. 18th lap around the sun.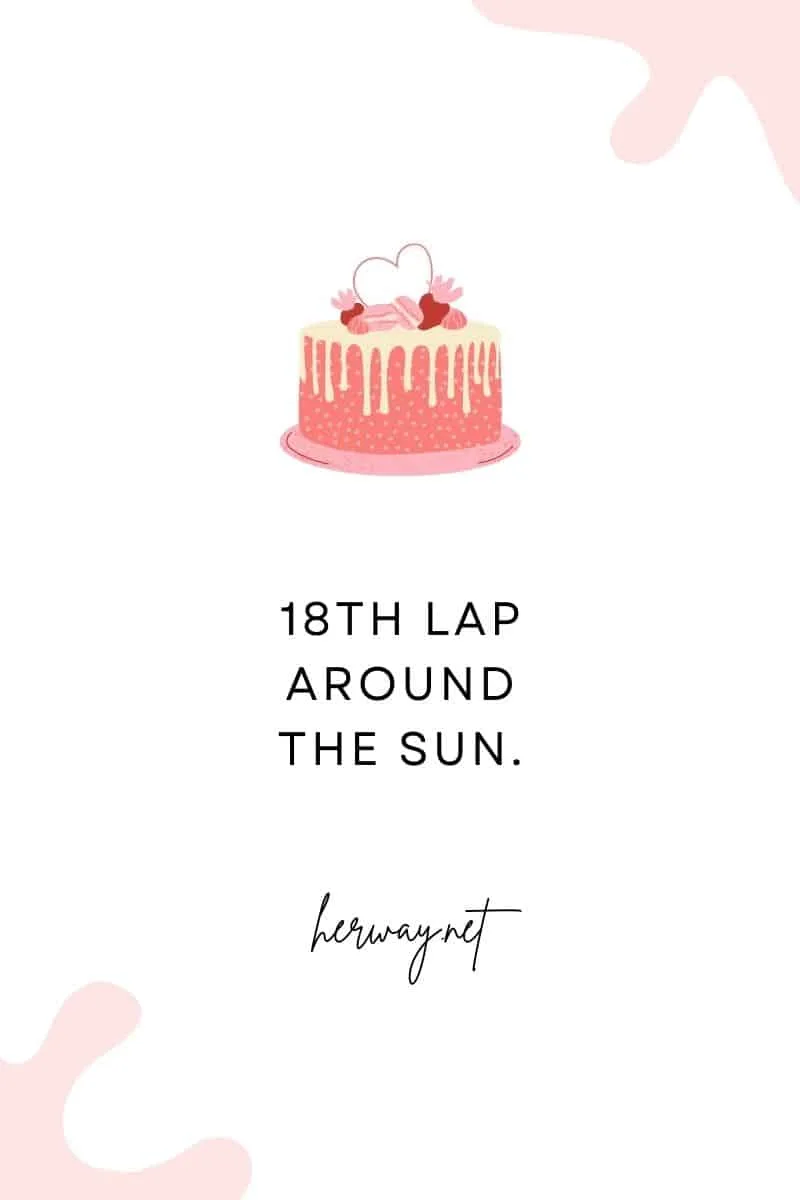 Short Birthday Party Captions
Trust me, a short caption will be more than enough – if it's the right one!
1. Hip, hip, hooray.
2. Cheers and beers to my 18 years!
3. 18 looks pretty good on me.
4. 18 years young today.
5. Feeling cute – might celebrate my birthday later.
6. Did someone say it's my birthday?!
7. 16 candles have nothing on me!
8. Made in *insert your birth year*
9. Hello, 18.
10. Eighteen, queen.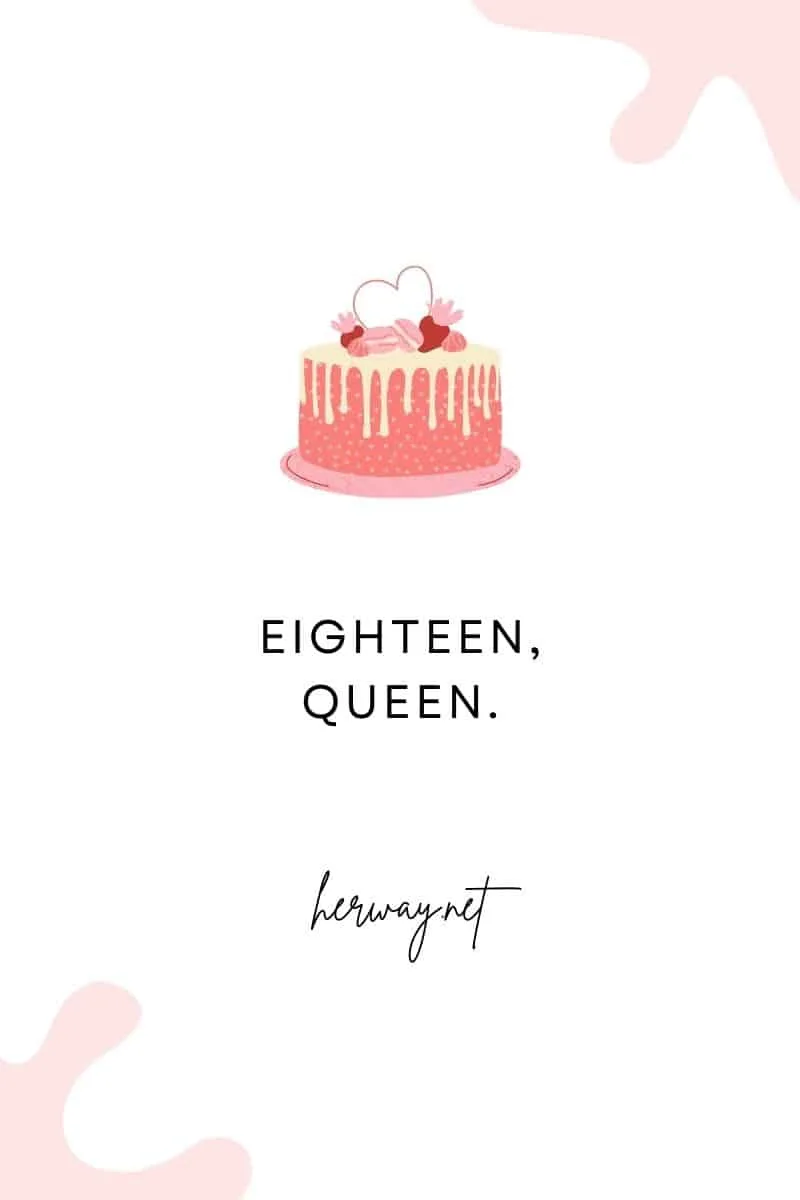 Sweet 18th Birthday IG Captions
Forget about sweet 16. It's time for sweet 18.
1. Looking forward to this new year of my life.
2. Having the time of my life with my loved ones.
3. Age ain't nothing but a number.
4. I'm so awesome that when I was born, I was given a certificate.
5. One year older and one year bolder!
6. Loving me is a piece of cake.
7. New day, new age.
8. 18 years ago, on this day, the world received a gift. It's me, and you're welcome.
9. Growing old is mandatory, but growing up is optional.
10. I've decided to be 17 until further notice.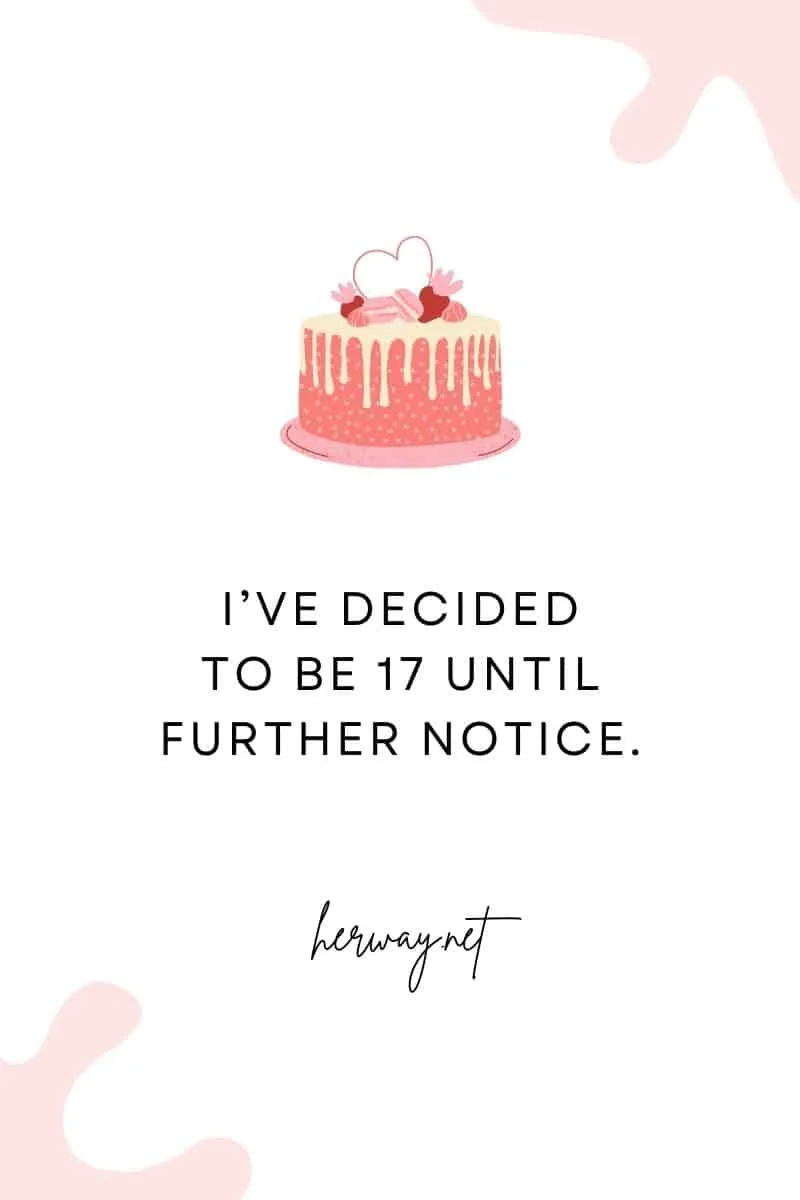 Funny 18th Birthday Captions
Why wouldn't your Instagram post make your followers laugh?
1. Feeling adult-ish.
2. From now on, I can have ice cream for dinner anytime I want.
3. I'm now an adult, so watch out!
4. I'm here just for the birthday cake.
5. Don't grow up: it's a trap.
6. 18 doesn't feel much different, but it sure is fun to say!
7. Guess who's a legal adult?
8. 18, please be good to me.
9. My birthday, my rules.
10. I didn't choose this birthday. This birthday chose me.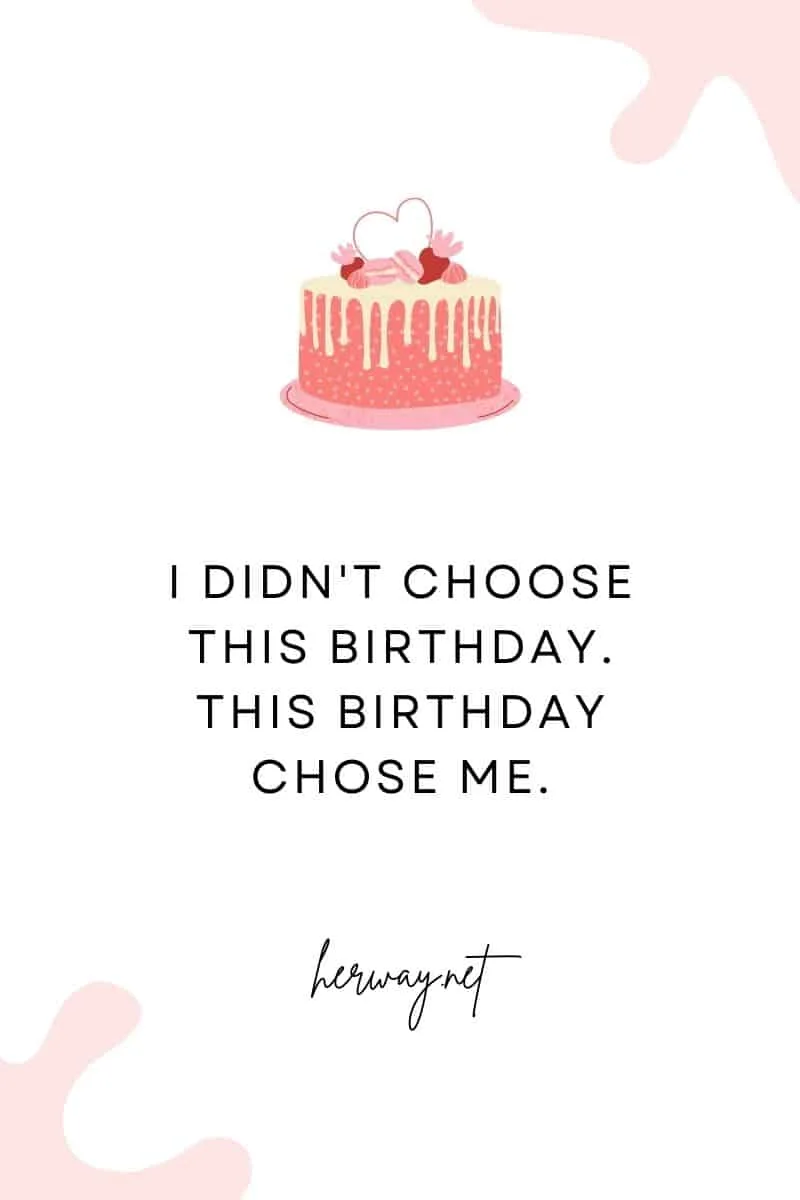 Clever Birthday Captions
I promise you one thing: these 18th birthday captions will inspire all of your followers.
1. Making my years count instead of counting the years.
2. Hugs, kisses, and lots of birthday wishes!
3. Cheers to a day as special as me.
4. About to go on another 365-day adventure around the sun.
5. Oh ship, it's my 18th birthday.
6. Cupcakes and wine…I'm about to have a good time.
7. I don't get older. I level up.
8. Born to shine every day, especially today.
9. More candles mean a bigger wish!
10. Birthday vibes all around.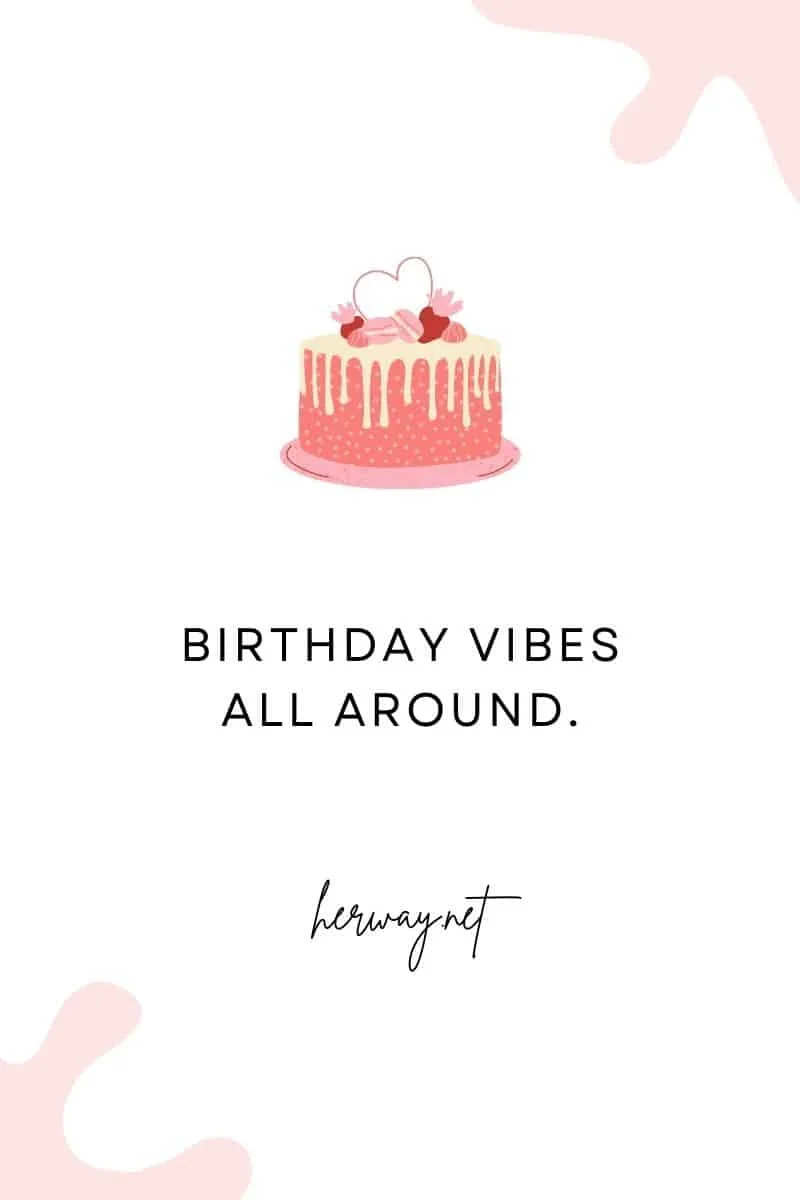 Sassy 18th Birthday Captions
It's time for the world to know that you've always been a baddie – you're just a legal baddie now!
1. Shout out to being a full adult.
2. Time to show off!
3. Here's to the first day of my adulthood.
4. Bringing new and bigger dreams to this new year of my life.
5. Cheers to my 18 years!
6. Today, we celebrate me. But wait, don't we do that every year?
7. Keep calm and celebrate on.
8. Lovin' my birthday glow.
9. Don't tell me to act my age because I haven't been this age before.
10. It's my favorite holiday…my birthday!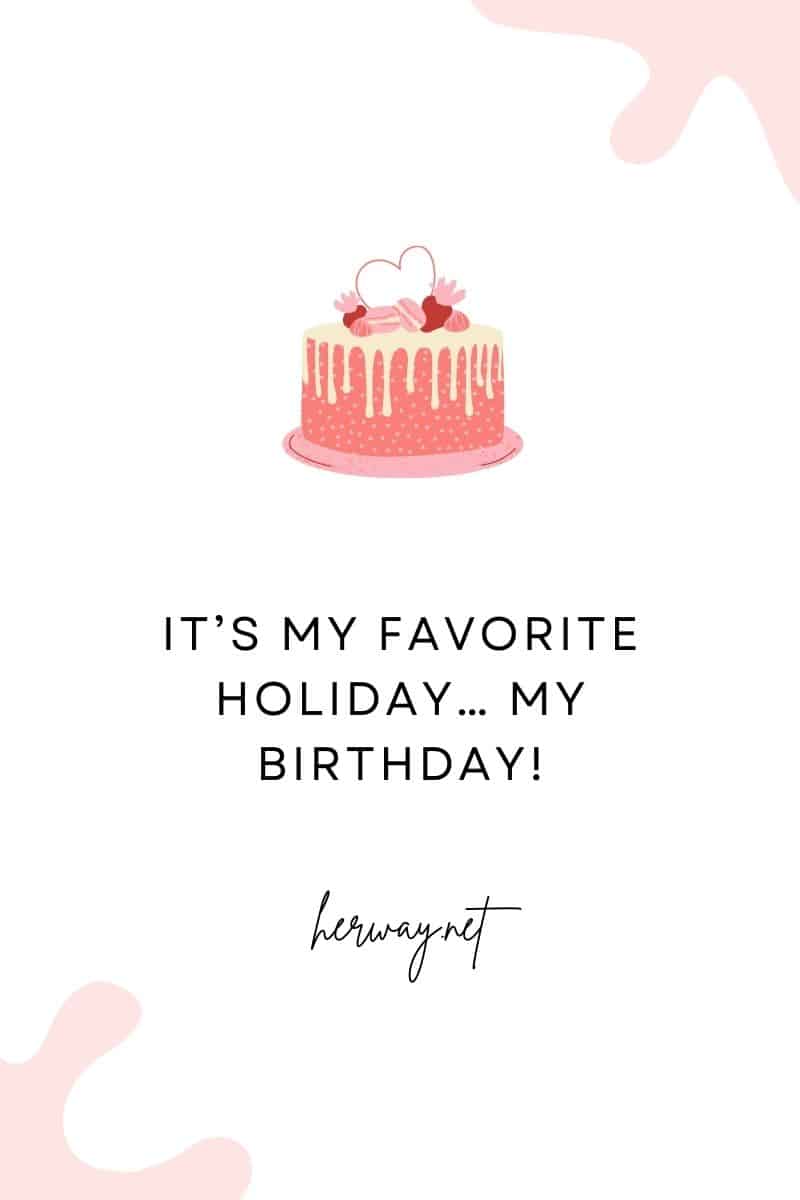 18th Birthday Quotes And Lyrics
Check out these 18th birthday quotes and lyrics you can use for your birthday celebration!
1. "When I was a kid, I was just a boy. But that all changed by my 18th birthday. No longer a kid, I was a full-fledged goat." ― Jarod Kintz, This Book is Not for Sale
2. "The Summer after high school,
when we first met, we made out in your
Mustang, to Radiohead,
and on my 18th birthday, we got matching tattoos" ― Katy Perry, The One That Got Away
3. "If Joan of Arc could turn the tide of an entire war before her 18th birthday, you can get out of bed." ― E. Jean Carroll
4. "Beauty queen of only 18, she had some trouble with herself." ― Maroon 5, She Will Be Loved
5. "She was staring out the window of that SUV, complaining, saying 'I can't wait to turn 18.'" ― Trace Adkins, You're Gonna Miss This
6. "She's only 18, don't like the Rolling Stones." ― Red Hot Chilli Peppers, She's Only 18
7. "I'm not 40; I'm 18 with 22 years of experience." ― Inglath Cooper, That Birthday in Barbados
8. "I'm not a girl
Not yet a woman
All I need is time
A moment that is mine
While I'm in-between" ― Britney Spears, Not A Girl, Not Yet A Woman
9. "I'm eighteen
And I don't know what I want" ― Alice Cooper, I'm 18
10. "I'm gonna stay eighteen forever
(cut me open)
So we can stay like this forever
(sun poisoned)" ― Brand New, Soco Amaretto Lime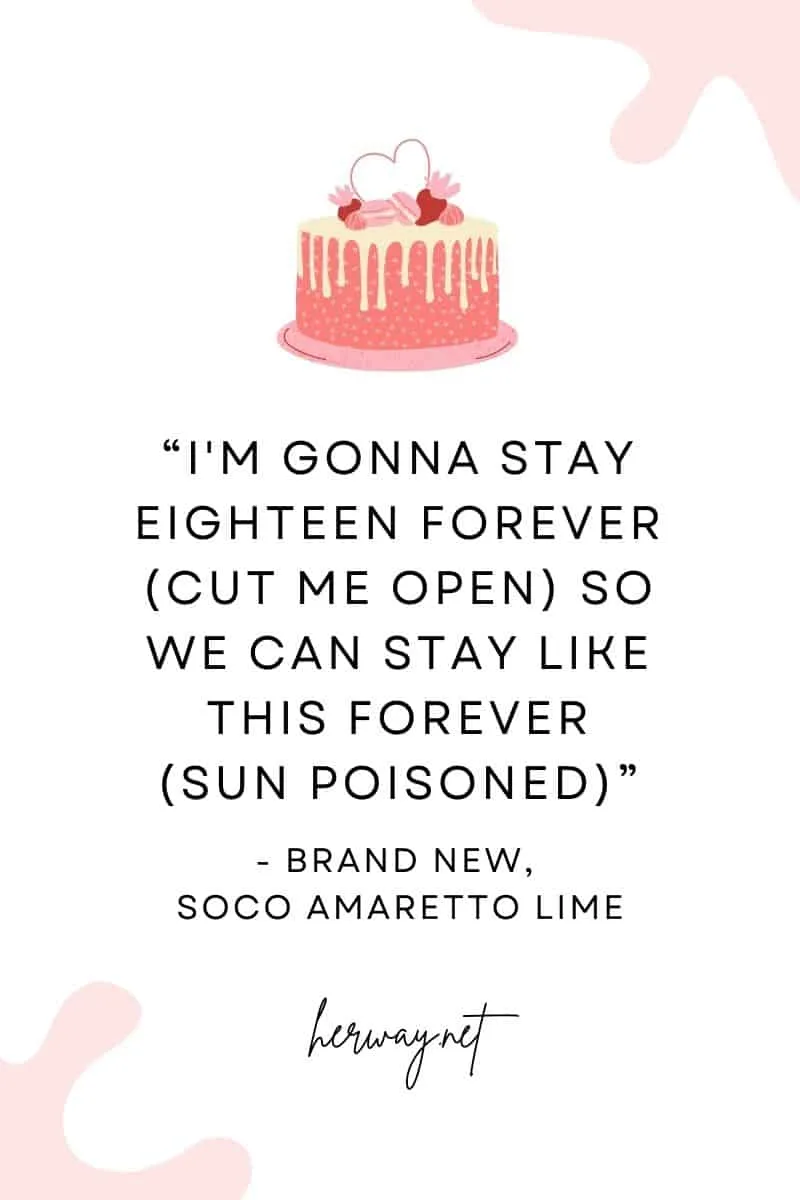 What Do You Say To Someone Turning 18?
Here's the list of the best 18th birthday wishes for your favorite 18-year-old. You can write these birthday messages on a birthday card or say them to your birthday girl (or boy) in person. Either way, I'm sure they'll melt their heart.
1. Happy, happy 18th birthday! The road ahead may or may not be paved with gold, yellow bricks, or good intentions, but it'll be an adventure all the same. Enjoy the journey!
2. Happy 18th birthday, my dear! May God bless you today and every day of your life!
3. May your days of adulthood be shinier than the stars! Happy birthday and good luck with life.
4. Today is no ordinary day; it's a day to celebrate as it's your 18th birthday. Happy birthday! Welcome to adulthood. As always, I'll be with you to give you all the love and support. Have fun!
5. Congratulations on entering the age where you will not have to show an ID card everywhere to prove that you are an adult. Happy 18th birthday – enjoy adulthood!
What Should I Caption My Birthday Post?
Here are some more birthday Instagram captions for your 18th birthday pictures – regardless if you're turning 18 or not:
1. Baddie since insert your birth year*
2. I can't keep calm; it's my birthday.
3. Check out your Facebook. It has some exciting news today.
4. I'm not old. I'm aged to perfection.
5. A star was born today. That's right. I'm talking about myself.
6. Hold on to your inner child as you grow older.
7. Surround yourself with best friends who are more excited about your birthday than you are.
8. Would it really be my birthday if I didn't take a selfie?
9. Time to par-tea!
10. Take the cake!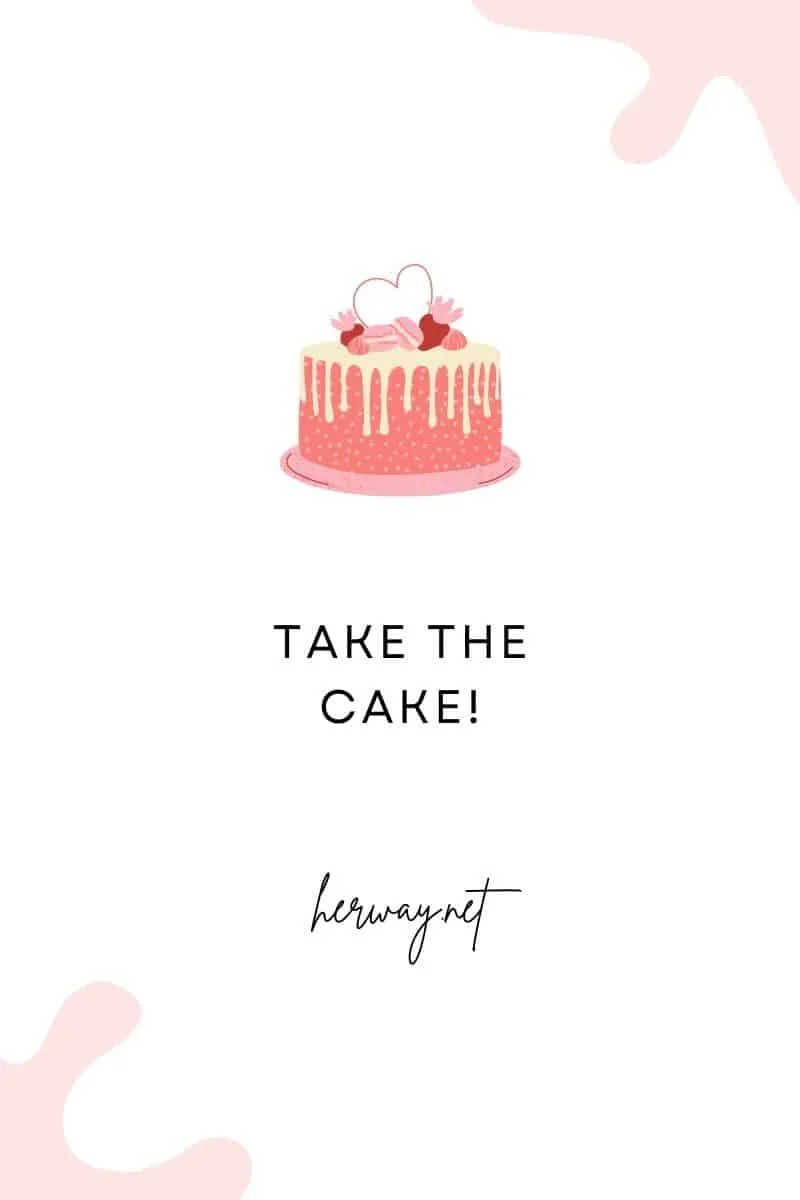 Is Eighteen A Special Birthday?
Yes, your 18th birthday is pretty special. From this day on, you officially become a legal adult. I don't know if you want to hear this, but your childhood seems to be over!
To Wrap Up:
Consider this collection of 18th birthday captions my birthday gift to you!
I wish you a happy 18th birthday! Enjoy it!