Have you already spent too much time choosing the right birthday card for your birthday boy/girl? Well, I'm sorry, but the truth is that it's only half the battle. The hardest part is yet to come…
What should you write in it? I suppose you're sick of those common and boring happy birthday wishes, and you want something more original? You have nothing to worry about because I got you. I compiled a list of funny birthday wishes that will make your birthday celebrant LOL.
There are some dates that you shouldn't forget at any cost, and I really mean this. Those are the dates of your romantic partner, friends and family's birth.
Remembering their special day and wishing them a happy birthday will show them that you appreciate and love them and that you're deeply grateful for their presence in your life.
So, let's get down to the nitty-gritty and find the best birthday message to make your loved one feel happy and loved on their special day.
Short Funny Birthday Wishes And Jokes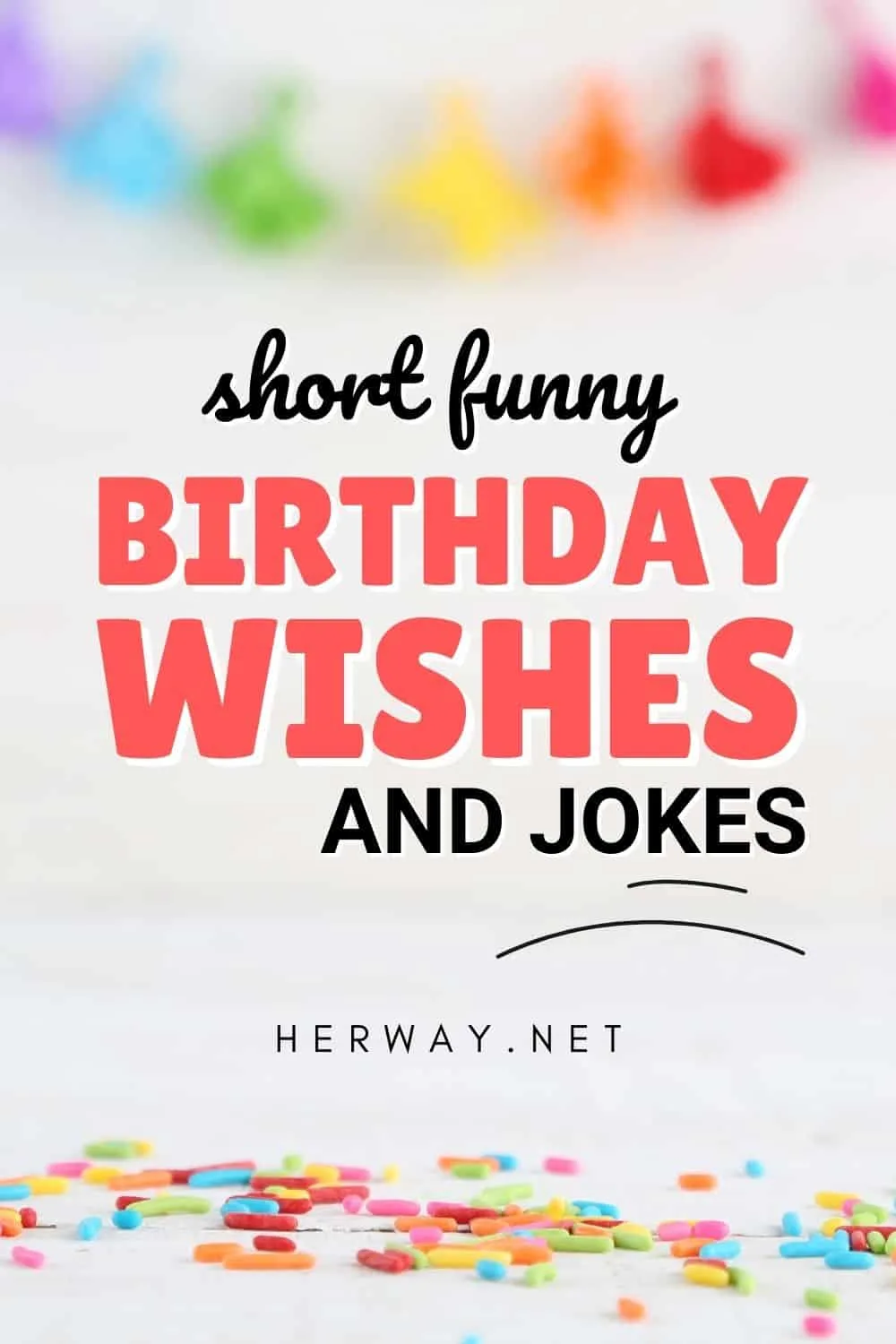 Okay, you've already bought the perfect gift and found the most adorable birthday greeting card for your special someone's birthday. Now, all you need is a unique birthday message to include in that card that will make your present complete and radieate good vibes.
I got that part covered for you. In this list below, you'll find the wittiest, most hilarious birthday messages and wishes for your loved one.
1. I can never forget your birthday. It always comes after the day you remind me of it. Happy birthday.
2. Another birthday goes by with more candles on your cake and fewer hairs on your head!
3. I always limit my budget when buying birthday gifts according to what that person gave me as a gift on my birthday. Enjoy your gift of nothing!
4. I wish the Almighty embraces you with luck to follow up those dreams and also a bucket of water to wake you up from them.
5. I promise when you get old and forgetful, I won't let you forget to wash your hands after you pee or feed the cat food to your cat and not yourself. Have a wonderful birthday!
6. I tried to find something that represented the year you were born. Unfortunately, the thrift shops were closed. Happy birthday.
7. One more year of warming your butt on my couch. Happy birthday!
8. Forget about the past; you can't change it. Forget about the future; you can't predict it. Forget about the present; I didn't get you one.
9. Many happy returns! I believe you are officially able to be appraised on Antiques Roadshow!
10. Happy birthday, and welcome to the '29 years old forever' club!
11. Happy birthday to someone who is aging better than Britney Spears AND Lindsay Lohan!!
12. We thought we would get the right amount of candles to put on your cake this year but quickly ran out of space. Happy birthday!
13. Wishing the most beautiful and intelligent person I know a great day. That's me. And to you, a very happy birthday.
14. You're a really hard individual to shop for… so I didn't get you anything. Happy birthday!
15. Don't think of them as wrinkles. Think of them as creases that just need some starch and a bit of ironing. Cheers to another year & another crease.
16. Wishing you the happiest of birthdays. May you have the energy and excitement of a 2-year-old but not the amount of teeth.
17. Another year, another birthday to organize, another headache. You better get used to headaches; they become more and more common when pushing middle age!
18. You had me at "there will be cake and ice cream." Happy birthday to a truly special person who admires candy!
19. Happy birthday! May you live long enough to see Amazon delivering on the moon.
20. Yes, we have reached that age… When every compliment we get is usually followed by 'for your age.' You're still looking great, though… for your age21. Happy birthday! Can you believe we used to think people our age were adults and had their lives in order?
22. Don't fret over another birthday. You were already old.
23. As you get older, three things happen. The first thing is your memory goes, and I can't remember the other two.
24. Congratulations! You are another year closer to being able to get that senior discount at Target and wear the underwear that you can pee in!
25. If you look back through all the years you've lived, the first thing you'll notice is that you need a telescope.
26. I will stop making age jokes on your birthday now… you've reached the age where it's genuinely not funny anymore.
27. Here is a hug! Happy birthday!!!! PS: I'm broke!
28. I might not remember where I placed the car keys at our age, but I definitely remember your birthday! Have a great birthday.
29. Just remember, the more candles on the cake, the bigger the cake you'll get! Now, who's laughing?
30. At least you're not as old as you will be next year… if you make it!
31. Brace yourself. An explosion of Facebook notifications is coming. Have a great birthday!
32. Remember that age is just a number… just a really, REALLY high one in your case!
33. Happy birthday to you. I hope you enjoy your day as much as I'll enjoy eating free cake and ice cream.
34. Chuck Norris wanted to apologize for not being able to make it to your birthday party. He was busy geocaching in Antarctica. Happy birthday.
35. The secret to staying young is lying about your age. Happy birthday!
36. Today is my big day. For those who want to send a truly unforgettable gift, I accept PayPal, Venmo, Zelle, Google Pay, and Cash App.
37. Oh yeah! You're getting closer to the age when the government sends you money every month. Happy birthday!
38. One of the best pieces of advice in life is "you have to appreciate the little things." That said, I know that spotting little things is easier said than done at your age! Happy birthday!
39. Your birthday only comes once a year, but the wrinkles it brings will last a lifetime.40. Congratulations on another year well-lived.
41. Today, I have gathered the courage to stand in front of you, look into your eyes, hold your hand and tell you… that I am only here for the cake.
42. Happy birthday. You're one step closer to diapers being mandatory!
43. I didn't get you a gift or a happy birthday card, but please accept this half-assed happy birthday wish sent via social media.
44. You're not 45. You're 20 with 25 years of experience.
45. If 'only the good die young,' I'm afraid you're going to be celebrating only a few more birthdays.
46. I hope you see the day when you have no teeth.
47. Blowing out those candles and wishing to get rich overnight? Keep blowing! Cause that shit doesn't work.
48. Did you know Chuck Norris was born on your birthday? Just kidding. That would be pretty kick-butt, though, wouldn't it? Your birthday is still on a pretty good day.
49. Another birthday? You're going to need a bigger cake… or smaller candles!
50. Party like it's 1959 when you could still dance and drink alcohol without ending up in the hospital.
51. I got you a stress ball as your present. With all the tension of growing old, you know.
52. For your birthday, I wanted to get you something to remind you of your youth, but they were sold out of cave art and dinosaur bones.
53. Happy 500th birthday, Vampire. May you stay forever young!
54. Wishing you the best! I would say you don't look another year older, but if I tell one lie now, it might make anything else I say later on unbelievable. Joking aside, you look pretty good for your age!
55. The emergency department is on speed dial just in case you have an unexpected asthma attack blowing out the candles.
56. May your birthday be sprinkled with fun and laughter. Have a great day!
57. Your wife says you're definitely getting better with age. Does that mean you started to take the trash out? Happy Bday.
58. There's nothing to be upset about when you think about your age… Especially when you can't even remember it! Happy birthday all the same!
59. Yesterday is past, tomorrow is not known, and present… I didn't get one.60. Happy birthday to the smartest, funniest, and most beautiful person in the world… Wait, did I say "to"? I mean from.
61. I thought about sending you a birthday card mocking your age, but I decided against it. Remember that when you are writing your will.
62. Only if Discovery showed animals celebrating their birthdays… Yes! You'd be on television!
63. At least you're not as old as you will be next year…
64. One more year to pretend you're old enough to care about people around you.
65. Happy birthday to you! I wish you get everything in life as easily as you get fat.
66. This birthday means it's time to start treating your kids like gold. They'll be choosing your nursing home soon.
67. Happy birthday to someone who remembers how to do the 'Macarena.'
68. What goes up comes down. Well, except your age, right? Happy birthday, dude.
69. You think you are old? You're not old… you were old last year. This year, you're ancient.
70. It's OK to light the candles on your birthday cake now; I've already alerted the fire department.
71. Finally, you're 21 and legally able to do everything you've been doing since you were 14 years old.
72. Happy 'sitting on your Facebook and typing a thousand thanks to people you don't know' day!
73. I hope your birthday leaves you less hot & bothered than when you read 50 Shades of Grey. Happy birthday.
74. Happy birthday! May your day be more beautiful than a unicorn farting rainbows!
75. May God give you the appetite to enjoy your big day to the max, despite the fact that you are older and wrinklier today than you were yesterday.
76. So, I was watching Jurassic Park, and I remembered it was your birthday. Happy birthday, you old dinosaur!
77. Another year closer to getting those senior citizen seats on buses! Happy birthday.
78. I will never send you one of those greeting cards making fun of your age. I know how sensitive old folks are about their age.
79. Happy birthday! I hope you get dope and happiness. Sorry, hope and happiness.80. A lighter? We're going to need a flamethrower to light your candles.
81. The best thing about your birthday is that you've now reached the age where you can say: "Those kids don't know anything. When I was young…" and then go on blathering all day, annoying everyone around you.
82. My antenna detects old people. Oh, that is you! Happy birthday, oldie.
83. Happy birthday! May you live to be old and toothless.
84. I hope you enjoy your birthday as much as Kim Kardashian enjoys taking selfies!
85. Congratulations on being a year older and still maintaining such a low level of maturity; you are truly an inspiration.
86. We all knew this day was coming. It's not bad luck; it's nature. It's best to just suck it up and accept the truth. It's no longer acceptable for you to eat a happy meal in public. Happy birthday!
87. Getting someone as awesome as me to send a birthday message to you has undoubtedly been your biggest achievement this year.
88. You are such an unforgettable person, mainly because of how old and grey you are. I hope you have a wonderful birthday.
89. It's your birthday. The good news is that you're only as old as you act, and right now, you're in kindergarten.
90. I hope you celebrate your birthday the way you came into this world, naked and screaming!
91. Don't worry, they are not gray hairs; they are wisdom highlights. You just happen to be extremely wise!
See also: 100 Best And Most Hilarious Jokes About Turning 30
Funny Birthday Wishes For A Best Friend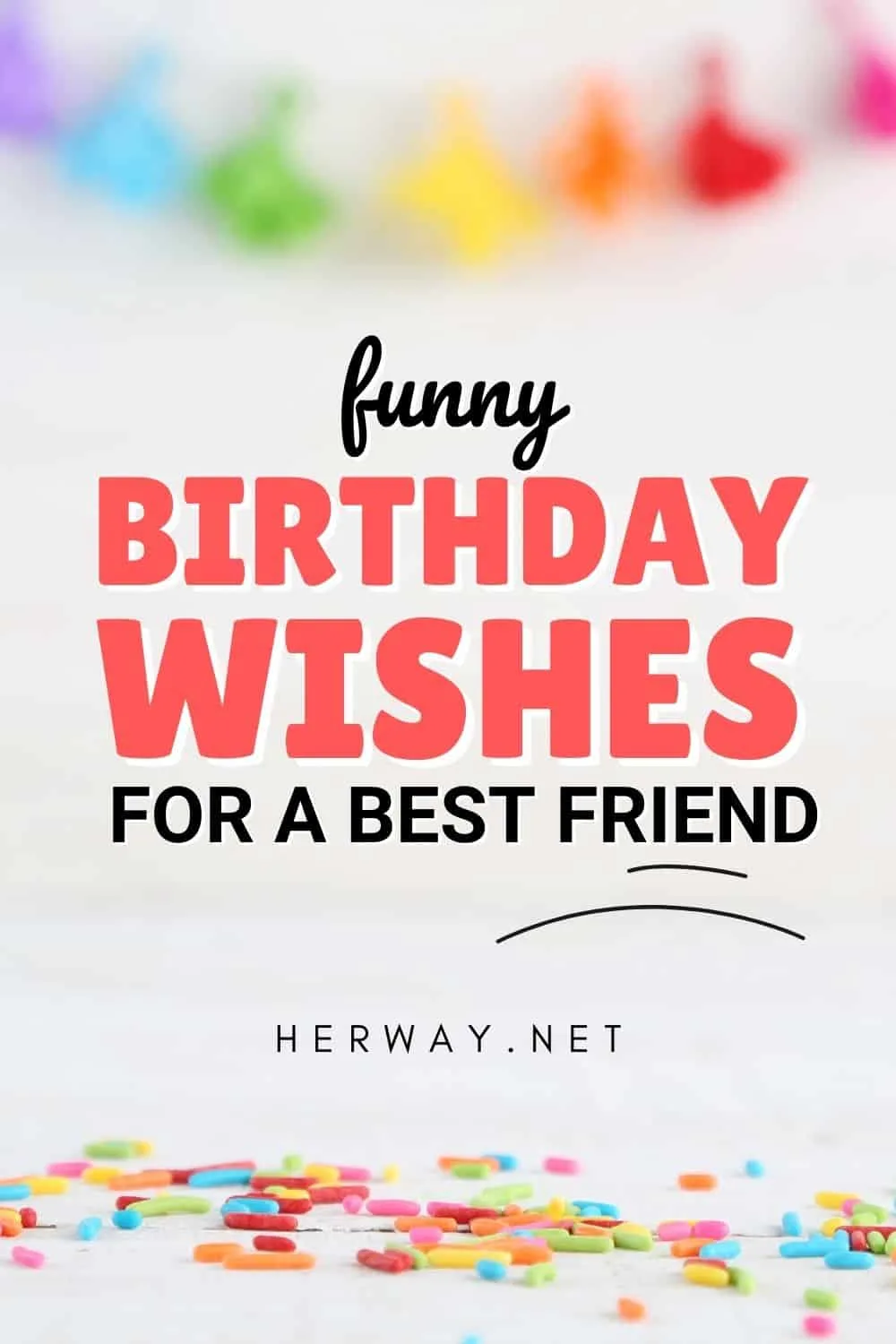 A best friend is someone who is always there for you, no matter what. It's the person who will always stand right beside you, watching your back.
That's why you have a million reasons to celebrate the day they were born and thank God for sending them into your life.
In this list below, you'll find the best, fun-filled wishes for your best friend's birthday.
1. Today, friend, count your blessings, not your years. You don't have that kind of time!
2. Happy birthday to a dear friend who has never acted their age. Don't ever change.
3. My dear friend, I regret to inform you that your childhood has officially EXPIRED.
4. Last year it was a nice dinner at a fantastic hotel, the year before we went to Vegas, and now, this year, you're just staying in? I guess the rumors are true: old age does ruin people. Happy birthday! Have a good one!
5. You know the old saying, "The older you are, the wiser you are"? I used to think that was true, but then I met you! Just kidding, friend. Happy birthday to you.
6. When I looked at the date, I realized it was your birthday, friend! When I thought about the year in which you were born, I almost fainted! You don't look a day over a hundred!
7. You should see your age as something to boast about, not worry over. The next time someone makes an age joke at you, remind them that you've been around longer than they've been able to walk, and if they make it to half your age, they should consider themselves lucky!
8. Remember on your birthday – good wishes are far more important than presents. Happy birthday from me!
9. Happy birthday to a friend who I wouldn't trade for all the Nutella in the world.
10. "We got no food! We got no jobs! Our pets' heads are falling off!!" I hope you are having a better day than Harry & Lloyd. Happy birthday, friend!
11. You remind me of a jar of pickles. You're pretty well preserved for your age. Happy birthday, my dear old friend!
12. I would like to wish you a politically correct birthday, so I won't encourage the overindulgence of alcohol, getting less than the recommended 9 hours of sleep, or listening to excessively loud rock music… But happy birthday, my friend, even if all the fun has been sucked out of it!
13. As long as you are my friend, you'll never have to do silly stuff alone. Have a wonderful birthday, and if you do anything ridiculous, I'll be right next to you doing the same thing.
14. Don't let your age get you down; it won't be long until you are allowed to start learning to drive. But until then, on your bike! Happy birthday!
15. It is said that those who have the most birthdays live the longest. Birthdays are great. Happy birthday, dude.16. If I tried to count up to your age today, I would go hoarse! Happy birthday, buddy!
17. If you're having vanilla cake, I would like some ice cream… but on the side. If it's chocolate cake, no ice cream. If you're having vanilla and chocolate marble cake, I would like the ice cream served on top of the cake. If there's no cake, then just a scoop of chocolate ice cream. Happy birthday to a friend that always goes above and beyond!
18. Happy birthday! If anyone messes with you on your special day, just let me know. I'll punch them right in their stupid face. Just one of the many benefits of having an awesome best friend like me!
19. If you were a grape, I would stomp on you and make you into a delicious vintage wine. Happy Birthday, bestie!
20. I was watching Grumpier Old Men, and I remembered it was your birthday. I hope we get put in the same room at our future nursing home. We would make some kick-butt BINGO partners! We would clean up!
21. I booked a visit to the nearby aided living facility for your big day! You will enjoy a 20 percent discount if your room is reserved now! I hope that you have a wonderful day! Happy birthday, you old fart!
22. Now is the time to tell you what you truly are, friend! An old geezer!
23. Of all the people celebrating their birthdays today, you are the least likely to be called "young" by a door-to-door salesman. Enjoy your day!
24. You know you're old when your social calendar has bi-weekly 'meet friends for coffee @ blood pressure clinic' on it. Happy birthday, you old fart.
25. Statistics show that people who live longer have more birthdays, costing us more money for presents!
26. Dear friend, have you ever wondered why I've kept you around for so long? You know too many of my secrets! Happy birthday.
27. On your big day, I thought we'd go to the zoo, but the signs say 'no pets allowed' on the premises, so we'll have to come up with something else since you wouldn't be allowed in. Happy birthday you big stinker!
28. Today, my friend, you have made me grateful for something… that I'm not the oldest person here!
29. Once in many years, people with great passion and brilliance are born into this world who aim at the greater things in life. And today, one of them would like to wish you a very happy birthday.
30. Happy birthday, friend! Age is not a big deal… to me! I'm still young!
31. I hope you don't mind that I bought you a cake to give to your mom, congratulating her for going through labor and giving birth to you. I mean, she was the one who did all the work. You just kinda popped out! Happy birthday!
Funny Birthday Wishes To A Sister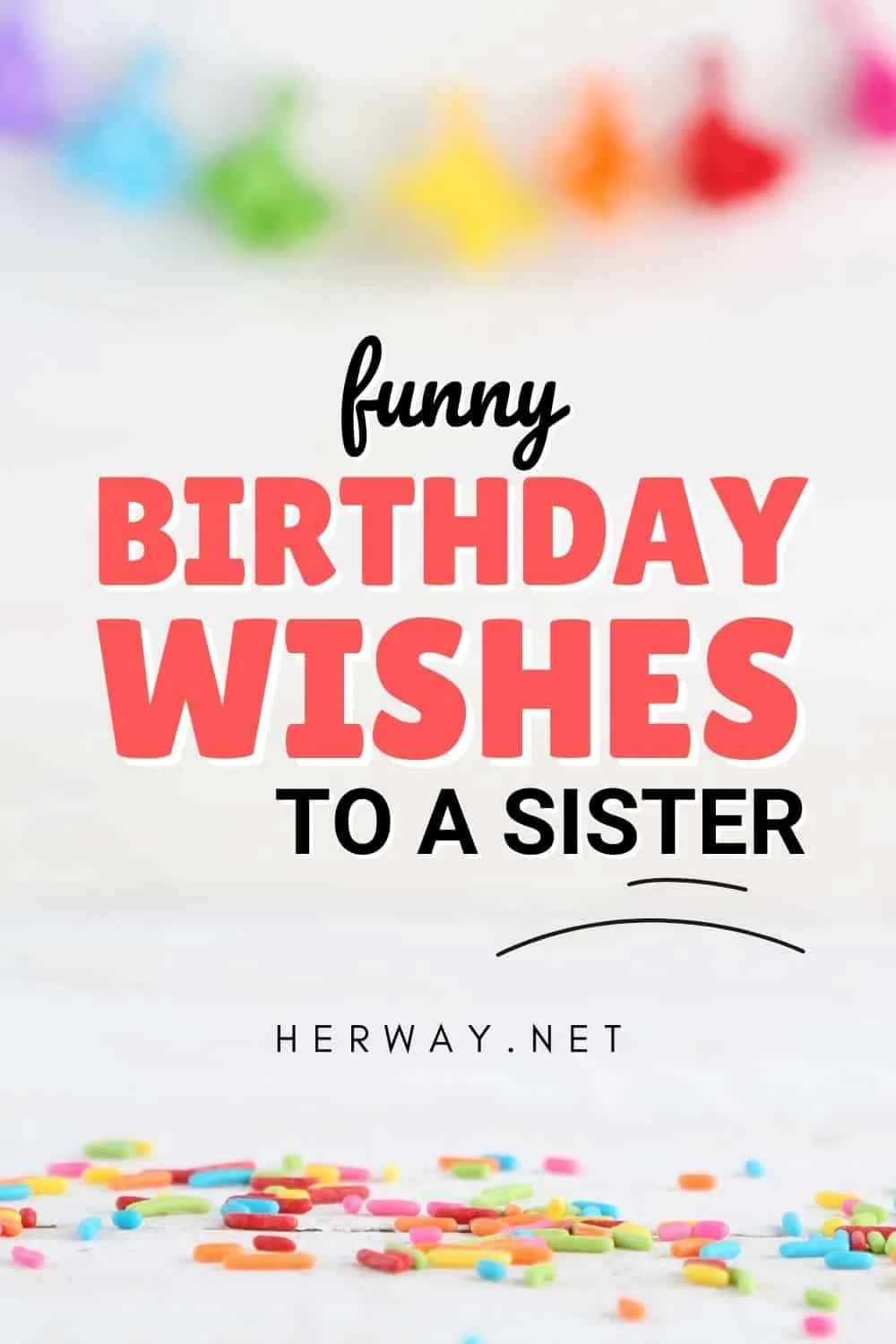 Use one of these funny happy birthday messages and make your sister laugh on her special day. You can also find a funny happy birthday meme and send it to her together with your birthday wishes.
1. Sis, there is definitely something that makes you stand out, and I know what it is… Your age, of course!
2. Happy birthday to one of the few people whose birthday I can remember without a Facebook reminder.
3. Cheers to this incredible woman, my sister who has been thirty… like fifty times probably!
4. You were a really obnoxious brat, and your smile lets you get away with murder. Still the same but older! Have a wonderful birthday, lil sis.
5. Happy birthday to an ancient woman! Someday, you will tell me what it was like to build Stonehenge!
6. Happy birthday to my sis, who is getting more valuable and better with age! Oh, wait – that's wine. Happy birthday to my sister, who is just getting old!
7. Looking at you fills me with hope! A woman can live to be a hundred!
8. To my dearest, most favorite, and most precious little sister. Our family was so very blessed the day you were born. It was such a joy to grow up with you and share so many great moments together. Remember these kind words when you're cutting and dishing out the cake portions later!
9. Happy birthday, sis! Here's to being immature for a lifetime.
10. May your hair dye and mascara never run! Happy birthday, old lady!
11. You are a woman whose very presence makes others happy! Thanks for reminding us that we're not as old as you!
12. I hope you have low expectations for your meal and cake this year; I hear dad's having a go at being the chef. Happy birthday, sis!
13. Best wishes to my beautiful sis. You're not THAT old. You're just getting up there. In the words of Elsa, "Let it go! Let it go!"
14. The worst thing about your birthday is that everybody knows we grew up together and it reveals my age too. But still, happy birthday to the best sister in the world.
Funny Birthday Wishes For A Brother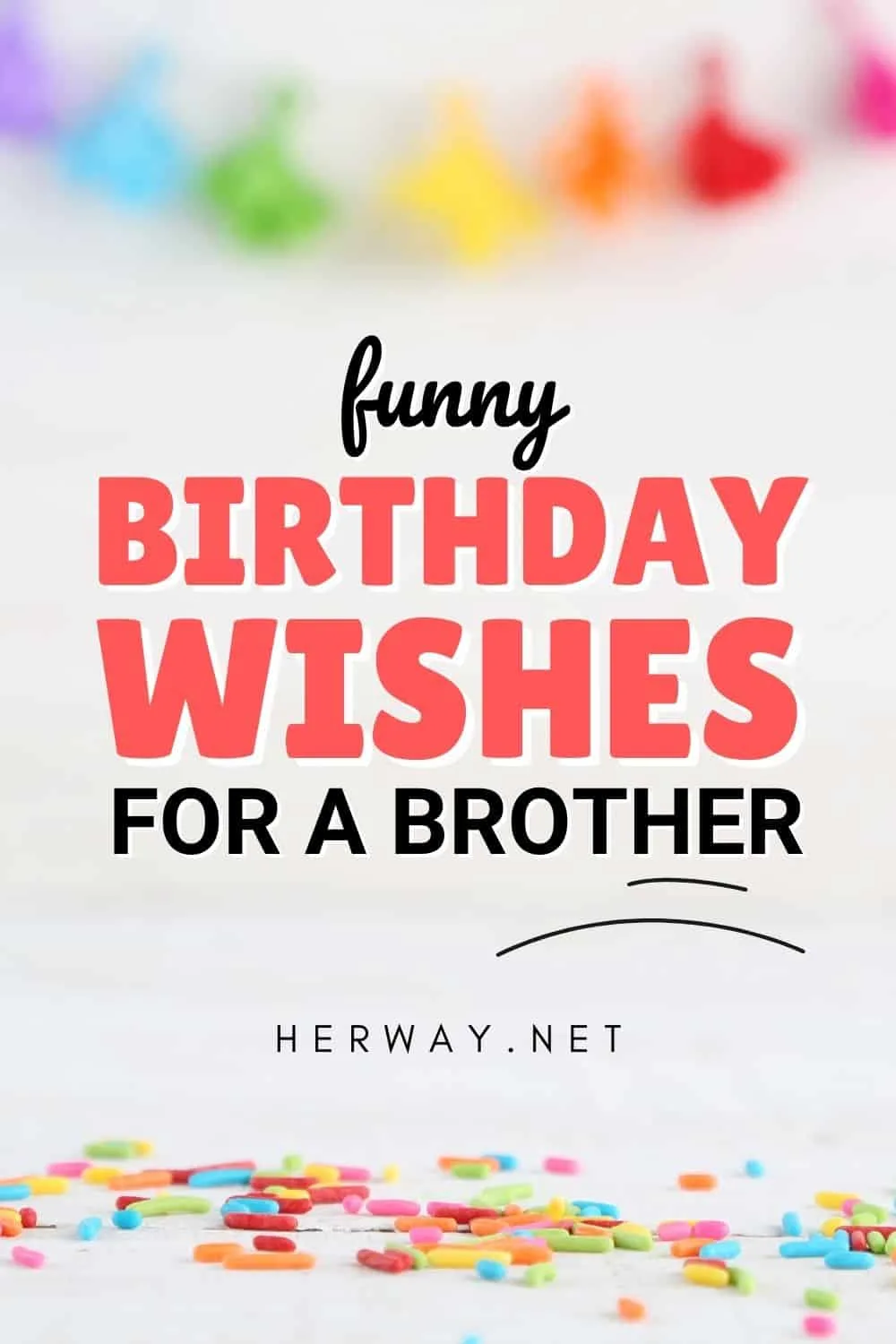 These hilarious birthday messages for your brother will definitely put a smile on your bro's face and show him all the gratitude and love you feel for him.
1. Cheers to my incredible brother, who thinks he is still young but isn't! You have really embraced delusion!
2. This birthday party won't even be happening if mom and dad knew your actual marks. So get me the biggest piece of cake, half your gifts, and some money, please.
3. Bro, I have to congratulate you because you have really achieved something today! How does it feel to be the oldest man alive?
4. I believe you forgot my birthday present last year, so now I'm returning the favor. Happy birthday, lil brother!
5. Your beard may be gray, your wrinkles may be deep, but hey, at least there is cake!
6. My dear brother, on this day, some people will tell you that you are still a young man. Well, let me tell you something, those people are huge liars!
7. Your birthday gives me one more chance to give you the stuff that I need. Happy birthday, dear brother!
8. As your younger sister, it's only right for me to remind you on your birthday that you're still older than me. Ha!
9. Oh my poor bro, you're another year older… And you still can't grow a beard.
10. I was at the antique store downtown, and I ran across one of the toys from your childhood that you were always playing with. This happy birthday message goes to my bro who is old enough to have his childhood toys listed in the latest edition of Kovels Antique Guide! Well done!
11. Bro, I hope that a million birthday wishes come true for you! It will definitely match your age!
12. Brother, I figured today would be as good a day as any to tell you that you were adopted!! Just kidding. Happy birthday—or is it??
13. Happy birthday to my big bro, who has witnessed great things! The invention of the wheel, the first cave drawing…
14. Congratulations! You're now one year closer to being known as a 'dirty old man'! Happy birthday to you, my dear brother.
15. Cheers to an old man who still thinks he is young! Call it "experience" and enjoy your birthday, anyway!
16. Someday, you will tell me how you survived the dinosaurs! I wish you the happiest birthday, bro!
Funny Birthday Wishes For A Wife/Girlfriend
I honestly feel sorry for every man who forgets his better half's birthday. He'll definitely have to go through a lot of trouble to earn her forgiveness.
To save you from that nightmare, I've compiled this list of funny birthday jokes and wishes for your adored woman. Well, I did my part, and I'm sorry, mate, but remembering her special date is still your task.
1. Happy birthday, my dear! Sometimes, I feel like you have been around forever! (That's because you have!)
2. I didn't even have to be reminded by Facebook that it was your big day today! Impressed?! Happy birthday to you, my love!
3. May your birthday be as nice as your butt and as incredible as your brain. Happy birthday, baby!
4. Cheers to my darling wife, who stays young! (Of course, that's only because she lies about her real age). I love you, baby, and wish you nothing but the very best!
5. I love you, baby girl, and I'm wishing you the best today. However, if you ever blackmail me for any reason, remember I still have those graduation photos of you.
6. I know that diamonds are a girl's best friend so I got you 13 diamonds… just throw away the rest of the playing cards.
7. Baby, to show that we're not that old, I am going to wish you a happy birthday in under 140 characters. #happybirthday #youngandhot #stillgettingcarded
8. Since it's your birthday, I'll let you leave the lights on.
9. It's your birthday! So, make sure you are going to properly utilize the day with a lot of monkey business! Let's have a crazy party. Happy birthday to you, my Princess!
10. I forgot to get you a gift, so I'll just go take a shower, put on my birthday suit, and wrap myself up for you.
11. Here is to all the years that you have been alive and the cake budget we cut down, just because candles cost a lot! Happy birthday, wifey!
12. Darling, I was going to send your gift in the mail, but the mail service said I weighed too much, so here I am. I wish you the happiest birthday ever.
13. Your birthday is making you sexier with every passing year. Happy birthday, hottie.
Funny Birthday Wishes For A Husband/Boyfriend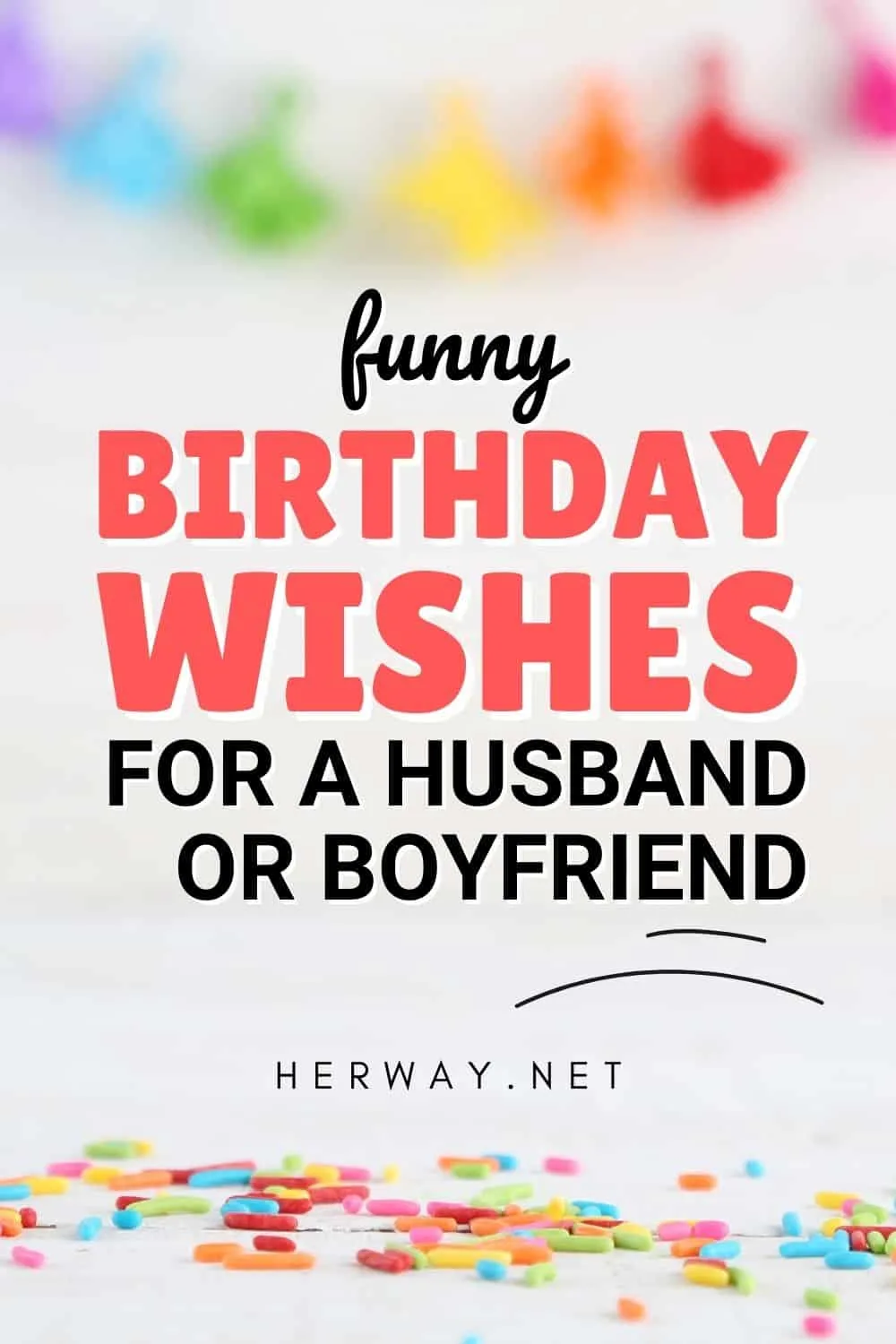 Choose the most hilarious birthday wish from this list below and make your man happy on his special day.
Also, these birthday messages will prove how much you actually care for him and how thankful you are for having him in your life.
1. As your birthday approaches, you might dread becoming an old man. Don't worry about that! You already are! But hey, you have your old lady who loves you even more than you think.
2. You're still hot after all these years… just not as hot as your birthday cake will be once all those candles are lit!
3. Congratulations on your birthday! Remember, today, no sex! Because you need all your energy to blow out the candles!
4. Happy birthday to you. Happy birthday to you. You smell like my husband, and you sorta look like him too.
5. Happy birthday! You are my one in a million, and I would like to spend this day celebrating with you, and I would like to spend every other day with you. Of course, except when you watch soccer, baseball, or hockey.
6. You see, you should not be ashamed of growing old. Not only do you get to play the smart guy all the time, but all antiques like you also have great value! Happy birthday, old man!
7. Happy birthday from someone who puts up with your belching, farting, scratching, and remote control hogging!
8. On this date, hubby, you might ache a little more. But, don't worry, it's only because you are old!
9. Wait, you are how old? Oh jeez, that's almost dead in doggy years. I'm so glad we met when we were kids. Happy birthday, bae.
10. Today, you have officially gotten past things! Like youth and hair that isn't gray! Happy birthday, hubby!
11. You might not be Christian Grey, but I still love you more and more with each passing year! Happy birthday to you, my better version of Mr. Grey.
12. You made it! You are now officially old! Maybe no one else has the guts to let you know, but don't worry. In my opinion, you'll make a sexy grey fox for sure!
13. Living as an old man is better than not living at all, right? Happy birthday, love!
14. Today, reflect on the fact that you have been here from the beginning! I mean, the very beginning! Happy birthday to my beloved man!
15. Dear hubby, you define my past and my future. And as for the present, I could find nothing for you. So I bought one for myself.
Belated Funny Birthday Wishes
Nowadays we're all a bit too busy and, unfortunately, important and special dates slip our minds all too often. However, that's not an excuse because we all know that it can really hurt our loved ones.
If you've forgotten to wish your best friend or your partner a happy birthday, you can fix things by sending them a belated birthday message or greeting card. Better late than never, right?
These funny birthday wishes below are guaranteed to turn the frown on their faces upside down and bring a smile to their face instantly.
1. Stop whining about how I forgot your birthday. Be a man; let's have a beer to celebrate.
2. It's so tough to believe that you are getting older that I decided to wish you a happy birthday late this year.
3. The best part of having friends like me is that you get to celebrate your birthday even when it is not. Belated happy birthday, dude! Let's go grab some drinks.
4. I hope you're not feeling deflated that I'm a little belated. Happy (late) birthday!
5. I forgot to send you my best wishes on your birthday last year. Gotta keep the tradition alive. Belated happy birthday, buddy!
6. I'm sorry my birthday wishes are belated—I honestly didn't think you'd live this long. Happy birthday!
7. Sorry I am late. I spent a lot of time deciding whether to send you a handwritten letter, email, voice message, Facebook message, tweet, SMS, or video message. I could not decide in time. So here's one of each—happy belated birthday!
8. Sorry I missed your birthday… Hopefully, you'll have another one next year…
9. I deliberately did not want to add to the chaos of birthday wishes that you would have received on your birthday. Because I did not want to be yet another friend reminding you of how old you are getting. Better late than never. Belated happy birthday!
10. Happy belated birthday! Sending lots of extra love your way to help you turn that frown upside down.
11. If you had to accept a bribe to forgive someone, what would it be? Tell me quickly, because I need to wish you a late happy birthday.
12. You stole my pencil when we were in 2nd grade. I am late in wishing you a happy birthday. We are even now.
13. It's not your fault, buddy. No one can help the fact that you're growing old and that I totally forgot… Happy belated birthday!
14. Rock stars are never on time, and that's why I am fashionably late. Belated happy birthday.
15. Guilty as charged! Missing a chance to celebrate you is a crime. Happy belated birthday!
16. Did you know that you look really hot when you are in a forgiving mood? Belated happy birthday! xoxo
17. You're amazing, wise, super cool, fantastic, brilliant, intelligent – but don't get too excited. I'm only saying all these things because I'm a couple of days late! Happy birthday!
18. I know you had lots of birthday wishes yesterday, but who is thinking of you today? Me, that's who. Happy belated birthday!
19. I don't like the feeling of missing your birthday, so here's a belated birthday card and, to be safe, one for next year too. Happy birthday in advance.
20. Fashionably late is kind of my style; hope you don't mind. Happy belated birthday. Hope it was fabulous!
21. Life is all about forgiving and forgetting. I forgot your birthday, and you can forgive me. How perfect.
22. Sorry I wasn't there with you to mourn the loss of your youth. Happy belated birthday!
23. Why should I be sorry about not wishing you a happy birthday? You saved some money by treating one less person, didn't you? Belated happy birthday!
24. Missing your big day is no laughing matter… even if you're a clown. Happy belated birthday!
25. I forgot your birthday. So what? There's always a next time, next year. 'Till then, belated happy birthday.
26. The best quality of a cool friend like you is that they never get angry when someone forgets to send them good wishes on their birthday.
27. Your best friend is suffering in guilt-fueled pain because she forgot your birthday. Be a good friend and put her out of pain by giving her a nice hug and taking her out for dinner.4
28. I don't want you to think that I forgot your special day, so please don't look at this as a late birthday wish! Instead, just look at it as a super early one for next year! I've already started counting down the days, and I hope you have a fab year leading up to it! All the best to you, my friend!
29. Sorry I missed your birthday. I promise it will not happen again this year.
30. I'm sorry that I missed your birthday, but I think it's pretty impressive that I remembered it this soon after! Happy belated birthday from your notoriously forgetful friend!
31. With age comes patience. Thanks for waiting for my belated birthday wish.
32. I did not forget your birthday. I just wanted to make it last longer. Happy belated birthday, dear.
33. I got abducted by aliens, but I managed to run away when they were taking a nap. Belated happy birthday!
34. It's apparent that you have been blessed with many things on your birthday. Unfortunately, a punctual birthday message from me was not one of them. Hope you had an amazing day!
35. Your dog must have eaten the birthday card I sent to you yesterday. Wishing you a belated happy birthday.
36. Sorry I missed your birthday. How weird is that? That only happens to me like once per year. Happy birthday to you.
37. I feel so bad about forgetting your birthday. Aren't you going to do something to make me feel nice?
38. This birthday message is only a teensy-weensy late. I remembered you… I just forgot the date! My calendar said you were 65 today. I thought that was a mistake; there's just no way! You're so youthful, vibrant, and vivacious, too. There's only so much a fella can do! Anybody can say happy birthday on time, but I went through the trouble of thinking of a rhyme.
39. You are cool, good-looking, and an awesome person to hang out with. Did I mention that you are forgiving, too? Belated happy birthday, bestie!
40. I'm sure you've realized that I'd forgotten your birthday by now. However, if it makes you feel any better, I forgot two doctor appointments and an anniversary this year, as well! Happy belated birthday to my unforgettable friend.
To Recap
I hope you enjoyed and had a good laugh with this collection of funny birthday wishes.
And I just wanted to say you're welcome to all of you who have forgotten someone's birthday because I'm sure you saw the last list of belated happy birthday quotes and wishes.
After you send that special someone one of these messages, I'm sure they won't be able to hold a grudge for forgetting their special day.
You can send these funny birthday messages to the birthday celebrant via social media, or you can simply write them on their birthday greeting card.
Trust me, no matter what age a person is turning, a funny birthday card will always make them giggle. A nice gift will make them happy, but a unique greeting card with a funny birthday quote in it will definitely make their special day even more special.
I'm sure you chose the perfect birthday quote/message for your special someone, and now… Let the B-day fun begin! ??