Busy lives mean that the time to spend with your special someone is usually at night, so dinner dates are the standard among date night ideas, with the occasional evening of dancing or a movie.
These types of dates are classics for a reason – all you want to do is share something enjoyable with the person you love, so you give all your attention to the person you're with because the activity you're doing isn't as important.
If you challenge your habits about what a date is supposed to be like, you can have fun spending time in the company of your partner while doing something interesting. Doing an activity while focusing on each other can be invigorating and refreshing.
Why not switch it up from time to time? A weekend date doesn't have to wait until the p.m. There are a lot of things available early in the day that you can't do at an evening date, so check out these morning date ideas for inspiration.
30 Romantic And Fun Morning Date Ideas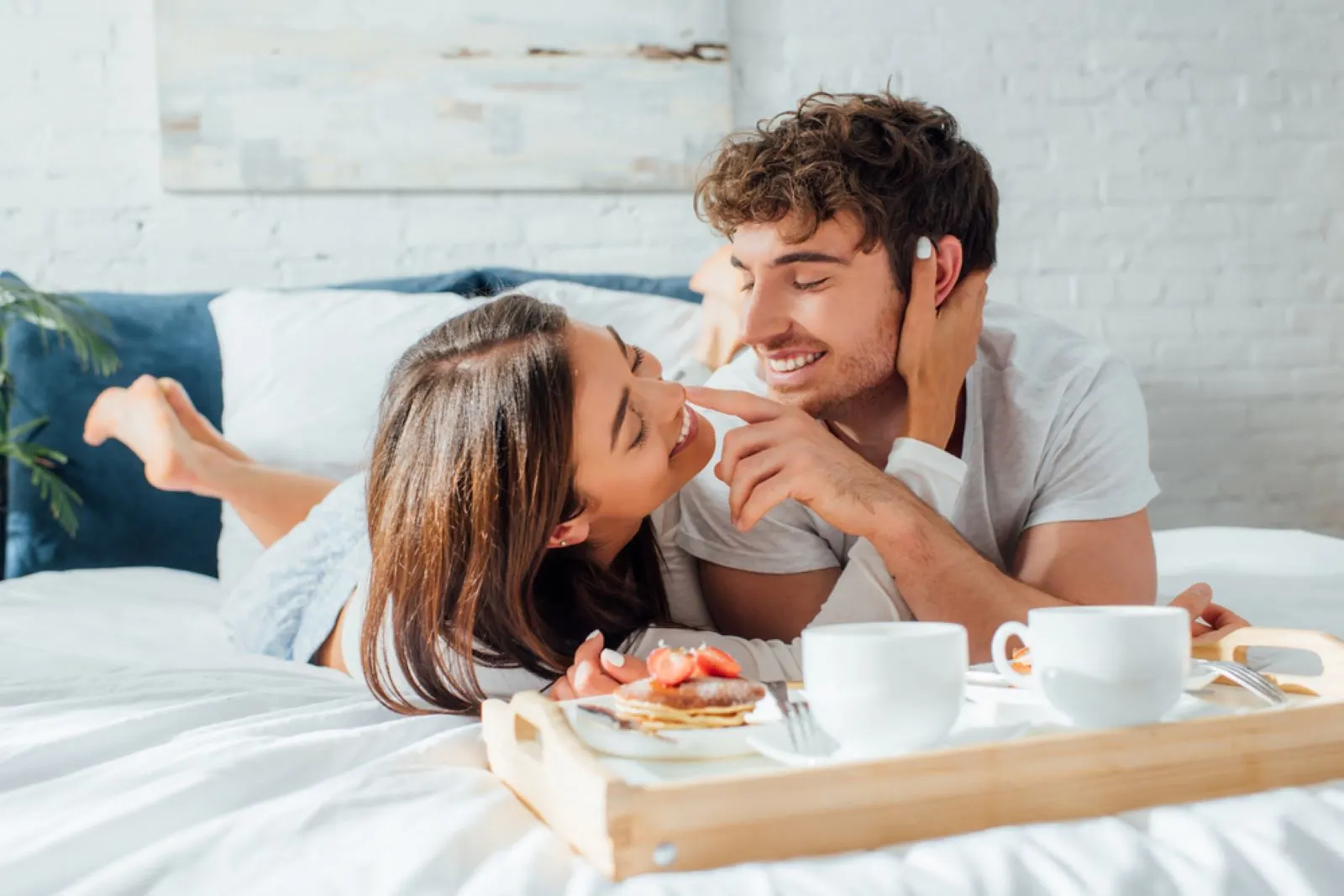 Even if you're not a morning person, you can enjoy a morning date if you pick an activity you like to do from this list of morning date ideas. Choose something you like, then set aside a Saturday morning to enjoy spending time with your special someone.
This list can be used if you're about to go on your first date with your crush or if you're a part of a married couple if you want to experience some memorable dates. Have fun!
1. Romantic breakfast in bed
What better way to make your partner happy than to serve them breakfast in bed? Change things up a little bit and cook breakfast for two which you can share as you start your day. This is one of the most romantic at-home date ideas, so make sure to prepare your significant other's favorite foods. If they're not picky, you can never go wrong with waffles.
2. Farmers market date
Visit a farmers market together early in the morning while the best produce is still available. Shopping for food can seem like a chore, but as you carefully look over delicious fruits and veggies while you choose between them, you can turn it into a shared experience.
Decide together what is the most appealing and what you're drawn to. After you've picked the most delectable produce, don't forget to grab some flowers which are usually available at a farmer's market. Continue your date by cooking together using the veggies you bought.
3. Thrifting
You have a lot of options when it comes to thrifting: local yard sales, thrift stores, garage sales, or flea markets are full of interesting and unique items. Doing this with your significant other is fun and a great way to spend the day.
If you like antiques, you can find pieces that will fit into your home as they are, but they'll cost a little more. If you prefer upcycling, you can find things you can use without paying a lot. You can continue your date by creating something from the item you buy.
4. Visiting the botanical gardens
Flowers in bloom with their fragrant scent, relaxing greenery to take in and exotic plants you can't see elsewhere can seduce you into staying at the botanical gardens all day. Taking a walk with your partner through the beautiful surroundings makes for a great date, especially in the morning.
Morning dew turns the garden into something magical, and if you're a hopeless romantic, you must see it.
5. A road trip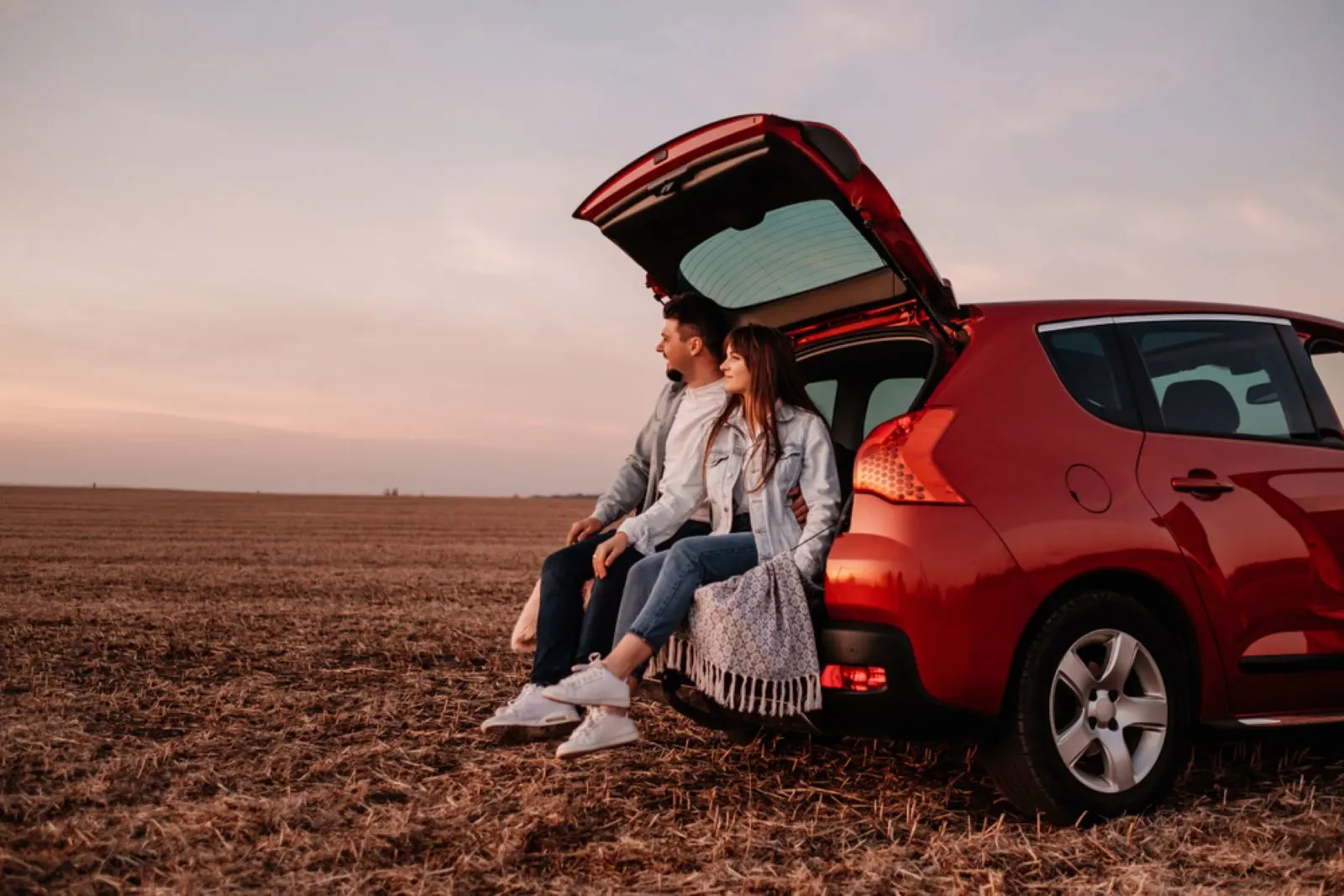 Take a day trip or a weekend road trip together. Visit an interesting place and get to know each other better on the way. You can be spontaneous and plan ahead or you can just get in your car and drive, whichever is more your style.
You can decide on a destination that you've always wanted to visit or go somewhere close just for the sake of the trip. Either way, changing your location will restore your energy and bring you closer to your partner.
6. Cooking class date
Cooking classes aren't just for people who can't cook at all – even an accomplished home chef can learn something from a professional. Learning something new together is a great bonding activity because it gives you a chance to grow together.
The best part of the cooking class is that you get to eat something you created together. A delicious and rewarding experience.
7. Brunch date/double date
A brunch date instead of a dinner date turns things around – instead of your date coming to an end when the meal is over like after a dinner date, it has just begun after a brunch date. It can be the first step of your all-day date. Make sure to pick a food joint that serves your favorite food.
Brunch is also a fun time to meet friends and go on a double date, so order those mimosas and enjoy the company.
8. Bike ride date
Enjoy fresh morning air and get a workout together by going on a bike ride. To make it special, find a scenic biking trail or decide on a destination where another activity will be waiting for you.
The great thing about biking is that it doesn't feel like a workout because it's so fun. Riding together with your significant other is even more fun – you can race each other, stop whenever you see something interesting or take a break to get a snack.
9. Kayaking date
If you've never tried kayaking and you enjoy nature and physical activities, trying it with your partner will be an exciting bonding experience. Trying something together for the first time will give you irreplaceable memories and bring you closer.
Kayaking is relaxing and fun; it relieves you of stress and lets you enjoy a great atmosphere of water and nature.
10. Hot air balloon ride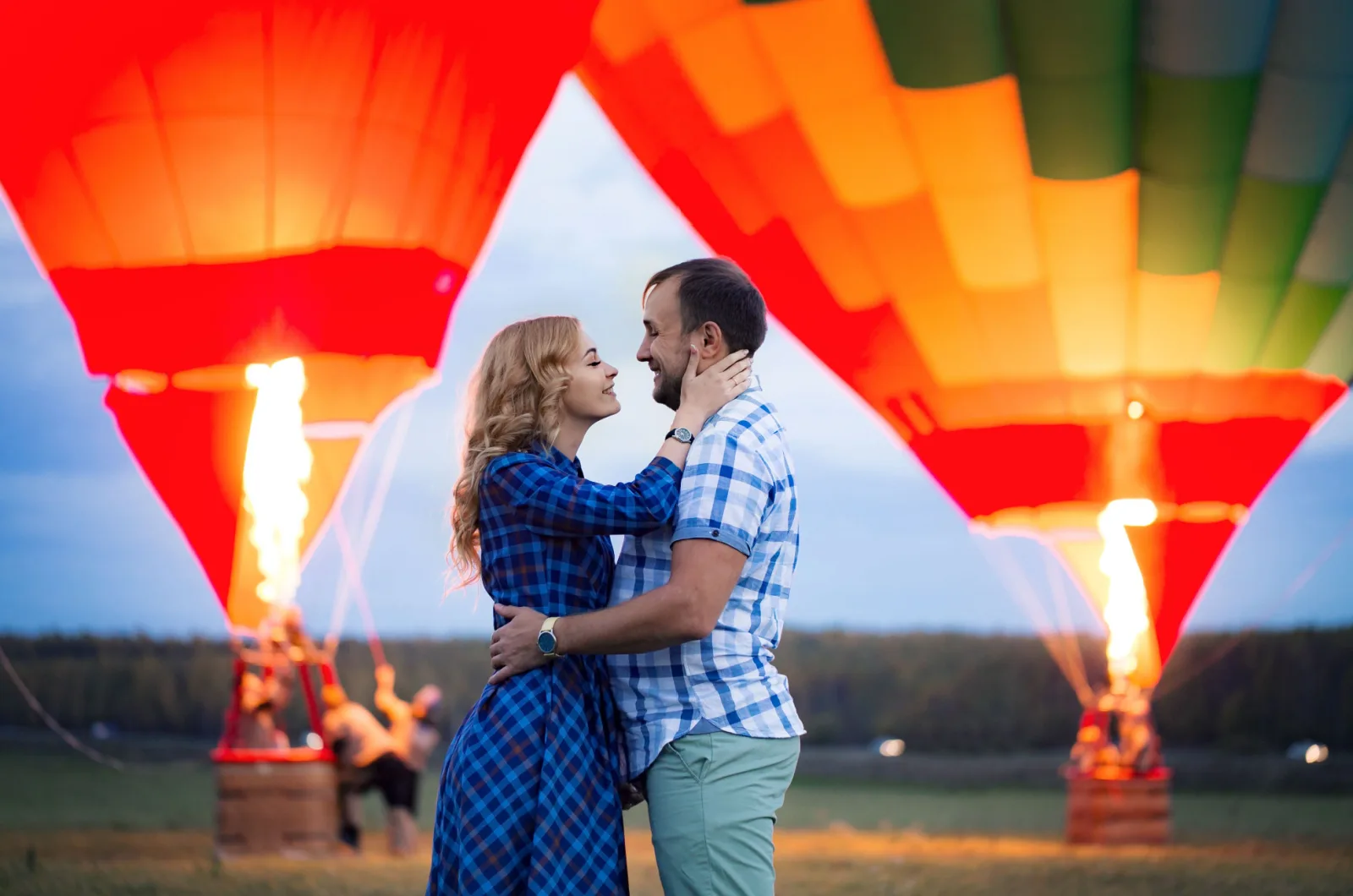 This extravagant date must be planned, so it can be something special to do on an anniversary, birthday or another occasion you celebrate. Watch the sunrise from above with your loved one and enjoy the change of perspective.
Hot air balloon rides are very romantic and memorable. Seeing the sights in a new way, enjoying the breeze as you embrace will stay with you forever.
11. Visiting an art gallery
Visiting an art gallery is perfect if you both like art, but maybe even better if you're discovering it together. If one of you has something they'd like to show the other person, looking at the face of someone you love as they take in something you love is a very rewarding experience.
If neither of you knows a lot about art, this can be a fun day and perhaps the start of a brand new interest that you share with each other.
12. Volunteer at an animal shelter
Lots of animal shelters have volunteer programs and always need someone to help out. If you and your significant other are animal lovers, spending time taking care of homeless animals will be rewarding.
There are many tasks animal shelters need help with: from feeding and walking the animals to chores around the shelter to various jobs that don't involve animals at all. Doing something meaningful like this together is a great way to strengthen your relationship.
13. Ice skating date
What could be more romantic than ice-skating together? Holding hands as you glide around the rink, enjoying the cool air and each other's warm touch is the stuff of fairy tales.
If one of you doesn't know how to skate, it's no problem! Teaching your date how to skate will bring you hours of fun and when they step on the skates confidently for the first time, it will give you a sense of accomplishment, bringing you closer together.
14. An escape room
Escape rooms are all about cooperation and solving problems, so they're an ideal way to bond with your significant other. Find one that offers a theme you both find appealing and prepare your detective skills.
If you don't have experience with escape rooms, it's a good idea to get a beginner level one, especially because they're usually intended for more than two people. This fun activity never fails to entertain and whoever you go with, you end up closer than when you started, so it's ideal to undertake with your partner.
15. A photo shoot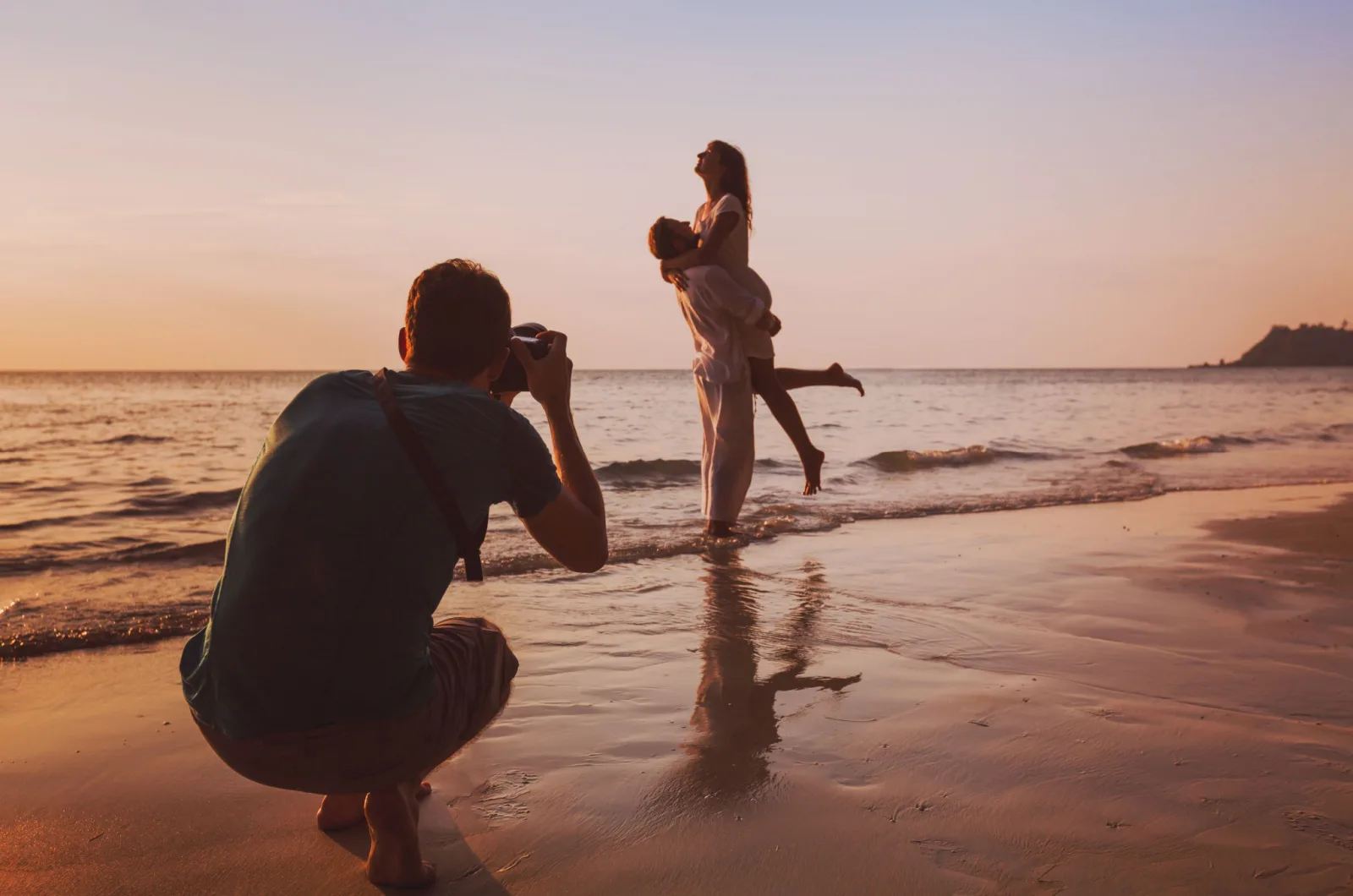 Couples' photo shoots are available at many photography studios, so if you've never done one, this will be a blast. There are many options for your photo shoot: you can do something understated, wearing your own clothes and posing naturally, or pick a theme and really have a go at it.
Deciding on a theme will make you feel like models or actors working together, and you'll especially enjoy it if you choose something both of you really like. When you get your photos, you'll be stunned by how professional you seem: like a real movie star couple!
RELATED: 20 Amazing And Cute Late Night Date Ideas For All Couples
16. Trying a new recipe together
If you don't usually cook together, making a date out of it is a great idea. Spending time together creating something is one of the best ways to grow together, but cooking food is a particularly fun way to do it.
Cooking something for the first time is a good choice for a cooking date, especially if it's a dish you've shared somewhere. You'll have fun while you do it, you'll enjoy eating it and every time you eat something similar, you'll think of each other.
17. Art class date
You don't have to be artistic to take an art class, you only need will and time. Grab your significant other and find an art class that speaks to you. There are many techniques and themes to choose from, so everyone can find something that will appeal to them.
A fine art class isn't just an oil painting class – you can try watercolors, gouache or acrylic, or go in the direction of sculpture and pick pottery. Whichever discipline you choose, you and your partner will feel like no time has passed while you're engaged in this fun activity, and that definitely counts as a successful date.
18. Rock climbing date
Rock climbing might not be everyone's cup of tea, but if you and your partner are adventurous, athletic types, this is definitely something to try. You don't have to be in particularly good shape to try rock climbing, although it helps.
The interesting part about rock climbing is that it's supposed to be done in pairs. It requires trust and builds it further, so it's a perfect activity for a couple. You can have your first climbing date at a climbing gym, and then go on one outdoors when you become more confident about your skills.
19. A matinee
Forget movie nights, matinees are where it's at. Catching a movie at the movie theater or a play at the theater before noon will start off your day with something exciting to mull over and think about.
After your early movie, you can grab lunch then proceed to another fun activity for two and keep going until you're too tired to continue. These kinds of dates are especially appealing early in the relationship while you're so into each other that you want to spend the whole day together.
20. Hiking date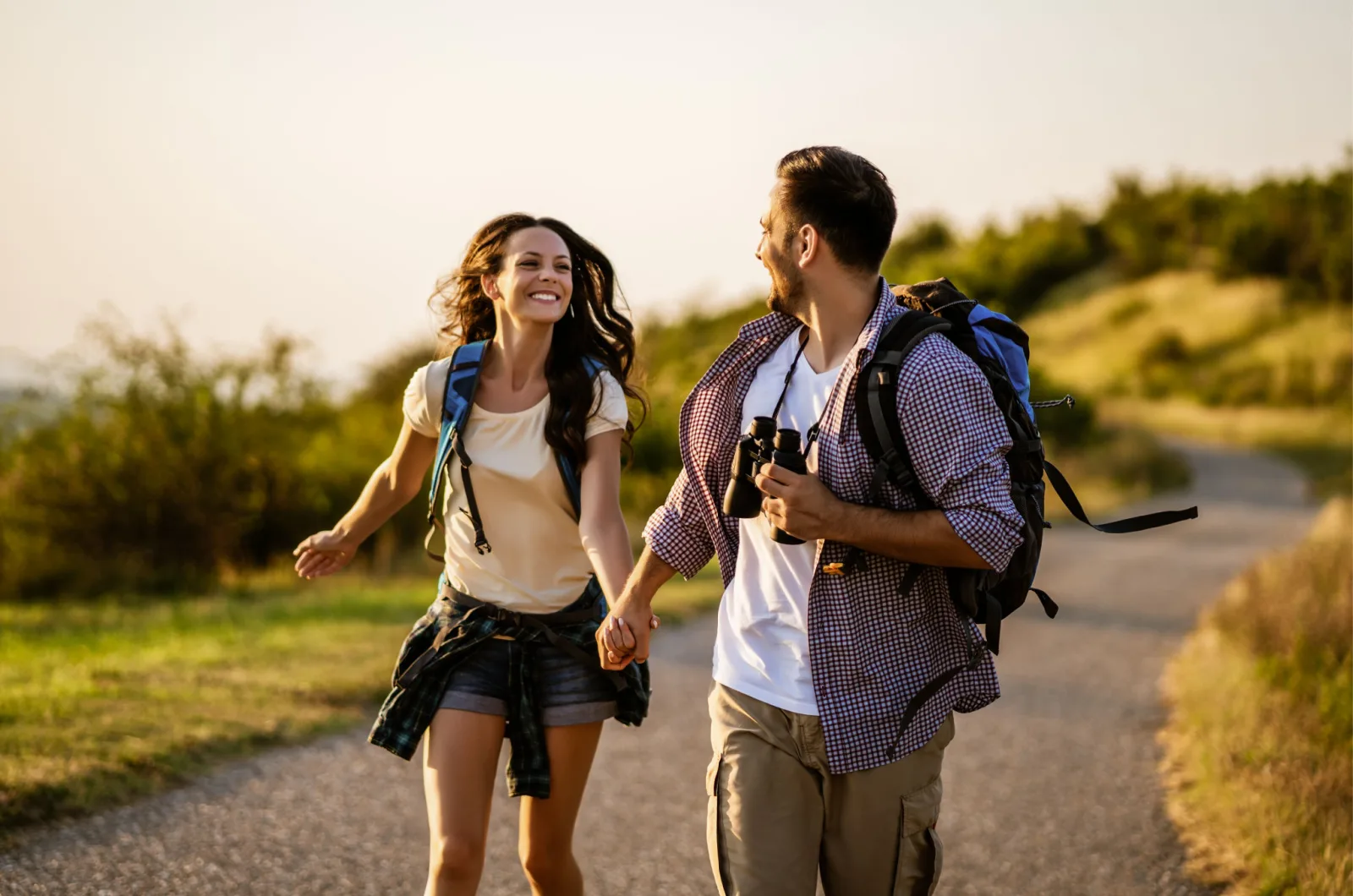 An early morning hike is special because of the atmosphere that follows it – nature is stirring as the sun rises and people are scarce on the walking trail. This hazy mood inspires intimate conversation as you walk through nature and ask each other questions about your hopes, dreams and fears.
As the day moves forward, the mood changes and you have a chance to see a completely different side of your date and show them a new side of you.
21. Enjoying the park
If your city has a big park, it's the perfect spot for a date. In warm weather, parks are overflowing with events and activities, from live music to sporting activities. A date at the park can last the whole day.
Even if the park near where you live isn't a big one, you can still enjoy taking a walk and taking in fresh air, trying ice cream or snacks, but most importantly, hold hands with your date.
22. Spa day
Morning is the perfect time to spend your couples spa day. Relax and unwind together as you try the treatments offered by the spa that will make you feel pampered at the end of the day, which will bring you good mood and put a smile on your face.
Spas include couples massages, steam rooms and treatments to relax and rejuvenate you. Booking a whole day will also provide you with food and most definitely at least one glass of bubbly. Treat yourselves!
23. Romantic breakfast picnic
A romantic picnic can be done anywhere: at the park, at the beach or in your backyard. The important part is that you're outdoors, surrounded by nature, enjoying food and each other's company. You can prepare the food yourselves or you can buy it, depending on how much time and cooking skills you have.
Sitting on a soft blanket on the ground, maybe feeding each other and talking about things that will make you get to know each other better – this is what perfect dates are all about.
24. Zoo date
Going to the zoo is an activity that can fill a whole day, especially if the zoo you're visiting is big. By the time you've seen all the animals once, you'll want to go back and see all your favorites again, and of course, you'll get lost a little, so it will take time.
Zoos are crowded on the weekends, so plan ahead if this is the kind of activity you're interested in. And make sure to bring a portable charger, because you'll be taking a lot of pics.
25. Fruit picking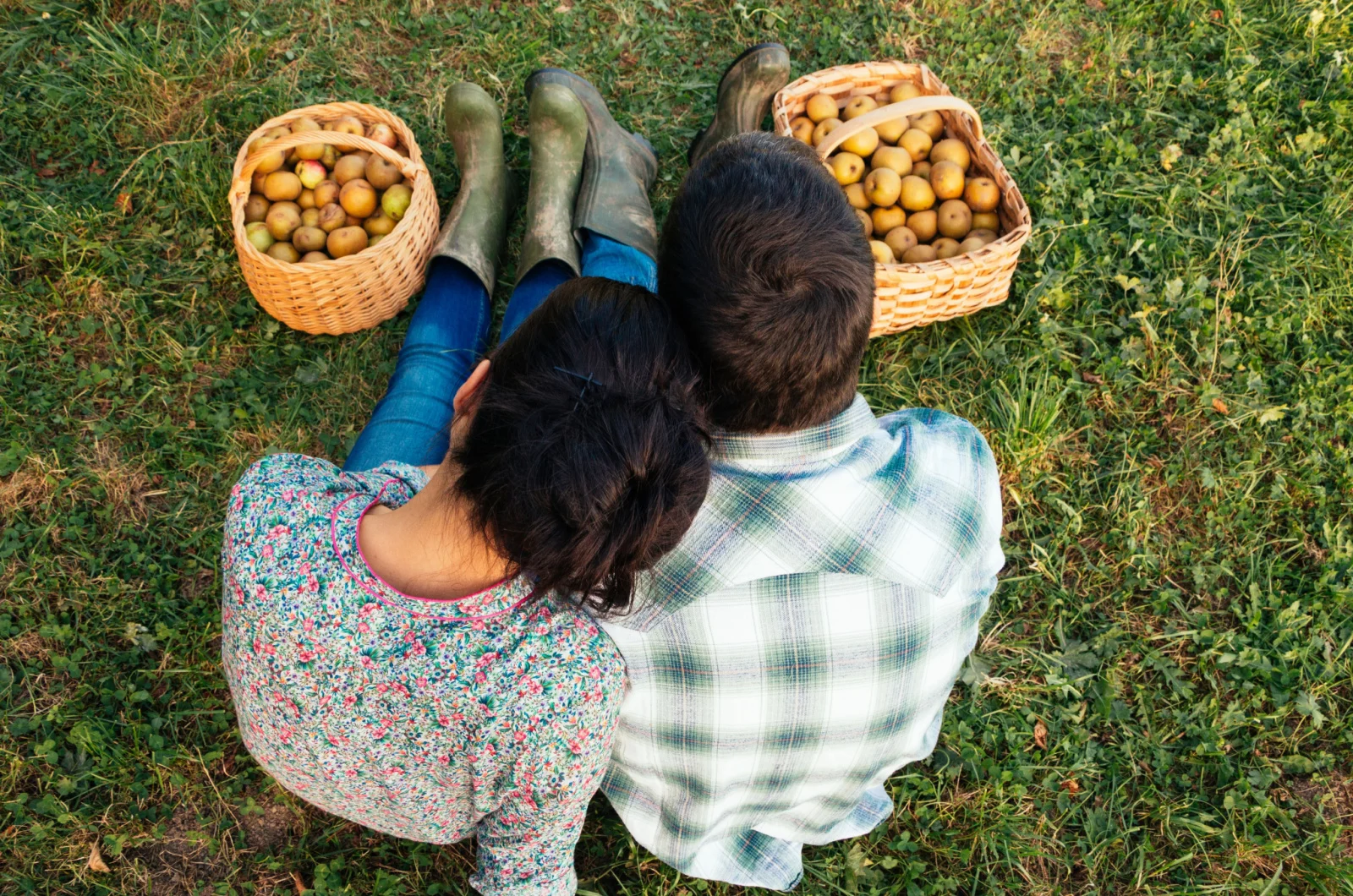 Depending on the season, you can find a place where you can go and pick blueberries, strawberries, apples or grapes that you then take home to enjoy. It's a fun date activity for a couple: helping each other, teasing each other and laughing together will make your day.
After you're done, your only worry is what to do with the fruit, eat it immediately or leave some for later.
26. DIY project or craft
Doing a DIY project together will give you a chance to create something together that you can keep as a memento. As you work with your hands, everyone tends to focus on the task at hand, but if you want to talk to your partner, think of some questions to ask them to get to know them better.
DIY projects to try together include activities such as refurbishing a piece of furniture, creating a scrapbook of your memories together, doing home improvement tasks or making jewelry.
27. Beach date
Going to the beach early in the morning is a great start to an all-day romantic date. Watch the sunrise together as you snuggle in each other's arms, enjoying the beauty of the scenery and the ocean air. Take a walk on the beach while holding hands, strengthening your relationship.
If you want to make a day of it, bring a picnic basket and some towels and spend the whole day together on the beach.
28. Coffee shop date
A leisurely stroll to your favorite coffee shop to grab a cup of coffee and spend some time together is an activity that lots of couples forget about past their early dating days. This low-pressure type of date can be just as fun as something more elaborate.
Coffee shops are crowded in the morning on weekdays, so make sure you schedule this date on the weekend. Check out a new place or revisit old favorites, have your favorite kind of coffee or try something you've never tried before.
29. Go for a drive
Get in the car and go for a joyride to experience the freedom only the open road can give you. You don't need a destination and you don't need to go far – just a change of scenery can be enough to refresh you.
The time spent together as you're driving and enjoying your surroundings can be used to talk or just be near each other. Prepare a driving playlist full of songs you both love to make your drive extra exciting.
30. Hang out at home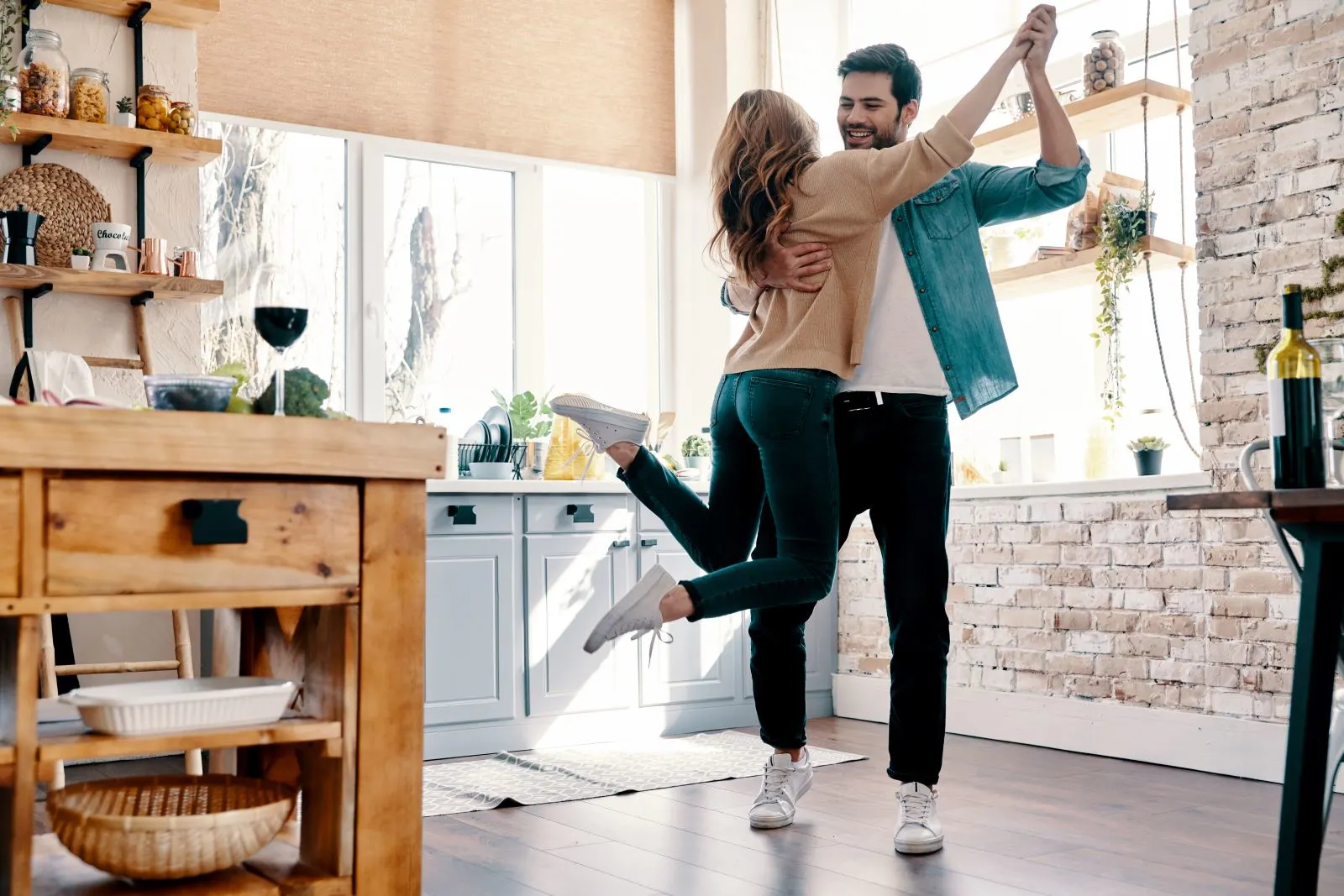 If spending the day at home doesn't sound like a date, that's because you've never approached it as a date. Don't just be at home at the same time, actually use the time spent together to bond and increase your emotional intimacy.
You can cuddle while you talk to each other, look at old photos and reminisce, play board games, take a bath together, watch a little Netflix but chill more, or just snuggle and enjoy each other's company.
RELATED: 17 Creative Third Date Ideas To Make Your Date Memorable
Bright And Early
Dates are all about enjoying each other's company, so everything else about going on a date can be changed. If you're used to daytime chores and nighttime rest, a little switch in perspective can be useful.
The more you try some of these early morning date ideas, the more you'll enjoy spending time with your loved one during the day, even if you're doing activities that you wouldn't consider date-appropriate.
If you change how you look at it, you'll understand that, as long as you're together with your significant other and you're prioritizing each other during the time you're spending together, anything can be a date.
RELATED: 20 Fun Double Date Ideas You'll Wish You Had Thought Of Sooner!