Spring is at the door, and you know what that means: warm weather! With winter gone and sunnier days, staying indoors feels like a waste of time. Fresh air beckons, so get your bestie or your significant other, grab a couple sandwiches, and find the nearest picnic table.
There's nothing better than good food, good friends, and good vibes. Sure, summer is when it gets really outdoorsy, but why wait? Leave family reunions and BBQs for later, and have a picnic party right now.
After you go home and want to post the gorgeous photos you took to social media, why not use some of these 70 picnic quotes as captions to spruce up your feed. I'm sure you'll find something that perfectly describes the mood of your pic!
30 Picnic Quotes
Picnic quotes to inspire your next picnic party. From funny to serious, something is sure to stand out. Fingers crossed it doesn't rain!
1. "You bring your own weather to the picnic." — Harlan Coben
2. "There are few things so pleasant as a picnic lunch eaten in perfect comfort." — W. Somerset Maugham
3. " The perfect date for me would be staying at home, making a big picnic in bed, eating Wotsits and cookies while watching cable TV." — Kim Kardashian
4. "Unless you are at a picnic, life is no picnic." — Jane Wagner
5. "The things that make me happiest in the whole world are going on the occasional picnic, either with my children or with my partner; big family gatherings; and being able to go to the grocery store – if I can get those things in, I'm doing good." — Kate Winslet
6. "We hope that, when the insects take over the world, they will remember with gratitude how we took them along on all our picnics." — Bill Vaughan
7. "The examined life is no picnic." — Robert Fulghum
8. "The only thing is quality of life; if you have a place where you can go and have a picnic with your family, it doesn't matter if it's a recession or not, you can include that in your quality of life." — Jim Fowler
9. "It wouldn't be a picnic without the ants." — Charles Addams
10. "There's something so intimate about a picnic with your guy. And as the temperature begins to rise, eating outside becomes refreshing and romantic." — Katie Lee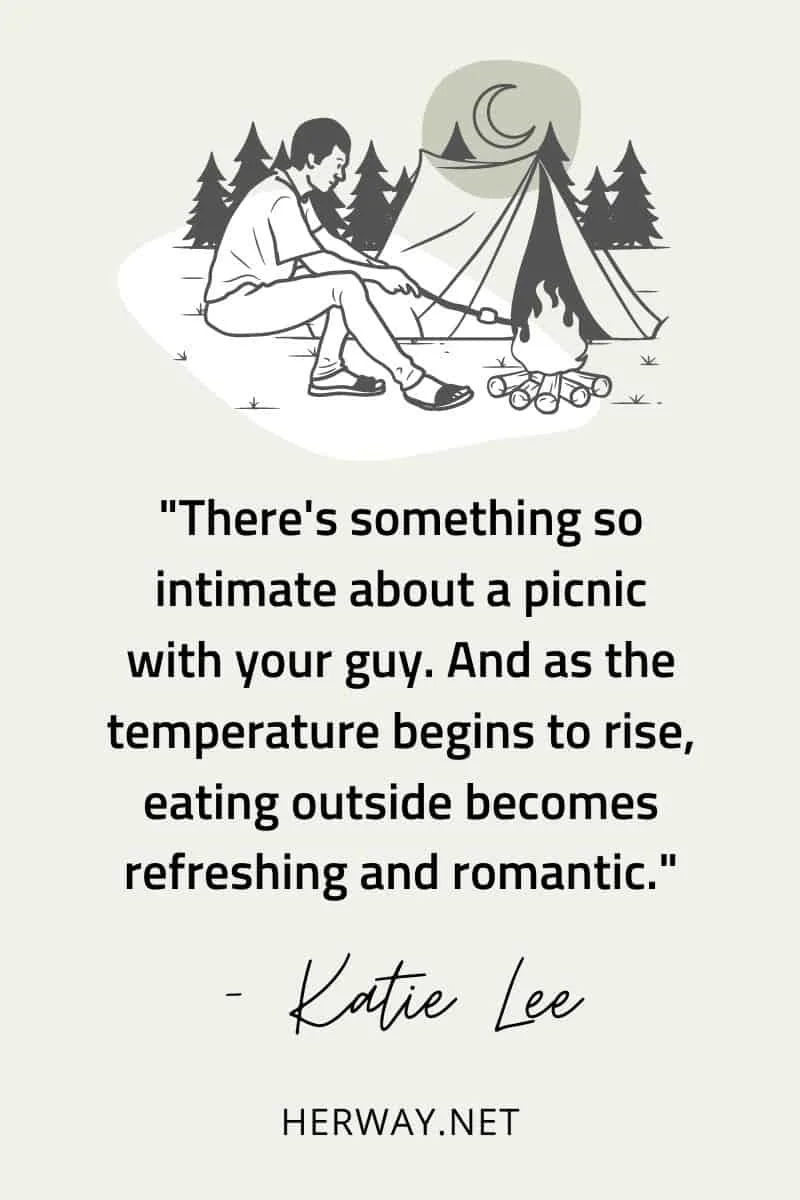 11. "Tea to the English is really a picnic indoors." — Alice Walker
12. "Picnics enable you to be outside, eat fun finger-food and enjoy that greatest of pastimes: People-watching." — Gregg Wallace
13. "Picnics are very dear to those who are in the first stage of the tender passion." — Arthur Conan Doyle
14. "Nothing is better than a picnic." — Zooey Deschanel
15. "Nature never quite goes along with us. She is somber at weddings, sunny at funerals, and she frowns on ninety-nine out of a hundred picnics." — Alexander Smith
16. "My perfect day would be to go on a picnic up Mt. Wilson with Christopher Isherwood, Greta Garbo, Aldous Huxley, and Bertrand Russell." — Jane Fitch
17. "I've liked lots of people 'til I went on a picnic jaunt with them." — Bess Truman
18. "One compensation of old age is that it excuses you from picnics." — William Feather
19. "'Never plan a picnic,' Father said. 'Plan a dinner, yes, or a house, or a budget, or an appointment with the dentist, but never, never plan a picnic.'" — Elizabeth Enright
20. "A picnic is more than eating a meal; it is a pleasurable state of mind." — DeeDee Stovel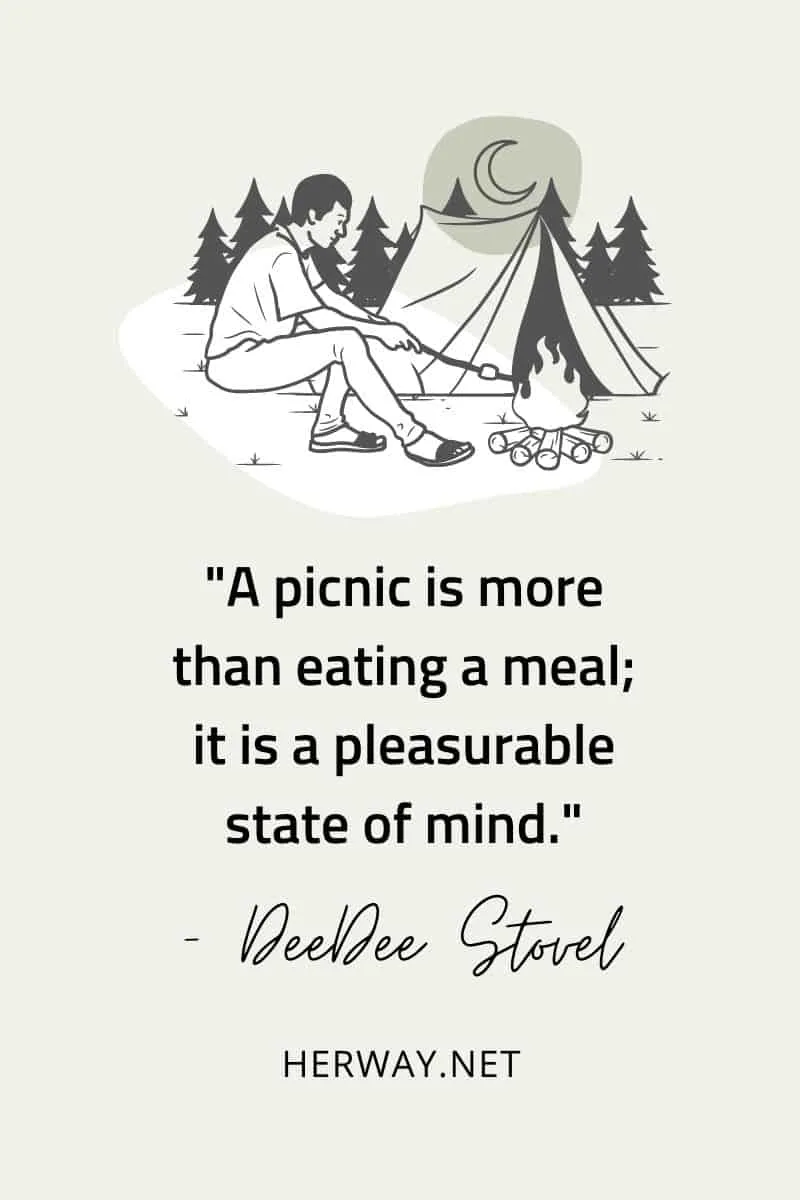 21. "Among the delights of summer were picnics to the woods." — George Brandes
22. "I'm really big on day dates. If you go for a stroll, have a picnic or lunch with a glass of wine – it doesn't get better than that." — Meghan Markle
23. "I'm not opposed to a fancy meal, but I'll take a picnic any day… food and nature? Sign me up." — Ryan Paevey
24. "If ants are such busy workers, how come they find time to go to all the picnics?" — Marie Dressler
25. "Everybody loves a picnic in the sunshine. It was always so magical when we were kids." — Gregg Wallace
26. "Spring is nature's way of saying 'let's party.'" — Robin Williams
27. "Things taste better outdoors. And if it's a forbidden thing, so much the better." — Franny Billingsley
28. "A night picnic. Night picnics are different." — Eternal Sunshine of the Spotless Mind (2004)
29. "I was on the beach every summer. That was the pleasant part of my childhood because we were right by the sea. We'd take a picnic, and I'd spend hours in the water until I turned blue. You couldn't get me out of there." — Olga Kurylenko
30. "Dinner and a movie, forget that. I'd rather have a picnic and a waterfall." — Amanda Grace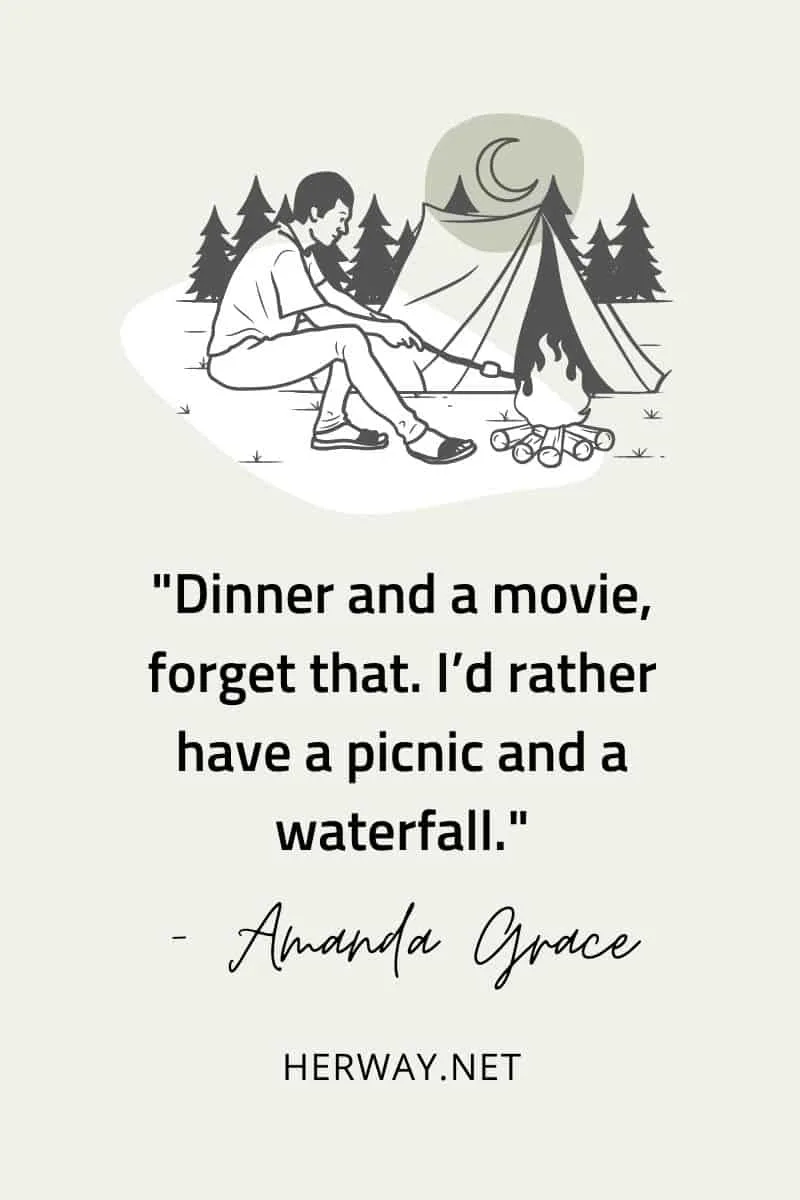 See also: 120 Most Powerful Anime Captions And Quotes Of All Time
30 Picnic Captions
You snap pics when you go on a family picnic or hang out with friends at the park, right? When you can't think of that perfect caption, check out this list for inspiration:
1. "Life with you is always a picnic."
2. "Plate passing party."
3. "Every day is a picnic when you're with friends."
4. "Keep calm, grab some lemonade, and go on a picnic."
5. "How I feel when my sundress matches the picnic blanket."
6. "Go outside and explore."
7. "Just a casual walk in the park."
8. "The only thing missing in my picnic basket is you."
9. "Picnic nap queen."
10. "Things just taste better outdoors."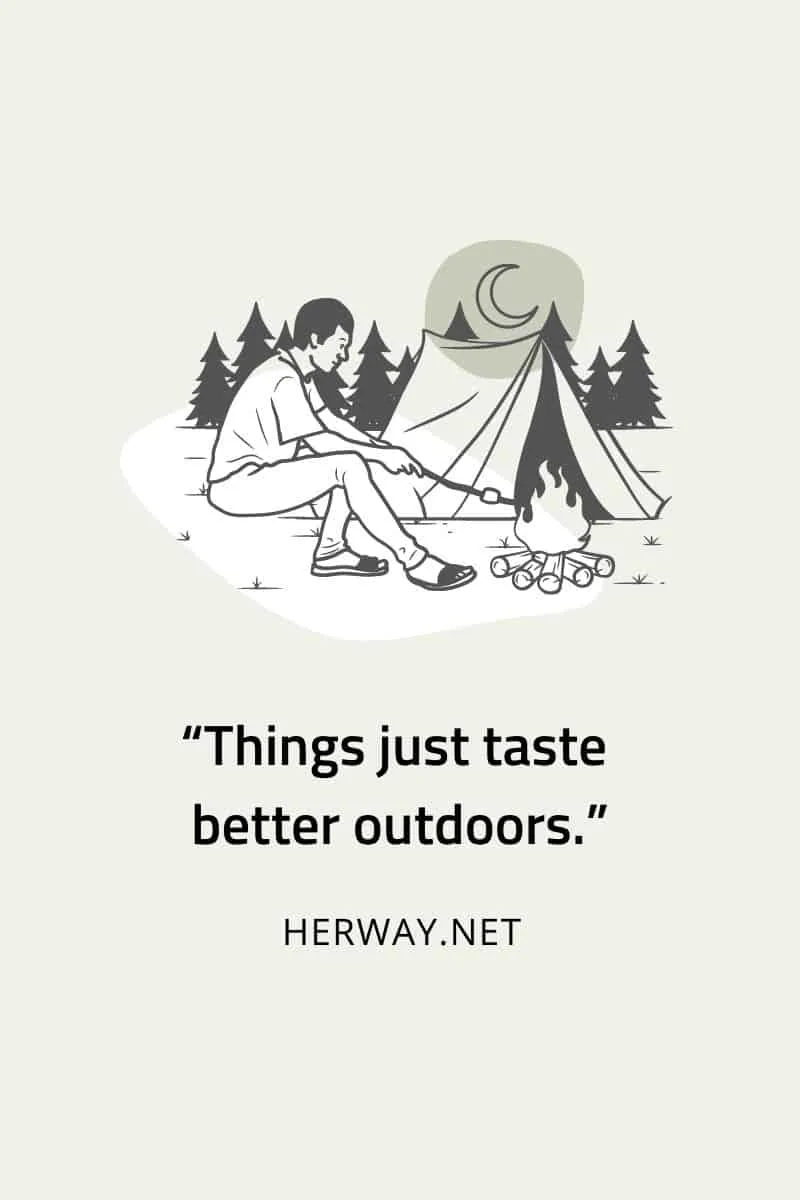 11. "I was made for sunny days and great picnics."
12. "Sunshine and good company make champagne sparkle even more."
13. "Nature never goes out of style."
14. "Great food? Check. Mimosas? Check. Blue skies? Check. BFFs? Check."
15. "Nature is way cheaper than therapy."
16. "Life needs a few more polka dots and picnics."
17. "Little moments, big memories."
18. "My favorite adventures come from my own backyard."
19. "When life gives you lemons… you make lemonade and go on a picnic."
20. "The earth laughs in flowers."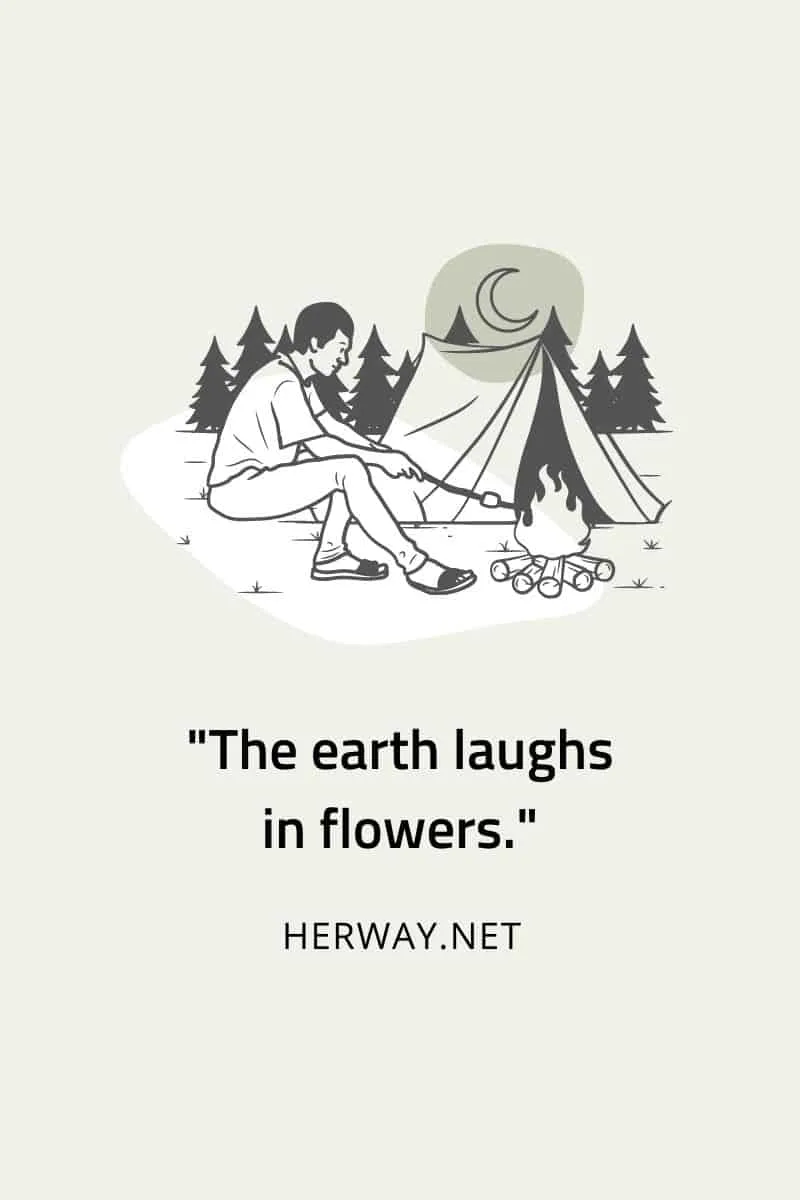 21. "Having less food but with more people to share time with is what is important in a picnic."
22. "Picnic = Happiness."
23. "Blue skies and good food."
24. "Fresh air and family."
25. "What's even better than spending all day with friends? Spending it in the great outdoors."
26. "Sometimes it's all about the little things in life."
27. "Expect it to rain nine times out of ten if you're having a picnic."
28. "So picture this… you, me, blankets, wine, and all the goodies."
29. "Enjoying the little things in life, like an afternoon picnic with friends."
30. "Let's do this summer thing right, with a picnic."
See also: 130 Most Romantic Love Anniversary Quotes And Wishes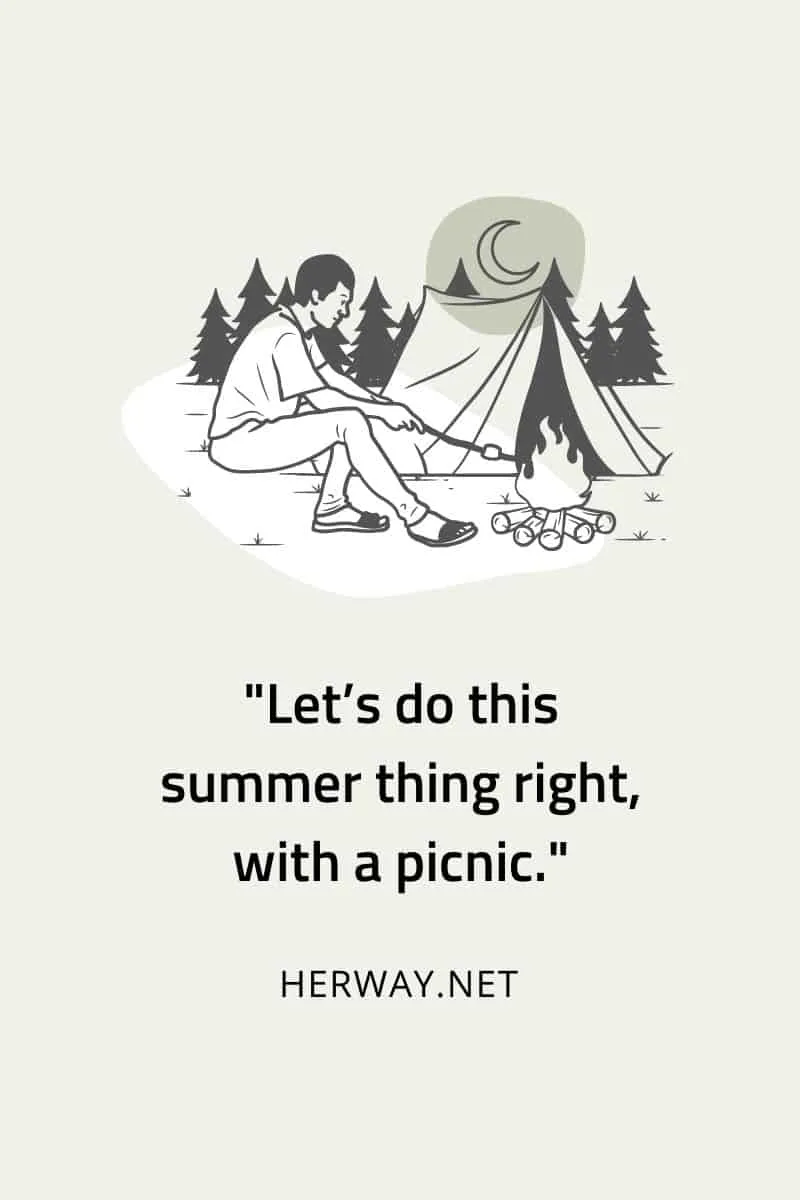 10 Picnic Puns
Some people love puns; some hate them. If you're the former, you're going to enjoy these.
You can use them to text your best friends, inviting them to a spring or summer picnic, or as captions on your social media posts.
1. "Wanna go on a picnic? Alpaca lunch."
2. "We must ketchup and relish these summer moments."
3. "Lettuce celebrate a perfect picnic day."
4. "Oh kale, yeah, it's a picnic."
5. "You butter believe I'm going to savor these summer moments."
6. "Without picnics, life would be unbeerable."
7. "You're a real sweet tea."
8. "This picnic spread is my jam."
9. "Cole's law states that you must bring it to picnics."
10. "What a Gouda day to spend with your best buddies."
See also: 70+ Best Friend Paragraphs To Make Your Bff Crazy Happy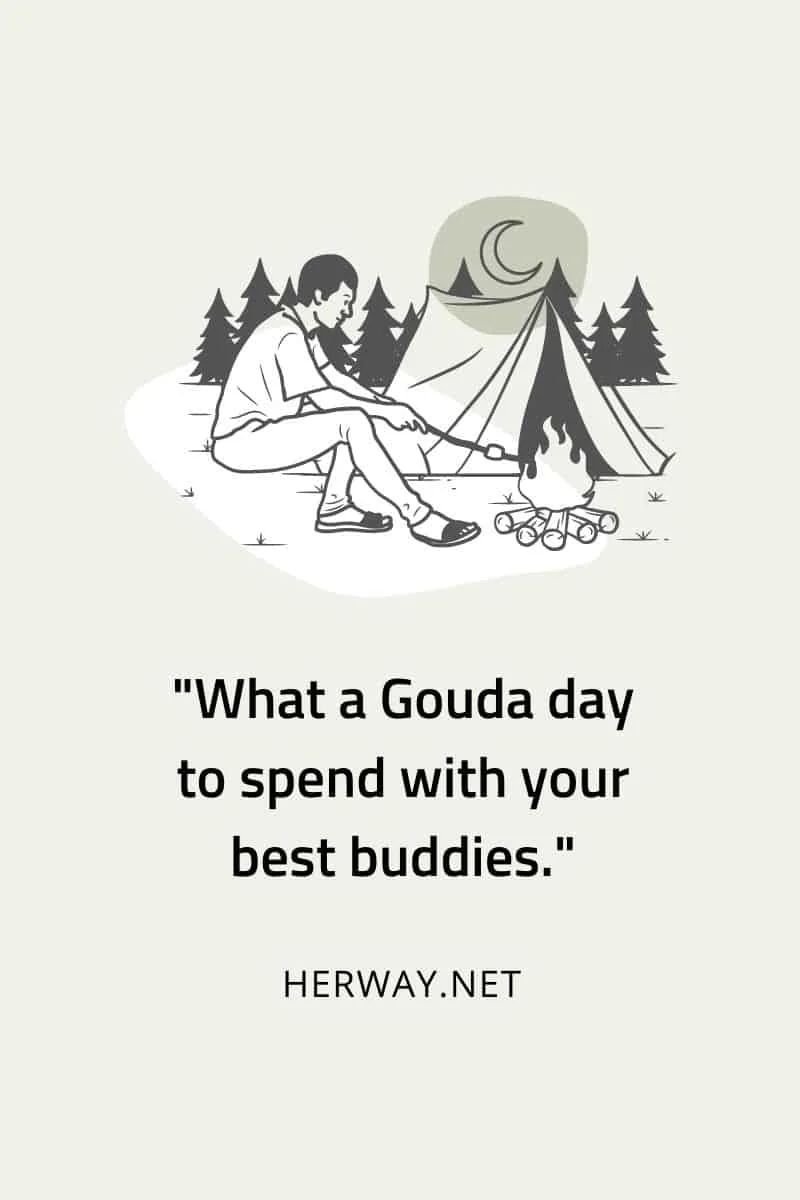 Enjoy your next picnic!
Here's a fun idea: next time you want to ask your family and close friends out, throw a surprise picnic party. Hanging out and eating together is fun anywhere, especially under the open sky.
Use these picnic quotes to spark ideas where to go, and you can use them for your Instagram posts.
Bonus tip: it doesn't have to be a summer day to have a picnic! You can enjoy it any time: early in spring, when leaves turn red and yellow in the fall, even on New Year's Eve. Just make sure your clothes and choice of drink are perfect for the occasion.