Is there anything better and more soul-fulfilling than hanging out with friends? I bet there isn't!
Regardless of whether you're going on a road trip, to the mall, painting the town red, or just chilling at home, those special moments don't end there, but they will be praised forever as memories.
Wait, there's one more way of preserving your special bond. When nostalgia strikes, you can always seek comfort in hanging out with friends quotes that will instantly revive those exciting friendship moments and your spirit.
And no, you don't need to wait for a nostalgia momentum to tap into these friendship quotes, but you can share them with your best friends and/or on social media right now!
These hangout quotes and friend captions will remind them of how much your friendship means to you. You'll create more special moments ready to be stored as beautiful memories.
36 Hanging Out With Friends Quotes
Let these best friend quotes inspire you to seek new adventures and be grateful for your besties – your loved ones.
1. "Find a group of people who challenge and inspire you; spend a lot of time with them, and it will change your life." – Amy Poehler
2. "Friends are the most important part of your life. Treasure the tears, treasure the laughter, but most importantly, treasure the memories." – Walter Winchell
3. "With a good friend, the hours are short." – Basque Proverb
4. "Happiness is a collection of joyful experiences shared with soul friends. Get together and have some fun!" – Amy Leigh Mercree
5. "Hang out with people who make you feel good about being you." – Unknown
6. "Real friends know all of your best memories because they've spent them all with you." – Stephen Richards
7. "Dancing – that's really what I do at parties. I dance, and I hang out with friends. That's my partying." – Rebecca Black
8. "Hanging out with my old friends is like the best time. They are so comfortable that the time needs to be limitless or freezed." – Sritam Rout
9. "The great thing about new friends is that they bring new energy to your soul." – Shanna Rodriguez
10. "We don't hang out with friends just to have fun, but also to make some memories that will light up our loneliest days." – Swagatika Behera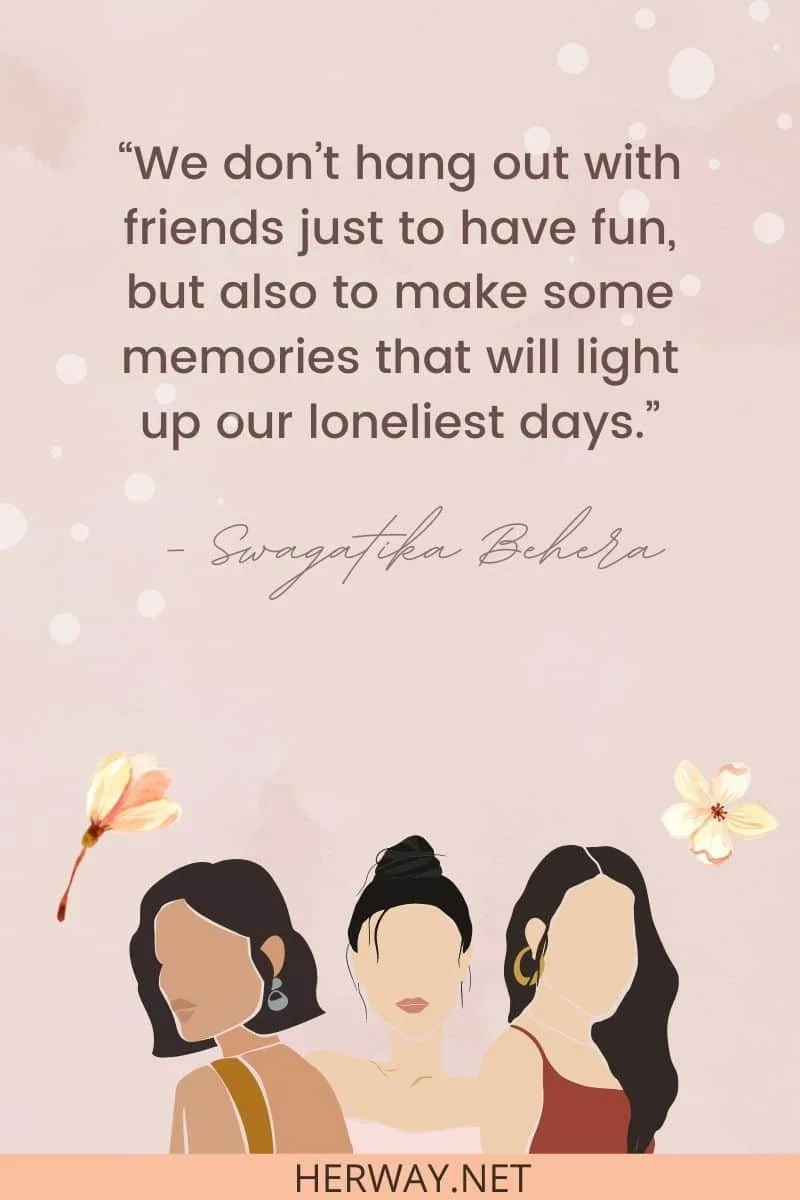 11. "Friendship is… realizing that we've been hanging out for more than half our lives." – Unknown
12. "Hanging out day by day, we make our memories in our own little way." – Ashley Wagner
13. "I enjoy being outdoors, hanging out with friends, and maybe snapping the neck off a couple of beers." – Daniel Ricciardo
14. "I hang out with dudes a lot. I can relate to being the guys girl." – Alexis Knapp
15. "I'm happiest when I'm just hanging out with my friends. It really doesn't matter what we do." – Kirsten Dunst
16. "Life's too short to hang out with people who aren't resourceful." – Jeff Bezos
17. "The most beautiful discovery true friends make is that they can grow separately without growing apart." – Elizabeth Foley
RELATED: 100+ Sweet & Funny Things To Say To Your Best Friend Right Now
18. "I think the notion of understanding each other is a relief. It's not a thing you get with everyone you hang out with." – Joshua Homme
19. "Everyone who reads me is someone I'd like to hang out with." – Jen Lancaster
20. "You get energy from other people, so hang out with energetic people." – William Gurstelle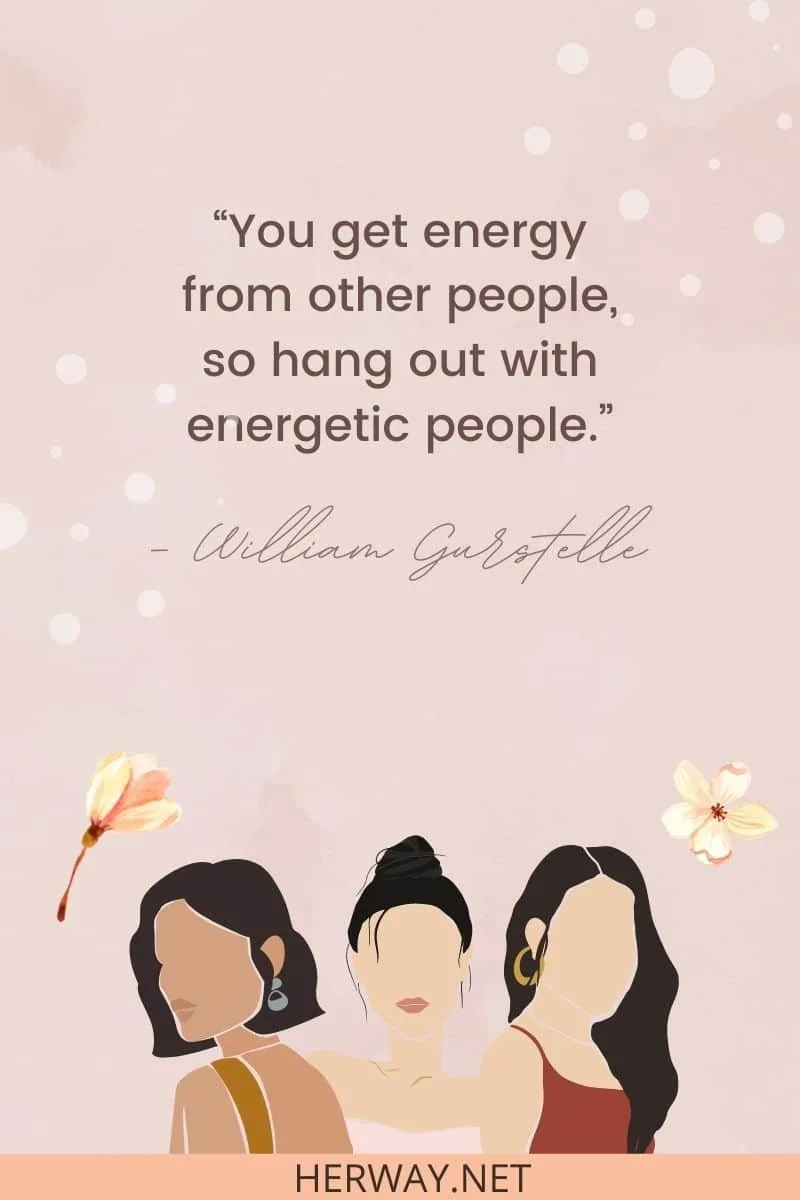 21. "I just want to work on things that are really hard, and when I'm not working on things that are really hard, I want to hang out with people I like to be with, and that's it." – Scarlett Johansson
22. "I miss hanging out with my friends, getting in a little trouble. I have to be so guarded now." – Tiger Woods
23. "I love hanging out with people who make me forget to look at my phone." – David Wolfe
24. "True happiness for me is playing a concert in Blink-182, and then hanging out with my friends and my wife and son, and going out for Mexican food." – Mark Hoppus
25. "The fastest way to change yourself is to hang out with people who are already the way you want to be." – Reid Hoffman
Related: 20 Signs Of A Good Friend (And Ways To Be An Even Better One)
26. "The secret to a really great friendship is just creating fun memories whenever you're with that person." – Zendaya
27. "My buddies, we've always just tried to make each other laugh. I mean, just like all friends hanging out – that's the goal." – Adam Sandler
28. "Growing up in high school, I wasn't hanging out with friends every day or on the weekends. Doing normal high school kid things was something I was willing to give up." – Michael Phelps
29. "A good friend would bail you out of jail. A best friend would be sitting next to you saying, 'Damn, that was awesome.'" – Taylor Kawiti
30. "Happiness is living a life having fun, friends, and freedom." – Lorrin L. Lee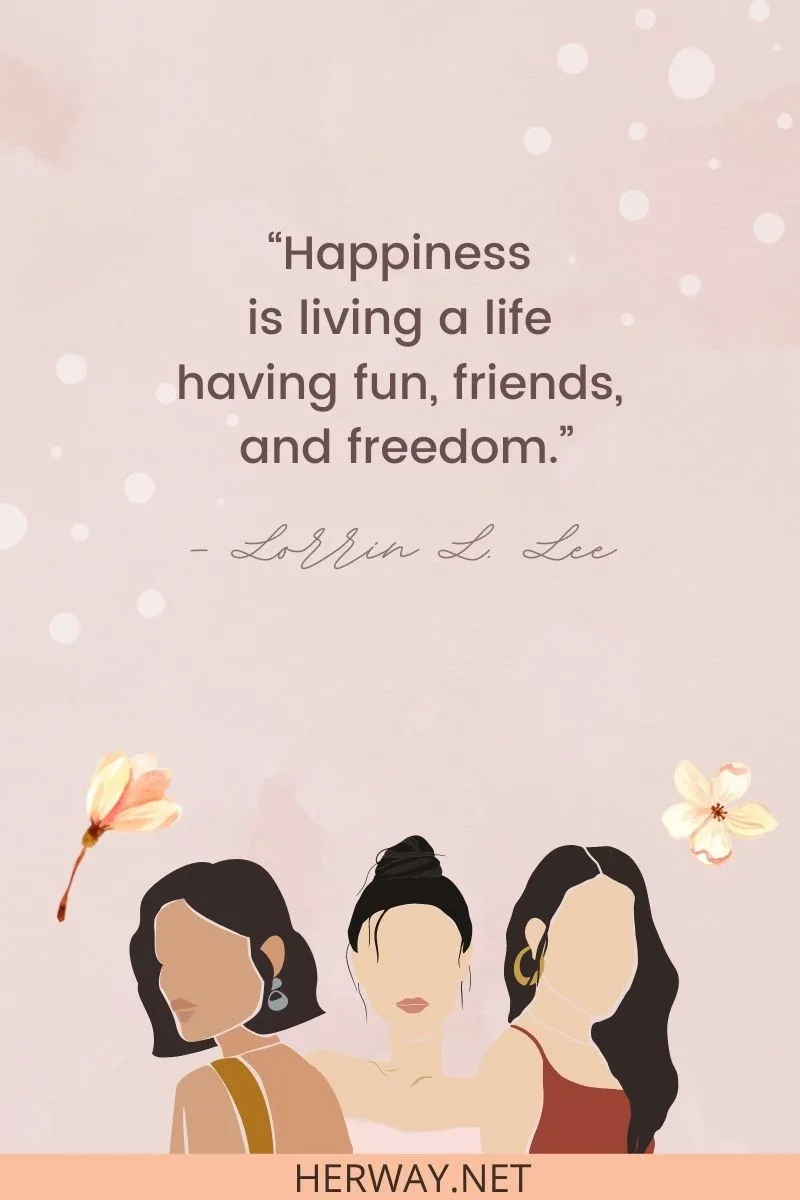 31. "I love hanging out with my friends; I love to run. I box. I'm a huge movie buff." – Brittany Snow
32. "I can relate to anyone. I can hang out with stoners, skaters, surfers, stockbrokers, lawyers, athletes, rappers. I feel I can hang out with any group of people and find common ground to talk with them." – Barry Zito
33. "I like hanging out at non-showbizzy places." – Judah Friedlander
34. "Don't make friends who are comfortable to be with. Make friends who will force you to lever yourself up." – Thomas J. Watson
35. "Life is partly what we make it, and partly what it is made by the friends we choose." – Tennessee Williams
36. "Sometimes being with your best friend is all the therapy you need." – Unknown
RELATED: 20 Beautiful Signs That You've Found A True Soulmate Friendship
35 BFF Quotes For Instagram Captions
If you're looking for the best Instagram captions for selfie pictures (and other pics) with your friends, I'm sure you'll find them below.
1. "I cannot even imagine where I would be today were it not for that handful of friends who have given me a heart full of joy. Let's face it; friends make life a lot more fun." – Charles R. Swindoll
2. "Only trust someone who can see these three things: the sorrow behind your smile, the love behind your anger, and the reason behind your silence." – Unknown
3. "Good times and crazy friends make the best memories." – Saint Augustine
4. "A real friend is one who walks in when the rest of the world walks out." – Walter Winchell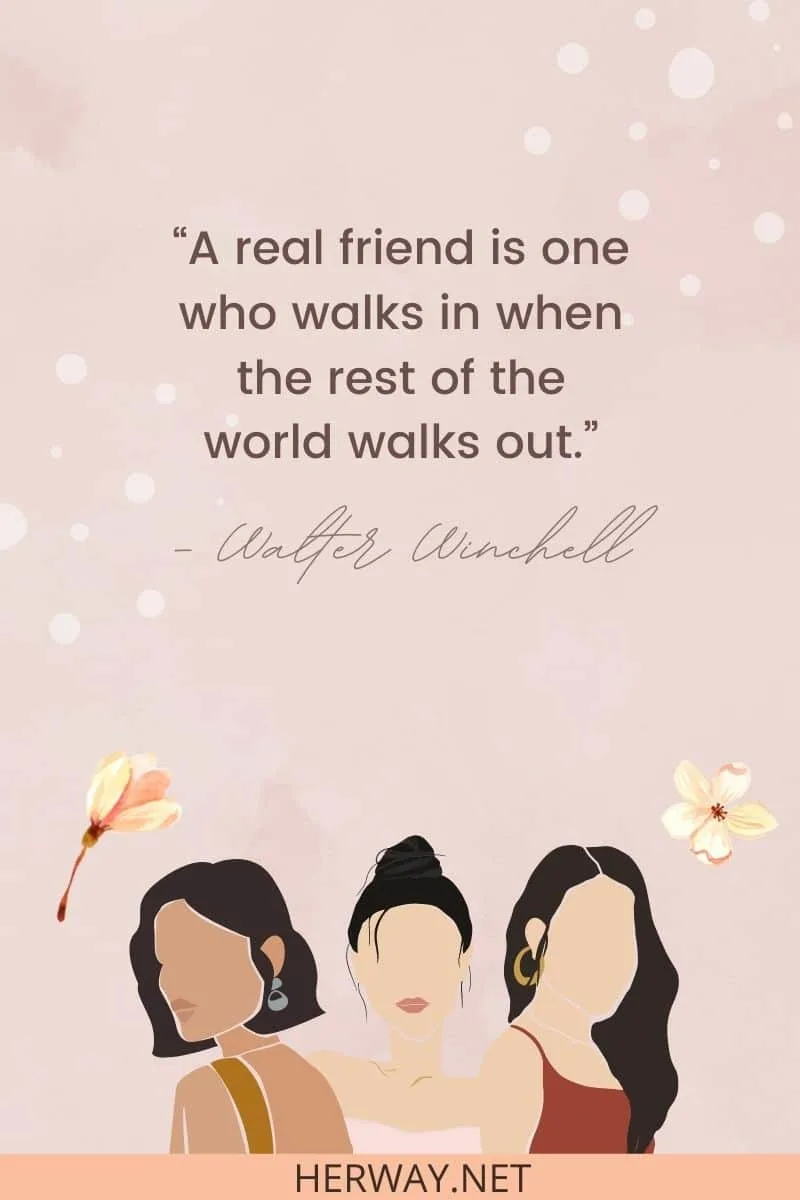 5. "Friendship is born at that moment when one person says to another: 'What! You too? I thought I was the only one." – C.S. Lewis
6. "The language of friendship is not words but meanings." – Henry David Thoreau
7. "You'll know the people who feed your soul because you'll feel good after spending time with them." – Denise Linn
8. "You're my best friend because I wouldn't dare be this weird with someone else." – Albert Schweitzer
9. "A true friend never gets in your way unless you happen to be going down." – Arnold H. Glasgow
10. "A friend knows the song in my heart and sings it to me when my memory fails." – Donna Roberts
11. "A friend is one of the nicest things you can have and one of the best things you can be." – Winnie The Pooh
12. "Friendship is the inexpressible comfort of feeling safe with a person, having neither to weigh thoughts nor measure words." – George Eliot
13. "Some people talk to you in their free time, and some people free their time to talk to you. Learn the difference." – Unknown
14. "I would rather walk with a friend in the dark than alone in the light." – Helen Keller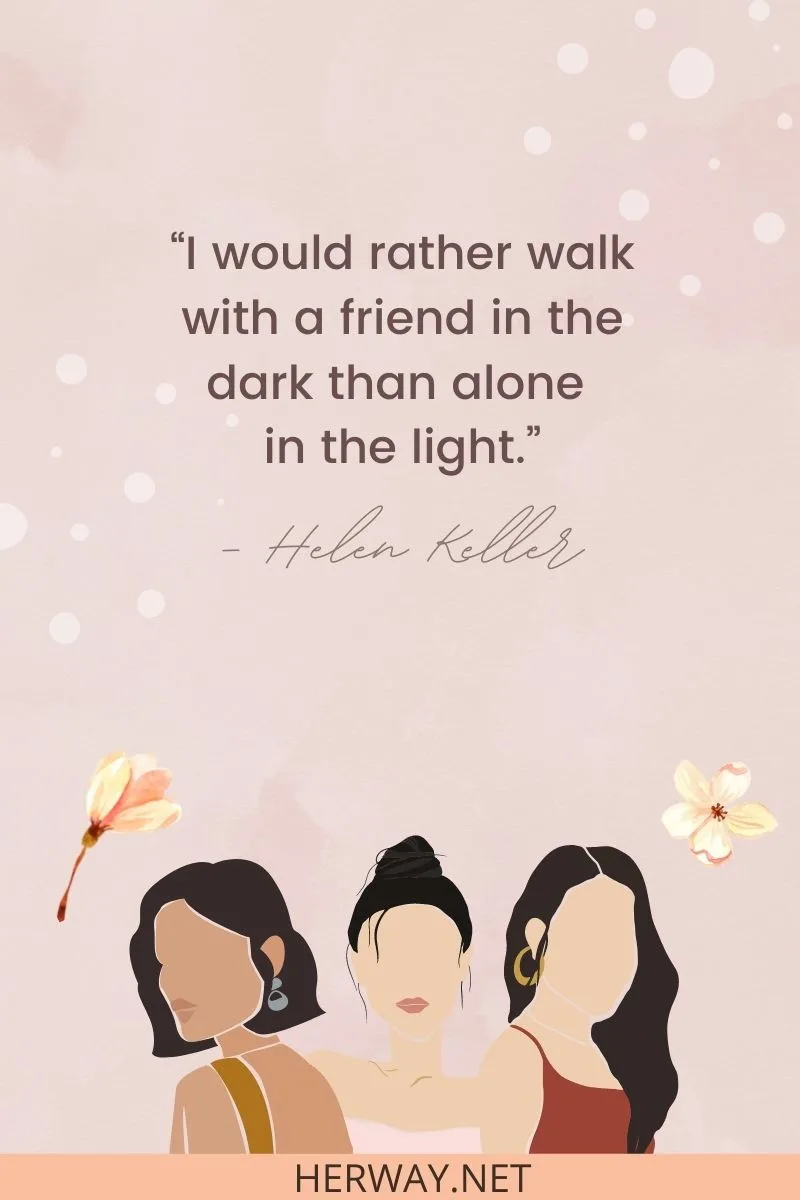 15. "F.R.I.E.N.D.S: Fight for you. Respect you. Include you. Encourage you. Need you. Deserve you. Stand by you." – Unknown
16. "Fake friends believe in rumors; real friends believe in you." – Unknown
17. "My definition of a friend is somebody who adores you even though they know the things you're most ashamed of." – Jodie Foster
18. "Side by side or miles apart, real friends are always close to the heart." – Unknown
19. "Hard times will always reveal true friends." – Unknown
RELATED: Friends Bucket List: 13 Challenges You Have To Do With Your Best Friend
20. "Many people will walk in and out of your life, but only true friends will leave footprints in your heart." – Eleanor Roosevelt
21. "Each friend represents a world in us, a world possibly not born until they arrive, and it is only by this meeting that a new world is born." – Anais Nin
22. "A friend is someone who understands your past, believes in your future, and accepts you just the way you are." – Unknown
23. "Lots of people want to ride with you in the limo, but what you want is someone who will take the bus with you when the limo breaks down." – Oprah Winfrey
24. "We weren't sisters [or brothers] by birth, but we knew from the start…fate brought us together to be sisters [or brothers] by heart." – Unknown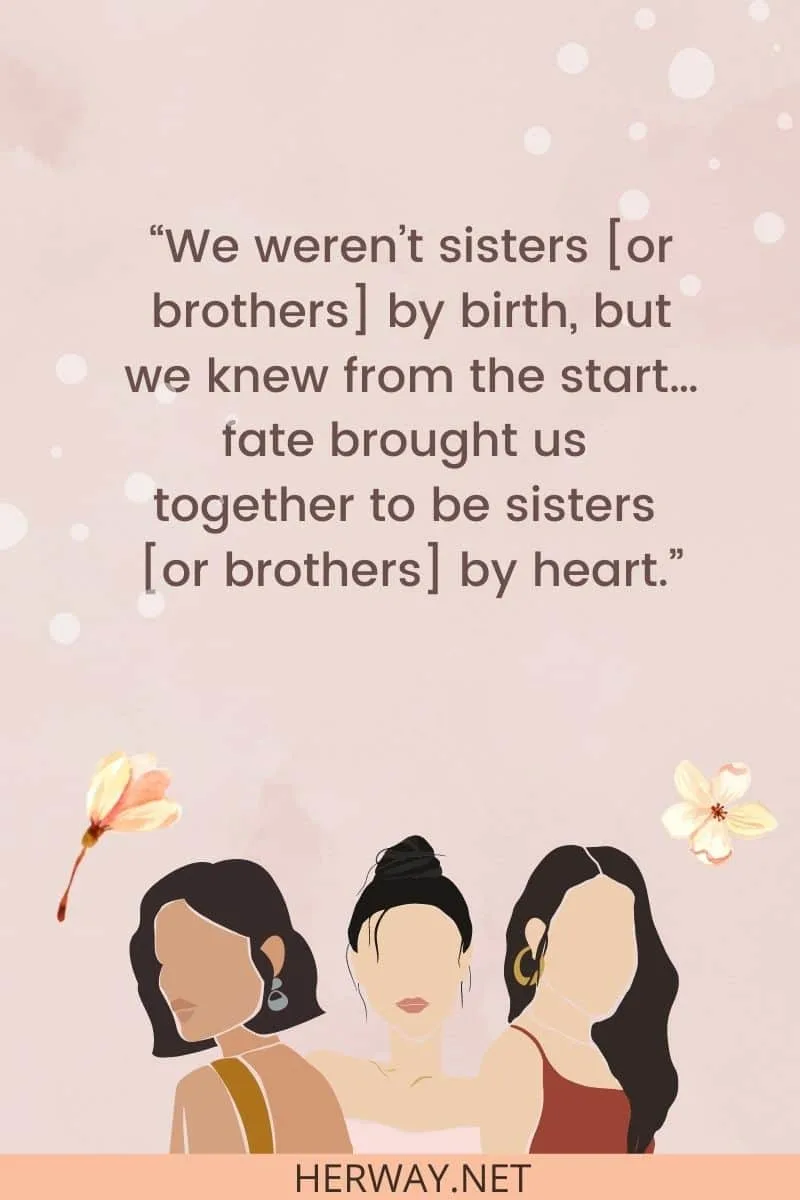 25. "It's the friends you can call up at 4 a.m. that matter." – Marlene Dietrich
26. "A friend who understands your tears is much more valuable than a lot of friends who only know your smile." – Unknown
27. " True friends are like diamonds – bright, beautiful, valuable, and always in style." – Nicole Richie
28. "True friends are always together in spirit." – L.M. Montgomery
29. "True friends aren't the ones who make your problems disappear. They are the ones who won't disappear when you're facing problems." – Unknown
RELATED: This Is How You Should Treat Your Best Friends
30. "Don't walk behind me; I may not lead. Don't walk in front of me; I may not follow. Just walk beside me and be my friend." – Albert Camus
31. " False friendship, like the ivy, decays and ruins the walls it embraces; but true friendship gives new life and animation to the object it supports." – Richard Burton
32. "My best friend is the one who brings out the best in me." – Henry Ford
33. "Best friends share laughs, memories, and inside jokes. They will always be honest and stand by your side no matter what. They wipe your tears, pick you up when you fall and are forever a piece of your heart." – Unknown
34. "When we honestly ask ourselves which person in our lives means the most to us, we often find that it is those who, instead of giving advice, solutions, or cures, have chosen rather to share our pain and touch our wounds with a warm and tender hand." – Henri Nouwen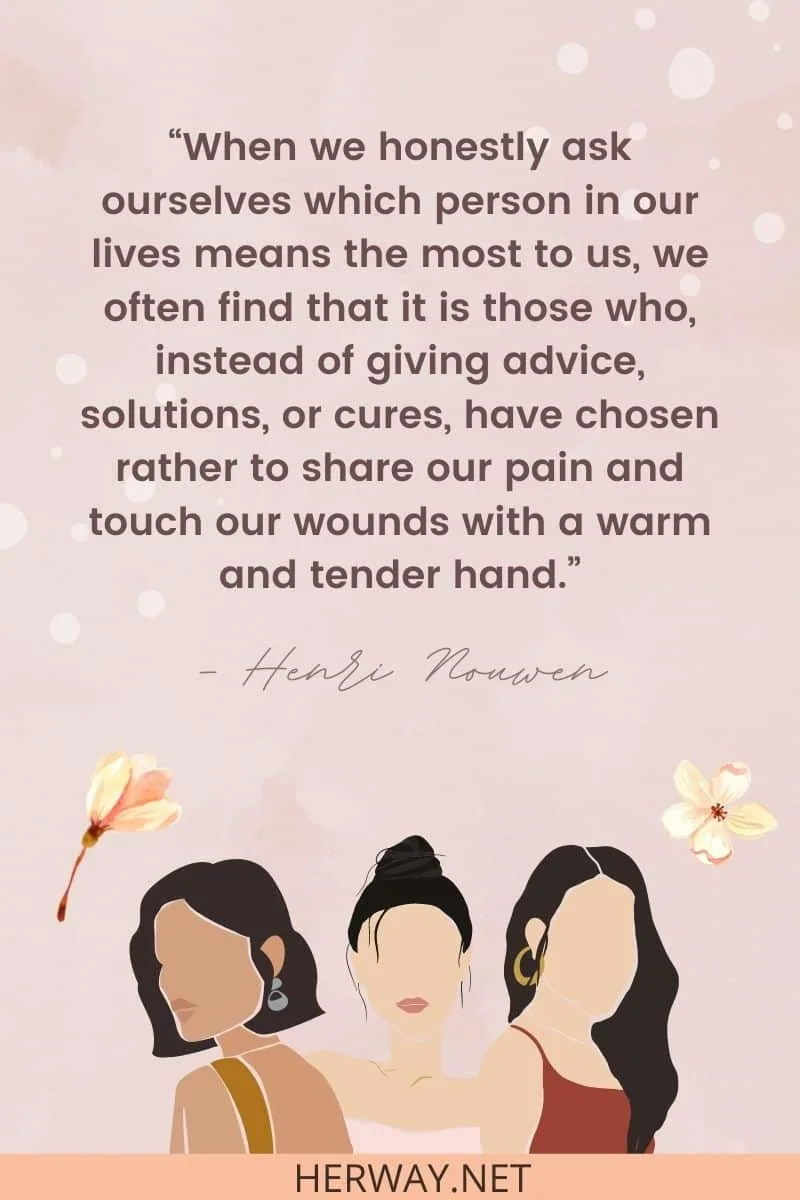 35. "Throughout life, you will meet one person who is like no other. You could talk to this person for hours and never get bored, you could tell this person things, and they will never judge you. This person is your soulmate, your best friend. Don't ever let them go." – Unknown
See also: 70 Best Picnic Quotes, Captions, And Puns
Wrapping It Up
Hanging out with friends quotes are not something you should read once and then forget about. These quotes and captions deserve to have a special place in your heart (just like your dear friends).
Remind your friends now and then of their inspiring presence in your life.
Tell them that without them, you wouldn't have become who you are today.
Thank them for every silly thing you've done together, and worship every moment as if it's the last.