Life is never filled only with light or darkness, but it is a combination of both.
Light represents hope, optimism, love, and joy. Darkness represents challenges, fear, sadness, and struggle.
To see the light, we need darkness. If we want to become stronger, we need to overcome life challenges. That's exactly what these quotes of light and dark are about.
"The planet is always half light and half dark, and so are we." – Jennifer Lynch
No matter how difficult life seems to you at the moment, know that THIS TOO SHALL PASS. Let these motivational quotes of light and dark fill you with wisdom and strength for the days ahead!
Best Quotes Of Light And Dark
1. "Darkness cannot drive out darkness: only light can do that. Hate cannot drive out hate: only love can do that." – Martin Luther King Jr.
2. "In anything, there has to be dark and light. There's a lot of joy in my paintings and a lot of darkness." – Gloria Vanderbilt
3. "The moon is alive because of the darkness – how could we ever be afraid of something that gives the stars a home?" – Laura Chouette
4. "Light is the shadow of God." – Thomas Browne
5. "There is no denying that there is evil in this world, but the light will always conquer the darkness." – Idowu Koyenikan
6. "Put light against light – you have nothing. Put dark against dark – you have nothing. It's the contrast of light and dark that each gives the other one meaning." – Bob Ross
7. "The light shines in the darkness, and the darkness has not overcome it." – John 1:5
8. "Every moment of light and dark is a miracle." – Walt Whitman
9. "As far as we can discern, the sole purpose of human existence is to kindle a light in the darkness of mere being." – Carl Jung
10. "Don't fight darkness—bring the light, and darkness will disappear." – Maharishi Mahesh Yogi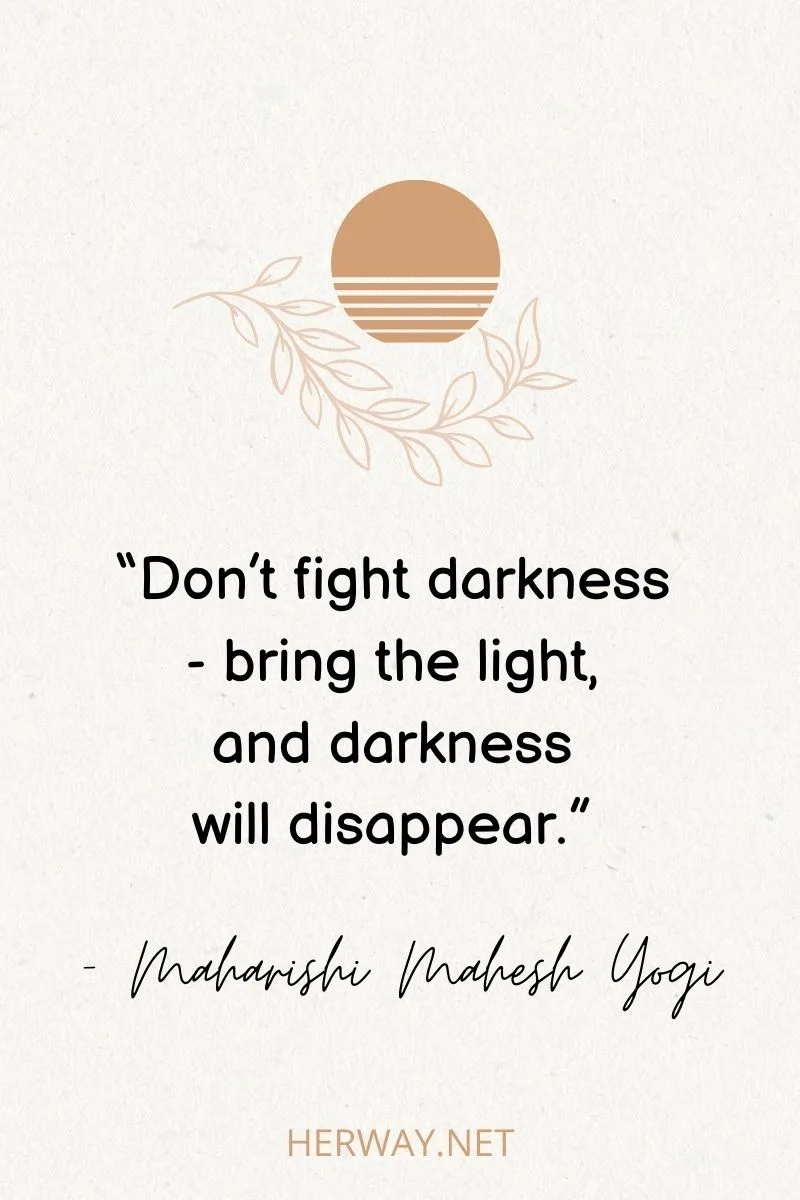 11. "We can easily forgive a child who is afraid of the dark; the real tragedy of life is when men are afraid of the light." – Plato
12. "Even the darkest night will end, and the sun will rise." – Victor Hugo
13. "Look at how a single candle can both defy and define the darkness." – Anne Frank
14. "In order for the light to shine so brightly, the darkness must be present." – Francis Bacon
15. "Life isn't just about darkness or light, rather it's about finding light within the darkness." – Landon Parham
16. "The tension is, at bottom, between justice and injustice, between the forces of light and the forces of darkness." – Martin Luther King, Jr.
17. "I will love the light for it shows me the way, yet I will endure the darkness because it shows me the stars." – Og Mandino
18. "What hurts you blesses you. Darkness is your candle. Your boundaries are your quest." – Rumi
19. "Hope is being able to see that there is light despite all of the darkness." – Desmond Tutu
20. "All the darkness in the world cannot extinguish the light of a single candle." – Francis of Assisi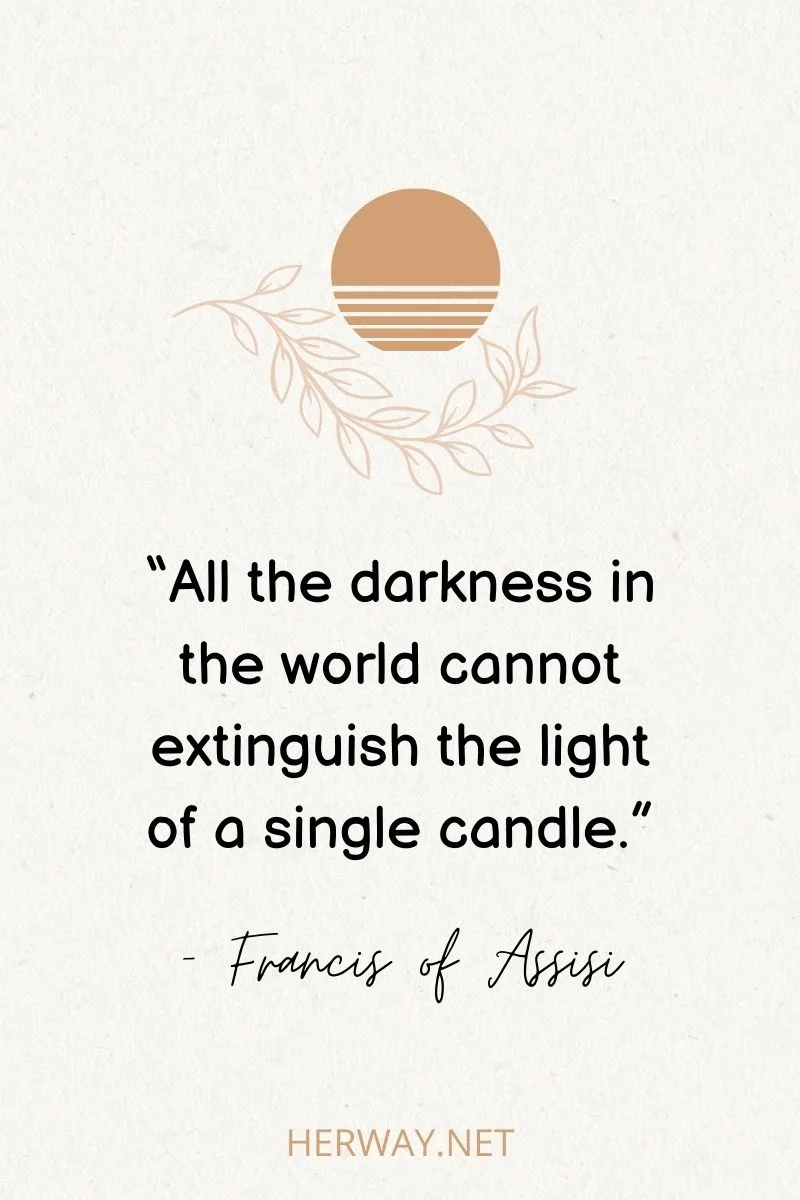 21. "It is during our darkest moments that we must focus to see the light." – Aristotle
22. "Obsessing over what is wrong will not invite what is right. Dwelling in darkness keeps us from embracing the light. ⁠" – Anthon St. Maarten
23. "Remember, darkness does not always equate to evil, just as light does not always bring good." – P.C. Cast
24. "For every item that carries the darkness of humanity, there's one that holds the light. And that light is worth believing in. Not just in others, but in yourself as well." – C.M. Rayne
25. "Only the person who has experienced light and darkness, war and peace, rise and fall, only that person has truly experienced life." – Stefan Zweig
Darkness And Light Quotes
1. "The dance between darkness and light will always remain — the stars and the moon will always need the darkness to be seen, the darkness will just not be worth having without the moon and the stars." – C. JoyBell C.
2. "Everybody has a light and a dark side, and neither can exist without the other." – Marilyn Manson
3. "Give light, and the darkness will disappear of itself." – Desiderius Erasmus
4. "The dark and the light, they exist side by side. Sometimes overlapping, one explaining the other. The darkened path is as illuminated as the lightened…" – Raven Davies
5. "I would rather walk with a friend in the dark than alone in the light." – Helen Keller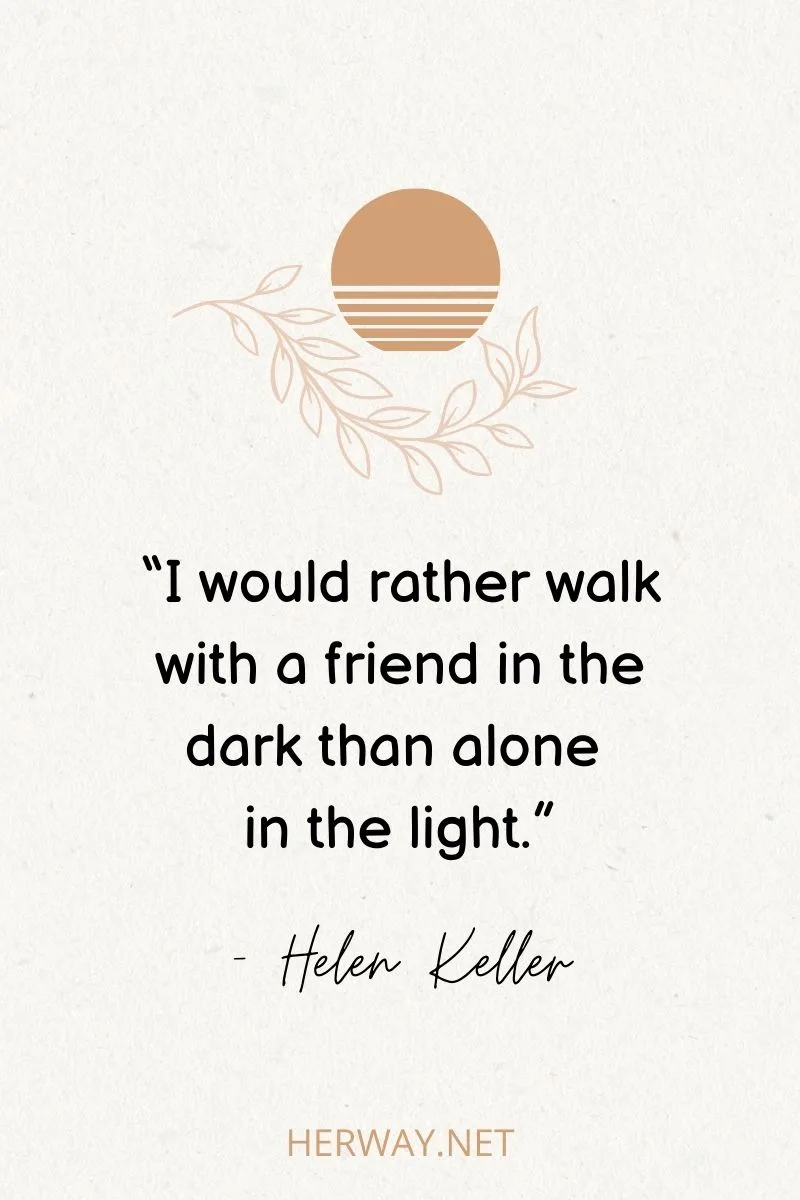 6. "Look at the light and admire its beauty. Close your eyes, and then look again: what you saw is no longer there, and what you will see later is not yet." – Leonardo da Vinci
7. "Love is to fear as light is to dark; in the presence of one, the other cannot exist. So wherever there is a place of fear in your life, think of one thing – even if it's just a thought you can think – where you can generate love to cast out the fear." – Marianne Williamson
8. "Knowing your own darkness is the best method for dealing with the darknesses of other people." – Carl Jung
9. "When you're sad, you're not sad. You are merely oblivious to the good things in your life. There is always a crack of light in the darkness. Find it." – Dianna Agron
10. "Everyone is a moon, and has a dark side which he never shows to anybody." – Mark Twain
11. "Is there anything more loyal than the sun?" – Mary Oliver
12. "I wonder if that's how darkness wins, by convincing us to trap it inside ourselves instead of emptying it out. I don't want it to win." – Jasmine Warga.
13. "The dark does not destroy the light; it defines it. It's our fear of the dark that casts our joy into the shadows." – Brené Brown
14. "It is better to light one small candle than to curse the darkness." – Eleanor Roosevelt
15. "In the midst of darkness, light persists." – Mahatma Gandhi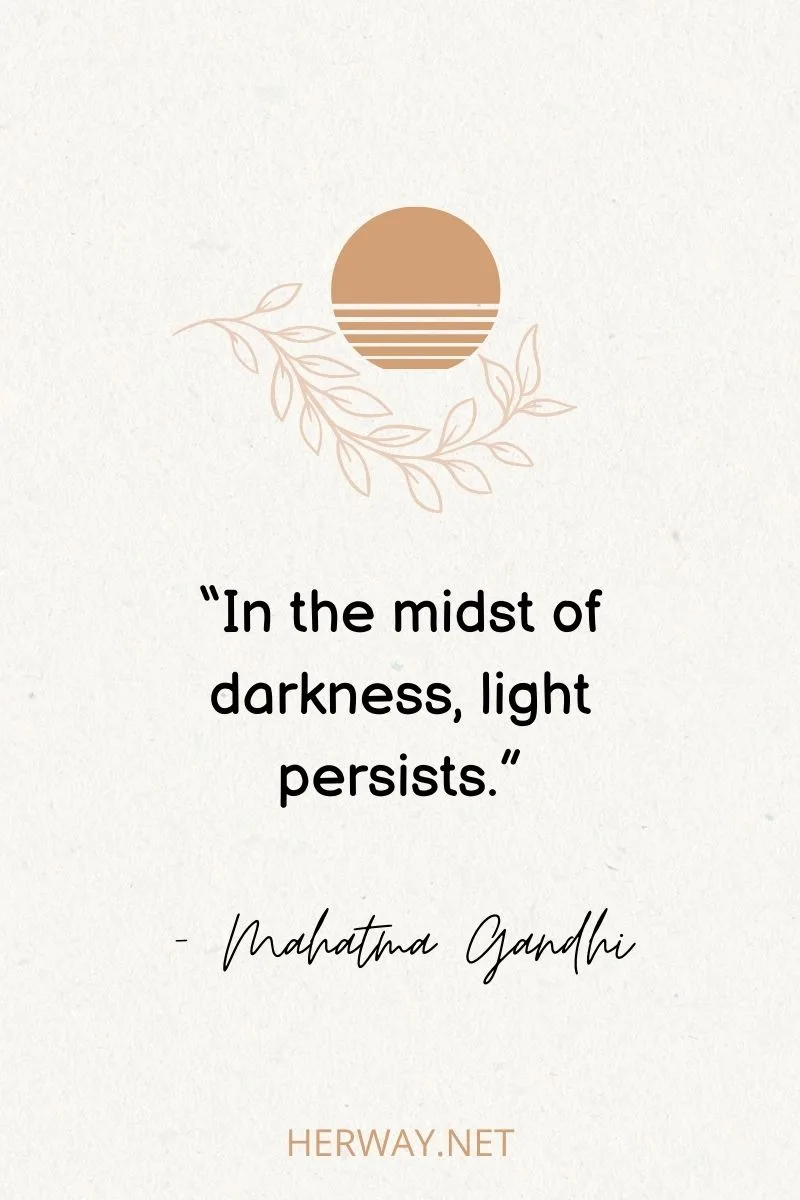 16. "Deep into that darkness peering long, stood there wondering, fearing, doubting, dreaming dreams no mortal ever dared to dream before." – Edgar Allan Poe
17. "Evil cannot and will not be vanquished by evil. Dark will only swallow dark and deepen. The good and the light are the keenest weapons." – Nora Roberts
18. "Nothing can dim the light that shines from within." – Maya Angelou
19. "However vast the darkness, we must supply our own light." – Stanley Kubrick
20. "There is something in even the darkest situations that we can make a positive in our lives." – Deborah Norville
21. "You can let the darkness swallow you whole, locking yourself in its hold, or you can be the light, defying the lies as you stand bright." – Kaylee Stepkoski
Inspirational Quotes About Dark And Light
1. "Education is the movement from darkness to light." – Allan Bloom
2. "Why not dare yourself to become a shining positive light where darkness is the only thing known?" – Edmond Mbiaka
3. "How far that little candle throws his beams! So shines a good deed in a weary world." – William Shakespeare
4. "Beauty is as relative as light and dark. Thus, there exists no beautiful woman, none at all, because you are never certain that a still far more beautiful woman will not appear and completely shame the supposed beauty of the first." – Paul Klee
5. "No degree of worldly darkness can extinguish the glow of a soul's inner light." – Wes Fesler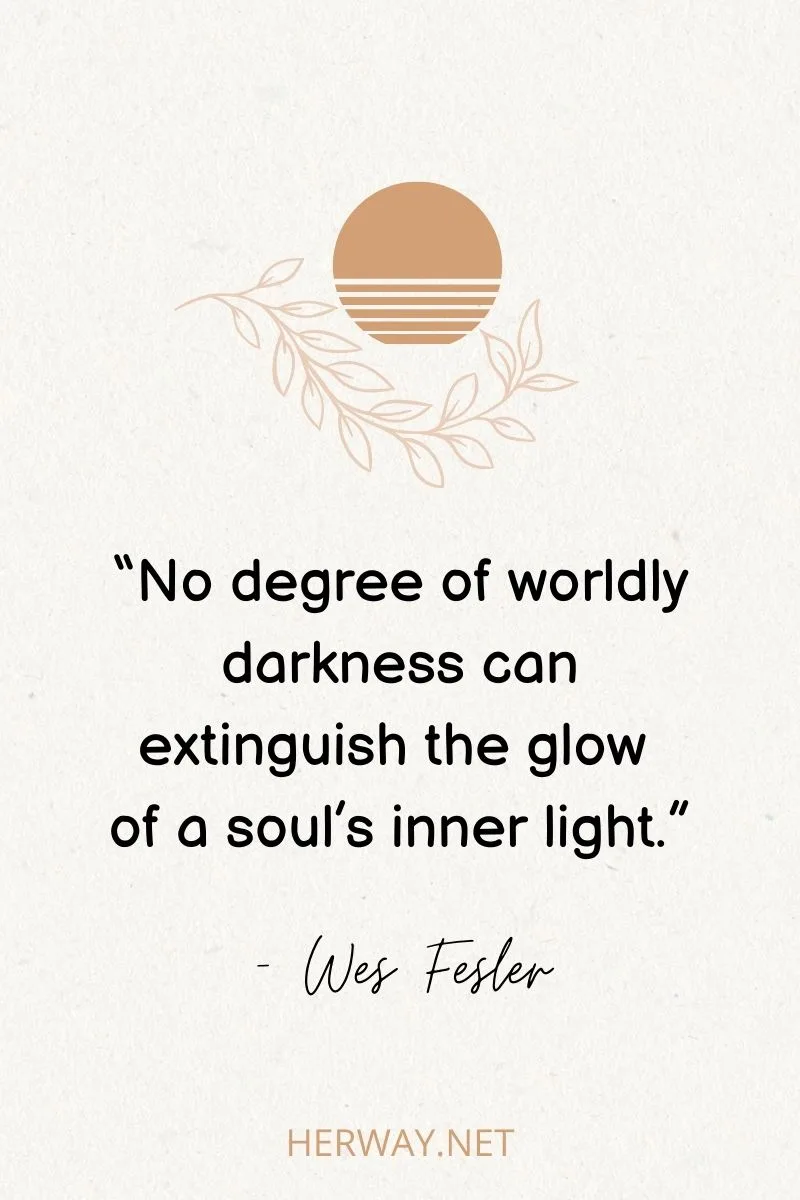 6. "Faith is the bird that feels the light when the dawn is still dark." – Rabindranath Tagore
7. "When it is dark enough, you can see the stars." – Ralph Waldo Emerson
8. "Positive people hope for the daylight, and negative people worry about the darkness which inevitably follows each other. Only whole people relish the warmth of the sun on bright days as well as the twinkles of stars on dark nights." – Unknown
9. "Moons and years pass by and are gone forever, but a beautiful moment shimmers through life a ray of light." – Franz Grillparzer
10. "It's always been said that comedy comes mostly out of the dark side anyway." – Alan Thicke
11. "(…) darkness is beautiful. It has tremendous depth, silence, infinity. Light comes and goes; darkness always remains; it is more eternal than light. For light, you need some fuel; for darkness, no fuel is needed; it is simply there." – Osho
12. "If you believe light is divine, remember light was born out of darkness." – Rajesh Omprakash
13. "Light thinks it travels faster than anything, but it is wrong. No matter how fast light travels, it finds the darkness has always got there first and is waiting for it." – Terry Pratchett
14. "There are darknesses in life, and there are lights, and you are one of the lights, the light of all lights." – Bram Stoker
15. "Maybe you have to know the darkness before you can appreciate the light." – Madeline L'Engle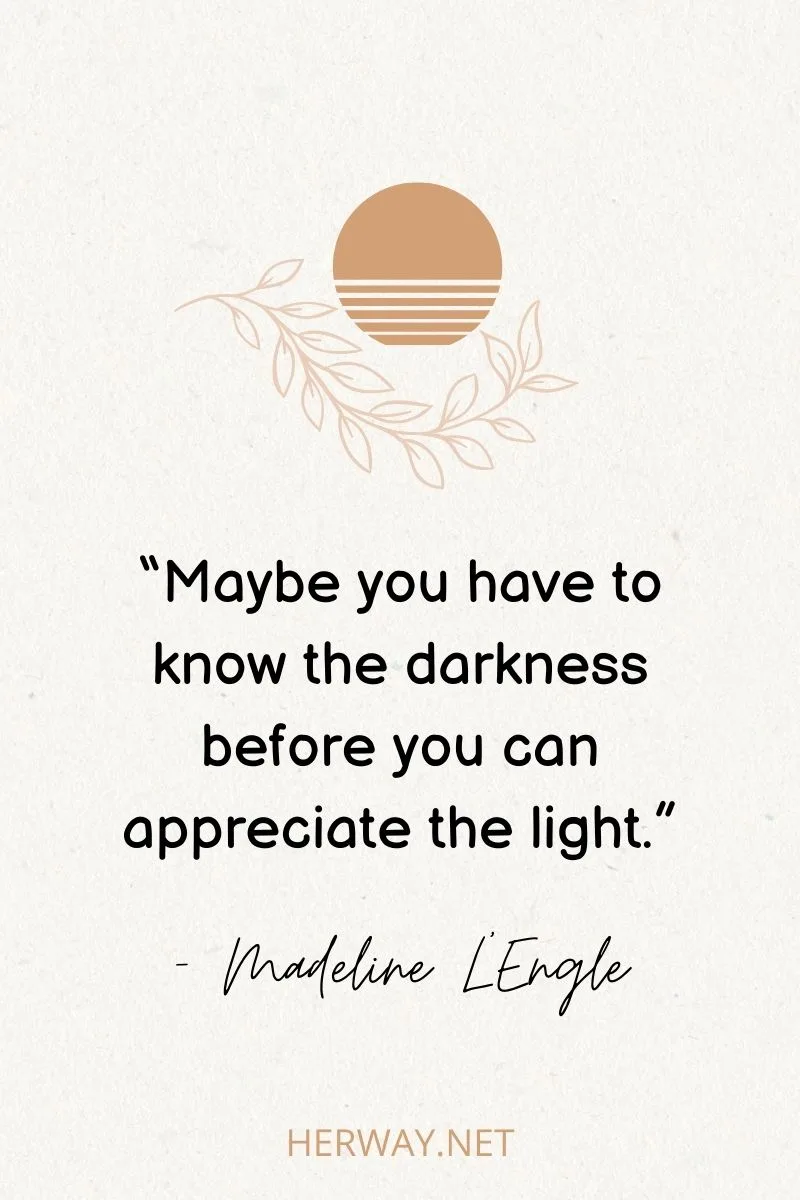 16. "What would be the significance of the candlelight if there were no darkness? What would be the power of the stars over our minds if there were no night?" – C. JoyBell C.
17. "The forest was not dark because darkness has nothing to do with the forest—the forest is made of life, of light—but the trees moved with wind and subtle creatures." – Lauren Groff
18. "Color is born of the interpenetration of light and dark." – Sam Francis
Light-Dark Quotes
1. "In a real dark night of the soul, it is always three o'clock in the morning, day after day." – F. Scott Fitzgerald
2. "You can't discover light by analyzing the dark." – Wayne Dyer
3. "Perhaps the light that made her beautiful was not from her eyes, nor from her smile, but from the way that no matter the darkness that swirled around her, within her, she still found the courage to shine." – Unknown
4. "Walk while ye have the light, lest darkness come upon you." – John Ruskin
5. "Don't be afraid of the darkness; just carry a light with you!" – Mehmet Murat Ildan
6. "Though my soul may set in darkness, it will rise in perfect light: I have loved the stars too fondly to be fearful of the night." – Sarah Williams
7. "My music is a little dark, and my lyrics are a little darker. Every day, I'm fighting towards the light." – Bebe Rexha
8. "Fear grows in darkness; if you think there's a bogeyman around, turn on the light." – Dorothy Thompson
9. "Love is heavy and light, bright and dark, hot and cold, sick and healthy, asleep and awake – its everything except what it is!" – William Shakespeare
10. "To see a candle's light, one must take it into a dark place." – Ursula K. Le Guin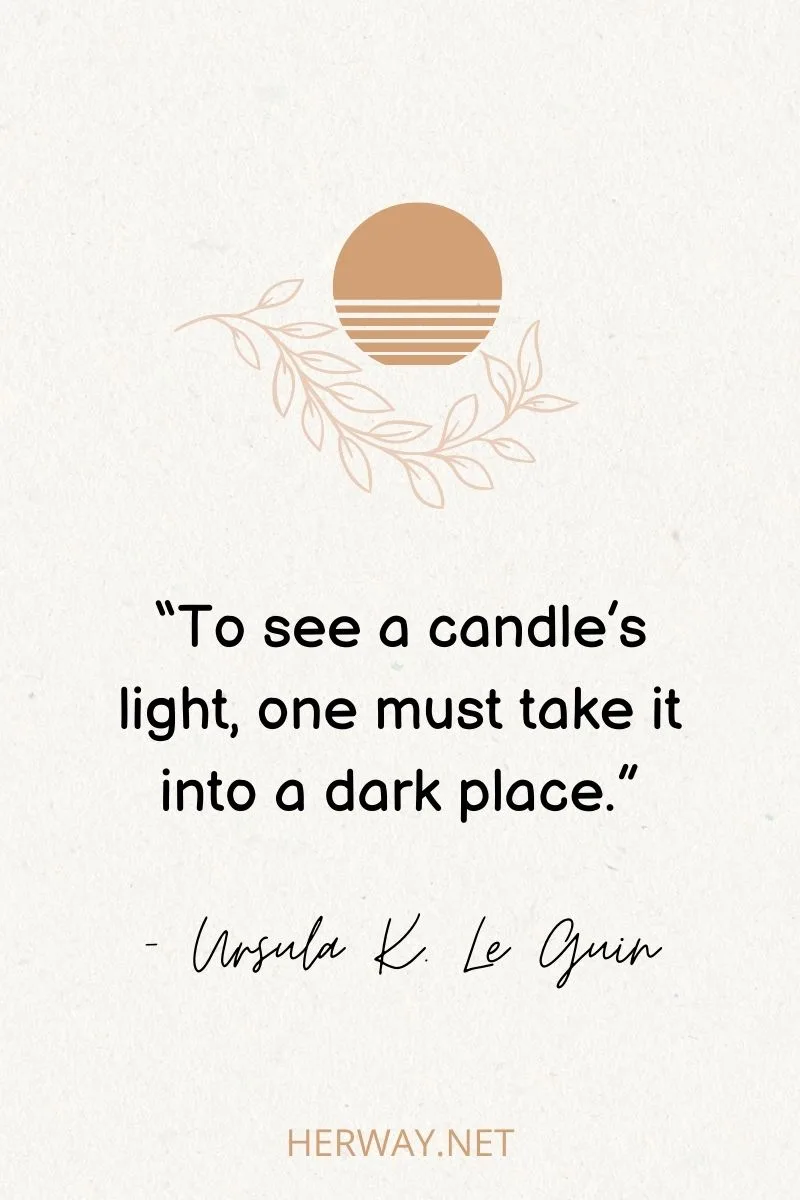 11. "The darkness declares the glory of light." – T. S. Eliot.
12. "Once I knew only darkness and stillness… my life was without past or future… but a little word from the fingers of another fell into my hand that clutched at emptiness, and my heart leaped to the rapture of living." – Helen Keller
13. "Even a happy life cannot be without a measure of darkness, and the word happy would lose its meaning if it were not balanced by sadness." – Carl Jung
14. "To prejudge other men's notions before we have looked into them is not to show their darkness but to put out our own eyes." – John Locke
15. "There is light enough for those who wish to see, and darkness enough for those who are otherwise inclined." – Blaise Pascal
16. "A visionary is one who can find his way by moonlight and see the dawn before the rest of the world." – Oscar Wilde
17. "It was the possibility of darkness that made the day seem so bright." – Stephen King
18. "Faith is a leap into the light, not a step into the darkness." – Reinhard Bonnke
19. "For every single dark night, there is a brighter day." – Tupac Shakur
See also: 205 Best Light Captions For Instagram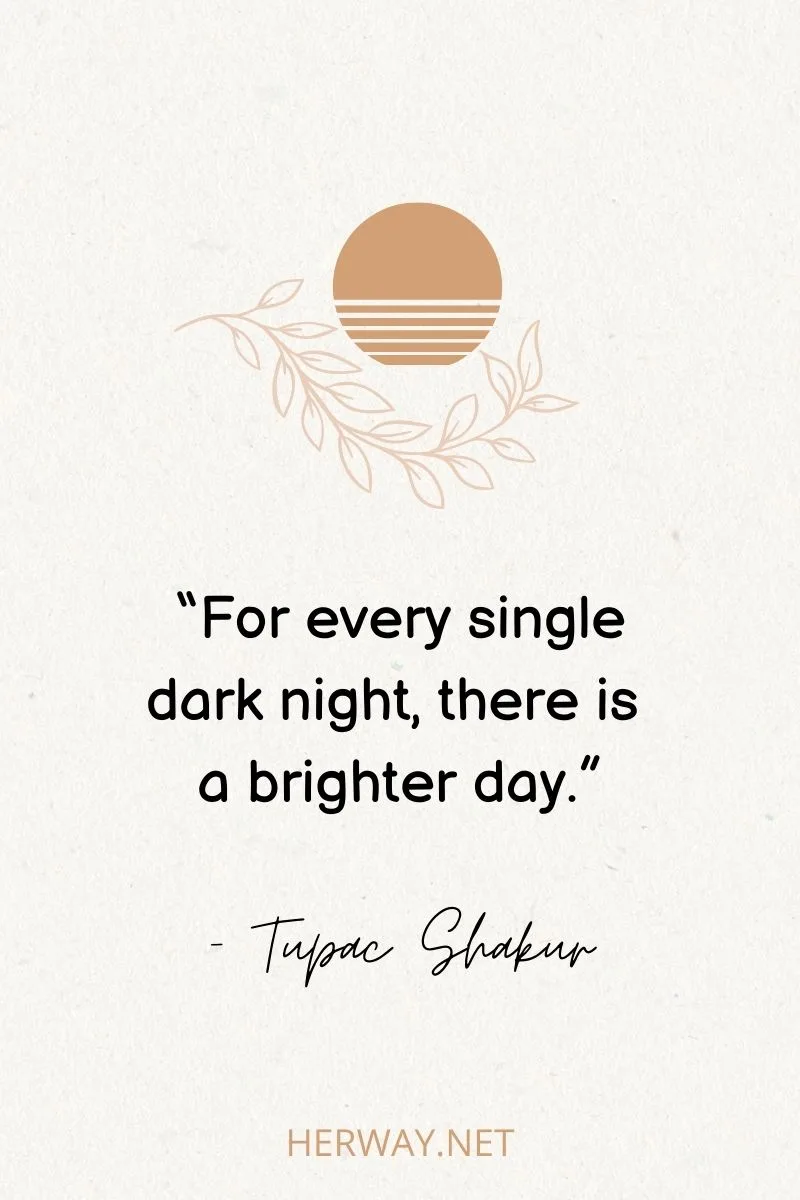 Quotes Of Darkness And Light
1. "It is better to light a candle than to curse the darkness." – William L. Watkinson
2. "It's so much darker when a light goes out than it would have been if it had never shone." – John Steinbeck
3. "… our existence is but a brief crack of light between two eternities of darkness." – Vladimir Nabokov
4. "Discover your light in the darkness, your power is hidden in your pain, there is love within the fear, and strength to be found through the struggle." – Unknown
5. "The darkness around us might somewhat light up if we would first practice using the light we have in the place we are." – Henry S. Haskins
6. "Listen, the obvious thing to remember is without dark, there is no light, and without light, there is no dark." – Jessica Capshaw
7. "Just remember that a dark shadow needs light to exist, but light doesn't need darkness to be luminous." – Gwen Hayes
8. "When you look ahead and darkness is all you see, faith and determination will pull you through." – Drake
9. "Darkness approaches from outside. I feel no light inside me strong enough to resist it." – Christopher Pike
10. "No matter how dark and gloomy it looks in your life right now, if you'll release the weight of those burdens, you will see the sun break forth." – Joel Osteen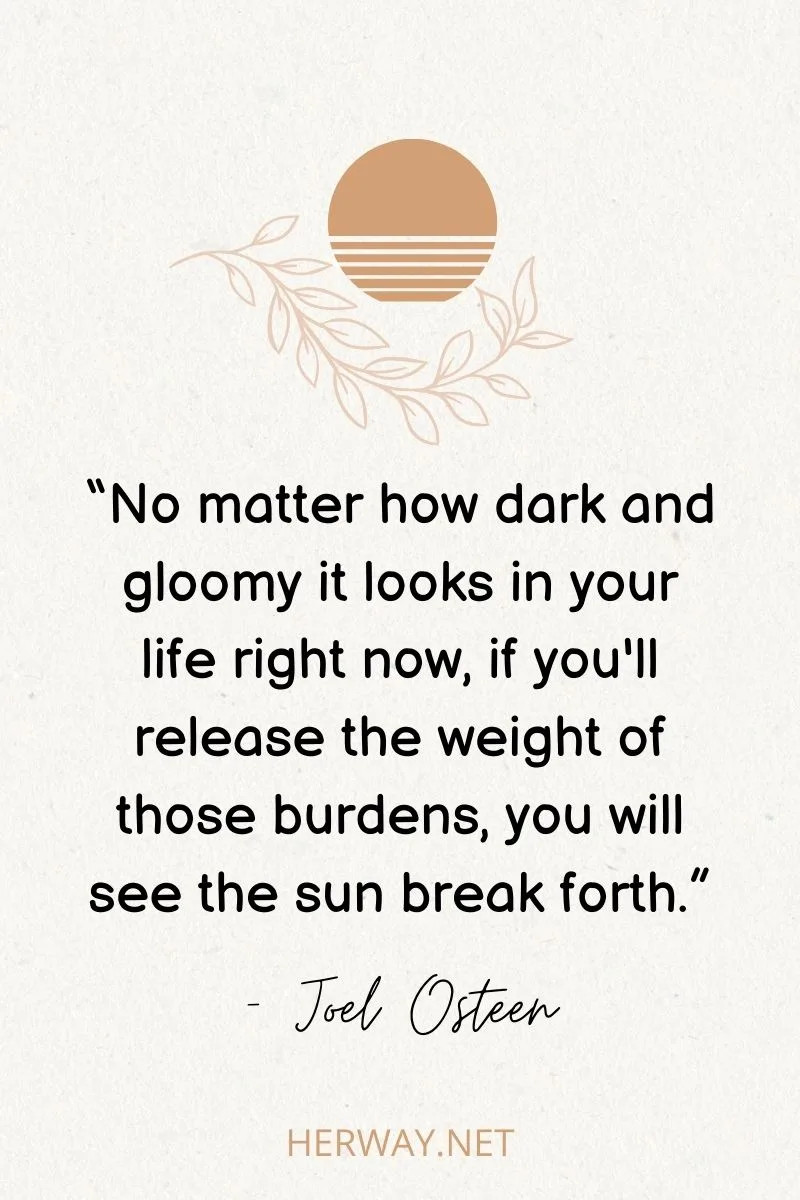 11. "Surrounded by darkness yet enfolded in light." – Alan Brennert
12. "If your heart is closed, then you will find behind that door nothing to light your way. But if your heart is open, you will find behind that door people who, like you, are searching, and you will find the right door together with them. None of us can ever save himself; we are the instruments of one another's salvation, and only by the hope that we give to others do we lift ourselves out of the darkness into light." – Dean Koontz
13. "Dare to reach out your hand into the darkness, to pull another hand into the light." – Norman B. Rice
14. "When the Sun of compassion arises, darkness evaporates, and the singing birds come from nowhere." – Amit Ray
15. "Only in darkness can we glimpse the fullest light our soul carries for us." – Angie Weiland-Crosby
16. "It is our light, not our darkness, that most frightens us." – Marianne Williamson
17. "You cannot defeat darkness by running from it, nor can you conquer your inner demons by hiding them from the world. In order to defeat the darkness, you must bring it into the light." – Seth Adam Smith
18. "It is often in the darkest skies that we see the brightest stars." – Richard Evans
19. "What makes night within us may leave stars." – Victor Hugo
20. "I'm afraid of the dark, so I have a lot of night-lights." – Lara Flynn
See also: 111 Mood Off Quotes, Statuses, And Captions To Express Yourself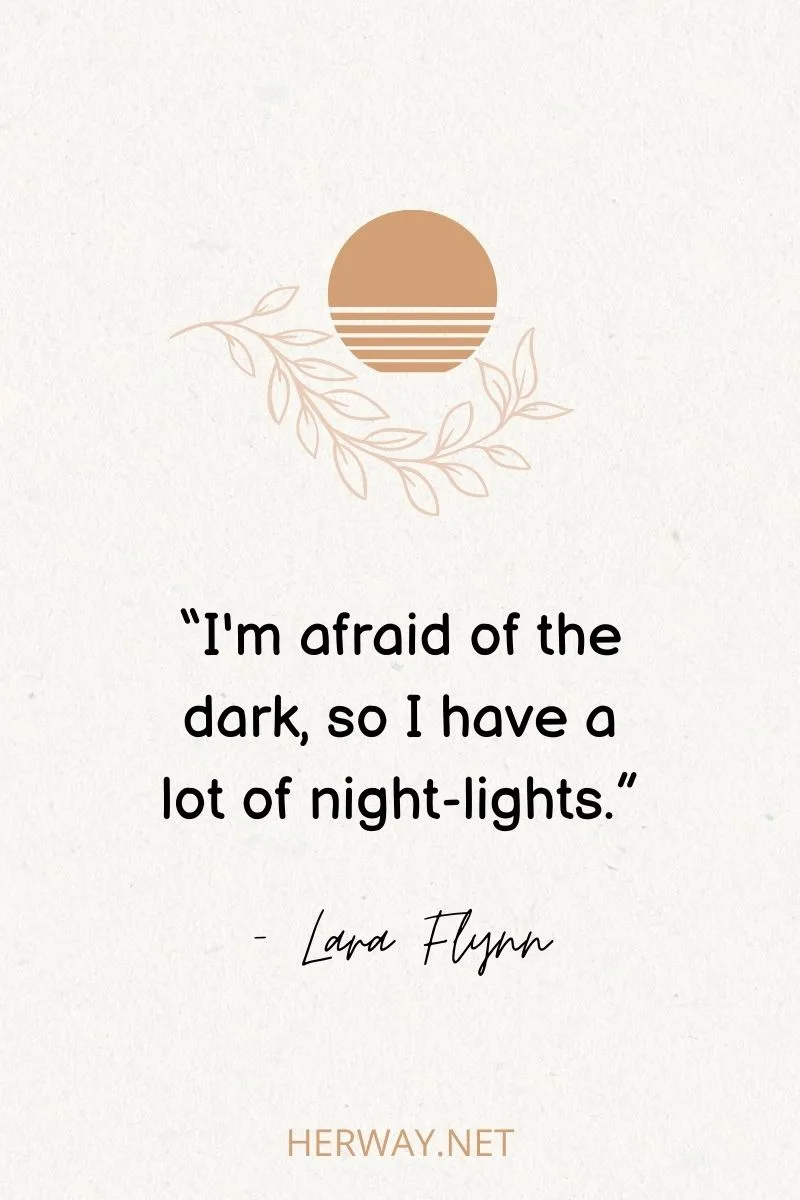 Quotes Of Darkness
1. "If we are completely honest with ourselves, everyone has a dark side to their personalities." – Isabella Rossellini
2. "In complete darkness, we are all the same, it is only our knowledge and wisdom that separates us, don't let your eyes deceive you." – Janet Jackson
3. "By running from what we fear, we feed the inner darkness!" – Tara Brach
4. "My darkness has been filled with the light of intelligence, and behold, the outer day-lit world was stumbling and groping in social blindness!" – Helen Keller
5. "What I was chasing in circles must have been the tail of the darkness inside me." – Haruki Murakami
6. "Returning violence for violence multiplies violence, adding deeper darkness to a night already devoid of stars." – Martin Luther King, Jr.
7. "Once you realize you deserve a bright future, letting go of your dark past is the best choice you will ever make." – Roy T. Bennett
8. "If I must die, I will encounter darkness as a bride, and hug it in mine arms." – William Shakespeare
9. "We come from a dark abyss; we end up in a dark abyss; the bright space in between is called Life." – Nikos Kazantzakis
10. "Excessive brightness drove the poet into darkness." – Martin Heidegger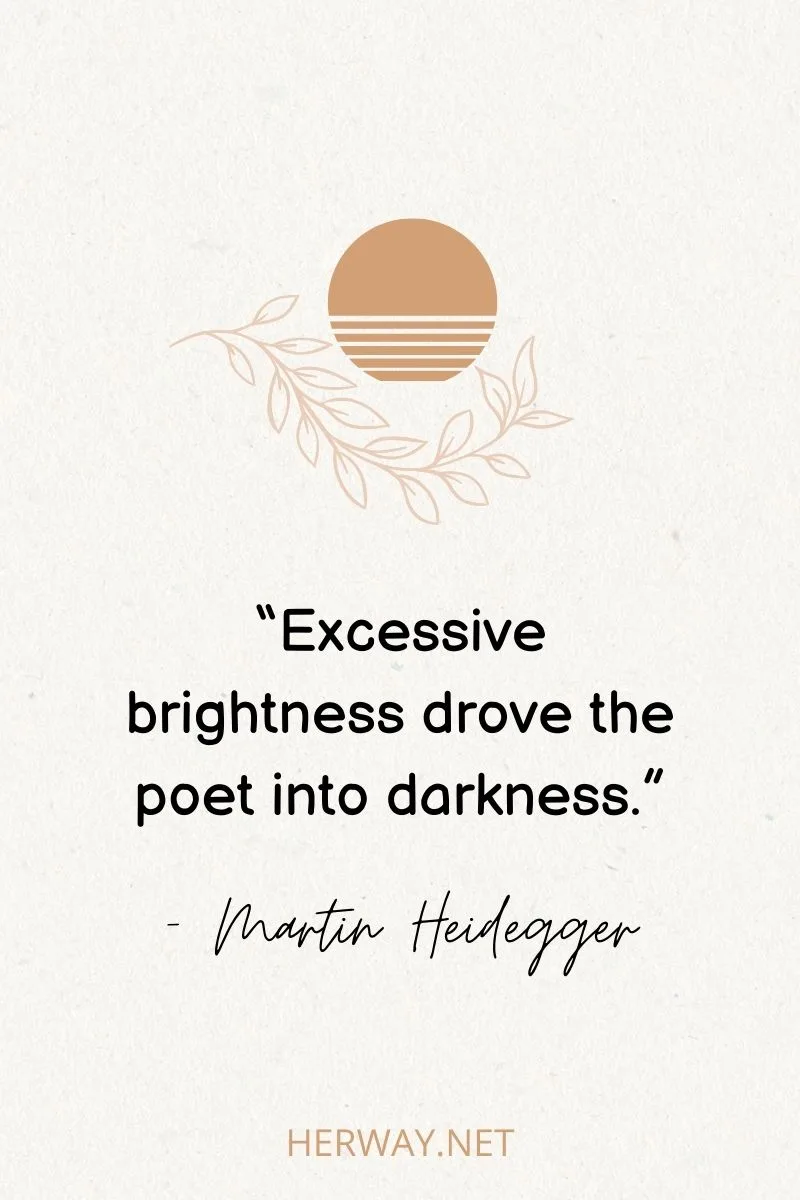 11. "By night, beloved, tie your heart to mine and let them both in dreams defeat the darkness." – Pablo Neruda
12. "I buried my head under the darkness of the pillow and pretended it was night." – Sylvia Plath
13. "For me, singing sad songs often has a way of healing a situation. It gets the hurt out in the open into the light, out of the darkness." – Reba McEntire
14. "Beyond a doubt truth bears the same relation to falsehood as light to darkness." – Leonardo da Vinci
15. "When you spend so long trapped in darkness, you find that the darkness begins to stare back." – Sarah J. Maas
16. "I'm afraid of losing my obscurity. Genuineness only thrives in the dark. Like celery." – Aldοus Huxley
17. "Creation does not cease just because there is darkness!" – Suman Pokhrel
18. "Everyone has talent. What is rare is the courage to follow the talent to the dark place where it leads." – Erica Jong
19. "Someone I loved once gave me a box full of darkness. It took me years to understand that this, too, was a gift." – Mary Oliver
20. "We've all got both light and dark inside us. What matters is the part we choose to act on. That's who we really are." – J. K. Rowling
See also: 145 Best Happiness Affirmation Quotes To Use In 2022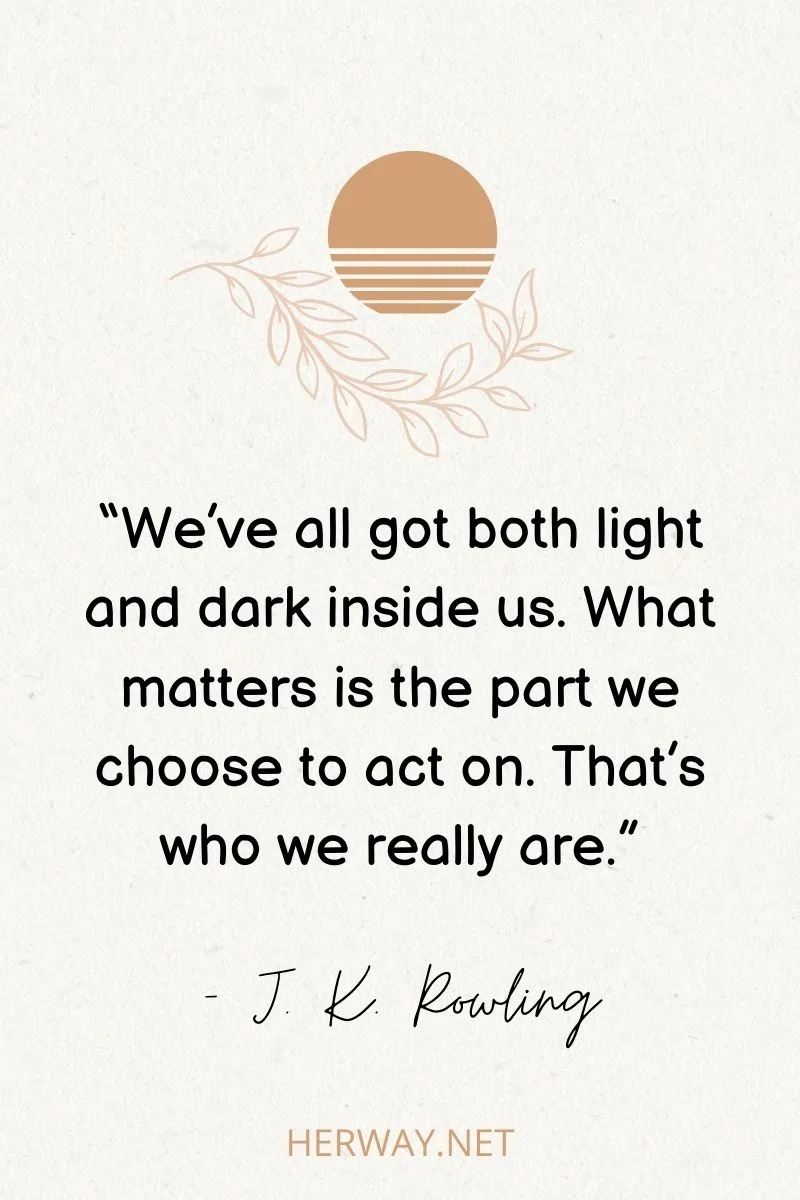 Quotes Of Light
1. "There is a crack in everything; that's how the light gets in." – Leonard Cohen
2. "There are two kinds of light: the glow that illuminates, and the glare that obscures!" – James Thurber
3. "Light is precious in a world so dark." – Kate DiCamillo
4. "A man who refuses light will remain in the darkness even by the side of light!" – Mehmet Murat Ildan
5. "There's no point dwelling in the dark and ignoring the light of the stars." – Carrie Hope Fletcher
6. "Words which do not give the light of Christ increase the darkness." – Mother Teresa
7. "Warriors of light are not perfect. Their beauty lies in accepting this fact and still desiring to grow and to learn." – Paulo Coelho
8. "Life throws challenges, and every challenge comes with rainbows and lights to conquer it." – Amit Ray
9. "A day without sunshine is like, you know, night." – Steve Martin
10. "O, Sunlight! The most precious gold to be found on Earth." – Roman Payne
11. "No situation is so dark that there is not a ray of light!" – Norman Vincent Peale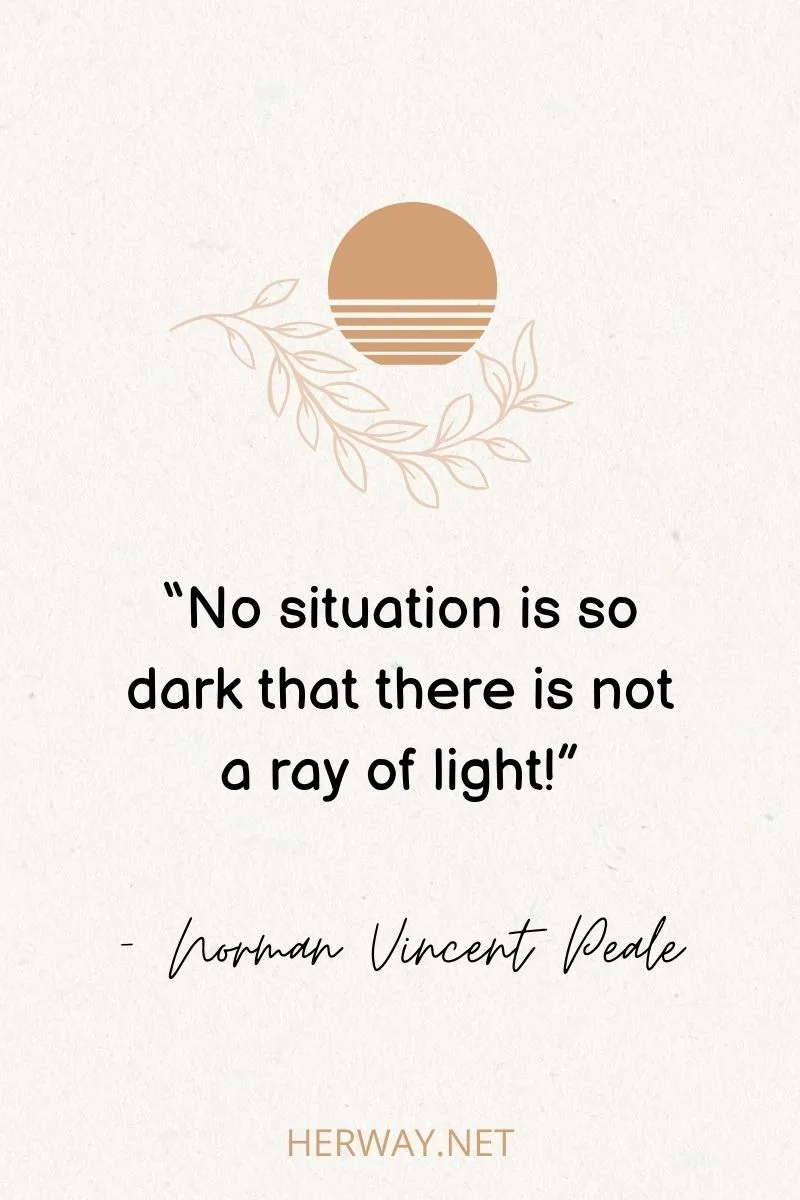 12. "There can be no transforming of darkness into light and of apathy into movement without emotion." – Carl Jung
13. "The most precious light is the one that visits you in your darkest hour!" – Mehmet Murat Ildan
14. "I rise because
I know that every wound is an experience;
Light shall enter from that hurt,
And in the milieu, spread fragrance!" – Neelam Saxena Chandra
See also: Quotes About Being Hurt: 100+ Quotes To Help You Deal With The Pain
Final Thoughts
I'm sure these wise and uplifting quotes of light and dark will help you see life from a different perspective. They will motivate you to find a silver lining in every situation.
After all, life is all about evolving, and for that, constant change is needed.
Just like darkness, change shouldn't be seen as something negative. Without it, we wouldn't be able to experience the beauty of light.