Every father of the bride is bound to entertain the crowd! These 30 best father of the bride speeches will make everyone speechless!
(I hope you love this rhyme because I really made an effort to make it sound catchy. ?)
I'm pretty sure your daughter's upcoming wedding ceremony requires a lot of preparation. The bridesmaids, the photographer, the wedding guests list, the wedding dress, the wedding officiant, you name it…
Wedding planning also includes wedding vows and speeches (I mean best wedding speeches)!
You've probably seen in many movies how speeches from the bride's father are always funny, charming, and at the same time, heartwarming. So, if you're thinking of giving a speech, that would be the best recipe for it.
Below you'll find a collection of 30 best father of the bride speeches that will wow the crowd (and especially your daughter). Feel free to add some of your own ideas to the speech to make it more personal and original.
You'll also find some funny father of the bride speech ideas that you can add to your speech as well on this special day. ?
30 Best Father Of The Bride Speeches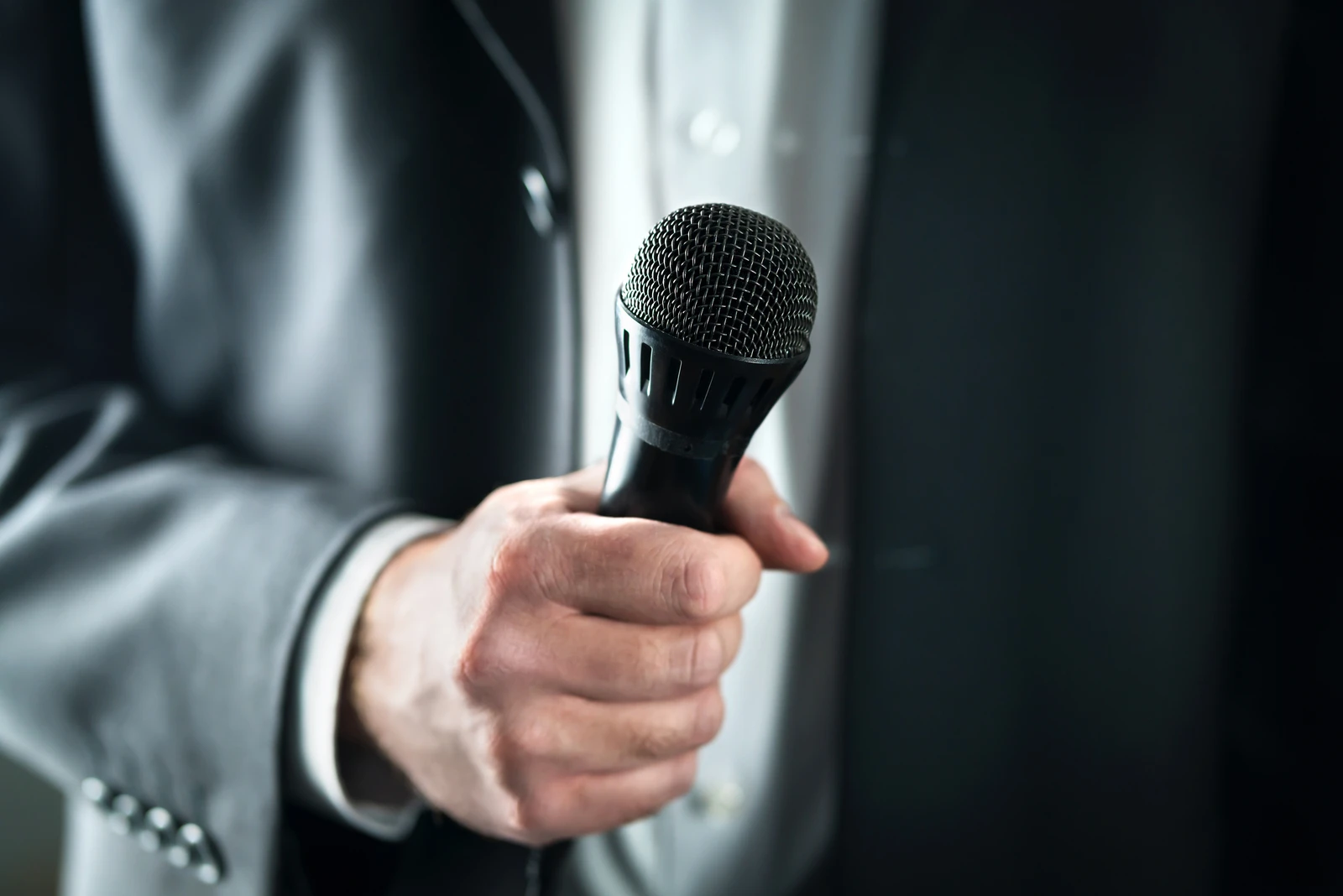 Ready for some of the best wedding speech examples for the happy couple – your daughter and her man? I bet you are. These father of the bride speech templates will make her big day all the more special.
1. "As I look at this beautiful woman before me in her lovely wedding gown, I can't help but reflect on the girl she was and the woman she has become. She became 'Daddy's Girl' the day she was born and has always been a princess to me.
Throughout her life, she has brought joy to her mother and me, and while not every day has been perfect, the love I feel for her has been.
And today, she has joined hands with a wonderful young man, and in addition to the sparkle I have always seen in her eyes. Today, I see love and joy there beyond anything I have seen thus far. She and [groom] today have completed each other as they become a new family unit.
Please join me today in wishing [bride] and [groom] every happiness possible and a long and joyful life together as husband and wife."
2. "Hello everyone, I am [bride's] father. There is a saying that when parents find true love, their parents find true joy. If you are a parent, then you know that when your child is sad, you feel sad too.
And when they are happy, you cannot help but feel happy too. So you can just imagine how I felt when I discovered how happy and in love [bride] was.
I want the two of you to know how happy I am for you. [bride,] I can rest easy knowing that you have found the right one, and [groom,] thank you for making my daughter so happy."
3. "When you are a parent, you always want the best for your child. My daughter was no different. So it should come as no surprise that I am thrilled she has met the person of her dreams. Someone who is her equal, her better half, and a wonderful person. [groom,] I welcome you into my family, and I know the two of you will keep each other very happy."
4. "I have seen many years in my life. And I have a small handful of favorite days that I remember and cherish fondly. One of the best days of my life was the day that [bride] was born. Or at least I thought that it was the best day of my life at the time.
Over the years, there were many other days with my daughter that were memorable and wonderful in their own unique way. She has brought me many smiles and laughs over the years. And today is another one for the books.
Today has been an absolutely wonderful and beautiful day that I will always remember fondly, and I know that [bride] and [groom] will remember their wedding day fondly as well.
From the stunning ceremony to this delightful reception, surrounded by all of the people that mean the most to my daughter and new son-in-law, I cannot believe how much my beautiful daughter has grown.
She has matured into someone that I am very proud of. [Bride] and [groom,] I wish you all the best, and I hope that you will make your own happy memories so that you will have beautiful days to look back on when you are both old together."
5. "When my wife and I found out that we were going to have a little girl, we were excited beyond belief. We loved her before she was even brought into this world. The sound of her name and the thought of soon being able to hold her were already enough to put smiles on our faces.
Ever since she was born, [bride] was a happy baby and a happy child. From cooing as an infant to always giggling as a little girl, it was always easy to make her smile and laugh. Her smile could put a huge grin on anyone's face. And yet, I have never seen her happier than when she is by [groom's] side."
6. "Beautiful, loving, smart, generous, strong, and kind. Treasured and loved by anyone who is lucky enough to really know her. These are just a few words that I would use to describe my daughter. I used to wonder how someone could ever compete with such a lovely person. Would she ever meet her match? Who would be deserving of the wonderful person that she is?
I am glad to say that she did finally meet someone who perfectly complements her. [Groom] is someone I would have been happy to call my son, and now I can call him my son-in-law. Congratulations to you both, and thank you, [groom,] for making my daughter so happy."
7. "Today is only the beginning for [bride] and [groom.] With each passing day and every year that goes by, you will create many more memories together. To my lovely daughter and my wonderful son-in-law. May you prosper together, grow old together, and make each other happy."
RELATED: 130+ Of The Most Special Wedding Toast Examples And Quotes
Simple Father Of The Bride Speech Example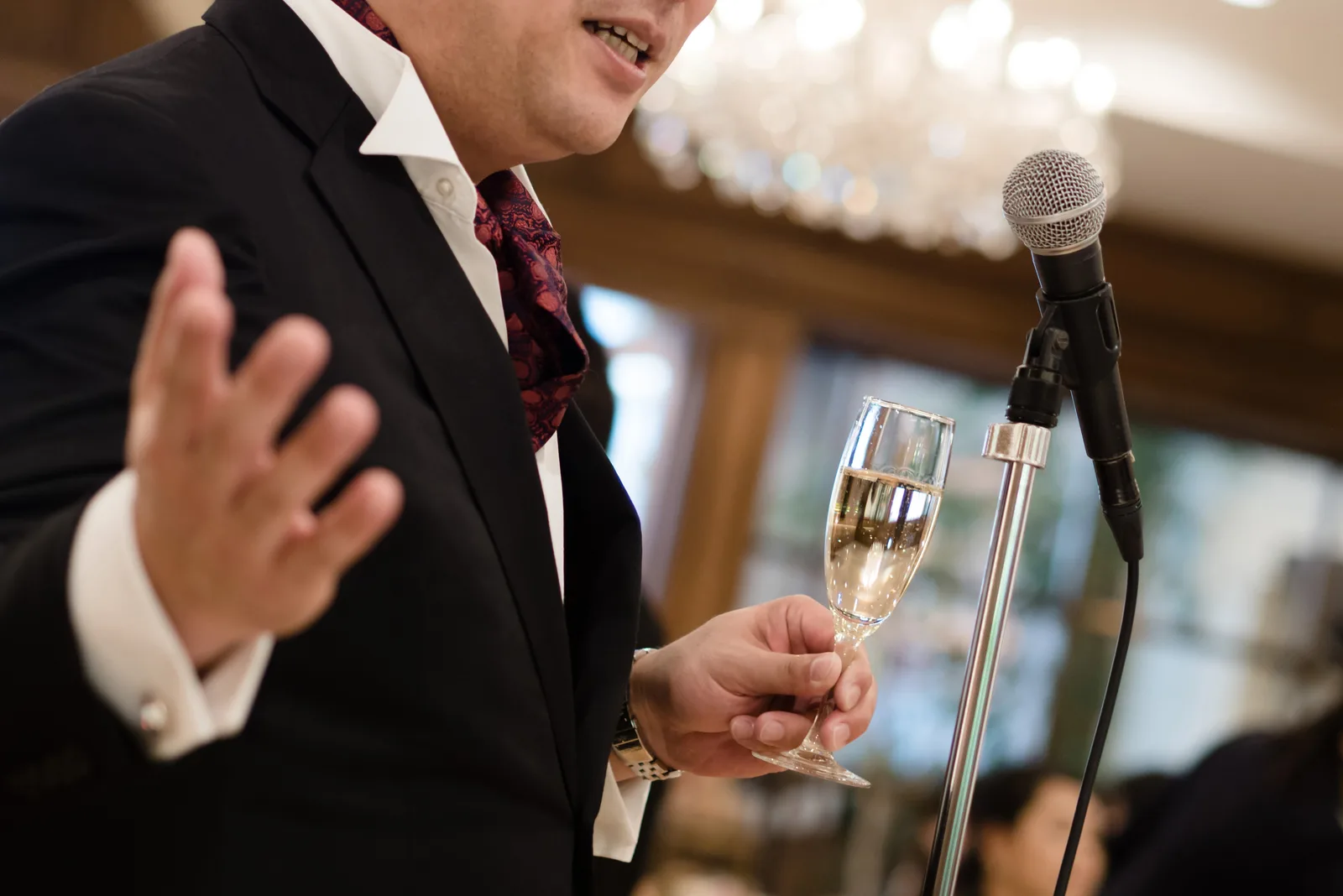 These father of the bride toast examples are far away from being cliches or lame wedding gags. What does this mean? It means these father of the groom speeches are just perfect for your daughter's wedding reception.
1. "I remember the day that [bride] was born like it was yesterday. The second I laid eyes on her and held her in my arms, I was in love. There is nothing like a parent's love for their child.
You feel like you love them more than anything in this world, and you would do anything to protect them. As their guardian, you do your very best to nourish them and give them a happy home in which to grow.
[Bride's] mother and I always hoped we could teach our daughter to love others. To be kind, compassionate, and thoughtful. We are beyond proud of the woman she is today. While she was an amazing little girl, as a woman, she is a force of nature. And we are so happy that she was able to find love."
2. "Please raise your glass to the newlyweds! I congratulate you both on your special wedding day. May love, faithfulness, mutual understanding, and respect always live in your family. A toast to many years of bliss!"
3. "Our family is very close-knit, and sure, our family tree has some nuts on it – I won't say who. But I have to say that [groom] fit right in with us from the moment we met him. And I am glad to say that we did not scare him away. He is still here, and now he is family."
4. "For as long as we both can remember, [bride's] mom and I always knew that she was destined for great things. She is a smart girl, talented, focused, and hardworking. But happiness? That is not something that can be easily guaranteed.
[Bride] was always accomplishing amazing things, even as a young girl. But that was not everything to her mother and me. We also wanted her to be happy. That was the most important thing to us that our daughter would find happiness in life because success without happiness does not mean very much.
When [bride] met [groom,] happiness started to seep into her life. It was like she was seeing everything in brighter colors. She smiled more, and we knew how much this guy meant to her. To find happiness can be very difficult, and my wife and I are both very grateful and happy that these two were able to find each other."
5. "[Bride] and [groom], as I look at the two of you in your beautiful dress and your nice suit, I am reminded a bit of my own wedding day where there was plenty of excitement, love, and of course, some nervousness as well.
Take it from someone who has been married for many years. Being in a successful marriage requires falling in love many times and always with the same person."
6. "When you are a parent, the greatest thing that you will ever have in your life is your children. I always wanted my daughter to be the happiest that she could be. I thought I knew the happiest version of her, but I've never seen her at her happiest until she met [groom]."
7. "Marriage cannot be summed up in just one picture or one sentence. It is a lot more complex than that. Think of your marriage together as hundreds and hundreds of threads that you will sew together over the years."
RELATED: 110 Most Powerful Marriage Quotes To Honor This Sacred Bond
Brilliant Father Of the Bride Speeches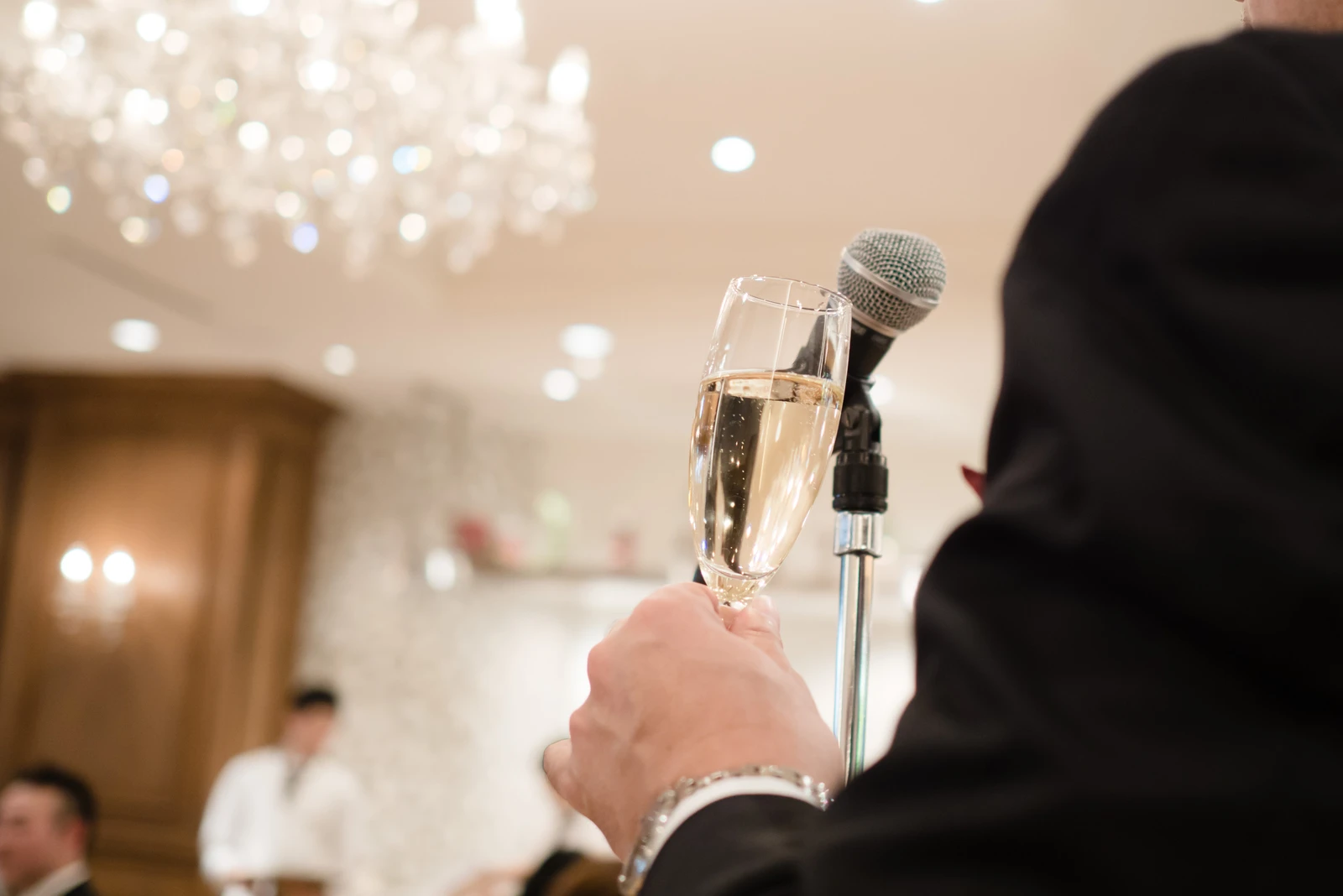 You don't need the ultimate guide to the perfect speech when you have these 30 best father of the bride speeches for raising a toast to the bride and groom. Adding some heartwarming quotes about your daughter into your speech is also a great wedding idea. That's what my best friend's father did for his daughter, and it was truly special.
1. "When I met [bride's] mother, I knew in the back of my head that this would be the girl that I was going to marry. It didn't happen right away, but eventually, it did happen.
A seed was planted that sprouted, grew, and blossomed into the type of love you only read about in books. Through all of these years, my wife and I have always loved each other very much.
So it makes us happy beyond words that our daughter was able to find a love like ours. One that makes you a better person, that makes you happy and fulfilled. [Groom] is a truly amazing person, and we could not have picked a better husband for our wonderful daughter."
2. "I have always wanted the best for [bride.] From the best teachers and schools to friends that were a good influence on her, you can be sure that I always wanted my daughter to have the best things in life. But she found [groom] all on her own. You can call it fate or pure luck, but whatever the cause, I am glad they found each other."
3. "[Bride], how the years have flown by. But I guess it is true what they say: Time flies when you are having a great time. Being your father has been and continues to be a joy. One day you are setting up your baby's nursery, painting it, and assembling the crib. The next, you are finally holding your baby in your arms for the first time. Then, the next thing you know, you are seeing her take her first steps.
Many more milestones and many more memories pass by. The first day at school, graduation, the day that little girl moves out of her parents' house, her going away to college, her first job, and so on. And then, of course, her wedding day. I am so lucky to be able to share all of these memories with you, my sweet, darling daughter. I love you with all of my heart forever and always, and I wish you and [groom] all the best memories in your new life together."
4. "There are two lasting gifts that we can give our children. The first one is roots, and the second is wings. We always wanted to give [bride] a strong foundation and a support system that would always be there for her no matter what. But we also wanted her to have wings so she could one day go and build a life of her own."
5. "Many people will refer to a wedding day as the happiest day of their life. I have to say from my own experience that I do not find that expression to be true. My wedding day was a happy day for sure, but was it the happiest day of my life so far? Not by a long shot.
Yes, I was marrying the woman I loved, and all of our beloved friends and family were there to celebrate our love with us. But the two of you might find that the happiest days of your life are the simple ones, the quiet days that the two of you are sure together. And if you one day grow your family, you might share some of your happiest days with your children.
To me, some of the happiest days of my life include sitting at home with the woman that I love. Sometimes we talk – other times, no words need to be said. But you will have days and moments where you will ask yourself, how did I get to be so lucky with this person?
For me, those are the happiest days of my life. I hope for the two of you that your happiest days together are yet to come."
6. "As I look at my daughter, the bride, I can't help but reflect on all the years I was lucky enough to watch her grow and become the beautiful woman she is today.
She captured my heart the day she was born, and I became more and more in awe of her as the years passed by. She's my little girl, my princess, and my ray of sunlight, and no matter her age, she'll always be those things to me.
But today, as I watch her marry a wonderful man, I'm filled with pride and am confident that she and (groom) are about to embark on a beautiful journey filled with the love and happiness that can only come as man and wife. May the two of you always treat each other with love, compassion, and kindness.
I ask you to join me today in congratulating the bride and groom and wishing them all the best for a long and happy life together."
7. "As (bride's) proud father, it is my honor to give the first speech. I am a little anxious today, so please bear with me.
What a magnificent venue (bride and groom) have chosen today. It was impossible to get her out of her Cinderella dress as a kid, so it is a dream come true for her to get married at this beautiful castle today.
(Bride) will always be my princess, but I am grateful she found her Prince Charming. The bravery with which he handles her demands for chicken nuggets at 1 A.M. and his polite acceptance of all her Amazon deliveries at his work told me he was the one! And thankfully, (bride) realized it too!
(Groom), welcome to the family. You are joining a large, loving, and loyal family. I am not losing a daughter, but instead, I am gaining a brawny son-in-law who will clean my car and cut my grass when I get older.
I don't want to embarrass my daughter any further – that is reserved for the dance floor – so please raise a glass with me to the new Mr. and Mrs.!"
RELATED: 40 Heart Touching Examples Of Maid Of Honor Speech For A Sister
Funny Father Of The Bride Speech Ideasž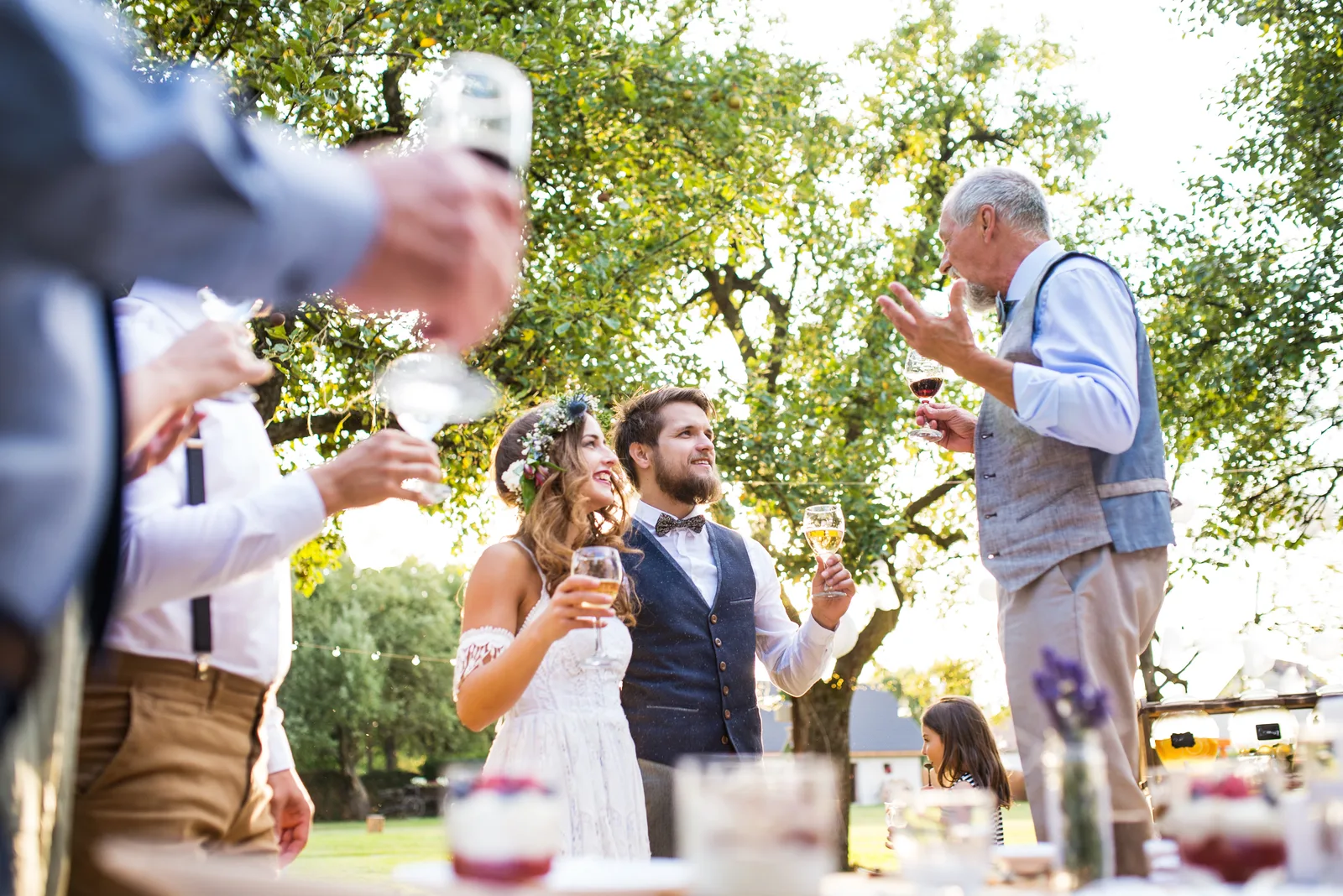 The best man's speech is often the funniest of all. However, funny one-liners and wedding dad jokes are becoming more popular (I'm sure the groom's parents would agree with us as well).
1. "A happy marriage consists of finding the right balance between giving and taking. The husband gives while the wife takes."
2. "I've prepared a hilarious wedding speech… but [mother of the bride] is making me read this one instead."
3. "Apparently, women subconsciously choose a new husband/wife with a character furthest from that of their fathers. And only a few minutes ago, I heard my wife describing her new son/daughter-in-law as generous, sincere, and good-humored."
4. "I don't think anyone can argue with the fact that (the bride) looks stunning today in her gorgeous white gown. And groom)…well, what can we say about him in that sharp suit of his. It reminds me of the old apocryphal tale about a little girl who, attending a wedding for the first time, asked her mother why the bride was wearing white. She told her white was the color of happiness, and today was the happiest day of her life. The girl thought for a moment and then asked, 'So why does the man wear black?'"
5. "Today is a really special day – you're about to witness the first and last time anyone ever trusts me to make a speech."
6. "Thank you all for coming. It wouldn't be the same without you… it would be a lot cheaper, though."
7. "[Partner's name], if you remember that marriage is simply a union in which one person is always right, and the other is you, you'll be fine."
8. "I'm sure we can all agree how wonderful and tasteful this day has been. I'm sorry to have ended it all here with my speech."
9. "I want to truly enjoy the next five minutes that [bride] couldn't plan and has no control over!"
See also: 47 Touching Examples Of Mother's Speech At Daughter's Wedding
What Should A Father Of The Bride Speech Include?
A father of the bride speech should include a warm welcome, giving thanks, sharing your pride and happiness, and much more. Here are all the elements that a father of the bride speech should include:
• Welcoming the guests
• Giving thanks
• Recollection of some fond memories
• Sharing your happiness and pride
• Talking about the present (and this special day)
• Acknowledging the groom
• Expressing your deepest feelings for your daughter
• Talking about their shared future
• Adding some wisdom, quote, or a joke
Note that you can add some wisdom or funny jokes earlier in the speech. You don't need to strictly follow this order.
See also: Wedding Speech For Brother From Sister: 68 Top Examples
Cheers!
I'm sure these 30 best father of the bride speeches will inspire you to brainstorm and add more inspiring sentences to your speech.
If this is your first time giving a speech, and you have a fear of public speaking, I suggest rehearsing it a few times before the wedding date. You can also rehearse the speech in front of some of your family members beforehand.
Before my wedding day, we had a rehearsal dinner so everything went smoothly (even the speech jokes)! So, practice is definitely on the list of tips for giving a wedding speech, according to Verywell Mind. Take a deep breath and enjoy!