You're counting the days to your daughter's big day but there is one thing that's bothering you. You still didn't manage to write your wedding toast and time is running out.
Don't worry, I got your back with these amazing examples of a mother's speech at daughter's wedding. I'm sure these speech samples will make your little girl cry, out of happiness, of course.
You can stop with brainstorming. This collection of wedding toasts is ALL you need. Whether you want your speech to be short and funny or long and sentimental, you'll find the most perfect example below.
Touching Mother Of The Bride Speech Examples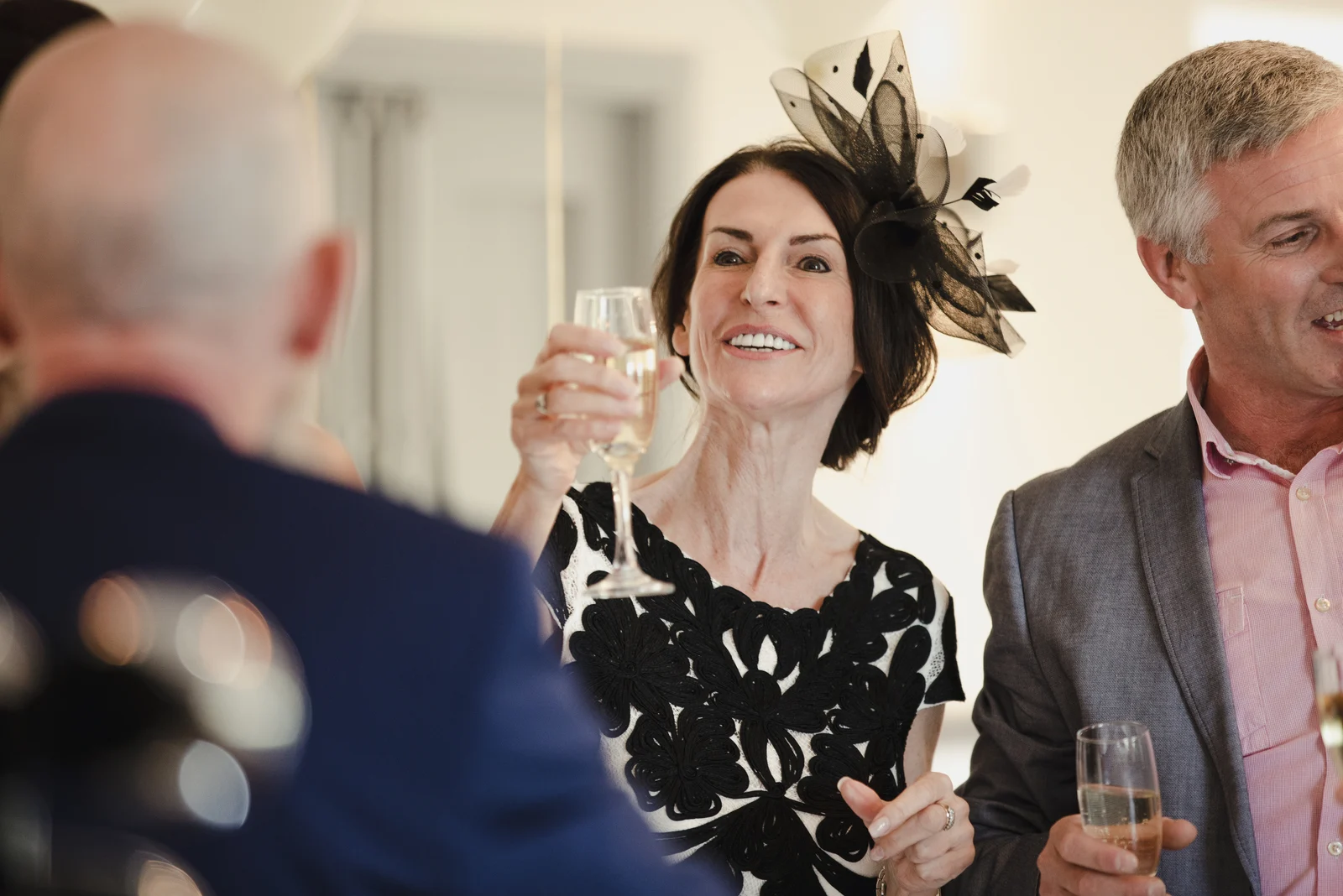 1. "Thank you, everyone, for coming. Some people arrive and make such a beautiful impact on your life, you can barely remember what life was like without them. This is what I felt when I met my husband and when I was a bride. These are the relationships that give you strength and you simply can't imagine your life without them. Today, my daughter is the luckiest girl in the whole world because she has found a loving partner and a wonderful family. My hope is that, when you look back on this day, you will always smile thinking that you can't imagine your life without your man."
2. "I wish to raise a toast to my daughter and her new husband. Although she's too old to hold my hand, she'll always hold my heart. Watching you grow from my little girl into the beautiful bride standing before me has filled me with such joy. Everyone you meet is touched by your kindness, generosity, love for life and cheeky humor. I am incredibly lucky to have you as a daughter and as a treasured friend too. I feel blessed to welcome Sam into our lives and thank him for the laughter and happiness he brings my daughter. I couldn't wish for a better man for Alice than Sam. May the two of you have a long, healthy and happy life together. To Alice and Sam."
3. "Casey, I'm so proud of the beautiful young woman you've grown into. I'm not sure what I did to deserve you — or how you ended up turning out so wonderful (by all means, I'm no perfect parent, as you can attest to!), but, hey, I won't question it.
I can't wait to celebrate many more happy occasions with you and Rory. Everyone, please join me in raising a glass to the newlyweds. Here's to a lifetime of love, health, and happiness!"
4. "On this day, I greet everyone wholeheartedly, especially my new son-in-law and his family. As parents, you know that we love our kids so much that it seems unreal when we see them grow into these mature and smart human beings. Today, when I look at my daughter, I see a smart young woman. But somehow, I still see that little girl who filled my life with joy and happy memories. I am proud of you and my new son (groom). I see the blossom of love and mutual understanding when I look at both of you together. I wish that this blossom stays like this forever and that you can pass your love on to your children."
5. "Wow! Daughter, you look incredibly beautiful and I wish that you stay that way with your husband. My heart is swollen with so much emotion that I find it difficult to describe what I am feeling. "Nobody, not even poets, has ever measured how much the heart can hold." As a mother, I always wanted her to have all the happiness in the world. I always thought, "Will she ever find someone who can love her with all his heart?" So, I had high standards for my daughter. But when I met your partner, I felt light and happy for my daughter. Seeing them together, I know that they deserve each other."
6. "Hello everyone. I am [the bride's] mom. As all parents will know, we love our kids with all of our heart. And it can be hard to watch them grow up. You are filled with pride in everything that they do, but you also find yourself missing the little girl who used to hold your hand; the girl who used to run to you when she would scrape her knee. Now, [bride] is a lot older. And I am proud of who she has become and I thank God for the love that she has found in [groom.] May the two of you have a long, happy, healthy life together."
7. "Hi everyone, I'm Louise, Kat's older sister. I'm just joking! Kat and I have always been so much more than mother and daughter, we're best friends, so I couldn't let this moment pass without saying something. As her dad will confirm, I always have to have the last word! It's with love, pride and joy that I stand here today. Kat has been very lucky to find true love with Anna and that will forever make me so grateful. The two of you are perfect for each other and I couldn't imagine anyone better – or as patient! – as Anna to start this new adventure with. I knew she was the right person for you when …. Your dad and I have always tried to be an example to you to show that through ups and downs and across the years love can grow and last. Seeing you two together, I know we've taught you all the lessons we can and all we can do now is to wish you a lifetime of happiness as you start your own family. Don't worry, I'll always be here to show you how to change a nappy!"
8. "As a parent, you, of course, want your child to succeed in life—both personally and professionally. But one of the most satisfying rewards is seeing your child experience true love and happiness, which she has absolutely found with Adam. Thank you, Adam, for loving our girl, we're thrilled you are part of our family.
Please join me in a toast to the bride and groom—congratulations! We all wish you the best for everything this new journey has to offer."
9. "They say that your wedding day is the happiest day of your life. Our wedding day was indeed a very happy day, but it was nothing compared to the day that [bride] was born. When you were born into the world, it was as if the world was full of hope again. You were beautiful and as you grew older, I learned that you were smart and kind as well. Watching you get older never got any easier, but I am proud to say that you have grown into a strong woman who has gracefully come into her own. And you have found the perfect partner along the way.
As the two of you embark on your new life together, I wish you all of the happiness and peace in the world. May you never go to bed angry and may you always begin each day with an "I love you".
10. "Hello, everyone. Today is a special day in my daughter's life. I welcome all of you to join us on this wonderful occasion. It's true that your wedding day is the most amazing day of your life. But for me, the happiest day of my life was the day you were born. That was a day full of hope and joy. As you grew older, I saw that you were strong, yet loving and kind at the same time. I saw the reflection of your dad in you as he taught you to read, to drive and to have that desire to go after your dreams. I am proud to say that you have achieved everything you wanted. I am happy that you have found the right partner for you. Message to the groom: I am glad to give my daughter's hand to you because I know that you will love and cherish her forever. As both of you are starting a new chapter in life, I wish and pray that you will always be happy in your little world."
11. "As Casey's slightly older sister — just kidding! — I want to thank you all so much for joining us to celebrate Casey and Rory's wedding day. On behalf of our entire new extended family, we're incredibly thrilled and eternally grateful to share in this joyous occasion with you. My heart is full of love, gratitude, and appreciation for our friends, family members, and loved ones who came from all over to attend the wedding. As for the newlyweds, I know they'll be happy because the deep and strong love they feel for each other can be seen with our naked eyes."
See also: 40 Heart Touching Examples Of Maid Of Honor Speech For A Sister
Short And Sweet Mother Of The Bride Speeches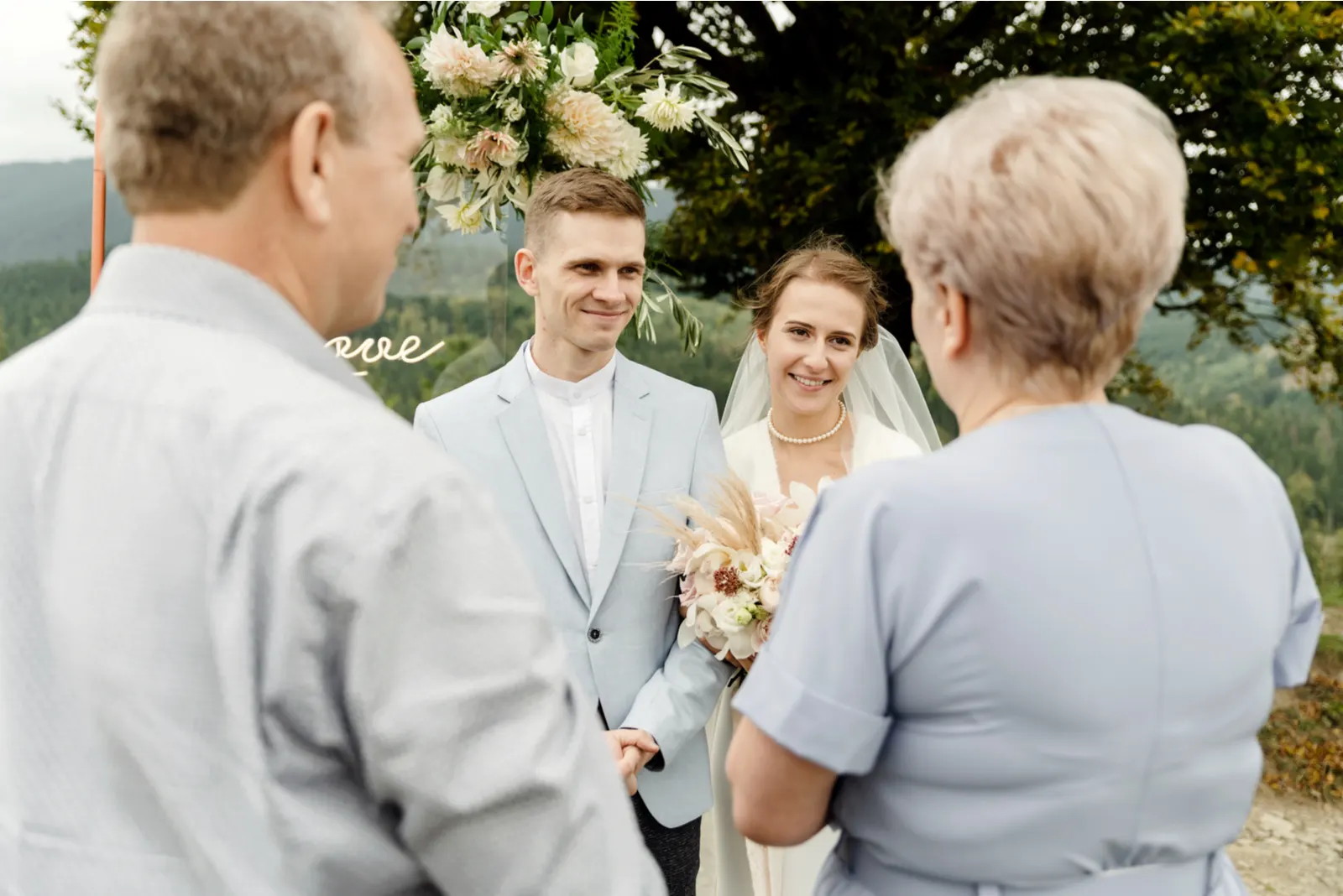 1. "This is the proudest day of my life. I'm sure you'll all agree on how stunning Dawn looks today. She's grown from a beautiful little girl into a beautiful young woman, and I know she is going to have many happy years together with James."
2. "Oh, my beautiful little girl, I love you so much. On your wedding day, I am overwhelmed with so many happy emotions: love, gratitude, excitement, and joy. You could not have found a better man to spend the rest of your days with. [Groom], thank you for making my daughter so happy. I am more grateful to you than words can possibly say."
3. "As the mother of a girl who has always been my treasure, the apple of my eye, you can imagine the high standards at which I held all of her suitors. I only wanted the best for my daughter. And then one day, I met [groom.] Anyone who has seen [bride] and [groom] together can confirm that they are perfect for one another."
4. "Kayleigh—it always has and always will be an honor and absolute joy to be your mom. You light up any room just by being in it."
5. "Today will be the happiest day of your lives, but you've got many more lying ahead of you. You're heading on an amazing journey together, and I wish you all the happiness in the world. I know you are going to have many happy years together."
6. "To my lovely daughter, (bride), and her amazing husband, (groom), may you continue to grow together in love. My wish for you is that today is only the beginning of your happy future together. May you learn to cherish each other more and more over the years and may your love for each other grow stronger with each passing day."
7. "Hello everyone. I am [bride's] older sister. I'm just kidding, I am her mom. Like most mothers and daughters, we have had our ups and downs. But I would not trade them for anything in this world. To be able to see my daughter marry such a wonderful man is something that gives me great joy."
8. "Peter and Amanda, your love is forever and a lifetime. Share every fear, every dream, and every milestone together. Because now each other's dreams are your dreams. I wish that every single dream you have comes true! God bless you and I wish you nothing but good health, endless love, and prosperity."
See also: Writing A Best Man Speech For Brother: 85 Speech Examples
Sentimental Mother Of Bride Speech Examples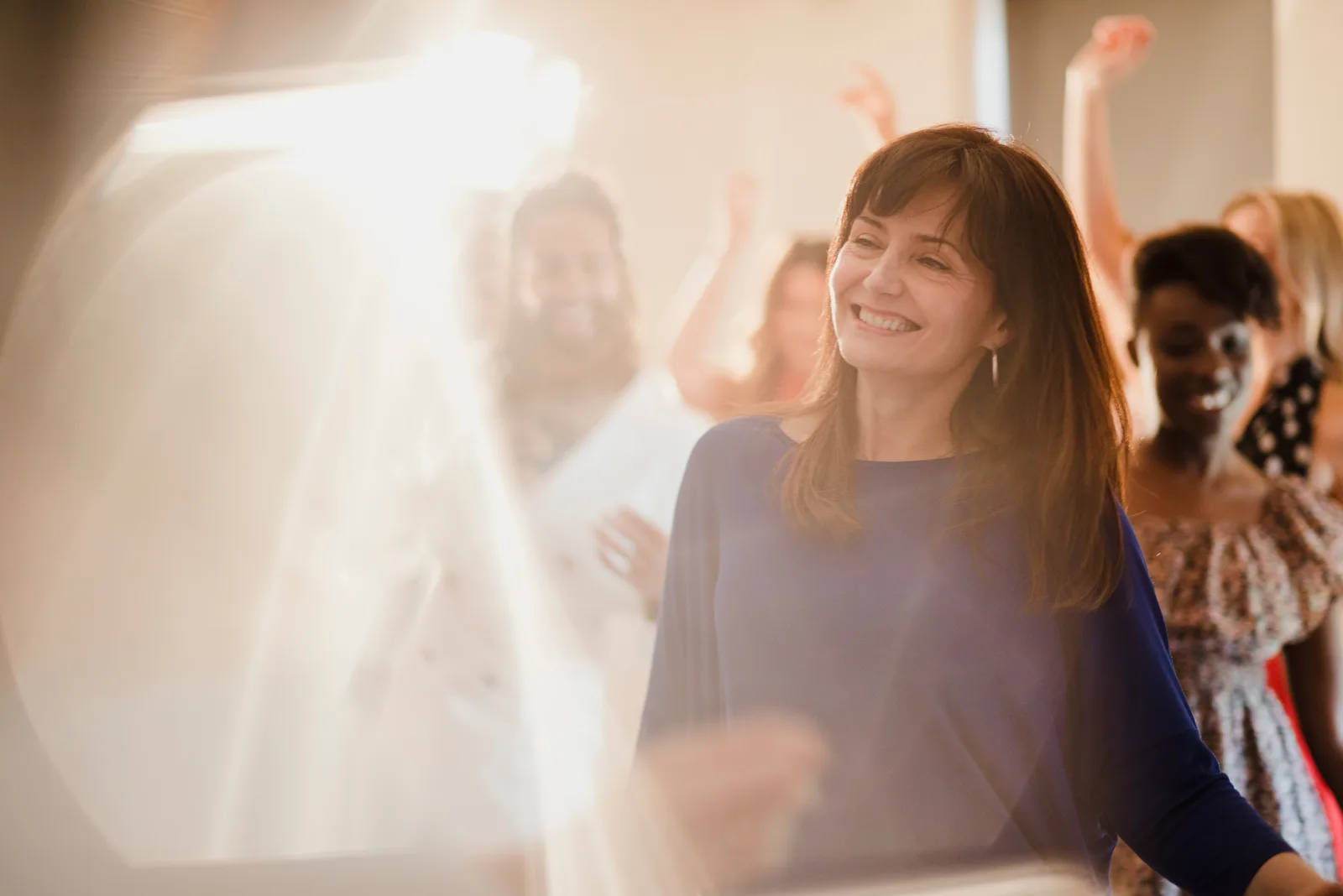 1. "Today is your wedding day. It is the day a mother wishes and waits for from the time her daughter is born until she walks down the aisle."
2. "When I got married, I knew that it was the beginning of a wonderful adventure. Now that my daughter has found someone to share this adventure called life with her, I know that she will be blessed with a loving husband and a wonderful home."
3. "I've been dreaming of this day since Casey was a little girl. I remember how she'd dress up in her favorite princess ball gowns, reminisce about her very own Prince Charming, and watch Cinderella on loop for hours on end. Looking back, I can't help but smile at these precious memories. However, I wish I knew then how quickly time flies by — and if I could offer you and Rory one piece of advice, it would be to cherish every moment by living life to the fullest. Don't sweat about the small stuff. Don't go to bed mad or sad or angry. Don't waste one second worrying about something that's not important. The reason is simple: Life is too damn short."
4. "After all this time we spent together, one thing became clear to me: The only love that can't be changed and the only one without limits is the love between a mother and her daughter. It grows with every single day and never fades."
5. "The first time I laid eyes on my daughter, I was instantly in love. She was my little baby who grew into a wobbly toddler, and then became a curious child. Then came the pre-teen and teen years and the next thing I knew, my little baby was a grown woman.
[Bride], I am so proud of the person that you have become. You have always made your family proud in everything that you do and on your special day today, we could not be happier for you."
6. "Like many other moms, I have always prayed for my daughter. Not because she gave me trouble, but because no matter how great your child is, you still worry and want the best for them. She was a generous girl, a kind soul. I always wanted her life to be full of happiness. I never knew what I was praying for until my daughter met her new spouse. Even though she was always a happy girl, he brought out something in her that we had never seen before. With him, she was complete. And I cannot thank God enough that they were able to find each other."
Mother Of The Bride Speeches Funny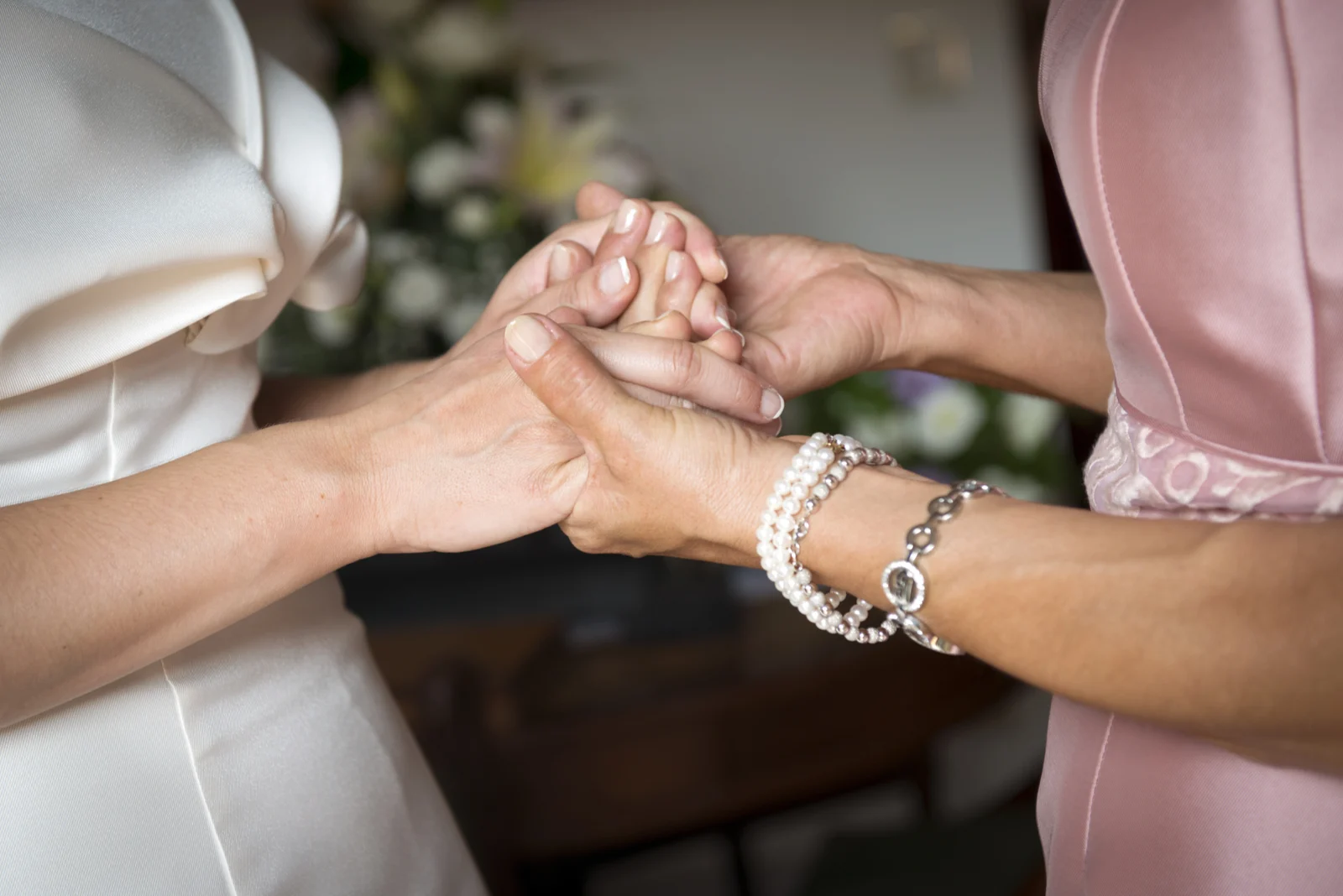 1. "Seeing you leave and start a family of your own is truly bitter-sweet. Bitter because I will miss your sweet loving nature and excellent culinary skills, and sweet because I won't have to deal with your grumpy nagging nature. Also, now my makeup will always be intact and not stolen. Jokes aside, you have been the best daughter in the world, and I know this wonderful adventure will be great for you because you have the best partner a girl would ask for, well aside from your father."
2. "Thank you all for coming. I'm a strong mom, I have a strong daughter, and after this, I know I will need a strong drink."
3. "I'll be sad to see Dawn leave and become a wife, but I'll be happy knowing my make-up will be where I left it and not where she moved it to. Now, let's raise a toast to this beautiful bride and her beloved man."
4. "Now, let's raise our glasses to the happy couple. I actually like both of you—do you have any idea how rare that is?"
5. "As I stand here today, representing my husband who passed on a few years ago, I can't help hearing the groaning and moaning noises he'd make regarding the cost of everything. But I know he would be so happy and proud of you two (bride and groom). As you both embark on this new path together, I wish you all the happiness and joy in the world."
6. "My new son-in-law stole my daughter's heart, so she stole his last name. All in all, I would say that things worked out quite nicely. Let's now toast to these lovebirds on their wedding day."
7. "My dear little girl, I just want you to know that if you need some advice on what to do to make your marriage long and happy, don't ask me! Your father and I have been happily married for 20 years but when I think about it, it isn't that bad when you consider we've been married for 28 years."
Heartwarming Mother-Daughter Quotes To Use In Your Speech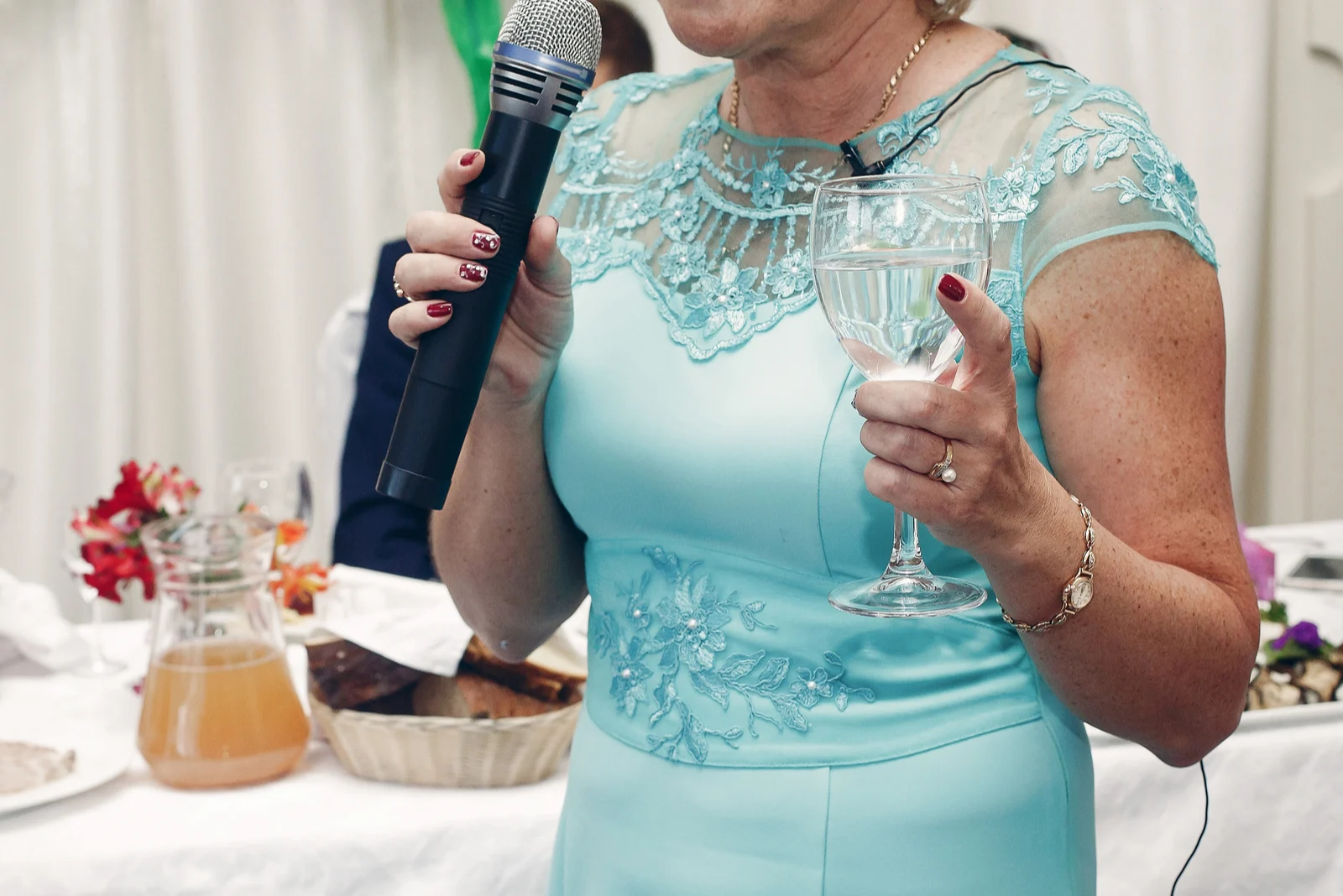 1. "A mother and a daughter always share a special bond, which is engraved on their hearts." – Unknown
2. "A daughter is someone you laugh with, dream with, and love with all your heart." — Anonymous
3. "Once you're a mom, you're always a mom. It's like riding a bike, you never forget." – Taraji P. Henson
4. "Of all the haunting moments of motherhood, few rank with hearing your own words come out of your daughter's mouth." – Victoria Secunda
5. "A daughter is God's way of saying, 'Thought you could use a lifelong friend.'" – Unknown
6. "Words are not enough to express the unconditional love that exists between a mother and a daughter." – Caitlin Houston
7. "Mothers and daughters together are a powerful force to be reckoned with." – Melia Keeton-Digby
8. "A daughter is a mother's gender partner, her closest ally in the family confederacy, an extension of herself. And mothers are their daughters' role model, their biological and emotional road map, the arbiter of all their relationships." – Victoria Secunda
9. "For all the things my hands have held, the best by far is you." – Unknown
10. "A son is a son till he takes him a wife, a daughter is a daughter all of her life." – Irish proverb
11. "In my daughter's eyes I am a hero. I am strong and wise and I know no fear, but the truth is plain to see… She was sent to rescue me." – Martina McBride
12. "To my daughter. Never forget that I love you. Life is filled with hard times and good times. Learn from everything. Be the woman I know you can be. Mom" – Unknown
13. "A mother's and daughter's love is never separated." – Viola Shipman
14. "My daughter is my biggest achievement. She is a little star and my life has changed so much for the better since she came along." – Denise Van Outen
15. "A daughter is the happy memories of the past, the joyful moments of the present, and the hope and promise of the future." – Unknown
What Should I Say In My Daughter's Wedding Speech?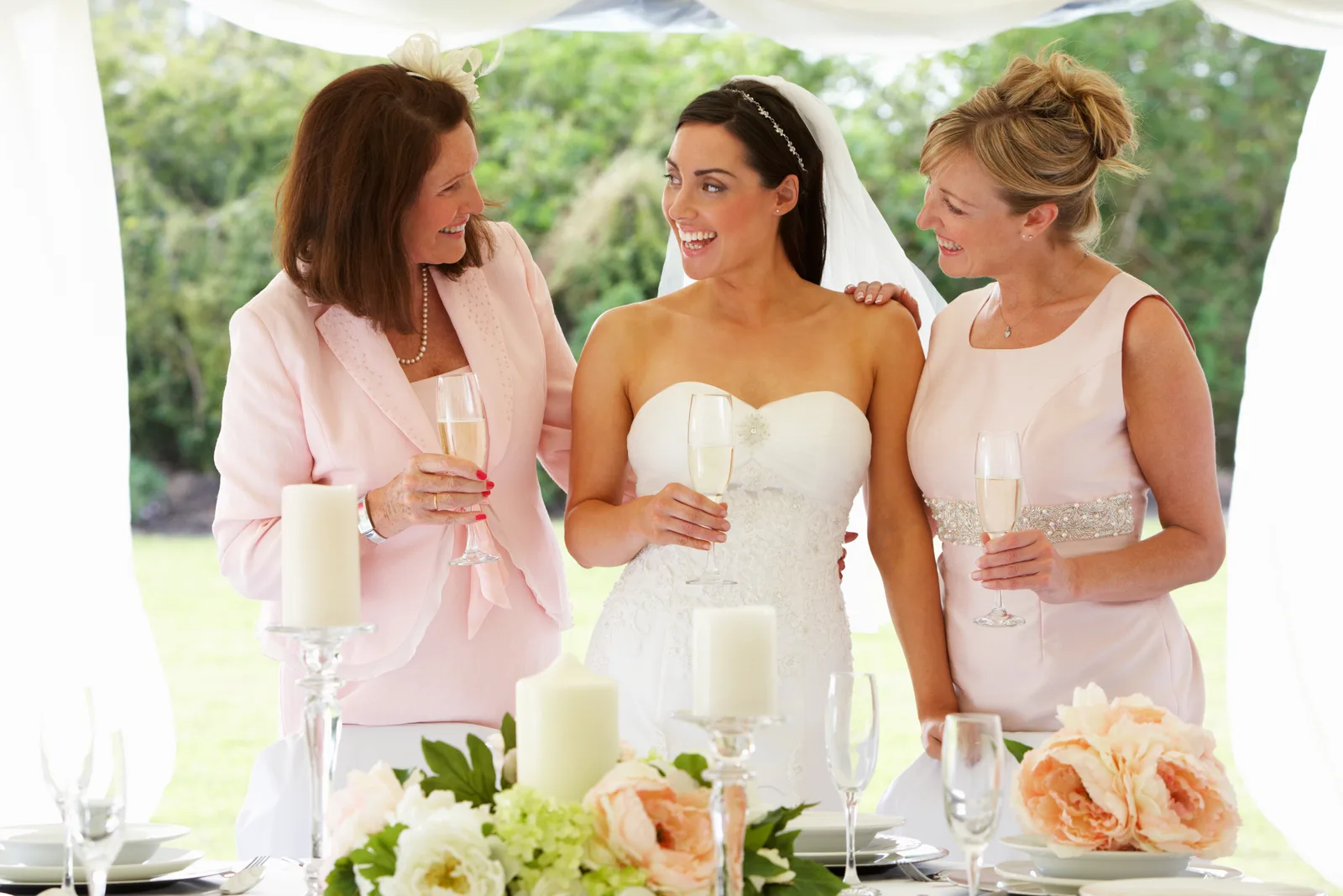 First of all, as you're the host of the wedding in a way, you should thank all of your friends, family members and all the other wedding guests for coming. Thank everyone who participated in the wedding planning for making the wedding reception a magical occasion.
Then, you should tell your daughter how beautiful she looks in her wedding dress, like a true princess.
You should also tell a short and interesting story of her childhood and maybe mention some of your inside jokes but try not to embarrass her or make her cry.?
As for your new son-in-law, you should ask him to love and protect your daughter and tell him how much you appreciate him for the way he treats your little girl.
Then, you can move to the last part of your speech where you'll express your well wishes for the happy couple and invite everyone to dance and enjoy the rest of the wedding party.
If this is the first time you're doing this and you have a fear of public speaking, you should try your speech at the rehearsal dinner before the wedding ceremony.
There will probably be the best man, the bridesmaids, the happy couple, probably the father and the mother of the groom and some other family members. It'll be easier for you to overcome your fear if you rehearse the speech in front of them first.
In Short
With these amazing mothers' speech at daughter's wedding ideas, I'm absolutely sure you'll rock your wedding toast. Besides, if you follow these tips above, not only you'll give a great speech, you'll make your little girl proud.
The mother of the bride toast is special to all the wedding guests because it's most commonly the most emotional one, but it's by far the most special to the bride.
I congratulate you on becoming a proud mother-in-law and I wish nothing but true love and immense happiness to the happy couple.