Every single girl would love men to go crazy about her but that is quite hard to accomplish. But since there is a solution to every problem, there is one for this kind of an issue as well.
These flirty texts for him will help you not only to seduce him but also compliment him and make him think of you ALL the time. If you send him one of the texts below, he'll stick to you like glue.
There are so many things that you can do to make men go crazy about you and you don't even have to be the most beautiful woman in the room. You just need to be witty and know what to say in crucial moments. (That is why witty phone number pick-up lines are so popular.)
If you follow some rules, the man you like will soon be into you and he won't even be aware of that.
You just need to keep him interested in you with the things you say and what is a better way to achieve that than by sending some dirty text messages for him?
If you play this game wisely, I am sure that you will get any man you want. But be patient because good things don't happen overnight.
Unlike sexy things to say to your boyfriend (or crush), flirty texts and flirty questions are a great way to test the waters and see just how far you can take it with him. You'll find out how freaky he is and exactly what floats his boat.
At the same time, you'll make him want you even more by making him see what a flirty little devil you are and he won't be able to resist your seductive ways.
Just make sure not to push it too hard and to not be overbearing. Send him some sexy texts for starters and based on his response, decide how to proceed.
Give yourself time (and him as well) for everything to work out in the best possible way. When you feel that it is the right moment to take your relationship to a whole new level, use some of these texts.
How Do I Seduce Him Over Text?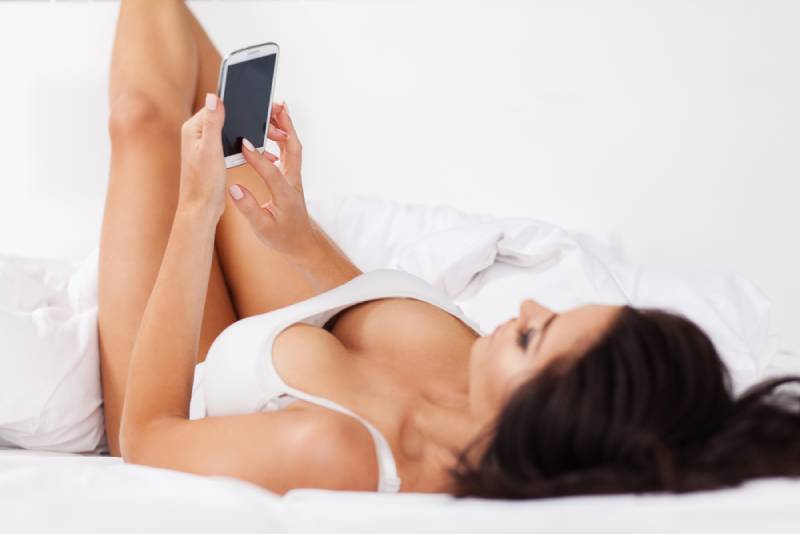 Guys like it when you make them feel like they are wanted. If you want to seduce him and make him feel good, there are things you can do to boost his ego (one of them is sending him flirty texts).
You can tell him that he is good-looking and that all the women in the room are staring at him.
The trick is not to make him feel overly confident but just enough to make him see that you're really into him but there's still so much he can do to make you more eager for him.
You want your guy to feel hot, competent and like a total catch but not so much so that he goes off searching for more chicks. But don't worry. I have just the texts you need to achieve your goal that will make him feel good about himself and even hotter for you.
That doesn't mean that he will dump you to get a more beautiful woman but it will make him feel good in his own skin and keep him glued to you. Here are some steamy, flirty texts for him you can try.
Send him erotic texts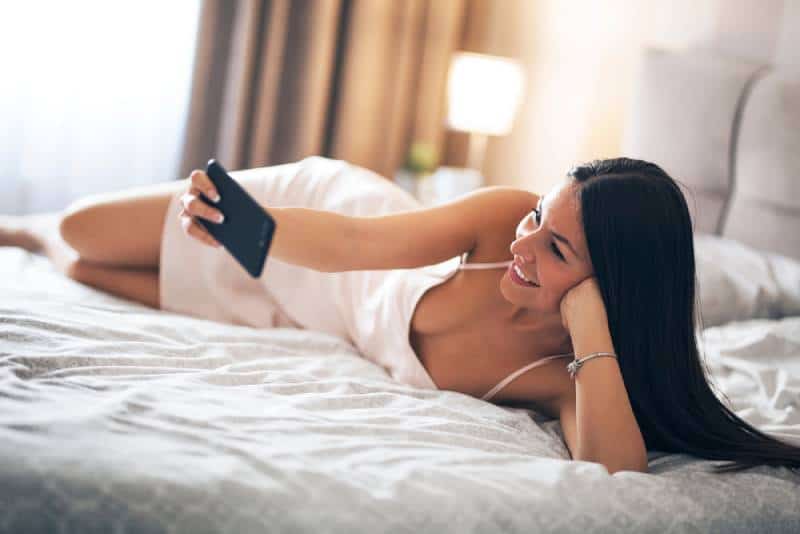 1. I just saw that hot waitress was checking you out! I'm guessing somebody's a little jealous of the catch that I'm with. Too bad you're all mine!
2. You are quite popular among women, they all like to spend time with you! I just feel bad for them for not knowing just how amazing your company is. You're like my hot little secret!
3. You are a true beast in the bedroom! I used to think I had good sex but with you, it's on a whole other level… Man oh man, I guess I no longer need the gym.
4. I had a dirty dream last night and guess who the protagonist was? If you can't guess, come over and give some more material to dream about later.
5. Let me take care of you. There is no need to do it by yourself! I think you'll be very pleased with my service… Let me say thank you for being such a hot piece of ass the best way I know how.
6. It's not that I choose to be this thirsty for you all the time, it's just that you're so freaking sexy that you leave me no choice!
7. Promise me one thing—if we ever get into a fight, we'll resolve it like adults… naked in the bedroom. Spanking optional.
8. You're the only guy I ever want to see naked again. Hope you're happy with yourself… I know I am!
9. In my mind right now, we're not at work but in the bedroom, doing all kinds of questionable things to each other and neither one of us is able to breathe properly.
10. When you kiss my neck, I'm not responsible for anything I might do to you when you're done.
11. Do you want to mess up the bed with me tonight?
12. Come over, I've got all of your favorites: Pizza, Beer, and of course…Me!
13. You look so good right now. I can't actually see you, but I assume you look good because you always do.
14. I can't get you out of my inappropriate thoughts.
15. Come over, I'll make your visit worth your while.
16. My bed is way too big for one person.
17. I just got out of the shower, wanna come and help me dry off?
Flirty Text Messages For Him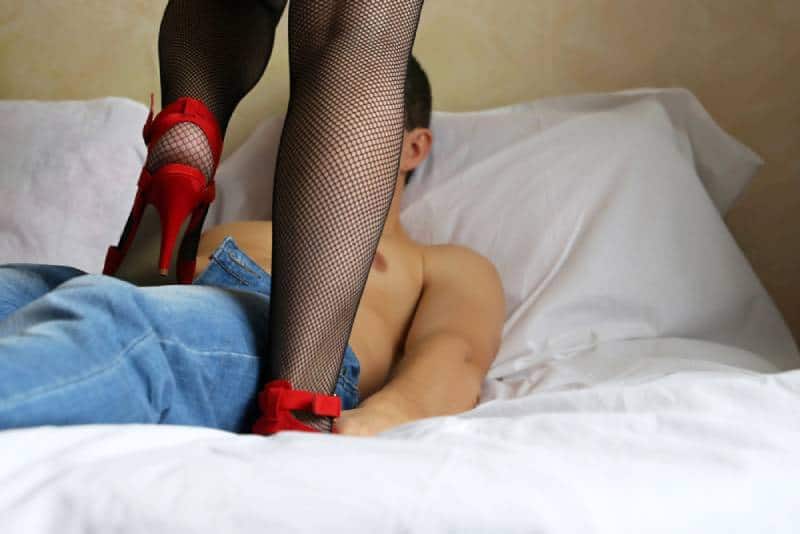 The best reaction that you will get from a guy is when you tease him. It will make him feel special and he will be happy because you are showing some interest in him.
It is a known fact that guys always want attention—not just from the woman they like but from all women. That is something that boosts their ego and makes them feel desirable.
So if you two just met, try to tease him but don't let him know that you like him. If he finds out, he will be bored and feel that he doesn't need to make any effort to keep you.
Men like the chase, that's a known fact. So even when you know you've totally fallen for him, give him a little chance to pursue you and make him feel like he's the man.
I know it sounds silly but it will work wonders for his ego and he'll double the effort in seducing you! Give it a shot.
Flirty text examples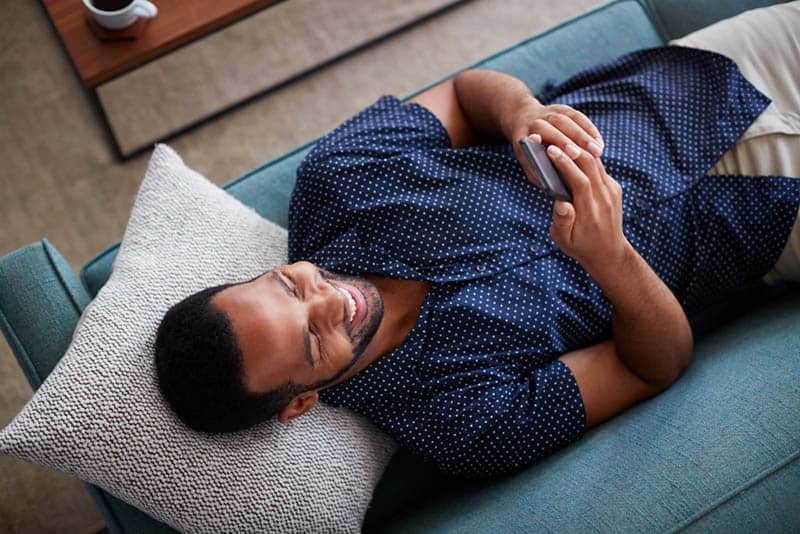 18. There is that cute guy I can't stop thinking about… What should I do about him?
19. I know someone who might have a crush on you!
20. Do you have any sexual fantasies?
21. You are so lucky because you are so cute. That's why I keep you around.
22. Got to go on a girl's night out. Drunk-text you later?
23. Boy, you sure know how to make a girl miss you!
24. Do you believe in lust at first sight or should I walk past you one more time?
25. I have so many plans for tonight… and you're included in all of them!
26. Do you want to hear a secret? If your answer is yes, come over so I can tell you in person. Or better yet… show you.
27. I'm happy to inform you that I've completely fallen for you. The only question is… what are you going to do about that?
28. Just thinking about all the things we could be doing if you were at my place right now.
29. Do you have any idea how hot you are?
30. Are you in the mood for some fun?
31. Texting is good, but when can I lay my eyes on those muscles of yours?
32. Right now, I'm not wearing any underwear. Just wanted you to know.
33. This morning, I woke up all sweaty. It wasn't because the morning was too hot. It was because my dreams of you were too hot to handle.
34. I promise you I'll always be by your side. Well, except when I'm underneath you.
35. Let's try something new in the kitchen tonight. And no, I don't mean food!
36. I have a plan for the evening. Do you want a naked bear hug, yes or yes?
Flirty Erotic Texts To Send Him
You should know that texts like this are just for those who are already in a relationship.
If you start with these texts and you haven't had a chance to get to know each other better yet, it may sound like you are ready for anything, including sex.
Erotic texts are only for those couples who know each other deeply and are sure that they will be taken exactly as intended.
This is not recommended for those who are not yet in an actual relationship or who are just getting to know each other.
You can always use these when you get to that level, just make sure you're there before you risk it all by sending these provocative texts that might give him the wrong impression.
If you're still figuring it all out, stick to those cute, flirty texts for him. Only after you've been together a little while and it feels as if you're ready for something more risqué can you start firing on all cylinders.
So, be smart and know when to send him erotic or flirtatious texts. Here are some of the best ones you can use.
Flirty erotic text examples
37. I am so excited about our date tonight. If you play your cards right, you're going to love what I've got planned for later!
38. I am going to wear my 'fuck me' heels on our date tonight! Hope they do the trick!
39. Tonight, I will do all the work and you will scream and beg for more! Let's reverse the roles for a change, I promise you're going to love it.
40. You are not going to be able to move once I finish with you tonight!
41. Tonight, I want to slowly kiss my way from your lips downward… The only question is how far down will I go?
42. I hate that I'm sitting here at work right now instead of doing all kinds of dirty things with you. If you only knew the filthy things in my head right now.
43. I just spent the last hour alone in bed, thinking about one particular guy… and guess what I was doing?
44. There's this new position I heard about today and I can't wait to try it out… When do you think you can come over?
45. I have a confession to make… How mad would it make you if I told you I may have kissed another girl while we were together? Promise it won't happen again… unless you want me to.
46. What do you want me to do to you tonight and wearing what? I'm in the mood for granting some wishes… as long as you promise you've been naughty.
47. I thought about you this morning while I was in the shower…. Guess that's why it took me so long to get out.
48. If you can guess what color my bra is, I'll give you a blow job tonight!
49. I've been a bad girl today. I need a spanking.
50. I want to mark you as mine; that's why I've been sharpening my nails.
51. I'm going to slowly trace my lips over yours, softly massaging them. Then I'm going to kiss you…from your lips…to your neck…down to your chest…down to your cock. But, I'm not going to take it straight into my mouth. I'm going to keep kissing it until you beg me for more.
52. There's a flood down below whenever I think of you.
53. What are you doing later? Mind if I drop by to blow you?
54. I found some sex positions I think we should try, what do you say?
55. There is something that makes me crazy wet when you are standing right over me when we're kissing.
56. You're mine. And I'm going to mark my territory. I'm going to bite you. Your neck, your chest, your legs, and your ass. They're going to be covered in bruises from my teeth. And your back? I'm marking that too. I've sharpened my nails so I can tear them up. You've got a lot of pleasure and pain coming your way, boy.
Best Flirty Texts To Make Him Laugh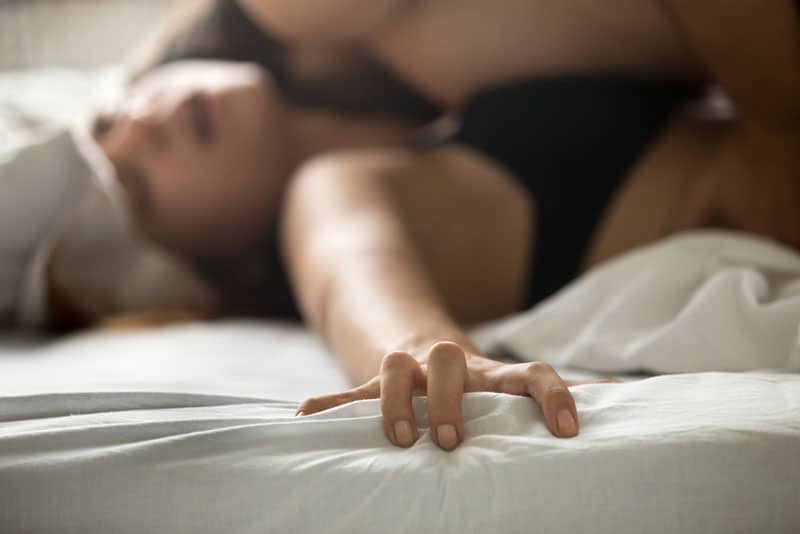 They say that after a while, we all want to be with someone who knows how to make us laugh. Of course, there are so many things you can do to make him smile when you're around him but how are you going to do it when you're not around?
Well, by sending him flirty texts that will make him laugh! There are so many funny and flirty ways to text a guy you like and all you need is a little bit of creativity.
Just kidding. Actually, all you need to do is read these texts below and choose the one(s) that work best for you!
Funny flirty text examples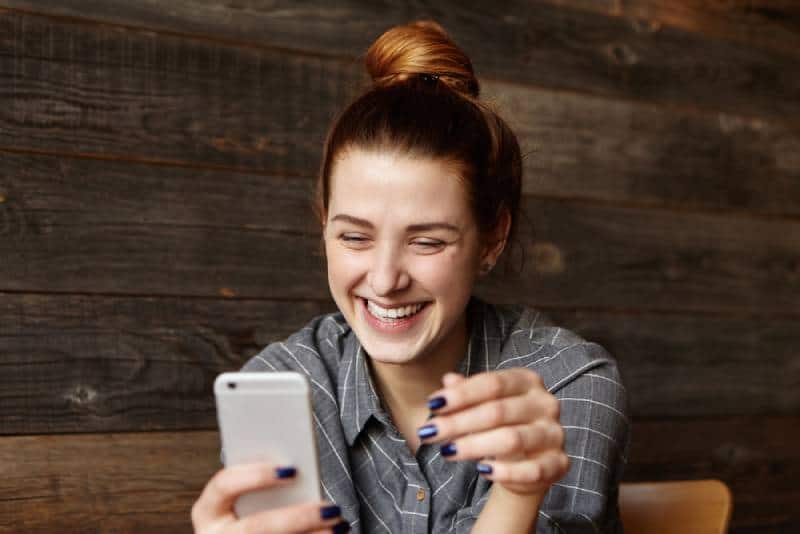 57. 'I am not a photographer, but I can still picture you and me together…in my bed.'
58. If I ate a potato chip for every moment that I thought of you, I would be super fat by now.
59. 'Your body has 65% water and guess what? I am very thirsty at the moment.'
60. I hate most people, but you I really like… that really says something!
61. Me without you is like a nerd without braces, shoes without laces and ASentenceWithoutSpaces.
62. Do you know how much penguins weigh? Enough to break the ice. Hello!
63. I will love you forever. LOL! But I can't live that long.
64. You are under arrest for being too cute. Your punishment is to be silent and if not followed then you will be silenced with kisses.
65. They say it's best to stay inside during an earthquake. You might want to stay inside of me as you rock my world!
66. I love you like I love my cake, like my last bite of pizza and the money in my bank. God, I really love you so much!
67. If kissing is the language of love then we have a lot to talk about.
68. If you're cute, you can call me baby. If you're nice, you can call me sweetie. But if you're hot, you can call me tonight!
69. Let's commit the perfect crime, I'll steal your heart and you steal mine.
70. 'I can't decide what I want more, food or you? Food… No, you. Maybe, food on you!'
71. 'I wanted to send you something that would make you smile, but the mailman told me to get out of the mailbox!
72. Have you made love in a car? Let's go for a drive tonight.
73. I can't figure out if I should start this conversation with a compliment, a horrible pick-up line, or a simple "hello." You choose.
74. No matter what economists might say, you have no substitute. You're my one and only.
75. They say a picture is worth a thousand words, but when I look at yours, I'm speechless!
76. 'Well, I am an unemployed girl with a certificate in cuddling, a diploma in caring, and a degree in kissing. Do you have a job for me?'
77. I'm making the first move when it comes to texting, so I'm expecting you to make the first move when it comes to kissing.
78. I'm not a gambler but I've just allowed my heart and my mind to bet that I will never stop loving you…
79. I don't know much about chess, but I think you're my knight.
80. I know staring at people for too long is considered rude. So, I wanted to ask for your permission.
81. How is it possible that you get a little hotter every single day?
82. Do you have a band-aid? Cause I just scraped my knee falling for you.
83. Remind me to bring a pair of gloves when we meet because you are too hot to handle.
84. 'Excuse me, I just dropped something looking at your pictures again… My jaw!'
85. You are hotter than my stove.
86. I'm getting a new bed, want to come over and try out how durable it is?
What To Say To A Guy To Make Him Blush?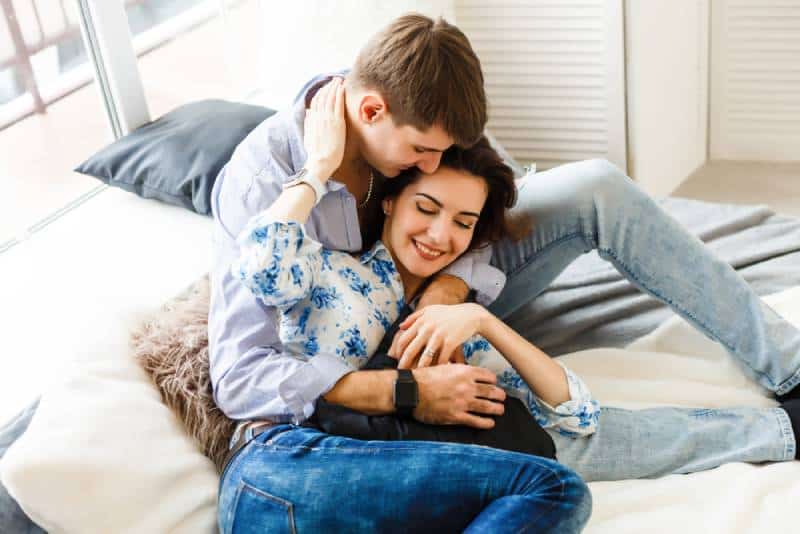 It's not only girls who like compliments and being validated. Guys like it, too. If you want to make him blush, then compliment his bedroom skills, and tell him how much you miss him.
So, in the beginning, you can tell him that you think he does an amazing job and that watching him being all busy turns you on.
When he hears how good you think he is and what a good job he's been doing keeping you pleased, it will only motivate him more.
Guys will never admit this but hearing compliments makes their day and it only gives them that boost they need to make you all sorts of happy.
I promise it will be totally worth it once you're in the bedroom. Make him feel competent, manly and well-equipped and you'll be one very lucky lady later on.
That will boost his ego and he will feel all important. Here are some of the flirty texts for him you can send to intrigue him and make him interested.
Flirty text examples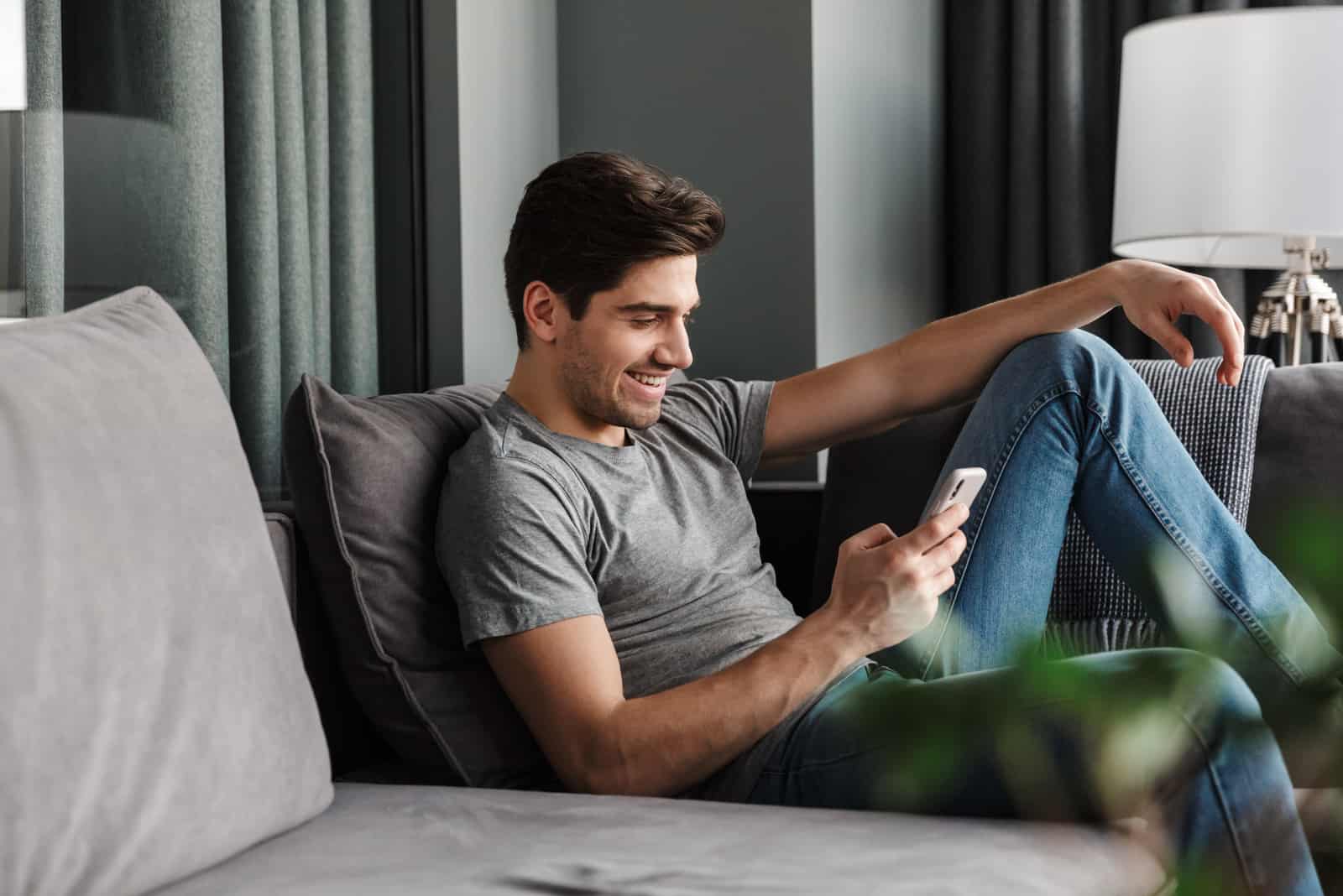 87. I miss feeling your hands all over me, you kissing me, ripping off my clothes, and having your way with me! Can you come back already?
88. Everything about you is perfect, especially one particular thing! Can you guess what I'm referring to?
89. OMG! You were so awesome last night! Cannot wait for round two… just give me a few hours to recover, God knows I need it after your sensational performance last night.
90. I want to hear you breathing in my ear after I make you cum!
91. I am so horny when thinking about seeing you later! I don't think I'll make it through the day, just teleport here already!
92. You blew my mind last night so tonight, I've decided I'll let you choose whatever it is that you want from me and I'll do it. God knows you deserve every dirty thing that is on your mind.
93. I'm wet just thinking about seeing you tonight… Oh the things you do to me. No man has ever made me this horny before.
94. Tonight, I want you to do to me exactly what you did last night. For some reason, I'm still replaying it in my mind over and over again.
95. The thing you did last night, I just want to know the name of the girl who taught you that? I want to personally thank her for the most intense orgasm I have ever had.
96. Tell me, how does it feel being the sexiest man who's ever been inside me?
97. Confession: Sometimes I can't help but touch myself when I think about you.
98. I know you're not a wizard, but I think your mouth is pretty magical. I can think of a few places I want it right now. Wait, maybe you ARE a wizard.
99. Just finished pleasuring myself while thinking of you for about an hour. Dang, you're good.
100. Was just thinking about seeing you tonight, and, all of the sudden, I was completely undressed.
101. Is it weird that all I can think about is last night? I keep replaying it in my head over, and over, and over, and over, and over, and over…
Flirty Texts For Him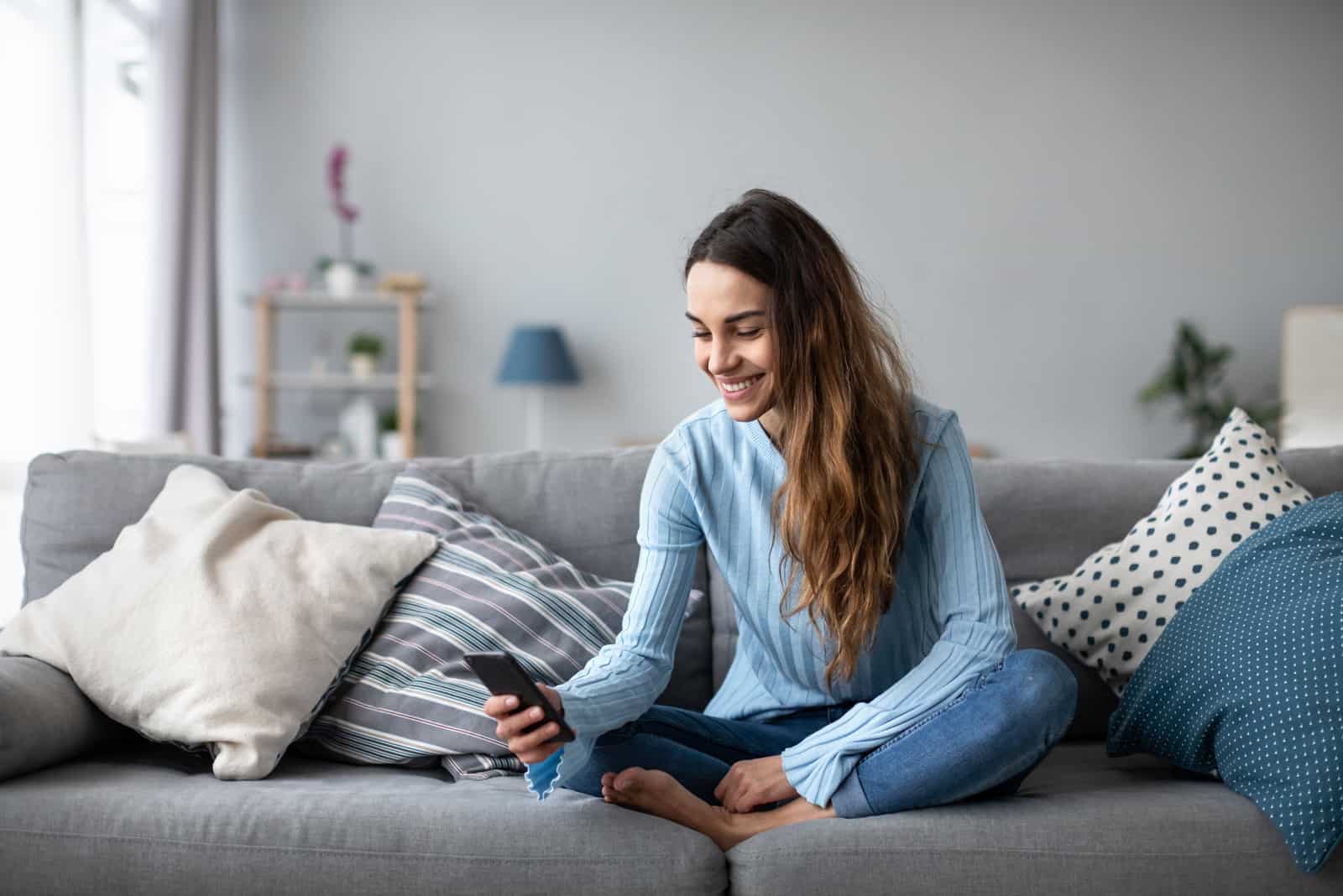 Your goal is to make your man satisfied and you won't be able to do that if you say everything that all the other women have already said.
You should be innovative and fun but at the same time seductive and flirtatious.
You want him to see how special and different you are and what better way to do that than by sending him some really flirty texts that will make him go wild for you. And the best part? He probably hasn't heard them before.
Go get your phone and write these down. You're going to need these sooner rather than later. Here are some sexting messages for him you can use to make him feel like a real man.
Flirty text examples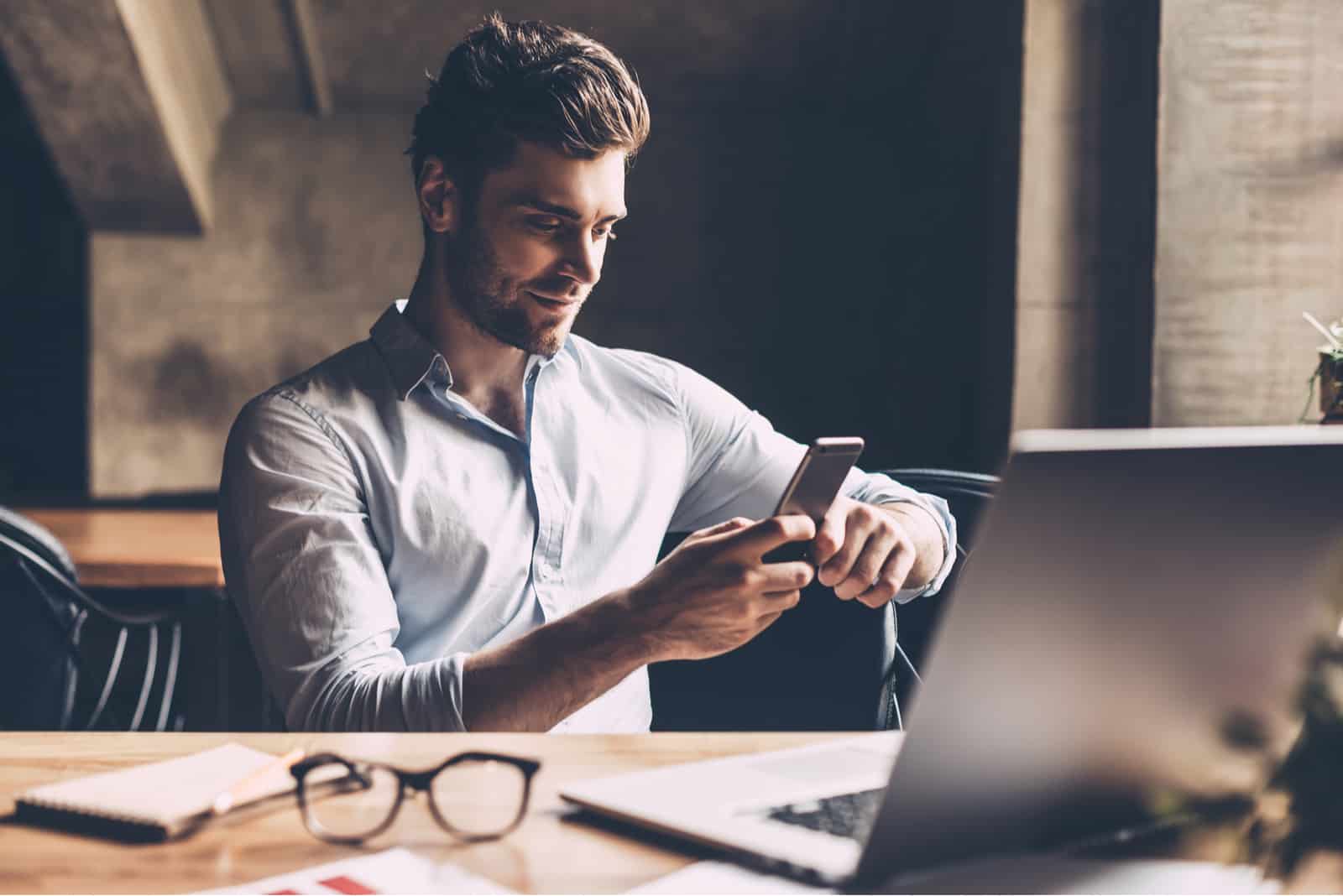 102. Nothing sounds better than hearing you say my name when you ———- … Well, I am just going to let you fill in the blanks. If it's too hard, I'd be more than happy to help.
103. It's freezing cold here and I covered myself with a bunch of blankets. Taking off all my clothes was probably a wrong move. I guess you could come here and help me with that?
104. I will invite you over on one condition: You shouldn't keep your hands to yourself. In fact, I will tell you right where you should put them!
105. Do you have any plans for dinner tonight? I thought about getting reservations for my bedroom but just wanted to check if you were available?
106. I could really use some help putting this sunscreen on right now. But I will need someone to help me take off my bikini later! Hope it's not too much of a hassle.
107. Which emoji would you say reminds you of me the most? For me, it's the cheeky one with its tongue out. You are free to guess why!
108. I just thought you might want to know I just got out of the shower… You know, in case you might want to come over before I put all those unnecessary clothes on.
109. I can't wait to be by your side again! Or on top of you or under you… whichever one you please.
110. Name one body part right now! Want to know why? Because that's the first place I'll kiss when I see you tonight. And if you're lucky, I just might keep going south from there.
111. My thoughts are extremely R-rated today… Want to know what they're about? Well, you can but the offer is valid only if you show up ASAP! You do not want to miss this.
112. Wanna pick out my outfit for date night/work/whatever? You can start with my underwear.
113. This text entitles you to one kiss on any body part of mine. Choose wisely!
114. Do you know the little thing you do that turns me on the most?
115. I just took some sexy pics, but they're too inappropriate to post on Instagram. Want to see?
116. Let's do some "we shouldn't be doing this" kinds of things.
117. Right now, I want to feel your hands all over my body.
Flirty Good Morning Texts For Him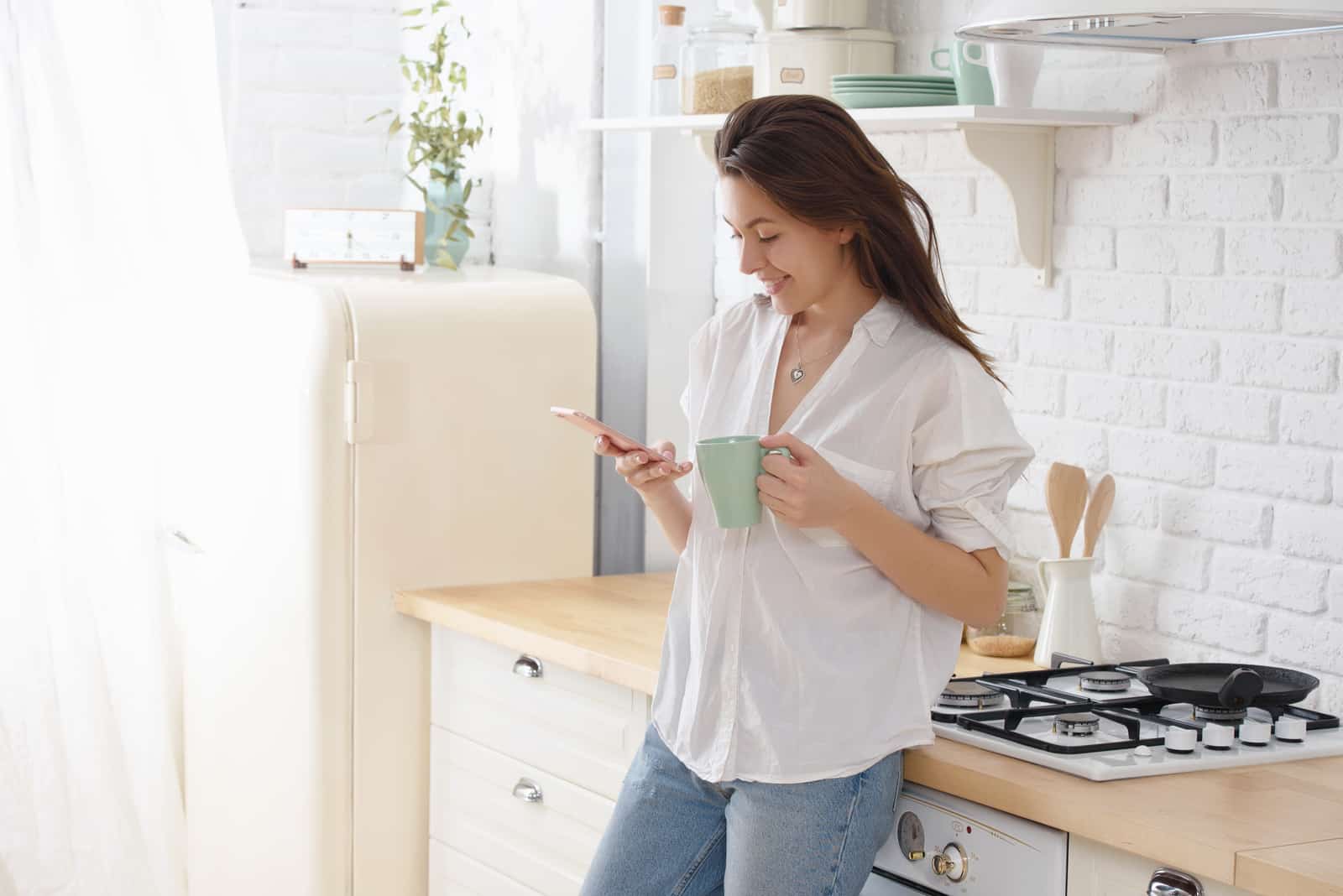 If you want him to think of you for the entire day, a flirty text for him is the thing you need! Guys LOVE receiving good morning texts because this lets them know that they are on your mind.
If you want to spark his imagination, you have to choose the right words. I like to call these words 'the trigger words' because once he reads your flirty good morning text, it will work like a trigger to him.
He will be unable to stop thinking about you for the rest of the day. He will think about all the things he would like to do to you and he will imagine you in all possible naughty contexts (if you catch my drift).
These cute flirty texts are a powerful way of bonding (especially if you're in a long-distance relationship) and they will help you take your relationship to the next level.
Flirty good morning text examples
118. Morning baby! I'll be thinking about you all day. Every. Damn. Second.
119. Morning. How's your coffee today? I hope it's as strong and sweet as you are this morning. P.S. I love you.
120. Good morning handsome. Wish I was having you for breakfast.
121. As busy as we get, we need to be reminded that we are still sweethearts. Today is a good day for me to stop and realize how wonderful you make me feel. Good morning honey.
122. Mornings kind of suck. Because first I get up, then I think of you which is good…but then I got to go to work. But maybe if you text me later today that'll cheer me up.
123. I had a dream we were sexting, so I woke up and decided to turn it into a reality.
124. I hope today is filled with smiles, surprises, thrills, excitement, laughs and then a relaxing night of (hopefully) you texting me.
125. Morning, goofy. Truth or dare. What's the first thing you thought when you saw me? OK I'll tell you first if you tell me yours. My first thought was…'This guy is either a firefighter, a sculptor or a travel agent.
126. Hello. Don't be nervous about today. You're going to do great. If you get freaked out, just imagine everyone you know in a bikini. Yes, including the guys. You'll laugh and relax and so will everyone else.
127. Morning, handsome. I had the strangest dream about you last night. Don't worry, it was only rated PG. Er, PG-13 maybe.
128. Morning bright eyes. Say, if you ever want to get in trouble and live dangerously you know who to text for ideas. (smiley)
129. Sorry you had a bad day yesterday. Anything I can do to make your afternoon worthwhile? How about a karaoke text? "Aaaand IIIIIII will always love youuuuu!" See? You're already smiling.
130. How's the sexiest, funniest, and the weirdest guy I know feeling this morning?
131. Hey there. Too bad they can't combine lunch break and happy hour or else I'd invite you up to the office for drinks!
132. I love you. Just wanted to make sure those were the first words you saw this morning.
133. Wish I could give you a kiss good morning, handsome. Guess I'll have to save it for later.
134. Thinking about you is the only thing that makes work bearable. Have a wonderful day handsome!
135. I had a dream about you last night, mister. I'd tell you more, but it's NSFW.
Flirty Goodnight Texts For Him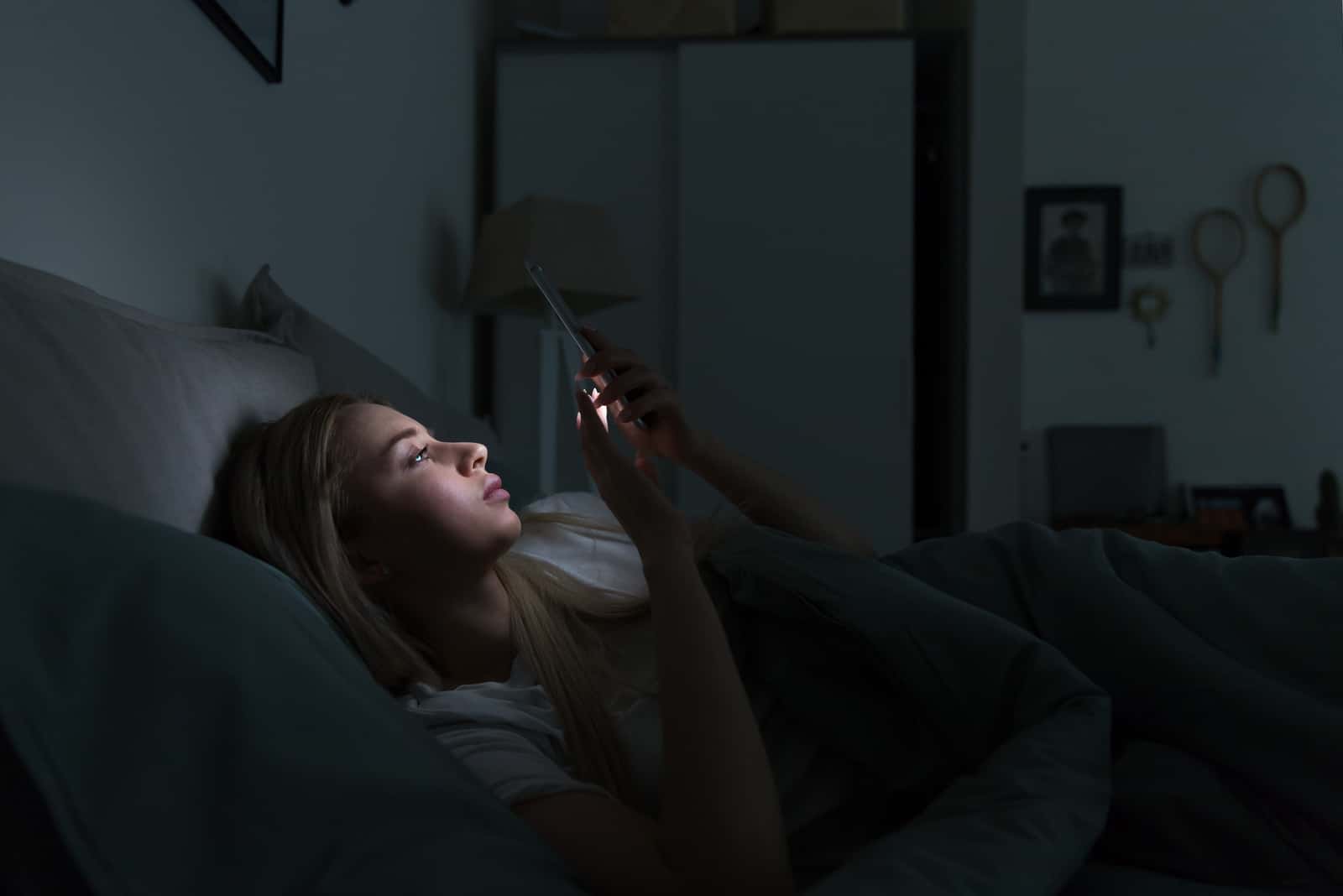 There's something magical about letting your special one know that you're thinking of them right before you go to sleep. Flirty texts for him at night will let him know how much you want him and that he is your dream guy.
Mastering flirty text messaging means knowing what type of texts to send in the morning, during the day, and at night. It's all about being creative and thinking of new ways to spice up your conversations (ESPECIALLY at night).
Goodnight texts are an awesome idea for a first date as well. After your first date, you want to leave a good impression till the last second which also includes post-date texting.
So, make sure to send him a text message that will be enough flirty to drive him wild and enough sentimental to melt his heart.
Flirty goodnight text examples
136. If I close my eyes tight enough, I can feel your gentle touch all over me. You make me feel alive. But for now, goodnight and sleep tight.
137. I just noticed that my bed is a lot more comfortable with you in it.
138. On a cold night such as tonight, I want something big, warm, and fuzzy. Don't get any strange ideas. I just want a big hug from you. Goodnight, love.
139. Hey you, before I go to sleep I just wanted to let you know how bad I want you. Ok, goodnight.
140. No matter how many times I try to fall asleep, the absence of your scent, your warmth, your aura, is evident, because the room feels empty without you. So let this night go by fast, so I can see you again. Goodnight.
141. I'm standing here with the evening breezes blowing my hair all around. I am imagining your kisses warming me up for a peaceful night.
142. I wish I may, I wish I might be wrapped in your arms so tight.
143. I want to fall asleep faster so that we can be together sooner.
144. You better be dreaming of me tonight, because I'll definitely be dreaming of you.
145. I can't fall asleep without a soft pillow and a goodnight text from you.
146. I close my eyes and feel the warmth of your embrace although we are many miles apart. I wish we could be together tonight.
147. Every time I say goodnight, it hurts me a little, because it means that I won't be able to talk to you, even if it is for a few hours. So….can't wait to see you again.
148. During the day I keep myself busy and sometimes time passes. But at night, I really miss you.
149. Go to bed and dream about all the naughty things you're going to do to me when we see each other next.
150. Imagining what would be happening if you were here right now. Spoiler alert: neither of us would be sleeping. Goodnight!
Flirty Romantic Texts To Make Him Feel Special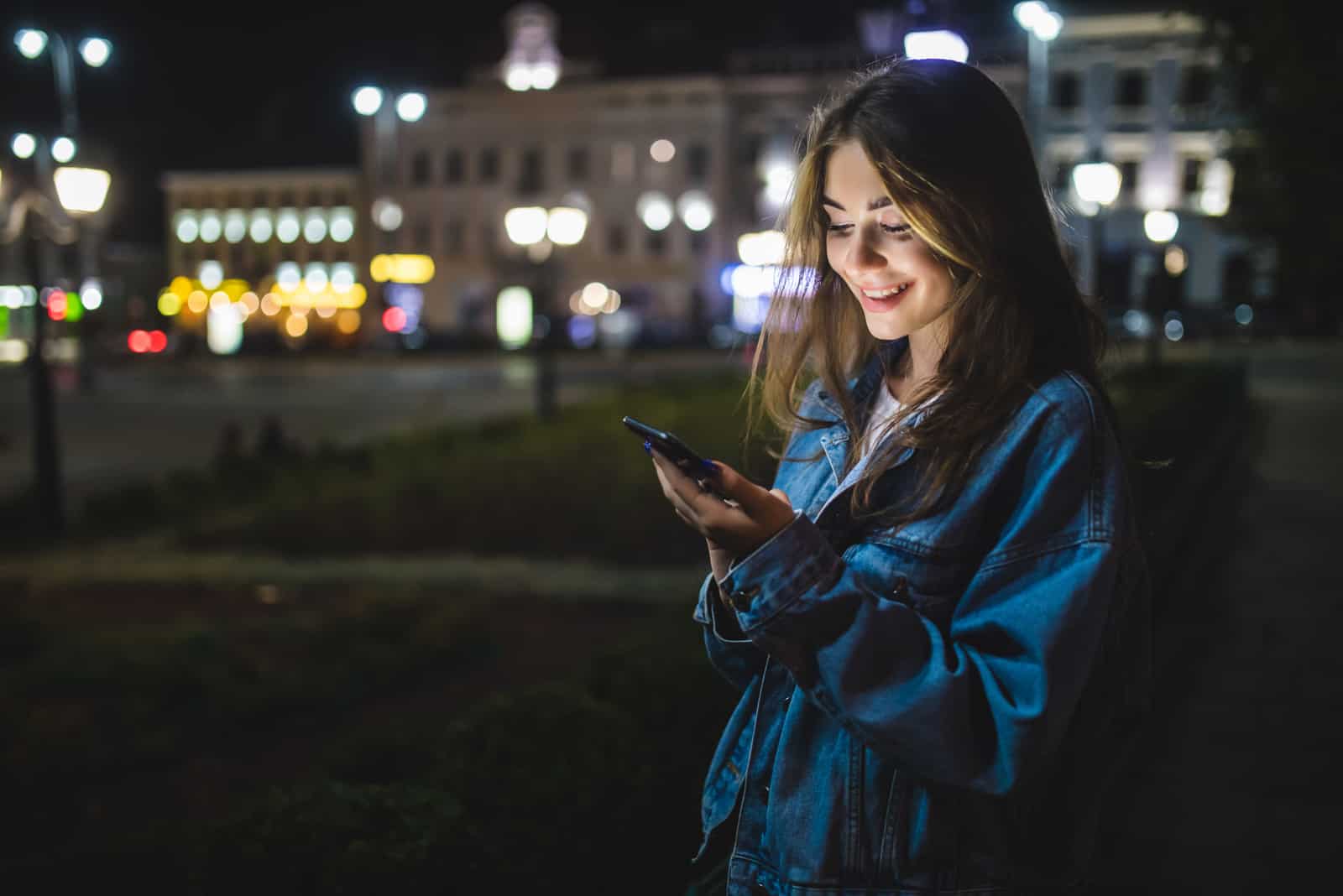 Is there anything sweeter in the world than sweet texts for your special one? I bet there isn't! If you want to give him something to think about all day and all night long, then these romantic love messages are what you're looking for.
These texts are more meaningful with a dash of flirtiness. Some of these cute text messages are specifically reserved for your boyfriend but there are also some that you can send that one guy you like aka your crush.
Your man will be amazed by your thoughtfulness and deep affection for him. The flirty undertone of these texts will brighten his day and make him miss you even more! The best of all, these flirty love messages will help you spice up your love life!
Flirty romantic text examples
151. I'm counting down the minutes until I get to kiss your lips again.
152. I still have the smile that you gave me when we first met.
153. Answer me:
A. Should I just text you Hi
B. Should I tell you that I'm already missing you a lot.
C. Should I tell you to come over.
154. I feel so safe when I'm with you.
155. I love all the stars in the sky, but they are nothing compared to the ones in your eyes!
156. Suddenly, all the love songs I hear remind me of you.
157. The moment I saw you for the first time, my heart knew that you are 'the one'.
158. We just said bye but I miss you already.
159. Are you missing me?
A: Yes
B: Definitely, yes.
160. I know it's cheesy, but you're the first person I think of when I wake up in the morning.
161. I thought I would text you first to tell you that I'm already imagining the feel of your lips on mine.
162. Everything good about my life has become better just because of you.
163. My love for you is like a sweet symphony. The melody is in the beating of our hearts.
164. I don't really have anything to talk about but I want to talk to you, hi.
165. With the hustle and bustle of my day and it finally dies, my heart beats for you getting louder and apparent. When the sun goes down and the night takes over the day I start missing you in every possible way. When the stars light up the sky in the night, I just feel like staring into your dreamy eyes. And when it's time for bed, I wish you're ready here by my side so we could both go together on a dreamy ride. You seem to capture my mind every minute. There is never a second when I don't think of you or miss your presence. Your love possesses me all the time. I feel so weak in your love and yet so strong.
166. I keep thinking about how amazing and sexy you looked last time I saw you. I couldn't keep my eyes off you.
167. You are a great guy, I love you more than a lot.
168. You're going to think I'm lying, but you're pretty much my dream guy.
169. I love you more than words can say, so forgive my humble attempt; I just want to say that I love you so and will continue to do so forevermore.
170. You amaze me daily with your little acts of kindness.
171. I consider myself to be the luckiest woman on this Earth and it's only because I have found the most precious jewel of this world. It's you, my love. You are the only thing that looks good on me.
172. I'm so bored; I need you to rescue me.
173. There never was and never can be another you. You are the one who makes me smile, this much is true. So love me now and leave me never. Let us spend eternity together.
174. Your love for me is like a fire that consumes my heart in its burning flames with a deep-seated desire that burns till nothing remains. My heart has always been wild and free. It has always been too difficult to be tamed till the moment you came and set me ablaze, honey, and now I know that things shall never be the same.
175. I don't know when you entered my heart, but I know for sure that I never want you to leave it.
Enjoy The Flirting Game!
I hope you enjoyed the extensive list of flirty texts for him and that you are looking forward to stepping up your flirting game! As always, don't send these texts only for the sake of it.
Enjoy the process of bonding with your guy and spicing up your relationship. Sending a flirty text is the best way to both make him feel special and make him laugh.
After he reads it, he will be unable to stop thinking about how much he's crazy about you and how much he wants to see you, girl!