God's unfailing love isn't a concept. Jesus Christ sacrificed himself for us so that we might have eternal life. Even when you can't find love anywhere else, God's love is always with us.
In these Bible verses about God's unconditional love, it can be seen that the Lord is showing us his love by offering us salvation and leading us down the path we need to follow to reach it.
Bible Verses About God's Unconditional Love
You might have encountered many of these Bible verses about God's unconditional love in Bible study. They tell us how God's unfailing love heals our souls and completes us.
1. "Give thanks to the Lord because he is good, because his faithful love endures forever." — Chronicles 16:34 NIV
2. "This is how we know what love is: Jesus Christ laid down his life for us. And we ought to lay down our lives for our brothers and sisters. " — 1 John 3:16 NIV
3. "In this, the love of God was made manifest among us, that God sent his only Son into the world so that we might live through him." — 1 John 4:9–11 ESV
4. "See what kind of love the Father has given to us, that we should be called children of God; and so we are. The reason why the world does not know us is that it did not know him." — 1 John 3:1 NIV
5. "There is no fear in love. But perfect love drives out fear because fear has to do with punishment. The one who fears is not made perfect in love. We love because He first loved us." — 1 John 4:18–19 KJV
6. "The LORD, your God, is with you, the Mighty Warrior who saves. He will take great delight in you; in his love, he will no longer rebuke you but will rejoice over you with singing." – Zephaniah 3:17 NIV
7. "Beloved, let us love one another, for love is from God, and whoever loves has been born of God and knows God. Anyone who does not love does not know God because God is love." — 1 John 4:7–8 NIV
8. "No one has ever seen God; if we love one another, God abides in us, and his love is perfected in us." — 1 John 4:12 NIV
9. "The Lord your God is in your midst, a mighty one who will save; he will rejoice over you with gladness; he will quiet you by his love; he will exult over you with loud singing." — Zephaniah 3:17 ESV
10. "What then shall we say to these things? If God is for us, who can be against us? He who did not spare his own Son but gave him up for us all, how will he not also with him graciously give us all things?" — Romans 8:31–32 ESV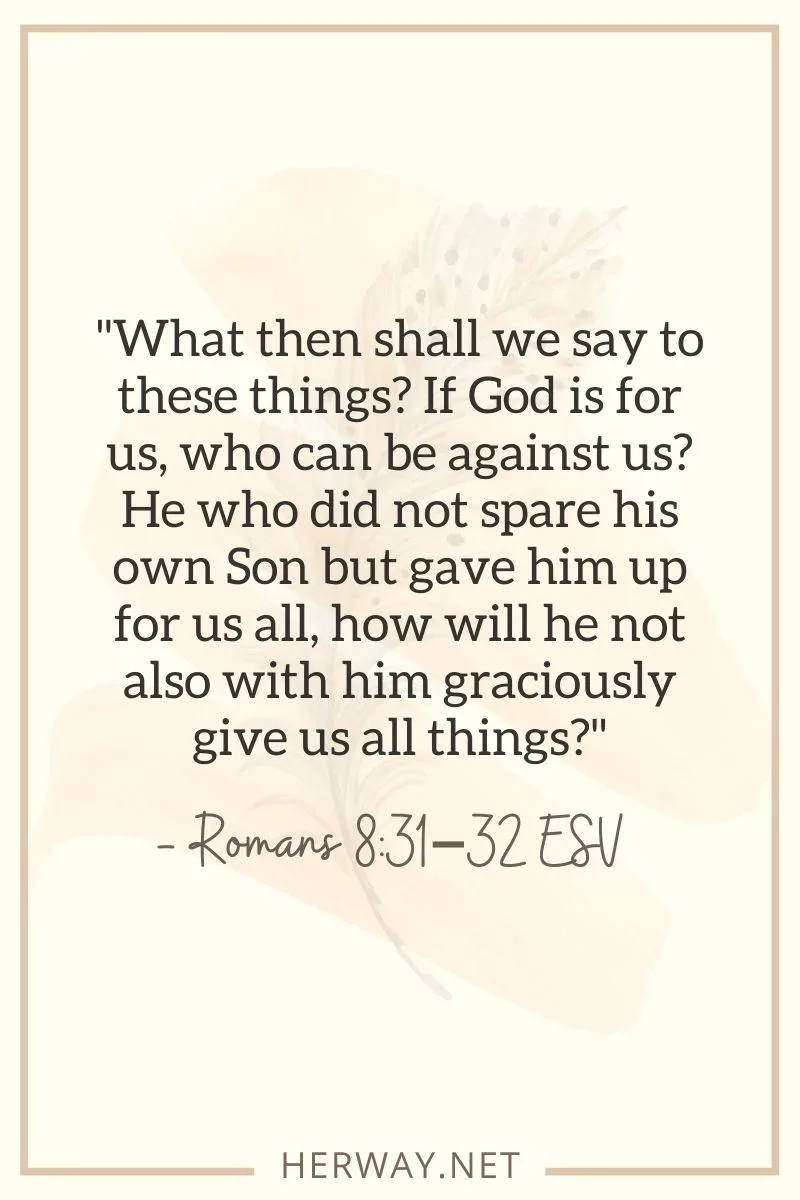 11. "Give thanks to the God of gods. His love endures forever." — Psalm 136:2 NIV
12. "And hope does not put us to shame, because God's love has been poured out into our hearts through the Holy Spirit, who has been given to us." — Romans 5:5 NIV
13. "The Lord has appeared of old to me, saying: 'Yes, I have loved you with an everlasting love; Therefore with lovingkindness, I have drawn you.'" — Jeremiah 31:3 (New King James Version)
14. "Your steadfast love, O Lord, extends to the heavens, your faithfulness to the clouds. Your righteousness is like the mountains of God; your judgments are like the great deep; man and beast you save, O Lord." — Psalm 36:5–6 ESV
15. "But to all who believed him and accepted him, he gave the right to become children of God." — John 1:12 NLT
16. "I have been crucified with Christ, and I no longer live, but Christ lives in me. The life I now live in the body, I live by faith in the Son of God, who loved me and gave himself for me." — Galatians 2:20 NIV
17. "'Though the mountains be shaken, and the hills be removed, yet my unfailing love for you will not be shaken, nor my covenant of peace be removed,' says the Lord, who has compassion on you." — Isaiah 54:10 NIV
18. "A new commandment I give unto you, That ye love one another; as I have loved you, that ye also love one another." — John 13:34 KJV
19. "We sinned against him, but he didn't give us the punishment we deserved. His love for his followers is as high above us as heaven is above the earth. And he has taken our sins as far away from us as the east is from the west." — Psalm 103:10–12 ERV
20. "The steadfast love of the Lord never ceases; his mercies never come to an end; they are new every morning; great is your faithfulness." — Lamentations 3:22–23 ESV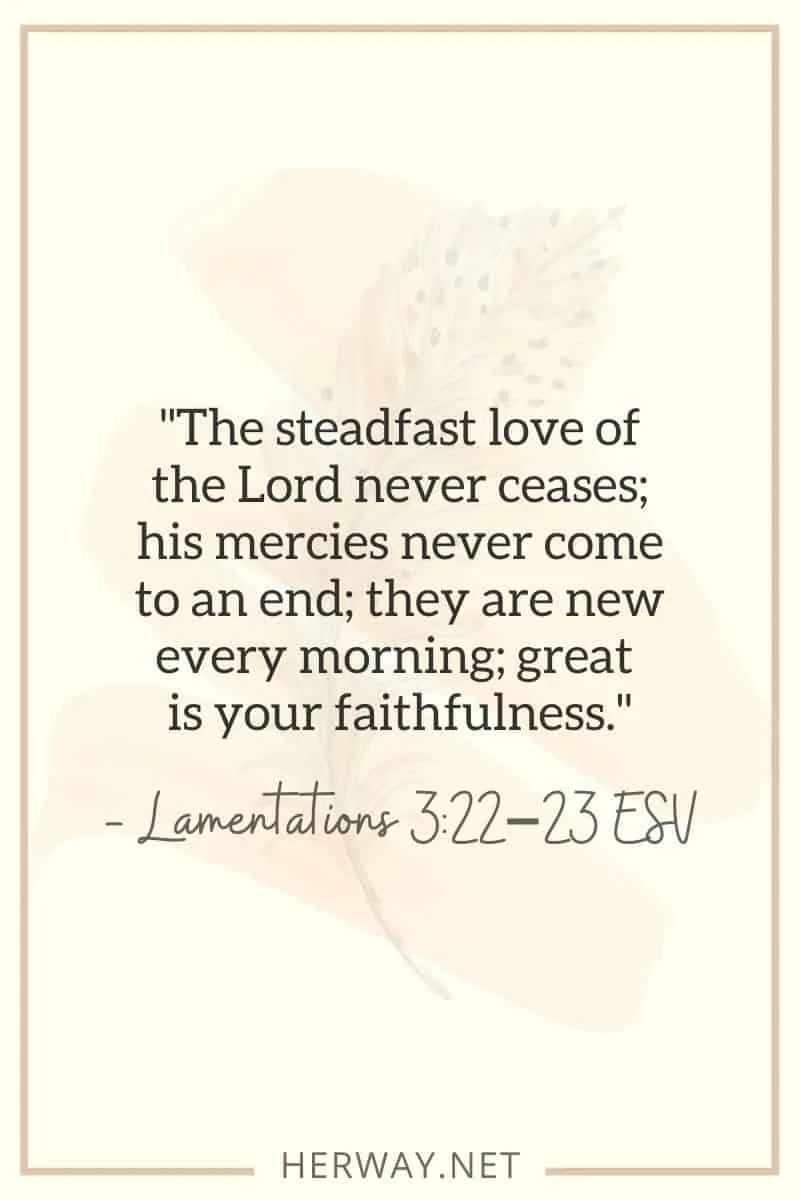 21. "Who is a God like you, pardoning iniquity and passing over transgression for the remnant of his inheritance? He does not retain his anger forever, because he delights in steadfast love." — Micah 7:18 ESV
22. "As the Father has loved me, so have I loved you. Now remain in my love." — John 15:9 NIV
23. "Who shall separate us from the love of Christ? shall tribulation, or distress, or persecution, or famine, or nakedness, or peril, or sword?" — Romans 8:35 KJV
24. "But I am like a green olive tree in the house of God. I trust in the steadfast love of God forever and ever." — Psalm 52:8 ESV
25. "The Lord is merciful and gracious, slow to anger and abounding in steadfast love. " — Psalm 103:8 ESV
26. "In your unfailing love, you will lead the people you have redeemed. In your strength, you will guide them to your holy dwelling." — Exodus 15:13 NIV
27. "I will bless you with a future filled with hope—a future of success, not of suffering. You will turn back to me and ask for help, and I will answer your prayers. You will worship me with all your heart, and I will be with you." — Jeremiah 29:11–13 CEV
28. "But God shows his love for us in that while we were still sinners, Christ died for us." — Romans 5:8 ESV
29. "So that Christ may dwell in your hearts through faith—that you, being rooted and grounded in love, may have strength to comprehend with all the saints what is the breadth and length and height and depth, and to know the love of Christ that surpasses knowledge, that you may be filled with all the fullness of God." — Ephesians 3:17–19 ESV
30. "For by grace, you have been saved through faith. And this is not your own doing; it is the gift of God." — Ephesians 2:8 ESV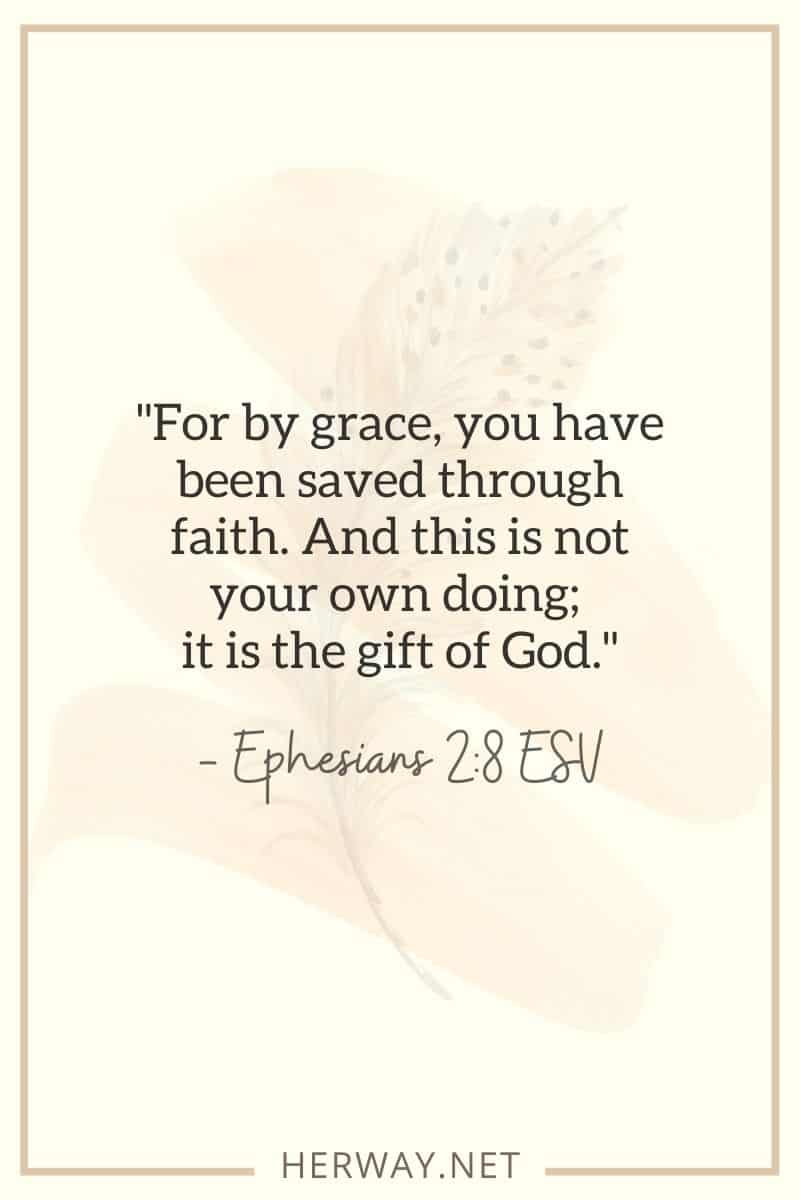 31. "I in them and you in me, that they may become perfectly one, so that the world may know that you sent me and loved them even as you loved me." — John 17:23 ESV
32. "For you know the grace of our Lord Jesus Christ, that though He was rich, yet for your sakes He became poor, that you through His poverty might become rich." — 2 Corinthians 8:9 NKJV
33. "The Lord did not set his love upon you, nor choose you, because ye were more in number than any people; for ye were the fewest of all people: But because the Lord loved you." — Deuteronomy 7:7-8 KJV
34. "My lips praise you because your faithful love is better than life itself!" — Psalm 63:3 CEB
35. "Though He brings grief, He also shows compassion because of the greatness of His unfailing love. For He does not enjoy hurting people or causing them sorrow." — Lamentations 3:32–33 NLT
36. "For His anger is but for a moment, His favor is for a lifetime; Weeping may last for the night, But a shout of joy comes in the morning." — Psalm 30:5 NASB
37. "For God so loved the world, that he gave his only Son, that whoever believes in him should not perish but have eternal life. For God did not send his Son into the world to condemn the world, but in order that the world might be saved through him." — John 3:16–17 ESV
38. "Is there any encouragement from belonging to Christ? Any comfort from his love? Any fellowship together in the Spirit? Are your hearts tender and compassionate?" — Philippians 2:1 NLT
39. "I will rejoice and be glad in your steadfast love because you have seen my affliction; you have known the distress of my soul." — Psalm 31:7 ESV
40. "The Lord loves righteousness and justice; the earth is full of his unfailing love." — Psalm 33:5 NIV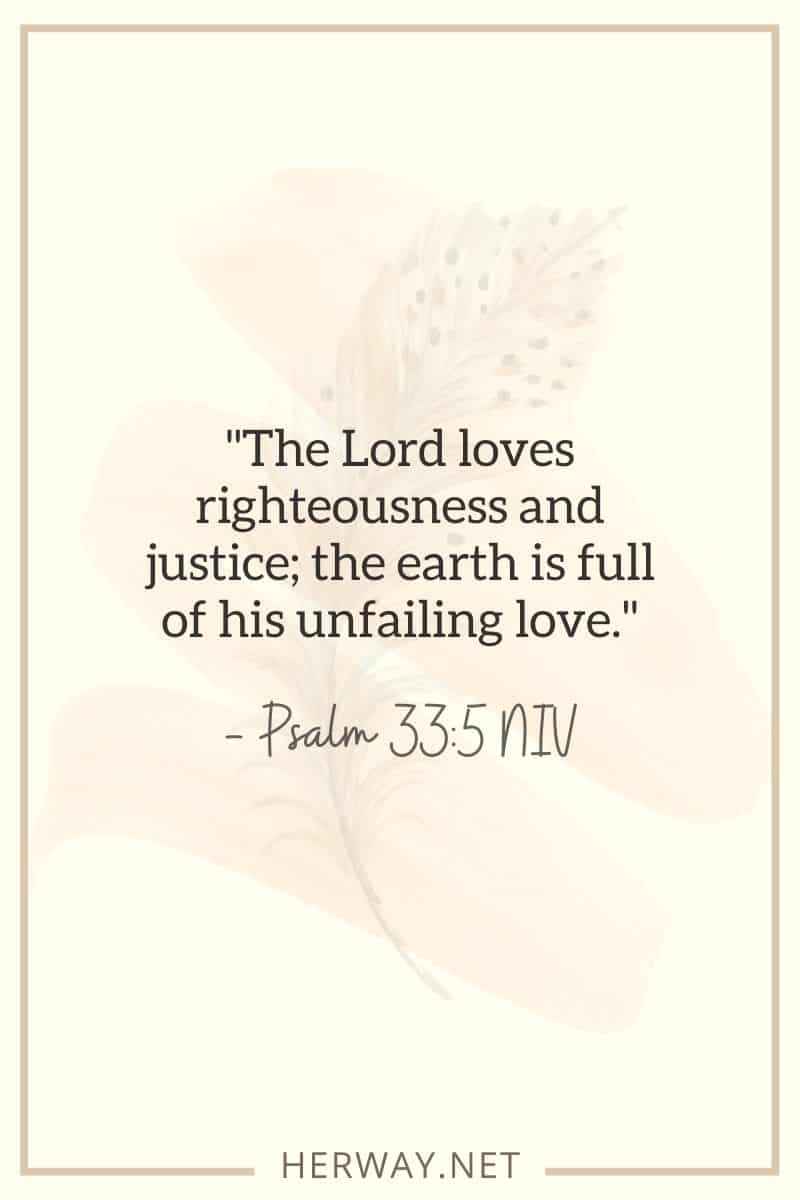 41. "For I am persuaded, that neither death, nor life, nor angels, nor principalities, nor powers, nor things present, nor things to come, Nor height, nor depth, nor any other creature, shall be able to separate us from the love of God, which is in Christ Jesus our Lord." — Romans 8:38–39 KJV
42. "For the love of Christ controls us because we have concluded this: that one has died for all, therefore all have died;" — 2 Corinthians 5:14 ESV
43. "But you, Lord, are a compassionate and gracious God, slow to anger, abounding in love and faithfulness." — Psalm 86:15 NIV
44. "Know therefore that the Lord your God is God, the faithful God who keeps covenant and steadfast love with those who love him and keep his commandments, to a thousand generations." — Deuteronomy 7:9 ESV
45. "But God, being rich in mercy, because of the great love with which he loved us, even when we were dead in our trespasses, made us alive together with Christ—by grace, you have been saved." — Ephesians 2:4-5 ESV
See also: God Bless Quotes: 114 Inspirational Quotes About God's Blessings
Love For The Glory Of God
The Bible is full of examples of God's unconditional love. The glory of God is revealed in His love, and because God loves you, you can reflect that love on others.
When we learn to love each other because God loves us, we can feel His love more completely.
46. "Now that you have purified yourselves by obeying the truth so that you have sincere love for each other, love one another deeply, from the heart." — 1 Peter 1:22 NIV
47. "And above all these put on love, which binds everything together in perfect harmony." — Colossians 3:14 ESV
48. "Love is patient, love is kind. It does not envy. It does not boast. It is not proud. It does not dishonor others. It is not self-seeking. It is not easily angered. It keeps no record of wrongs. Love does not delight in evil but rejoices with the truth. It always protects, always trusts, always hopes, always perseveres. Love never fails." — 1 Corinthians 13:4–8 NIV
49. "Above all, love each other deeply because love covers over a multitude of sins." — 1 Peter 4:8 NIV
50. "If I could speak all the languages of earth and of angels but didn't love others, I would only be a noisy gong or a clanging cymbal." — 1 Corinthians 13:1 NLT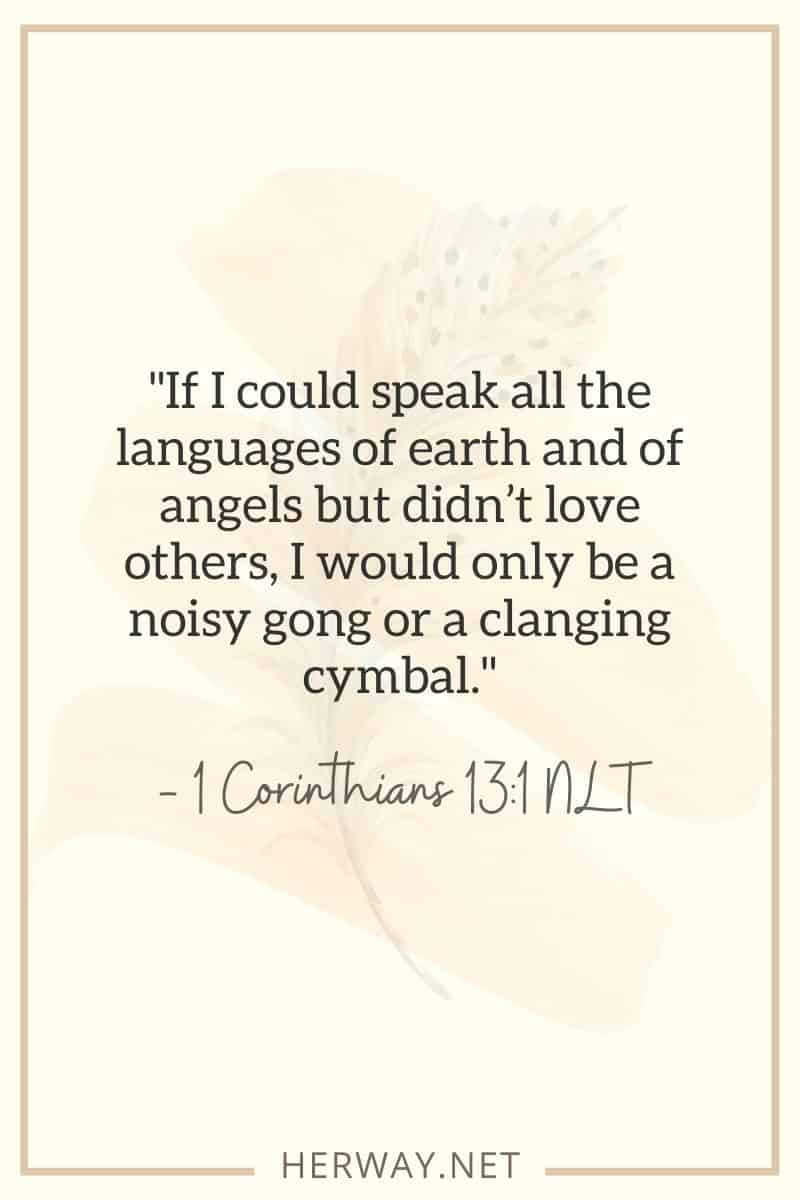 51. "But whoever keeps his word, in him truly the love of God is perfected. By this we may know that we are in him:" — 1 John 2:5 ESV
52. "The aim of our charge is love that issues from a pure heart and a good conscience and a sincere faith." — Timothy 1:5 ESV
53. "But when the goodness and loving kindness of God our Savior appeared, he saved us, not because of works done by us in righteousness, but according to his own mercy, by the washing of regeneration and renewal of the Holy Spirit." — Titus 3:4–5 ESV
54. "For God gave us a spirit not of fear but of power and love and self-control." — 2 Timothy 1:7 ESV
55. "Let love be genuine. Abhor what is evil; hold fast to what is good. Love one another with brotherly affection. Outdo one another in showing honor." — Romans 12:9–10 ESV
56. "He brought me to the banqueting house, and his banner over me was love." — Song of Solomon 2:4 KJV
57. "And he said to him, 'You shall love the Lord your God with all your heart and with all your soul and with all your mind. This is the great and first commandment. And a second is like it: You shall love your neighbor as yourself.'" — Matthew 22:37–39 ESV
58. "Let me hear of your unfailing love each morning, for I am trusting you. Show me where to walk, for I give myself to you." — Psalm 143:8 NLT
59. "And we know that for those who love God all things work together for good, for those who are called according to his purpose." — Romans 8:28 ESV
60. "So now faith, hope, and love abide, these three; but the greatest of these is love." — 1 Corinthians 13:13 ESV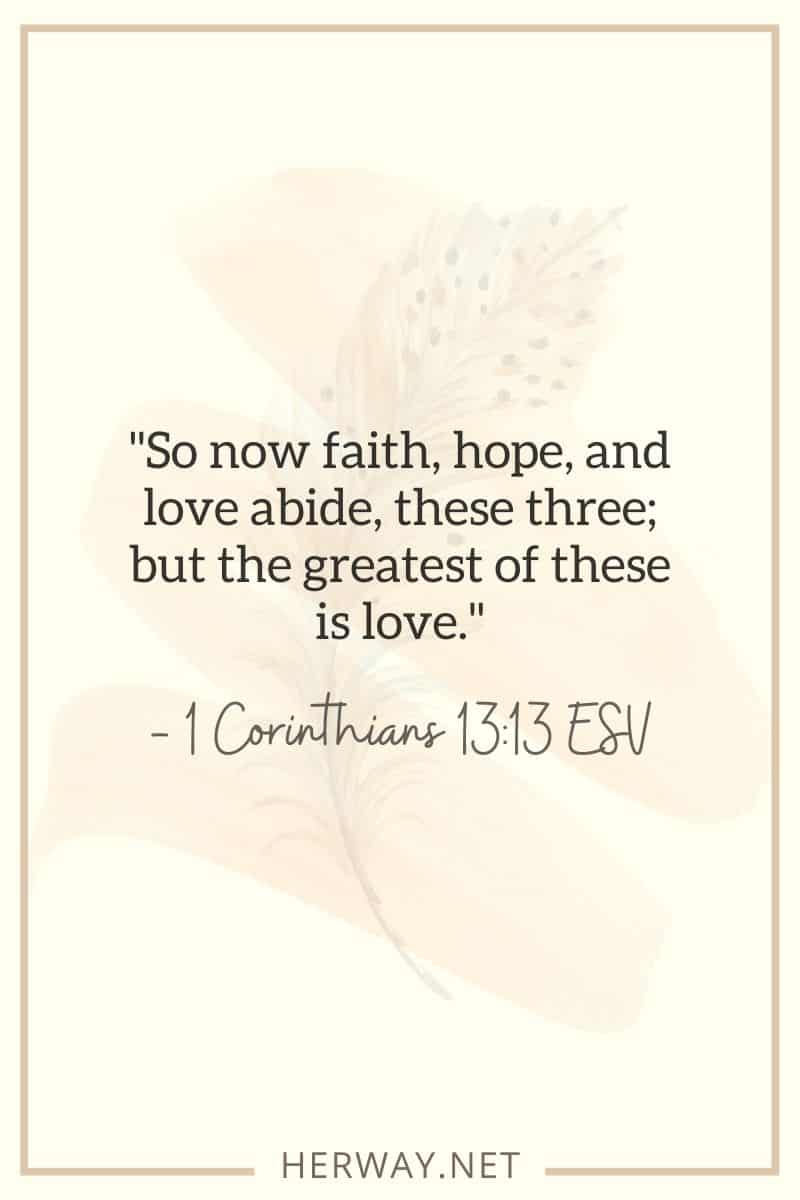 61. "Many waters cannot quench love, neither can the floods drown it: if a man would give all the substance of his house for love, it would utterly be contemned." — Song of Solomon 8:7 KJV
62. "Jesus answered him, 'If anyone loves me, he will keep my word, and my Father will love him, and we will come to him and make our home with him.'" — John 14:23 ESV
63. "By this, we know that we love the children of God, when we love God and obey his commandments." — John 5:2 ESV
See also: God Quotes: Uplifting Sayings To Inspire And Empower You
Love Your Friends And Your Enemies
The Lord tells us to love each other as He loves us. He tells us to love our friends and neighbors and to show the love He has given us by being kind and generous to the unfortunate.
But unconditional love isn't always easy. The Lord also tells us to love when loving isn't easy. To love the ones who don't love us and wish us harm. To be Christian is to love unconditionally even when it's hard.
64. "If you love only those people who love you, will God reward you for that? Even tax collectors love their friends. If you greet only your friends, what's so great about that? Don't even unbelievers do that? But you must always act like your Father in heaven." — Matthew 5:46–48 CEV
65. "As a prisoner for the Lord, then, I urge you to live a life worthy of the calling you have received. 2 Be completely humble and gentle; be patient, bearing with one another in love." — Ephesians 4:1–2 NIV
66. "If anyone has material possessions and sees a brother or sister in need but has no pity on them, how can the love of God be in that person? Dear children, let us not love with words or speech but with actions and in truth." — 1 John 3:17–18 NIV
67. "'Love the Lord your God with all your heart and with all your soul and with all your mind and with all your strength.' The second is this: 'Love your neighbor as yourself.' There is no commandment greater than these." — Mark 12:30–31 NIV
68. "But I say to you who hear, Love your enemies, do good to those who hate you" — Luke 6:27 ESV
69. "Whoever claims to love God yet hates a brother or sister is a liar. For whoever does not love their brother and sister, whom they have seen, cannot love God, whom they have not seen. And he has given us this command: Anyone who loves God must also love their brother and sister." — 1 John 4:20–21 NIV
70. "'Do not seek revenge or bear a grudge against anyone among your people, but love your neighbor as yourself. I am the Lord." — Leviticus 19:18 NIV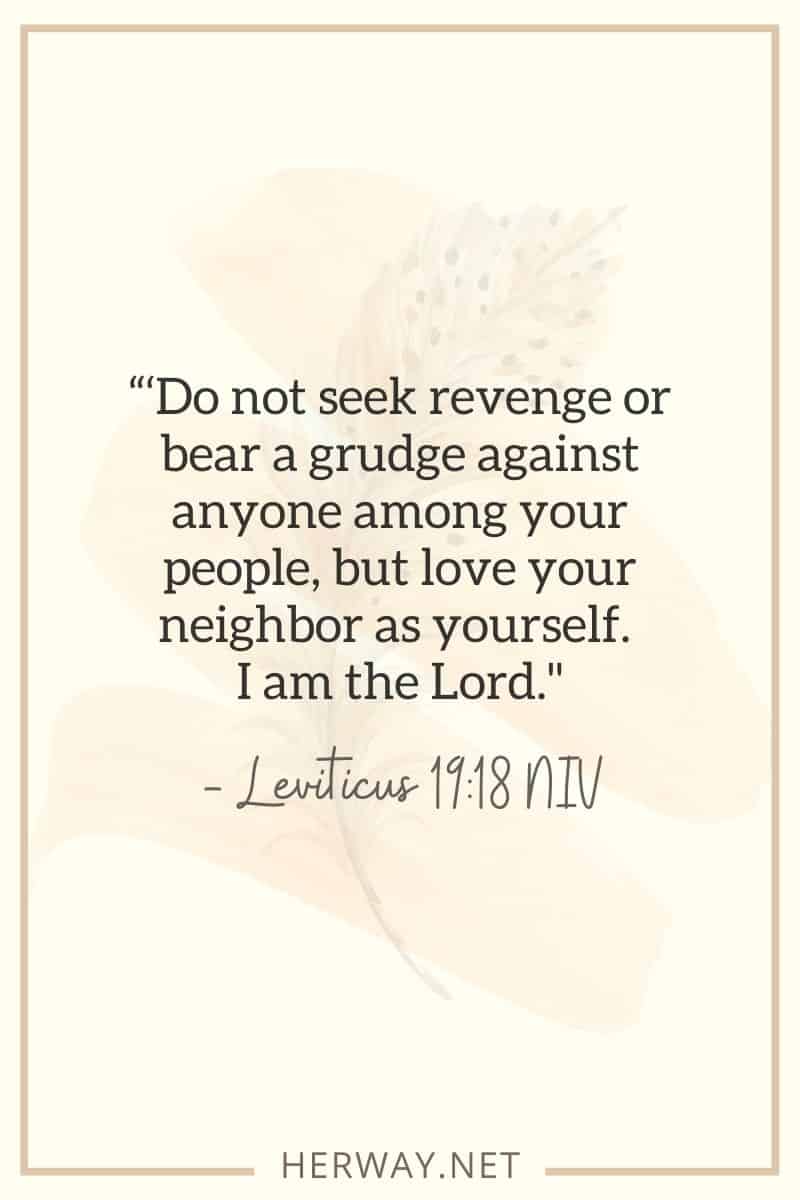 71. "But love your enemies, and do good, and lend, expecting nothing in return, and your reward will be great, and you will be sons of the Most High, for he is kind to the ungrateful and the evil." — Luke 6:3 ESV
72. "You have heard people say, 'Love your neighbors and hate your enemies.' But I tell you to love your enemies and pray for anyone who mistreats you. Then you will be acting like your Father in heaven. He makes the sun rise on both good and bad people. And he sends rain for the ones who do right and for the ones who do wrong." — Matthew 5:43–45 CEV
73. "My command is this: Love each other as I have loved you. Greater love has no one than this: to lay down one's life for one's friends. You are my friends if you do what I command." — John 15:12–14 NIV
74. "Husbands, love your wives, as Christ loved the church and gave himself up for her," — Ephesians 5:25 ESV
75. "Hatred stirs up conflict, but love covers over all wrongs." — Proverbs 10:12 NIV
See also: How To Let Go And Trust God To Be Your Guide Through Life
God Loves You
Reflect on these Bible verses about God's unconditional love when you need inspiration and encouragement. Even in your lowest moments, knowing how much the Lord loves you can give you strength and help you stay on His path.