Love paragraphs, love letters for him or her I love you so much quotes, sweet love quotes, love poems for him and her… These agents of love have made our lives and hearts warmer, and they have shown us the real meaning of this everlasting, strong emotion called love.
When we love someone, our heart becomes like a balloon filled with strong emotions (instead of helium). As our love becomes stronger, so does this romantic balloon get bigger.
If we don't express our feelings for our loved one, the balloon (our love) might pop and vanish into thin air. One of the most beautiful and the hardest things you'll ever have to do is keep your love (balloon) balanced.
How does one do it? By expressing your feelings and making your partner feel loved and special in the most romantic ways.
Truth be told, expressions of love don't need to be grand. A love poem for him (or a love song) is a great way of showing your loved one the intensity of your emotions and how much you care about him.
Below you'll find a wide array of romantic poems for your boyfriend from the heart in the following order:
Deep Meaningful Love Poems For Him From The Heart
Romantic Love Poems For Your Boyfriend That Will Make Him Cry
Short Love Poems For Him
Love Poems For Him Long Distance
Love Poems For Good Night
Funny Love Poems For Him
Famous Love Poems For Him That Will Make Him Cry
Let the love poetry fill your heart and soul with LOVE!
RELATED: 160+ Heartwarming Good Morning Paragraphs For Him To Wake Up To
Deep Meaningful Love Poems For Him From The Heart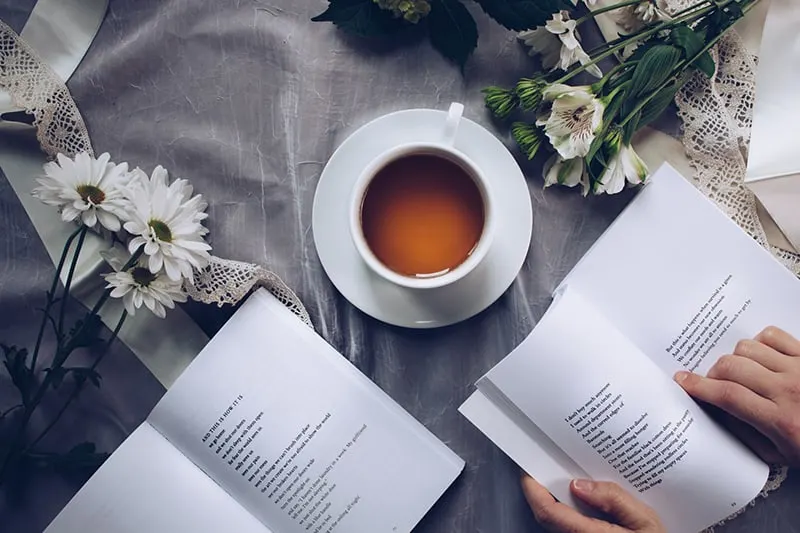 The best love poems are the ones that come from the depths of our hearts. You don't need to be a poet to make your loved one feel special. All you need to do is read the following lines and choose the best ones for you:
You're My Everything By Jetem Westbrook
It makes me happy just being by your side.
All these feelings I just can't hide.
You'll always be in my heart.
Can't bear the pain when we are apart.
Nobody is as special as you are to me.
I hope you are beginning to see
Just how much I care for you,
And all my feelings will always be true.
I can't describe how much I care,
But when you need me, I'll be there
To wipe those tears when you are sad,
To make you happy when you are mad.
All these things I can really do.
Just remember I'm thinking of you!
I Love You By Ella Wheeler Wilcox
I love your lips when they're wet with wine
And red with a wild desire;
I love your eyes when the lovelight lies
Lit with a passionate fire.
I love your arms when the warm white flesh
Touches mine in a fond embrace;
I love your hair when the strands enmesh
Your kisses against my face.
Not for me the cold, calm kiss
Of a virgin's bloodless love;
Not for me the saint's white bliss,
Nor the heart of a spotless dove.
But give me the love that so freely gives
And laughs at the whole world's blame,
With your body so young and warm in my arms,
It sets my poor heart aflame.
So kiss me sweet with your warm wet mouth,
Still fragrant with ruby wine,
And say with a fervor born of the South
That your body and soul are mine.
Clasp me close in your warm young arms,
While the pale stars shine above,
And we'll live our whole young lives away
In the joys of a living love.
If Not For You By Joanna Fuchs
If not for you, I wouldn't know
What true love really meant.
I'd never feel this inner peace;
I couldn't be content.
If not for you, I'd never have
The pleasures of romance.
I'd miss the bliss, the craziness,
Of love's sweet, silly dance.
I have to feel your tender touch;
I have to hear your voice;
No other one could take your place;
You're it; I have no choice.
If not for you, I'd be adrift;
I don't know what I'd do;
I'd be searching for my other half,
Incomplete, if not for you.
Forever And Always By Mercedes
You are the sun that shines brightly throughout my day.
You are the gravity that holds me down in every way.
You are the moon that shimmers throughout my night.
You are stars that glimmer oh so bright.
You are the oxygen that keeps me alive.
You are my heart that beats inside.
You are the blood that flows through me.
You are the only guy I can see.
You have the voice of when a mockingbird sings.
You are my everything.
You are my one and only.
You stop me from being so lonely.
We plan our future as if we have a clue.
I never want to lose you.
I want you to be my husband, and I want to be your wife.
I want to be with you for the rest of my life.
To My Dear And Loving Husband By Anne Bradstreet
If ever two were one, then surely we.
If ever man were loved by wife, then thee.
If ever wife was happy in a man,
Compare with me, ye women, if you can.
I prize thy love more than whole mines of gold,
Or all the riches that the East doth hold.
My love is such that rivers cannot quench,
Nor ought but love from thee give recompense.
Thy love is such I can no way repay;
The heavens reward thee manifold, I pray.
Then while we live, in love let's so persevere,
That when we live no more, we may live ever.
I Love You By Vanessa Benitez
I never really knew you
You were just another friend
But when I got to know you,
I let my heart unbend.
I couldn't help past memories
that would only make me cry
I had to forget my first love
and give love another try.
So I've fallen in love with you
and I'll never let you go
I love you more than anyone
I just had to let you know.
And if you ever wonder why
I don't know what I'll say
But I'll never stop loving you
each and every day.
My feelings for you will never change
Just know my feelings are true
Just remember one thing
I Love You
Life Without You By Nikki Wilfong
Me without you
is like a leafless fall,
a snowless winter,
and a flowerless spring.
Me without you
is like a colorless rainbow,
a sunless day,
and a starless night.
Me without you
is like the ocean without a wave,
the beach without sand,
and a flameless fire.
Me without you
is like a book without words,
a man without a face,
and a child with no name.
Romantic Love Poems For Your Boyfriend That Will Make Him Cry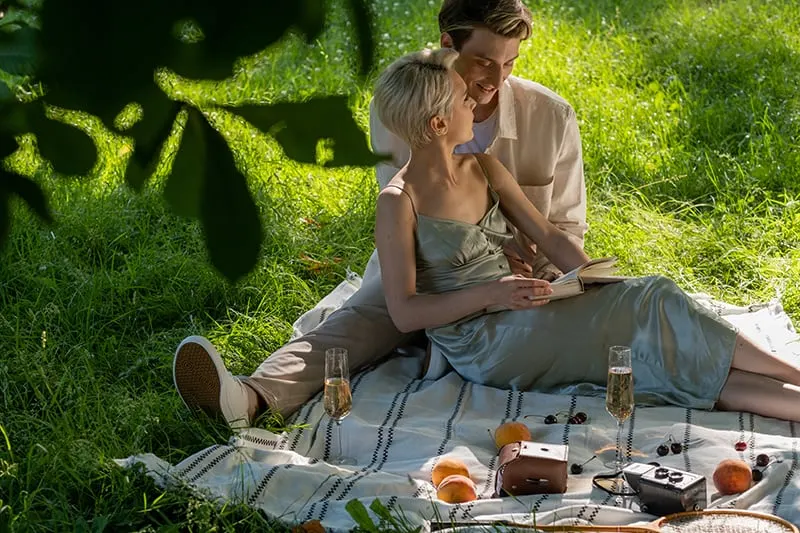 There are lots of different ways to say I love you to your special one, and romantic love poems are one of the most heartwarming expressions of love.
These lines will make your boyfriend cry and thank God for such a wonderful girlfriend:
Creatures Of The Fire By Joanna Fuchs
We swan-dive into the volcano, burning;
We're creatures of the fire,
Mingled male and female, yearning
For the heat, the sweet explosion of desire.
I splash into the pleasure, all-consuming;
I'm joyfully insane,
My passion for you deep, and fully blooming;
Long after, sweet warm flickers still remain.
You make my body sizzle with your kisses,
And yet there's so much more;
My heart is kindled, too; It knows what bliss is,
This closeness that I've never felt before.
My body and my heart belong to you;
I'm peaceful and complete.
I see more adventures coming for we two,
We creatures of the tender fire and heat.
How Do I Love Thee? (Sonnet 43) By Elizabeth Barrett Browning
How do I love thee? Let me count the ways.
I love thee to the depth and breadth and height
My soul can reach, when feeling out of sight
For the ends of Being and ideal Grace.
I love thee to the level of everyday's
Most quiet need, by sun and candle-light.
I love thee freely, as men strive for Right;
I love thee purely, as they turn from Praise.
I love thee with the passion put to use
In my old griefs, and with my childhood's faith.
I love thee with a love I seemed to lose
With my lost saints,—I love thee with the breath,
Smiles, tears, of all my life!—and, if God choose,
I shall but love thee better after death.
One Hundred Love Sonnets: XVII By Pablo Neruda
I don't love you as if you were a rose of salt, topaz,
or arrow of carnations that propagate fire:
I love you as one loves certain obscure things,
secretly, between the shadow and the soul.
I love you as the plant that doesn't bloom but carries
the light of those flowers, hidden, within itself,
and thanks to your love, the tight aroma that arose
from the earth lives dimly in my body.
I love you without knowing how, or when, or from where,
I love you directly without problems or pride:
I love you like this because I don't know any other way to love,
except in this form in which I am not nor are you,
so close that your hand upon my chest is mine,
so close that your eyes close with my dreams.
Variations Of The Word Love By Margaret Atwood
This is a word we use to plug holes with.
It's the right size for those warm
blanks in speech, for those red heart-
shaped vacancies on the page that look nothing
like real hearts.
Add lace and you can sell it.
We insert it also in the one empty space
on the printed form that comes with no instructions.
There are whole magazines with not much in them
but the word love,
you can rub it all over your body and you
can cook with it too.
How do we know it isn't what goes on at the cool
debaucheries of slugs under damp
pieces of cardboard?
As for the weed-seedlings nosing their tough snouts up
among the lettuces, they shout it.
Love! Love! sing the soldiers, raising
their glittering knives in salute.
Then there's the two of us. This word
is far too short for us, it has only
four letters, too sparse
to fill those deep bare
vacuums between the stars
that press on us with their deafness.
It's not love we don't wish
to fall into, but that fear.
This word is not enough but it will
have to do. It's a single vowel
in this metallic silence, a mouth that says
O again and again in wonder
and pain, a breath, a finger
grip on a cliffside. You can
hold on or let go.
WILL YOU…? By Arianna Roselli
If I fall, will you catch me?
If I cry, will you hold me?
If I hurt you, will you ever forgive me?
We don't live that far apart,
We could see each other every day if we wanted,
But baby, that will never happen.
If you fall, I will be right there to catch you.
If you cry, I will be right there to comfort you.
If you hurt me, I will always forgive you.
Because I really love you.
I fell in love from the moment I laid eyes on you.
You are always on my mind.
I can't ever stop thinking of you.
I always tell my friends about you.
Baby, you are the love to my heart,
and you are the sun when I wake up in the morning,
and you are the moon when I fall asleep at night.
You are the stars shining down on me,
You are the angels up above me.
You are the love of my life,
And I hope you feel the same way about me.
Because I never want to lose you,
I talk to you every day,
and everynight before bed,
and when I fall asleep,
You are ALWAYS in my dreams.
I don't know if there is a way to get you out of my head.
But I don't ever want to forget about you.
Because you are the love of my life.
You are the one and only.
I never thought of being in love,
until the day I met you.
You are so amazing and I love you so much,
I hope you love me,
because you are the most important person in my life.
I Love The Way By Margo
I love the way you tell me that I'm beautiful,
and the way you make me laugh like no one else.
I love the way you move the hair away from my eyes,
and then kiss me on my face.
I love the way when you take me to the park
and put your hands around my waist
as we watch the sunset together and feel the ocean breeze.
I love the way you'd sing to me at random moments,
and look at me and smile.
I love the way you leave the smell of your cologne on my clothes after we hug
I love the way you would send me my favorite flowers
along with an " I LOVE YOU" card.
I love the way you speak your mind and tell me about your opinions.
I love the way you're not afraid to cry and show your feelings.
I love the way you call me in the middle of the day just to say, " I LOVE YOU."
and say how much you miss me.
I love the way you tell your friends about me and smile when you do.
I love the way you whisper into my ear,
the way your voice sounds so close to me.
it feels like I'm dreaming.
I love the way you do all of these and the fact that you're not ashamed to do it.
I love the way you treat me,
and I'm glad to be yours…
Short Love Poems For Him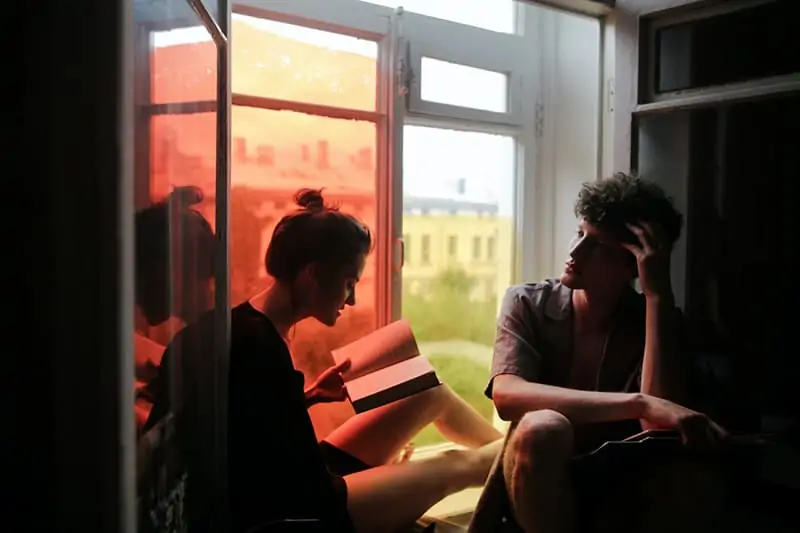 Just because they're short doesn't mean they aren't powerful. These short love poems serve as beautiful reasons why I love you. They will remind your soulmate that they are always in your heart no matter what:
Love So Amazing By Elaine Chetty
My love for you is like the raging sea,
So powerful and deep it will forever be.
Through storm, wind, and heavy rain,
It will withstand every pain.
Our hearts are so pure and love so sweet.
I love you more with every heartbeat!
Again And Again By Rainer Maria Rilke
Again and again, however, we know the landscape of love
and the little churchyard there, with its sorrowing names,
and the frighteningly silent abyss into which the others
fall: again and again the two of us walk out together
under the ancient trees, lie down again and again
among the flowers, face to face with the sky.
Echo By Carol Ann Duffy
I think I was searching for treasures or stones
in the clearest of pools
when your face…
when your face,
like the moon in a well
where I might wish…
might well wish
for the iced fire of your kiss;
only on water my lips, where your face…
where your face was reflected, lovely,
not really there when I turned
to look behind at the emptying air…
the emptying air.
Had I The Heavens' Embroidered Cloths By William Butler Yeats
Had I the heavens' embroidered cloths,
Enwrought with golden and silver light,
The blue and the dim and the dark cloths
Of night and light and the half-light,
I would spread the cloths under your feet:
But I, being poor, have only my dreams;
I have spread my dreams under your feet;
Tread softly because you tread on my dreams.
The Good-Morrow By John Donne
"I wonder by my troth, what thou and I
Did, till we loved? Were we not weaned till then?
But sucked on country pleasures, childishly?
Or snorted we in the Seven Sleepers' den?
'Twas so; but this, all pleasures fancies be.
If ever any beauty I did see,
Which I desired, and got, 'twas but a dream of thee.
And now good-morrow to our waking souls,
Which watch not one another out of fear;
For love all love of other sights controls,
And makes one little room an everywhere.
Let sea-discoverers to new worlds have gone;
Let maps to other, worlds on worlds have shown;
Let us possess one world; each hath one, and is one."
True Love By Cameron Turner
A million stars up in the sky
one shines brighter I can't deny
A love so precious a love so true
a love that comes from me to you
The angels sing when you are near
within your arms I have nothing to fear
You always know just what to say
just talking to you makes my day
I love you honey with all of my heart
together forever and never to part.
Our Love By John P. Read
L is for "laughter" we had along the way.
O is for "optimism" you gave me every day.
V is for "value" of being my best friend.
E is for "eternity," a love that has no end.
Heart Touching Love Poems For Him Long Distance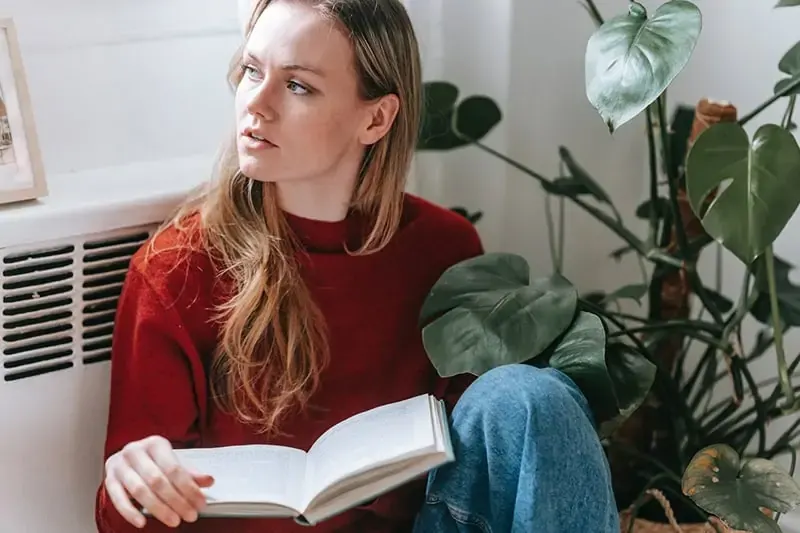 Being long-distance is no reason to stop reminding each other of your deep affection. There are so many ways in which you can celebrate your long-distance love.
The following love poems are some of the greatest love paragraphs for your loved one:
I Carry Your Heart With Me (I Carry It In My Heart) By E. E. Cummings
I carry your heart with me (I carry it in
my heart) I am never without it (anywhere
I go you go, my dear; and whatever is done
by only me is your doing, my darling)
I fear no fate (for you are my fate, my sweet) I want
no world (for beautiful you are my world, my true)
and it's you are whatever a moon has always meant
and whatever a sun will always sing is you
Here is the deepest secret nobody knows
(here is the root of the root and the bud of the bud
and the sky of a tree called life; which grows
higher than soul can hope or mind can hide)
and this is the wonder that's keeping the stars apart
I carry your heart (I carry it in my heart).
Untitled By Christopher Poindexter
Whenever I am away from you, the distance between us,
A burdensome thing,
I always think of you in colors,
the smell of coffee as you so
proudly make it for me,
the perfect sunlight spilling in through the window.
I miss you even when you are beside me.
I dream of your body
even when you are sleeping in my arms.
The words I love you
could never be enough.
I suppose we'll have to invent new ones.
My Dearest Love By Sherri Brown
I see you in my thoughts and dreams,
When I awake, how real it seems.
You aren't here to comfort me,
But soon I hope you will be.
No one truly knows or understands;
You have my heart in your hands.
My love is what you truly own.
Come soon and make our house a home.
Inside those walls you are doing your time,
Not being here with me is your only true crime.
Others in your life will come and go,
But my love is true, and I'm sure you know.
I may not be rich or the prettiest one,
But I love you so much; you are my sun.
You light up my life every time you call.
When the time is up, I begin to fall.
You are my stars, you are my moon,
Being with you will come very soon.
So when you sleep, take this to heart,
No one or nothing will keep us apart.
Far Away Lover By Janna Rutty
I lay in my bed and think about you
I love you so much I don't know what to do
I feel your warmth at my side
The pain in my heart moves to my eyes
So far away yet always so near
You are the reason I am still here.
I await the times when we can talk
I await the times we can finally hold hands and walk
To feel you for real… so close to me
The happiest person in the world is what you would make me.
Your eyes shine like a million suns
You shine more brightly than anyone
Your smile so sweet can't help but make me smile
It stops my world even for a little while
I await the time when my hand is in yours
To hear you say those 3 little words.
There are still no words I can say to describe
My heart it aches and my eyes they cry
But when we talk my heart flies
you always wipe away the tears I cry.
Even though you aren't here
And I miss you so much my dear
I'll love you forever and ever
I'll always love you, my far away lover.
That Special Moment! By David Yearwood
My love, how much I want to be there with you,
To feel your touch and see your smile.
To hear you say, I love you so,
For all the ways you'll show me how.
O my love, I long to be with you,
O my love, words will never express,
The feelings I have for you inside,
I'll give my all, just to be with you,
being in your arms, safe and sound,
to see your tender smile again.
Holding me softly, with your tender touch,
being ever so close and never apart.
O my Love I need You so,
my soul is on fire.
My passion and emotion is here for you,
with much desire, I just can't explain.
My heart is ready to surrender all.
Come to me, I'm ready for love,
I want it to be, that special time!
Best Love Poems For Good Night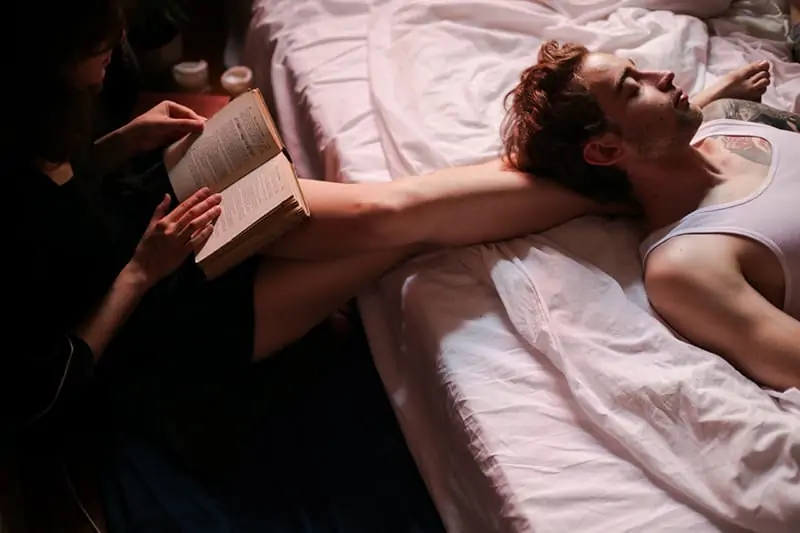 Because simply wishing him good night is not enough! When you "overuse" good night paragraphs for him, switch to these romantic poems for a good night that will melt his heart:
Goodnight By Colm Istoirm
Goodnight father
Goodnight sun
Goodnight detestability of day and enjoyment of all things costly and fun
Goodnight to you
And goodnight to me
Goodnight dear bed frame and thank you for this, your stability
Goodnight my pillow
Goodnight my bed
Goodnight and would you carry me, over the moon and back again?
Goodnight to you, to these honest things, which I may or may not mind first thing in the morning
Goodnight my distant memories
And goodnight to my favorite mystery, to your quiet and kind consistencies
For it's a good night I offer, honestly
A good night from another
A goodnight from me
Goodnight my father
Goodnight to your son
Goodnight moonlit stars and spinning earth
Though the turning therein has just begun
Goodnight my Lord, goodnight and please, watch over those in need of sleep
Goodnight my God, a good night to you
Good night you have been, good to me
Goodnight My Love By Skye Rhiannon
Just wanted to say to you my dear,
Goodnight and please sleep tight,
I will talk to you tomorrow,
But as for now please pretend i'm there,
Please just hold me tight,
Have the sweetest of dreams,
Know that I love you,
Now I must slumber,
I will fantasize and dream about you my prince,
Feel free to invade my head anytime you wish,
I will always be here with you,
Goodnight to the sweetest heart out there,
May all your sweet dreams come true lover dear.
Good-Night By Percy Bysshe Shelley
Good-night? ah! no; the hour is ill
Which severs those it should unite;
Let us remain together still,
Then it will be good night.
How can I call the lone night good,
Though thy sweet wishes wing its flight?
Be it not said, thought, understood —
Then it will be — good night.
To hearts which near each other move
From evening close to morning light,
The night is good; because, my love,
They never say good-night.
Flying At Night By Ted Kooser
Above us, stars. Beneath us, constellations.
Five billion miles away, a galaxy dies
like a snowflake falling on water.
Below us, some farmer, feeling the chill of that distant death,
snaps on his yard light, drawing his sheds and barn
back into the little system of his care.
All night, the cities, like shimmering novas,
tug with bright streets at lonely lights like his.
Do Not Go Gentle Into That Good Night By Dylan Thomas
Do not go gentle into that good night,
Old age should burn and rave at close of day;
Rage, rage against the dying of the light.
Though wise men at their end know dark is right,
Because their words had forked no lightning they
Do not go gentle into that good night.
Good men, the last wave by, crying how bright
Their frail deeds might have danced in a green bay,
Rage, rage against the dying of the light.
Wild men who caught and sang the sun in flight,
And learn, too late, they grieved it on its way,
Do not go gentle into that good night.
Grave men, near death, who see with blinding sight
Blind eyes could blaze like meteors and be gay,
Rage, rage against the dying of the light.
And you, my father, there on that sad height,
Curse, bless me now with your fierce tears, I pray.
Do not go gentle into that good night.
Rage, rage against the dying of the light.
Funny Love Poems For Him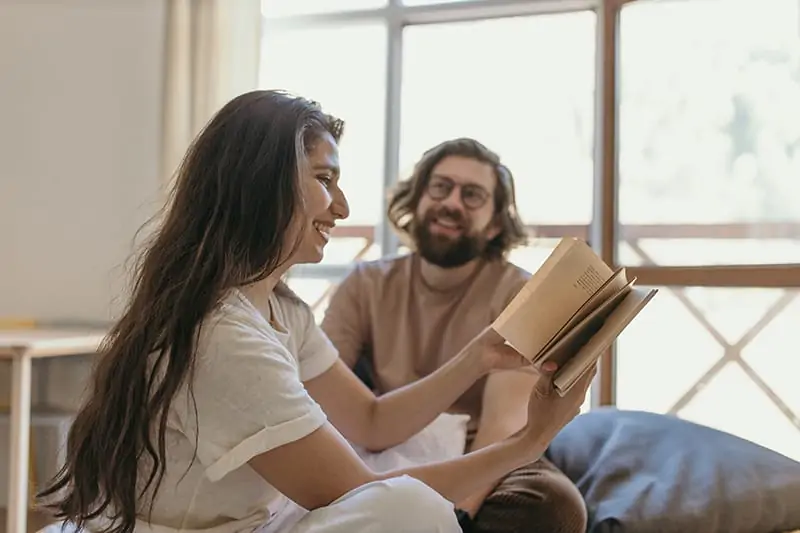 What are adorable love paragraphs for your loved one if they aren't spiced up with a sense of humor? These funny love poems will make his day and remind him that you're simply the best:
Loving An Xbox Vs. Me By Sarah Allen
I don't have a controller,
And I don't have a screen,
I don't need to be plugged in,
I'm not grey and green.
I can't make sound effects,
Or visuals that are fantastic,
You can't put me on a shelf,
Because I'm not made of plastic.
However, I do have curves,
Will keep you entertained all the same,
You can't insert a disc,
But we can make our own little game.
Funny Love Poem By Unknown
I tried to write funny love poems for you,
I attempted some cute and silly ones too.
But it seems I haven't yet learned how to rhyme,
So, I beg of you, honey, please give me some time.
One of these days, I will figure it out,
Until then, I hope that you will not pout.
Trust me, my man, you really do inspire me,
I'm just not good with words, as you can plainly see.
It's not that easy to come up with love poems, you know,
So, for now, I'll just find another way for my love to show.
Stuck On You By Kenneth J. Miller
You're sucrose, you're glucose,
You're fructose and more,
From your head to your feet…
Which are stuck to the floor.
You're Hershey's, you're Snickers,
You're sweet English Toffee.
If you spit in my cup,
You'll just sweeten my coffee.
I love you so much
That I'm getting frenetic,
But I can't even kiss you,
'cause I'm diabetic.
Sweet Misery By Susanna Rose
When I fell in love with you,
it made a wreck of me.
I feel so dazed and dizzy
that it's hard for me to see.
I get too hot and sweat a lot.
I hardly eat a bite.
My pulse beats like a kettle drum
and keeps me up at night.
My stomach hurts, and I go down
as if I've got the bends.
Love's causing me sweet misery–
I hope it never ends!
Proper Treatment By Susanna Rose
I thought love had it in for me,
it didn't treat me nice.
It kicked my butt and ran me down
and crushed me in its vice.
Love would do me in, I knew.
What saved me from that fate?
You came into my life, of course,
and now love treats me great!
Famous Love Poems For Him That Will Make Him Cry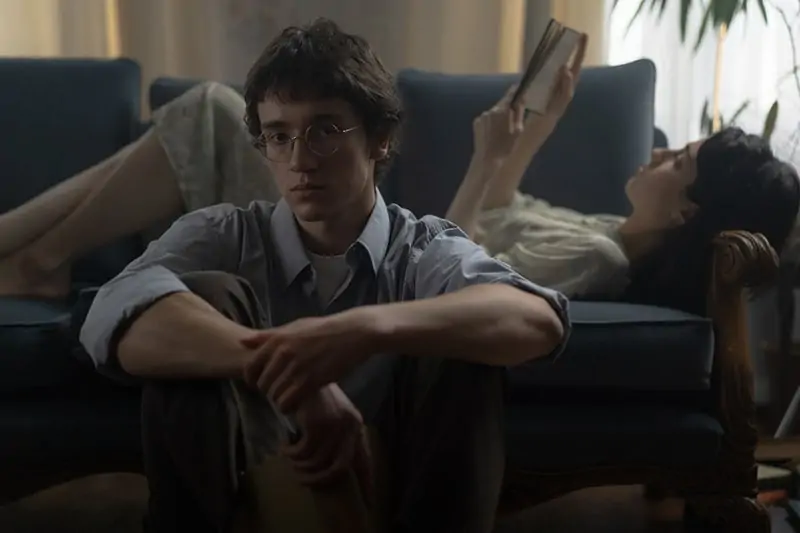 Romantic poems have been the middlemen of love for ages. These famous poems will not only make him cry but also make him feel special:
Shall I Compare Thee To A Summer's Day? (Sonnet 18) By William Shakespeare
Shall I compare thee to a summer's day?
Thou art more lovely and more temperate:
Rough winds do shake the darling buds of May,
And summer's lease hath all too short a date;
Sometime too hot the eye of heaven shines,
And often is his gold complexion dimm'd;
And every fair from fair sometime declines,
By chance or nature's changing course untrimm'd;
But thy eternal summer shall not fade,
Nor lose possession of that fair thou ow'st;
Nor shall death brag thou wander'st in his shade,
When in eternal lines to time thou grow'st:
So long as men can breathe or eyes can see,
So long lives this, and this gives life to thee.
Longing By Matthew Arnold
Come to me in my dreams, and then
By day I shall be well again!
For so the night will more than pay
The hopeless longing of the day.
Come, as thou cam'st a thousand times,
A messenger from radiant climes,
And smile on thy new world, and be
As kind to others as to me!
Or, as thou never cam'st in sooth,
Come now, and let me dream it truth,
And part my hair, and kiss my brow,
And say, My love, why sufferest thou?
Come to me in my dreams, and then
By day I shall be well again!
For so the night will more than pay
The hopeless longing of the day.
You Are My Sunshine By Donna Donathan
You brought me sunshine
when I only saw rain.
You brought me laughter
when I only felt pain.
Romantics at heart?
Love at first sight?
Have I known you before?
God! This feels so right!
Have I met you before?
Another time, another place?
If it's only one night,
will it bring us disgrace?
What are these feelings?
Must they be temporary?
Just to make you happy
seems so necessary.
I want you to know,
'cause I'll never forget –
knowing your smile,
your kisses and yet…
Dreams are something,
that can't always come true,
nothing more we can say,
nothing more we can do.
When You Are Old By William Butler Yeats
When you are old and grey and full of sleep,
And nodding by the fire, take down this book,
And slowly read, and dream of the soft look
Your eyes had once, and of their shadows deep;
How many loved your moments of glad grace,
And loved your beauty with love false or true,
But one man loved the pilgrim soul in you,
And loved the sorrows of your changing face;
And bending down beside the glowing bars,
Murmur, a little sadly, how Love fled
And paced upon the mountains overhead
And hid his face amid a crowd of stars.
My One And Only By Holly Irwin
Since the day we first met,
I knew it was love,
God answered my prayers,
You came down from above…
You gave me your heart,
And taught me to trust,
For the first time ever,
It was more than just lust.
Your sweet loving words,
Are not to be compared,
I am forever your partner,
My soul, I have bared…
Every day I wake up,
With a smile a mile long,
I know that we are solid,
I know that we are strong.
So never put into question,
My feelings being true,
Because I have found my one and only,
And I will always love you.
Final Thoughts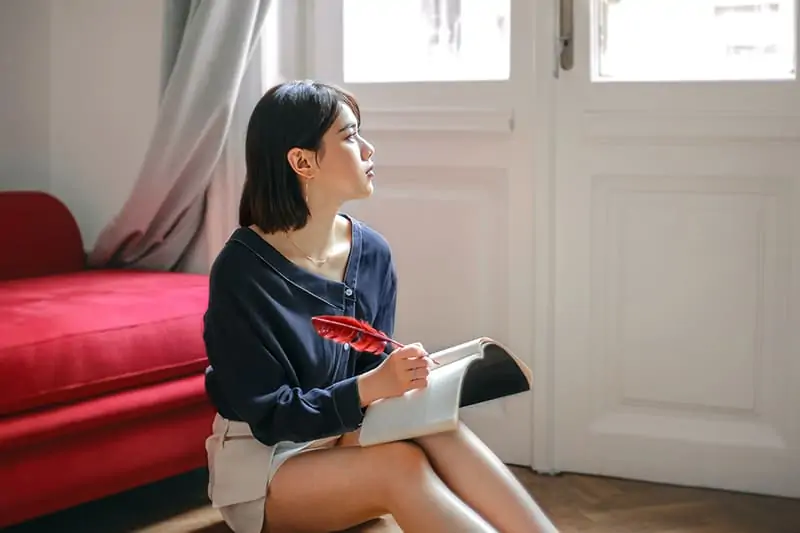 These rhyming (and non-rhyming) beautiful love poems for him are a great gift for Valentine's Day and other occasions. This doesn't mean that you should use these great love poems sparingly.
Surprise your man on a regular day just because. Turn your daily life into a sequence of little things that have the power to glorify love and your ultimate affection.
Hug your man, kiss him, and hold his hand. Let the poems bring you to the romantic land.
P.S. Don't forget to wish your man a good morning with these heartwarming messages: 160+ Heartwarming Good Morning Paragraphs For Him To Wake Up To.