Looking for the hottest make out positions that will make your partner beg for more? Look no more. Welcome and buckle up for the steamy ride!
Basically, the whole idea of making out is that it comes to you naturally.
A forced makeout sesh is never a good idea simply because you are thinking more about the next thing you will do instead of just enjoying the moment and having the time of your life. Your partner will notice that, and frankly, it kills the mood.
I know that everyone's a little nervous their first time (including myself), but the first and the most important thing to understand is that the best make out sessions happen when you're in your most relaxed state and open to trying something new.
If you can't remember the last time you did something out of your comfort zone, then you know that things should change.
Still, going out of your comfort zone doesn't mean doing something just because your partner wants it. If you want to control the whole game of passion and sexuality without ever losing control I strongly suggest exploring Language of Desire.
Finding perfect make out positions is all about exploring your partner's body and testing your comfort zones to find what sensations work best for you. Make out sessions should always be reciprocal and natural.
So, if you feel ready to bring out your inner sex goddess of the make-out realm, down below you will find everything you need to start your steamy journey and bring your intimacy to the next level.
You will find:
What Are The Best Places To Make Out?
Where Do I Touch A Guy When Making Out?
How Long Should A Makeout Session Last?
The Ultimate Tips For The Best Make Out Session
Best Kissing Techniques
The Hottest Make Out Positions To Maximize Your Steamy Sessions (all described in detail).
So, let's get down to it!
What Are The Best Places To Make Out?
The best places to make out are those that provide a comfortable and romantic setting such as beach, bedroom, in the woods, and similar.
If you have never tried to make out near the sea or the ocean, you have no idea what you're missing out! The sound of waves, beautiful sunset, snacks, building sandcastles, splashing water… All these things make the beach makeout truly special and enjoyable.
Another great idea is making out in a swimming pool. After a few drinks and grill, enjoy a sensual make out session in a pool. (Also, don't forget the towels!)
More places that are perfect for making out:
Highway (road trip + parking your car and turning on the parking lights = LOTS OF FUN)
Cinema (a good old movie date with holding hands and caressing one another)
The park (sitting on the bench, making out, and observing nature = 3 in 1)
If you're not a fan of making out in public places, you can always throw a make out session in your backyard (assuming you have one). If you opt for this one, I suggest doing it in the middle of the night beneath the starry sky during summer. (So romantic.)
Where Do I Touch A Guy When Making Out?
You can place your hand on his thigh while talking to him, go through his hair while joking, and once the temperature starts rising, release your inner beast.
We all love to be touched. I mean, who doesn't? Of course, as long as it's someone we like who's touching us.
The whole idea of touching your partner is to show them that you want them and that you want to go further.
Men don't like to make out or even have sex with women who are just laying like starfish or have their arms just resting. Note that this is the body language of a woman who is not interested in participating and reciprocating (if you catch my drift).
It means that you're not into the make out that much, and basically, it feels like something is missing.
And usually the thing that's missing is your enthusiasm which eventually kills the mood.
Put your arms at the back of his neck and pull him closer while kissing. Don't be embarrassed to start undressing him while making out because it will show him that you want him, and is there a better aphrodisiac than knowing your partner wants you?
The whole conflict of your wild and shy sides will drive him crazy and make him fall head over heels for you !
How Long Should A Makeout Session Last?
A regular makeout session should last around 4 to 10 minutes but still, this is an individual thing and it depends on your preferences, personality, and current mood.
I personally prefer making out for about 5 to 6 minutes when I don't intend on letting things get more steamy. If you plan on getting more intimate, then your makeout session can last for much longer (20 to 30 minutes).
However, if you don't plan on getting more steamy, 30 seconds to 3 minutes or 4 to 10 minutes should suffice (before you tear each other's clothes off).
Some marathon maker-outers will probably find 20 minutes too short but keep in mind that anything more than that might create a countereffect and result in decreasing passion before you finally decide to go for a bit more action.
The Ultimate Tips For The Best Make Out Session
Be the one in charge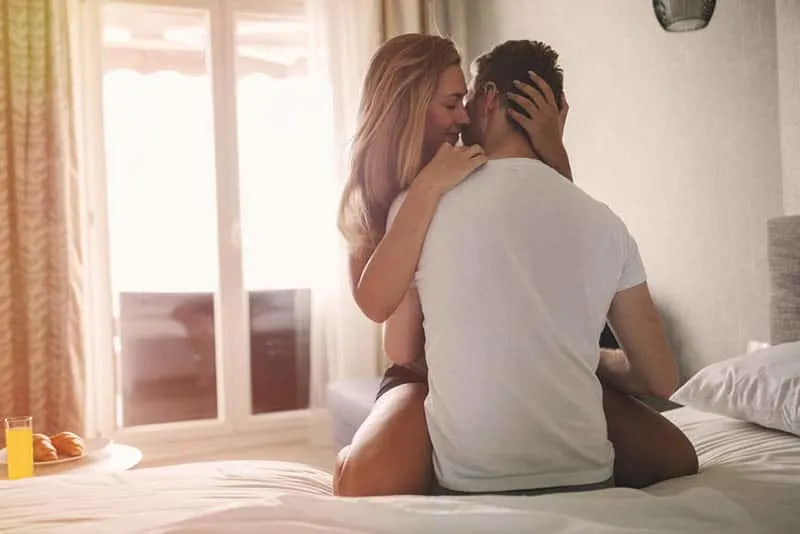 It's the easiest thing to do to let the passion lead the way. You're getting there, he's heated, and you know that you'll get some, so your work there is done, right?
Wrong. Show him that you are the one in charge, which basically you are.
So, why not make use of it? When you're making out with him, be the one on top or sit in his lap, so you will be the one who controls the tempo. Build up the heat with kisses and touches.
Tear off his clothes, and when you feel like you can no longer can take it, feel free to whisper something dirty in his ear or even be the one who will push him onto the bed and lead all the way.
Switching positions and power between the both of you is what makes great sex.
Or at times when you want to play with him, make out to the point where he no longer can take it and pull back.
Deny him sex, and it will only make him want it more the next time you meet up.
Men are hunters and being smart prey is what spices up your entire relationship.
Which makes us wonder: who is the real hunter here? Poor lad won't even know what hit him.
The teasing game goes a long way
Men don't love foreplay as much as women do because one touch in the strategic place is enough for them to be ready.
But we need quality time to get there, and to get off, we really need to be heated up. So, make him love it as much as you do.
Throw in some lip action, girl! Tease him with passionate French kisses or by kissing your partner on other places than just his lips, pull away when he's least expecting it, and push back with even more passion and desire.
Nibble his ears and give him a mischievous smile while walking away from him.
Make him chase you, and don't be afraid to make it playful. (Every good kisser knows that.) There is no perfect formula for great sex, so you might as well do it the way you like.
Chasing, playing various sexy games, teasing or even dancing while doing it—the possibilities are endless. The only rule: enjoy it!
Mix it up
Transform your next makeout session from vanilla to amazing! When starting, go sensually and slowly. Keep eye contact, and run your hands through his hair.
Make the kisses last, and genuinely enjoy every second you get to spend while kissing him.
Wrap your legs around him, and show him that you want him, right then and there, but still take your time until you are ready.
Pay attention to his erogenous zones, and have no shame in guiding his hands towards yours.
After all, the whole point of doing this is to build intimacy and spice up your sex life in a slightly different way. But keep in mind that long foreplay sessions usually tend to get boring if we are not switching it all up.
Start slowly, and then pick up the pace; then cut him off and tease him for a minute or so; then go slowly again.
Go crazy with different types of kisses (including the ' Spiderman Kiss ') and hands in his hair, and then let him take the lead while you're enjoying yourself.
Be the one in charge, and then hand over the power to him. This way, neither one of you will get bored, and you'll get the most out of your make out session with him.
After all, in these cases, it's okay to be selfish for a bit—as long as you don't roll over and go to sleep the moment you finish. Oh wait, that would be men. Never mind.
See also: 10 Bedroom Rules To Spice Up Your Sex Life
BE BOLD!
Take the initiative from time to time. Don't just sit/stand/lay there and make him do all the heavy lifting. Participate.
Show him you are really into making out and really into him, and he'll be eating from the palm of your hand.
Put all your insecurities aside. Don't allow them to stop you from having the time of your life—in and out of bed with your man.
The best turn on for him will be seeing you happy and satisfied. So trust me, confidence is the key !
If you are still full of self-doubts, just remember he is kissing you, watching you like a piece of great chocolate cake.
His heartbeat races when he's by your side, and there is a tent in his jeans. What more proof do you need to confirm that he loves the way you look?
Don't look at making out as something that necessarily leads to sex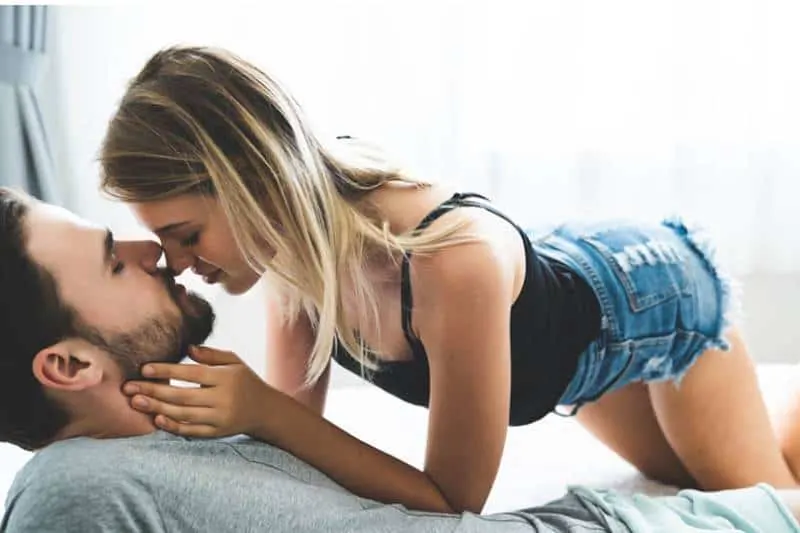 Sometimes you can make out for the sake of making out; for the sake of being close and building bonds with your partner that are more intimate than sex will ever be. (Keep in mind this one next time you're Netflix and chilling.)
These tips are supposed to serve you as a sort of a guide for the real action, but they shouldn't be on your mind all the time.
As I said at the beginning, if you don't relax and enjoy the moments you spend making out, it will all be for nothing.
You will be too stiff, and it won't go all that well. The best way to look at this article is as something that gives you an additional value.
Something that sparks your imagination and makes you try new and exciting things.
Don't be afraid to spice things up, and mix them up a bit. Make sure you are open and honest with your partner and that you tell him if you don't like something.
Remember: this is about your pleasure, too.
Likewise, give him a hint of what you do like. You don't have to always express it in so many words. Sometimes a smile or a moan will do the trick. Your intention is to make him do it again.
Confidence is the key!
The sexiest trait of them all is confidence. Being a true freak in the sheets has everything to do with it. There's no man out there that can resist a confident woman—a woman who knows what she wants, a woman who knows her value and is not afraid to show it.
You want him? Go for it. You want him to kiss you? Tell him. You want him to touch you? Lead his hands all over your body; he'll get the hint.
Don't be afraid to go after things you want in bed, as long as you know he's okay with them. Kinks and sexual fantasies need to be discussed before, but you already know that.
And all those flaws you think you have, and you think he'll hate? Stretch marks, a little bit of belly fat or whatever it is? He doesn't see them. Trust me.
I hated my body for too long because of the toxic relationship I was once in, and it took me too long to realize that I'm the only one who sees these imperfections.
When you're having the time of your life, when you're moaning and enjoying the moment, he will only see the light in your eyes, the passion in your voice, and the desire in your movements.
When you're enjoying yourself, you are looking like a true goddess, and no man can resist that.
So, let go of all those flaws and fears—embrace the truth that you're flawless!
Best Kissing Techniques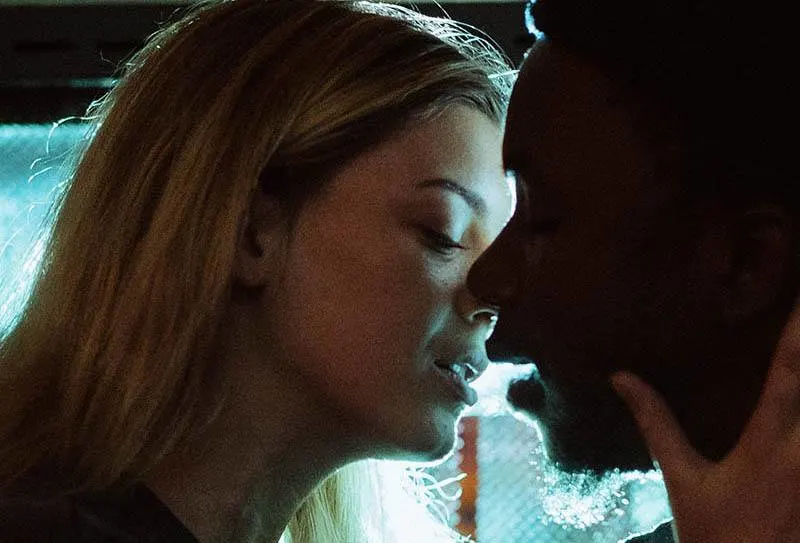 Now that you know some essential tips on how to make your make out session a great one, here are some basic kissing techniques which give not-so-basic results.
Basically, with a little bit of effort, you can knock him off of his feet, and he'll be looking forward to returning the favor.
On the other hand, there's a high possibility that you're already doing these. You go, girl! Also, if you feel ready to skip to hot make out positions instead, just continue reading below !
Nibbling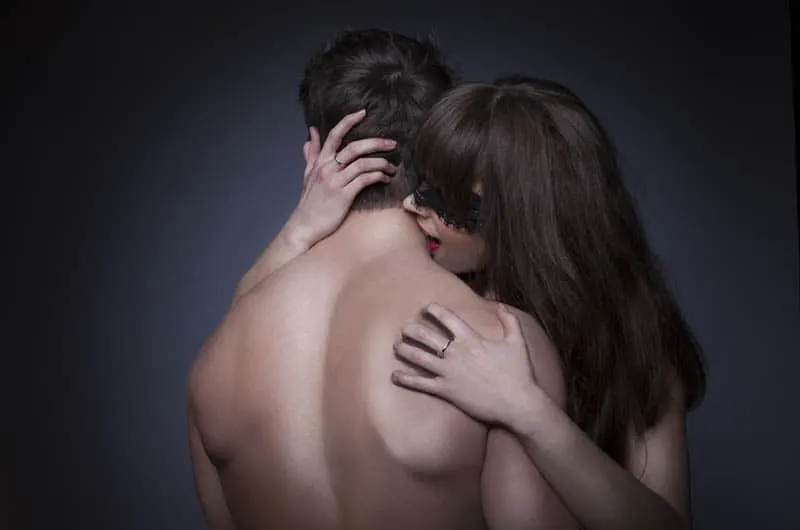 A good kiss is worth a million, so mastering a few different techniques will be a good "investment".
Using your teeth while kissing is a huge turn-on (well, as long as you don't turn all cannibal mode).
Go easy on it, and remember that first kiss should always be light! You don't want to jump into nibbling a little bit sooner than you should so that you don't ruin the mood.
Nibbling should occur somewhere in the middle of the makeout sesh.
So, when you're kissing him, lean in, grab his bottom lip between your teeth, and gently pull away. It's only to give him a little bit of a different sensation than the one he gets when you're just kissing.
You can nibble both of his upper and lower lips, his tongue, his earlobes —there's no limit…as long as you're gentle and playful.
Sucking – but not too much!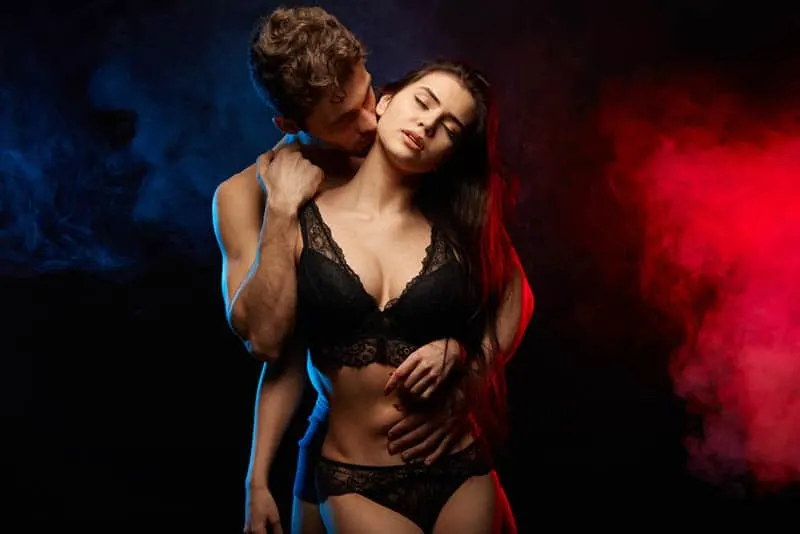 Remember that you're not a vacuum cleaner (which could be said to many men I've dated so far).
Go easy on it—suck on your partner's lips, on his neck or earlobe. It's all up to you.
The idea is the same as the one with nibbling —to give him a little bit of a different sensation than the one he's used to.
Just make sure not to leave hickeys on his neck while you're sucking. You are no longer teenagers!
Also, make sure to find a perfect kissing position for the best make out sessions.
You see, it's all about including as many different sensations as possible and finding the best kissing position for the ultimate pleasure.
You can try one of the following best positions :
Chest to chest where you gently straddle your partner as you kiss
Side by side where you sit or lay down next to your partner and give him the side-by- side kiss (perfect for long, cuddling sessions)
Missionary where you're on top of your partner and kiss.
See also: 5 Intimate Sex Positions That All Couples Should Try
Handsy, handsy
This is the one rule that's always worth repeating and the one you should never forget.
Imagine that you're kissing someone or making out with them and their hands are just laying there. You feel like you're kissing a puppet—there are no emotions, no desire and no passion.
Which is why it's really important to include hands in your game. Touch his neck, his chest, pull him closer or push him away, then bump into him once more.
Think of it like a game—just have fun and enjoy it. Pull your hands through his hair, around his neck, all over his back. Wherever you feel like it, just follow the feeling.
Some ear action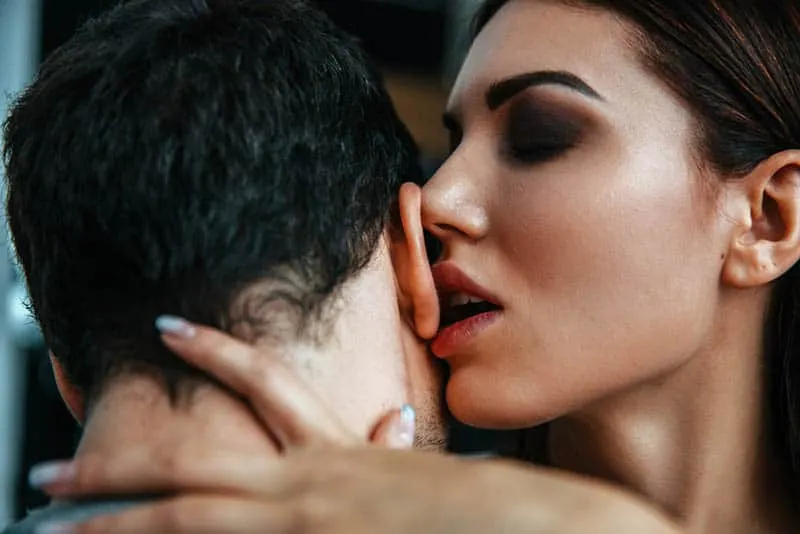 You may already know this, but just in case not, here it is: ears are one of the most sensitive parts of the body.
Just a slight sucking on them can make him go crazy for you and turn up the heat.
You can kiss them, gently breathe into them (don't blow or you will hurt him), moan into his ears, whisper lovey (" I love you ") or dirty things, suck them or really gently, and I mean really gently, nibble on them.
When you're nibbling on his ears, you have to go even easier than you would go on his lips.
Since they are really sensitive, you need to be really careful. But just one gentle nibble will get him turned on…a lot. So, go for it!
The neck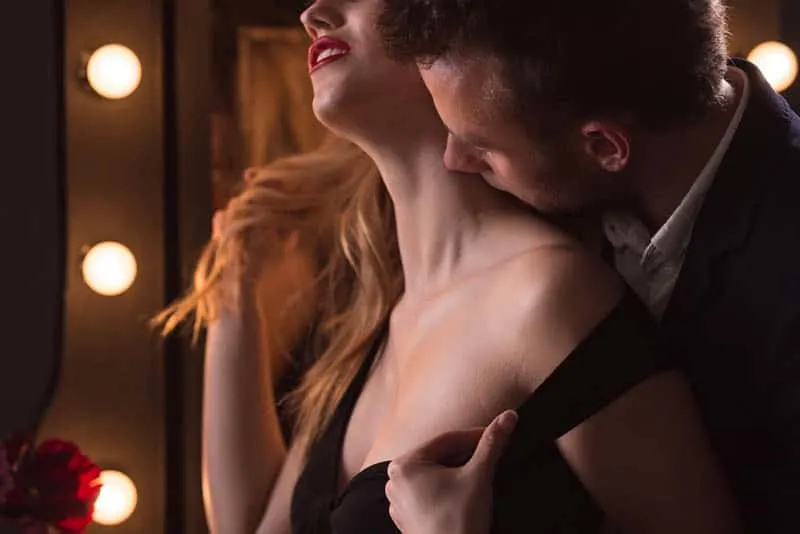 When you're kissing or making out, don't ignore the neck. Same like women love to be kissed on the neck, men enjoy it too.
And what is more important, the neck is loaded with nerve endings, and that is why this area is so sensitive to touch.
Try moving your way down his jawline to his neck, then suck it, nibble it, or completely cover your partner's neck in kisses (and don't forget to include his collar bone as well).
The whole idea is that you show him how much you're into him, and men tend to learn from example. If you pay attention to his neck, his ears or other erogenous zones, he will do the same to you.
And is there a better relationship than one where both partners care about the pleasure of the other one? I thought not.
See also: Neck Kiss : All You Need To Know About This Sensual Gesture
Easy on the tongue!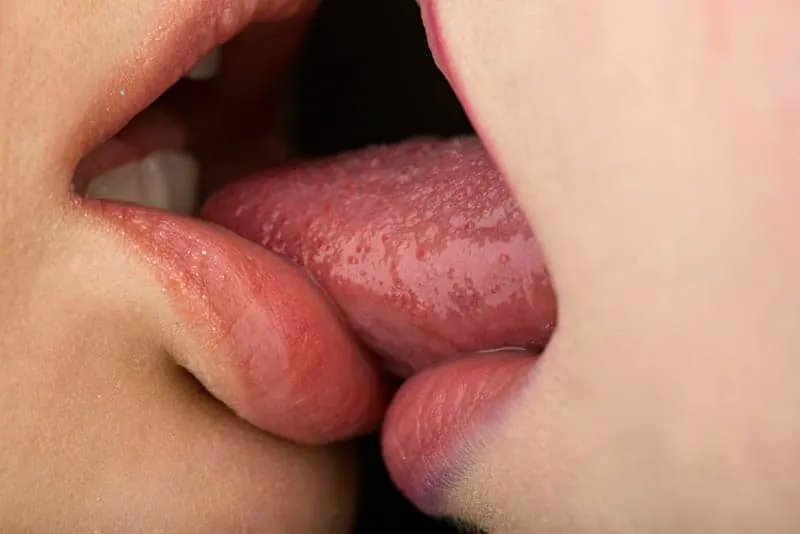 This is not exactly a technique, but the reason it's here is because it's incredibly important to keep in mind. We've all had some really bad experiences when it comes to French kissing.
Too much tongue can feel like you're kissing a car-cleaning machine or like you are sword fighting with your tongues—which is not only unpleasant to the eye but really and truly sucks.
Glide your tongue against theirs. Go easy on it or use it to gently lick their neck right before you kiss it.
There's no need to push your tongue down his throat (this goes both ways, gentlemen!) or avoid using it at all.
Finding the middle ground with your partner is what you're looking for, and it's not that hard to achieve once you get their rhythm.
The Hottest Make Out Positions To Maximize Your Steamy Sessions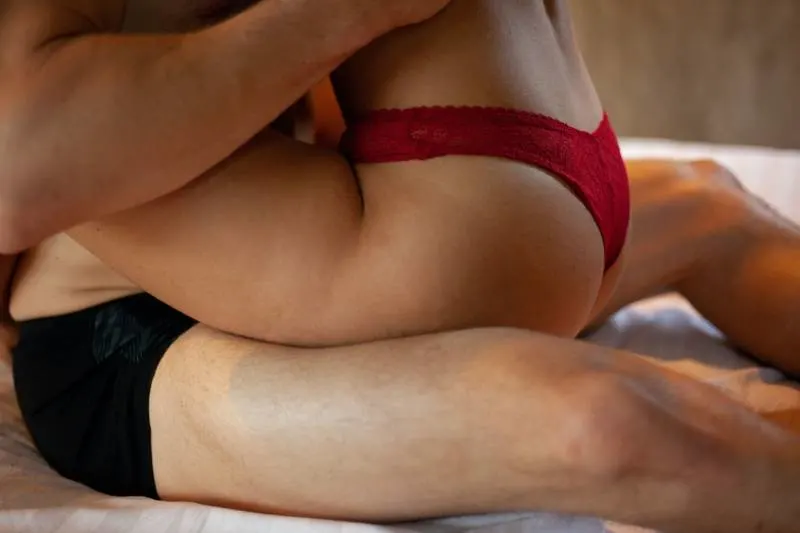 And now that we covered some basic tips and kissing techniques which can already make you a true make out goddess, let's hit it with the make out positions —which is why you're actually reading this article.
And have no worries, you don't have to be a world gymnastic champion or made of rubber to do any of these. The only thing you need is a strong will and patience!
Lap dance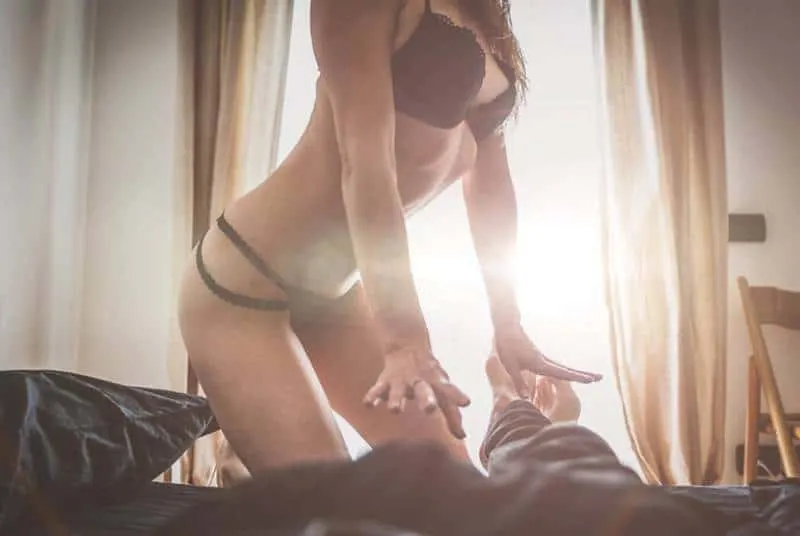 Spice things up with a little twist on your make out session.
Pull out some easy and seductive music, and put on some sexy lingerie to show yourself in all of your beauty.
Trust me, he will have eyes only for you. And this is a great position, not only for lap dances, but also for every kind of make out session.
You can do this while you two are sitting on the couch, watching TV, while he's eating his dinner or working at his desk. Surprise him or just follow your gut, and do as you feel is right in the moment.
And you can do it while facing him, so you can build up the intimacy once again with slower kisses and cuddles or you can turn your back to him to make it more naughty and kinky.
Another great kick for this position is to do it in front of a mirror while your back is turned to him.
It gets you that ego boost you need, when you see yourself rocking it and him in complete awe, and well, it just looks like a great movie kind of move to pull.
Missionary position
You may think that this is a regular position, something you do all the time, but this is a great position to maximize the intimacy between the two of you.
You can keep constant eye contact, and it is a perfect kissing position as well.
You can hold his face while kissing, and hug him tightly when the moment asks for it. There is a reason why this is a favorite position for men.
They get to see your face while doing it, and that way, they can know if they're doing it right. So, don't be embarrassed about the faces you're making. They are incredibly important for both of you to get the best of it.
And they love this position especially because they're in control, which is an aphrodisiac on its own.
He can nibble your ears, kiss and bite your neck, pin your hands over your head and let's be real here—it all feels amazing, especially knowing that we have someone who enjoys making us happy.
And there's a reason why we all did that dry humping while being teenagers.
It stimulates the real deal, and especially in this position, it will get him to the edge of his nerves. It is a seriously great way for you to maximize the stimulation of your lady zone.
Spooning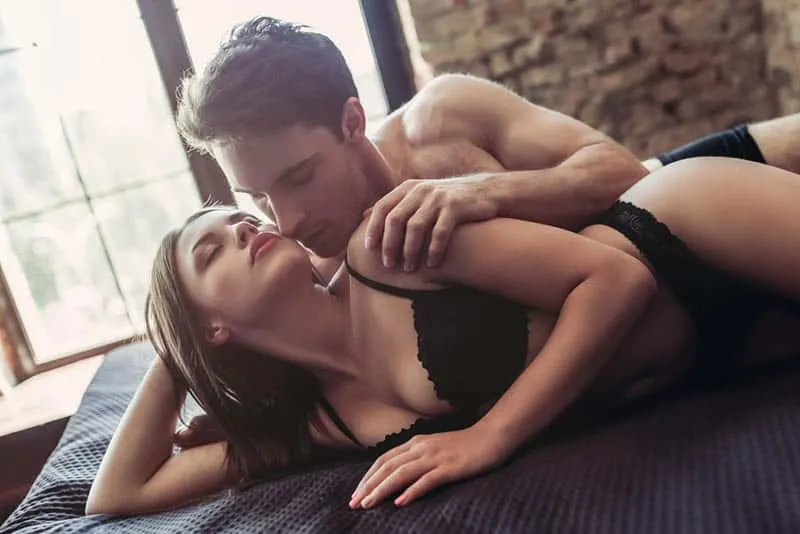 In times when you are not in the mood for a lot of action or for much movement and you just need to lie next to each other and enjoy the time you're spending together, spooning is the perfect position for you.
This is also the perfect position for the days when you just want to be together without making love—or you just finished but you still want to be close to each other.
You can breathe together and sync your heartbeats while he's hugging you from behind.
You can kiss while spooning, and there's still space for him to simulate love making movements to build up the tension.
And it is also a great way to make love when you just want to go easy and steady, enjoying the time you have together with no rushing.
And once more, he is mostly the one in charge here. His hands can roam all over your body, and you can slightly turn around to kiss him, grabbing the back of his head with your hand to show that you are enjoying it.
But honestly, this is the best post-coital position because he can just breathe in your smell, and you get to fall asleep while your hearts are beating together. There's something utterly romantic about that.
Against the wall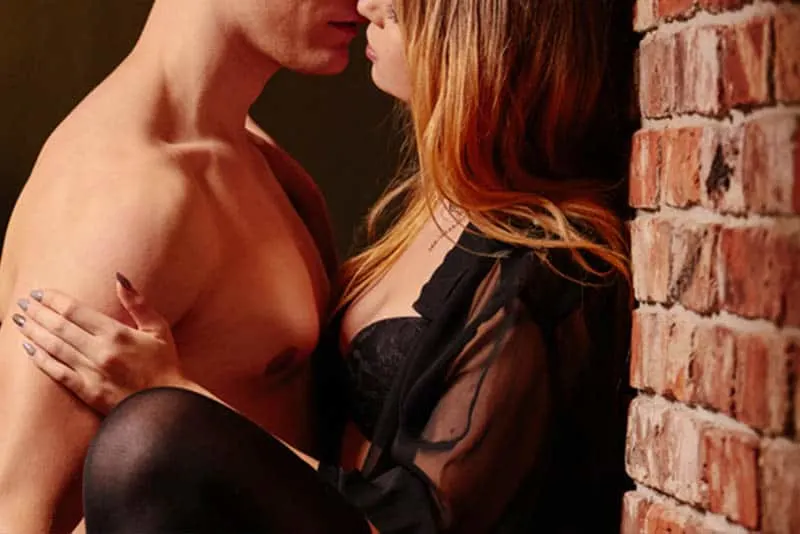 There is something so hot when he pins you to the wall, put his hands behind your neck and head, and gives you that movie kind of kiss.
The one that melts your legs and takes away your breath. While having sex against the wall is highly impractical and difficult to do, making out against the wall is the most perfect position for that steamy night of passionate sex.
There is a lot of room for your hands to wander around, undressing is much easier, and he can even lift you up, so you can wrap your legs around him.
And while you're in that position, he can easily take you over to the bed and continue the action there.
There is a reason why in movies, they always show this position when they want to express how passionate a couple is.
He can kiss your neck (fellas, that's a sure ticket to Wonderland—do it for heaven's sake!), nibble your ears and all while you're enjoying the view.
And that's one hell of a view, let's be real ladies!
Love on top!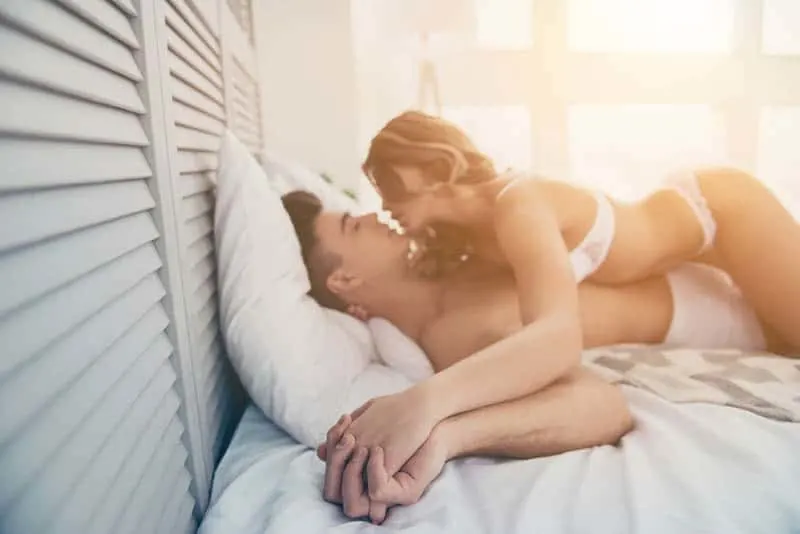 Pin your man to the bed (or the floor, we're not judging), straddle him, and kiss the hell out of him. There is something about a woman who knows what she wants and goes after it that makes men go crazy.
Or it could be the fact that you want them. But whatever it is, it's incredibly and super sexy all together.
Pull his hands over his head, and take time to explore his body and his erogenous zones.
It is a great way to learn what he likes, and it's also a great way for him to feel wanted and appreciated.
Plus, he gets to see you in all of your glory! He will surely want to return the favor, trust me.
Sitting side by side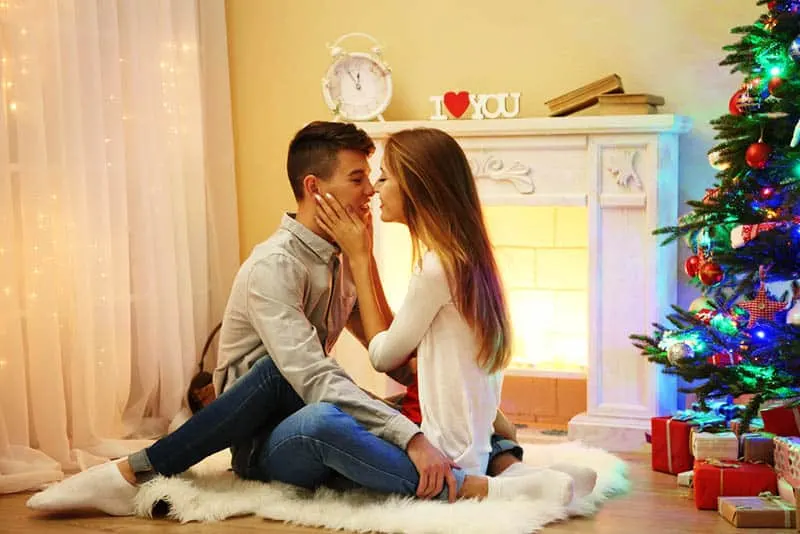 Even though this one sounds a little bit weird at first, trust me—this make out position is totally hot.
Let's say that you're sitting on a couch watching TV.
The sitting side by side position includes sitting next to each other where you have your legs pressed up against each other and hands on the back of each other's head.
This one is all about temptation. This type of make out position will make you want more and more which is the main ingredient when it comes to reviving passion and a steamy atmosphere.
It will be hard to resist not jumping on each other after a few minutes which will turn your make out session into the hottest one ever!
Final Thoughts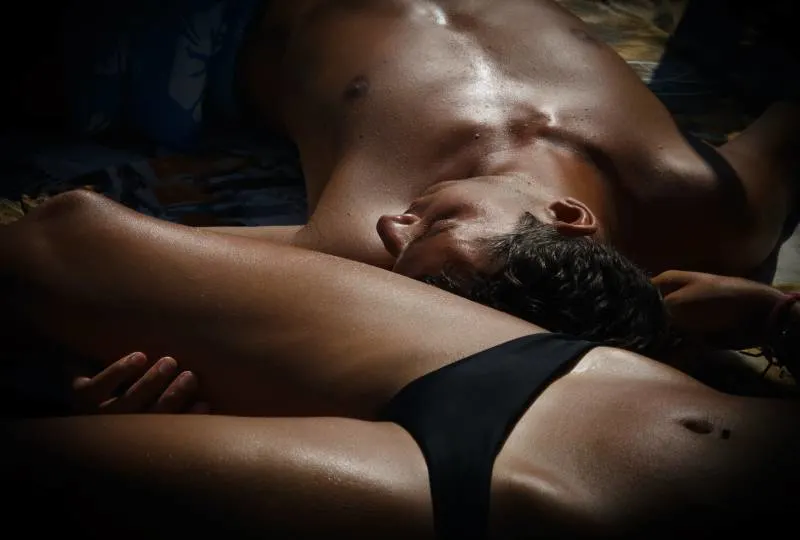 Making out is something that should never go out of style. With these make out positions and kissing techniques, you can't go wrong.
You will be a true goddess in his eyes. But above everything else, you have to remember that it all starts with you—or to be more precise with your confidence.
A confident woman is one that's impossible to resist. There's nothing sexier than a woman who knows her value and is not afraid to show it.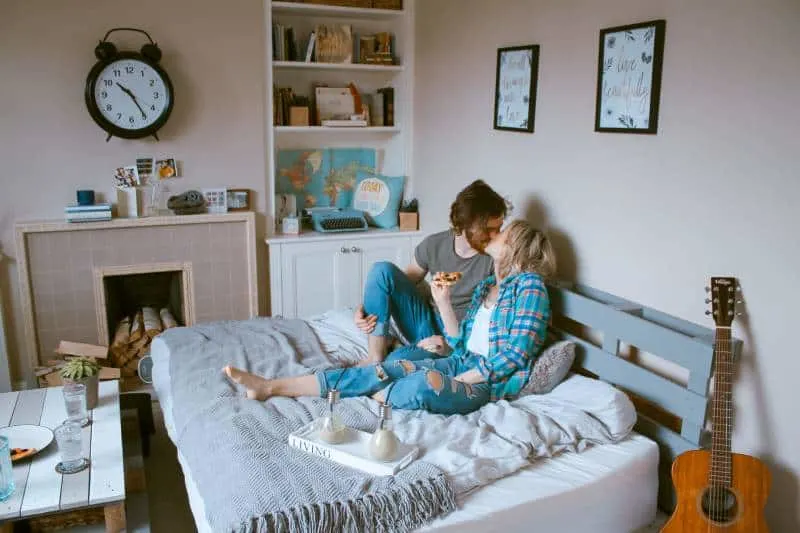 Remember: Never underestimate the power of a kiss.
Kiss often. Passionately. Kiss him good morning. Kiss him goodnight.
Kiss him whenever you feel like it because a simple kiss is enough to make someone's day a whole lot better.
A kiss is like saying, " I want you" ; I am grateful to have you; I care for you" without uttering a single word.