A kiss is never just a kiss. There is so much more to it than people care to admit. And these remarkable kiss quotes will give you a pretty good idea of why that is.
Whether you prefer a gentle peck on the cheek, a meaningful forehead kiss, or a passionate kiss on the lips, you can't deny its power.
A kiss manages to encapsulate all the feelings you're unable to vocalize.
It might sound cheesy (guilty), but nothing can give you that warm, fuzzy feeling in your stomach like kissing the one you love.
If you're lucky enough to have experienced that all-encompassing kind of love, you know exactly what I'm talking about. And that's what I'm going to delve into in this article.
If you've read our empowering and inspirational quotes, these insanely romantic quotes, and cheeky love quotes, then you may proceed to these kissing quotes as the perfect icing on the cake.
Below, you'll find some lovey-dovey first kiss quotes, adorable forehead kiss quotes, and some cute bliss quotes that are all about a kiss leaving you wanting more.
See also: These 4 Signs Are The Best Kisses Of The Zodiac
The Beauty Of A Kiss Quotes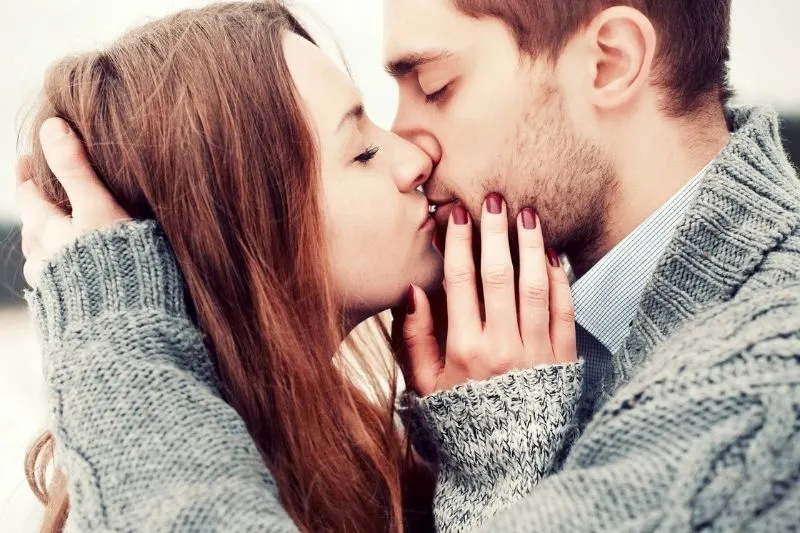 A list of love quotes that perfectly describe everything surrounding the intimate act of kissing the one you're drawn to (and so much more).
1. "Kiss me, and you will see how important I am."―Sylvia Plath
2. "Do not fall in love with people like me. I will take you to museums, and parks, and monuments, and kiss you in every beautiful place, so that you can never go back to them without tasting me like blood in your mouth. I will destroy you in the most beautiful way possible. And when I leave you will finally understand, why storms are named after people."―Caitlyn Siehl
3. "Make me immortal with a kiss."―Christopher Marlowe
4. "'What would you do if I kissed you right now?' I stared at his beautiful face and his beautiful mouth and I wanted nothing more than to taste it. 'I would kiss you back.'"―Michelle Hodkin
5. "Kiss me until I forget how terrified I am of everything wrong with my life."―Beau Taplin
6. "A kiss on the beach when there is a full moon is the closest thing to heaven."―H. Jackson Brown Jr.
7. "You should be kissed and by someone who knows how."―Margaret Mitchell
8. "He kisses me like he's giving me every kiss he wishes he could have given me the past, and every kiss he'll wish he could give me in the future. All at once."―Colleen Hoover
9. "…and kisses are a far better fate than wisdom."―E. E. Cummings
10. "A man snatches the first kiss, pleads for the second, demands the third, takes the fourth, accepts the fifth – and endures all the rest."―Helen Rowland
11. "A kiss may ruin a human life."―Oscar Wilde
12. "Kiss and make-up, but too much makeup has ruined many a kiss."―Mae West
13. "We are all mortal until the first kiss and the second glass of wine."―Eduardo Galeano
14. "As in the soft and sweet eclipse, when soul meets soul on lover's lips."―Percy Bysshe Shelley
15. "There was no time for kissing but she wanted him to know that in the future there would be. A kiss in so much loneliness was like a hand pulling you up out of the water, scooping you up from a place of drowning and into the reckless abundance of air. A kiss, another kiss."―Ann Patchett
16. "Kiss thy lips and you will see what thou create."―Santosh Kalwar
17. "As I kissed her the heat of her body increased, and it exhaled a wild, untamed fragrance."―Gabriel García Márquez
18. "I hope I haven't given you the impression that I consider kissing intrinsically irrational."―F. Scott Fitzgerald
19. "With kisses like that, I wish this was the universe where you were my soul finder."―Joss Stirling
20. "For one entire day I let his kiss burn on my cheek and into my blood and I don't push the memory away… This kiss, these words, they feel like the beginning."―Ally Condie
21. "He nodded and leaned down to kiss me. I let him, Dad be damned."―S.C. Stephens
22. "I don't know much about kisses, but I can assure you that hers were no less fierce than a swarm of bullets tearing the air."―Xavier Velasco
23. "Kiss me, so long but as a kiss may last!"―Percy Shelley
See also: A Kiss On The Cheek – Meanings And 12 Different Types Of Kisses
Best Quotes And Sayings About Kissing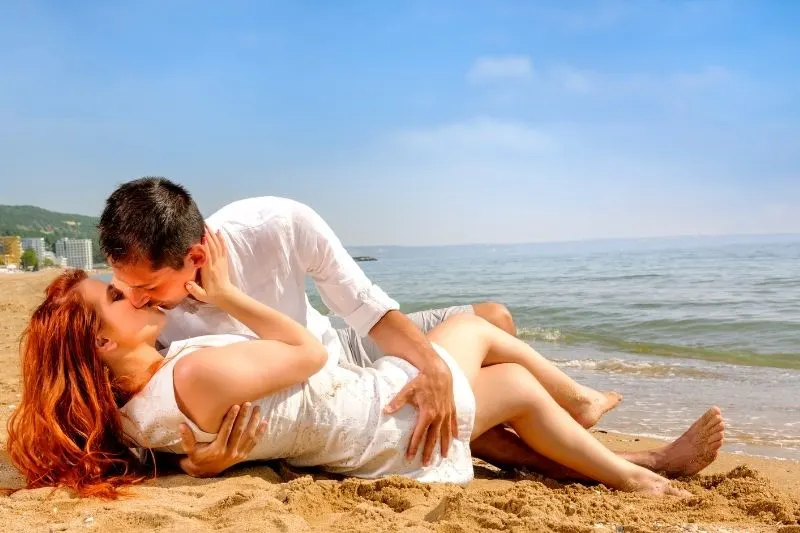 Inspirational quotes that will make you want to send one of these to your bae and get them to kiss you ASAP.
1. "One day you will kiss a man you can't breathe without, and find that breath is of little consequence."―Karen Marie Moning
2. "It's the kind of kiss that inspires stars to climb into the sky and light up the world."―Tahereh Mafi
3. "'Where should one use perfume?' a young woman asked. 'Wherever one wants to be kissed.'"―Coco Chanel
4. "When I met you, I was afraid to kiss you… When I kissed you, I was afraid to love you… Now that I love you, I'm afraid to lose you."―Unknown
5. "Give me a kiss, and to that kiss a score. Then to that twenty, add a hundred more: A thousand to that hundred. So kiss on, to make that thousand up a million. Treble that million, and when that is done, let's kiss afresh, as when we first began."―Robert Herrick
6. "May I kiss you then? On this miserable paper? I might as well open the window and kiss the night air."―Franz Kafka
7. "Teasing's part of the fun that comes before kissing."―Lois Lowry
8. "Grey rocks, and greyer sea. And surf along the shore, and in my heart, a name my lips shall speak no more."―Charles G. D. Roberts
9. "I'm going to kiss you now, and I don't know if I'll ever stop."―Jamie McGuire
10. "A sunset is the sun's fiery kiss to the night."―Crystal Woods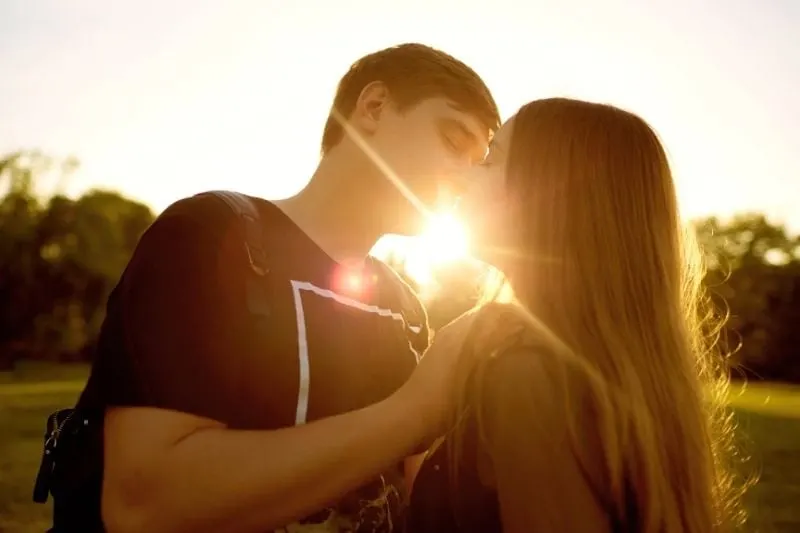 11. "Any man who can drive safely while kissing a pretty girl is simply not giving the kiss the attention it deserves."―Albert Einstein
12. "You are my best friend as well as my lover, and I do not know which side of you I enjoy the most. I treasure each side, just as I have treasured our life together."―Nicholas Sparks
13. "Not in death, but just in sleep, the fateful prophecy you'll keep. And from this slumber, you shall wake, when true love's kiss, the spell shall break."―Sleeping Beauty
14. "Ergo: girls should always make the first move, because (a) they are, on the whole, less likely to be rejected than guys, (b) that way, girls will never get kissed unless they want to be kissed."―John Green
15. "You've got an awfully kissable mouth."― F. Scott Fitzgerald
16. "He took her into his arms again, using all his strength to be gentle, and let his lips touch hers so lightly he could hardly feel it."―Morgan Llywelyn
17. "And when it comes, her kiss is like something not so much felt as found."―Libba Bray
18. "All you have to go on is the faith of a kiss."―Whitney Otto
19. "His kisses tapped into deep mines of memory, and the years that had separated us fell away as if they were nothing."―Lisa Kleypas
20. "There's a pause so yawning I can't help but think about what it would be like to lean in and kiss her, but if I'm getting the signals wrong then I'm about to destroy the best run we've had all evening. It's been at least ten minutes since I've done or said anything stupid."―Leanne Hall
21. "Lips that have tasted the salt of tears always give the sweetest kiss."―C. J. Carlyon
22. "He pulled her close, kissing her mouth taking her by surprise. He stepped back with passion smoldering in his eyes. She looked at him touching her mouth where his kiss still burned."―Amanda Stephan
23. "I kiss her. I kiss her and kiss her. I try not to bite her lip. She tastes like vodka-honey."―Lidia Yuknavitch
See also: Neck Kiss: All You Need To Know About This Sensual Gesture
Kissing Quotes That Give You That Fuzzy Feeling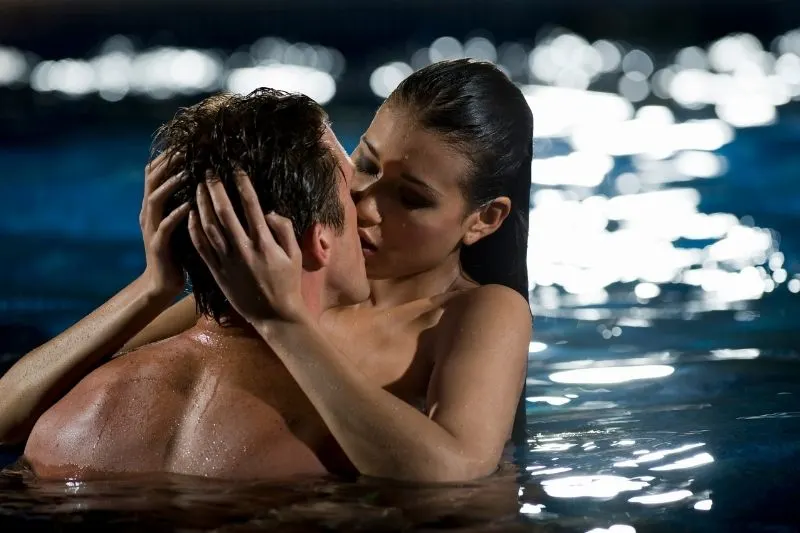 What could possibly give you that warm, fuzzy feeling better than a salacious kiss by the only person you have eyes for?
1. "I didn't want to kiss you goodbye – that was the trouble – I wanted to kiss you good night – and there's a lot of difference."―Ernest Hemingway
2. "I was going to kiss him, and I was going to regret it. But at that moment, I couldn't bring myself to care."―Michelle Hodkin
3. "Close your eyes and I'll kiss you. Tomorrow I'll miss you."―Paul McCartney
4. "it's a smile, it's a kiss, it's a sip of wine it's summertime!"―Kenny Chesney
5. "Now a soft kiss – Aye, by that kiss, I vow an endless bliss."―John Keats
6. "Such a little thing really, a kiss… most people don't give it a moment's consideration. They kiss upon meeting, they kiss on parting, that simple touching of the flesh is taken entirely for granted as a basic human right."―Sarah Kay
7. "Then he kissed her. At his lips' touch she blossomed for him like a flower and the incarnation was complete."―F. Scott Fitzgerald
8. "I was born when you kissed me. I died when you left me. I lived a few weeks while you loved me."―Dorothy B. Hughes
9. "As soon as lovers' lips touch, their souls touch each other at the same time."―Unknown
10. "Hollywood is a place where they'll pay you a thousand dollars for a kiss and fifty cents for your soul."―Marilyn Monroe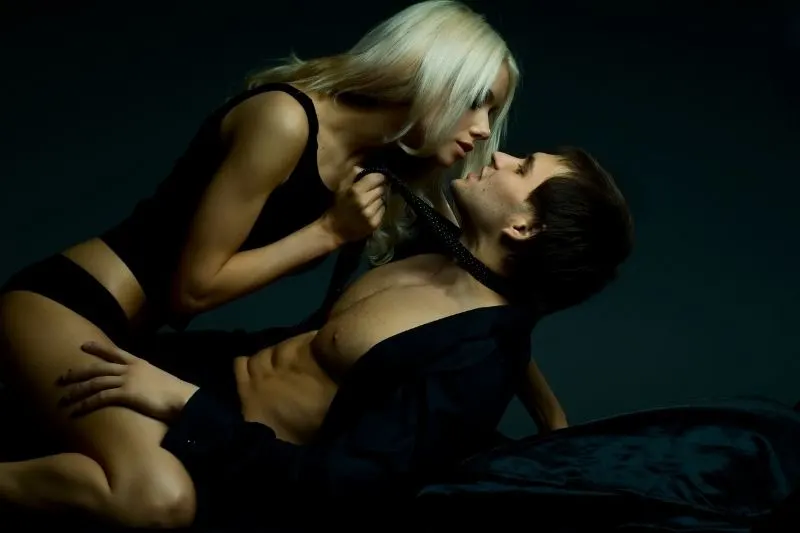 11. "The sound of a kiss is not so loud as that of a cannon, but its echo lasts a great deal longer."―Oliver Wendell Holmes
12. "The kiss itself is immortal. It travels from lip to lip, century to century, from age to age. Men and women garner these kisses, offer them to others and then die in turn."―Guy de Maupassant
13. "Impulsively, I lean forward and kiss him, stopping his word. This is probably overdue anyway since he's right, we are supposed to be madly in love."―Suzanne Collins
14. "The first kiss can be as terrifying as the last."―Daina Chaviano
15. "'Don't you want me to kiss you goodbye, sweetie?' 'Kiss a cow farm boy.'"―Nora Roberts
16. "How she felt when he kissed her – like a tub of roses swimming in honey, cologne, nutmeg, and blackberries."―Samuel Sullivan Cox
17. "And then, just at that moment, when I'm no longer sure if I'm dreaming or awake or walking some valley in between where everything you wish for comes true, I feel the flutter of his lips on mine, but it's too late, I'm slipping, I'm gone, he's gone, and the moment curls away and back on itself like a flower folding up for the night."―Lauren Oliver
18. "Green trees against the sky in the spring rain while the sky set off the spring trees in the obscuration. Red flowers dot the land in the breeze's chase while the land colored up in red after the kiss."―Gayle Forman
19. "A light rain touches my cheek like an angel's butterfly kisses."―Amanda Mosher
20. "My lips are like a camera for her, whenever I click her with my lips, she smiles."―Himanshu Chhabra
21. "He had kissed her good night that night, and she had tasted like strawberry daiquiris, and he had never wanted to kiss anyone else again."―Neil Gaiman
See also: What Does His Kiss Say About His Feelings Toward You?
Romantic Quotes About The Power Of A Kiss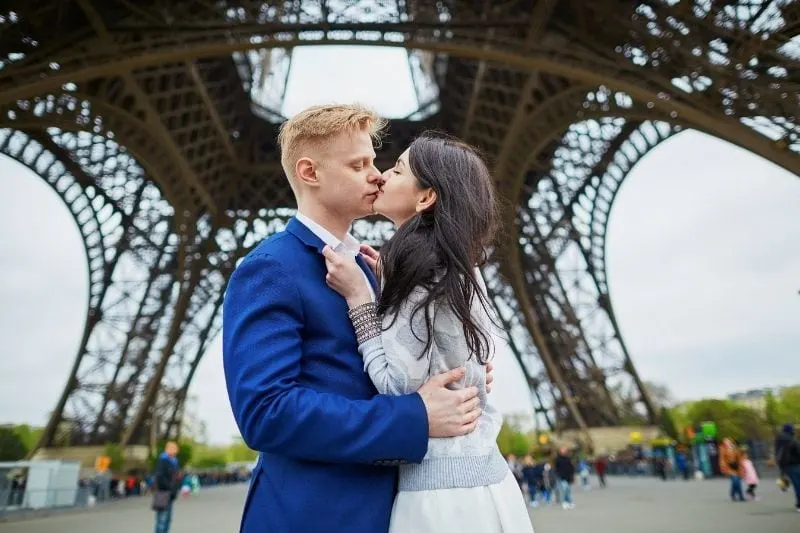 How can one kiss make you forget all about the world around you in an instant? These romantic kiss quotes are all about the power of a kiss.
1. "I'm oxygen and he's dying to breathe."―Tahereh Mafi
2. "The sunlight claps the earth, and the moonbeams kiss the sea: What are all these kissings worth if thou kiss, not me?"―Percy Bysshe Shelley
3. "A kiss is a secret which takes the lips for the ear."―Edmond Rostand
4. "A kiss is a lovely trick designed by nature to stop speech when words become superfluous."―Ingrid Bergman
5. "'Kiss me again,' he says, drunk and foolish. 'Kiss me until I am sick of it.'"―Holly Black
6. "If we're going to kiss, it has to be book-worthy."―Colleen Hoover
7. "Kiss me until I forget how terrified I am of everything wrong with my life."―Beau Taplin
8. "I will bathe in your warmth ma petite. Roll you around me until my heart beats only for you. My breath will grow warm from your kiss."―Laurell K. Hamilton
9. "How did it happen that their lips came together? How does it happen that birds sing, that snow melts, that the rose unfolds, that the dawn whitens behind the stark shapes of trees on the quivering summit of the hill? A kiss and all was said."―Victor Hugo
10. "We kissed each other until we were too tired to keep going. I could still feel him holding back. It was my penance for what I had done to him. All I could do was hope the walls would fall and that I could have all of him again, but I was always leaving and he was tired of watching me walk away. We both knew that I couldn't stay and that he couldn't come with me, but still, we couldn't let go."―Kimberly Novosel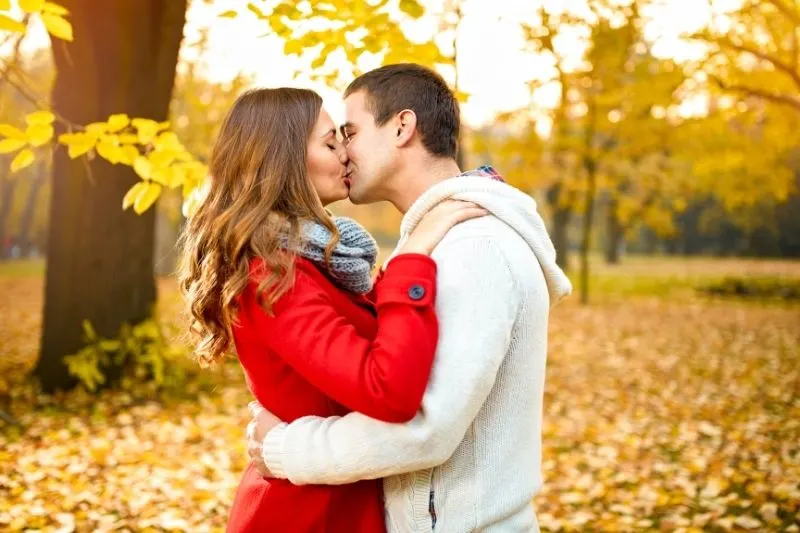 11. "And we were kissing like drowning people breathe – like suddenly we'd discovered something that has never been so sweet before that moment."―Morgan Matson
12. "'Can I try something?' I said. 'If you don't like it, I'll stop.'"―Aimee Carter
13. "And yes, when he kisses you, the rest of the world disappears and your brain shuts off and all you can feel are his lips and nothing else matters."―Jess Rothenberg
14. "She is so lovely she could kill you without you even noticing it. A monster girl who knows when to kiss and when to kill."―Cameron Jace
15. "When lovers kiss on the cheeks, it is because they are searching, feeling for one another's lips. Lovers are made by a kiss."―Émile Zola
16. "Of course one kiss changes things. If it's done right, a kiss changes everything."―Tessa Dare
17. "When you meet someone so different from yourself, in a good way, you don't even have to kiss to have fireworks go off."―Lisa Schroeder
18. "If you wanted to play with fire, milady, you could have simply asked me for a kiss or three."―Lisa Mantchev
19. "Kiss a frog with your eyes wide open. If he turns into a prince you won't miss the transformation, but if he doesn't, you won't be fooled by some wishful illusion in your head."―Richelle E. Goodrich
20. "Kiss someone like kissing is the only way you have to communicate. There is no conversation. There is no sex. There are only two sets of lips that are ravenous to be recognized and treasured."―Roberto Hogue
21. "Kissing you is terrifying, breathing your same air makes my knees weak, when I'm around you it's a tie between wanting to chase you down – or just kiss you until you can't breathe."―Rachel Van Dyken
22. "If he'd been any other boy, and this was any other world, I would have kissed him. Nothing could have stopped me."―Sarah Dessen
See also: 6 Things To Consider Before Going For The Second Date Kiss
Some Of The Most Precious First Kiss Quotes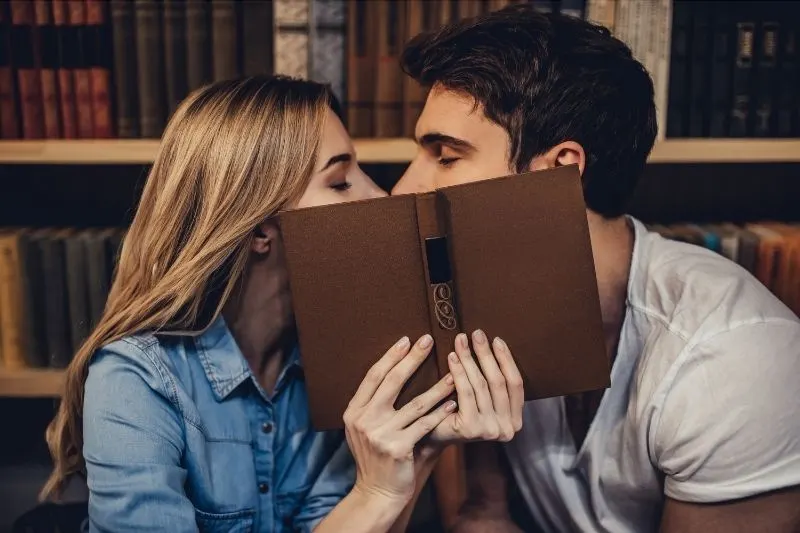 Enjoy these first kiss quotes that describe the sensation everyone feels after finally kissing the one you've long been yearning for.
1. "How far away the stars seem, and how far is our first kiss, and ah, how old my heart."―William Butler
2. "It wasn't that long, and it certainly wasn't the kind of kiss you see in movies these days, but it was wonderful in its own way, and all I can remember about the moment is that when our lips touched, I knew the memory would last forever."―Nicholas Sparks, A Walk To Remember
3. "I think Heaven will be like a first kiss."―Sarah Addison Allen
4. "I want to make sure that the first person you kiss loves you, okay?"―Stephen Chbosky
5. "Hannah wasn't my first kiss, but the first kiss that mattered: the first kiss with someone who mattered."―Jay Asher, Thirteen Reasons Why
6. "Then he kissed her. Betsy didn't believe in letting boys kiss you. She thought it was silly to be letting first this boy and then that one kiss you, when it didn't mean a thing. But it was wonderful when Joe Willard kissed her. And it did mean a thing."― Maud Hart Lovelace, Betsy and Joe
7. "'Can I…' He stopped and his jaw flexed. 'Can I kiss you?' I didn't answer, and he didn't wait for me to. His hands caught me gently behind the neck and he pressed his mouth to mine, softly but firmly. Then he moved one arm around my waist and pulled me closer to him."―Liz Reinhardt, Double Clutch
8. "That's when Poppy kissed me. I didn't have time to get ready. She just kissed me there and then, right on the lips. It felt lovely. I wasn't even scared this time. It was warm and not too wet. I didn't get any tongue. Her breath smelled like Orange Tic Tacs."―Stephen Kelman, Pigeon English
9. "This was how a kiss was supposed to feel – electric and pulsing and smoky all at once like you'd discovered a new source of fuel that could warm you from within."―Katharine McGee
10. "…Then he touched his lips to hers. Just a touch. But it lit a spark. Then a fire, a sweeping, diving. She clung to his shoulders and parted her lips and was lost. Utterly, beautifully lost…"―Roseanna M. White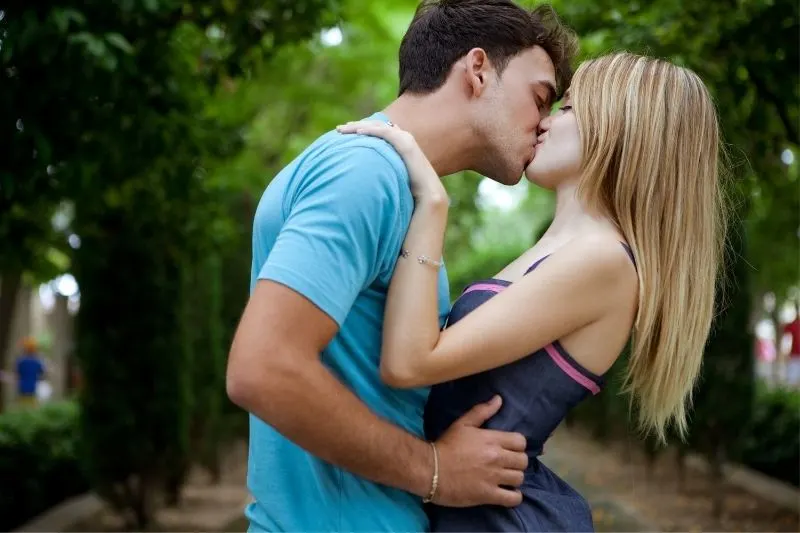 11. "The kiss is different than I expected. It's slow and tender, his lips soft and warm against mine. He tastes sweet, like the powdered sugar I spilled and the coffee with chicory he's always drinking. It's a perfect first kiss."―D. L. Hess
12. "I'll help you if you admit since our first kiss you imagined us together so many times that the images of us haunt you at night and sour the touch of any other man."―Zoe Forward, Hooked On A Witch
13. "They kissed for the first time in the cold spring rain, though neither one of them now knew that it was raining. Tristran's heart pounded in his chest as if it was not big enough to contain all the joy that it held. He opened his eyes as he kissed the star. Her sky-blue eyes stared back into his, and in her eyes, he could see no parting from her."―Neil Gaiman
14. "And it is everything I have longed for, and everything that breaks my heart."―Beth Revis
15. "'I've kissed a lot of girls,' Kian said huskily, 'but I've never felt like that before. There's something between us, Cate and I can't explain why or what it is, I just know that ever since we kissed last night, I haven't been able to stop thinking about you.'"―Louise Hall
16. "The decision to kiss for the first time is the most crucial in any love story. It changes the relationship of two people much more strongly than even the final surrender; because this kiss already has within it that surrender."―Emil Ludwig
17. "I want to give you back your first kiss, the one that jerk stole from you. And I want it to be something that even a coma can't make you forget."―Shelly Crane
See also: 15 Swoon-Worthy Reasons Why I Want To Kiss You ASAP
Sometimes, a kiss vocalizes what a thousand words can't. And that's what I hope you've learned from these exquisite kiss quotes.
Nothing says I love you like a kiss on the lips by someone you want to spend your eternity with. Few things compare to the inexplicable sensation you feel upon having been kissed for the first time.
Share these kissing quotes with the one you want to kiss most, and let them read between the lines. Kissing is one of the most intimate things you and your partner can do.
So do it as much as you can and whenever you get a chance to. I swear, a good kiss can make the worst day feel like magic!