If you enjoy body art, I'm sure you've thought about getting a cool couple tattoo with a loved one. It can be the perfect way to show each other your care and commitment, but finding the perfect couple tattoo designs can be difficult.
It has to be something that speaks to you – meaningful couple tattoo ideas are all about your relationship. The best couple tattoos make you smile every time you see them because they remind you of the other person, so take your time choosing tattoos for couples with meaning.
Keep reading to find over 60 ideas for soulmate matching couple tattoos to make your relationship even more special.
Soulmate Matching Couple Tattoos
If you're getting matching meaningful couple tattoos, they should tell a story about your relationship, and, most importantly, they should complement each other. Take a look at the best soulmate matching couple tattoos with meaning I found to inspire you!
1. Wings and anchor tattoo
Beautiful phrases 'I'll be your wings' and 'I'll be your anchor' tattooed on two people show what they mean to one another: they ground each other but also make each other soar. Perfect for soulmates!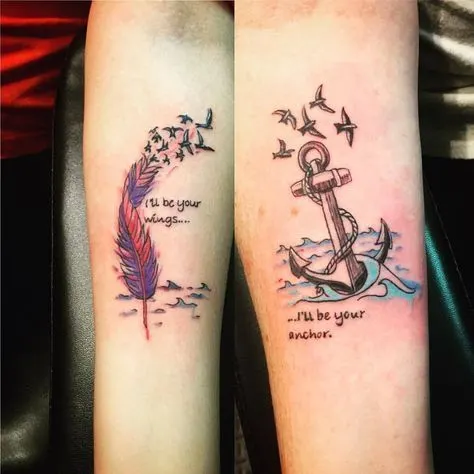 Pinterest PositiveFox – Community for Creative People
2. Cute avocados with hearts tattoos
At first sight, these avocados waving at each other are simply cute, but when you look closer, you'll see how deep this design is. The pit is on one side only, with half of it outside. They complete each other, just like soulmates do.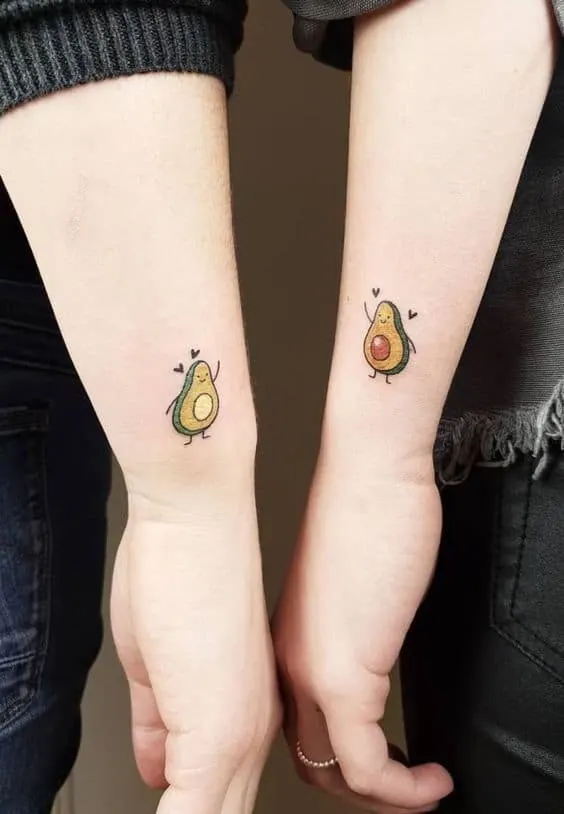 Pinterest Gillde
3. Disney Minnie and Mickey tattoos
Disney's Mickey and Minnie are a classic couple who have been together for nearly a hundred years. Perfect if you're looking for cute matching tattoos for couples!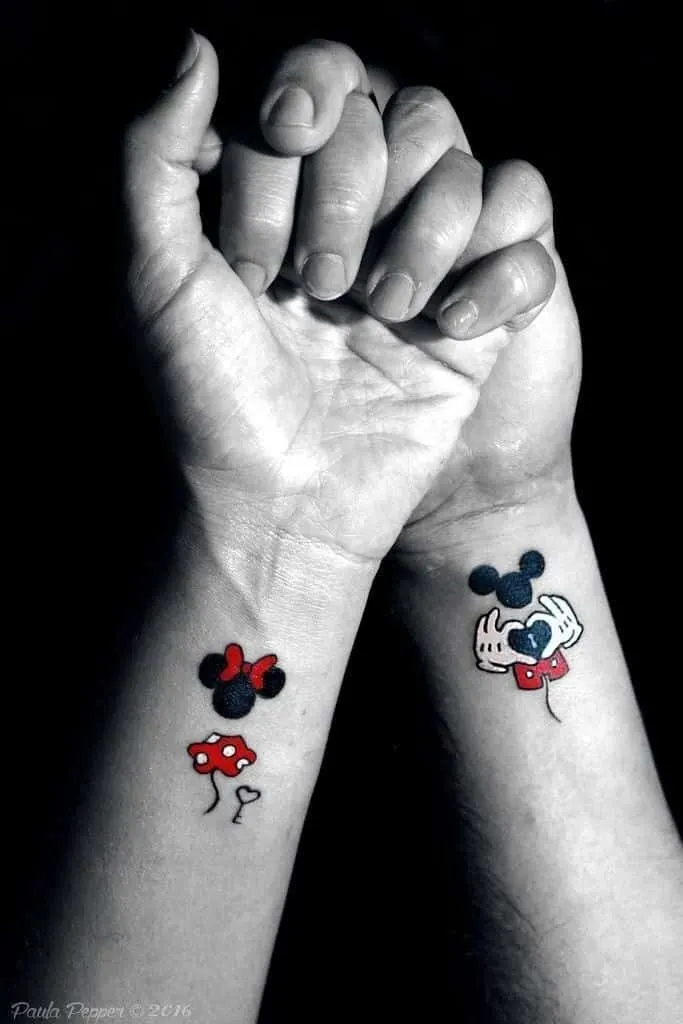 Pinterest Brighter Craft | Art, Crafts & Food Recipes
4. Diamond rings married couple finger tattoos
These creative soulmate wedding ring tattoos show commitment in a deeper way than actual wedding bands do – once you get a tattoo, there's no going back – which is why this is one of the most beautiful married couple tattoos you could get.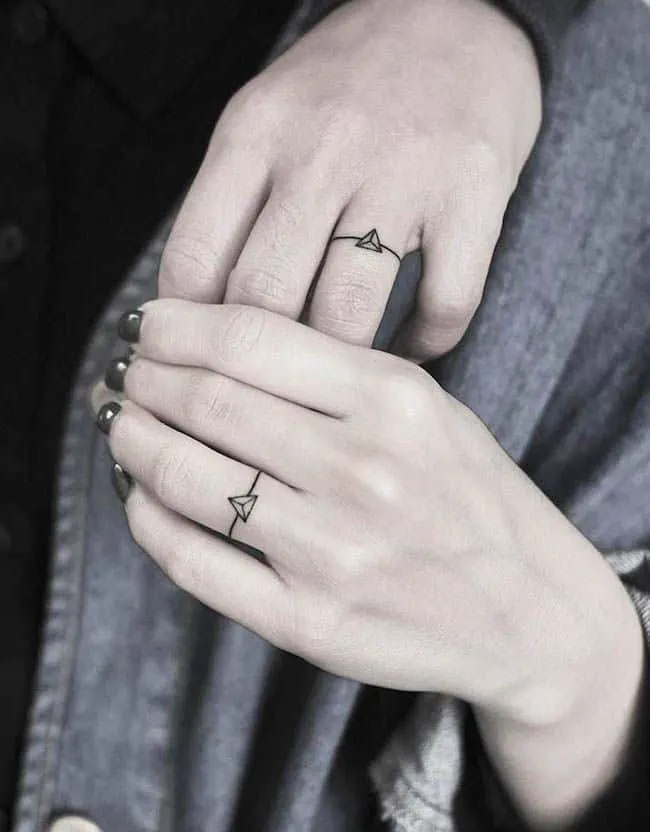 Pinterest Our Mindful Life
5. Half heart with wings hand tattoos
Hand tattoos are especially meaningful because they can always be seen. This design shows how you complete each other and give each other's hearts wings. Breathtaking true love soulmate tattoos!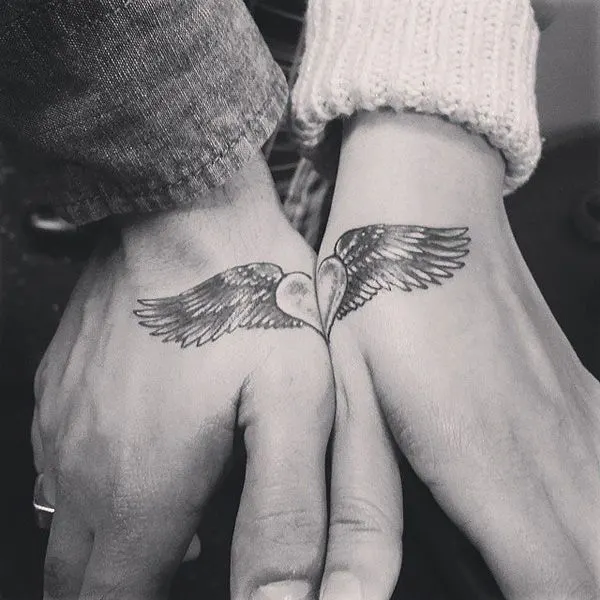 Pinterest Cuded Art & Design
6. Harry Potter "Mischief Managed" wand infinity tattoos
How can a Harry Potter tattoo be meaningful when it comes to romance and soulmates? The answer is: anything that's important to the both of you can mean more than traditional soulmate symbols of love. If you've connected through 'Mischief managed,' then it's perfect.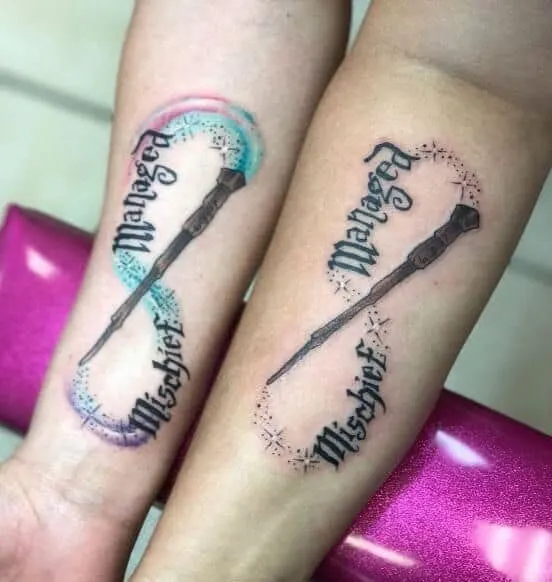 Pinterest TattoosBoyGirl
7. Initials and heart tattoos
Each other's initials inside a heart, what could be deeper and more romantic? One of the best matching tattoo ideas for couples.
Pinterest Saved Tattoo
8. Matching infinity symbols tattoos
These are clear: you're promising each other forever and proving it by getting it inked on your bodies. This is one of the simplest true love couple tattoo designs that scream soulmates.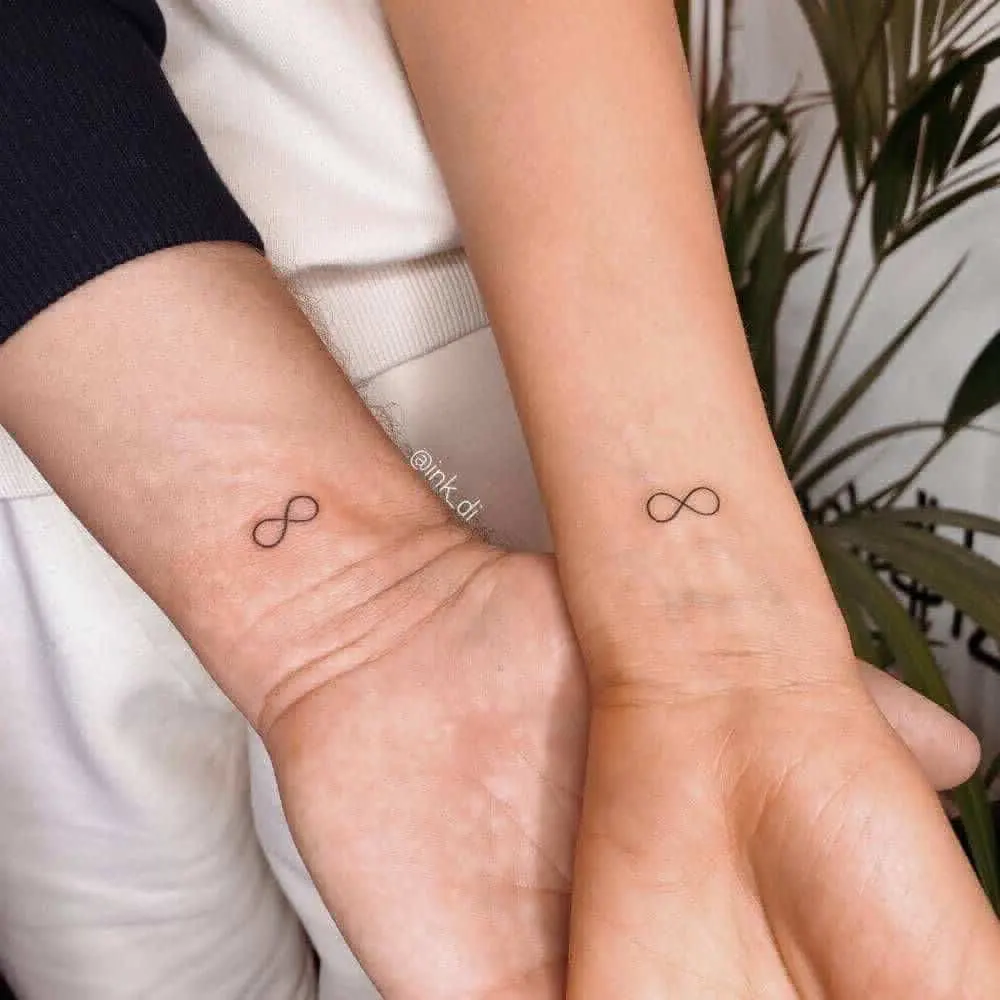 Pinterest Tattoofilter
9. Ring finger initial tattoos
Each other's initials tattooed on ring fingers is a fun and meaningful twist on wedding band tattoos. Getting matching finger tattoos shows deep love and commitment.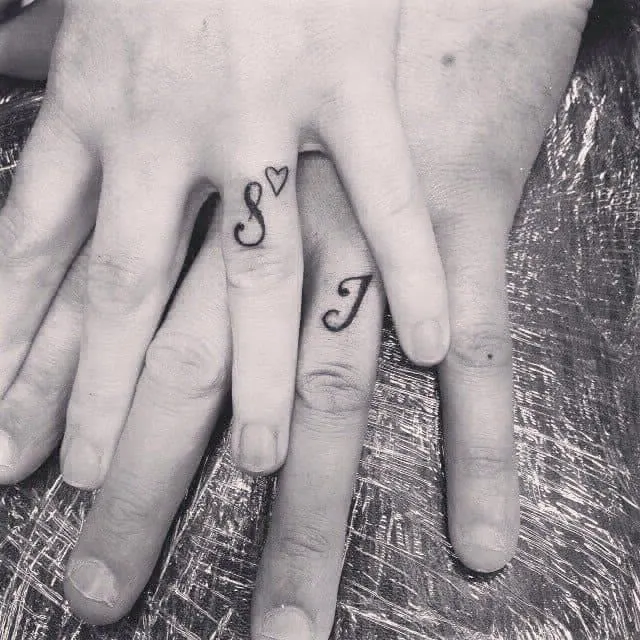 Pinterest POPSUGAR
10. King and Queen card symbols wrist tattoos
He's the king, she's the queen, and that's what they are to each other – a great choice for boyfriend girlfriend couple tattoo designs.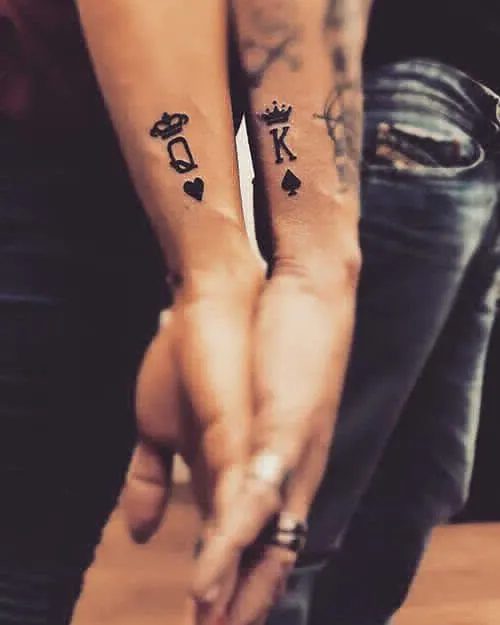 Pinterest Stylecraze
11. Lock and key tattoos
Being each other's lock and key means that you complete each other, but also that you give each other purpose, making them truly matching meaningful couple tattoos.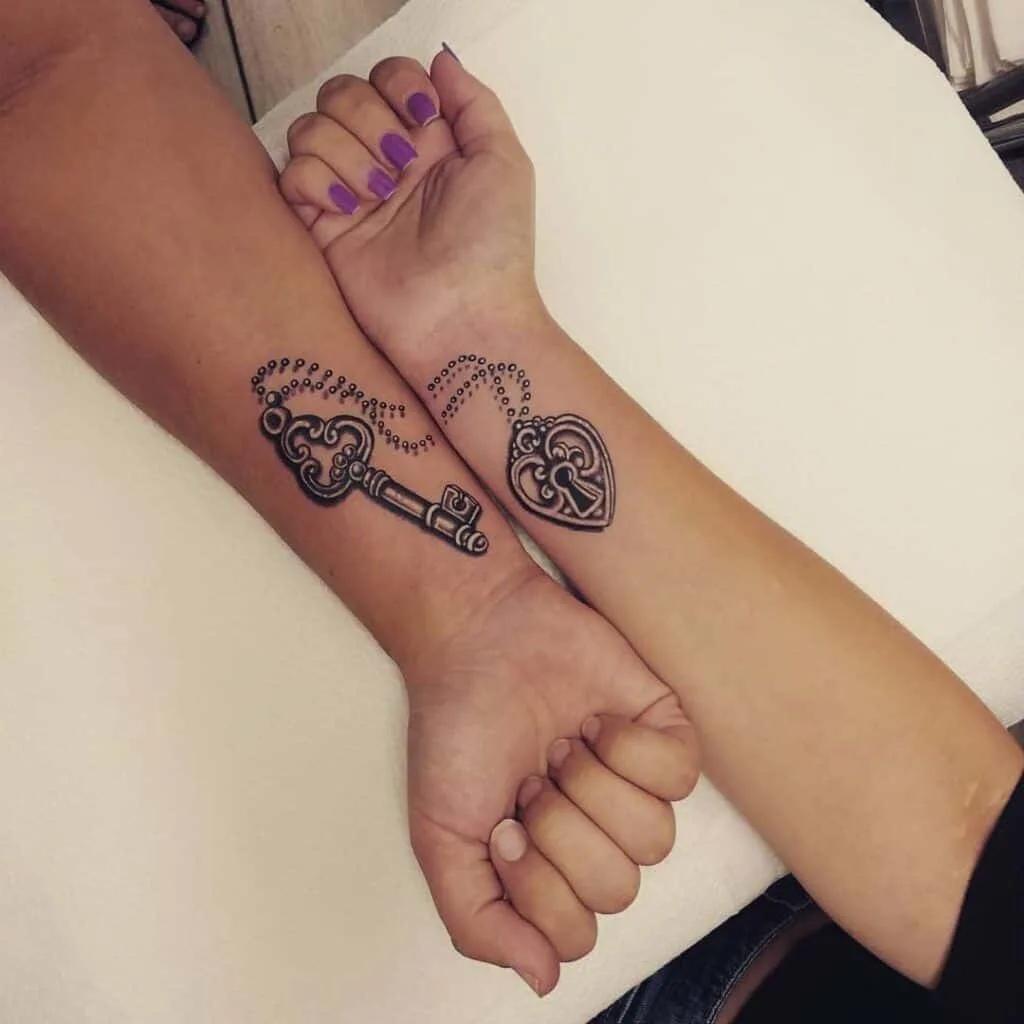 Pinterest Outsons – Your Daily Dose of Cool! | Men's Wear | Men's Grooming
12. Lesbian couple heart tattoos
These adorable rainbow matching heart tattoos that complete each other are a perfect choice, especially for a lesbian couple.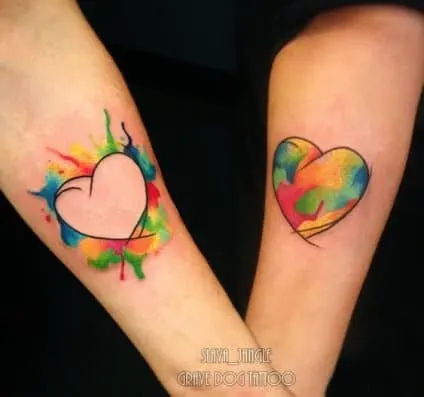 Pinterest Round The World Magazine
13. Red and black lovebirds tattoos
If you're looking for love tattoos for couples, these lovebirds looking at each other are cute and deep at the same time.
Pinterest kickassthings.com
14. Colorful floral wrist tattoos
These yin and yang shaped wrist tattoos are as meaningful as they are beautiful – a lovely choice for matching couple's tattoos.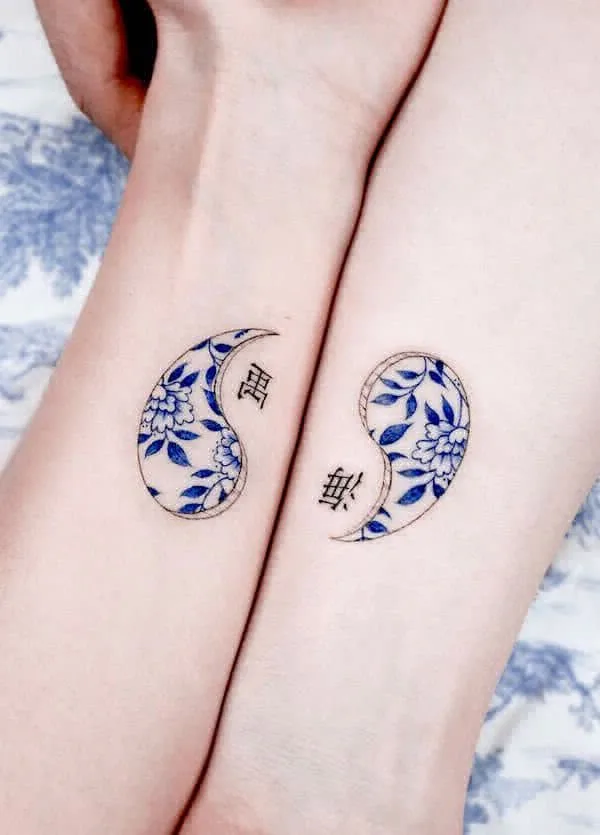 Pinterest Our Mindful Life
15. Missing puzzle piece tattoos
These tattoos say, 'You are what my heart has been missing' – the true definition of soulmates.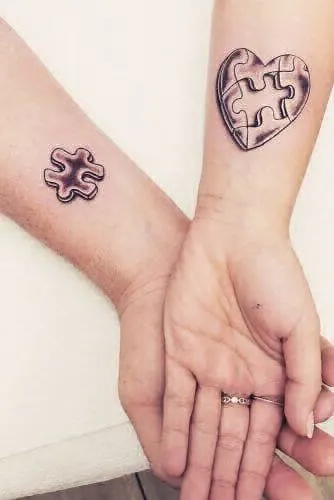 Pinterest Glaminati
See also: 107 Cute And Meaningful Matching Best Friend Tattoos
Soulmate Loyalty Couple Tattoos
When you want to show your soulmate how much they mean to you and that you're in it for life, loyalty couple tattoos are what you need. These are the best couple tattoos you can use to show your commitment.
1. Matching favorite quote tattoos
If both of you share the same favorite book, movie, or simply the same motto, getting the same quote tattoos can be deeply meaningful.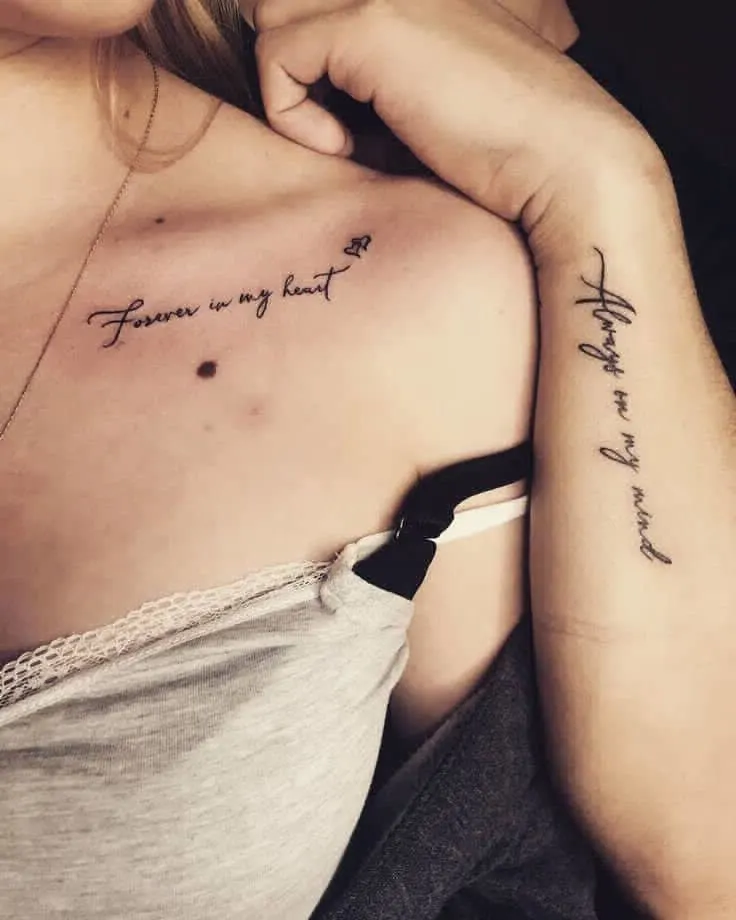 Pinterest Pinterest
2. Tie the knot married couple tattoos
Maybe a little obvious, but so cool! You're entangled forever! One of the best marriage tattoo ideas.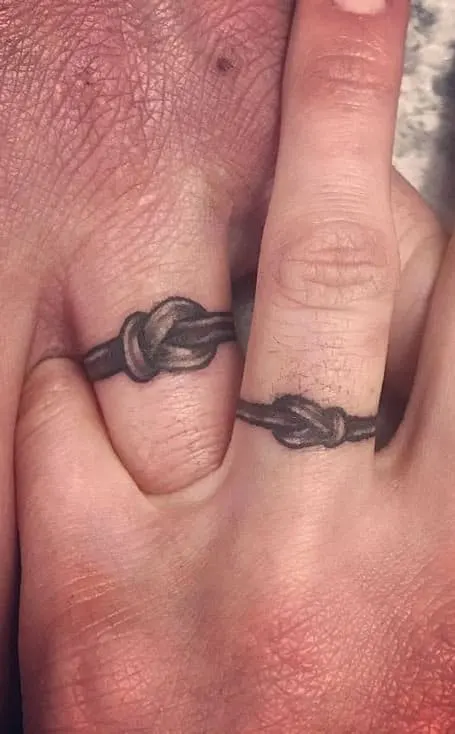 Pinterest Tattoo Me Now | Tattoo Designs and Ideas
3. Soulmate sister tattoos
Soulmates can be platonic too. Show that you're devoted to your sister or your friend who's like a sister by getting matching soulmate sister tattoos.
Pinterest Allwomenstalk – girl rules
4. King and queen skull couple tattoos
'Till death do us part' is a part of your wedding vows that has a deep meaning: this phrase shows determination to stay together forever and that nothing except death can stand between you – the perfect soulmate meaningful matching couple tattoos.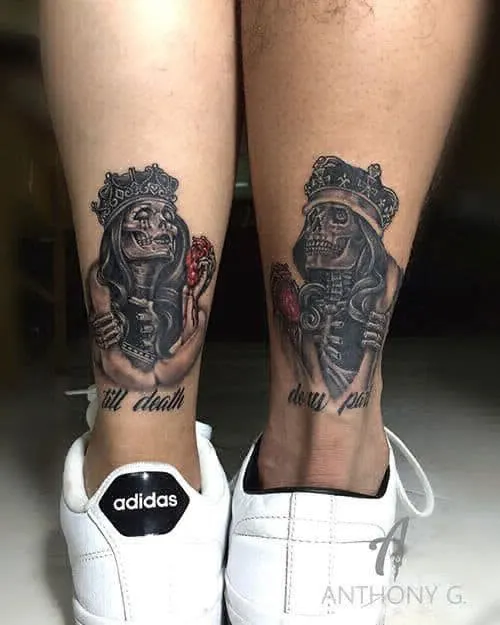 Pinterest Stylecraze
5. Star Wars matching tattoos
For nerdy soulmates, Star Wars tats can be more romantic than roses and rings. The best couple tattoos are those that carry meaning for the both of you.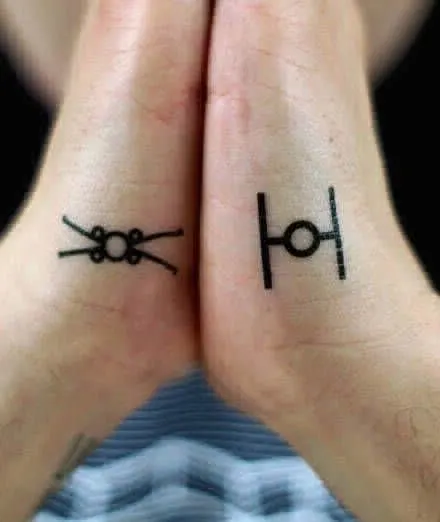 Pinterest Metro
6. Sun and moon couple tattoos
The sun and moon are iconic representations of two opposing powers that are, nevertheless, deeply connected, just like soulmates.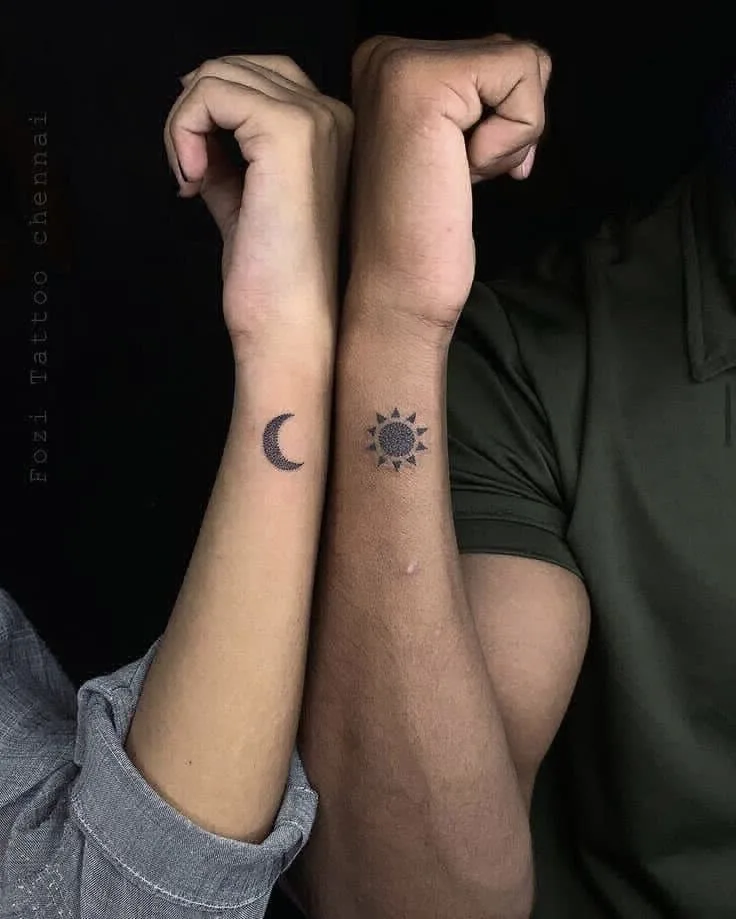 Pinterest Fozi Tattoo Chennai
7. True love world in the heart tattoos
You hold your world in your heart, and your soulmate is your world – amazing choice for soulmate matching couple tattoos.
Pinterest Glaminati
8. Wedding rings tattoos
These understated wedding bands on ring fingers are a sophisticated way of showing your love and would make elegant matching husband and wife tattoos.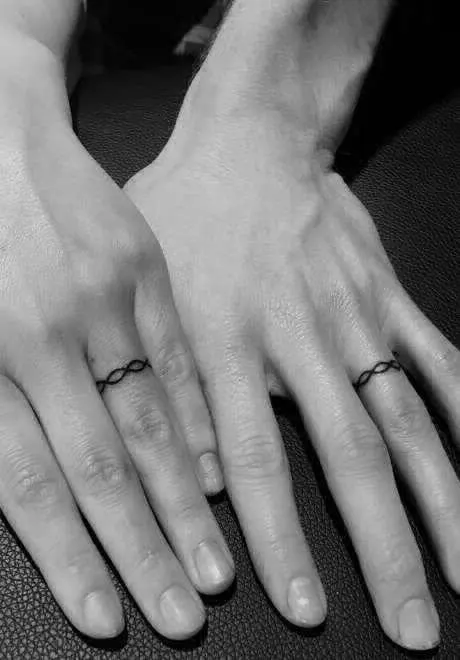 Pinterest ArabiaWeddings Website
9. King and queen crowns wrist tattoos
Crowns are cool and classy and show the world how important you are to each other. You're each other's "the one!" – a great choice for married couple tattoos.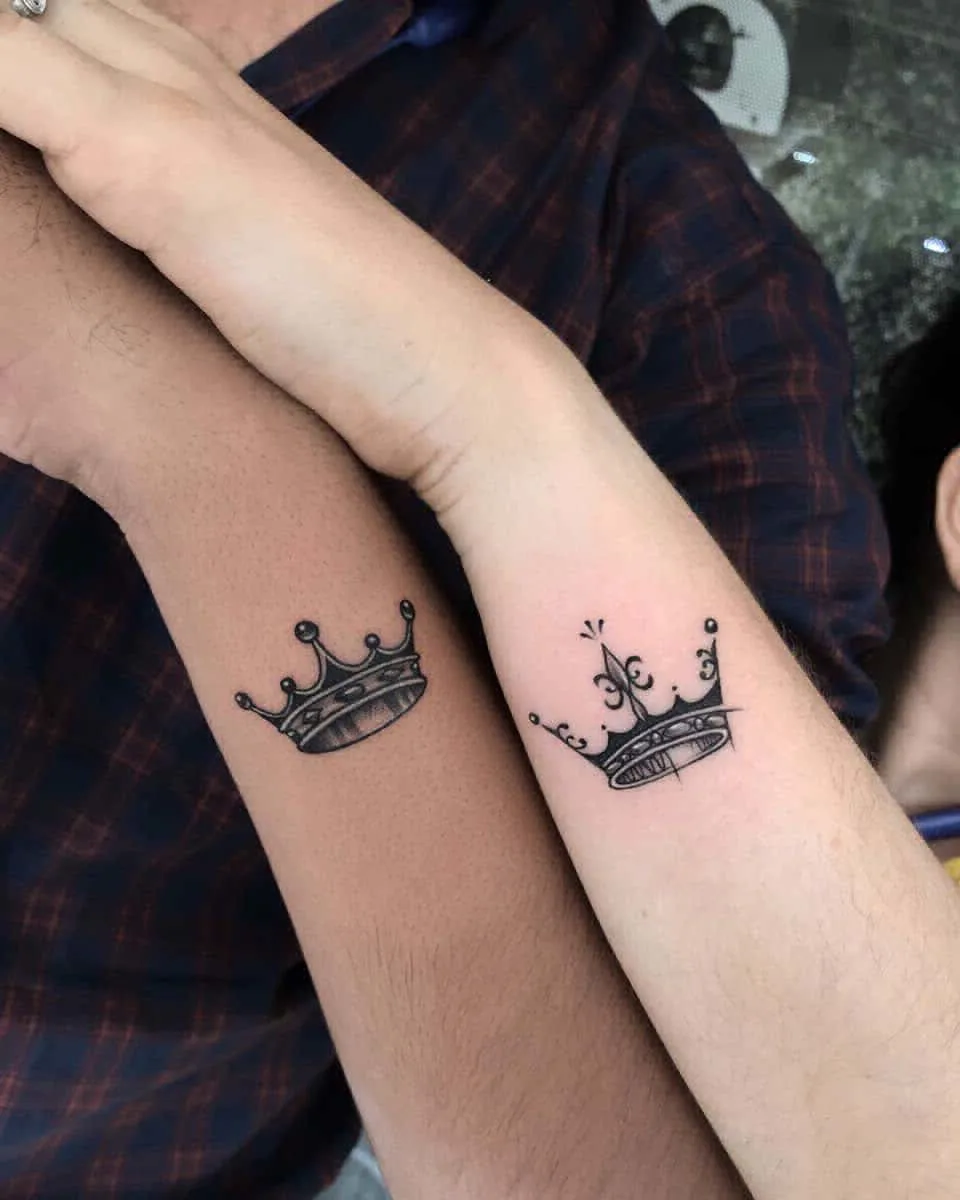 Pinterest Kaptaan Tattoo Ahmedabad
10. Matching yin and yang tattoos
You balance and complete each other. These beautiful tattoos are both a decoration and a declaration if you love simple couple tattoos.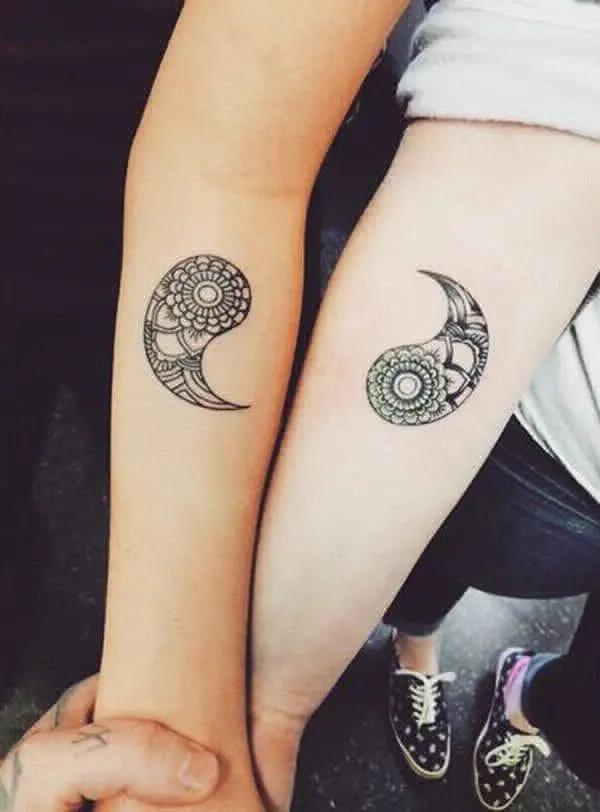 Pinterest Cuded Art & Design
11. Sun and moon small couple tattoos
Opposite, yet equal. Just because they're tiny doesn't mean that these couple tattoos don't carry significance.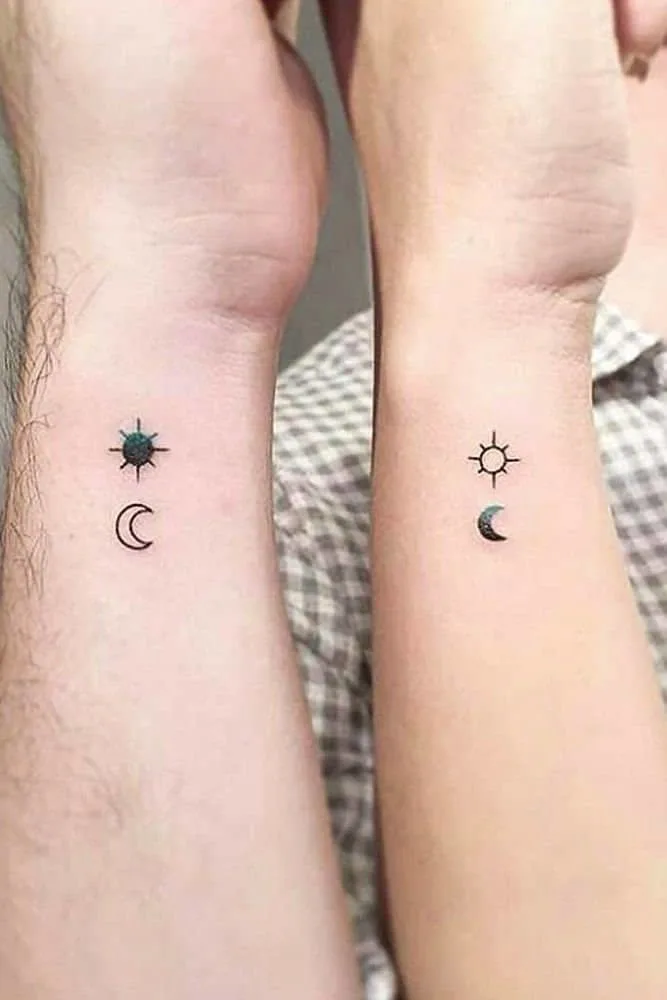 Pinterest Glaminati
12. Soulmate best friend tattoos
Getting a matching soulmate tattoo with your bestie is a way of reaffirming your friendship and a true statement of being BFFs.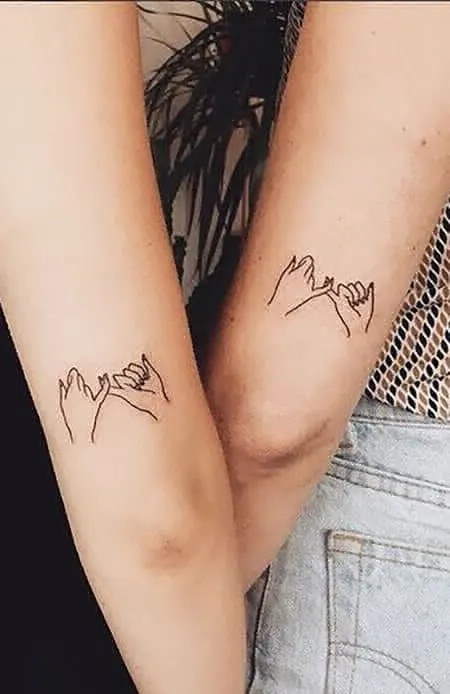 Pinterest TheTrendSpotter
13. Rainbow heart gay couple tattoos
This rainbow heart split between two people is perfect for the gay couple who complete each other (with a bonus quote if they're Game Of Thrones fans).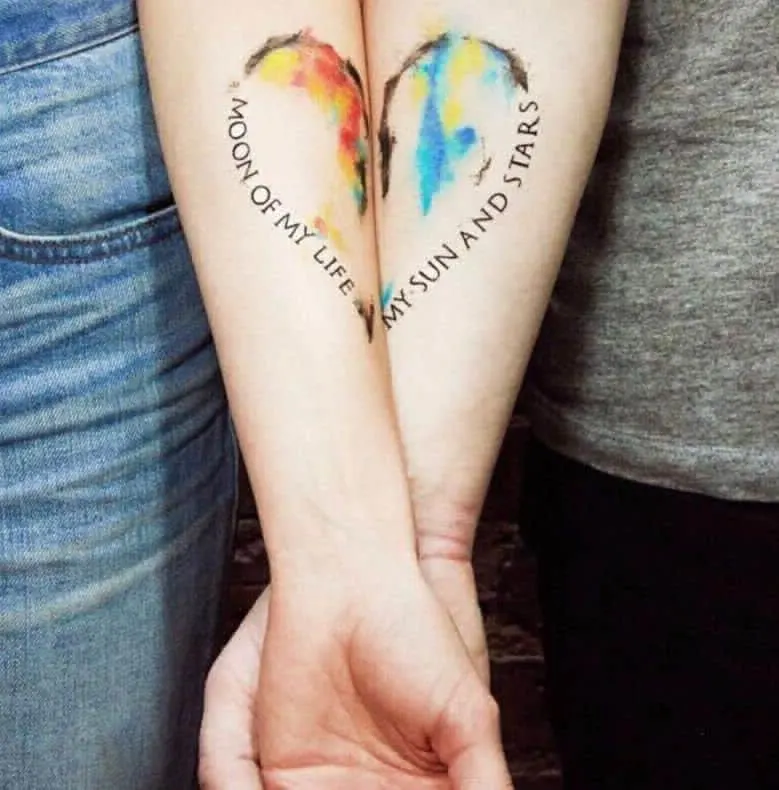 Pinterest Our Taste For Life
14. 'Promise of always' script tattoos
Words as tattoos have particularly deep meaning: you believe in them so much that you're willing to write them on your body and keep them forever, always.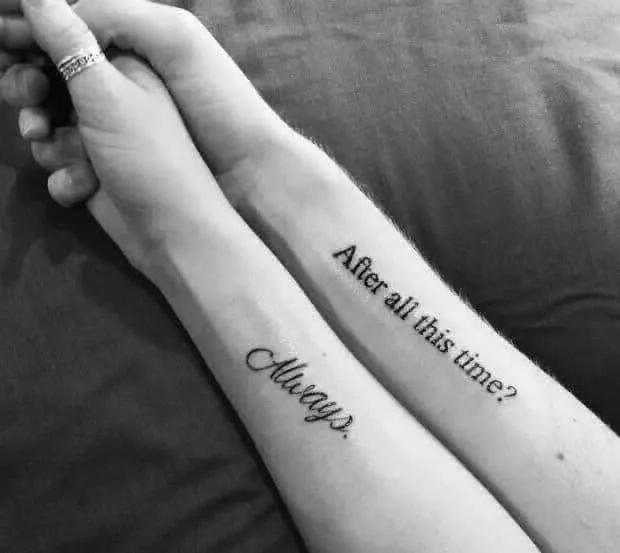 Pinterest YourTango
15. 'Always' and 'forever' couple tattoos
Symbolizing how you feel about each other, matching words that describe your feeling are the perfect way to promise each other 'always' and 'forever.' Written on the fingers, it's even more significant because you can always see the words and be reminded of each other's love.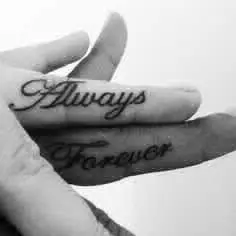 Pinterest Beauty Epic
16. Matching semicolon minimalist tattoos
Semicolon tattoos represent mental health. Getting one with someone you love is a sign of support and solidarity.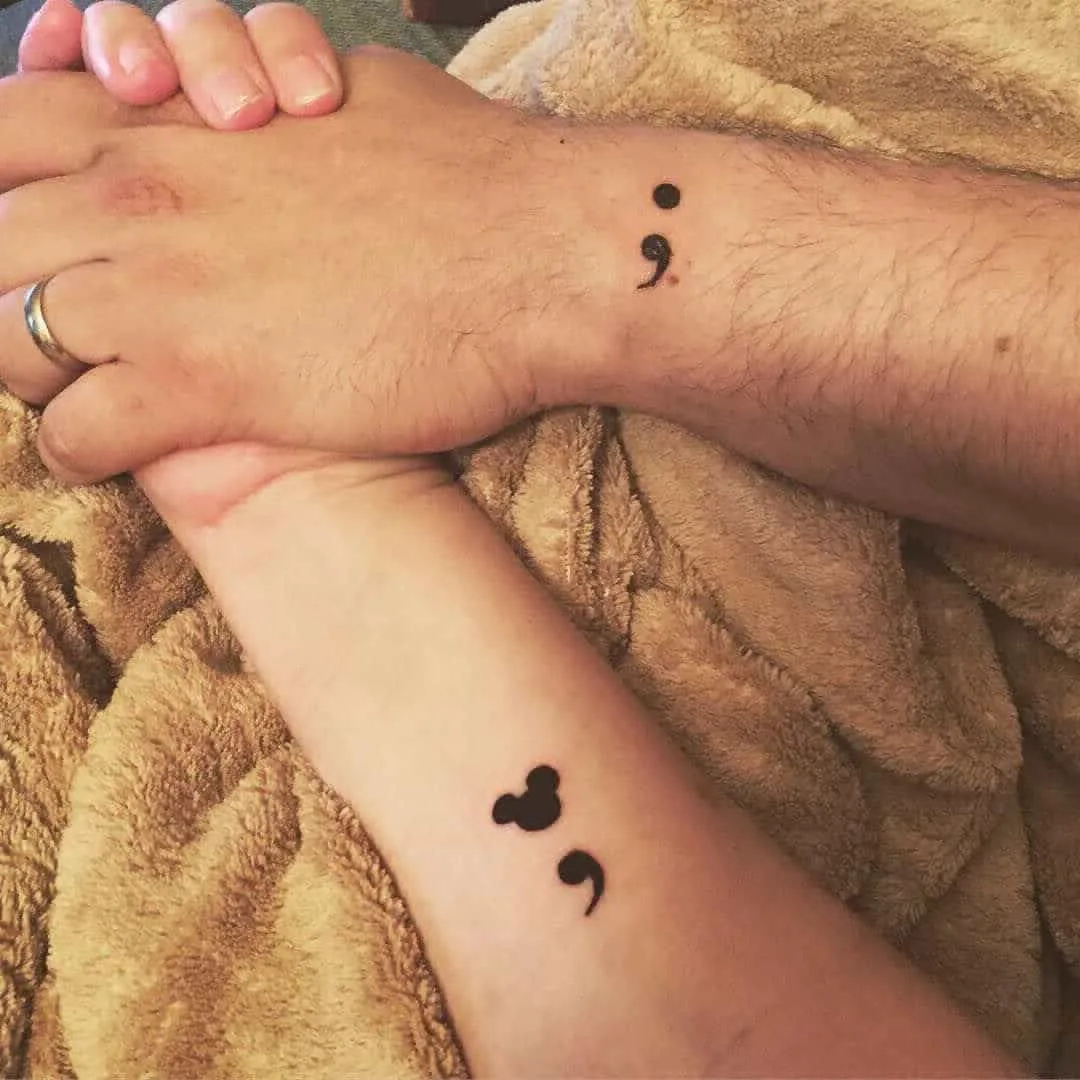 Pinterest POPSUGAR
RELATED: 100 Best Tattoo Ideas For Women To Help You Find The Perfect Tat
Soulmate Meaningful Matching Couple Tattoos
Unique couple tattoos are what everyone who's looking for design ideas wants, but it's as important that they be meaningful.
Whether you're looking for matching boyfriend girlfriend couple tattoos or symbolic, meaningful deep best friend tattoos, I'm sure you'll find something to inspire you among these couple tattoo ideas.
1. Spaceship and planet cute couple tattoos
What's a spaceship without a planet? Adrift, alone, and without a purpose. This adorable tattoo hides a deep meaning for the couple that gets it.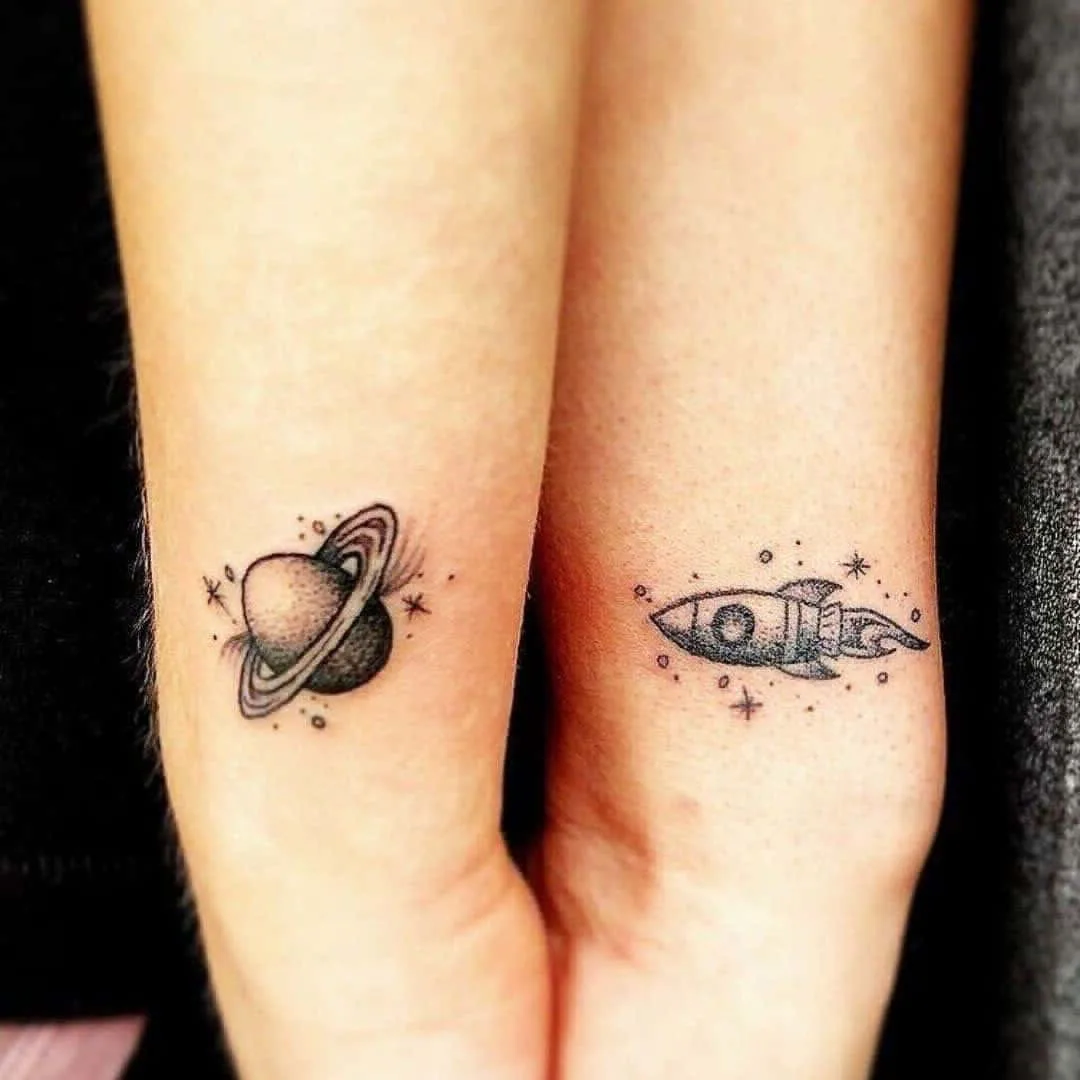 Pinterest Beautyholo | Latest Hairstyles, Nail Design Ideas, Home Décor DIY, Women Fashion Ideas
2. Behind the ear king and queen tattoos
Behind the ear is a great spot for cool matching tattoos. You can use any tattoo design, such as these delicate king and queen small matching tattoos for couples.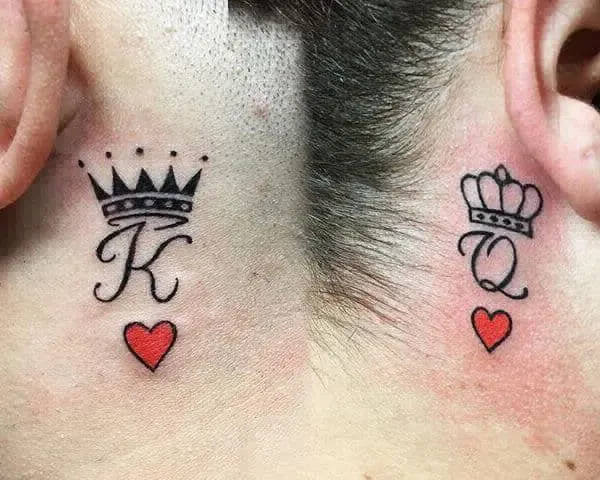 Pinterest Inkaholik
3. Bird and cage matching tattoos
There are lots of tats that you can't understand fully until you see their other half, just like soulmates aren't really whole until they're together. This lovely bird and cage tattoo is one of these deep, meaningful couple tattoos.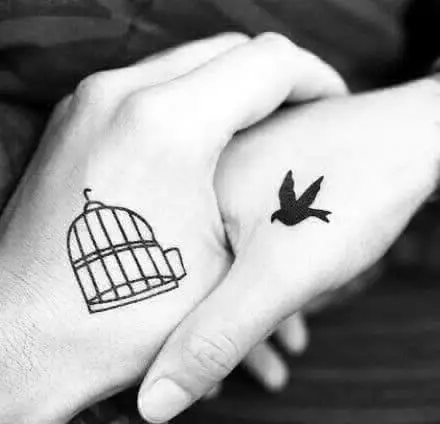 Pinterest Outsons – Your Daily Dose of Cool! | Men's Wear | Men's Grooming
4. Bow and arrow tattoos
Another example of something that goes together being split into two and only made whole with two people. A bow is useless without an arrow, and an arrow stands still without a bow.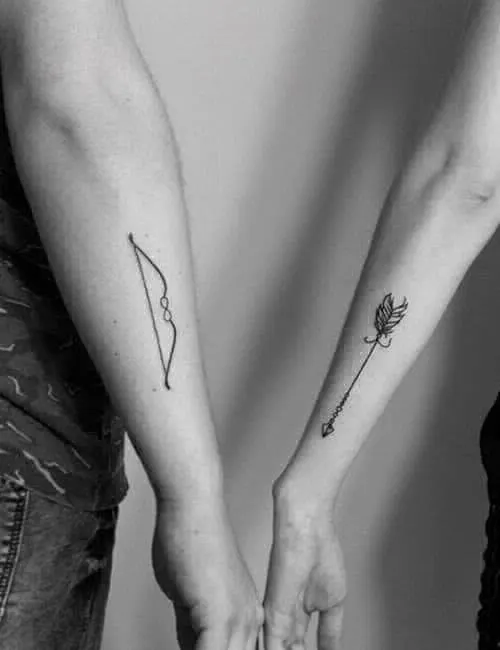 Pinterest Stylecraze
5. Butterflies couple tattoos
Butterfly tattoos are common, but couple butterfly tattoos are quite rare. Representing souls, these cute couples tattoos symbolize your connection with each other.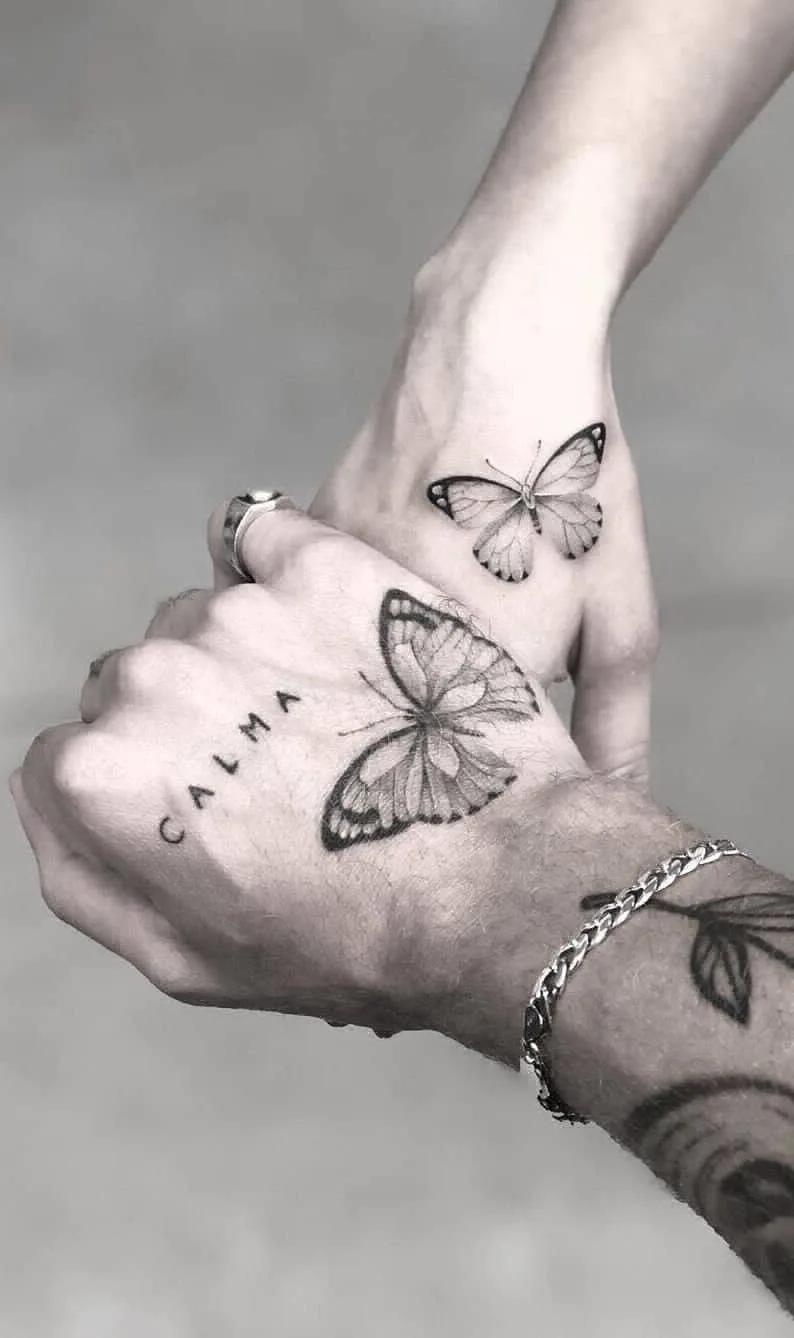 Pinterest kickassthings.com
6. Butterfly wings matching tattoos
Soulmates are two halves of the same soul, and these matching butterfly wing tattoos are the perfect way to show it – you're only complete when you're together.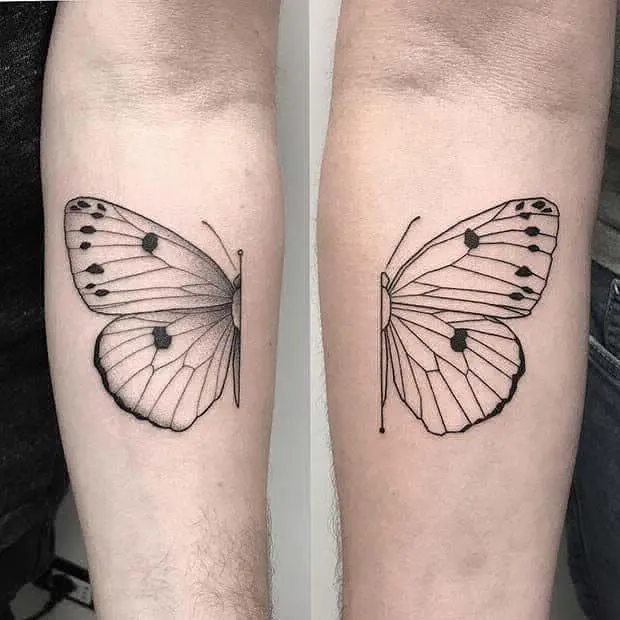 Pinterest StayGlam
7. Compass couple tattoos
Compass tattoos are all about direction, and using this design for a couple tattoo tells a story: you're each other's chosen path.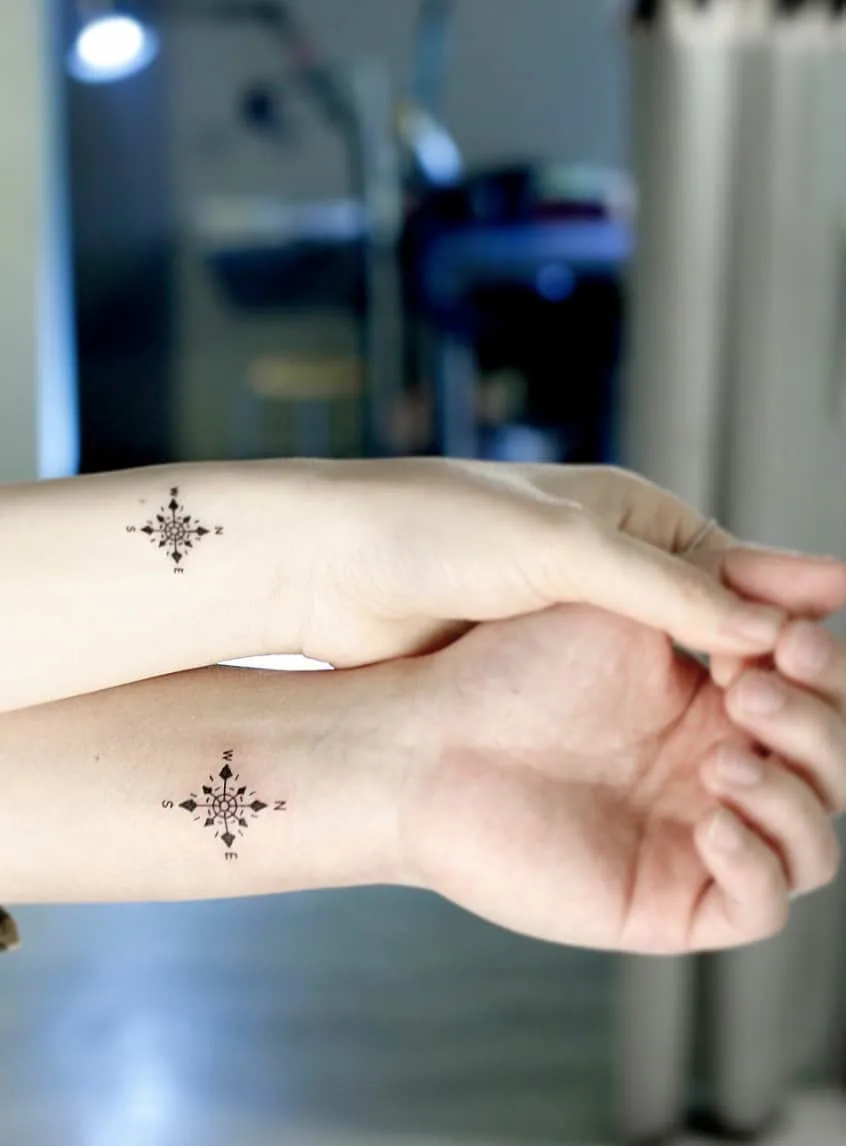 Pinterest Cultura Colectiva
8. Quotes couple tattoos
Using a quote that talks about your love across two bodies is a brilliant couple tattoo idea. You end each other's sentences because you're each other's match.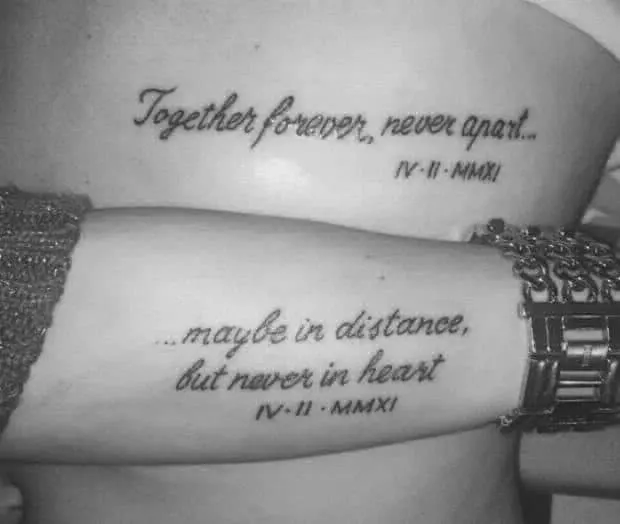 Pinterest YourTango
9. Crescent moon tattoos
The moon represents change and growth. Getting moon matching couple tattoos is all about what you do for one another: you help each other become new and better.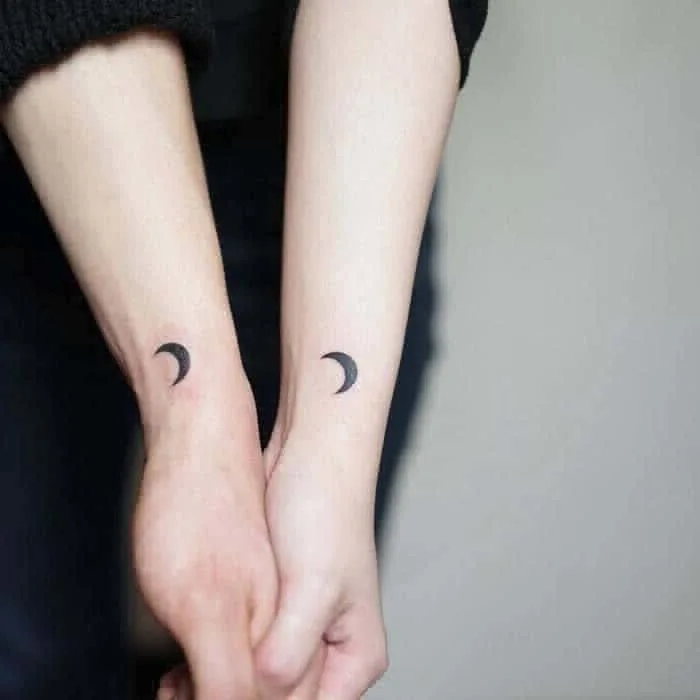 Pinterest TattooBloq
10. Zodiac signs tattoos
Getting a tattoo of your zodiac signs with your significant other shows your belief that your destinies are connected, as soulmates are.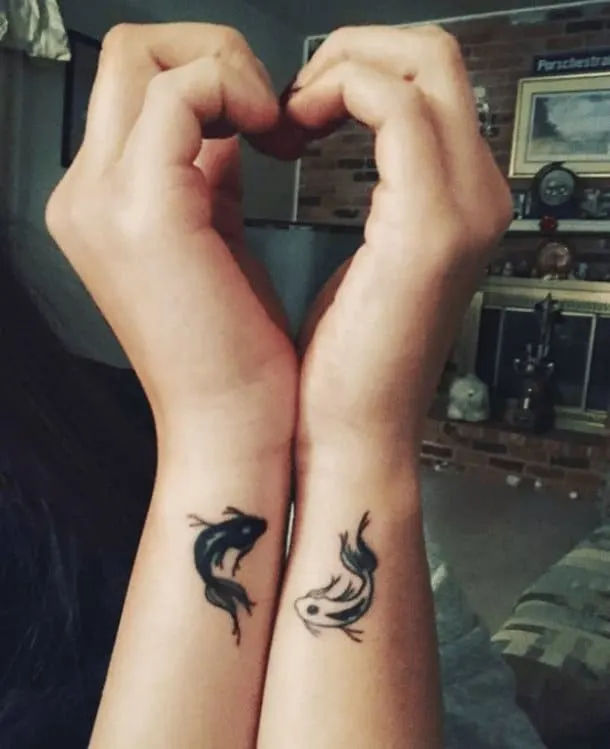 Pinterest YourTango
11. Two halves of a heart hand tattoos
One heart in two bodies depicted on your hands, only becoming whole when your hands are joined, would make amazing twin flame tattoos.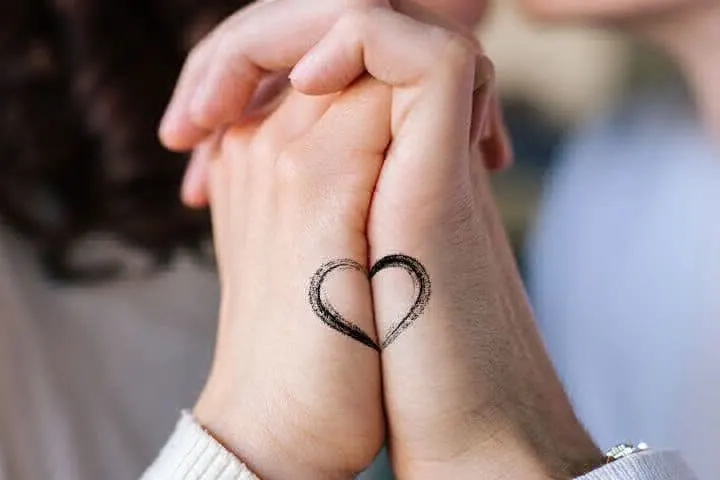 Pinterest Mom Junction
12. Deer and doe couple tattoos
Deer and doe couple tattoos show a matching pair, regal and beautiful – a lovely choice among soulmate matching his and hers tattoo ideas.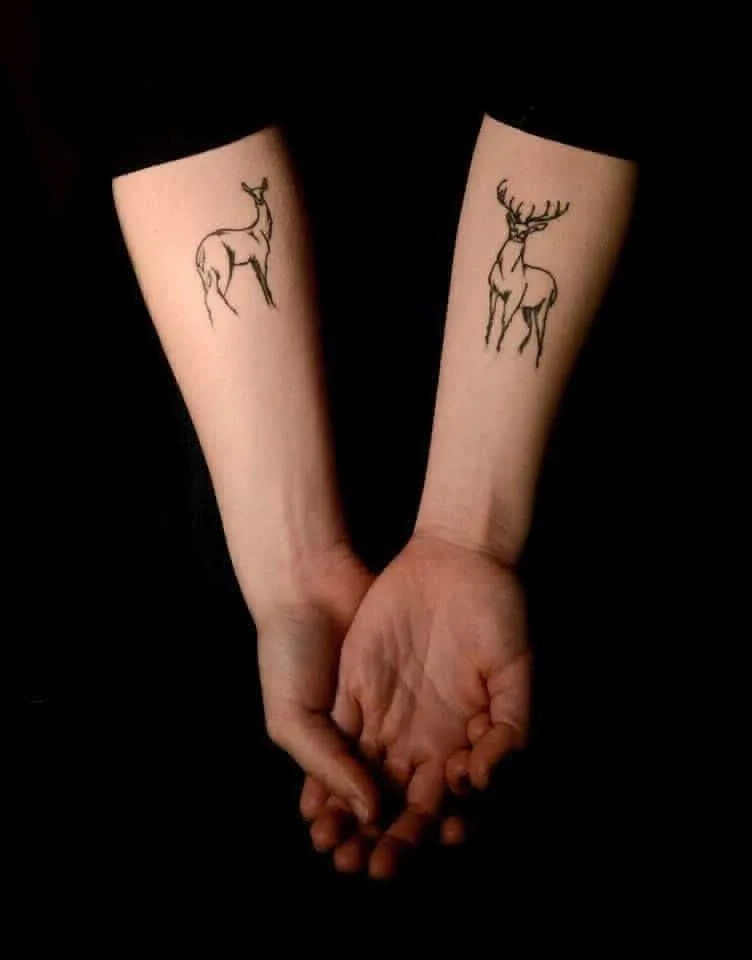 Pinterest PetPress
13. Diamond tattoos
Diamonds are beautiful, rare, and indestructible, just like finding your soulmate. If you're looking for wedding tattoo ideas, this could be the one.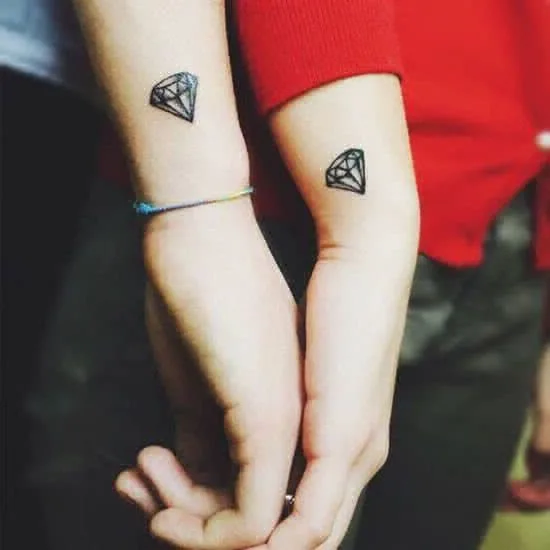 Pinterest Stylesatlife
14. Matching flowers tattoos
Floral tattoos are so common for a reason: they're beautiful and always carry meaning. You can't go wrong if you pick flowers that mean a lot to the both of you.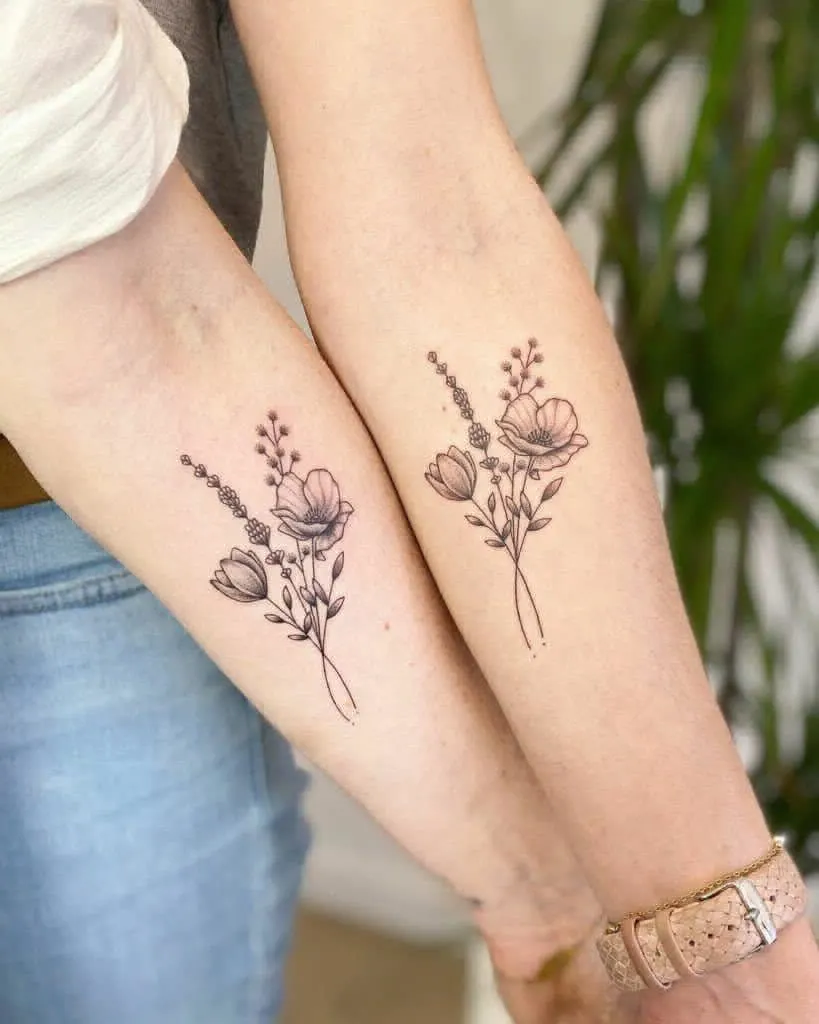 Pinterest Outsons – Your Daily Dose of Cool! | Men's Wear | Men's Grooming
Soulmates share hearts, and they beat as one. If you want to show how you feel for one another, a heartbeat tattoo design is a great idea.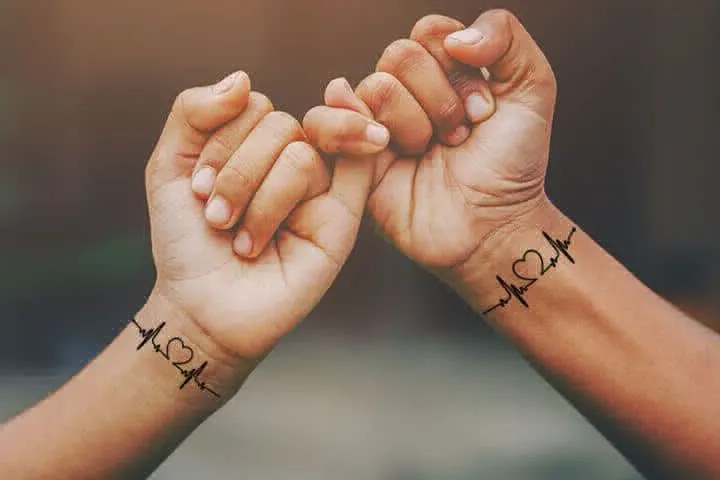 Pinterest Mom Junction
16. Honeybees tattoos
Honeybees work together to create something, the same way you and your soulmate work at your relationship. Use a cute bee tattoo to show your determination to create something together.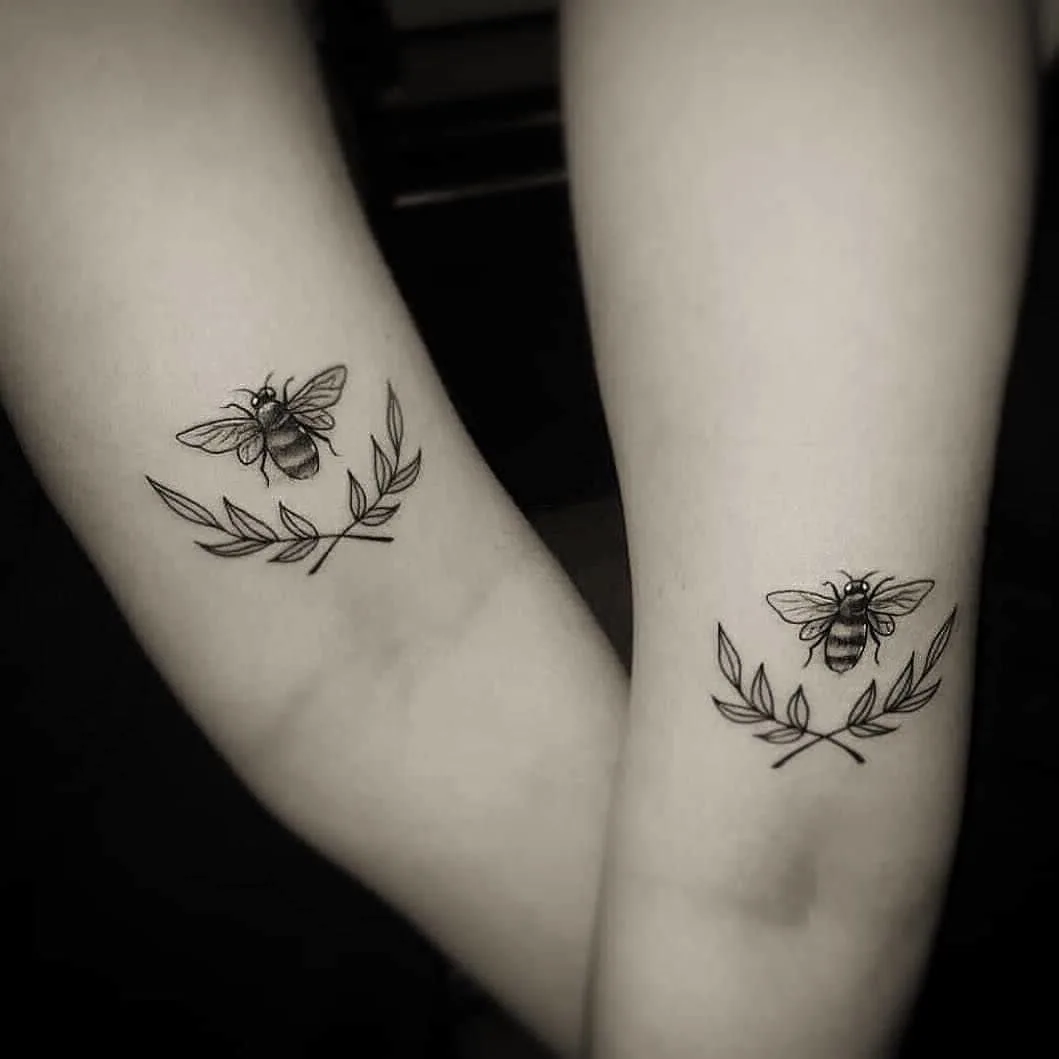 Pinterest POPSUGAR
17. 'Her one' and 'his only' tattoos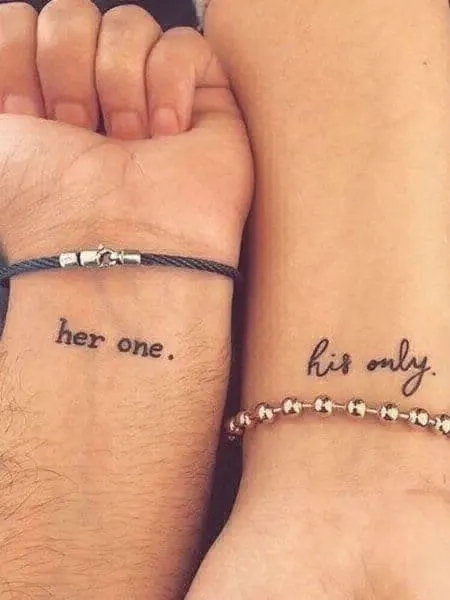 Pinterest TheTrendSpotter
These simple matching tattoos are self-explanatory: you belong to each other and want the whole world to know it – one of the cutest husband and wife tattoo ideas you can find.
Love Soulmate Couple Tattoos
Soulmates love each other, no matter if you're a romantic couple or platonic friends for life. It makes sense to want to show your love for one another by getting cute and meaningful couple tattoos to show the world who your loved one is.
1. Palm trees matching tattoos
Palm trees represent growth and joy. Choosing this design for your couples tattoo shows that your love is full of sunshine.
Pinterest kickassthings.com
2. Lion and lioness half tattoos
The king and queen among all animals, a lion and lioness as a love soulmate couple tattoos say POWER COUPLE.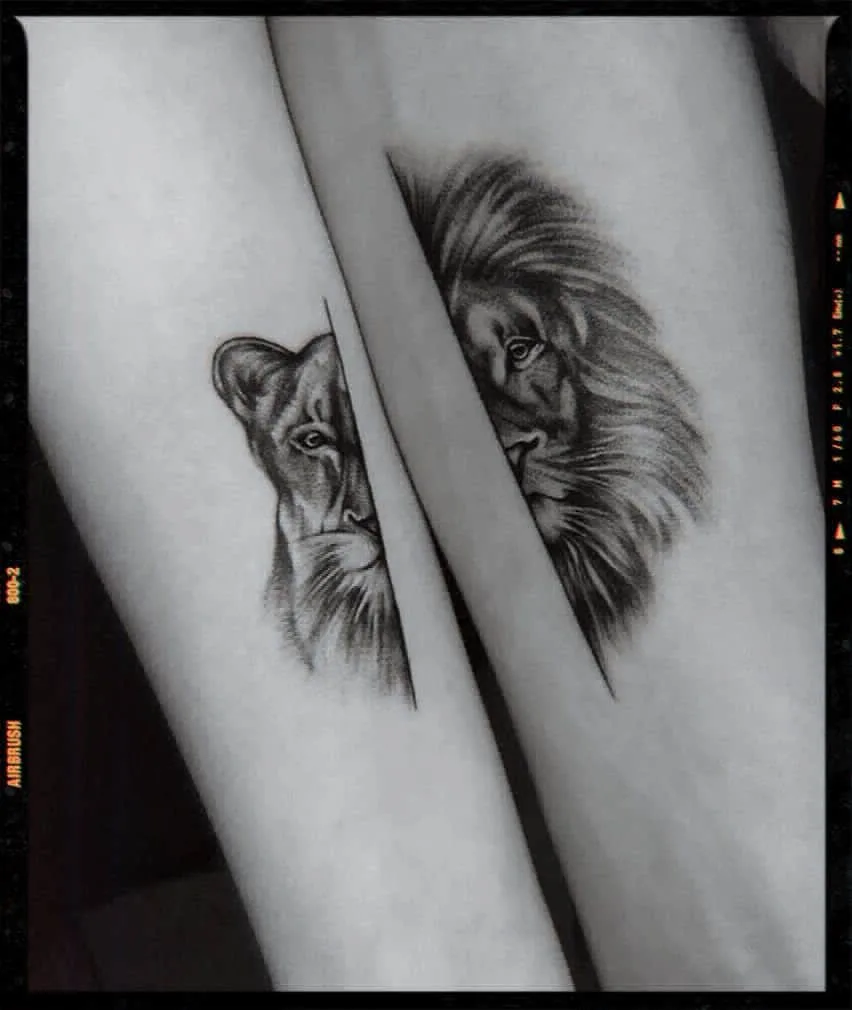 Pinterest Get Inspired
3. Lucky numbers couple tattoos
Choose your personal lucky number or one of the many angel numbers to illustrate your connection for a meaningful couple tattoo.
Pinterest Tattoofilter
4. Matching dragon tattoos
This cool couple tattoo idea is perfect for those soulmates who want to show how intense their relationship is. Two heart-shaped dragons facing each other would make amazing everlasting love soulmate tattoos.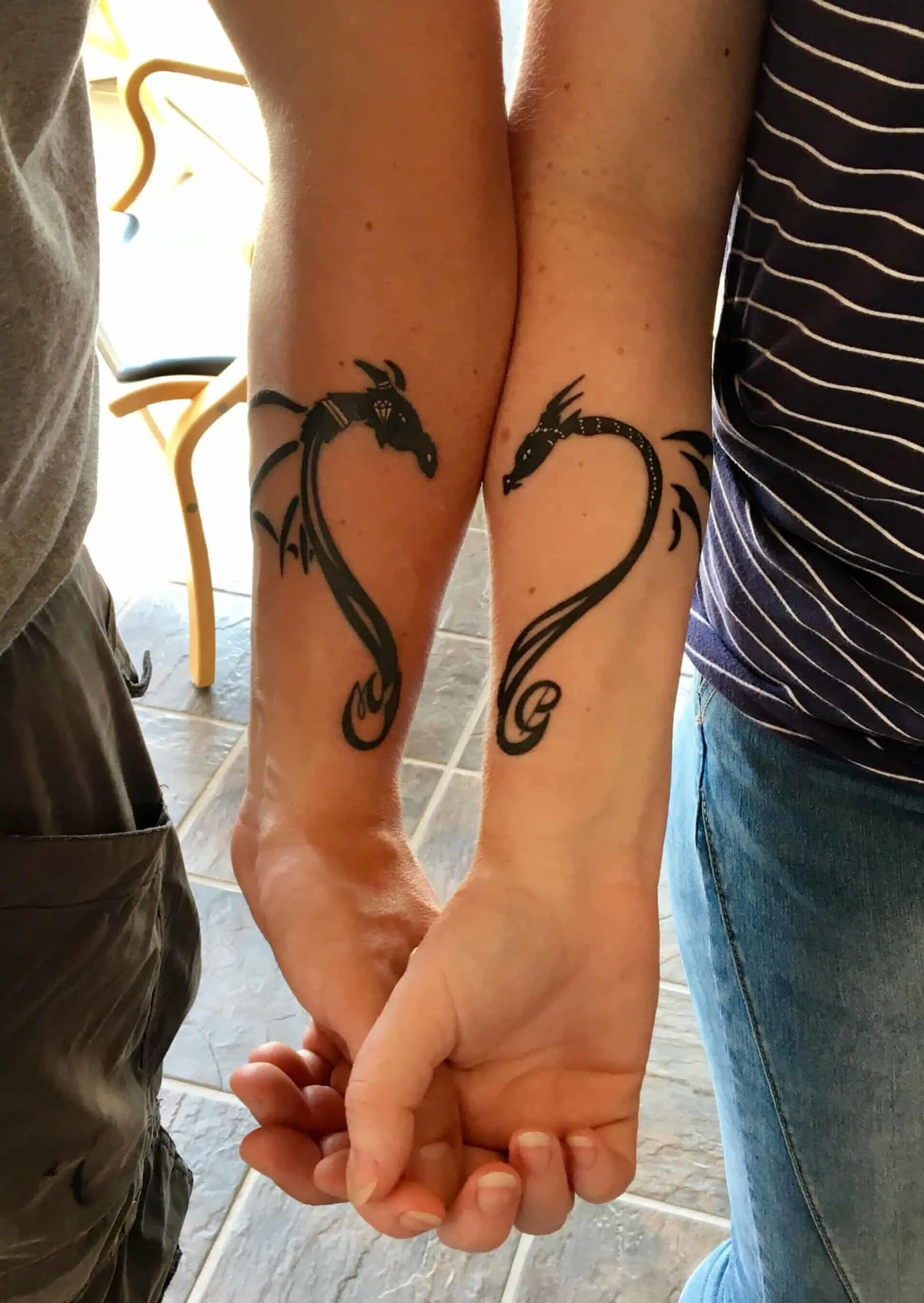 Pinterest Marianne Carlsen
5. 'Forever' and 'always' tattoos
This cute couple tattoo uses the words 'forever' and 'always' embedded in a picture of a flower to show how beauty and commitment are intertwined – a gorgeous love tattoo. You can also change the words with each other's names for unique couple name tattoos.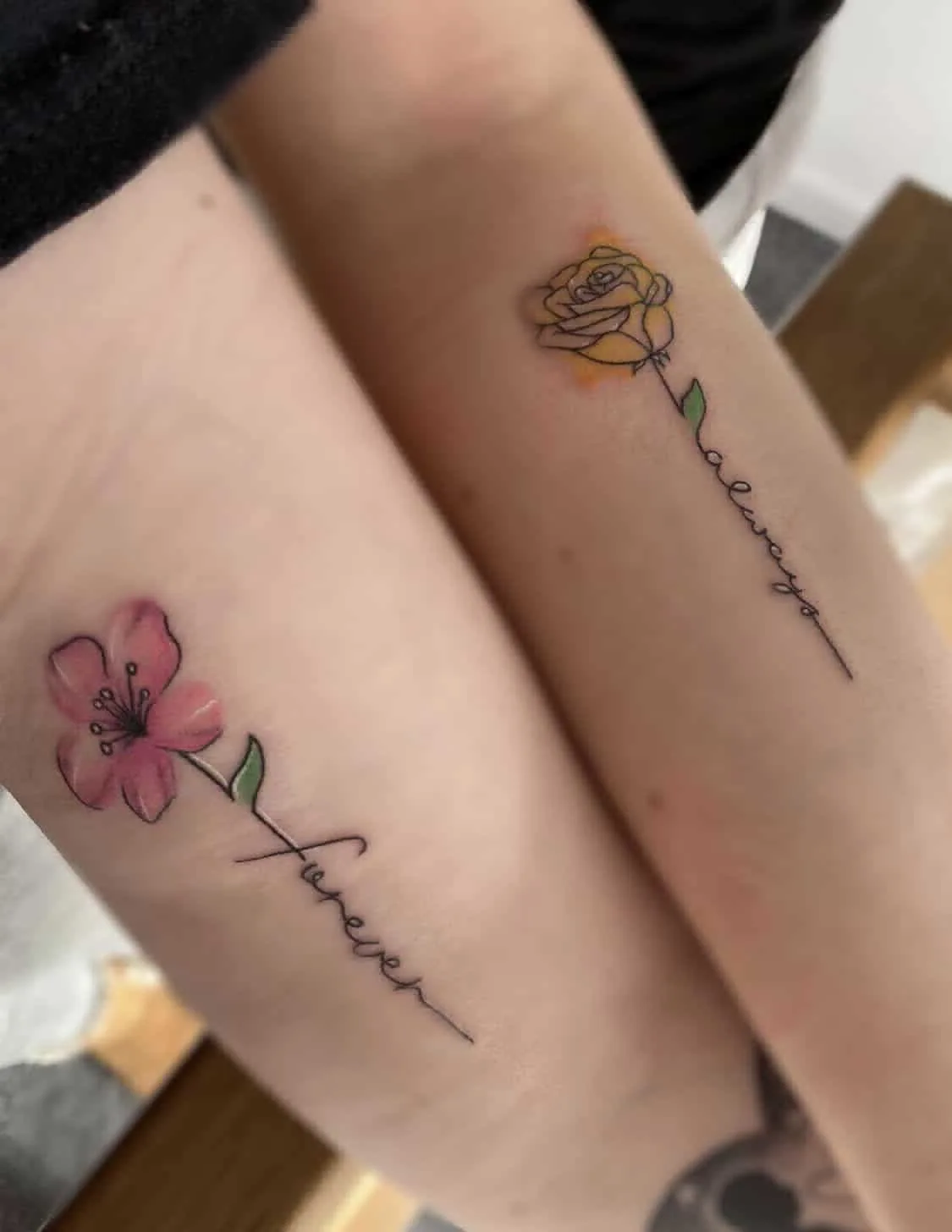 Pinterest Yasmin Parkinson
6. Owl couple tattoos
Two owls sitting on the same branch… but you wouldn't know until you see both tattoos together – a cute and meaningful tattoo for soulmates.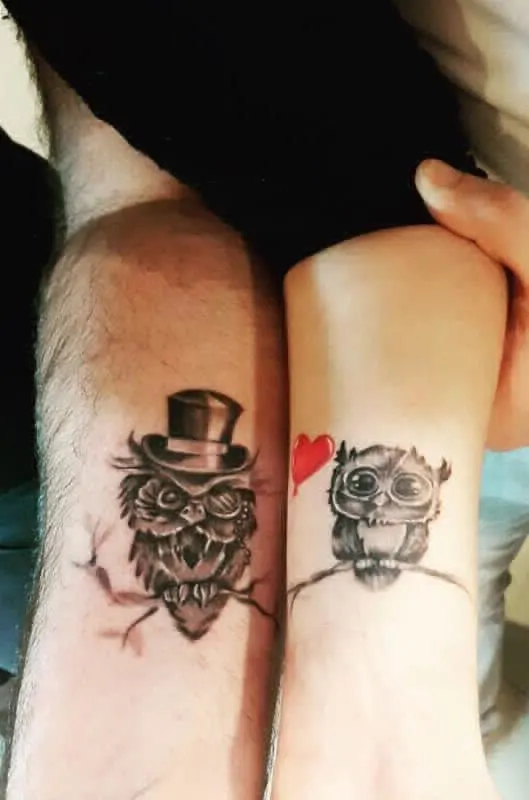 Pinterest kickassthings.com
7. Paper airplanes couple tattoos
Always flying in each other's direction, stable in their fragile form, paper planes are a lovely expression of true love and a unique matching tattoo idea.
Pinterest Let's Fly Away
8. Penguin couple tattoos
Penguins mate for life and love and support their partners no matter what. To show that you and your soulmate are the same, this tattoo design is both sweet and serious.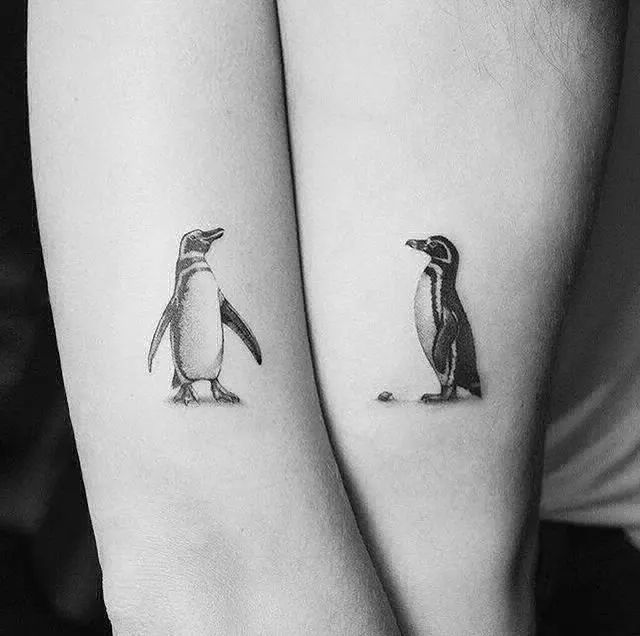 Pinterest kickassthings.com
9. Robot love tattoos
These adorable robots in love are a playful and romantic love couple tattoo idea. If you're after cute matching couple tattoos, this is definitely something to consider.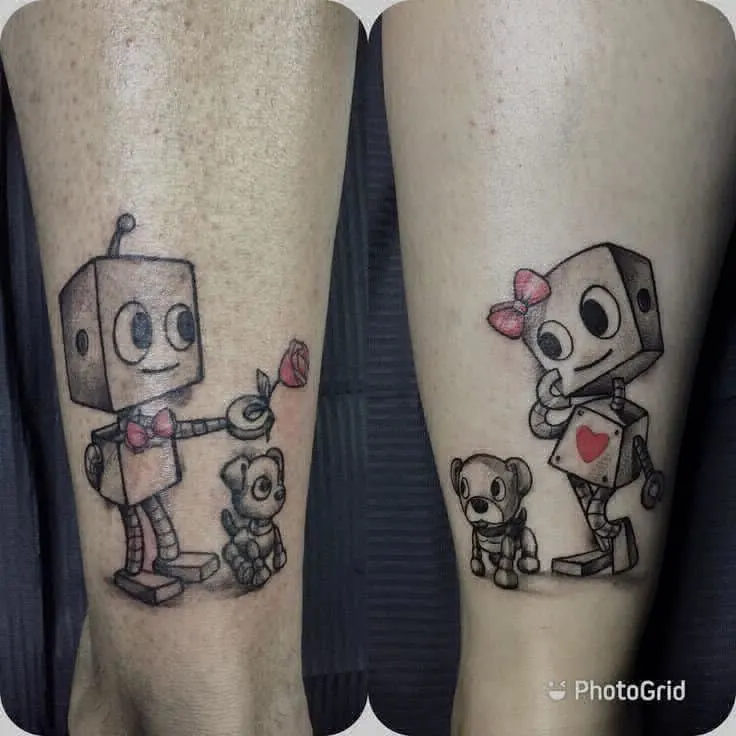 Pinterest Science Education
10. Small world couple tattoos
These minimalist tattoos are more than they seem: they say, 'you're my world' – the perfect way to show everyone your appreciation for your soulmate.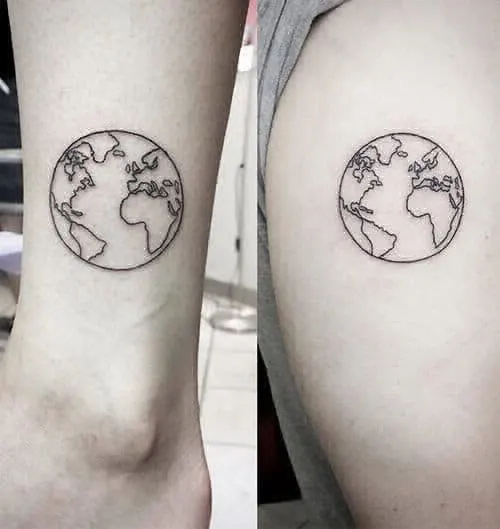 Pinterest Stylecraze
11. Smiley face simple couple tattoos
With only five small lines each, these minimalist couple tattoos show that you don't need a grand design to show off your connection with your soulmate. Tiny love tattoos will do!
Pinterest Brit + Co
12. Stars matching tattoos for couples
The night sky, when all the celestial bodies are visible, makes you feel small and alone. However, when you have your soulmate with you, there's no other place that feels so much like home. Stars design for a soulmate tattoo shows the depth and permanence of your relationship.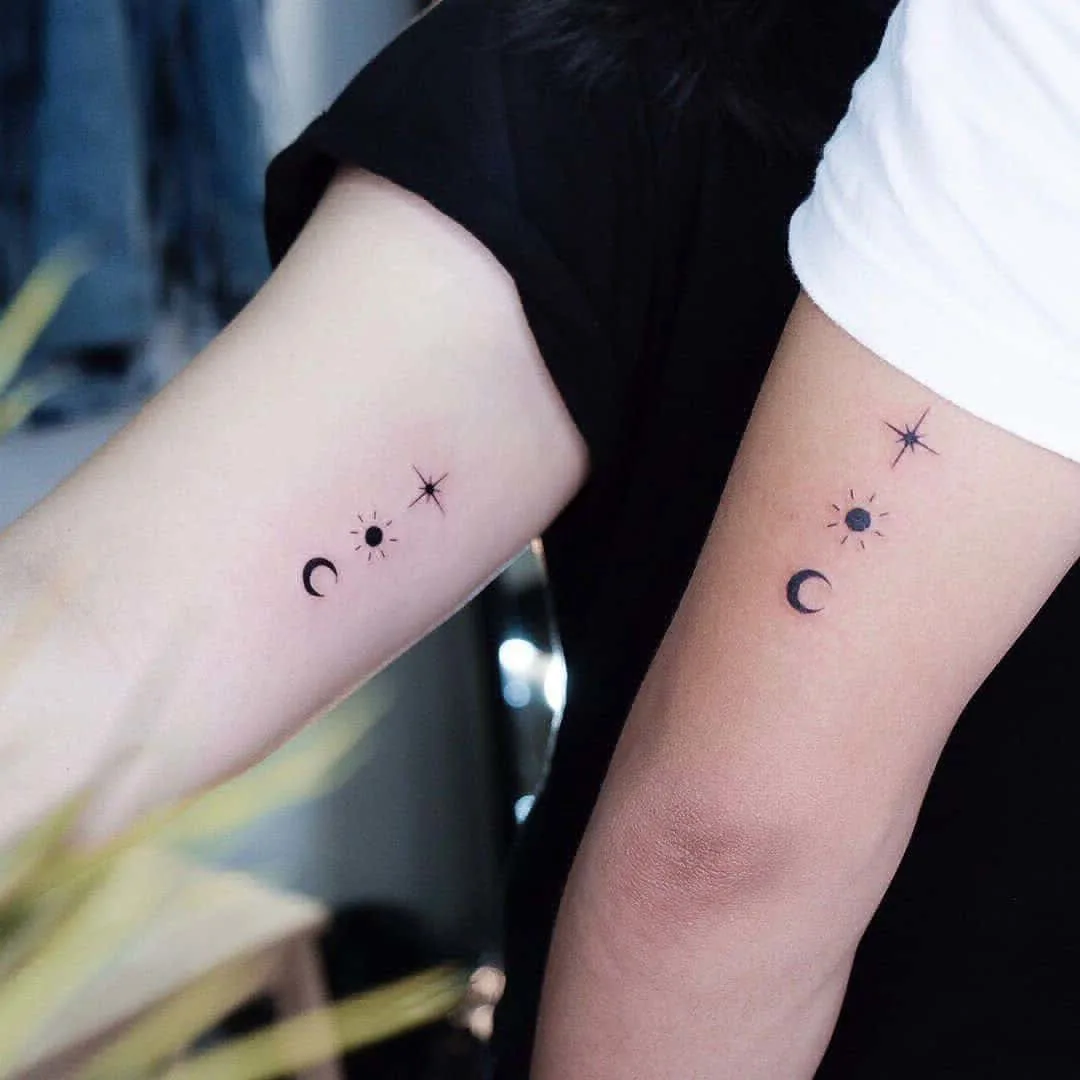 Pinterest Dicas de Mulher
13. Anniversary date tattoos
Your wedding or anniversary date is a classic for a good reason. It looks good and has a meaning of great importance to both of you – a couple tattoo design you can't go wrong with.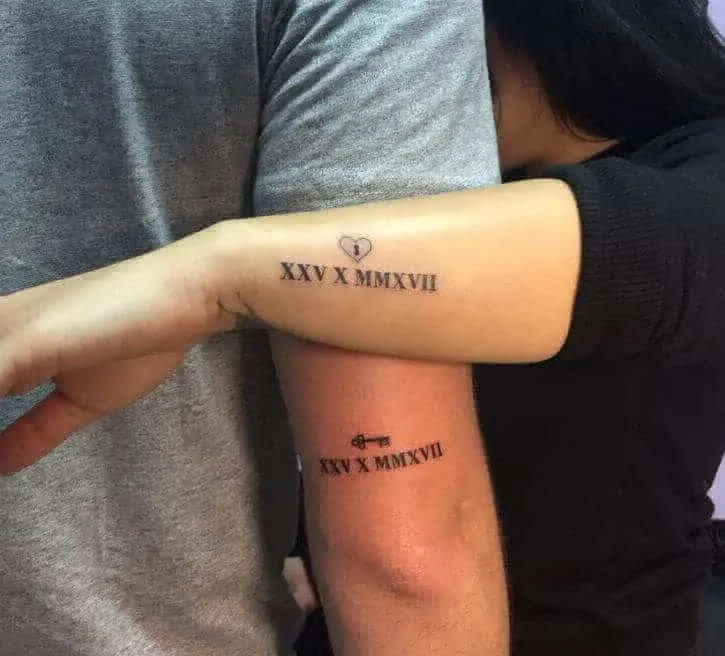 Pinterest TattoosBoyGirl
14. Matching wolf tattoos
Majestic and beautiful wolves are only for the fiercest of souls. Let your inner wolf out to play with its mate and get one of these unique meaningful matching couple tattoos together with your soulmate.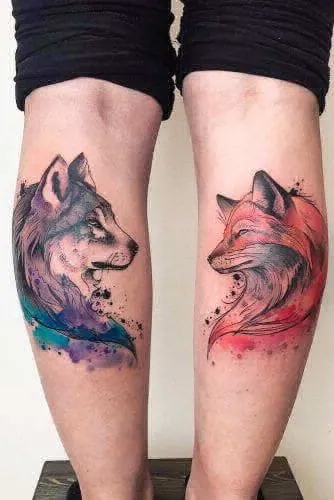 Pinterest Glaminati
15. XOXO couple tattoos
These minimalist couple tattoos are great for friends or partners. They can be interpreted as hugs and kisses!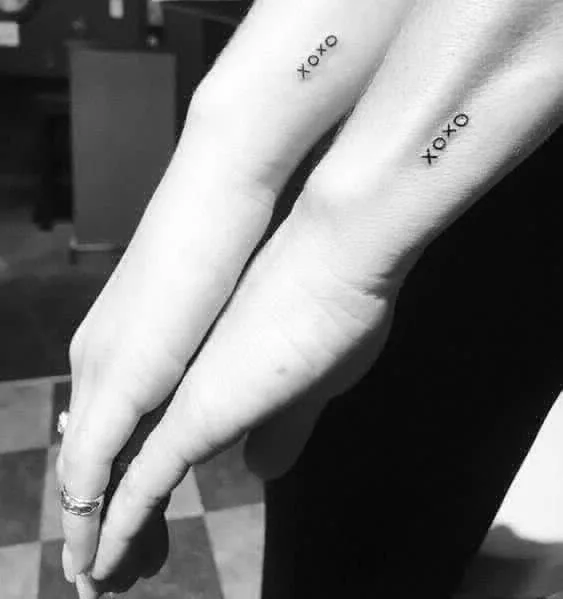 Pinterest Emma Huizeng
RELATED: 160+ Infinity Tattoo With Names, Dates, Symbols, And More
Show Your Love In Ink
Are you looking for unique couple tattoos because you want to get a wedding band tattoo with your significant other? Do you need design ideas for a friendship tattoo with your best friend or a simple design that makes you think about your partner in a long-distance relationship every time you see it?
Whatever you're after, I'm sure you've found your soulmate matching couple tattoos right here. Now all that's left is to find a good tattoo artist who can make your tats come to life.