Sometimes, we all experience some kind of blockade when we're texting with a guy we like.
Here's something that can be helpful in those moments; a collection of flirty and romantic texts to make him think about you and miss you like crazy.
Some women are good with words and know how to express their feelings to a man (be it with love letters for him that will make him cry or something else). But unfortunately, some of us really stink at it, and even when we really try to grab the attention of a man we like, we just fail at it.
Little things always matter the most. Remember, just one simple text is enough to brighten his day and lure a smile to his face.
That's why you should check out these flirty, unignorable texts I found online ASAP to make him think about you.
These romantic text messages in the list below will definitely attract his attention and make him chase you.
Good morning texts to make him think about you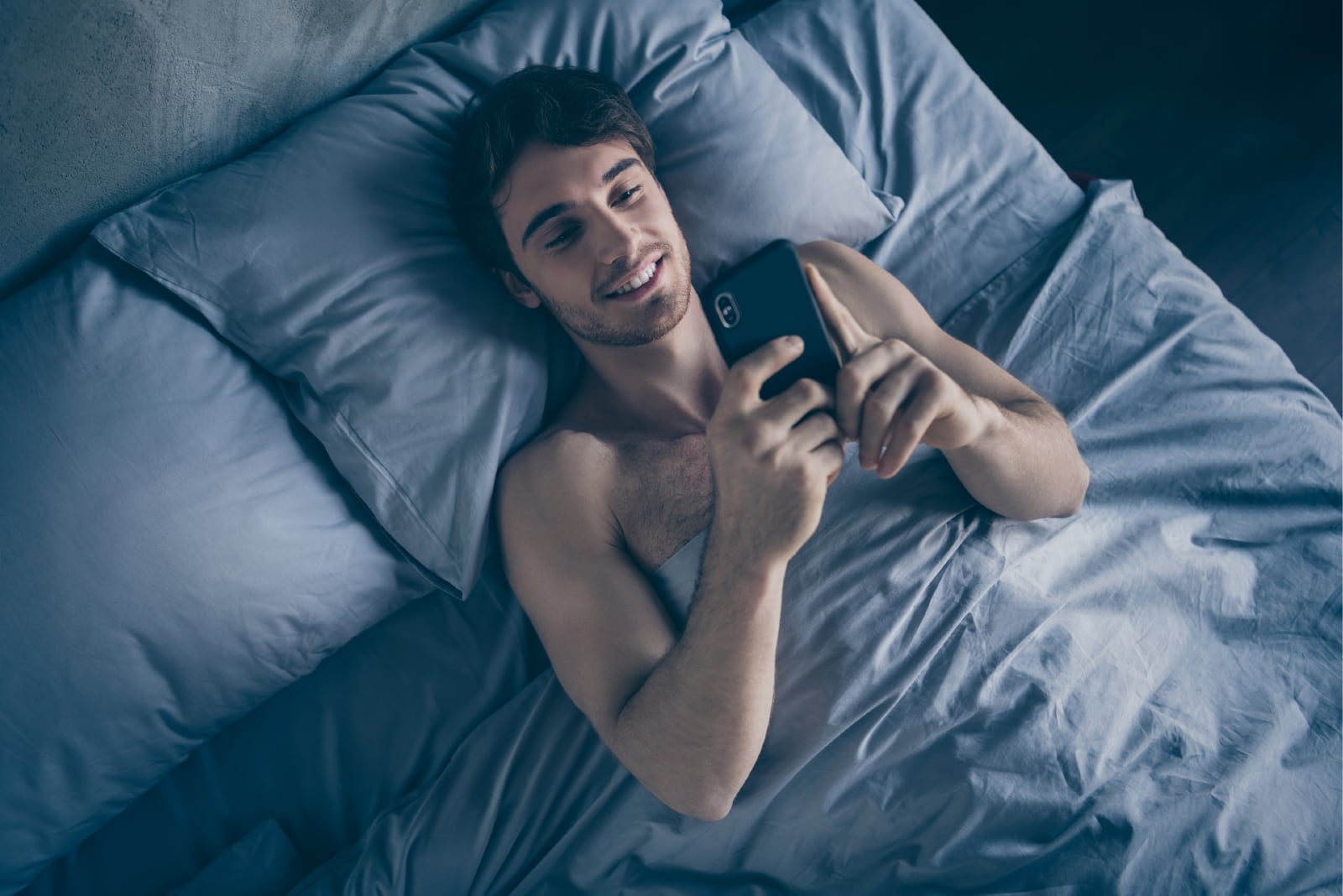 If you want to make your boyfriend think about you all day or your crush to fall in love with you, you should send him a great text for a good morning.
A cute good morning text for him will sweep him off the floor as soon as he wakes up. If you need inspiration, check out this collection below.
1. I'm so grateful that I get to wake up and know that I have you in my life.
2. I wish that every morning of mine would start with a lovely smile on your face and end with caring hugs from you. Good morning, handsome!
3. I wish I were there to hit the snooze button with you.
4. Even if you're miles away from me, I want to let you know that you are always there in my heart. I miss you so much. Have a nice day, handsome.
5. Mornings without you lying by my side are what I hate the most. Can't wait for you to come home, so I can melt in your arms again.
6. We are apart geographically, but our hearts are close to each other. I miss you a lot. Good morning, my prince charming.
7. I woke up to the thought of my love for you. Good morning, babe.
8. I can still smell your scent on my skin from last night. Good morning, and hurry to come to me to hold me tight as I want it.
9. Were you a coffee bean in your past life? Must have been because I can't start my day without you! Good morning, my handsome.
10. I want you to be the first person I see when I wake up in the morning. I miss your handsomeness. Good morning, sweetheart.
11. I am sending you some virtual kisses for a good morning. And, you will get the real ones when you come over.
12. Morning, babe. Wishing I could kiss your handsome face as I wake up.
13. My pillow is definitely getting jealous because it knows I'd rather be sleeping on you!
14. Honestly, my day won't be complete without sending my morning wishes to the man of my dreams.
15. Wake up, babe. It's rainy and cold outside. I want you here to warm me up with your kisses.
16. I hope the morning sun is bright and warm where you are today! Sending you my love, and I hope you have a great day.
17. Morning, handsome. I wish I woke up pressed up against you… but I guess there's always tonight.
18. I spent the whole night dreaming of you, and I will spend the whole day thinking of you. Morning, babe!
19. I hope you're having a great morning, babe! The morning sun is so gorgeous here, but, of course, it would be an even more beautiful morning if I had woken up beside you. Miss you, honey.
20. Wish I was starting my morning with you so I could wake you up properly.
RELATED: 310+ Romantically Cute Questions To Ask Your Boyfriend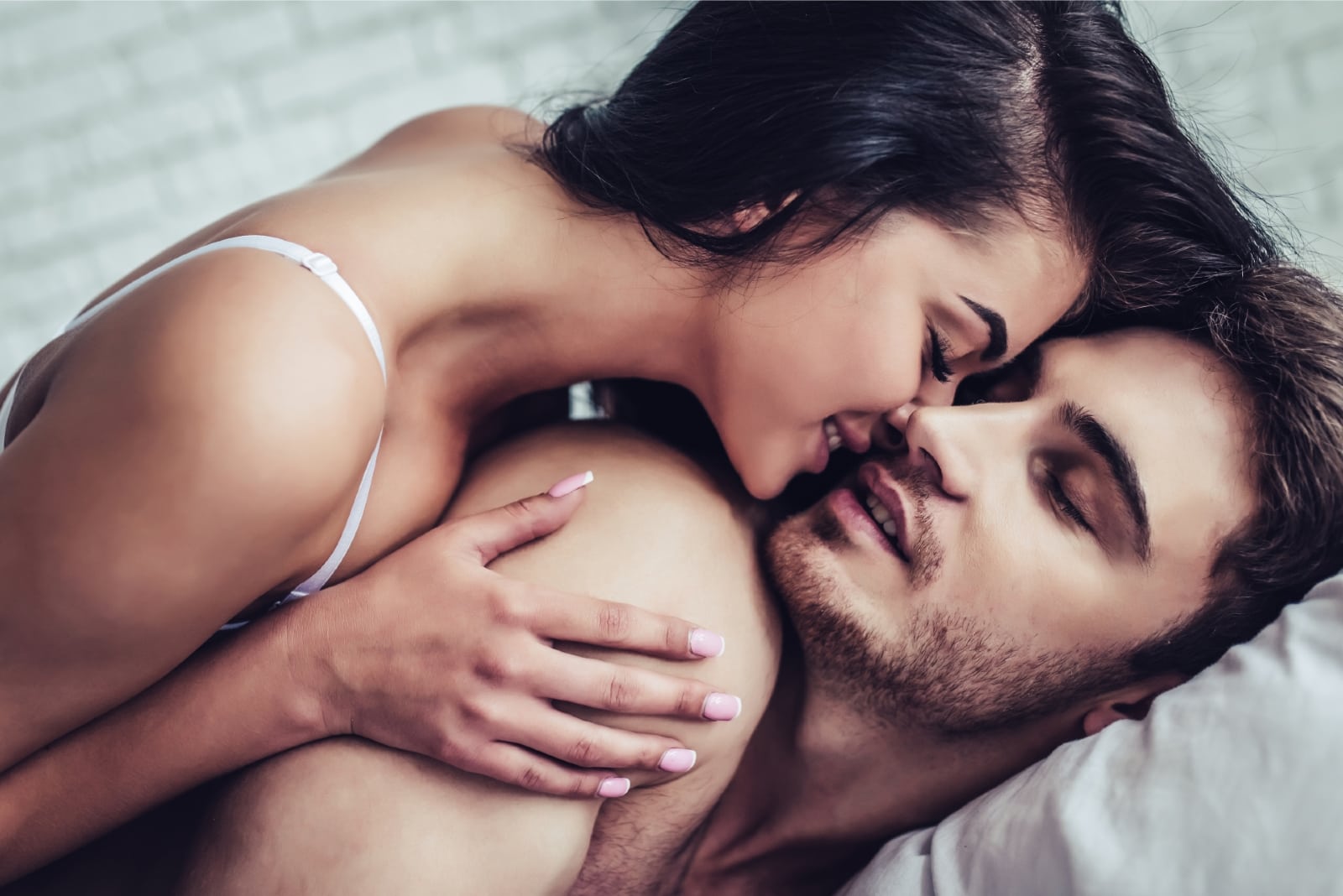 21. I was dreaming of kissing you the whole night. Please come soon, and don't ever leave.
22. This sunny morning would be even sunnier if I had you in my arms. Have a lovely day, handsome man.
23. Good morning to the world's greatest lover. We can test if this statement is true later tonight!
24. Morning, babe! Did you sleep well or were you preoccupied dreaming of me?
25. Just woke up from a dream of you kissing me… if only it was real! Missing you and our cuddles, love you.
26. Here's your official wake up from Cupid! Today, you will fall madly in love with *your name*. Oops, too late! Nevermind, have a nice day.
27. I had a dream about you last night. Do you want to come over, so I can show you what I was dreaming of?
28. Sending this morning text message to let my handsome man know that I miss waking up to you in the morning. I hope you have an incredible day; I don't know where I would be without you.
29. Has anyone ever told you that mornings are made for spooning naked? Well, now you know! Just keeping you in the loop.
30. Can't wait to see you today. I am counting the minutes until I can see your beautiful face.
31. I woke up to this incredibly handsome man lying next to me; I almost thought I was dreaming at first. Love you, hot stuff!
32. I wish I was there to kiss you all over and give you the best morning ever!
33. Nothing feels better than a morning kiss, so I'm sending one your way! I love you, baby!
34. On a cold morning like this one, I would really love the company of a hot guy like you.
Flirty texts to make him think about you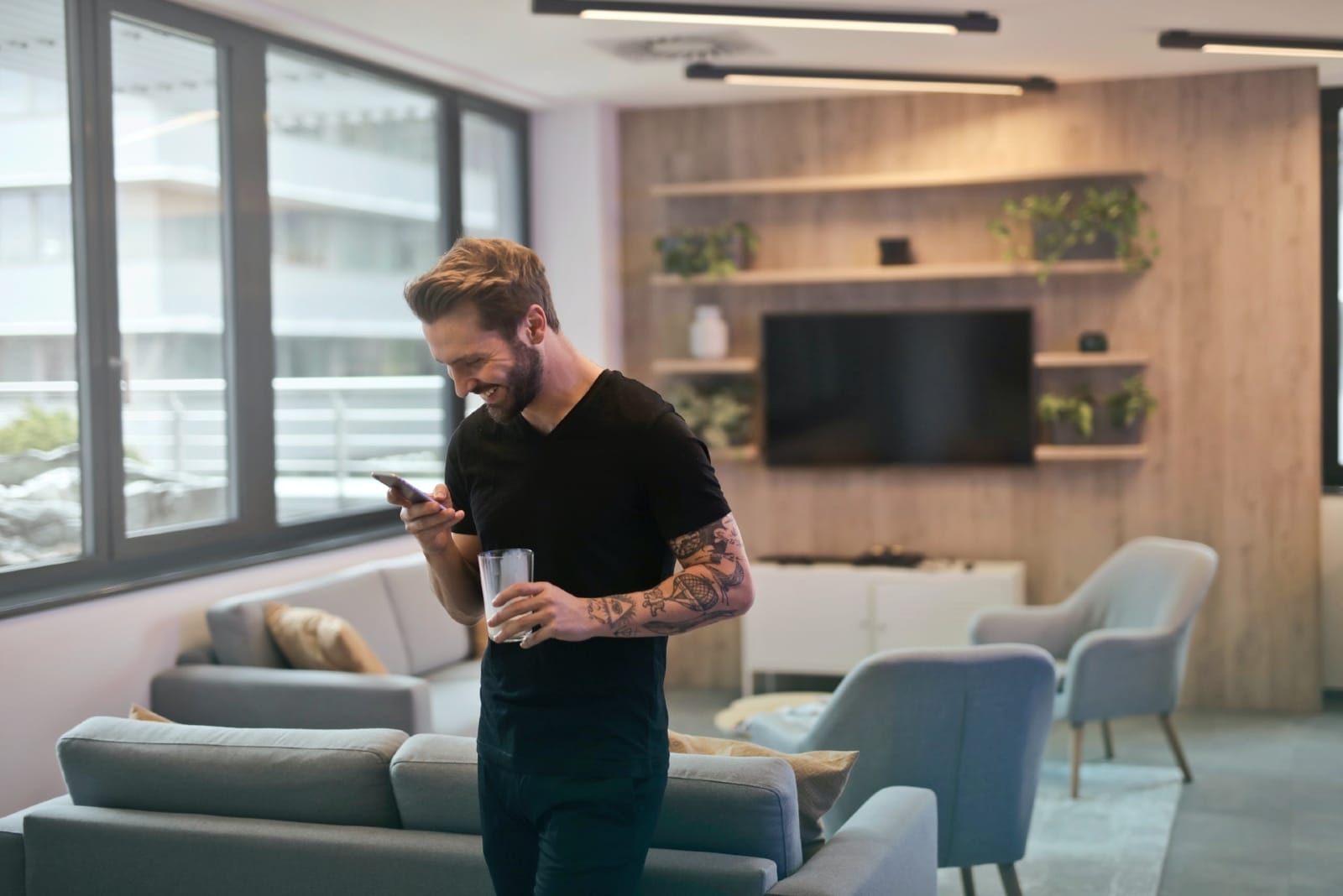 1. I thought I should prepare your favorite dish tonight and invite you over to my house. Take it as a tribute to your handsomeness from me!
2. I promise I will always be by your side, even under you or on top of you if you prefer.
3. I am really missing your handsome face right now. Would you mind sending me a pic of it now?
4. I'm making the first move when it comes to texting, so I'm expecting you to make the first move when it comes to kissing.
5. A kiss burns like seven calories a minute; wanna work out?
6. Congratulations, you just won an award for stealing my heart. And, your award is waiting in our bedroom tonight.
7. I have Netflix for my plans for tonight, but no one to chill with. Think you can help me out with it?
8. I think my lips and yours should have a personal meeting… ASAP.
9. Can I just say that you are the most handsome guy I have ever met? I would like to tell you that every morning if you don't mind.
10. What if we both call in sick tomorrow? Let's spend the whole day playing hooky, just the two of us.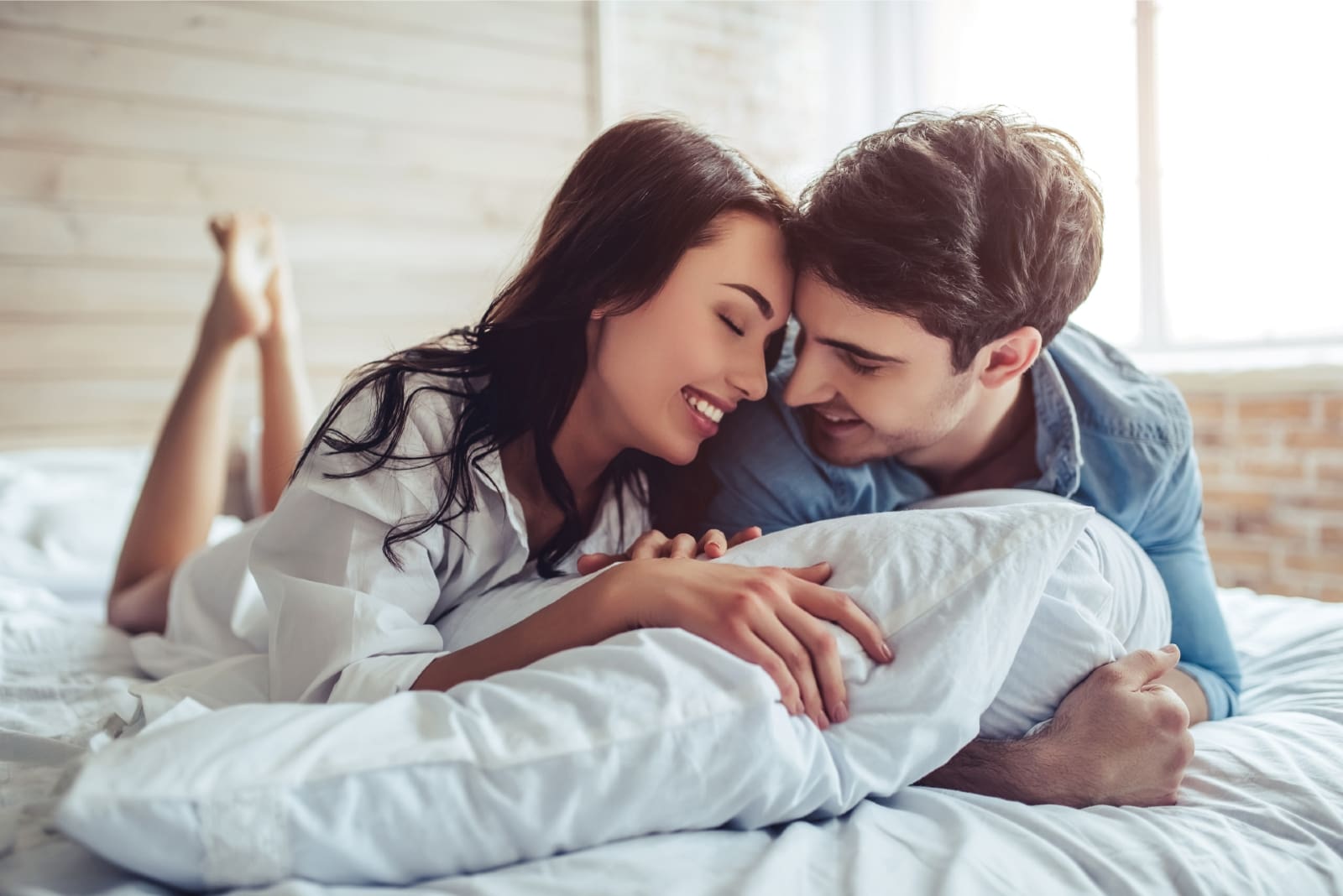 11. Here's the game plan for tonight. You, me, takeout, Netflix and chill. Is it a date?
12. I've got one condition to invite you over: you're forbidden from keeping your hands to yourself. You should tell me in detail about what you'll do with them.
13. What's your favorite color? That's the lingerie I'm wearing tonight.
14. If you wanna stop by my house tonight, I'll make it worth the trip.
15. Dinner's on me tonight. Anything you want, plus me as dessert.
16. Just the thought of you lying beside me makes me so excited and takes my sleep away at night. I can't control myself when I'm thinking of you!
17. Congrats. You've leveled up. I won't be holding back the next time I see you. Prepare yourself!
18. Your words alone can turn me on. But still, I want to know how your actions are. Tonight is the perfect time, don't you think?
19. I was sweating a lot when I woke up today. Not because it was too hot in the morning, but because of the dream I was having about you. It was too hot to handle.
20. I just got the cutest new bra. I can't wait to show it to you.
21. Do you want to mess my bed up tonight?
22. All I can think about is how I can't wait to see my clothes lying on the floor next to yours.
23. I wish we were together right now cuddling.
24. What do you want me to be wearing when you come home tonight?
25. My bed sheets still smell like you, and it's driving me crazy. Can you fill the void that you've created when you left this morning? I'm not sure I can take another hour without you.
See also: 80 Hottest Texts To Send A Guy And Make Him Want You Badly
Romantic and cute texts to make him think of you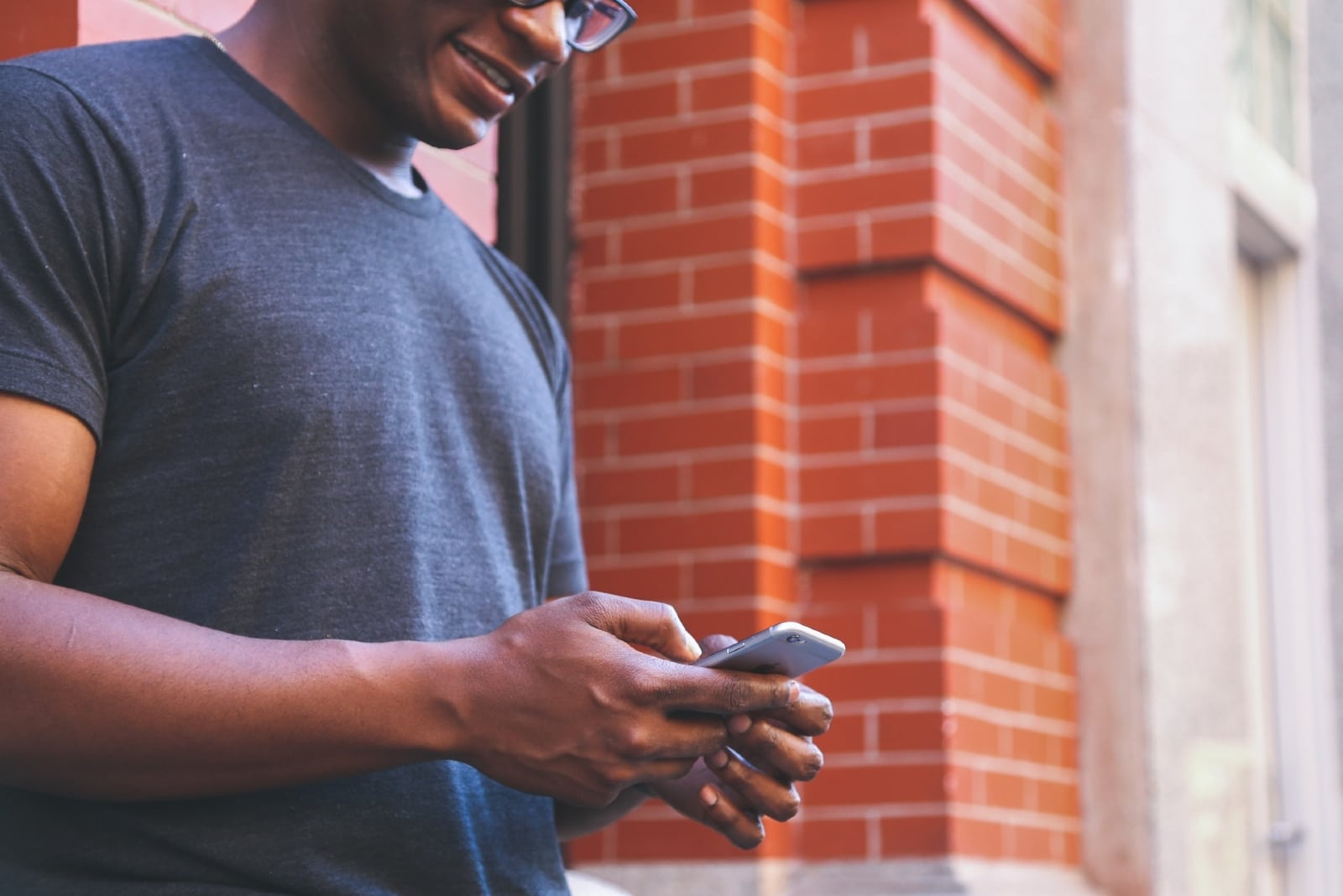 1. I'm getting little butterflies just thinking about seeing you later today.
2. I have just walked past the bar that we had our first date in. It was so magical, wasn't it?
3. I was just reminiscing about the first time we kissed. I've never felt such electricity in my life!
4. My coworkers probably think I'm crazy because I smile like a giddy school girl whenever I'm texting you.
5. I promised myself that I wouldn't fall in love because love was something I didn't believe in. Then, I met you. You rocked my world like a hurricane, and now I can't imagine my life without you in it. I guess it's my way of saying "I love you".
6. You are my life. You are the only person in my life who matters to me. I will do anything to bring that smile to your face. I want to let you know that I will be there with you always to take care of you. I love even the smallest of things that you do for me. I make sure to do everything to prove to you that we are made for each other. I want you to know that I love you each and every moment of life.
7. You are the most beautiful person on the planet, and I am the luckiest person because I get to kiss you every morning.
8. Even if you are sick, I would still kiss you. It is worth catching a cold if I get to spend my time with you.
9. Every time I see you, my world stops, and all I can think about is you. The world starts spinning again when you leave, but I don't like it as much. I just wait for the world to stop again because that is the best feeling I have ever had, and all I want in life.
10. You are a wonderful man in my dreams. You'd better be just as wonderful in real life. You have a lot of expectations to live up to.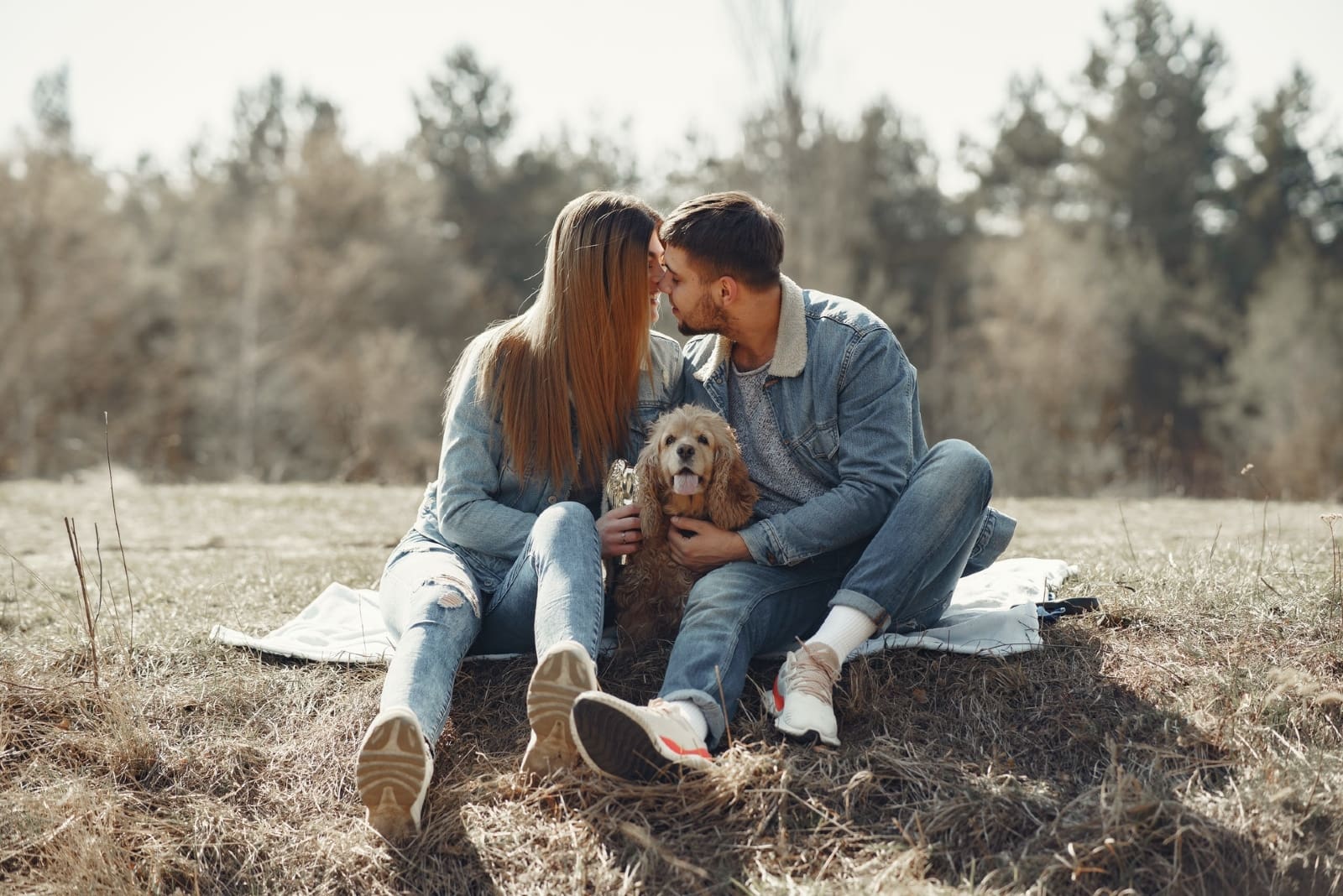 11. The sun may be the brightest, but nothing can be compared to the light that you have brought into my life. You are the most precious person in my life.
12. My mind doesn't allow me to think about anything else other than you. Even if I think about other things, it comes straight back to you. I miss you and I love you a lot.
13. I know the meaning of true love because you showed it to me. You have been with me through everything, and you have shown me nothing but unconditional love. Thank you, my love.
14. I couldn't ignore you even if I wanted to. I can't decide if the best part of my day is waking up next to you or going to sleep with you. Hurry home so I can compare the two again.
15. I know I'm in love. The words: tender, affectionate, handsome, strong and resilient are no longer a bunch of words. They are you.
16. How is your day going so far? I need to meet a certain handsome man later tonight.
17. If I could change one thing about you, it'd be your current location… so we could be together.
18. So far, every moment we've spent together has been awesome. But, I promise you, the best is yet to come.
19. I might run out of text messages to send you, and I might run out of jokes, too. My phone might run out of battery, but my heart will never run out of space for you.
20. I have been daydreaming about you since I woke up. When are you coming over to make all my dreams come true?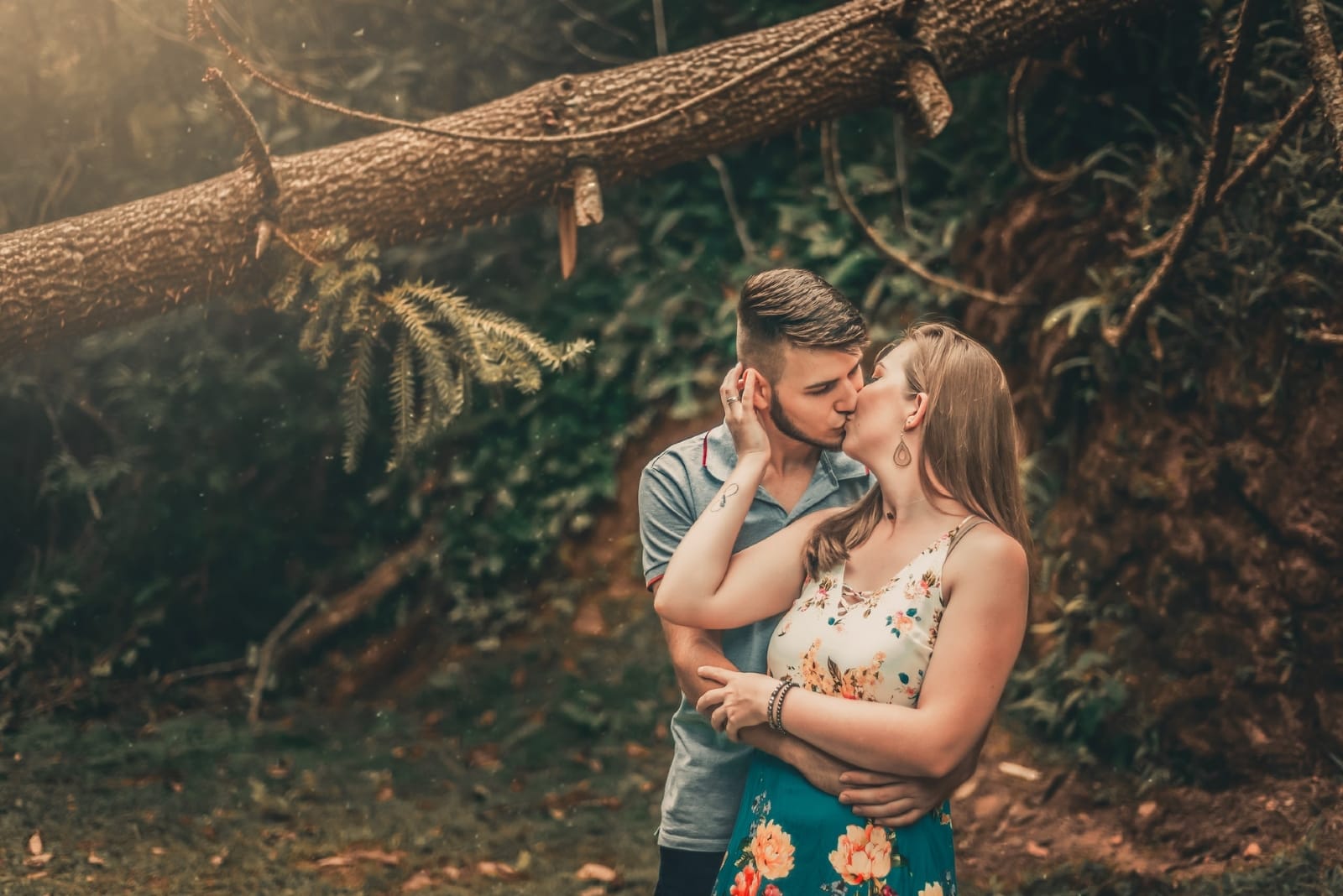 21. I'm so thrilled when I see you… when I hear your voice. It gives me butterflies in my stomach. Your smile skips my heartbeat. I feel complete every time I am with you.
22. When I feel your heartbeat while you hold me, my world folds into that moment when we are together.
23. I love being in your arms and falling asleep. You might think I'm not noticing, but I love it when you gently tuck my hair. I love it when you give me gentle kisses so that you won't disturb my sleep. And, most of all, I love being secured in your arms.
24. Everything feels so much better knowing you're in my life.
25. You are the only thing on my mind each and every minute. There is not a single second when I'm not missing you. Your love makes me so weak, yet it makes me very strong. I'm possessed by your love.
26. There never was and never can be another you. You are the one who makes me smile, this much is true. So, love me now and leave me never. Let us spend eternity together.
See also: Flirty Texts To Send Him: 51 Seductive Ways To Make Him Yours
How to make him think about you through texting?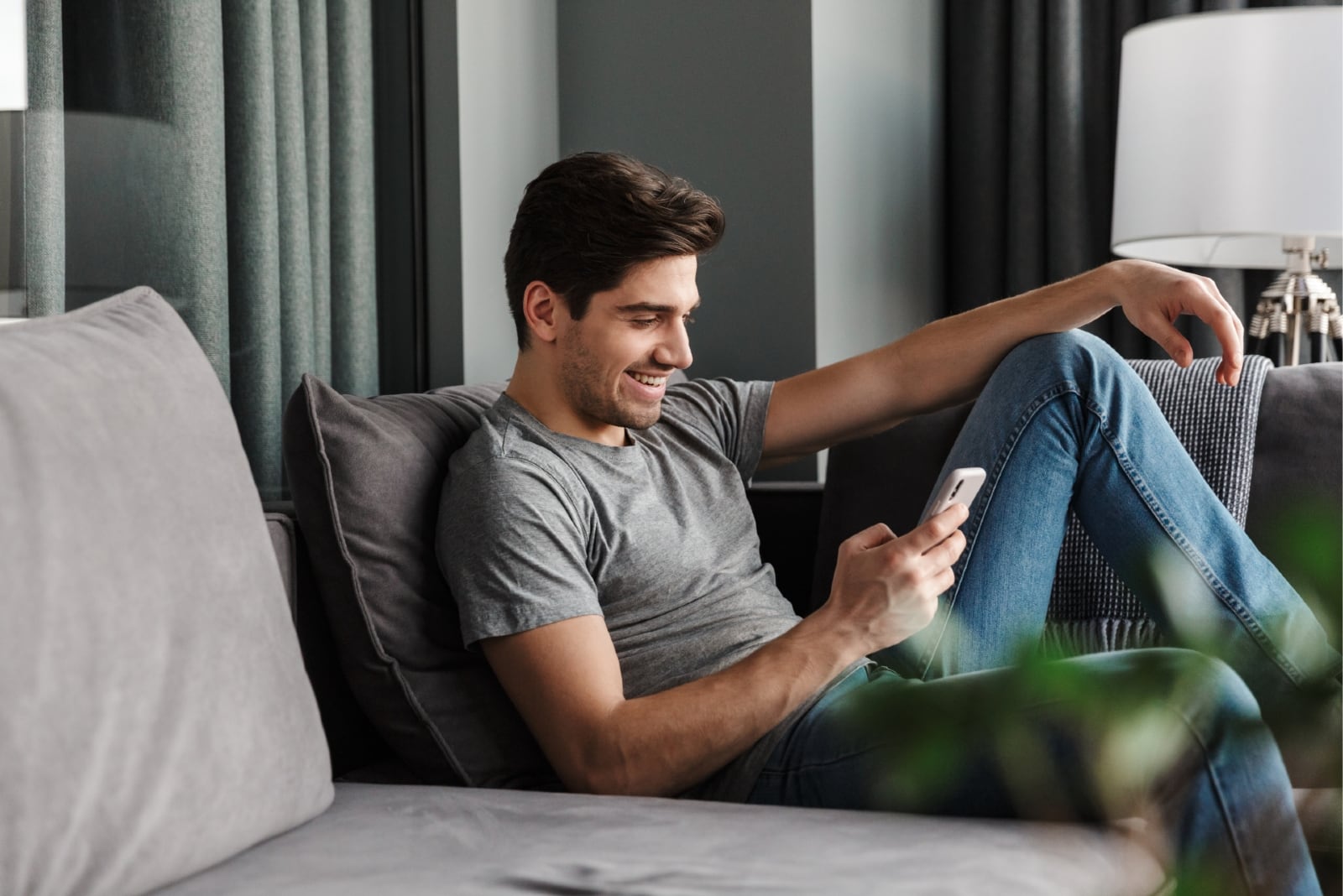 Even though men don't want to admit it, they also like to be reminded of how special and loved they are. Even if it's through texting, you should remind him how much he means to you every day.
A romantic SMS will immediately lure a smile to your man's face, but unfortunately, not all women are good with words.
That's why I compiled this collection of flirty and highly romantic texts to make him think about you and miss you like crazy all day long.
Flirting over messaging is an art indeed. I am also going to share with you some relationship advice and texting tips to make your man fall in love with you, and make him chase you.
Don't make yourself too available
If you want to grab the attention of a guy you like, you should never make yourself too available. That will never make him miss you because he knows you're always there.
On the contrary, he would only get bored of you.
I know that you would like to be in contact with him 24/7, but there are some boundaries in texting that you should respect.
Of course, if you really want to make him fall in love with you, then he has to know that you have a life besides your relationship. Don't make yourself look desperate or needy by texting him constantly.
Remember, the goal is to make him think about you and miss you, not to push him away. You can take the initiative and send him a cute text message in the morning to wish him a great day.
Then, wait for his response and see how things will develop.
You shouldn't text him back instantly
When you get his reply, don't text back right away every time. Once again, you'll only show him that you're desperate that way.
Maybe you're afraid that not replying to his message instantly could make him think that you aren't interested in him, but the truth is that it's exactly the opposite.
For as long as you don't text him back, he'll be thinking about you. Also, he'll be much happier when you finally do reply than he would be if you texted him back right away.
Remember, fruits get sweeter the longer you wait.
Be curious
Show interest in his life and the things he does. You can always start your message by asking him about his day, and then you can add how much you miss him and can't wait to see him, kiss him and hug him.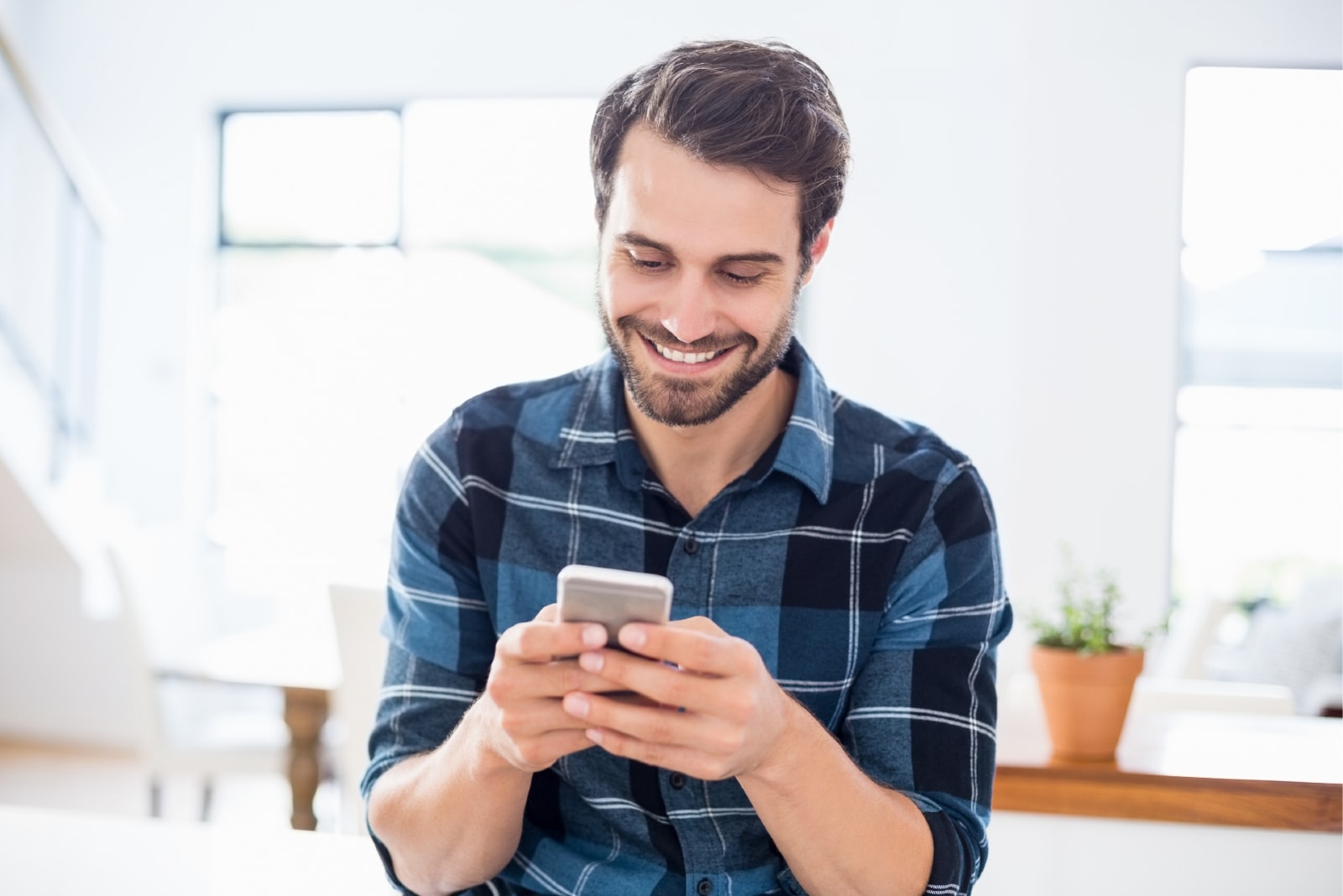 It'll help you make a more meaningful conversation with him, and also, you will find out some things about him that you didn't know before.
However, don't be too simple by asking him how his day is going so far because you'll probably get a boring, short answer that won't allow you to continue the conversation.
Level up your flirting game by using emojis or GIFs
Adding a cute emoji or Gif at the end of your message is always a good idea. But, please be careful with it. You aren't a teenager, so don't overdo it.
Sending one or two cute emojis at the end of your message will add a certain tone to your words.
Emojis and GIFs can explain what you really wanted to say sometimes in your text, especially if you're being sarcastic.
Again, I'm not saying that you should go crazy with it and send a full row of different emojis, but ending your message with an emoji can really add to the meaning of the message.
A little humor always helps
Don't be too serious because no one wants to text with someone they can never feel relaxed or joke with. Don't be negative. We all have some bad days, but try to be positive even on those days.
Trust me, every man likes a woman with a good sense of humor. You don't have to make jokes all the time or force a collection of sexy things to say to your boyfriend, but you can always add a funny emoji or GIF after your message.
Sometimes, the best way to a man's heart is through humor.
Attach a photo of yourself in the message
Sending your selfie after a romantic message is a great way to make your man think of you. Also, he'll probably text back a photo of himself.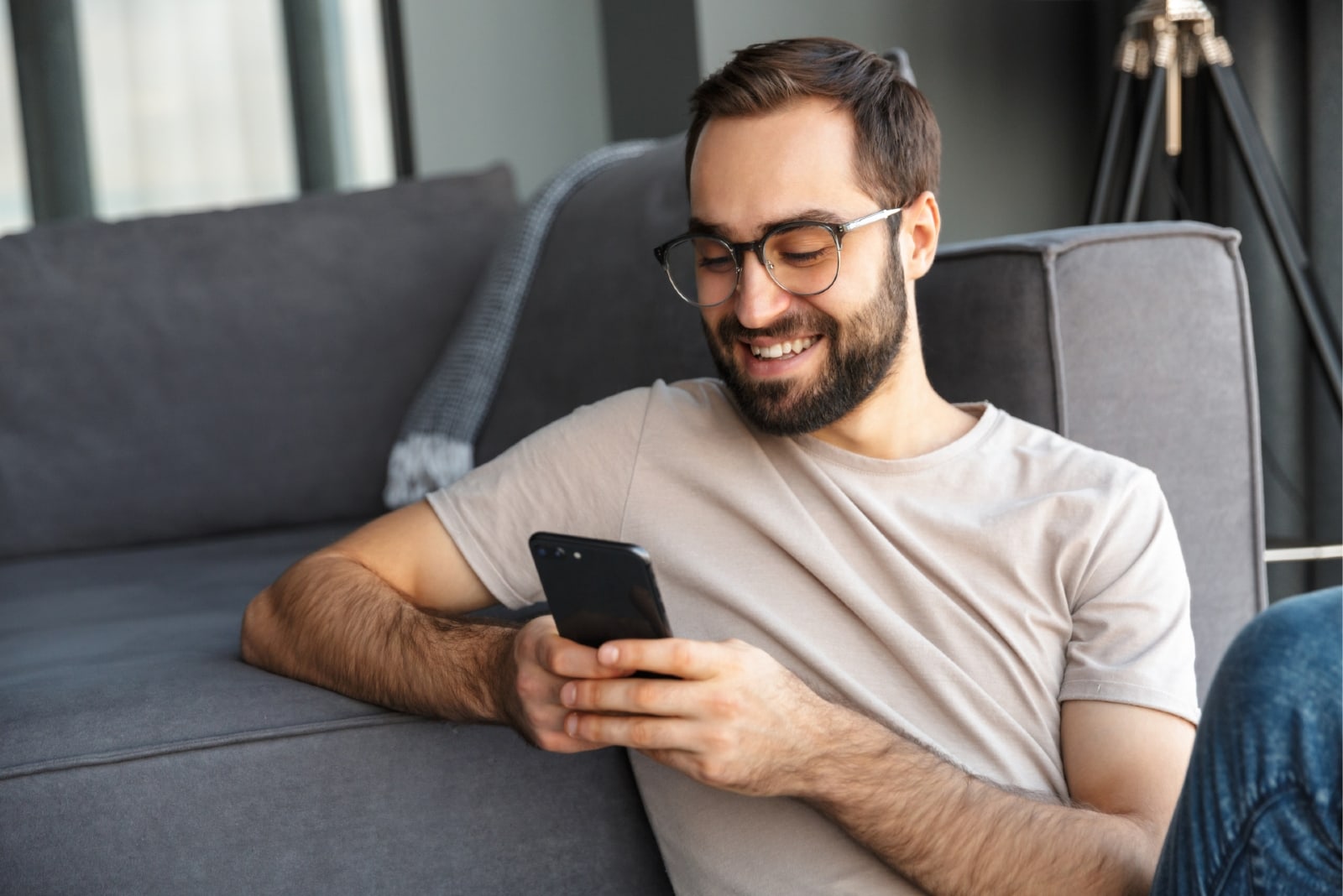 If you aren't okay with sending your photos, then you shouldn't feel pressured to do so. The right man will wait until you're ready to exchange photos.
However, if you're okay with sending nudes to your significant other, then sending a photo like that with one of the flirty text messages from above will definitely get his attention.
Always show affection
You should always start or end your message with a compliment or a cute nickname you have for your significant other.
'Hi, handsome' or 'Hope you'll have a nice day, babe' is a way that your messaging should always start or end.
If he sends you his selfies, you should also compliment his looks, but don't overdo it. Complimenting his hair or his eyes will be just enough.
Romantic out-of-the-blue texts are always welcomed
The best feeling is when you get a message from your significant other in the middle of the day, completely out of blue, right?
Well, you should try to surprise your man with a cute, romantic message when he least expects it. It's especially important if you're in a long-distance relationship.
Those little things are important because they will strengthen the emotional bond between you and your partner.
I hope you like this collection of flirty and romantic texts to make him think of you and miss you like crazy, and I also hope these tips will help you become a pro at the flirting-texting game.
Just remember that even though they'll never admit it, men like to be surprised with a romantic message out of the blue, too. So, choose one from the list above and make him miss you like crazy.