Is traveling together on your relationship goals list? Well, if it is not, this collection of travel love quotes and sayings will definitely make you add it in there.
I can proudly say that my partner and I are full-time travelers, and I truly think that traveling is what keeps the spark in our relationship alive.
Traveling together improves your relationship, strengthens your bond, and makes you see the world and love from a whole different point of view. I honestly hope that these inspirational travel quotes will help you see all the benefits traveling has for your relationship.
And if you've already made traveling a relationship goal, then you can share these amazing travel quotes with your loved one or use them as your Instagram captions to highlight photos from your adventures.
Inspiring Travel Love Quotes
Let's start with these famous travel quotes that will inspire your wanderlust.
1. "When traveling with someone, take large doses of patience and tolerance with your morning coffee." – Helen Hayes (frankly, this can be seen as a very useful travel tip too)
2. "A journey is best measured in friends rather than miles." – Tim Cahill
3. "And the purpose of life, after all, is to live it, to taste experience to the utmost, to reach out eagerly and without fear for a newer and richer experience." – Eleanor Roosevelt
4. "Traveling is the best thing any couple can do. That's how we had the idea of the honeymoon. Newlywed couples going to a new place on their own so that all they could have is each other." – Salil Jha
5. "Why should a relationship mean settling down? Wait for someone who won't let life escape you, who'll challenge you and drive you towards your dreams. Someone spontaneous who you can get lost in the world with. A relationship, with the right person, is a release, not a restriction." – Beau Taplin
6. "We are all travelers in the wilderness of the world, and the best we can find in our travels is an honest friend." – Robert Louis Stevenson
7. "Traveling is like flirting with life. It's like saying, 'I would stay and love you, but I have to go; this is my station.'" – Lisa St. Aubin de Teran
8. "Escape and breathe the air of new places together." – Unknown
9. "Love does not consist of gazing at each other, but in looking together in the same direction." – Antoine de Saint-Exupery
10. Go the distance; couples who travel together are more likely to stay together and feel more connected." – Anon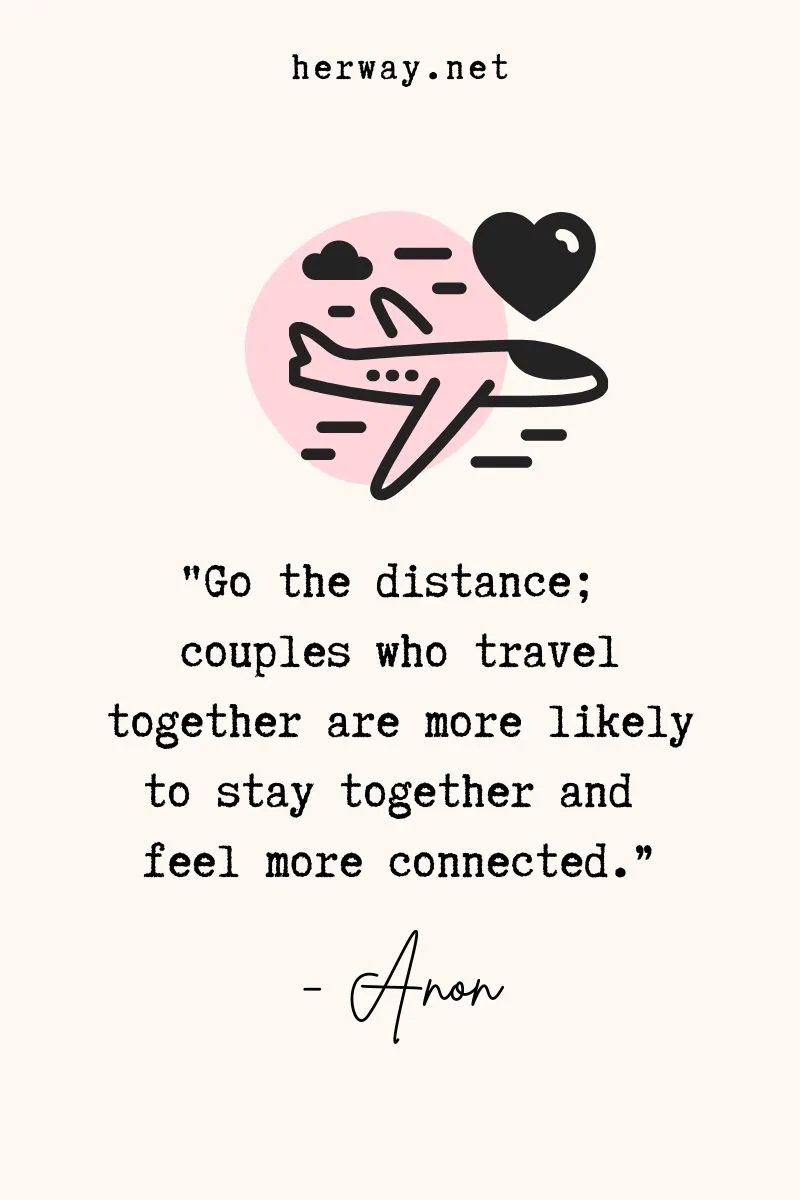 11. "If you're twenty-two, physically fit, hungry to learn and be better, I urge you to travel – as far and as widely as possible. Sleep on floors if you have to. Find out how other people live and eat and cook. Learn from them – wherever you go." – Anthony Bourdain
12. "A couple who travel together grow together." – Ahmad Fuadi
See also: 83 Time Travel Quotes That Will Evoke Your Imagination
Romantic Travel Quotes For All The Travel Couples
Here is a list of the most endearing travel captions and romantic couple travel quotes.
1. "As soon as I saw you, I knew you would be an adventure of a lifetime." – Winnie the Pooh
2. "We travel for romance, we travel for architecture, and we travel to be lost." – Ray Bradbury
3. "I want to travel the world with two things in my hands: your hand in one and a camera in the other." – Unknown
4. "Our goal is to run out of pages in our passports." – Unknown
5. "What we find in a soulmate is not something wild to tame, but something wild to run with." – Robert Brault
6. "Here's to all the places we went. And here's to all the places we'll go. And here's to me, whispering again and again and again and again: I love you." – John Green
7. "Actually, the best gift you could have given her was a lifetime of adventures." – Lewis Carroll
8. "I just want to hold your hand and wander the streets with you." – Unknown
9. "And we will travel together and just be in love forever." – Unknown
10. "Nothing compares to the excitement of exploring every corner of the earth with the right person you love most by your side." – Anon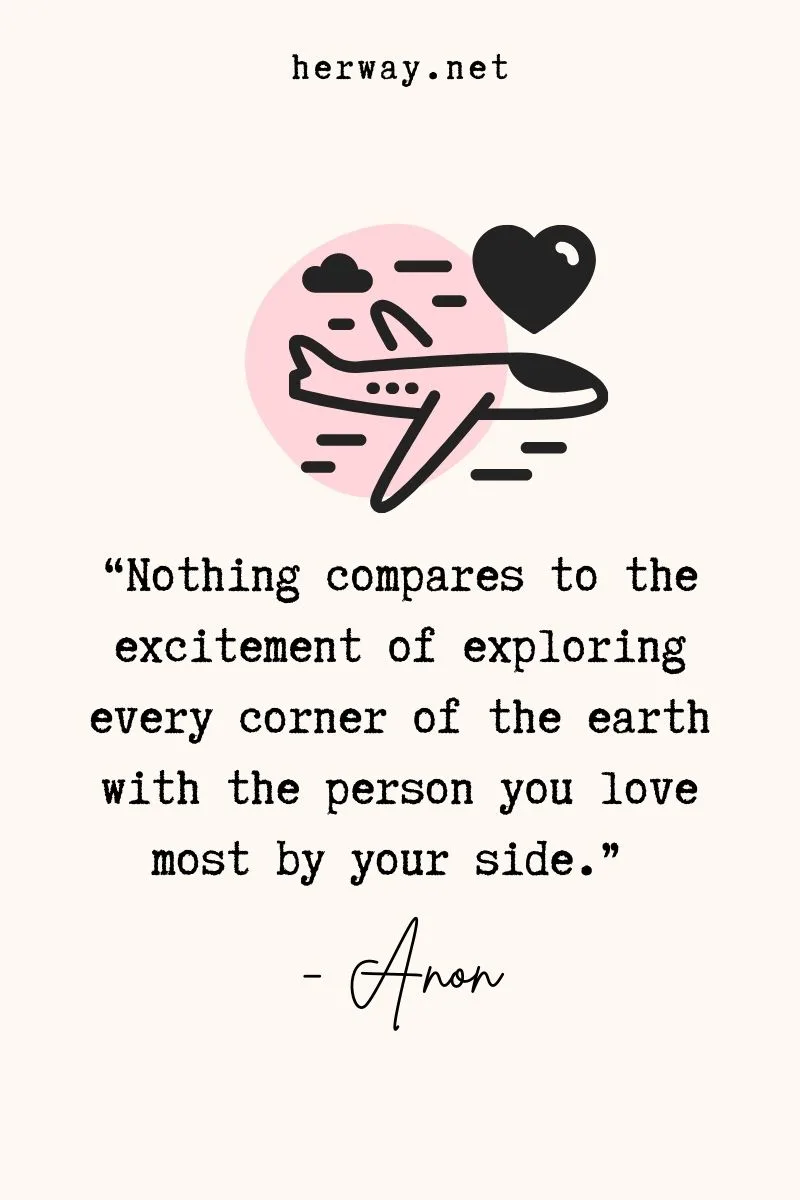 11. "No one realizes how beautiful it is to travel until he comes home and rests his head on an old familiar pillow." – Lin Yutong
12. "Happiness is planning a trip to somewhere new, with someone you love." – Marie Cribaillet
13. "Let's find a beautiful place to get lost." – Unknown
14. "We'd rather have a passport full of stamps than a house full of stuff." – Unknown
See also: 72 Fun Couple Activities For The Ultimate Bonding Experience
The Best Travel Love Quotes And Sayings
This list of the best travel quotes will fuel your wanderlust and inspire you to go in search of new adventures.
These short travel quotes will assure you that, when traveling as a couple, material things, itineraries, and travel guides aren't that important. Strong will, deep love, and commitment never to leave each other's side are what matter the most.
1. "I have found out there is no surer way to find out whether you like people or hate them than to travel with them." – Mark Twain
2. "Love is the food of life, travel is dessert." – Unknown
3. "As with any journey, who you travel with is more important than the destination." – Unknown
3. "Surround yourself with people who make you hungry for life, touch your heart, and nourish your soul." – Unknown
4. "Our happiest moments as tourists always seem to come when we stumble upon one thing while in pursuit of something else." – Lawrence Block
5. "If you want to go, fast go alone. If you want to go far, go together." – African proverb
6. "Good company in a journey makes the way seem shorter." – Izaak Walton
7. "We have nothing to lose and a world to see." – Unknown
8. "Here's to road trips, red eyes, and a lifetime of adventure together." – Unknown
9. "Road trips are the equivalent of human wings. Ask me to go on one, anywhere. We'll stop in every small town and learn the history and stories, feel the ground and capture the spirit. Then we'll turn it into our own story that will live inside our history to carry with us, always. Because stories are more important than things." – Unknown
10. "In life, it's not where you go. It's who you travel with." – Charles Schulz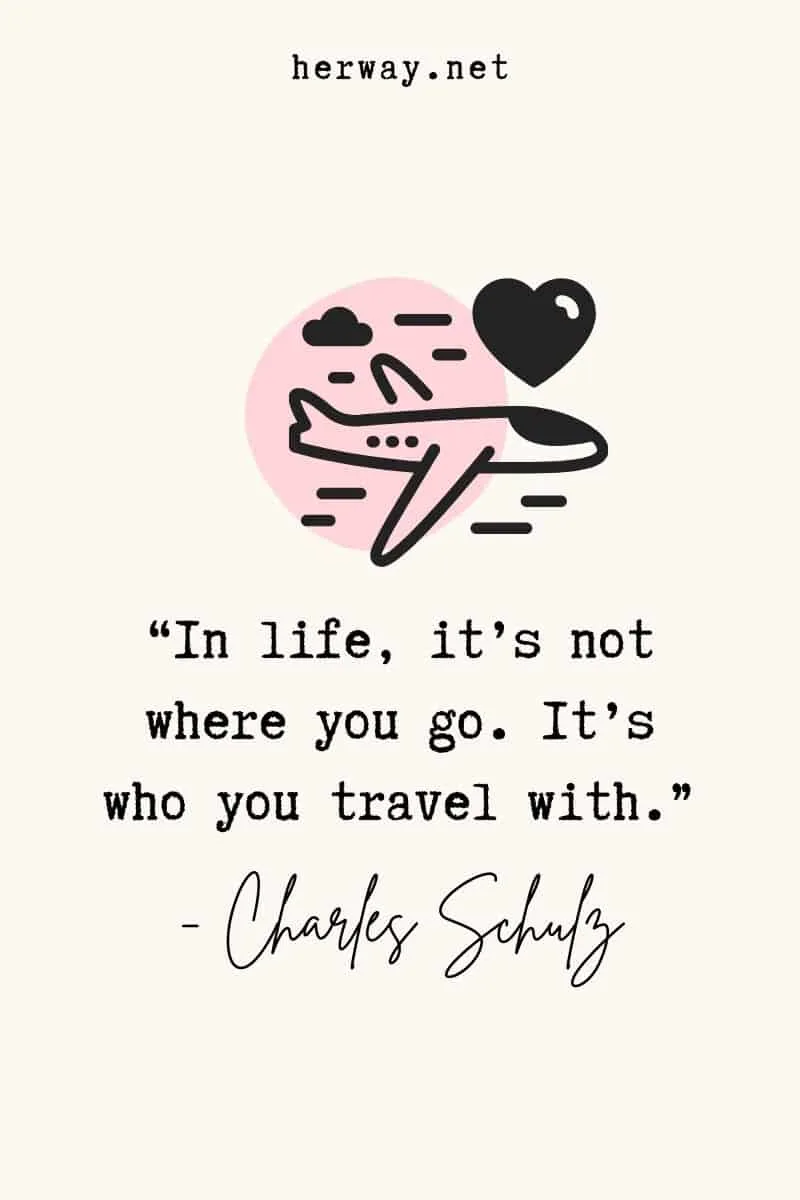 11. "If happiness is the goal – and it should be, then adventure should be top priority." – Richard Branson
12. "We take photos as a return ticket to a moment otherwise gone." – Unknown
13. "Come with me, where dreams are born, and time is never planned." – Peter Pan
14. "Be with someone who feels like freedom and loves you without chains. Because love isn't about holding someone back or using guilt to make them stay. Love is freedom, and they freely choose you." – JmStorm
15. "The travel impulse is mental and physical curiosity. It's a passion. And I can't understand people who don't want to travel." – Paul Theroux
16. "Never go on trips with anyone you do not love." – Ernest Hemingway
17. "I've fallen in love with adventures, so I begin to wonder if that's why I've fallen for you." – E. Grin
18. "We are the luckiest people in the world. How many couples get to travel together and spend quality time like we do?" – Lindsey Gormley
19. "But the most beautiful things in life are not things. They're people, and places, and memories, and pictures. They're feelings and moments and smiles and laughter." – Unknown
20. "The only baggage in this relationship is our suitcases." – Unknown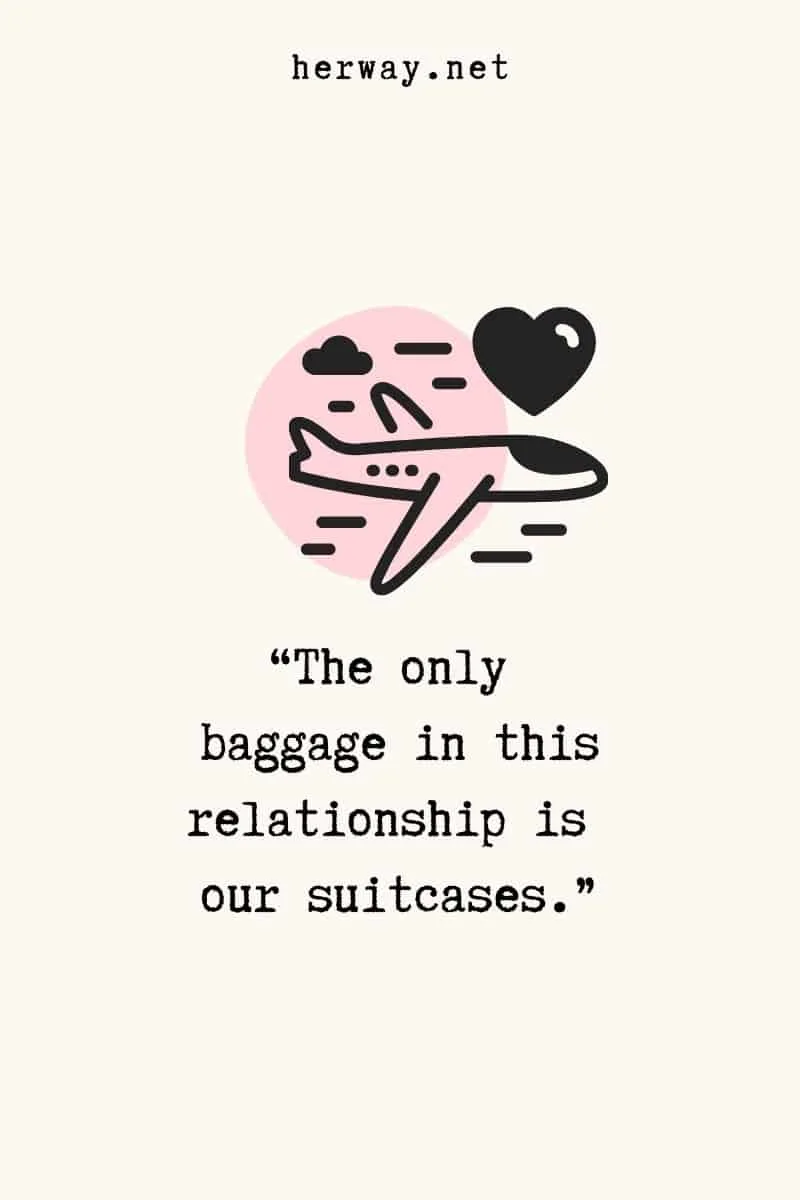 21. "We travel not to escape life, but for life not to escape us." – Unknown
22. "It's a road trip! It is about adventure…It's not like we have somewhere to go." – John Green
23. "Long drives feel shorter when they're done in love." – Unknown
24. "People don't take trips — trips take people" – John Steinbeck
25. "The universe just fucking knows when souls are wired to wreck the world together!" – Erin Van Vuren
26. "I would gladly live out of a suitcase if it meant I could see the world with you." – Unknown
27. "No road is long in good company." – Turkish proverb
28. "Date someone who is a home and an adventure all at once." – Unknown
29. "I just want to travel, get paid for doing something I love, be around genuine people, and find new ways to love the same man over and over." – Unknown
30. "Away is a place where it's not about the money you spend. It's about the moments you share." – Unknown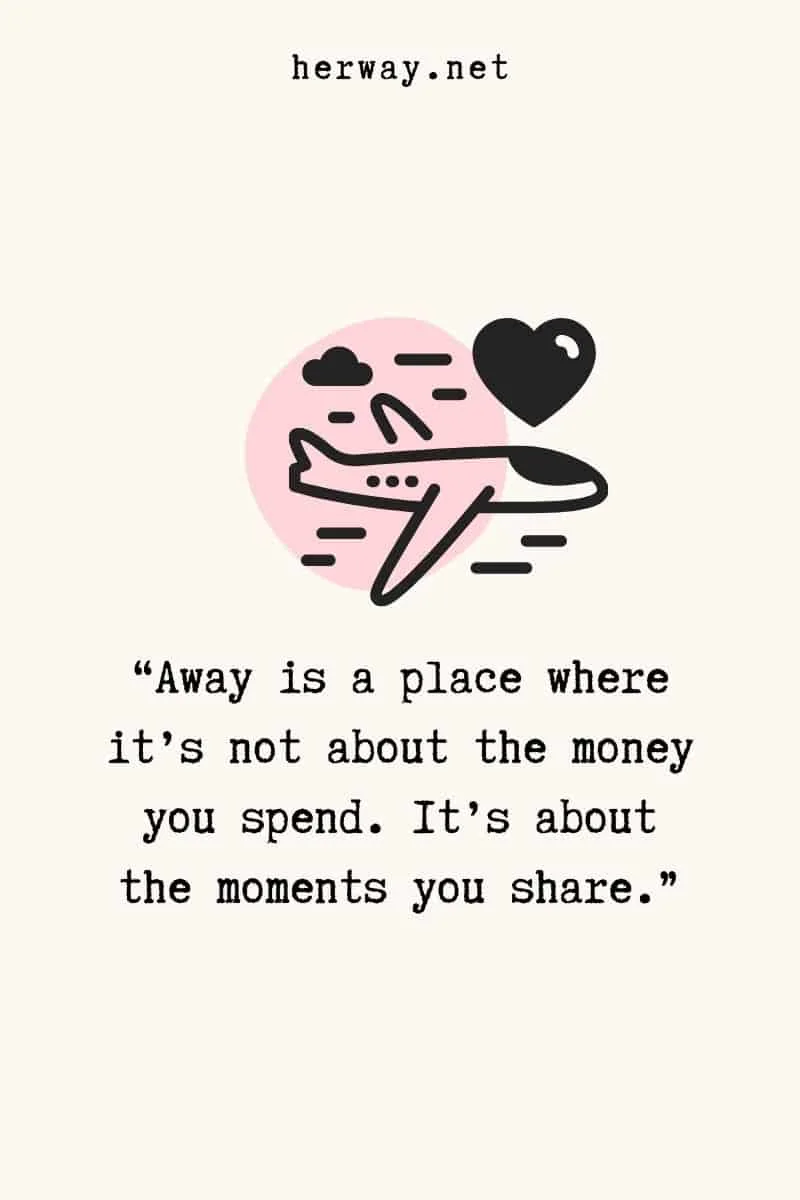 31. "Work, Travel, Save, Repeat." – Unknown
32. "Let's go on an adventure. I'll make some sandwiches and a flask of tea; we'll get out walking boots on and get lost somewhere." – Unknown
See also: 70 Best Picnic Quotes, Captions, And Puns
Love Travel With You Quotes
1. "Will you give me yourself? Will you come travel with me? Shall we stick by each other as long as we live?" – Walt Whitman
2. "I would like to travel the world with you twice. Once, to see the world. Twice to see the way you see the world." – Unknown
3. "I would not wish any companion in the world but you." – William Shakespeare
4. "I want to travel the world with you, go to every country, every city, take pictures and be happy." – Unknown
5. "I want to laugh often, feel unconditional love, have a lot of insanely dirty sex, and travel the world. With you." – Unknown
Travel Enjoy Life Quotes
1. "Life is either a daring adventure or nothing at all." – Helen Keller
2. "Live with no excuses and travel with no regrets." – Oscar Wilde
3. "To move, to breathe, to fly, to float, to gain all while you give, to roam the roads of lands remote: To travel is to live." – Hans Christian Andersen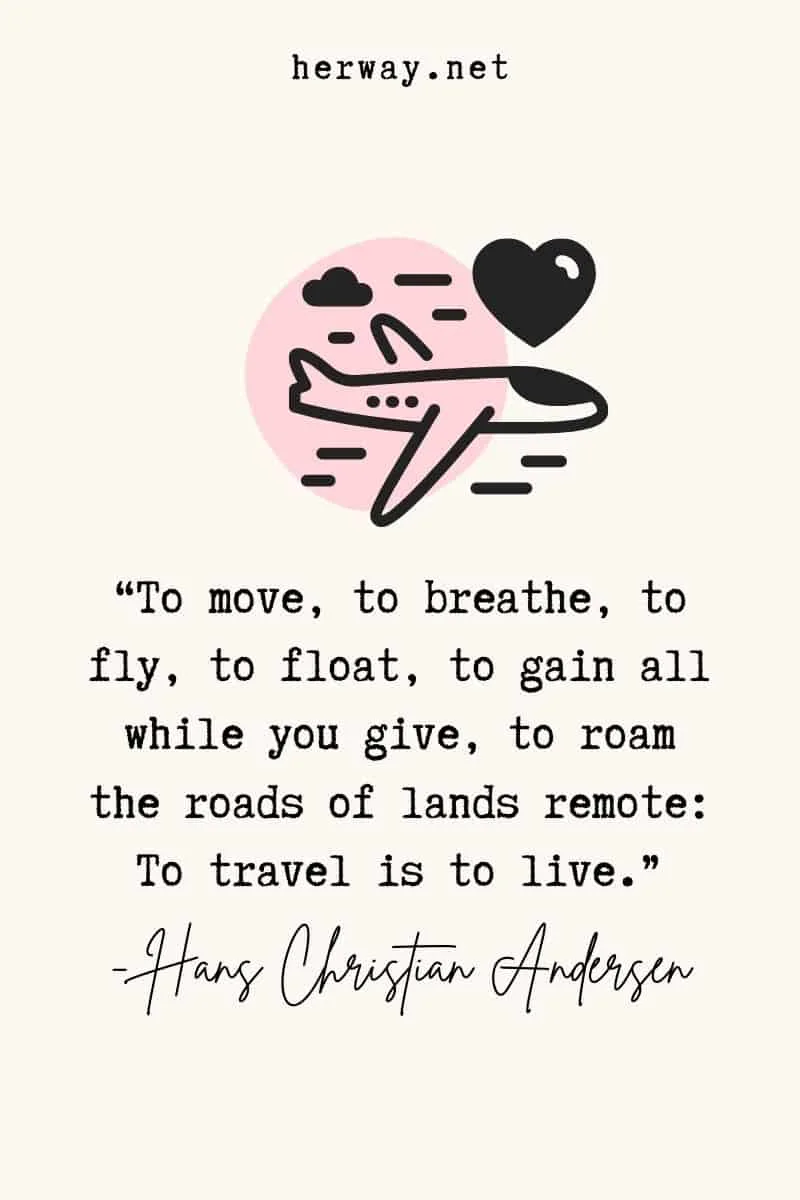 4. "Life is short, and the world is wide." – Unknown
5. "Stop worrying about the potholes in the road and enjoy the journey." – Babs Hoffman
6. "The impulse to travel is one of the hopeful symptoms of life." – Agnes Repplier
7. "'I'm bored' is a useless thing to say. You live in a great, big, vast world that you've seen non-percent of." – Louis C.K.
Couple Adventure Quotes
1. "Adventure may hurt you, but monotony will kill you." – Unknown
2. "The biggest adventure you can ever take is to live the life of your dreams." – Oprah Winfrey.
3. "Nothing ventured, nothing gained. And venture belongs to the adventurous." – Navjot Singh Sidhu
4. "Jobs fill your pocket, but adventures fill your soul." – Jamie Lyn Beatty
5. "Sharing adventures means enjoying them 100% more." – Unknown
6. "Oh darling, let's be adventurers." – Unknown.
7. "Some adventures require nothing more than a willing heart and the ability to trip over the cracks in the world." – Seanan McGuire
8. "So shut up, live, travel, adventure, bless, and don't be sorry." – Jack Kerouac
9. "Blessed are the curious for they shall have adventures." – Lovelle Drachman
10. "May your adventures bring you closer together, even as they take you far away from home." – Trenton Lee Stewart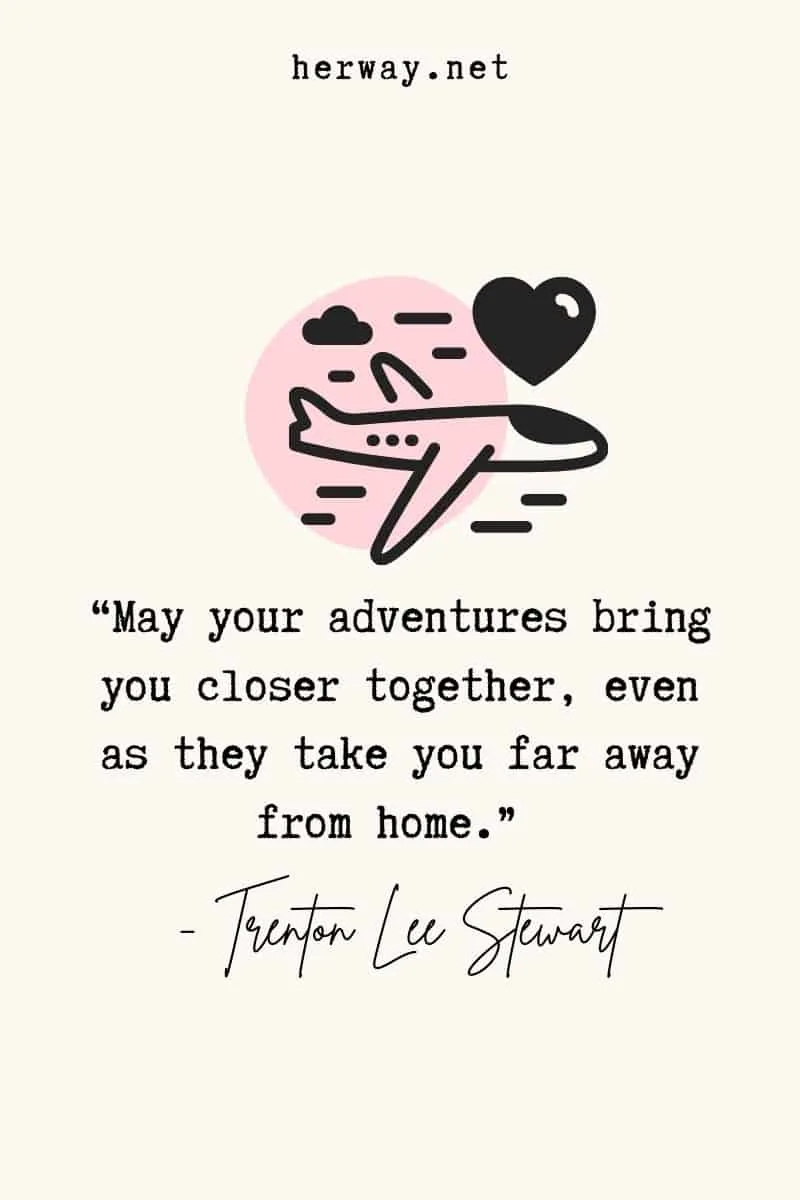 What Are The Best Quotes In Travel?
If you run a travel blog or are simply in need of some catchy Instagram captions to put under your travel pics, I've gathered my all-time favorite travel quotes for you in this list below. I hope you'll like them too.
1. "Travel is never a matter of money but of courage." – Paulo Coelho
2. "Investment in travel is an investment in yourself." – Matthew Karsten
3. "Man cannot discover new oceans unless he has the courage to lose sight of the shore." – Andre Gide
4. "Travel expands the mind and fills the gap." – Sheda Savage
5. "Don't tell me how educated you are; tell me how much you traveled." – Mohammed
6. "The comfort zone is a psychological state in which one feels familiar, safe, at ease, and secure. If you always do what is easy and choose the path of least resistance, you never step outside your comfort zone. Great things don't come from comfort zones." – Roy T. Bennett.
7. "We wander for distraction, but we travel for fulfillment." – Hilaire Belloc
8. "Our battered suitcases were piled on the sidewalk again; we had longer ways to go. But no matter, the road is life." – Jack Kerouac
9. "I enjoy it; my experiences abroad have taught me the importance of an open mind and have given me a willingness to wander off the beaten path – not only to keep life interesting but also to understand in a meaningful way that things do not look the same from every vantage point." – Esther Dyson
10. "Travel is like love, mostly because it's a heightened state of awareness in which we are mindful, receptive, undimmed by familiarity and ready to be transformed. That is why the best trips, like the best love affairs, never really end." – Pico Iyer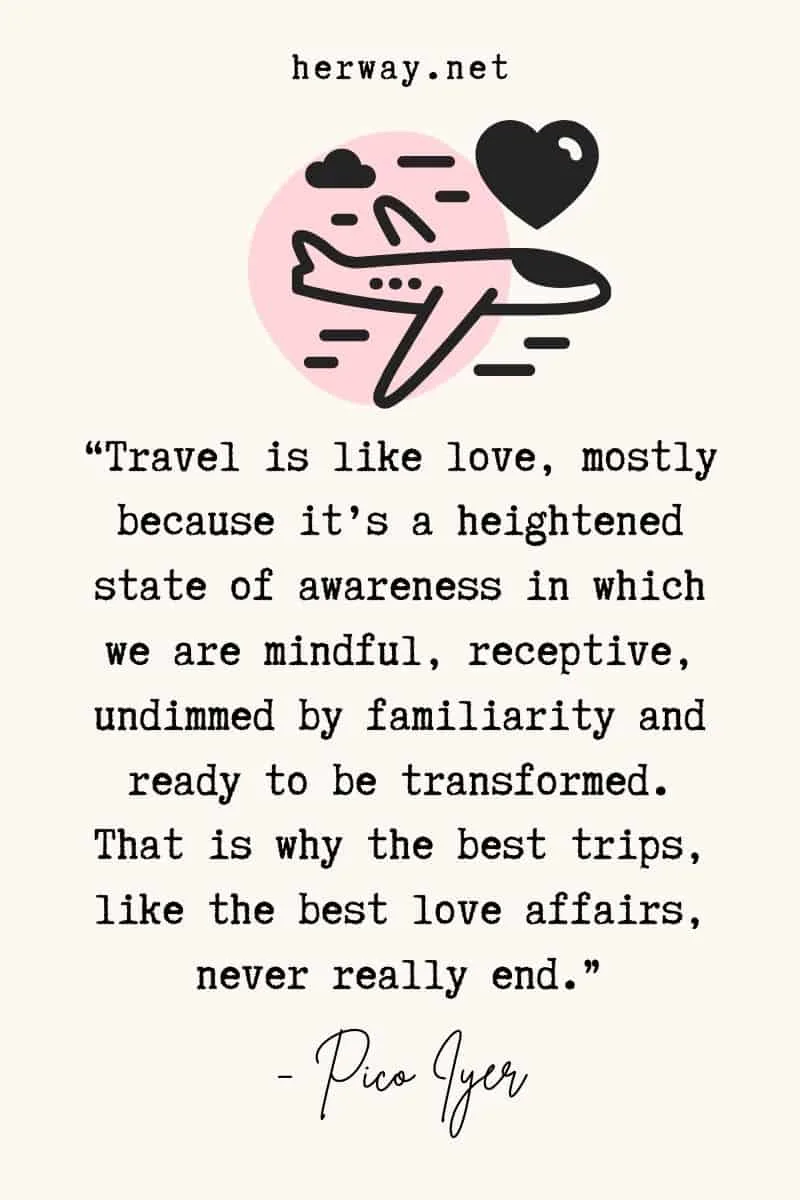 11. "Better to see something once than hear about it a thousand times." – Asian proverb
12. "The world is a book, and those who do not travel read only one page." – Augustine of Hippo
13. "It is only in adventure that some people succeed in knowing themselves – in finding themselves." – Andre Gide
14. "A journey is like marriage. The certain way to be wrong is to think you control it" – John Steinbeck
15. "One of the great things about travel is that you find out how many good, kind people there are." – Edith Wharton
16. "Though we travel the world over to find the beautiful, we must carry it with us, or we find it not." – Ralph Waldo Emerson
17. "Because in the end, you won't remember the time you spent working in the office or mowing your lawn. Climb that goddamn mountain." – Jack Kerouac
See also: Heart Touching Love Quotes; 100+ Heart-Melting Quotes For Your Loved One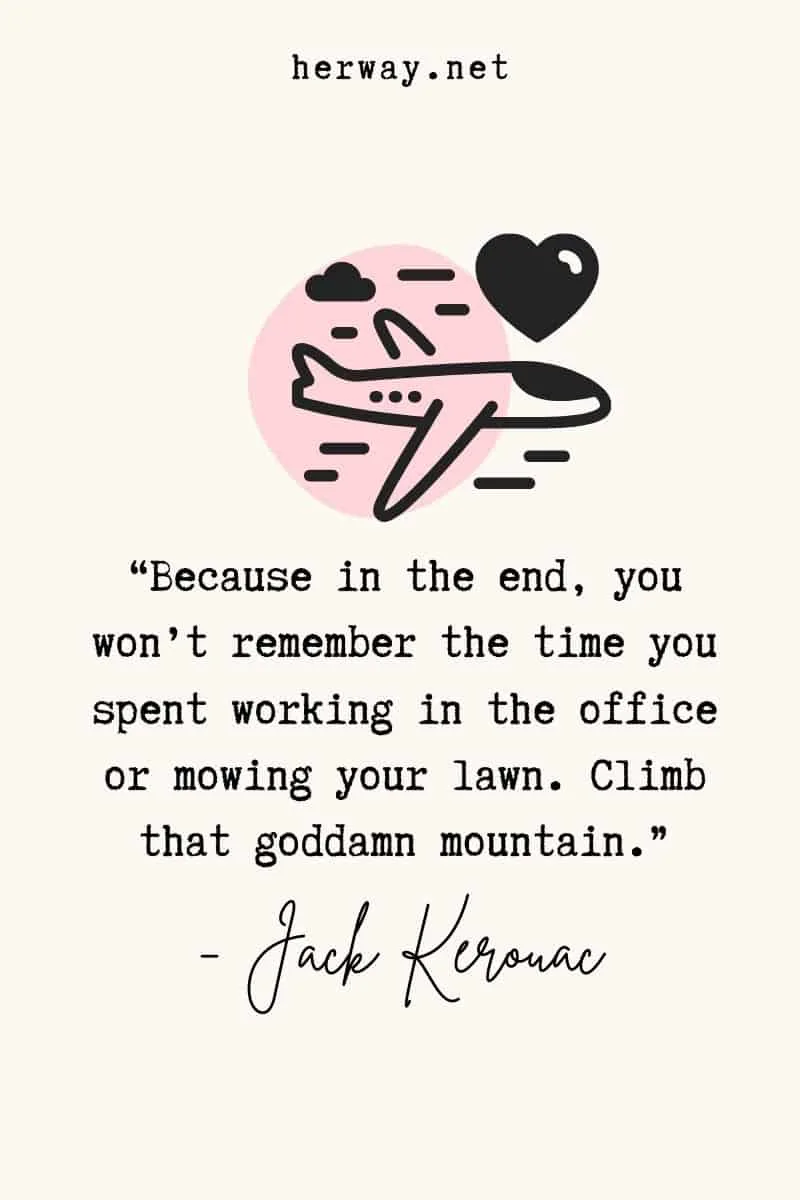 To Wrap It Up
If you haven't had the opportunity to travel together, I'm sure that after reading these great quotes, you'll add it to your relationship bucket list. And if you do travel together, you can use these travel love quotes as captions for the pics you take on your adventures.
I truly hope that these inspirational quotes have motivated you to be brave and live the life of your dreams. Life is short, and the whole point of it is making wonderful memories that will last forever.
In the end, always remember the saying (my personal all-time favorite one)… couples who travel together, stay together! ?