Butterflies in your stomach, shattered pieces of a broken heart, anticipation, sheer excitement…Have you ever thought about how POWERFUL love truly is?
Love can put you into a euphoric state within seconds or break your heart even faster. One of your loved one's smiles can lift your spirits, and one tear can cause sleepless nights.
Yes, it's that powerful.
Have you ever thought about how BRAVE those who love truly are?
To love someone means bearing your soul and connecting your heart with theirs. To love means to trust your loved one with your whole being.
There are many types of love and love languages, but one thing is sure: To love means to selflessly give yourself to another. It's one of the most inspiring and transforming acts in one's life.
Yes, love has many definitions, and these definition of love quotes will certainly help you find your own.
Best Definition Of Love Quotes
1. "Love is that condition in which the happiness of another person is essential to your own." – Robert A. Heinlein
2. "Love is always bestowed as a gift – freely, willingly, and without expectation. We don't love to be loved; we love to love." – Leo Buscaglia
3. "You don't love someone for their looks or their clothes, or for their fancy car, but because they sing a song only you can hear." – Oscar Wilde
4. "Being deeply loved by someone gives you strength; loving someone deeply gives you courage." – Lao Tzu
5. "Love is friendship that has caught fire." – Ann Landers
6. "Better to put your heart on the line, risk everything, and walk away with nothing than play it safe. Love is a lot of things, but 'safe' isn't one of them." – Mandy Hale
7. "Nobody has ever measured, not even poets, how much the heart can hold." – Zelda Fitzgerald
8. "Love recognizes no barriers. It jumps hurdles, leaps fences, penetrates walls to arrive at its destination full of hope." – Maya Angelou
9. "The best love is the kind that awakens the soul and makes us reach for more, that plants a fire in our hearts and brings peace to our minds. And that's what you've given me. That's what I'd hoped to give you forever." – Nicholas Sparks
10. "To love is to recognize yourself in another." – Eckhart Tolle
11. "We are all a little weird, and life's a little weird, and when we find someone whose weirdness is compatible with ours, we join up with them and fall in mutual weirdness and call it love." – Dr. Seuss
12. "Love is of all passions the strongest, for it attacks simultaneously the head, the heart, and the senses." – Lao Tzu
13. "Love is a canvas furnished by nature and embroidered by imagination." – Voltaire
14. "When we love, we always strive to become better than we are. When we strive to become better than we are, everything around us becomes better too." – Paulo Coelho
15. "Love does not consist of gazing at each other, but in looking outward together in the same direction." – Antoine de Saint-Exupéry
16. "Time is too slow for those who wait, too swift for those who fear, too long for those who grieve, too short for those who rejoice, but for those who love, time is eternity." – Henry Van Dyke
17. "Love makes your soul crawl out from its hiding place." – Zora Neale Hurston
18. "Love is like a tree: it grows by itself, roots itself deeply in our being, and continues to flourish over a heart in ruin. The inexplicable fact is that the blinder it is, the more tenacious it is. It is never stronger than when it is completely unreasonable." – Victor Hugo
19. "To love and be loved is to feel the sun from both sides." – David Viscott
20. "The best and most beautiful things in this world cannot be seen or even heard but must be felt with the heart." – Helen Keller
21. "Love yourself first, and everything else falls into line. You really have to love yourself to get anything done in this world." – Lucille Ball
22. "Love is a fruit in season at all times, and within reach of every hand." – Mother Teresa
23. "I define love thus: The will to extend one's self for the purpose of nurturing your own or another's spiritual growth." – M. Scott Peck
RELATED: 65 Deep And Inspirational Quotes That Will Blow Your Mind
What Is Love In Quotes?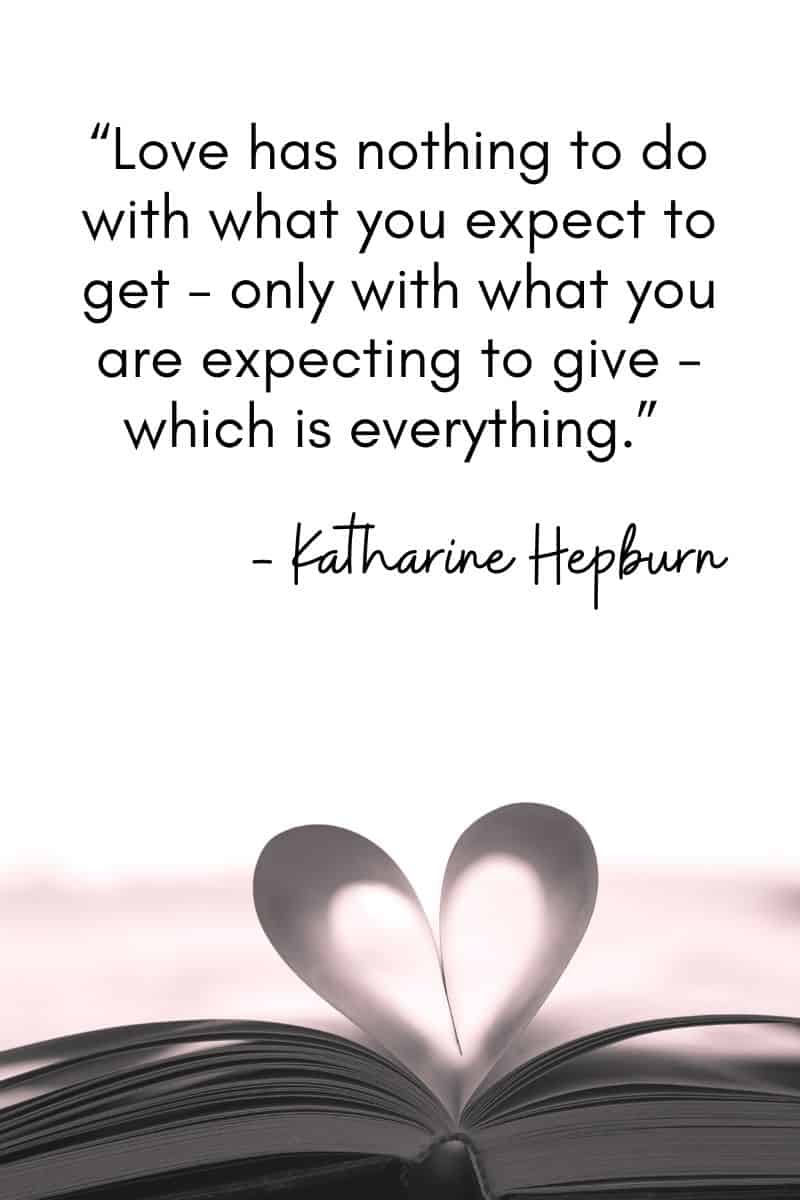 1. "You know it's love when all you want is that person to be happy, even if you're not part of their happiness." – Julia Roberts
2. "I have decided to stick to love; hate is too great a burden to bear." – Martin Luther King, Jr.
3. "The minute I heard my first love story, I started looking for you, not knowing how blind that was. Lovers don't finally meet somewhere. They're in each other all along." – Rumi
4. "The greatest happiness of life is the conviction that we are loved, loved for ourselves, or rather, loved in spite of ourselves." – Victor Hugo
5. "Love and electricity are one in the same, my dear. If you do not feel the jolt in your soul every time a kiss is shared, a whisper is spoken, a touch is felt, then you're not really in love at all." – C. J. Franks
6. "Love is not only something you feel; it is something you do." – David Wilkerson
7. "Gravitation cannot be held responsible for people falling in love. How on earth can you explain in terms of chemistry and physics so important a biological phenomenon as first love? Put your hand on a stove for a minute, and it seems like an hour. Sit with that special girl for an hour, and it seems like a minute. That's relativity." – Albert Einstein
8. "Love has nothing to do with what you expect to get — only with what you are expecting to give — which is everything." – Katharine Hepburn
9. "The art of love is largely the art of persistence." – Albert Ellis
10. "There is always some madness in love. But there is also always some reason in madness." – Friedrich Nietzsche
11. "Love isn't something natural. Rather it requires discipline, concentration, patience, faith, and the overcoming of narcissism. It isn't a feeling; it is a practice" – Erich Fromm
12. "Love is such a powerful force. It's there for everyone to embrace – that kind of unconditional love for all of humankind. That is the kind of love that impels people to go into the community and try to change conditions for others, to take risks for what they believe in." – Coretta Scott King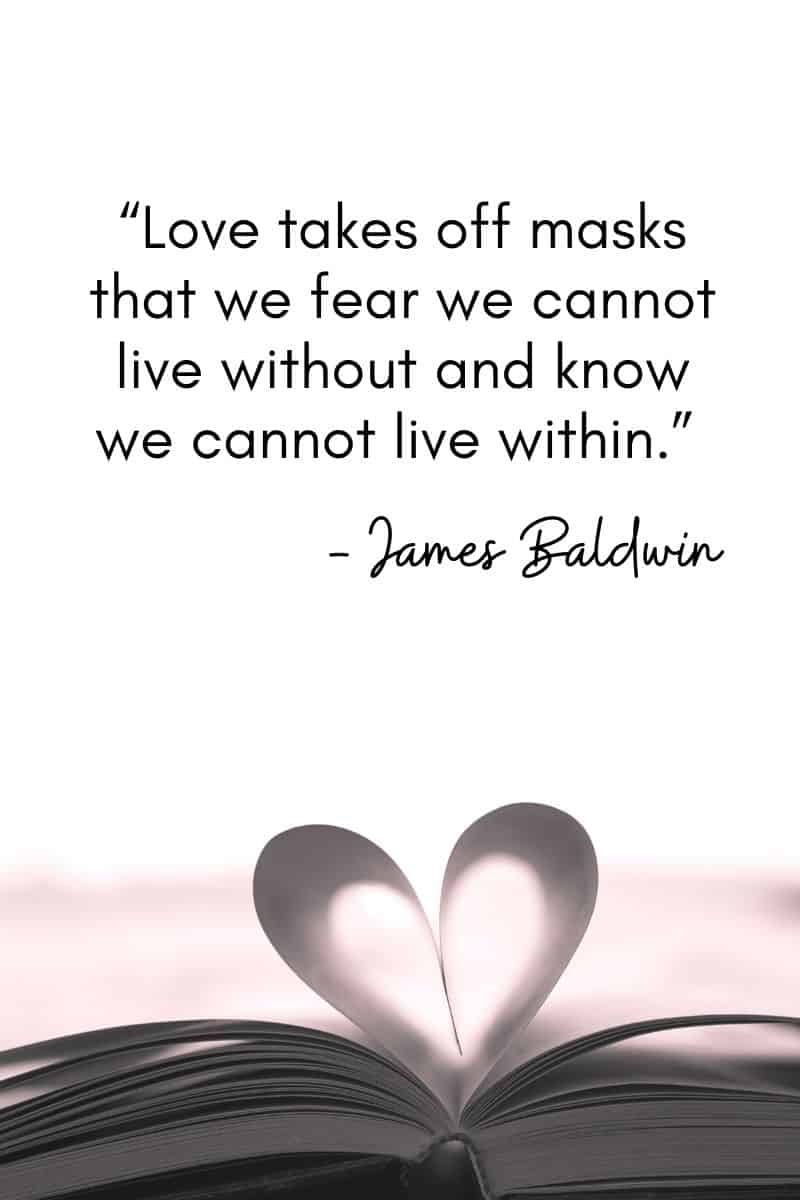 13. "People don't demand that a thing be reasonable if their emotions are touched. Lovers aren't reasonable, are they?" – Graham Greene
14. "The only thing we never get enough of is love, and the only thing we never give enough of is love." – Henry Miller
15. "Where there is love, there is life." – Mahatma Gandhi
16. "Love is patient; love is kind. It does not envy; it does not boast; it is not inflated. It is not rude; it is not self-seeking, it is not easily angered or quick-tempered, it does not brood over injury. Love does not delight over wrongdoing but rejoices with the truth. It bears all things, believes all things, hopes all things, endures all things, perseveres through all things. Love never fails." – 1 Corinthians 13: 4–7
17. "Love looks not with eyes, but with the mind." – William Shakespeare
18. "Love takes off masks that we fear we cannot live without and know we cannot live within." – James Baldwin
19. "This is what we call love. When you are loved, you can do anything in creation. When you are loved, there's no need at all to understand what's happening, because everything happens within you." – Paulo Coelho
20. "There is only happiness in life, to love and to be loved." – George Sand
21. "To love at all is to be vulnerable. Love anything, and your heart will be wrong and possibly broken. If you want to make sure of keeping it intact, you must give it to no one, not even an animal. Wrap it carefully round with hobbies and little luxuries; avoid all entanglements. Lock it up safe in the casket or coffin of your selfishness. But in that casket, safe, dark, motionless, airless, it will change. It will not be broken; it will become unbreakable, impenetrable, irredeemable. To love is to be vulnerable." – C.S. Lewis
RELATED: Is Love At First Sight Real? (And Why It Happens)
True Love Quotes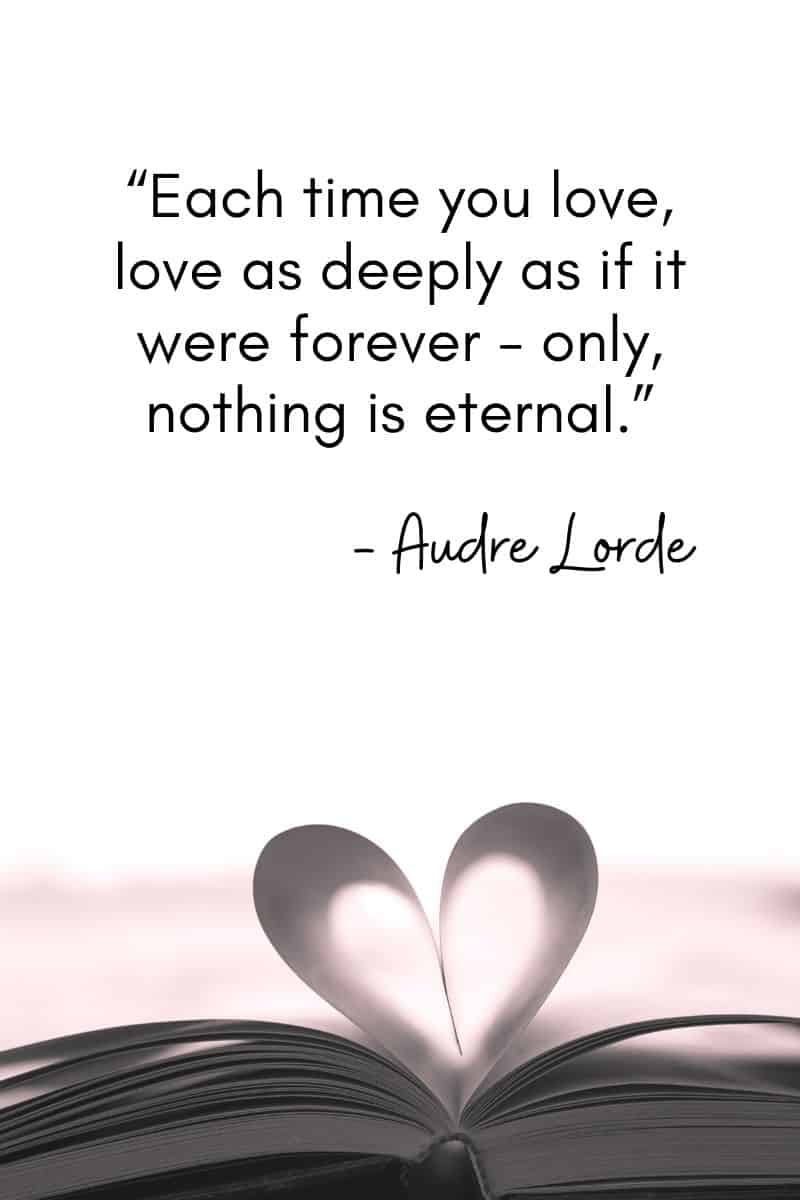 1. "True love stories never have endings." – Richard Bach
2. "We simply can't abandon ship every time we encounter a storm in our marriage. Real love is about weathering the storms of life together." – Seth Adam Smith
3. "Immature love says: 'I love you because I need you.' Mature love says, 'I need you because I love you.'" – Erich Fromm
4. "True love cannot be found where it does not exist, nor can it be denied where it does." – Torquato Tasso
5. "True love is eternal, infinite, and always like itself. It is equal and pure, without violent demonstrations: it is seen with white hairs and is always young in the heart." – Honoréede Balzac
6. "You're not looking for perfection in your partner. Perfection is all about the ego. With soulmate love, you know that true love is what happens when disappointment sets in – and you're willing to deal maturely with these disappointments." – Karen Salmansohn
7. "Each time you love, love as deeply as if it were forever – only, nothing is eternal." – Audre Lorde
8. "True love is singing karaoke Under Pressure and letting the other person sing the Freddie Mercury part." – Mindy Kaling
9. "If you can love someone with your whole heart, even one person, then there's salvation in life. Even if you can't get together with that person." – Haruki Murakami
10. "First and foremost, self love, and then give love away." – Katy Perry
11. "Love is that indefinable moment of brokenheartedness when you cry, and someone weeps with your tears." – Munia Khan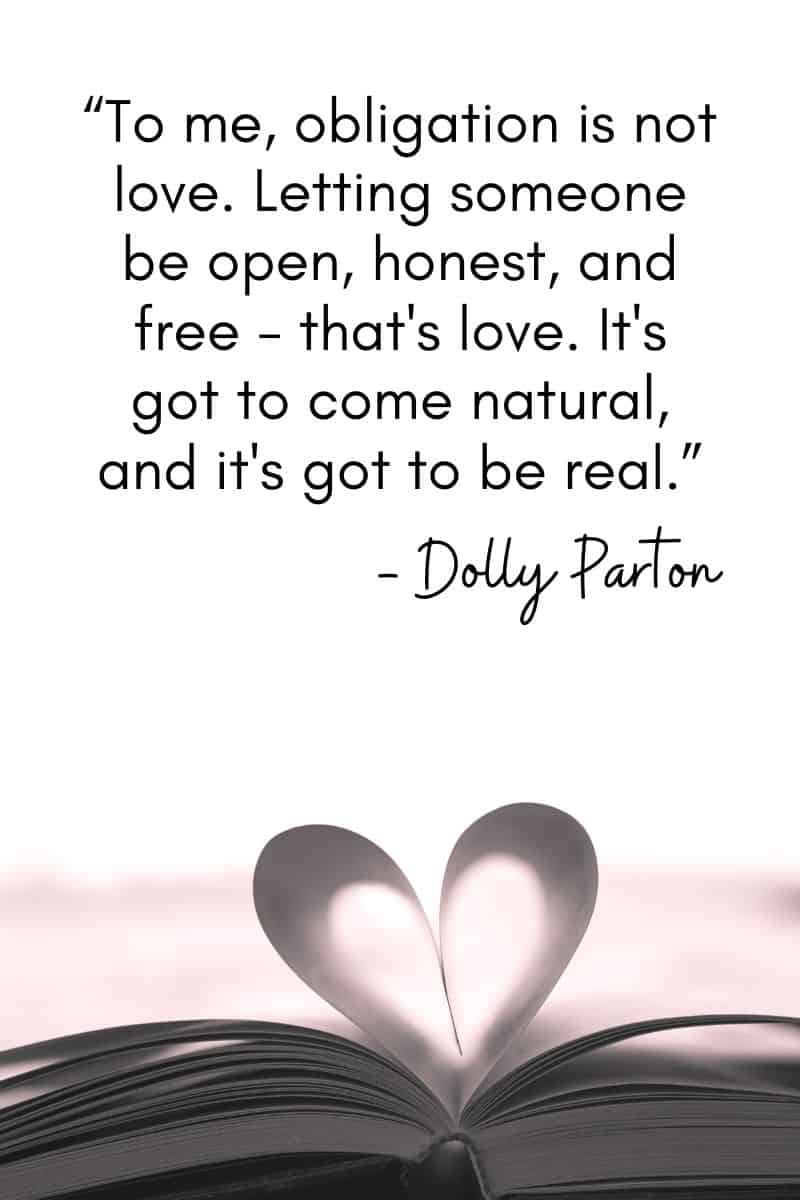 12. "The best proof of love is trust." – Joyce Brothers
13. "When you realize you want to spend the rest of your life with somebody, you want the rest of your life to start as soon as possible." – Nora Ephron
14. "When I look into your eyes, I know I have found the mirror of my soul." – Joey W. Hill
15. "When I saw you, I fell in love, and you smiled because you knew." – Arrigo Boito
16. "Where we love is home – home that our feet may leave, but not our hearts." – Oliver Wendell Holmes Sr.
17. "To me, obligation is not love. Letting someone be open, honest, and free — that's love. It's got to come natural, and it's got to be real." – Dolly Parton
18. "I finally understood what true love meant…love meant that you care for another person's happiness more than your own, no matter how painful the choices you face might be." – Nicholas Sparks
19. "If you love somebody, let them go, for if they return, they were always yours. If they don't, they never were." – Kahlil Gibran
See also: 121 Cute Crush Quotes That Will Multiply The Butterflies In Your Stomach
Emotional I Love You Quotes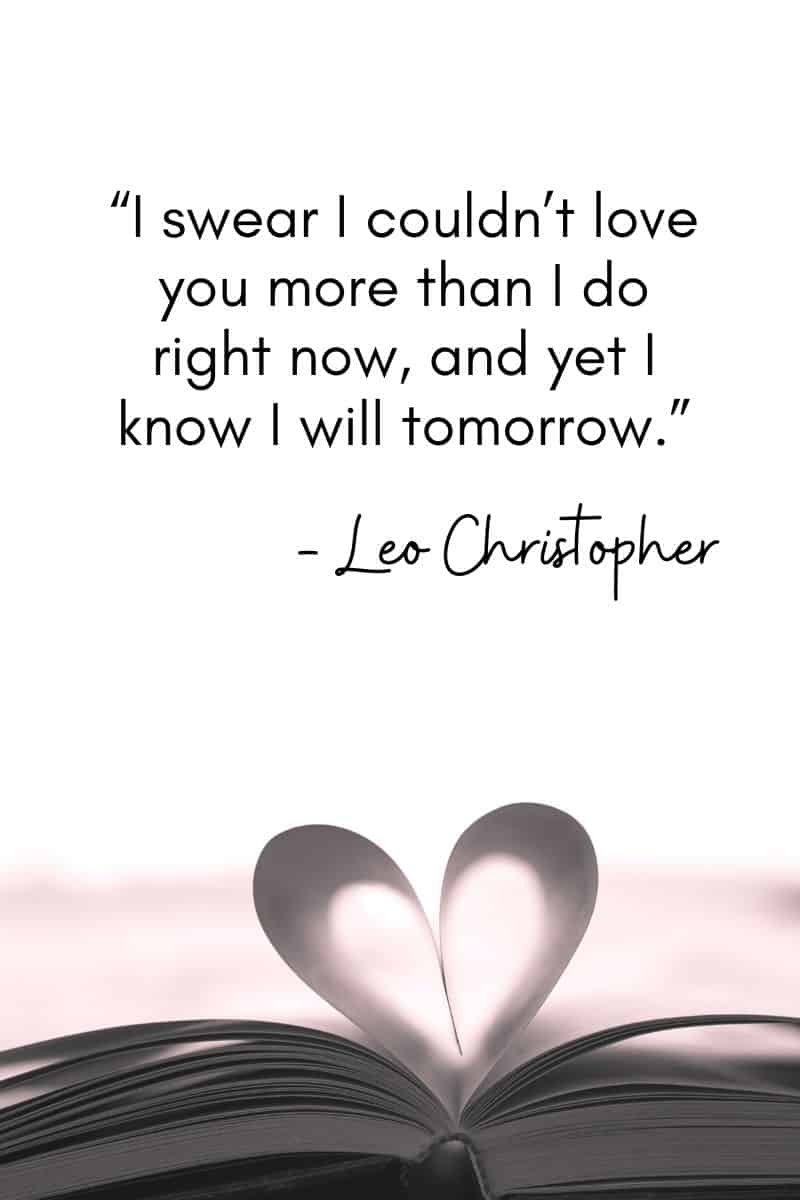 1. "I fell in love with her courage, her sincerity, and her flaming self-respect. And it's these things I'd believe in, even if the whole world indulged in wild suspicions that she wasn't all she should be. I love her, and it is the beginning of everything." – F. Scott Fitzgerald
2. "Each day I love you more, today more than yesterday and less than tomorrow." – Rosemonde Gerard
3. "If I had to choose between breathing and loving you, I would use my last breath to tell you I love you." – DeAnna Anderson
4. "I love you not only for what you are but for what I am when I am with you." – Roy Croft
5. "I saw that you were perfect, and so I loved you. Then I saw that you were not perfect, and I loved you even more." – Angelita Lim
6. "I love you without knowing how, or when, or from where. I love you simply, without problems or pride: I love you in this way because I do not know any other way of loving but this, in which there is no I or you, so intimate that your hand upon my chest is my hand, so intimate that when I fall asleep, your eyes close." – Pablo Neruda
7. "I love you – I am at rest with you – I have come home." – Dorothy L. Sayers
8. "I swear I couldn't love you more than I do right now, and yet I know I will tomorrow." – Leo Christopher
9. "My heart is and always will be yours." – Jane Austen
10. "I need you like a heart needs a beat." – Unknown
11. "I am who I am because of you. You are every reason, every hope, and every dream I've ever had." – Nicholas Sparks
12. "I'm here. I love you. I don't care if you need to stay up crying all night long; I will stay with you. If you need the medication again, go ahead and take it—I will love you through that, as well. If you don't need the medication, I will love you, too. There's nothing you can ever do to lose my love. I will protect you until you die, and after your death, I will still protect you. I am stronger than Depression, and I am braver than Loneliness, and nothing will ever exhaust me." – Elizabeth Gilbert
13. "There is a madness in loving you, a lack of reason that makes it feel so flawless." – Leo Christopher
14. "In vain have I struggled. It will not do. My feelings will not be repressed. You must allow me to tell you how ardently I admire and love you." – Jane Austen
15. "Yours is the light by which my spirit's born: – you are my sun, my moon, and all my stars." – E.E. Cummings
16. "Be with me always – take any form – drive me mad! only do not leave me in this abyss, where I cannot find you! Oh, God! it is unutterable! I can not live without my life! I can not live without my soul!" – Emily Brontë
17. "As he read, I fell in love the way you fall asleep: slowly, and then all at once." – John Green
RELATED: The Ultimate List Of Timeless Falling In Love Quotes For Him And Her
What Is The Meaning Of Love Quotes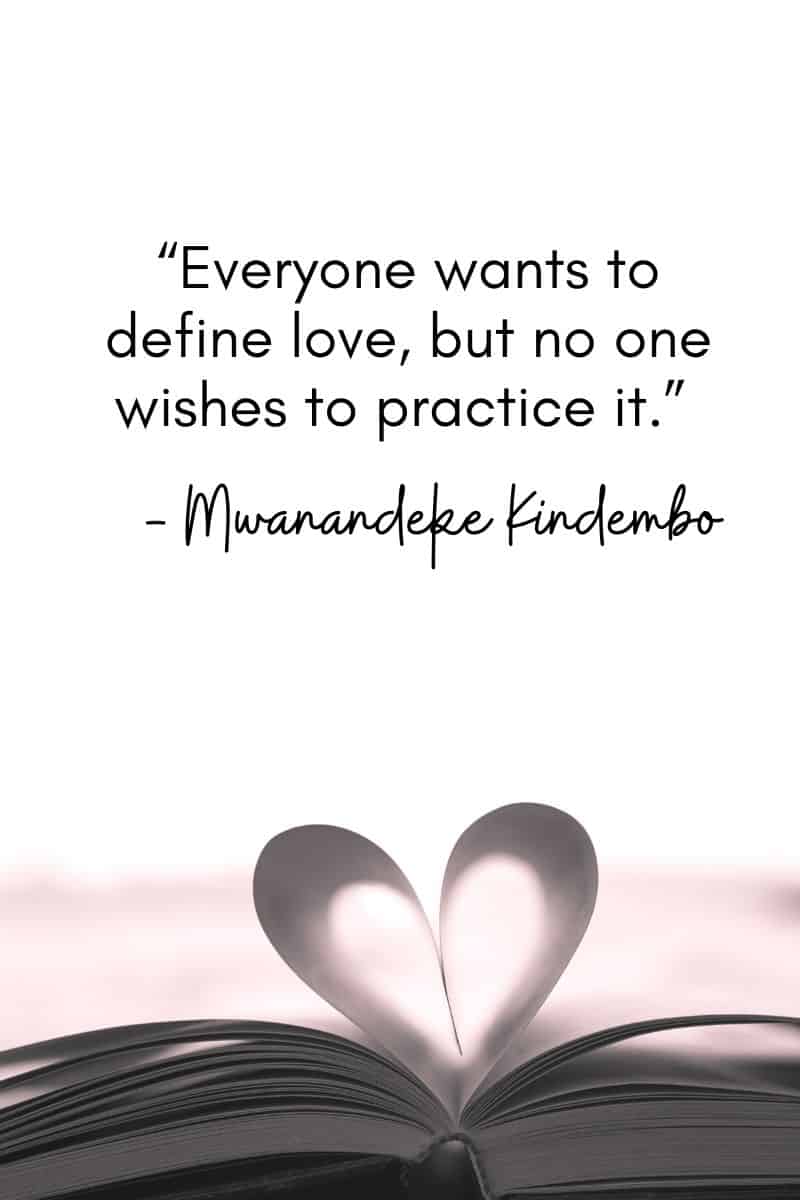 1. "The beginning of love is to let those we love be perfectly themselves, and not to twist them to fit our own image. Otherwise, we love only the reflection of ourselves we find in them." – Thomas Merton
2. "It takes courage to love, but pain through love is the purifying fire which those who love generously know. We all know people who are so much afraid of pain that they shut themselves up like clams in a shell and, giving out nothing, receive nothing and therefore shrink until life is a mere living death." – Eleanor Roosevelt
3. "Love does not dominate; it cultivates." – Johann Wolfgang von Goethe
4. "Your task is not to seek for love, but merely to seek and find all the barriers within yourself that you have built against it." – Rumi
5. "Love many things, for therein lies the true strength, and whosoever loves much performs much and can accomplish much, and what is done in love is done well." – Vincent Van Gogh
6. "No relationship is perfect, ever. There are always some ways you have to bend, to compromise, to give something up in order to gain something greater…The love we have for each other is bigger than these small differences. And that's the key. It's like a big pie chart, and the love in a relationship has to be the biggest piece. Love can make up for a lot." – Sarah Dessen
7. "You may hold my hand for a while, but you hold my heart forever. If I know what love is, it is because of you." – Hermann Hesse
8. "'Tis better to have loved and lost than never to have loved at all." – Alfred Lord Tennyson
9. "I am not sure exactly what heaven will be like, but I know that when we die, and it comes time for God to judge us, he will not ask, 'How many good things have you done in your life?' rather he will ask, 'How much love did you put into what you did?'" – Mother Teresa
10. "Everyone wants to define love, but no one wishes to practice it." – Mwanandeke Kindembo
11. "I believe that imagination is stronger than knowledge. That myth is more potent than history. That dreams are more powerful than facts. That hope always triumphs over experience. That laughter is the only cure for grief. And I believe that love is stronger than death." – Robert Fulghum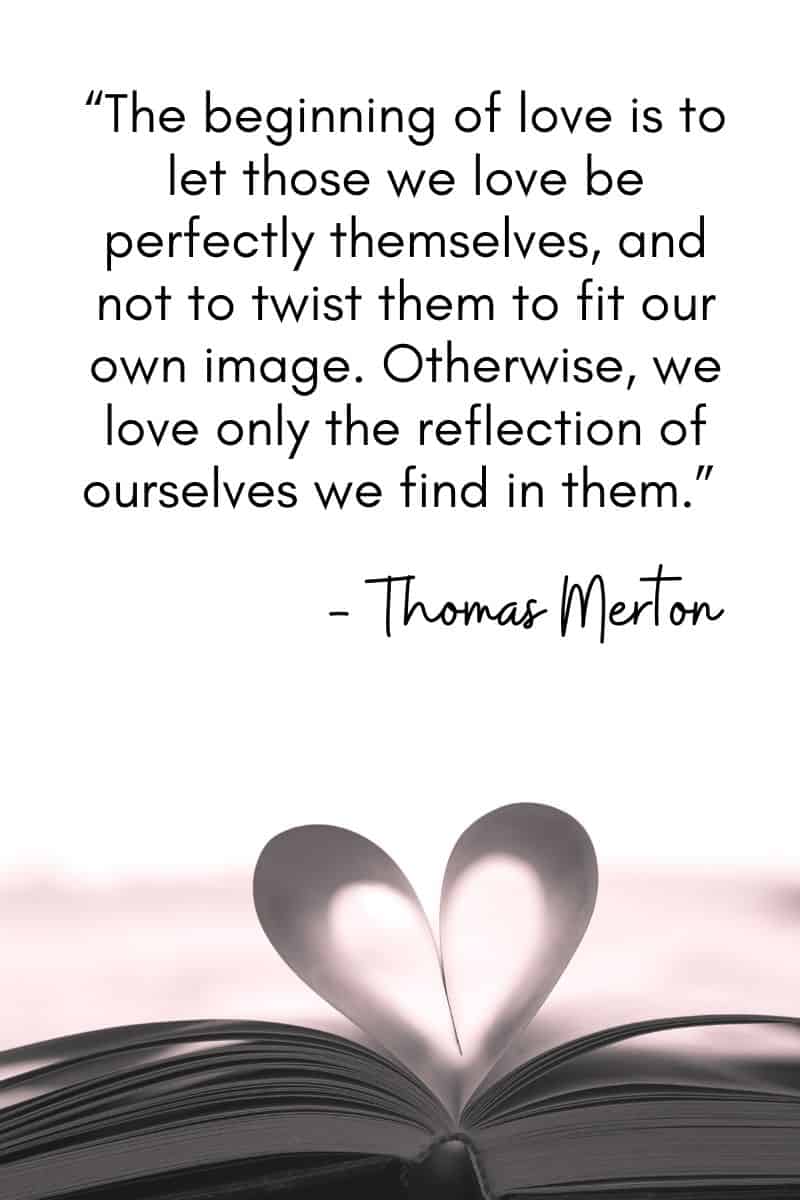 12. "To be fully seen by somebody, then, and be loved anyhow – this is a human offering that can border on miraculous." – Elizabeth Gilbert
13. "The attractive power of love is intensified proportional to the intensity of thoughts, perception of duration, and the perceived distance." – Debasish Mridha
14. "'Can you explain away love too?' I asked.
'Oh yes,' he said. 'The desire to possess in some, like avarice: in others the desire to surrender, to lose the sense of responsibility, the wish to be admired. Sometimes just the wish to be able to talk, to unburden yourself to someone who won't be bored. The desire to find again a father or a mother. And of course under it all the biological motive." – Graham Greene
15. "I believe in love. I think it just hits you and pulls the rug out from underneath you and, like a baby, demands your attention every minute of the day." – Jodi Picoult
16. "If he can't handle you at your worst, then he does not deserve you at your best. Real love means seeing beyond the words spoken out of pain, and instead seeing a person's soul." – Shannon L. Alder
17. "We don't fall in love with people because they're good people. We fall in love with people whose darkness we recognize. You can fall in love with a person for all of the right reasons, but that kind of love can still fall apart. But when you fall in love with a person because your monsters have found a home in them ― that's the kind of love that owns your skin and bones. Love, I am convinced, is found in the darkness. It is the candle in the night." – C. Joybell C.
RELATED: 75 Best Love Quotes From Movies Of All Time
What Is The Best Definition Of Love?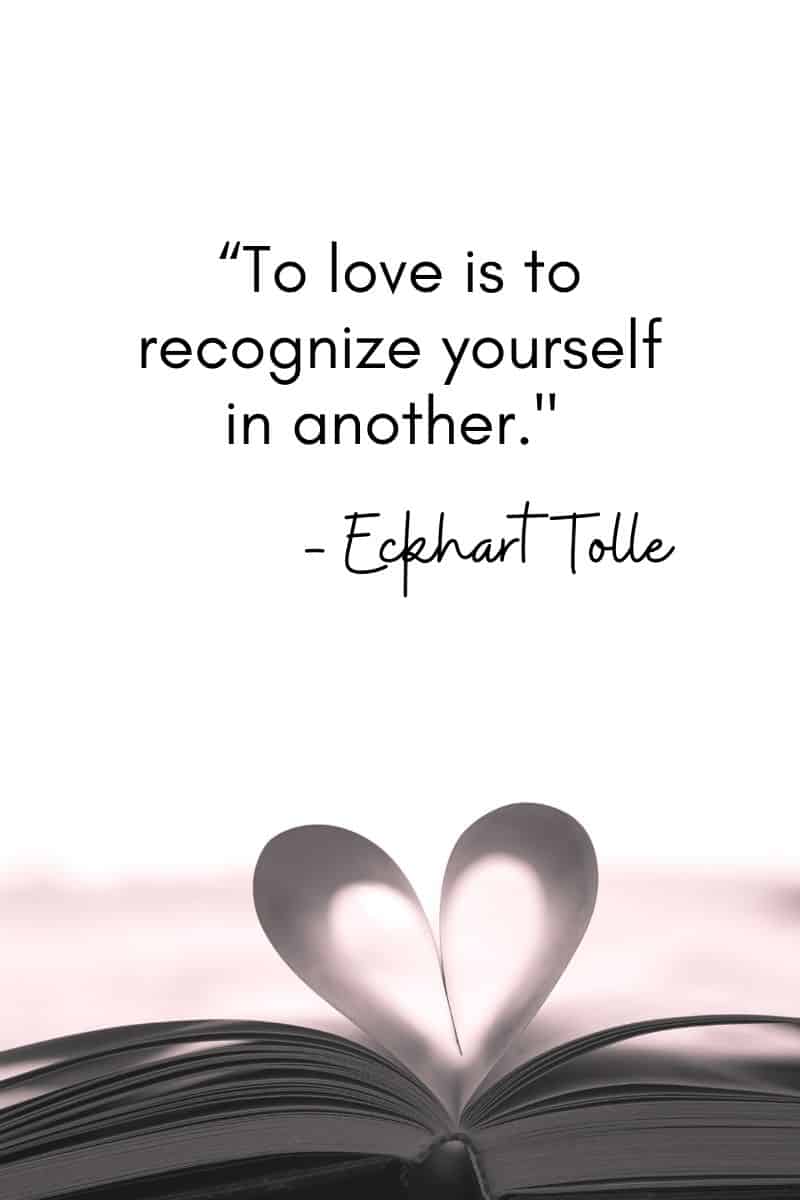 The best definition of love cannot be found on the Internet, in books, poems, or conversations with other people. We all have a unique interpretation of love that is buried deep inside our souls.
Once we connect with that part of our being, we begin to see the world in a different light, more vibrant and fulfilling. We no longer seek a definition of love or definition of love quotes because we live to love.
If you live to love, you'll find love everywhere around you, and that will become your favorite love definition.
Love Is Everywhere Around Us
If we choose to see the world through the eyes of love, we'll never question the definition of it because love is the little things.
It's your loves one's smile when you hug and kiss them, and it's the feeling of warmth when someone says that they're thinking of you.
It's spending quality time with your best friend or looking for the best quotes to surprise your loved one.
With that said, you don't need to wait for a special occasion like Valentine's Day to surprise your loved one with romantic love quotes.
Why wait for a special occasion when you can make every day special? Do it now. Check the list of definition of love quotes above as many times as you need, and let them teach you how to live love.