Marriage is a marvelous but incredibly challenging journey. The only way for spouses to survive it is by letting their love bond them strongly.
In honor of that special bond, I've decided to compile the best husband-wife quotes from across the internet and put them into one huge collection. I'm sure most of these loving couple quotes will redefine your idea of marriage.
Enjoy this collection of the best love quotes that perfectly describe this truly special and, above all, sacred bond of a husband-wife relationship.
Love Husband Wife Quotes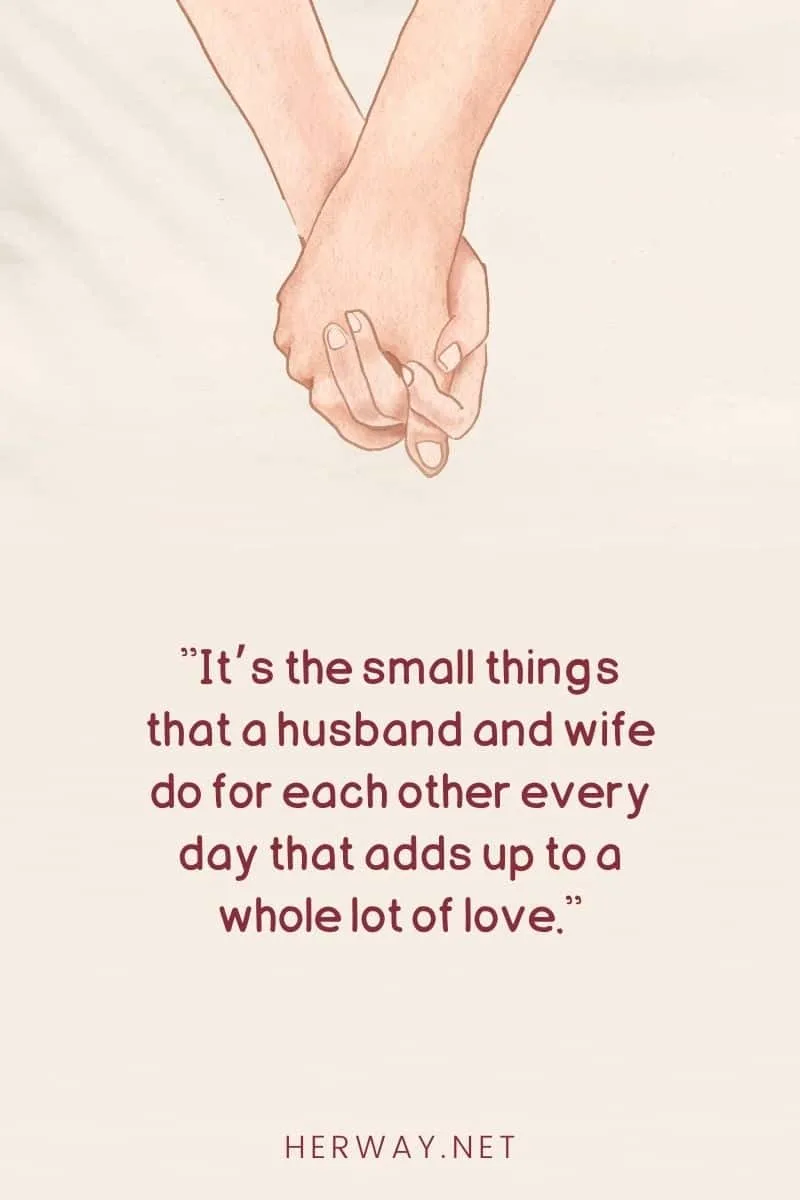 1. "A sure sign of a man's strength is how gently he loves his wife."
2. "As husband and wife, we will fight, we will argue, we will disagree, and we will even shed some tears, but we will also fight through each of those moments with love."
3. "A husband and wife are not a team because they work together. They are a team because they respect, trust, and unconditionally love each other."
4. "The love of husband and wife is the force that welds society together." – Saint John Chrysostom
5. "A husband and his wife were standing in front of a mirror. The wife asked: 'What do you see?' The husband replied: 'The rest of my life.'"
6. "My husband has quite simply been my strength and stay all these years, and I owe him a debt greater than he would ever claim." – Queen Elizabeth II
7. "Nothing says 'home' like the arms of my husband."
8. "Great sex doesn't prove whether a husband and wife are still in love; them choosing to love each other unconditionally every day is proof that they are still in love."
9. "Love, love, love. This is all what married life is about. Loving life and living life for love."
10. "When we find someone whose weirdness is compatible with ours, we join up with them and fall into mutually satisfying weirdness – and call it love – true love." – Robert Fulghum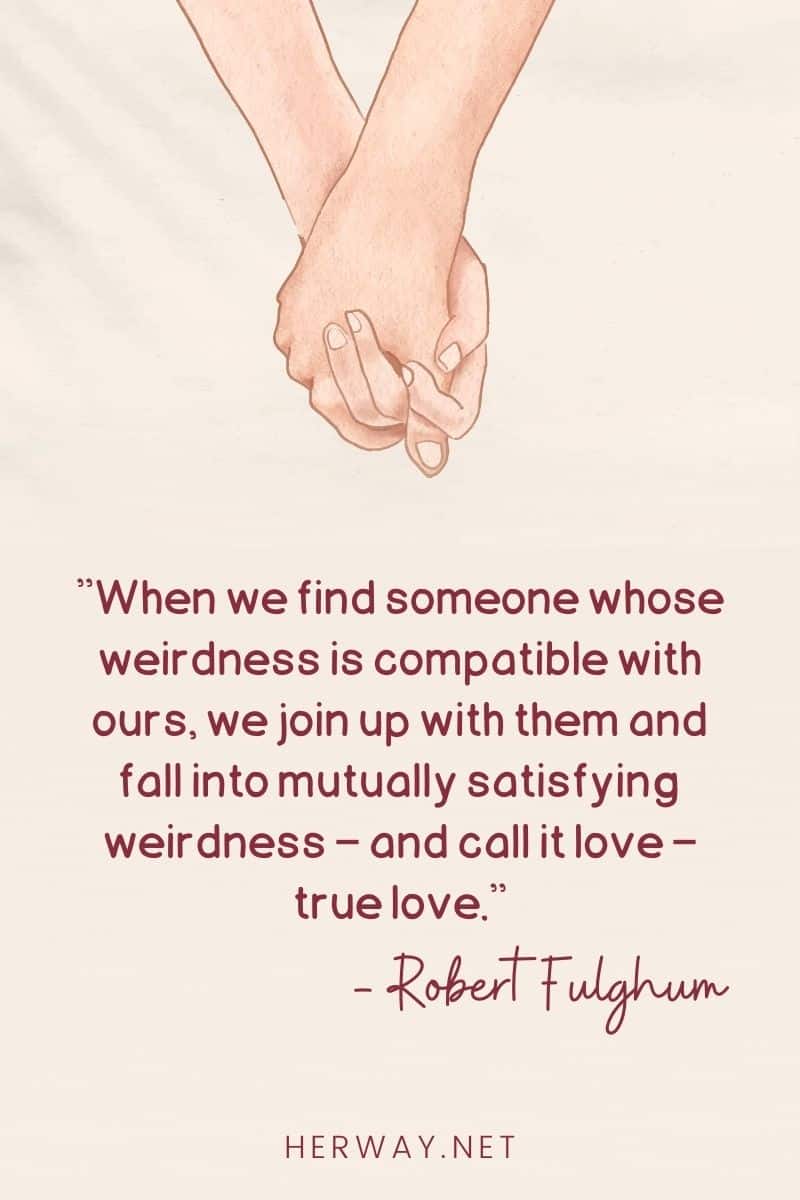 11. "Every single day we spend as husband and wife, I realize how lucky I am to live such an amazing life."
12. "The highest happiness on earth is marriage." – William Lyon Phelps
13. "What makes a husband and wife great is appreciating their similarities and respecting their differences."
14. "Like James and Wade, our love wins the marriage championship."
15. "A husband and wife may disagree on many things, but they must absolutely agree on this: to never, ever give up."
16. "Love is not weakness. It is strong. Only the sacrament of marriage can contain it." – Boris Pasternak
17. "Husbands and wives are designed to complement each other. When the man is weak, his wife is strong; when she stumbles, he is there to pick her up. Life is easier when two hearts and minds are committed to working together to face the challenges of the day." – Gary Chapman
18. "Husband and wife relationships are like the relationship of Tom and Jerry. Though they tease and fight, they can't live without each other."
19. "Husband and wife, in love for life."
20. "It's the small things that a husband and wife do for each other every day that adds up to a whole lot of love."
21. "An ideal wife is any woman who has an ideal husband." – Booth Tarkington
22. "Being in a long marriage is a little bit like that nice cup of coffee every morning. I might have it every day, but I still enjoy it." – Stephen Gaines
23. "A happy marriage is a long conversation that always seems too short." – Andre Maurois
24. "Two souls with but a single thought, two hearts that beat as one."
25. "A husband's heart is his wife's shelter and his arms her home."
26. "There is no such cozy combination as man and wife." – Menander
27. "There is no feeling in the world like knowing you are together, as husband and wife, to face whatever life throws at you."
28. "In terms of my marriage, you know, falling in love with my husband was by far the best thing that's ever happened to me." – Caroline Kennedy
29. "Happy is the man who finds a true friend, and far happier is he who finds that true friend in his wife." – Franz Schubert
30. "Marriage is like watching the color of leaves in the fall; ever-changing and more stunningly beautiful with each passing day." – Fawn Weaver
31. "The love between a husband and wife is not what is said but what is shown."
32. "Husbands and wives are equal partners. They have different but complementary responsibilities."
See also: Heart Touching Love Quotes; 100+ Heart-Melting Quotes For Your Loved One
Romantic Love Messages For Spouses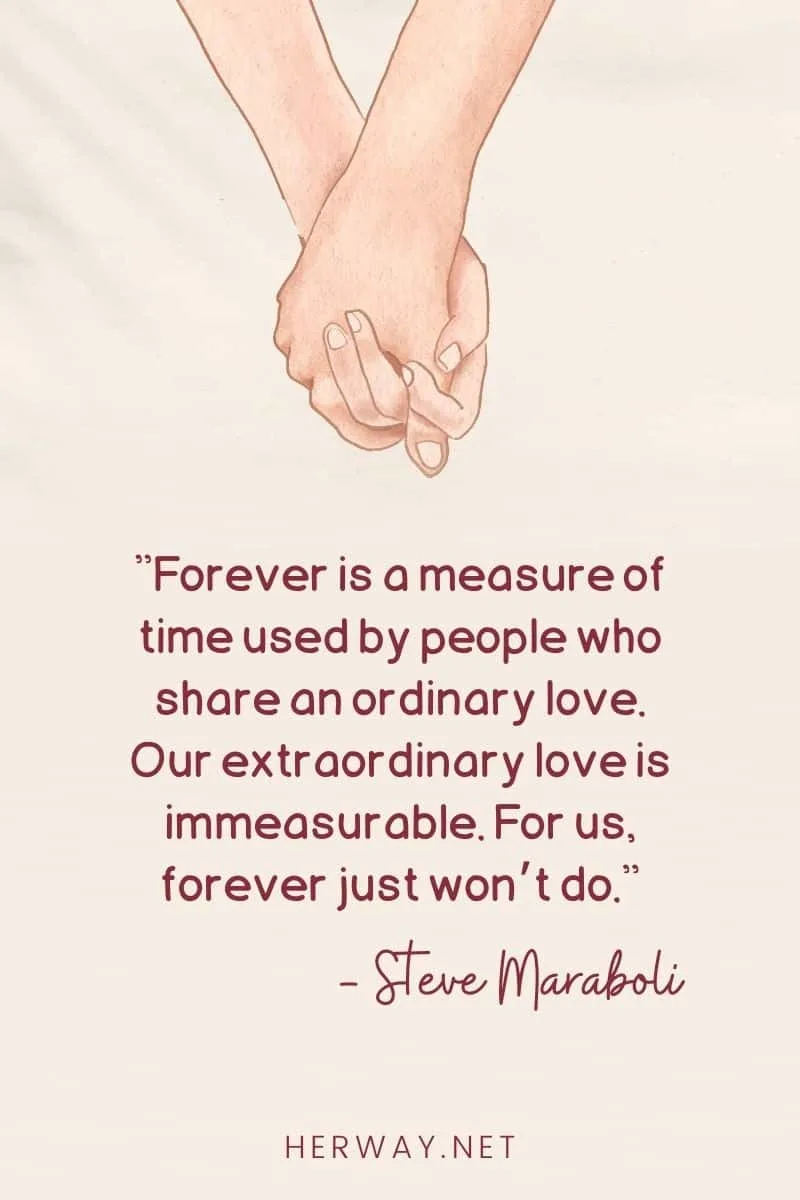 If you're in need of a cute love quote or text to send your spouse, you'll find them in this list of heartfelt texts below. I'm sure these texts will leave your loved one speechless.
1. "I love you every minute of my life; you're my love and my life. Not all people are lucky to find the sense of their lives. I am happy cause I found it when I met you – the love of my life." – Rabindranath Tagore
2. "The Lord has given me a wonderful gift in the form of you, my hubby. I thank Him every single day for this invaluable gift in my life."
3. "I know our journey isn't perfect, but it's ours…And I'll stick with you till the very end."
4. "You are mine always and forever. My happily ever after. My soulmate. My best friend. My dream came true – my one and only. My shoulder to lean on. My heart melted. My husband. My everything. For always!"
5. "I will spend an eternity loving you, caring for you, respecting you, showing you every day that I hold you as high as the stars." – Steve Maraboli
6. "Love gains a whole new meaning with you in my life. I love you to bits, dear husband."
7. "The minute I heard my first love story, I started looking for you, not knowing how blind that was. Lovers don't finally meet somewhere. They've been with each other all along." – Rumi
8. "You. Me. Us. I love what we started, what we have continued to build, and knowing that you are the one I get to grow old with."
9. "You are the only person I can be ME with because you are the only person who loves me for what I am and not what I can be."
10. "Forever is a measure of time used by people who share an ordinary love. Our extraordinary love is immeasurable. For us, forever just won't do." – Steve Maraboli
11. "Until I met you, I thought a soulmate was just a myth."
12. "I love you, and I will love you until I die, and if there's a life after that, I'll love you then." – Cassandra Clare
13. "I promise to love you forever, every single day of forever."
14. "Dear husband, I'm grateful to be sharing life, love, and parenthood with a wonderful man like you."
15. "You have made me a complete person. You are everything to me. And I cannot think of living life without you. And I love you forever." – David Gest
16. "You are the sun in my day, the wind in my sky, the waves in my ocean, and the beat in my heart."
See also: 300 Best I Love You So Much Quotes For Her And Him
Inspirational Marriage Quotes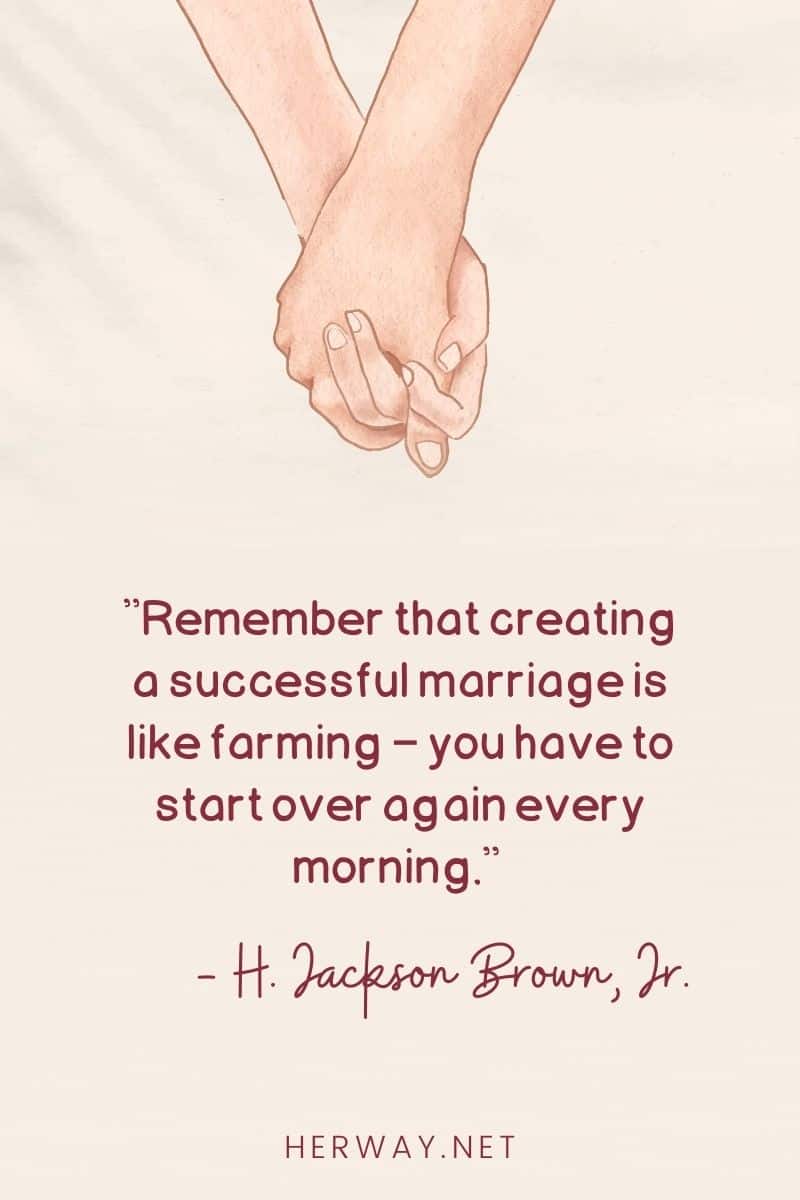 The truth is, marriage is not all sunshine and roses. There are and will always be ups and downs, but if spouses stick through all of it together, they'll succeed in keeping their marriage, and more importantly, their love afloat.
I hope this list of inspirational quotes about marriage will inspire you to work on your marriage because it does pay off.
1. "A happy marriage is the union of two good forgivers." – Ruth Bell Graham
2. "Chains do not hold a marriage together. It is threads, hundreds of tiny threads, which sew people together through the years." – Simone Signoret
3. "No husband-wife relationship is all sunshine, yet they can both share one umbrella and survive the storm together."
4. "Many marriages would be better if the husband and the wife clearly understood that they are on the same side." – Zig Ziglar
5. "More marriages might survive if the partners realize that sometimes, the better comes after the worse." – Doug Larson
6. "A great marriage doesn't happen because of the love a husband and wife had in the beginning; it happens when they continue building their love until the end."
7. "Marriage is not a noun; it's a verb. It isn't something you get. It's something you do. It's the way you love your partner every day." – Barbara De Angelis
8. "God designed husbands and wives to complete each other, not to compete with each other." – Jimmy Evans
9. "The beauty of marriage is not always seen from the very beginning, but rather as love grows and develops over time." – Fawn Weaver
10. "Remember that creating a successful marriage is like farming – you have to start over again every morning." – H. Jackson Brown, Jr.
11. "Great marriages are partnerships. It can't be a great marriage without being a partnership." – Helen Mirren
12. "It is sometimes essential for a husband and a wife to quarrel — they get to know each other better." – Goethe
13. "There is nothing nobler or more admirable than when two people who see eye-to-eye keep house as man and wife, confounding their enemies and delighting their friends." – Homer
14. "A great marriage isn't something that just happens; it's something that must be created." – Fawn Weaver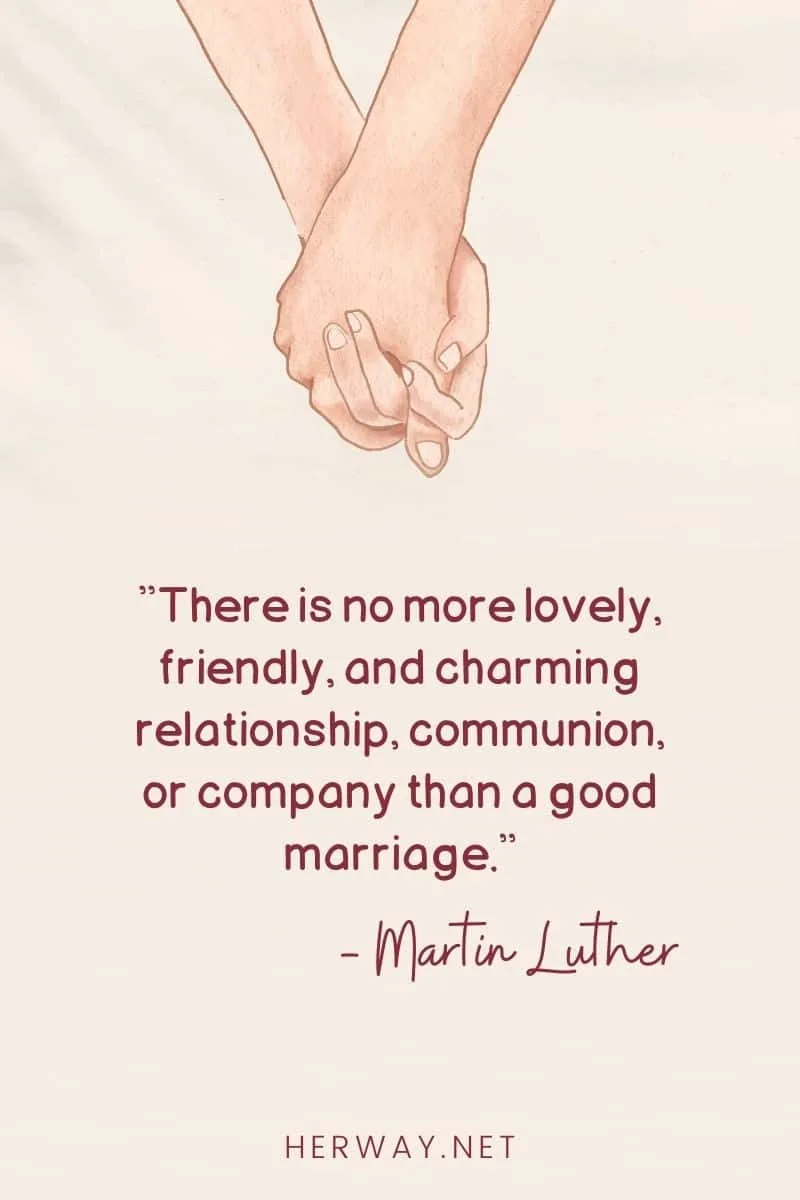 15. "A successful marriage requires falling in love many times, always with the same person." – Mignon McLaughlin
16. "The goal of a husband and wife should not be to think alike, but to think together as a team. Let each person play to their strengths and be supported through their weaknesses so, together, they are a powerful force to be reckoned with."
17. "Don't ever stop dating your wife, and don't ever stop flirting with your husband."
18. "The greatest marriages are built on teamwork." – Fawn Weaver
19. "'Happily ever after' is not a fairy tale. It's a choice." – Fawn Weaver
20. "There is no more lovely, friendly, and charming relationship, communion, or company than a good marriage." – Martin Luther
21. "The relationship between husband and wife should be one of closest friends." – B. R. Ambedkar
22. A good marriage is one that allows for change and growth in the individuals and in the way they express their love." – Pearl S. Buck
23. "True love stands by each other's side on good days and stands closer on bad days."
24. "Any home can be a castle when the king and queen are in love."
25. "The most successful marriages, gay or straight, even if they begin in romantic love, often become friendships. It's the ones that become the friendships that last." – Andrew Sullivan
26. "The closer a husband and wife get to God, the closer they get to each other. The farther away they get from God, the farther they get from each other." – Jim Bob Duggar
27. "A great marriage is not when the 'perfect couple' comes together. It is when an imperfect couple learns to enjoy their differences." – Dave Meurer
See also: 90+ Invigorating Healthy Relationship Quotes
How A Man Should Treat His Wife Love Quotes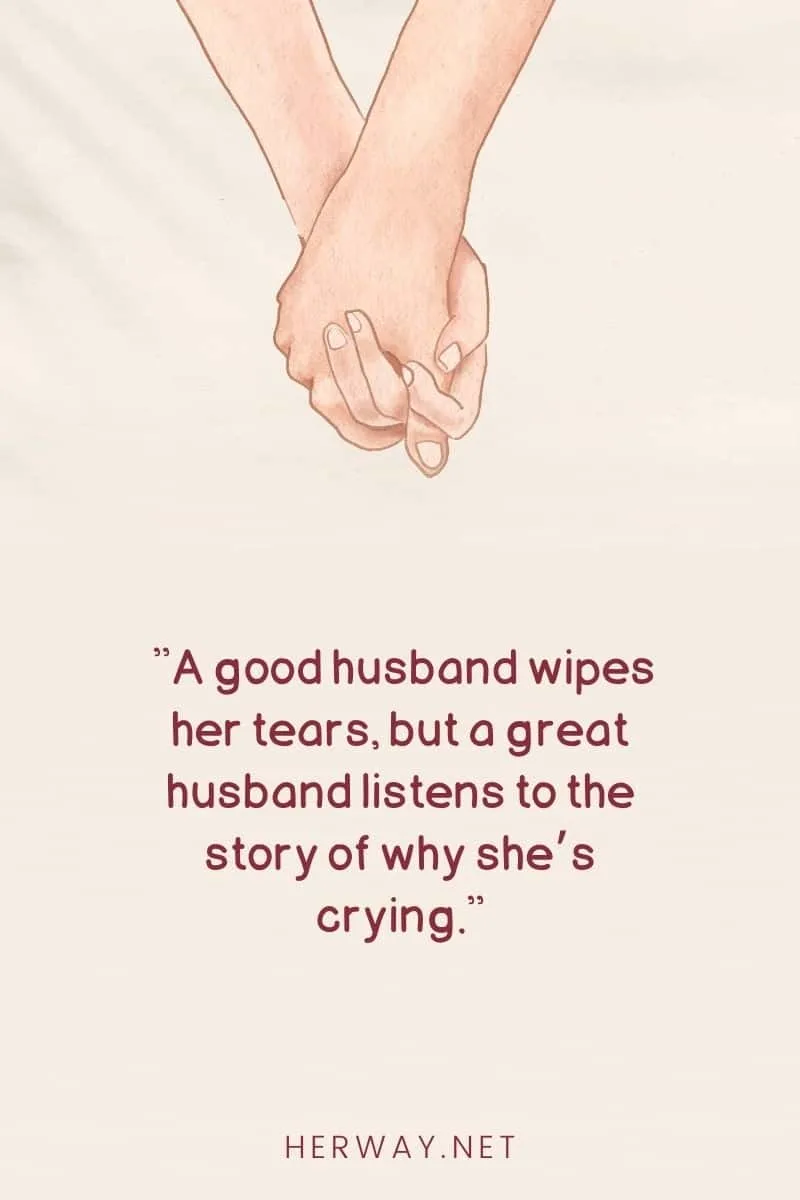 A man needs to show his woman love, appreciation, and respect every day, not just on Valentine's Day or other important dates. Your lady deserves to feel loved every minute of every day.
I hope these sweet love quotes about how a man should treat his wife will make you reconsider how you've been treating your wife and inspire you to do better… To become the man she deserves.
1. "A good husband makes a good wife."
2. "I can't promise you an easy life or that I will be the perfect husband to you, but what I can promise you is that I will love and cherish you every day."
3. "The best gift a husband can give his wife is his time, attention, and love."
4. "A sure sign of a man's strength is how gently he loves his wife."
5. "The husband who knows how to make his wife smile is indeed the best husband in the world…" – Nandita Saini
6. "Husbands, love your wives well! Your children notice how you treat her. You are teaching your sons how they should treat women, and you are teaching your daughters what they should expect from men." – Dave Willis
7. "A husband should always try to treat his wife with the greatest courtesy and respect, holding her in the highest esteem. He should speak to her in a kind and soft manner, showing his love by word and deed. As she feels this love and tenderness, she will mirror it and return it tenfold." – James E. Faust
8. "When a wife has a good husband, it is easily seen on her face." – Johann Wolfgang von Goethe
9. "A man's success is measured by what his wife and children say about him. Money and accomplishments mean nothing if you let your home fail." – Tony Gaskins
10. "A good husband wipes her tears, but a great husband listens to the story of why she's crying."
11. "If you want to make your wife happy, treat her like the Holy Spirit."
12. "A good husband loves his wife. A great husband makes her feel special. You make me feel whole."
13. "Every day, President Obama sends a beautiful message about how we should treat our women based on how he treats his wife. When people went after his wife during the campaign, he took a stand." – Steve Harvey
14. "You can always tell how a man will treat his wife by the way he treats his mother." – Janette Rallison
See also: 230+ Best Husband Quotes To Express Your Love For Him
Funny Husband Wife Quotes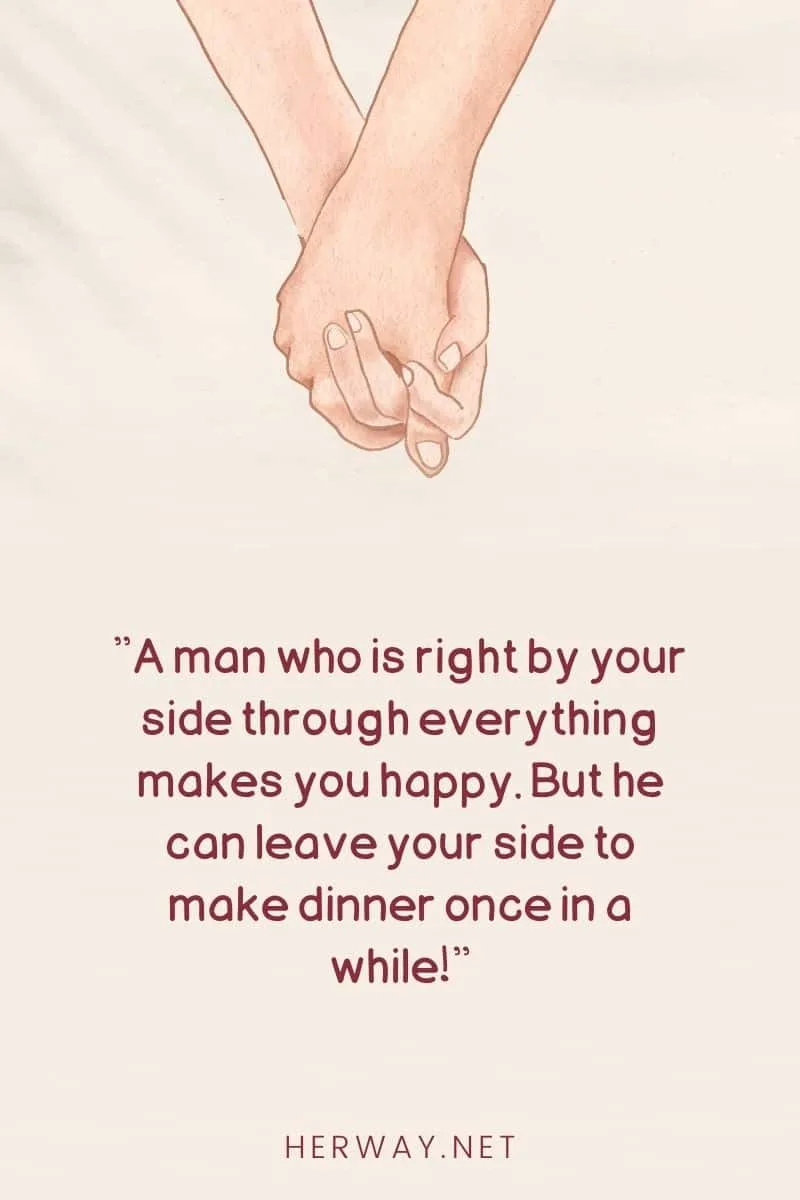 Of course, this collection wouldn't be complete if I didn't end it with these incredibly humorous husband-wife quotes. And remember, as long as you're laughing together, your marriage will be on the right track.
1. "My loving husband's best attribute? He has terrific taste in women, marrying the best wife of them all. You made the right choice, and I love you all the more for it."
2. "In our marriage, everything is 50/50. I cook, he eats. I wash, he wears. I shop, he pays!"
3. "Marriage is a relationship in which one person is always right, and the other is the husband!"
4. "One of the keys to a successful marriage is separate bathrooms. When he enters my bathroom sometimes, I'm like, 'Why are you in here?' And he's like, 'I live here. Can I enjoy my bathroom too?'" – Michelle Obama
5. "I love being married. It's so great to find that one special person you want to annoy for the rest of your life." – Rita Rudner
6. "The relationship between husband and wife is very psychological. One is psycho, and the other is logical."
7. "My husband and I married for better or worse!! He couldn't have done better, and I couldn't have done worse!"
8. "Marriage is not just spiritual communion, it is also remembering to take out the trash." –Joyce Brothers
9. "Husband secretly lowers the thermostat, and I secretly turn it back up. We both vehemently deny touching it. Marriage is fun." – Stephanie Ortiz
10. "The husband is the HEAD of the family, and the wife is the NECK that turns the head around!"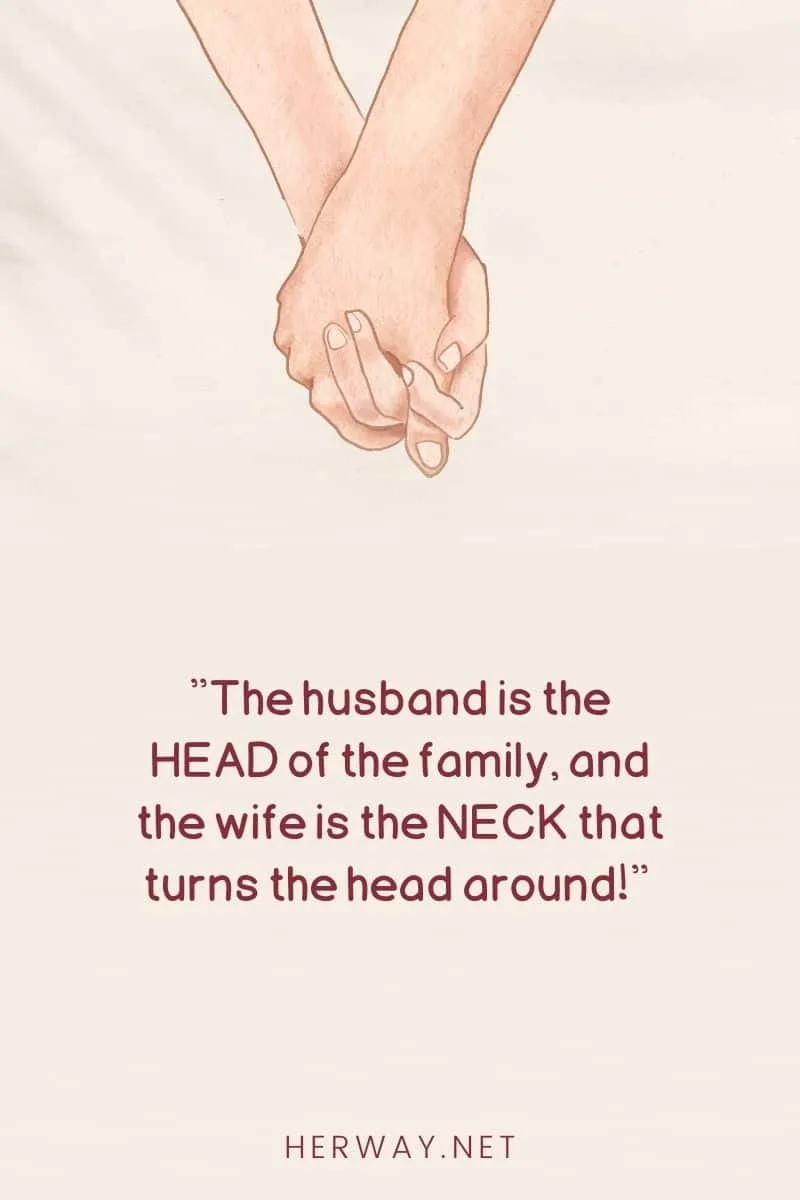 11. "My greatest fear is that one day, I'll die, and my wife will sell my guns for what I told her I paid for them."
12. "Marriage is just a fancy word to adopt an overgrown male child who is no longer handled by his parents."
13. "My wife and I are happy. At least when we are not together."
14. "Keep your eyes wide open before marriage, half shut afterwards." – Benjamin Franklin
15. "Marriage is the only war in which you actually sleep with the enemy."
16. "A woman worries about the future until she gets a husband. A man never worries about the future until he gets a wife."
17. "My husband wears the pants in my house… The ones I pick."
18. "When a man opens a car door for his wife, it's either a new car or a new wife." – Prince Philip
19. "Trust your husband, adore your husband… And transfer as much property as you can into your name."
20. "A man who is right by your side through everything makes you happy. But he can leave your side to make dinner once in a while!"
21. "By all means, marry. If you get a good wife, you will be happy. If you get a bad one, you will be a philosopher." – Socrates
22. "The best way to get most husbands to do something is to suggest that perhaps they're too old to do it." – Ann Bancroft
See also: 100 Romantic Couple Quotes That Will Melt Your Heart
What Is A Husband And Wife Relationship?
The relationship between a husband and wife isn't just a sacred bond blessed by God. It's a bond between two people who've decided to cross life paths and stay together forever, no matter what.
It's not a bond of blood, and that's what makes it even more special and strong.
Two people fall in love, accept each other's flaws and imperfections, and choose to stick together for better or worse.
If spouses are bonded by strong love, there is nothing and no one that can harm or destroy their relationship. Because, once they decide to make a lifelong commitment to each other in front of God, He blesses them and becomes the greatest protector of their love.
In Closing
This amazing compilation of the most endearing husband-wife quotes will help you redefine marriage and that special bond between spouses. You can use these romantic love quotes for captions, love letters, as a romantic text message, or you can even include them in your wedding vows.
In the end, I just wanted to tell you that you need to be prepared for anything. And, of course, keep faith in the strength of your love.