Lack of support from those you love the most, your family, can be really damaging to your mental health and leave long-term consequences on your emotional well-being.
You simply can't cut all ties with them because, once again, they're the ones you love the most. However, you also feel like you can't deal with it anymore because it's blocking your way to true happiness .
I feel your pain. I really do, with every tiny piece of my heart that once went through the same thing.
That's why I wanted to share something with you… something that helped me deal with that problem and made me the strong person I am today: a collection of powerful unsupportive family quotes.
I hope these heart-wrenching but also powerful and inspirational quotes about unsupportive families will ease your pain and help you deal with your unsupportive family members.
Heartbreaking Unsupportive Family Quotes
1. "Families must be built on love, trust, and acceptance, but dysfunctional families have no such traits, which is why they are what they are." – Unknown
2. "Some of the most poisonous people come disguised as friends and family." – Unknown
3. "If a man's character is to be abused, say what you will, there's nobody like a relative to do the business." – William Makepeace Thackeray
4. "The harsh truth of every relationship, even between those who love each other, like fathers and sons and daughters or husbands and wives, is that the love is always unequal." – Karl Taro Greenfeld
5. "A family can be the bane of one's existence. A family can also be most of the meaning of one's existence. I don't know whether my family is bane or meaning, but they have surely gone away and left a large hole in my heart." – Keri Hulme
6. "Being brushed aside is the easiest way to discard a child." – Sherrie Campbell
7. "Our family became a place where you screamed for help, but no one heard, not ever." – Marceline Loridan-Ivens
8. "Unhealthy families discourage individual expression." – Susan Forward
9. "Just because your father is present doesn't mean he isn't absent ." – Elizabeth Acevedo
10. "See, I think there are roads that lead us to each other. But in my family, there were no roads – just underground tunnels. I think we all got lost in those underground tunnels. No, not lost. We just lived there." – Benjamin Alire Sáenz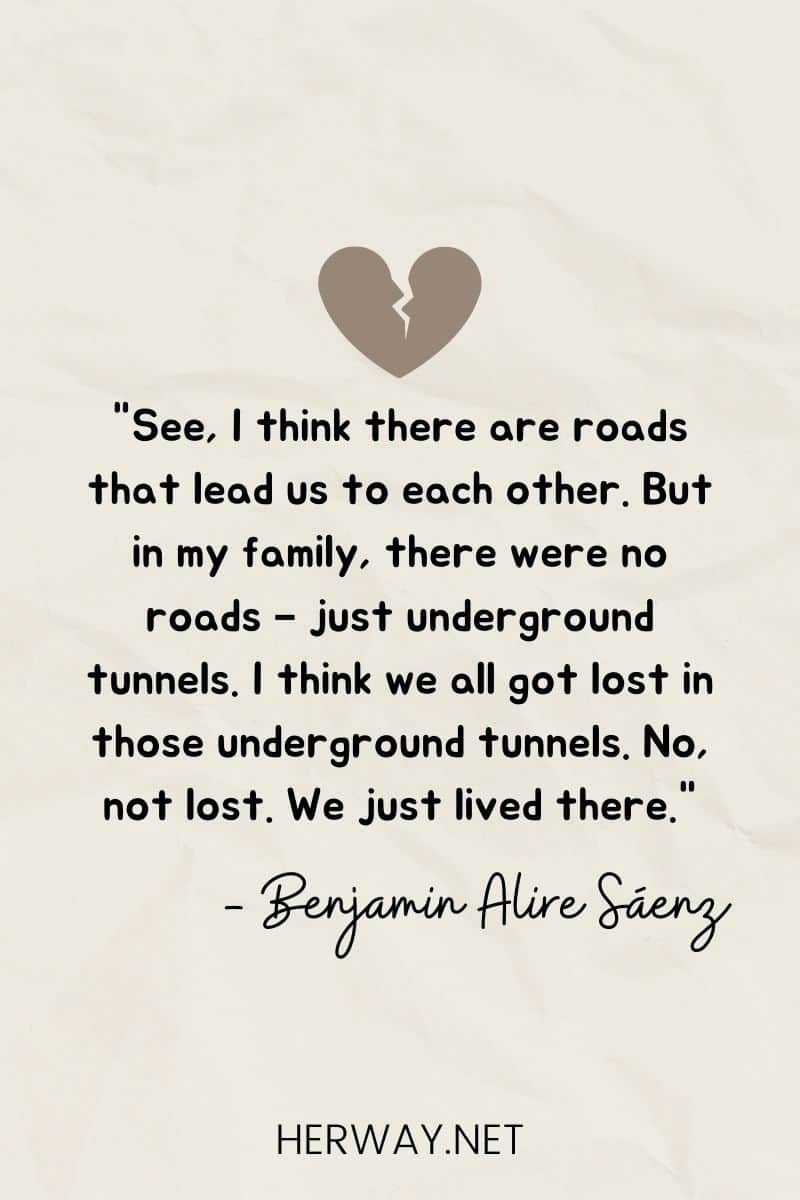 11. "I was in denial of the glaring reality that my existence depended on my willingness to comply with the family policy of me earning the splinter of space they granted to me." – M. Wakefield
12. "Family is supposed to be our safe haven. Very often, it's the place where we find the deepest heartache." – Iyanla Vanzant
13. " A dysfunctional family is not a family at all. It's a toxic relationship parading as a requirement." – Unknown
14. "I was born into this family, but all I got was hate in a place where I was supposed to get love and acceptance." – Unknown
15. "The most merciful thing that a large family does to one of its infant members is to kill it." – Margaret Sanger
16. "Dear family, please continue to include me in your activities when it's convenient for you, and then act confused and upset when I ignore you." – The Black Sheep
17. "The more dysfunctional, the more some family members seek to control the behavior of others." – David W. Earle
18. "Dysfunctional families can't give you love because love can't come from people who don't love themselves in the first place." – Unknown
See also: 11 Signs Your Family Doesn't Care About You And How To Handle It
Encouraging Unsupportive Family Quotes
1. "No one will believe in you until you believe in you." – Robin Sharma
2. "You have the right to put up a fence between you and your family and the choice whether to include a gate." – Unknown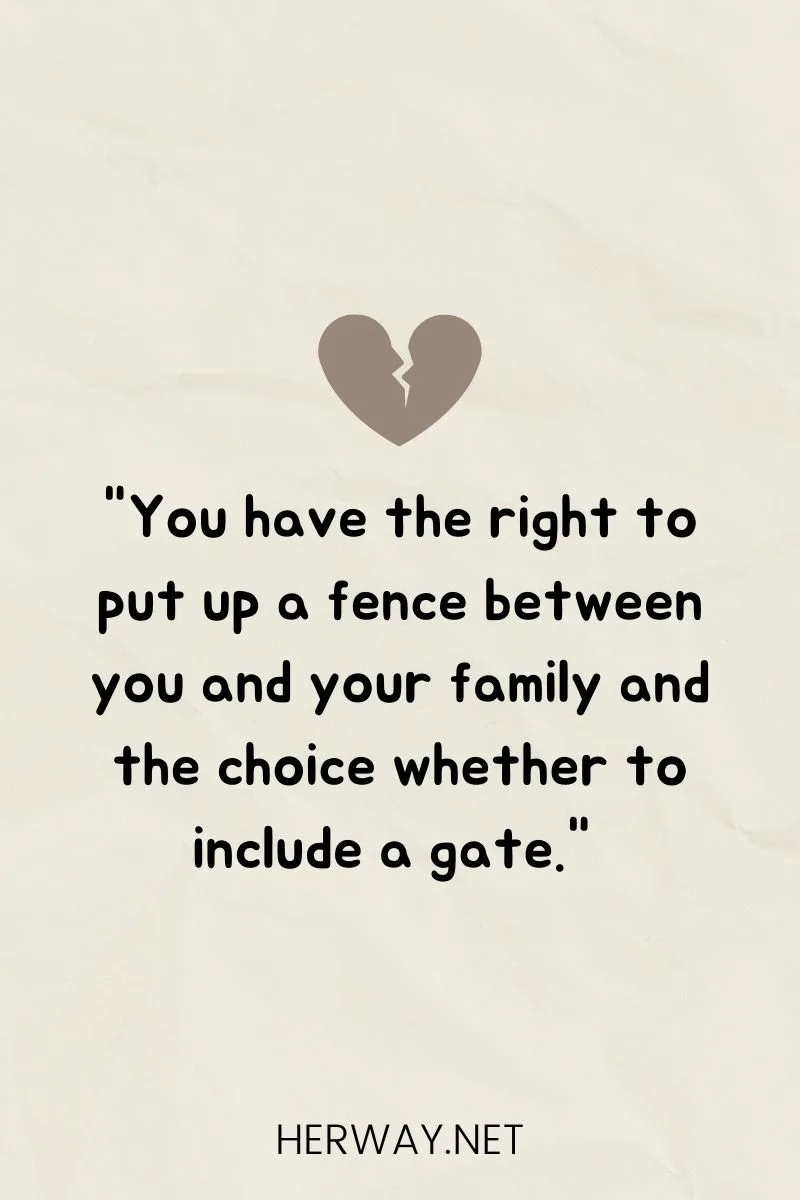 3. "You don't get to choose your family, but you do get to choose how they're allowed to treat you." – Anonymous
4. "Unfortunately, some family members are so psychotic that no matter how hard you try to forge a healthy relationship, nothing will help. Now that you're an adult, take refuge in the fact that some things are beyond your control. You owe it to yourself to steer clear of people who are harmful to your health." – Andrea Lavinthal
5. "If you're going home to an unsupportive family this holiday season, remember that your worth is not defined by what they say or how they treat you." – Unknown
6. "You can love them, forgive them, want good things for them, but still move on without them." – Mandy Hale
7. "It's okay to cut toxic family members out of your life. Blood ain't thicker than peace of mind." – Unknown
8. "A big shout out to all the kids who grew up in an unsupportive family while they hear about another supportive family around them: You have a life worth living, you are strong and brave." – Unknown
9. "Don't worry about the family that ignores and acts like you don't matter. Love the ones who are always there for you no matter what." – Unknown
10. "If the family you choose before your birth no longer supports your path towards fulfilling your true destiny, it is never too late to find a new tribe." – Anthon St. Maarten
11. "Just because somebody is genetically related, doesn't mean they are a nice person or someone you should have in your life." – Unknown
12. "Field unsupportive family pressure and stick to your healthy guns!" – Unknown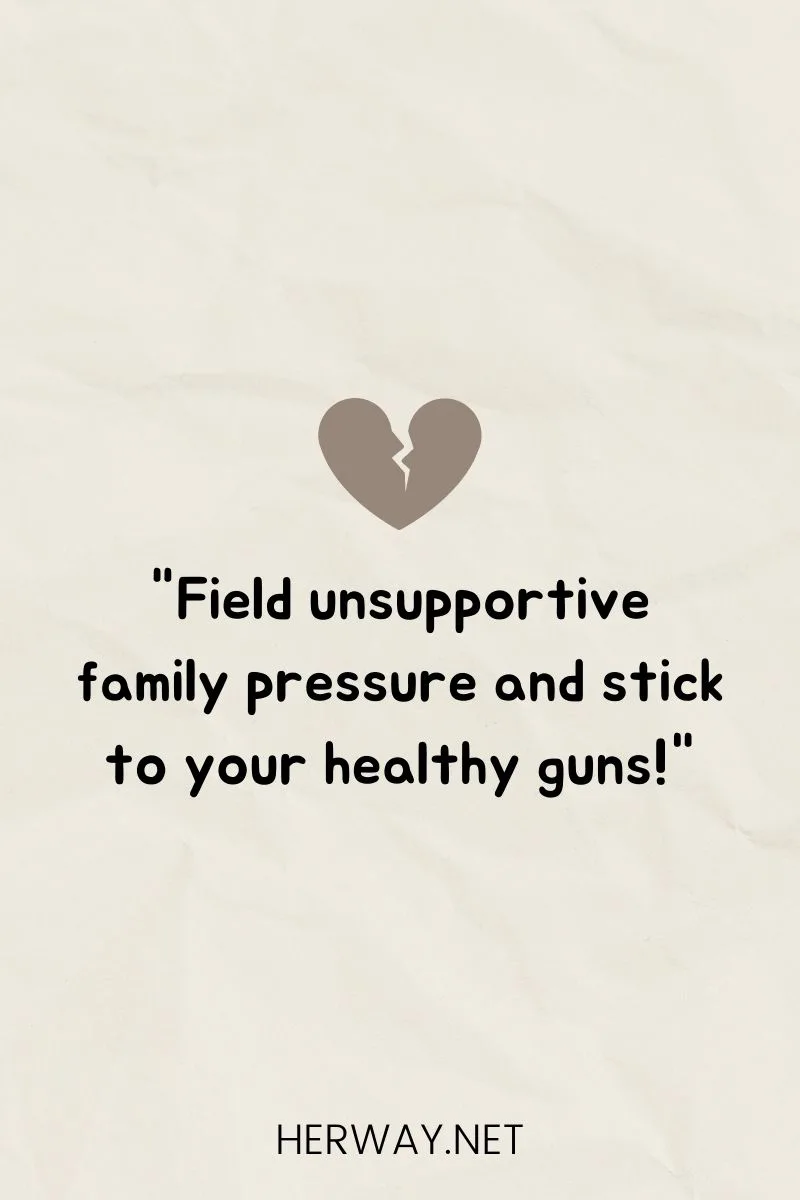 13. "To be a champion, you must believe in yourself when no one else will." – Sugar Ray Robinson
14. "Throughout life, you will find those people who are selfish, hateful, and inconsiderate. You can't change people, but you can change how much they are a part of your life." – Unknown
15. "You are allowed to terminate your relationship with toxic family members. You are allowed to walk away from people who hurt you. You are allowed to be angry and selfish and unforgiving, and you don't owe anyone an explanation for taking care of you." – Unknown
16. "Set healthy boundaries with unsupportive people. Release hurts by forgiving, bless their hearts, and then farewell to them." – Unknown
17. "The bond that links your true family is not one of blood, but of respect and joy in each other's life. Rarely do members of one family grow up under the same roof." – Richard Bach
18. "So you're saying, I HAVE to like them because they're family, but they treat me like sh*t? What planet did you come from again?" – Unknown
19. "I've learned that regardless of your relationship with your parents, you'll miss them when they're gone from your life." – Maya Angelou
20. "I used to think the worst thing in life was to end up all alone. It's not. The worst thing in life is to end up with people that make you feel all alone." – Robin Williams
21. "You don't have to leave your whole family in the past, just those who don't deserve a place in your future." – Unknown
22. "If you allow people to make more withdrawals than deposits in your life, you will be out of balance and in the negative. Know when to close that account." – Christie Williams
23. "It's okay that you have an unsupportive family…It's okay to feel at the bottom…But it's not okay to decide to end your life…Because…Nobody can break you unless you break yourself…There might be many important events that you might miss…You might not have been made feel special at all…But it's fine…The truth is you're perfect." – Unknown
24. "A person struggling for someone because of an unsupportive family has greater value than a person with a supportive family…fact of life…" – Unknown
25. "Never let the lack of support deter your mission." – Unknown
26. "Just because someone is your family doesn't mean you have to keep them around if they are toxic or abusive. Don't let people guilt you." – Winnie Nantongo
27. "Toxic mothers are image-oriented rather than love-oriented." – Sherrie Campbell
28. "Train yourself to be fueled by laughter and unsupportive people." – Unknown
29. "Look for the good, not the evil, in the conduct of members of the family." – Proverb
30. "But the people who mattered were the people you chose instead of the people who were yours by an accident of birth. Real family was heart as much as, if not more than, blood." – Martina Boone
31. "Children betrayed their parents by becoming their own people." – Leslye Walton
32. " Letting go of toxic people in your life is a big step in loving yourself." – Hussein Nishah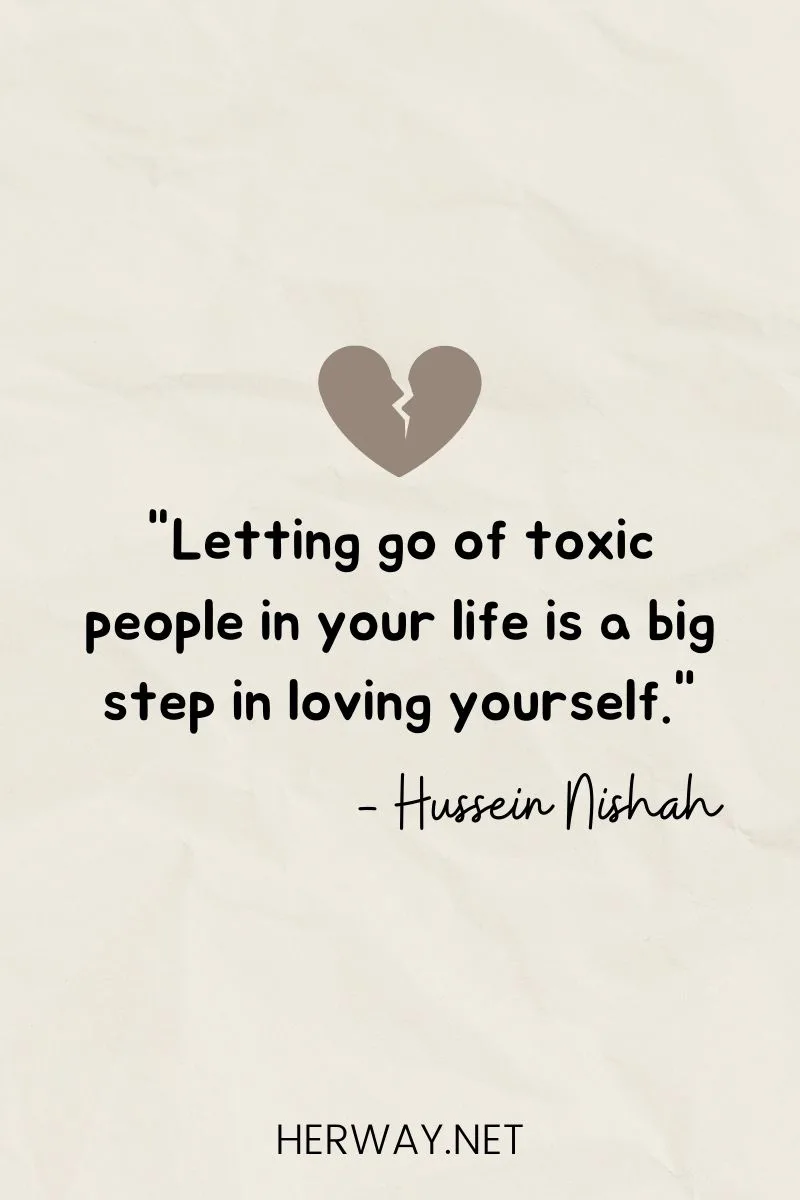 33. "Sometimes, you have to move on without certain people. If they're meant to be in your life, they'll catch up." – Mandy Hale
34. "Mindfulness won't ensure you'll win an argument with your sister. Mindfulness won't enable you to bypass your feelings of anger or hurt, either. But it may help you see the conflict in a new way, one that allows you to break through old patterns." – Sharon Salzberg
35. "There shouldn't be space in your life for unsupportive friends and family—only space for positivity." – Unknown
36. " Cutting people off doesn't have limits. Family can get cut off, too, if they are causing you stress. Eliminate any negativity in your circle." – Unknown
37. "You may feel guilty for leaving your family behind, but you'll never regret moving forward." – Unknown
38. "No matter what you've suffered, the abuse was not your fault. Not as an innocent child, teenager, nor as an adult." – Dana Arcuri
39. "Family, too, can be cut off if it proves to be too toxic to be around." – Samuel Zulu.
40. "Let's get out of the habit of telling people, 'that's still your mom, your dad, or your sister.' Toxic is toxic. You are allowed to walk away from people that constantly hurt you." – @bynnada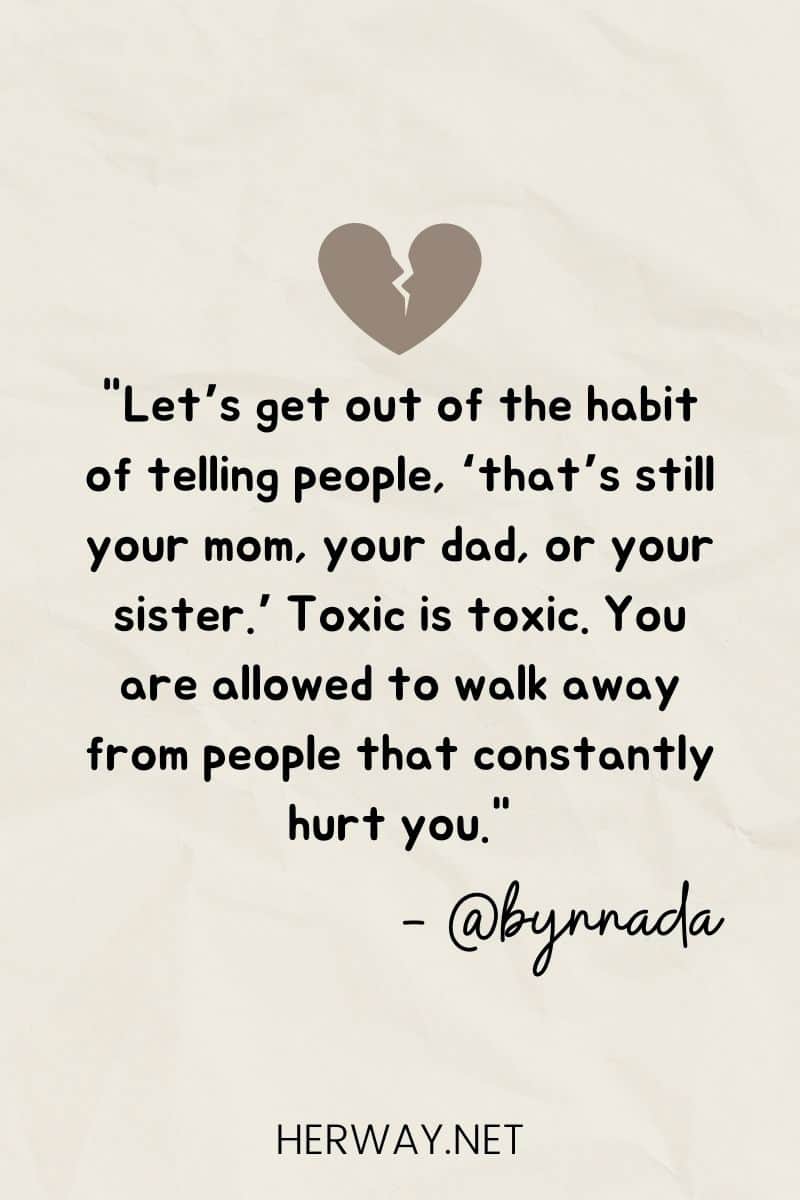 41. "Family or not, I will cut you off. That saying 'but that's family' means nothing if a family is toxic and means you no good." – Morgan Sharee
See also: Heart Touching Love Quotes; 100+ Heart-Melting Quotes For Your Loved One
Toxic Family Quotes
1. "Dysfunctional families despise the truth-tellers and whistle-blowers. They are all about admiring the Emperor's new clothes, and they turn on anyone who dares to mention the nakedness." – Sherrie Campbell
2. "Toxic family relationships spoil all other relationships unless you remove the poison before it's too late." – Unknown
3. "A toxic family is even worse than a toxic relationship." – Rohan Chouhan
4. "Families are homes built on a foundation of trust and love. A toxic family can never be home because the foundation doesn't exist." – Unknown
5. "Sometimes, it's necessary to temporarily distance yourself physically from toxic family members for the sake of your well-being if they prove to be too toxic to be around." – Unknown
6. "When we are raised in toxic families, we often go through a time period, and for some of us, a lifetime, of repeating the toxic patterns we were raised in with other people in our lives. We do this until we decide we've had enough pain and choose to genuinely examine our patterns and stop the craziness for good." – Sherrie Campbell
7. "Our family was stuck in a cosmic hamster wheel of toxic love, making the same mistakes, saying the same words, being hurt in the same ways, generation after generation. I didn't want to keep playing a role in this tragedy of errors." – Yamile Saied Méndez
8. "As I was growing up, no one in my family got their needs met through respectful negotiation and compromise." – Olga Trujillo
9. "When you say 'No' to a toxic family, you say 'Yes' to loving yourself." – Unknown
10. "When you walk away from a toxic family, you begin the journey of finding your true people." – Unknown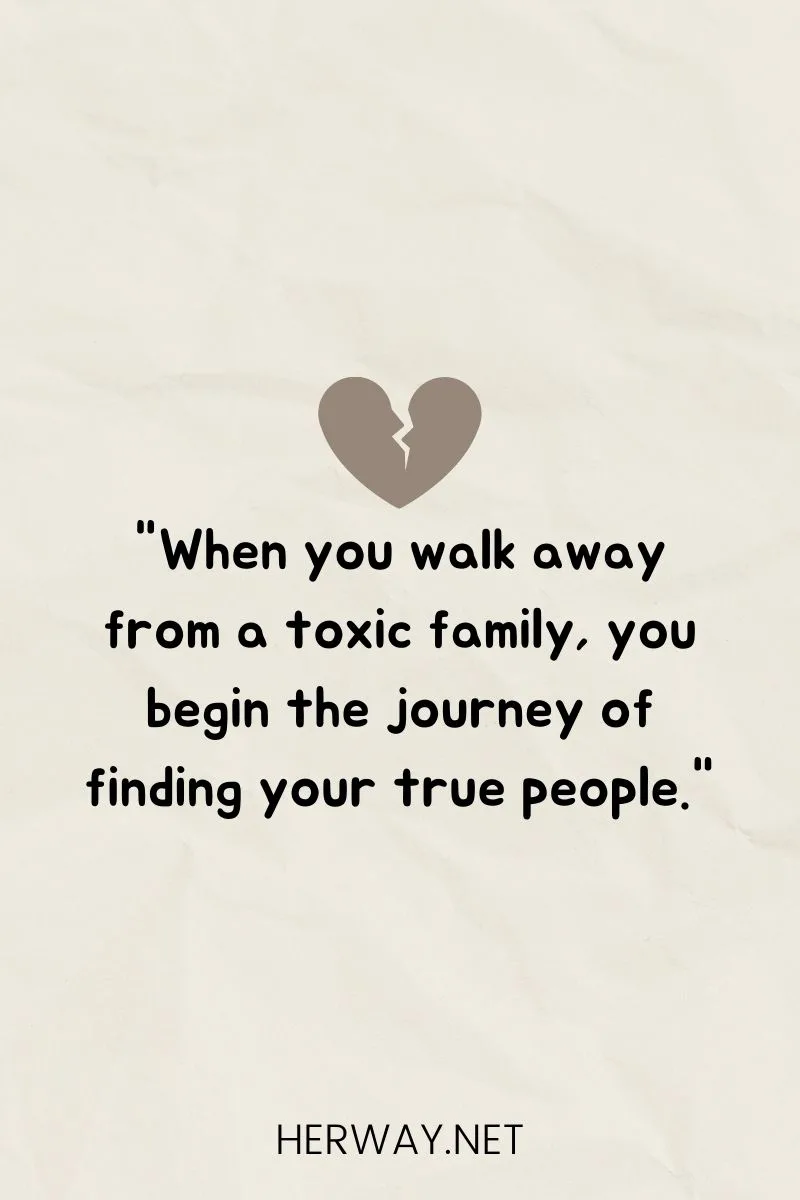 11. "Blood doesn't make you family. Some of the most demonic and demeaning people in your life share your DNA." – Temi Ade
12. "A good family will see your boundaries and move around them. A toxic family won't even realize they're there." – Unknown
13. "Saying 'no' to a toxic family member shows that you understand what family truly means." – Unknown
Supportive Family Quotes
1. "Bond is stronger than blood. The family grows stronger by bond." – Itohan Eghide
2. "The secret of a happy home life is that members of the family learn to give and receive love." – Unknown
3. "My goal as a parent is to never make my children feel like they don't belong. Nobody deserves to live life as the shunned black sheep." – Unknown
4. "There is an interconnectedness among members that bonds the family, much like mountain climbers who rope themselves together when climbing a mountain, so that if someone should slip or need support, he's held up by the others until he regains his footing." – Phil McGraw
5. "Everyone needs a house to live in, but a supportive family is what builds a home." – Anthony Liccione
6. "A warm house does not always depend on its structures, but depends on the heat of relationship that all members have towards each other." – Ky Vanchay
7. "A family with all creditable members who can bank upon each other to build a healthy and trustworthy relationship is truly happily rich." – Unknown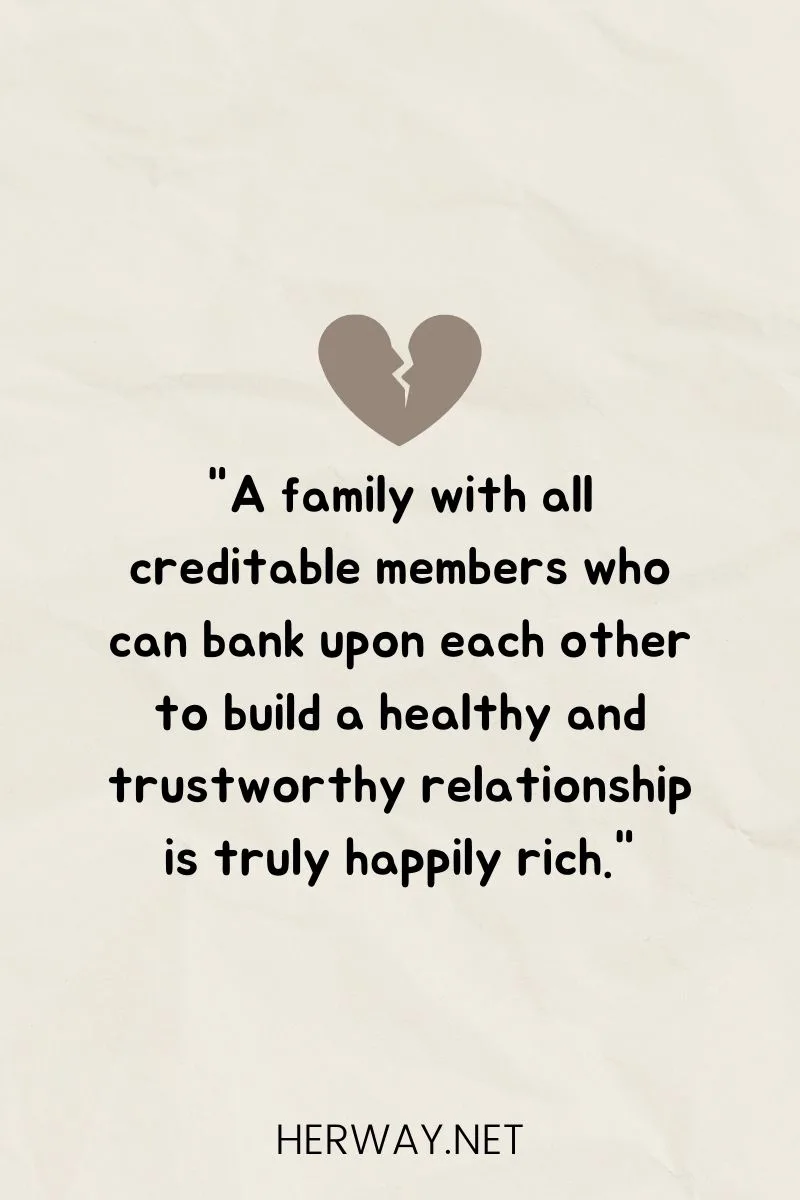 8. "Great parents build bridges instead of walls." – Reed B. Markham
See also: 81 Most Encouraging Toxic Relationship Letting Go Quotes
What Is A Family Quotes
1. "When any trouble comes at home, all family members take it as its own, and this is called family love." – Unknown
2. "No family is perfect. We argue, we fight. We even stop talking to each other at times. But in the end, family is family. The love will always be there." – Unknown
3. "Parent-child relationships aren't created at birth, they're created in life." – Unknown
4. "Girlfriend, boyfriend, friend, and family—all of the words have 'end' in them except for family." – Unknown
5. "Families are forever, and I wondered if the slogan was meant as a promise or a threat." – Brady Udall
6. "Family is where you're meant to be most free. Don't let blood chain you down." – Unknown
7. "Family is supposed to be there for you no matter what comes your way. Shame on the ones who are not. That's not what family is all about." – Unknown
8. "Family isn't always blood. It's the people in your life who want you in theirs. The ones who accept you for who you are." – Unknown
9. "It's not flesh and blood but the heart which makes us fathers and sons." – Jonathan Schiller
10. "Being genetically related doesn't make you a family. Love, support, trust, sacrifice, honesty, protection, acceptance, security, compromise, gratitude, respect, and loyalty are what makes your family." – Unknown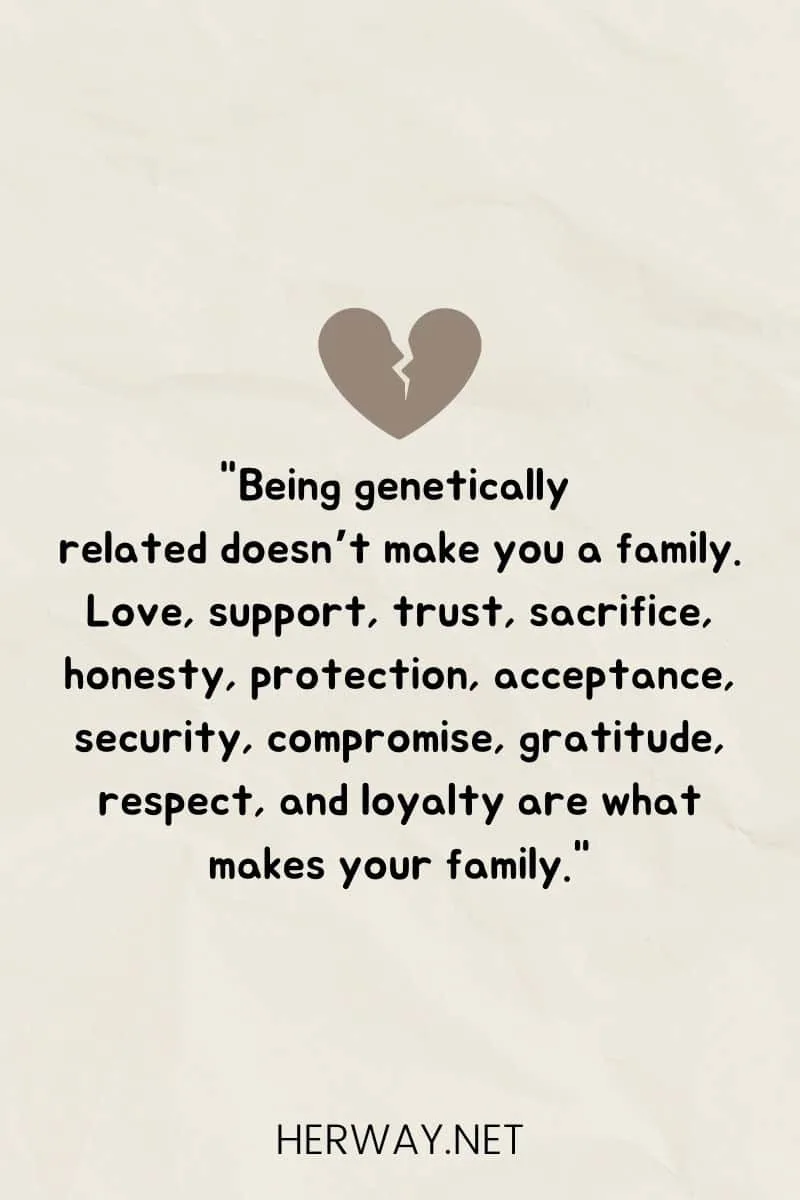 11. "Immediate, often unsolicited, sometimes undeserved forgiveness—that is what turns the wheel of family life." – Kelly Corrigan
How Do You Deal With Unsupportive Families?
For the sake of your family, try to solve it all through healthy communication. Let them know that their lack of support really hurts your feelings and affects your quality of life and your relationship with them.
For your own well-being, try to distance yourself from those unsupportive family members. Being related to someone should never be the only reason to keep them in your life.
I agree that family support drives us to achieve everything we dream and hope for. However, family isn't only those who are related by blood with us… family is the people who love us for who we are and who want to see us happy no matter what.
Those kinds of people are the ones you should consider family. And all those who stand in the way of your happiness don't even deserve to have a place in your life.
Final Words
I trust that these impressive unsupportive family quotes changed your perspective and encouraged you to choose yourself over your toxic family. Believe me, not a single person will resent you for that.
No one should have a place in your life until they prove that they truly deserve it, not even the ones God sends your way.
In honor of that, I would like to wrap this all up with an amazing quote from Addison Mizner: "God gives us relatives; thank God, we can choose our friends."