There is a guy you like and want to win over, but there's a tiny problem, right? Are you not so good at talking face to face, especially not with someone you have romantic feelings for, and you'd rather chat via texting?
Don't worry. There are many of us not-so-confident girls who are or were in the same position. Well, I sure was.
I was searching online for text messages to make him obsess over you, and that's when it hit me… I should make a collection of these messages to help other girls with the same 'problem,' and ta-daaa, here it is.
Now, enough with chit-chat; it's time to upgrade your love life. The following lists of interesting texts will intensify attraction between you and your crush and make him go absolutely crazy for you.
Flirty Text Messages To Make Him Obsess Over You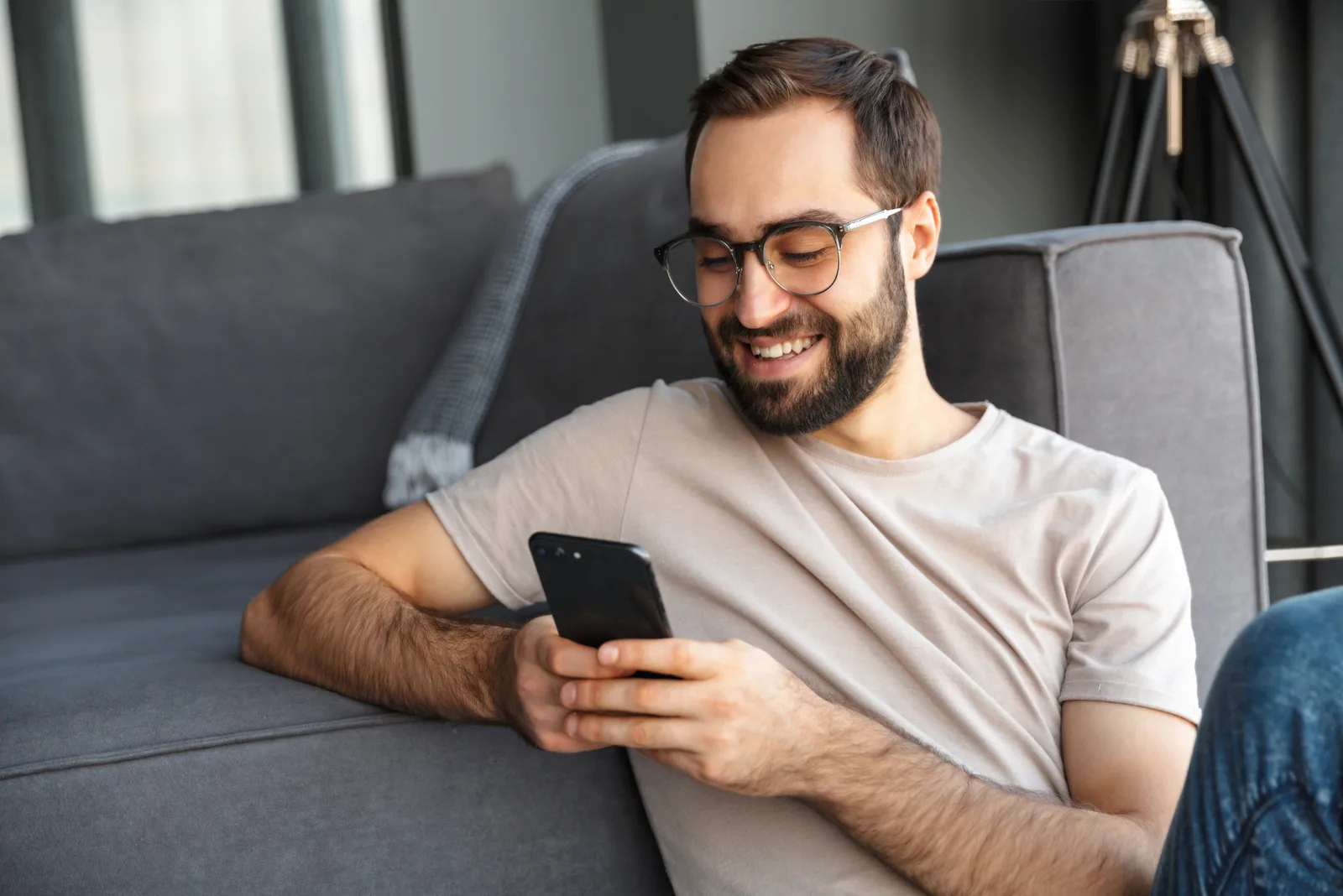 1. "Women who make the first move – yes or no? If you like them, then I could do something to become that woman."
2. "If you could stop looking so great every time we go out, then maybe I would be able to focus on my work instead of thinking about you all the time."
3. "I need something to cheer me up. Send me a picture of your handsome face."
4. "If you give me a call later, maybe I'll tell you about the crazy dream I had about you last night."
5. "I just included thinking of you as the most favorite thing I enjoy doing."
6. "I'd love it if you came over to see me now. I just don't know how long I'd behave myself."
7. "I think that I'm addicted to you. Do you think that they can give me something to cure me?"
8. "Just read that caffeine can boost a woman's libido. Is that why you keep inviting me for coffee?"
9. "How is your day going so far? I need to meet a certain handsome man later tonight."
10. "When somebody asks me what my favorite thing is about you, I always stop for a second. I can't really decide since there's so much of you to like."
11. "Just wanted to drop in and remind you how cute you are."
12. "If kissing is the language of love, then we have a lot to talk about."
13. "I've been thinking of you all day. Guess what I'm imagining."
14. "You, me, and takeout? Tonight? Sounds like a plan!"
15. "I'm sick of flirting over the phone. Let's do this in person."
16. "If I could change one about you, it'd be your current location… So we could be together."
17. "How is it possible that you get a little hotter every single day?"
18. "Want to know what I'd do right now if you were with me?"
19. "Even though I haven't seen you today, I'm sure you look as hot as always."
20. "Ok, so you're obviously a wizard because my cat just admitted that she'd give up her spot on my bed for you."
21. "I know that no one is perfect, but you're pretty damn close."
22. "Where did you learn to kiss like that? I can't stop thinking about your lips!"
23. "I was trying to figure out if you have any flaws, but since I can't find any, would you be willing to reveal your hidden list to me? It's either that you're too good at hiding them, or you're just perfect."
24. "Your smile should be the eighth wonder of the world."
25. "Thank god you can't read minds! If only you knew my thoughts, you would be blushing!"
26. "Can you read my mind? Because you always seem to text me whenever I'm thinking about you."
27. "Let's spend the day doing nothing but being in each other's arms."
28. "Can you do me a favor? Stop looking so sexy in your pictures; otherwise, I won't be able to stop staring at them."
29. "I think my lips and yours should have a personal meeting. ASAP."
30. "I'm making the first move when it comes to texting, so I'm expecting you to make the first move when it comes to kissing."
Related post: 150+ Romantic And Flirty Texts That Will Make Him Want You
Sweet Texts To Make Any Man Obsess Over You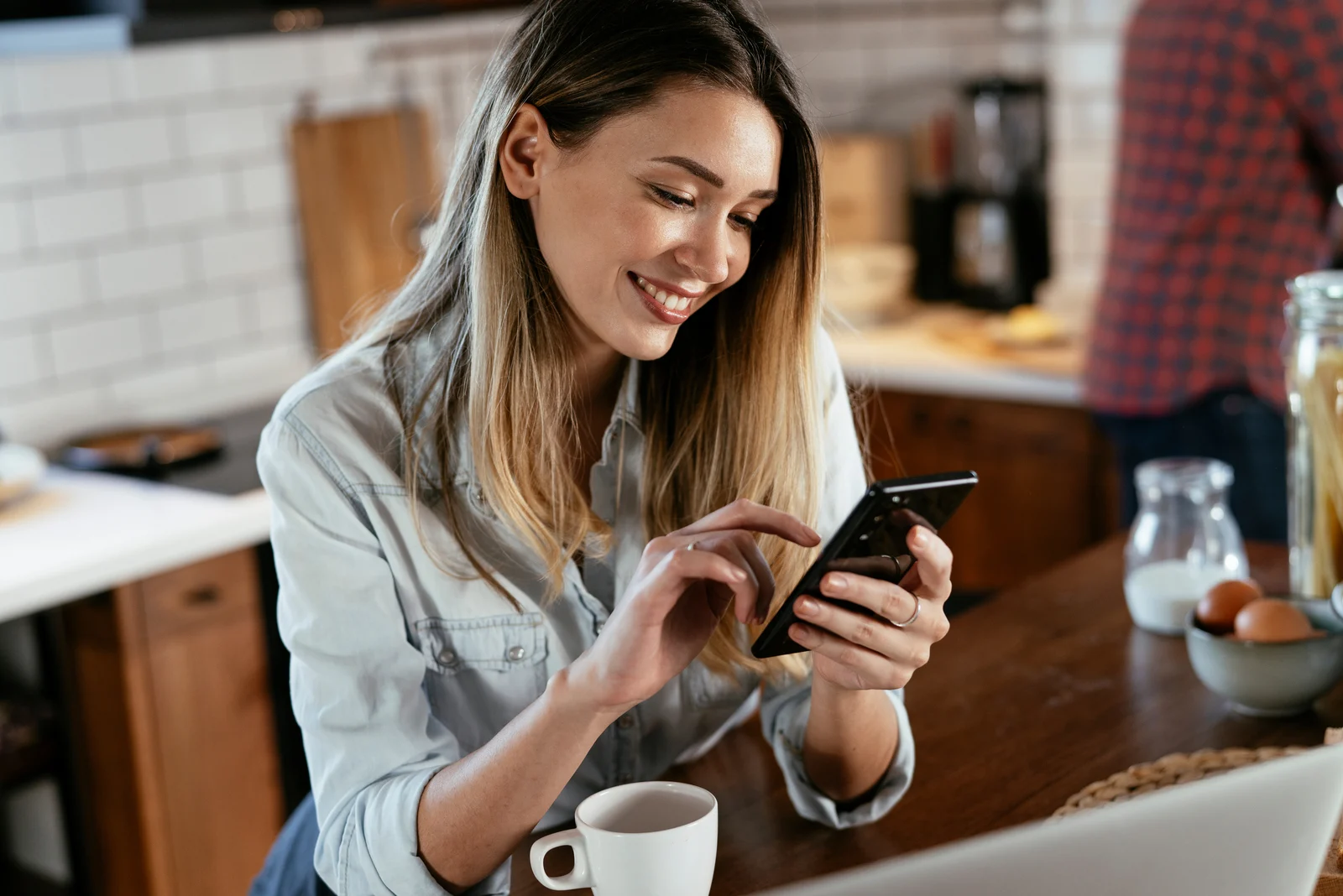 This list of romantic and sweet text messages will touch your man's heart and make him fall deeply in love with you.
1. "Resting my head on your chest, listening to your heartbeat – those are my two favorite things in the world."
2. "My life was black and white until you came in and added color."
3. "Seeing your name pop up on my phone screen makes me grin like an idiot."
4. "The best feeling in the world is when you hold me in your arms. That's when I feel like the happiest person alive."
5. "I'm getting little butterflies just thinking about seeing you later today."
6. "I'm using my last 2% of battery to text you that I'm thinking about you."
7. "Being in love with you is the best feeling in the entire world."
8. "Why haven't I been able to get you out of my head all day?"
9. "You always know how to cheer me up. Your presence in my life is like medicine."
10. "If only you knew how red my cheeks turn every time I see your name on my screen. You make the butterflies in my stomach go wild."
11. "I dream of a world where you and I would live for a thousand years to love each other. I know I would never get tired of loving you."
12. "Our differences are exciting. Our similarities are uniting. We come together to form a wonderful puzzle."
13. "I may not be your first love, first kiss, first sight, or first date, but I just want to be your last everything."
14. "One look from you makes me weak at the knees."
15. "I feel so lucky to have you in my life."
16. "Thank you for the reminder of what butterflies feel like."
17. "You're the only person who knows how to make me laugh uncontrollably. Since the moment I met you, my days have been better than ever before."
18. "I want to be everything that brings a smile to your face and happiness to your heart. I want to love you like no one else ever did!"
19. "You're rarer than one in a million – you're more like my one in a billion."
20. "I made a wish for a perfect man, and then you entered into my life."
21. "I'm so lucky I found someone like you. Scratch that – there is no one else like you. I'm so lucky I found you."
22. "No matter what has happened. No matter what you've done. No matter what you do. I will always love you."
23. "Unusual things are happening to me. I keep dreaming of you even when I am wide awake."
24. "I feel safe whenever you're around. You're my hero, the one I've been looking for my whole life."
25. "Just knowing you're in the world makes me happy. But knowing you love me? That sends me over the moon."
26. "I still don't understand how you do it. You constantly take my breath away!"
27. "Even if I got to spend forever with you, I feel like it wouldn't be enough time."
28. "You need to explain something to me. How is it possible that you make me smile, even when you're not around? I think about you for a second, and boom; there's a huge smile all over my face."
29. "My only regret about being with you is that I couldn't have found you sooner!"
30. "I've been grinning from ear to ear just thinking about you ever since we met!"
See also: 7 Ways To Make A Man Fall In Love With You Like Crazy
Good Night Text That Will Make Him Dream About You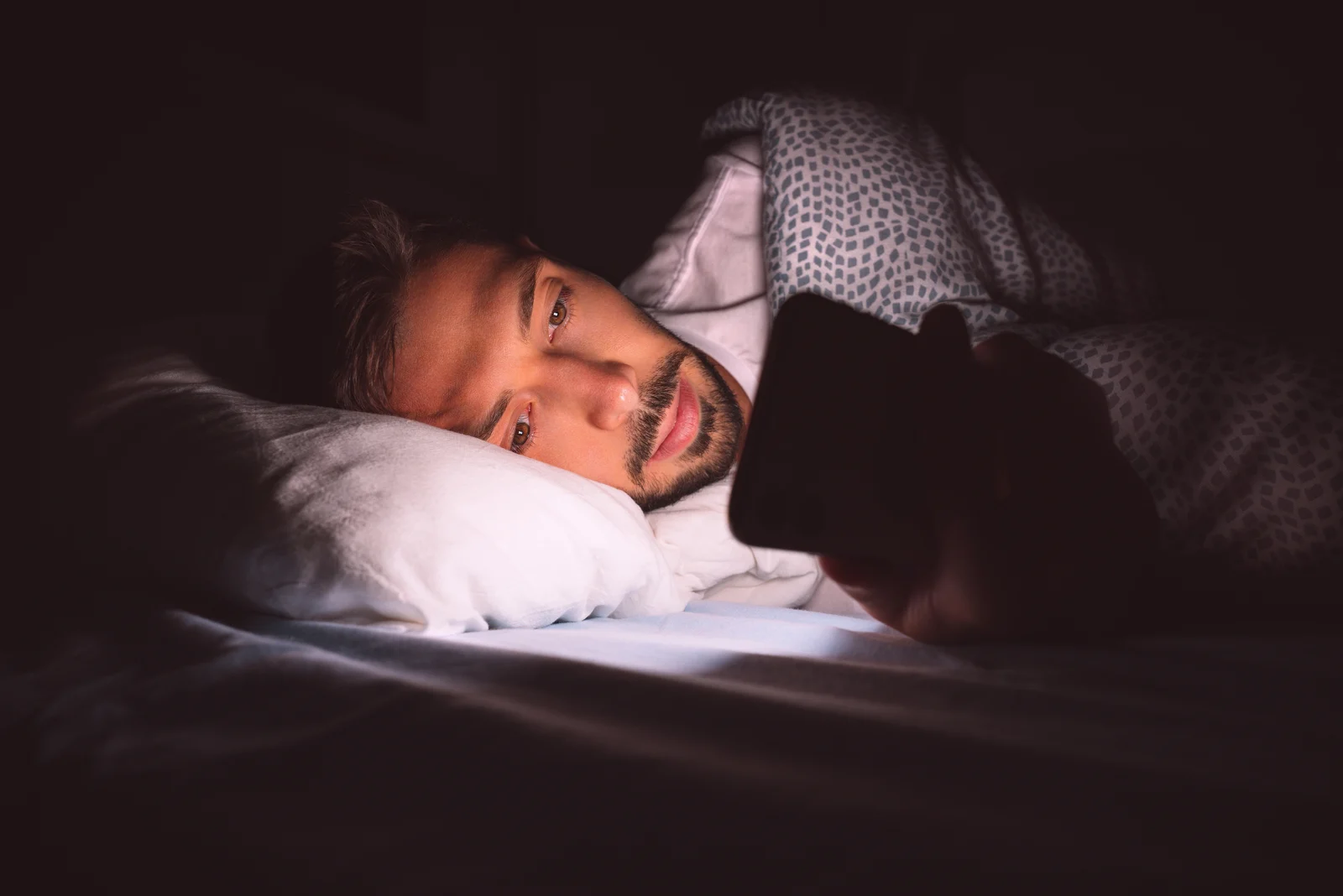 This list of good night texts to send a guy will serve best for all of you in a long-distance relationship.
Sending texts to wish him good night will show your man how much you miss him. These types of texts will also show him that, despite the distance, he's still your last thought right before you go to sleep.
1. "If you were lying next to me right now, I guarantee we wouldn't be sleeping."
2. "Do you understand how difficult it is to go to sleep without embracing you? Do you feel the same? Someday, we will see the moon under the sky together."
3. "Thinking of you before I go to sleep always gives me the best dreams."
4. "It's impossible to sleep when I've got you on my mind."
5. "I wish I could gently wrap you in my arms. You are the dream to my nightmare, the moon to my sky. May you have a peaceful night, and see you in my dreams!"
6. "Sleep well because my love is the wings to cover you, and my hugs and kisses are the warmth to give you pleasure. Good night, bae."
7. "It's very possible that I may have some dreams about you that could be indecent. Sweet dreams, handsome."
8. "No matter how hard you try, your dreams can never be sweeter than mine because I dream about YOU."
9. "May your pillow be soft, your blankets warm, and your mind filled with thoughts of how much I love you."
10. "I know that it's tough for you to fall asleep without me. Let it be the biggest nuisance in your life. Good night, my love."
11. "I dreamed about you last night, and you were very sexy. I wonder what tonight will bring?"
12. "Missing you here in my arms. Sending you hugs, kisses, cuddles, and squishes. Hold your pillow tight and sleep well, handsome."
13. "My dreams would only be sweeter if you were here. If I could reach up and hold a star for every time you've made me smile, the entire evening sky would be in the palm of my hand. Good night, babe."
14. "I can feel you whisper in my ear as I drift off, and I hope you can feel my love as you sleep tonight."
15. "May all of your dreams be full of wonderful things and loving thoughts of me. Good night, handsome."
16. "I wish someday I'll give you a kiss on the forehead and say goodnight to you. And then you'll take me in your arms, and I'll close my eyes."
17. "May the stars bring you closer to my love, and may the moons show you how special you are to me. Good night, my love."
18. "A perfect world is one where you are the last thing I see each night and the first thing I notice each morning."
19. "When I say my goodnight prayers, you're the first thing I thank God for. You're my morning star shining brightly beside me. I'm asking Him to send extra love to you tonight since I can't be by your side. Sweet dreams, honey."
20. "You are not with me now. I can't touch or hug you. But I will meet you in my dreams. We will be there together. Goodnight, sweetheart!"
Good Morning Texts To Make Him Think About You All Day

The fact is that all men want to feel appreciated and loved. And, is there any better way to show your man how loved he is than by sending him the kind of text that will brighten his day and help him go through it easier?
I'm sure there isn't. So, check out this list of the best texts for a good morning and choose the one that will make your man smile and help him start his morning right.
1. "I can't wait until the time comes when I can wake up next to you every day."
2. "I woke up this morning so grateful that you're in my life."
3. "Good morning, you sexy thing! I can't wait to see you tonight!"
4. "The day is far from starting, and I'm already thinking of you. I don't know how it happens, but the thought of you gives me peace of mind and a sense of fulfillment I can't explain."
5. "I need you more than I need my coffee this morning! Not that I'm a needy person, it's just that you're an essential part of my life."
6. "I was thinking about you this morning and couldn't shake this overwhelming sense of gratitude. Gratitude that I get to know you, learn from you, love you, and do life with you."
7. "Wake up, babe. It's time to greet the day knowing that you have a fantastic girlfriend who thinks you are just the greatest!"
8. "Do you believe it is appropriate to share with you that I've just spent the entire morning in bed thinking about you and me together?"
9. "Good morning! How'd you sleep? My new morning routine is sipping my coffee and thinking of you."
10. "Wanna make a good morning even better? Then come spend it with me."
11. "I am sending you some virtual kisses for a good morning. And you will get the real ones when you come over."
12. "I had a really vivid dream about you last night…(blushing face emoji)."
13. "Thinking of you has already made my morning beautiful. And with you on my mind, the day can only get better."
14. "I can't wait to wake up in your arms again. Even though we can't be together right now, I'm happy I get to be with you in my dreams every night."
15. "Do me a favor – stand in front of the mirror and say good morning to the sexiest man alive!"
16. "I am super lucky that you are in my life. I can barely wait to spend the evening embraced by you."
17. "I went to bed thinking of you, and I woke up doing the exact same thing. This morning couldn't have started better."
18. "Call me later so I can describe what I dreamt about you in detail."
19. "Happy thoughts are the best cure for a Monday morning, and I'm always happiest when I'm thinking about you!"
20. "I woke up today and realized that nothing could replace the empty space you leave in my bed! You are supposed to be here, smothering me with your kisses. I miss you, bae. Good morning."
See also: 85 Highly Positive Good Morning Quotes To Make Your Day
Funny Texts That Work Like A Charm

It's a fact that men like women with a good sense of humor. These sweet and funny text messages below will lure a smile to your man's face and make him fall in love with you all over again.
1. "While I was looking at your pictures, I dropped something… again. It was my jaw."
2. "10% loading, 40% loading, 70% loading, 100% loading… Result of the scan: You're 100% cute. Scan analysis: Cuteness overload!"
3. "Well, I am an unemployed girl with a certificate in cuddling, a diploma in caring, and a degree in kissing. Do you have a job for me?"
4. "I love you more than coffee, but please don't make me prove it, lol."
5. "You need to stop texting me while I'm at work. I'm tired of explaining to my coworkers why I'm grinning all the time."
6. "I'm not going to lie; you're hotter than the bottom of my laptop after I've watched way too much Netflix."
7. "Your body has 65% water, and guess what? I am very thirsty at the moment."
8. "I think you are suffering from a lack of vitamin ME."
9. "You're so sweet I could almost sprinkle you in my coffee instead of sugar."
10. "I am sure that you are the Flash, cuz you have found the fastest way to get to my heart!"
11. "You are under arrest for being too cute. Your punishment is to be silent, and if not followed, then you will be silenced with kisses."
12. "If you were a library book, you can be sure I'd never return you."
13. "Hey, playboy, want to hang out with a gorgeous woman tonight?"
14. "Be careful, don't trip today. I have tied your shoelaces so you don't fall for anyone else."
15. "I wanted to ask if you are a coach since you make my heart JUMP."
See also: 5 Proven Ways To Trigger Intense Attraction In Him
Sexy Texts To Make Him Want You

Sexting is also a great way to make him obsess over you. You need to text him something that will spark his imagination. These sexy text messages below will make your man want you like crazy.
1. "I can't stop thinking about you running your hands all over me like you did last night."
2. "Tell me three of your fantasies, and maybe I'll make them come true…"
3. "I need a cuddle right now. Do you know anyone who might help me with that?"
4. "There's an empty spot in my bed with your name on it."
5. "I've got one condition to inviting you over: you're forbidden from keeping your hands to yourself. You should tell me in detail what you'll do with them."
6. "I think I might go bikini shopping today. Mind if I send you pictures and get your opinion?"
7. "I had a naughty dream last night, and guess who was in it? I'll give you a hint: I'm texting him right now."
8. "I'm so excited about our date tonight. If you play your cards right, then you're going to love what I've got planned for later."
9. "I bought the sexiest underwear the other day. Maybe you should come check them out."
10. "If you guess what I'm doing now, I'll send you a picture of it."
11. "I'm dying to find out if you are as good in real life as you are in my fantasies."
12. "What's your favorite color? I'm looking for new lingerie, and I want it to be something you'll love looking at."
13. "Tonight, I want to slowly kiss my way from your lips down… the only question is how far down will I go?"
14. "I just want to spend all night with your body next to mine."
15. "Just got out of the shower and had to text this really sexy guy I know. Didn't even have time to put clothes on."
See also: These Seduction Techniques Will Help You Win Over ANY Man
How Do You Get Him To Obsess Over You?

Of course, besides finding out what your guy likes in a woman, the point in making a man fall in love with you is to be mysterious. Don't ever reveal too much about yourself because that will intrigue him and make him want to discover those things by himself.
Give him a hint that you're interested but don't make it too obvious. My relationship advice is to let him chase you because, as some men say, the harder the chase, the sweeter the catch.
On the other hand, if you want to know how to make a guy obsessed with you over text, you need to know the golden rule: less is always more!
Try to find out his texting habits but also stay true to your own. Don't push anything, and be patient if he doesn't text you back right away. Keep your texts fun and interesting because the last thing you need is to bore him to death or to make yourself seem pushy.
In Closing
You'll see that this collection of text messages to make him obsess over you will serve its purpose. Not only will you get a text back, but your guy will go absolutely crazy for you.
If you feel brave, you can also say one of these text messages to your man face to face. It would show him how confident you are and make him fall for you even harder.
Now, it's time for you to take action. I would normally say good luck, but really, with these kinds of text, luck is not needed. ?